Best Ammo Belts Reviewed & Compared
In a Hurry? Editors choice: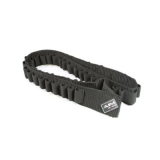 Test Winner: Aim Sports Shotgun Shell Bandolier

A great way to
keep your ammo organized
and within reach is with an ammo belt. Ammo belts are essential as they help you have what you need when you need it on hand every time. Furthermore, they go far and beyond just holding simple ammo and can extend their usage to
holding guns,
electronics, and other accessories. The usefulness of an ammo organizer is up to the user and how much they want to carry at once. Keep in mind your ammo belt will be used on a regular basis; therefore, you want to purchase the very best. Here a guide to help you find the best ammo belt on the market that will suit your needs.
Standout Picks
Criteria Used for Evaluation
Adjustability
When seeking an ammo belt the very first thing you want to take into consideration is how adjustable you need your belt to be. The level of adjustability will mainly depend on how you plan on using your belt. Furthermore, you want a belt that has enough space for the amount of ammo you plan on using while still being comfortable to use on a needed basis.
When selecting your adjustability levels, you also want to look at sizing as it will play a direct connection with how adjustable your belt is. Brands that offer a size guide for both women and men are more likely to be accurate than those that don't. Accuracy is important as you want a belt that will remain in place the entire time it is being used. You want to keep in mind, how you will be using your belt. Will you be carrying it draped across your chest for easy access? Or will you use it traditionally around your waist? Knowing the difference will also help you find the right adjustability levels that you personally need.
Materials
Ammo belts come in multiple different materials: including leather, nylon, cotton, and polyester among others. Each material has its own pros and cons as they all come with a little something that is useful for the consumer. Taking a look at leather, it has the most professional aesthetic while being extremely durable. Additionally, it is easier to clean and maintain due to how thick leather tends to be. It is one of those materials that are harder to showcase its wear and tear. However, the main downside of this material is it is not stretchy or has much adjustability to it. So, selecting the right size could be a bit more difficult.
As for Nylon, it is in our opinion one of the very best, due to how stretchy and accommodating it can be. Furthermore, it is high on comfort and durability two things you want to always have when selecting your belt. The stretchy feature of nylon works well when you want something that will adjust to any waistline time and time again. When done right a brown or black nylon belt can look just as great as a leather one without the leather restriction.
Cotton is another option in the material aspect, but it does become a little tricky. This is mainly due to the feel and form of. Some have expressed that cotton ammo belts feel kind of shirt-like in a way. While this might seem like a compliment finding the right size is a bit different, which means you want to pay close attention to the size guide listened under cotton belts. Additionally, cotton belts tend to have a shorter lifespan than other options which makes them not as popular to those that want an ammo belt with extensive longevity.
Last on our guide but certainly not least, there is polyester. Polyester can be seen as a material similar to cotton but its unique. The unique aspect of polyester is that it is almost a jack of all trades. It's a material that works for most items without much issues involved. But just like cotton, its longevity isn't as high as other options. Furthermore, the quality of polyester will depend on the brand and how they source their materials.
While there are multiple other material options on the market the ones, we have spoken about are the most popular and one of the very best. For this guide, we only included the very best of each material and product.
Durability
In order for your ammo belt to withstand daily usage and hold the items, you need you to want to purchase a durable product. Durability is mainly due to the construction of a product if your selected ammo belt is made of quality material it is twice as likely to last longer. Furthermore, when you want to know how durable your product will be you want to seek a belt that is made with double stitching. Double stitching ensures your belt is capable of withstanding regular wear and tear plus it helps bond your stitching together making the product last longer.
10 Best Ammo Belts
1

. Aim Sports Shotgun Shell Bandolier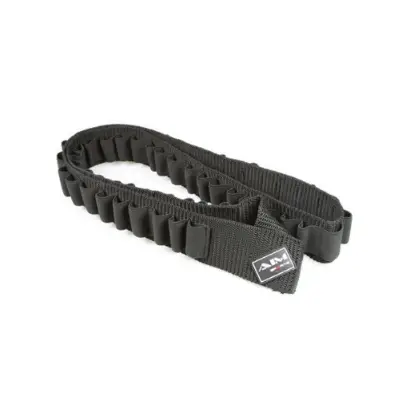 The top product on the list is from AIM Sports, a company that excels in great product design. When you need the best all-around choice, then this is the ammo belt you want to purchase.
Tough And Resistant Nylon
Using high-grade nylon materials, this option is heavy duty enough to take serious punishment. It's built tough and holds up well through years of usage.
Features and Specifications
Holds 56 shotgun shells
Handles 12 or 20 gauge ammo
Cost and Value
With absolute ease AIM Sports provides the best ammo organization system in the industry. Consider it a viable option for users of all levels. With the best item on the list being low priced like the rest, there is no reason to have doubts about it. This is a formidable product, one that gets great value from its use of tough nylon.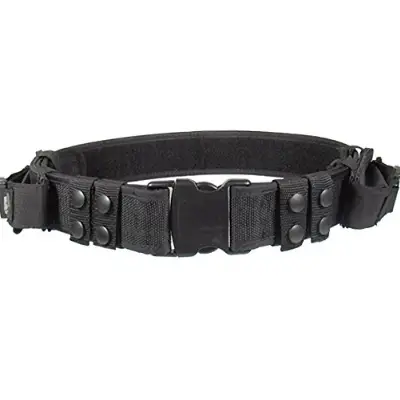 Whenever you see a UTG branded product, it's almost a guarantee that it is heavy duty. They don't disappoint with this product which turns out to be of impeccable quality.
Best Materials
Reinforced threads are one of the many things that makes this so durable. You can count on this to last a long time if you take good care of it.
Features and Specifications
Dual mag pouches
Fits up to a 44-inch waist
Cost and Value
Valuable and strong, this low priced option will be the last one you ever have to purchase. Its strength is all about the materials and how they hold up to punishment.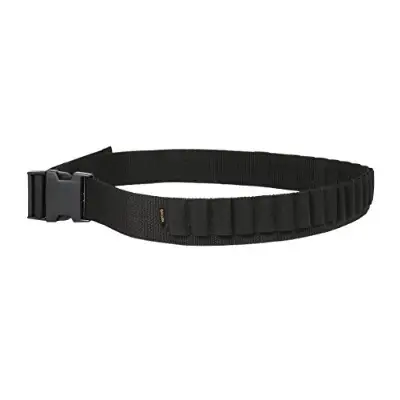 Allen Company is a familiar name in the industry and is responsible for a lot of great products. This is another one of their shining achievements that have been purchased by many happy customers.
Bulk Option
There is an option to purchase six at a discounted price, which is an incredible value. The price per product when purchased in bulk makes it the second lowest priced product on the list.
Features and Specifications
Holds 25 rounds
Fits up to a 52-inch waist
Cost and Value
This is low priced as a single unit, but the better deal is to purchase in bulk. With the latter option, you will get the best value on the entire list.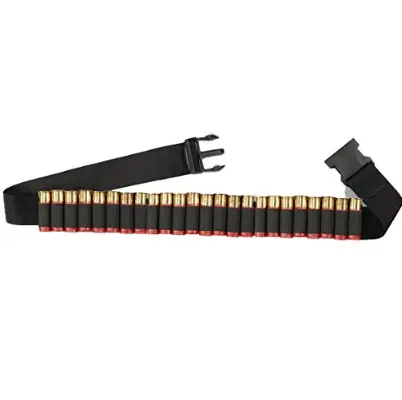 When you want an ammo belt that gets right down to business, there are few choices better than this. With a slim design and great fit, simply becomes the better choice with this product.
Two Styles
Buyers can purchase the shotgun or rifle style, with the shotgun holding 25 shells and the rifle holding 20 cartridges. All of the ammo fits snugly and won't fall out under heavy usage.
Features and Specifications
Adjustable fit and belt
Quick release buckle
Cost and Value
Choices with the type of ammo this can hold is what customers will really enjoy. The price is right, the weight is low, and just about everything you need to get started is ready out of the box.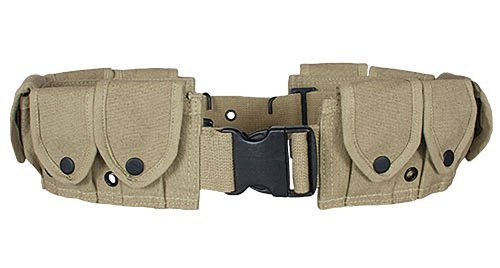 Looking at the belt from a distance makes it hard to distinguish from other products on the market. Yet the differences are internal, and that is why it made it in the top five.
Strong Buckle
The quick release buckle keeps everything in place, even when you have a lot to weight it down. Your belt will stay in place and keep your accessories within reach.
Features and Specifications
Double snap closure pockets
Ten total pockets
Cost and Value
The low price of this ammo belt shouldn't come as a shock at all. It enhances the value a bit, even if most ammo belts are low price.

6

. Ultimate Arms Gear Tactical Khaki Tan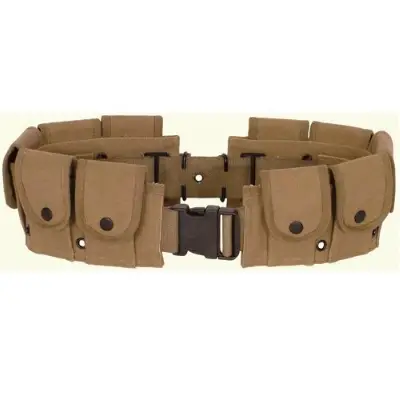 The professional look of this Ultimate Arms Gear option will draw in a lot of potential buyers. It has a look that is perfect for everyday wear and plenty of space to make use of it.
Lots Of Space
Customers will have a hard time filling up all of the tactical pockets. There are ten in total, and they are deep and wide.
Features and Specifications
Sizes from 28-58 inches
Pockets have double snap secure closure
Cost and Value
With all the space in the world, the price still remains low. You'll get a fantastic deal with this product, especially when it comes times to store multiple accessories.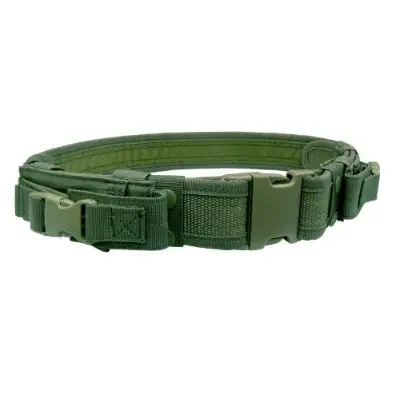 Great style isn't the first thing you think about when looking for an ammo belt. Yet it's that premise that propels the Condor Tactical Belt to be one of the best choices available.
Color Variation
Available colors are olive drab, black, tan and Multicam. There is enough difference in each one to make customers more open to purchasing more than one type.
Features and Specifications
Two inches wide
2 magazine pouches
Cost and Value
There are plenty of reasons to place a high value on this product with its multiple colors. The price is low, and it has a lot of appealing options if you want something fresh.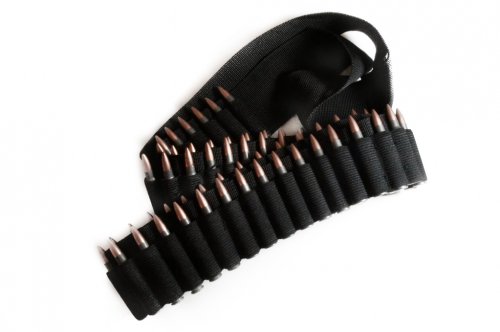 Keeping with the simple side of things is this product by WM, and it also keeps the high ammo count. The difference is the type of ammo it can hold, which manages to separate it from the pack a bit.
Great Materials
Using stretchy but heavy duty nylon, users will have no trouble adapting this for their everyday needs. The materials are comfortable over long periods of wear and have advanced flexibility.
Features and Specifications
Holds 65 shells
63 inches
Cost and Value
Following the lead of the other ammo belts on the list, this is another low priced option. There is still a lot of value in it for having room for plenty of ammo.

9

. Ultimate Arms Gear Tactical Stealth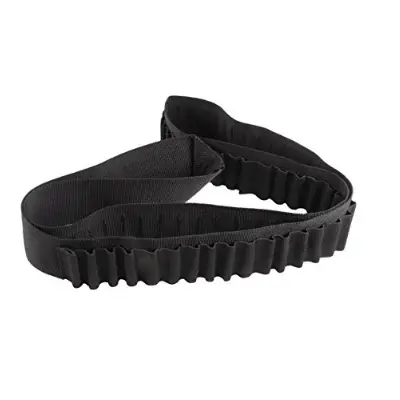 It doesn't get any simpler than this, an Ultimate Arms Gear ammo organization system that looks and feels good. With no secrets to its design, the straightforward approach of this item is exactly what some users need.
Carries Lots Of Ammo
Up to 65 shells can be carried, a nice high number if you tend to run out often. With this as your main accessory, low ammo will be a thing of the past.
Features and Specifications
Ballistic PVC Nylon
Elastic shell holders
Cost and Value
The barebones design led to a low price, something that will make a lot of customers happy. This is a great value if you just need an ammo belt to hold a lot of rounds.

10

. Agptek Versatile Police Security Tactical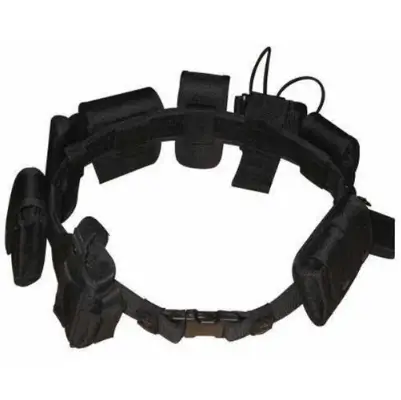 There are a lot of groups that depend on this specific product for their profession. With such a reliable background, it has made multiple top lists for years.
Comes With Everything
You'll have a hard time trying to pinpoint what this product is missing, as it seems to cover all basis. This is a complete tactical set that covers everything from ammo to electronics.
Features and Specifications
Quick attachment/release
Adjust from 28-55 inches
Cost and Value
For this particular ammo belt the price is low, so think of the value in terms of space. There is plenty of that to go around, and this is one of the few belts that maximizes it.

Subscribe to our Newsletter