Best Plano Gun Cases Reviewed & Rated for Quality
In a
Hurry? Editors choice: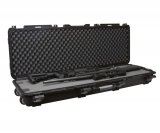 Test Winner: Mil-Spec

Plano Molding company is one of the premier firearms case makers around. Their cases are guaranteed to protect and secure your firearms. With several gun case options, the Plano Molding Company builds all of its products based on customer needs.
Different cases offer different benefits
, based off of what you will be doing or using your firearm for. With most of their models being TSA approved, you can travel with ease, knowing your investment is secured and locked in place using different foam systems. That being said, here is the list of the top 10 Plano gun cases, you will be sure to find something that you love!
Standout Picks
Criteria Used for Evaluation
Materials
Leather
Leather that has been oiled sometimes used for making gun cases that are known for being water-resistant. These cases are typically best for storage purposes, as they can be slightly awkward and heavy.
Also worth reading best rifle brand
Nylon
Cases made from nylon are great for concealing what you are carrying around. Cases made from nylon typically look more like a backpack, than an actual gun case. They are soft on the outside while having foam on the inside. These cases won't offer your firearm as much protection but are okay for shorter travels.
Canvas
Cases made from canvas mimic those made from nylon, soft exterior with foam lining for the inside. These cases run the risk of absorbing moisture and dust. Those two elements are known to cause rusting to firearms.
Metal
Metal is the most durable material used for making gun cases. Cases made from metal are best for taking with during air travel as well as long-term storage. The inside of these cases is normally lined with foam to keep your firearm protected on the inside of the case.
Style
There can be one major downfall to both the hard and soft cases. That is the hardware of the case, any good gun case needs to have good hardware. For the hard cases that hardware is both the latches and the hinges. Both of these elements are very important to the integrity of the case.
Imagine you decided to go on a hunting trip, you have just finished clearing your firearm for the flight. You turn around to take your seat when you hear a big thud. You turn to see that the airline personnel has dropped your gun and the case popped open. Now your precious cargo has skidded across the floor. Why do you think this has happened?
I am guessing that you didn't double-check that the hinges and latches were heavy duty. That means that you should always look for a case that the hinges have steel pins put it. This gives them a second measure of stability. As for the latches, you should check that they have no amount of play to them when latched closed. This will prevent them from popping open upon impact.
As always it is best to get a case that already comes with a locking system or latches that you can put a lock on. If you purchase a case with locking latches already in place, be sure to check their quality, as some locks can be easily picked or pried open. This not only keeps your firearms safe but also the people around it.
With a soft case, the biggest downfall of the hardware is the zipper. Some companies tend to use zippers made from plastic. These zippers will not hold up for an extended period of time. Potentially exposing your firearm to moisture or dust. Make sure before you purchase a soft case that the zippers are made from metal. Metal zippers will last longer than the plastic kind and are better for locking.
Weather Resistance
The All-Weather Series of the Plano gun case line gives your gun protection from moisture, which can cause your gun to rust. The outside of the case has an extremely durable design, while the inside has a Dri-Loc seal to keep both moisture and air away from your firearm. These cases come with heavy-duty latches that can be locked, and a pressure release valve for added protection.
Features
PillarLock
This unique system belongs only to Plano as it is a patented system. They connect both sides of the case using a pillar system. This gives the case added stability when it is closed. This pillar system also helps to balance the pressure inside of the case.
Mil-Spec
These cases have been sent out to accredited test facilities to make sure they meet military standards. They run through the test against vibration, dust and drop tested. These cases can take a large amount of wear and tear.
Airline Approved
These cases will pass the security check-in at the airport with flying colors. All while you rest with peace of mind that no matter how much stress your case goes through, your firearm will be safe and secure when you get it back.
Internal Lash Down Mounts
These are straps on the inside for securing your gun to prevent movement. These are made from nylon, with a sturdy velcro for securement. You will know that your firearm will be still with these straps in place.
Pressure Release Valve
Changing altitude can sometimes wreak havoc on your firearm and its case. With the pressure release valve, your case will automatically adjust the pressure on the inside to match what is going on outside. You won't have to lift a finger at all for this adjustment.
10 Best Plano Gun Cases
1

. All Weather Tactical 42
Looking for a firearm case that can protect your investment through all types of extreme conditions? Look no further! The Plano All Weather Tactical Gun Case, 42-Inch is the highest rank case on the market. With many features and benefits, you will be sure to be surprised by all that this case has to offer!
Pressure Release Valve
The Plano All Weather Tactical Gun Case, 42-Inch comes with the pressure release valve. What the pressure release valve does for you is equalized moisture and pressure within the case as you change climates and altitude.
Dri-Lock Seal
This Plano gun case, 42-Inch offers a Dri-Lock Seal technology that fights and prevents moisture from entering the gun case. Between the pressure release valve and Dri-Lock seal, your firearm will be safe from any elements.
Cost and Value
With constant element protection, you can be sure that your firearm is also secure with extra thick padding inside the actual case. This gun case also offers secured latches, ensuring the case will remain closed.
The Gun Guard AW Tactical is a hard-sided case that is made to withstand extreme weather conditions. As one of the strongest cases designed in the Plano gun case line, it is made to protect your firearm during any situation, while in the case. With its high-density pluck foam, it will keep your firearms finish free and clear of damage.
Rugged Wall Construction
The case offers a thick rugged wall construction for durable protection. The thick walls will maintain complete protection to the inside of the gun case.
High Density Foam
The Gun Guard AW Tactical offers a high-density pluck foam. The pluck foam allows you to have protection around your firearm at all times while preventing scratches to the metal materials. Pluck foam is also good for personalizing your firearms shape.
Cost and Value
This one has so much to offer a firearm owner. With spring latches, the case is promised to stay closed during transport. High-density foam and an outer rugged hard case, you can bet your firearm will remain damage-free under all weather conditions and rough terrain traveling.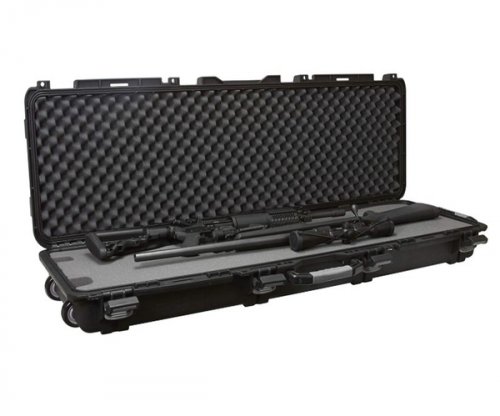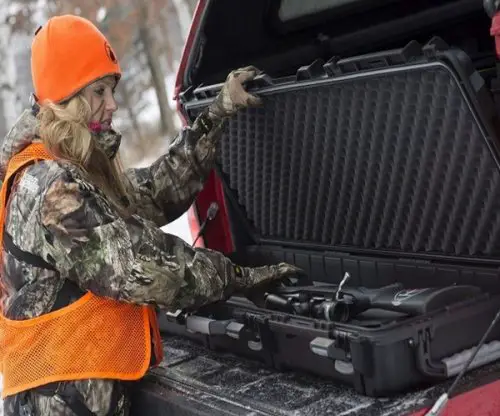 If you are looking for a Plano gun case that gets the job done without having to think about it too much, the Plano Mil-Spec is the one for you. Measuring 54inches in length, and 15inches in width on the inside and 56.4inches in length and 18inches in width on the outside this case was made to protect longer, heavier guns. Though Plano is known for making good tackle boxes they aren't that known for making gun cases but this one exceeds all expectations.
High Density
The reason most people purchase a gun case is that they want somewhere to store their rifles that will keep it safe, secure and ready for travel. While finding one with all of these criteria might not be easy, this Plano case does offer security as its main feature. Furthermore, it comes with a high density cut to fit foam that allows you to customize the interior of the case. Whether your gun is on the thinner or thicker side you will be able to customize how much foam is there to protect it.
Large Latches
To keep everything protected the case comes with extra-large, wide latches for easy opening and closing. Having these latches not only ensures you keep your gun safe inside, but it also ensures every time you open the case you can close it. Its all about having access when you need it and this case allow you to do just that and more.
Cost and Value
When purchasing a large gun case, you know you will be spending quite a bit of money, and there is no exception here. Though this isn't the most affordable case it is cost-effective and you are getting quite the features. It's all about getting the most, while still having the quality you like and love and this one offers just that.

4

. All Weather Tactical 36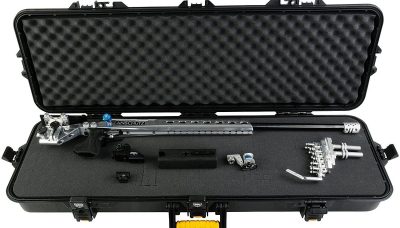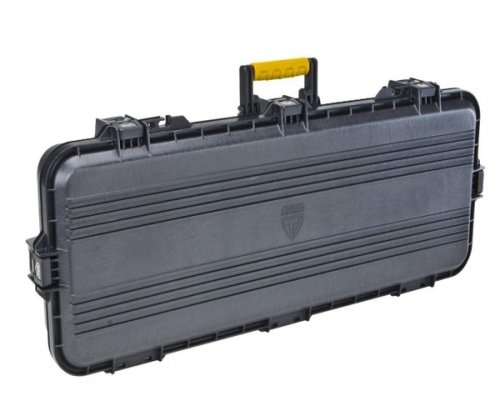 Looking for an all-conditions case? The All Weather Tactical 36 is the case for you. Known for its excellent protection under all weather climates, this gun case offers a watertight seal around the case. With a pressure release valve, this case also offers protection during altitude changes. Make this the outdoorsman's dream. Made shorter than the case previously mentioned.
Secure Latches
This one offers security when looking at the latches that are installed in this case. Offering continued protection during travel, the secure lockdown latches will be sure to keep this case closed.
Customizable Foam Inserts
The customizable foam inserts are made with a high-density foam that you can customize to your specific firearm. The benefit that this has to offer is a constant placement of your firearm while in the case.
Cost and Value
The All Weather Tactical 36 has so much to offer, it speaks to value. Offering a watertight seal, this gun case is sure to keep your firearm maintained and free of moisture. Secured locks and a durable outer shell, this Plano gun case is almost indestructible.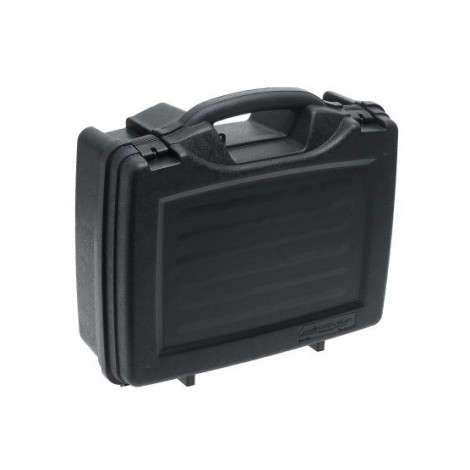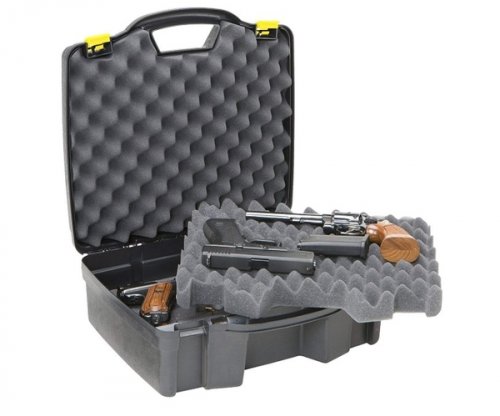 The Protector is made to store up to 4 pistols, with straps to keep them securely in place. Featuring a plastic outer shell, durable foam inserts, and thick wall construction, this pistol case can fulfill the job of four cases, with one sleek design.
Latches and Hinges
The Protector is designed with durability in mind. Heavy-duty latches and hinges are put on to this case to keep the case closed at all times during gun transport. The hinges are designed to remain durable and assist with keeping the case closed.
Foam Inserts
This pistol case has a high-density foam insert that allows your firearms to remain in place at all times, and to keep its beauty. The foam works as a support for the firearm in transport and prevents scratching to the firearm.
Cost and Value
Unlike other gun cases, this case is made with super storage. Save money by buying several cases when you can buy one, haul four. This made for durability and protection of your firearm, with the case always remaining in a locked position while secured.

The Double Scoped case offers a thick exterior wall and a plucked foam high-density interior making every move a safe move. Customizable, easy to transport, spacious, and sleek, this case offers everything you'll need, packed into one.
Wheels
This case offers a set of wheels on the back of the case. Being as transport can be long, the wheels are on the back of the case for the long haul.
Latches
Heavy dual-stage, lockable latches, will ensure the most security while traveling with it. The case will remain closed under any circumstance.
Cost and Value
It is definitely a popular pick, as well as a top-rated gun case that has a lot to offer the firearm owner. Made with specialty wheels, this case is made to be on the go while offering easy transport. Consistent protection to your firearms includes safety latches and foam to support while on the go.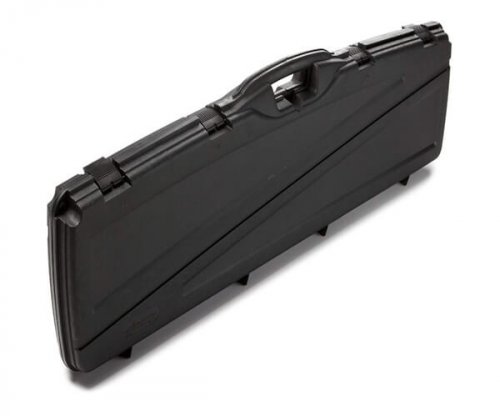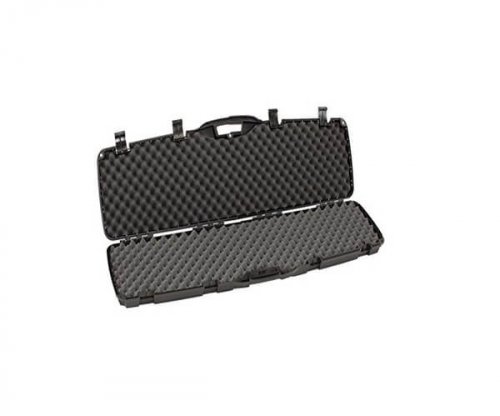 Assuming you are looking for a gun case that allows you to store your favorite rifle and with a magazine that goes with it, you want to consider something like the Plano Single Scoped. Featuring the capacity to safely hold your rifle with security that your item will remain safe, this case comes prepared to help you travel with everything you need on hand. It's all about having the ability to use one single case instead of having to purchase multiple ones that will inevitably hold the same things just in different amounts.
Military Grade Foam
Though most of our options come with the foam already integrated into the case, this one is a little bit different and unique due to having military-grade foam. The kind of foam that will not only keep your pistols and magazines safe but closed-cell polyethylene foam that is chemical and oil resistant allowing you to wipe it clean when you need to. Having this kind of foam is perfect for those that like to shine their pistols or simply want an item that is easy to keep clean constantly.
Thick Construction
One of the features that makes sense to have as part of your gun case is having it built from the best quality material possible. This gun case is constructed out of thick, molded material that ensures you have a hardy, durable product that is also sturdy. Furthermore, the case comes with secure latches that keep it safe and closed until you need it. Having these latches help keep it airtight, along with giving it a water-resistant element to it.
Cost and Value
Surprisingly, enough although this case is made of excellent material comes with exceptional features and is easy to carry, its not all that expensive. One would think having such a quality product would break the bank but in fact, this one is priced extremely fairly.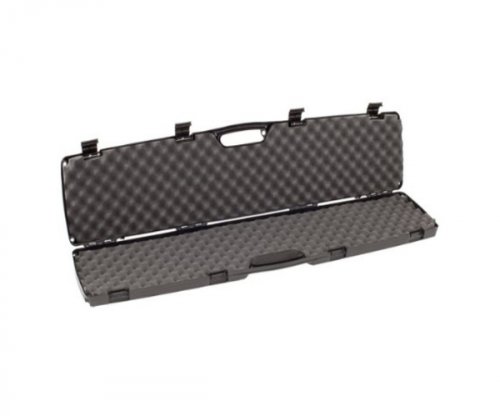 Travel in confidence using the Gun Guard SE! This firearm case has plenty of benefits to keep you interested and to keep your firearm secure. TSA Approved, this case has the ability to lock with padlocks, and a protective high density insert to keep your firearm safe on those long flights. Topped with a contoured handle, comfort is guaranteed!
Steel Hinge Pins
Nothing compares to the added durability of a steel hinge pin. Be at ease knowing that this case will keep your gun secured with steel hinge pins to help with durability and to keep the case closed.
Frame
This one is popularly known for the overall provided protection which it provides. With a reinforced frame, you could almost say that this case is crushproof with the promise of safety for your investment.
Cost and Value
This is an excellent choice for the traveling firearms owner. Featuring added protection, the reinforced frame and high-density foam insert is promised protection for your firearm during travel. With padlocking holes and recessed latches, this case is TSA Approved.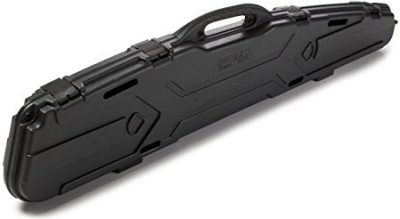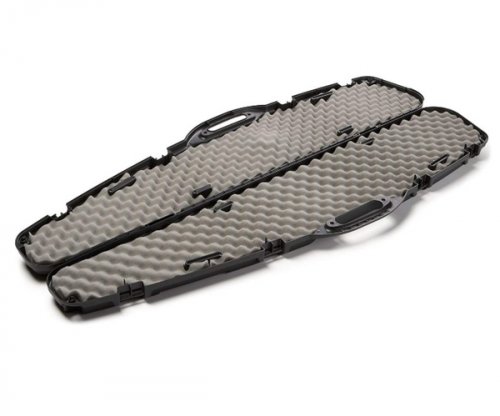 Carry in confidence with the Pro-Max Single Scope, knowing that it is nearly indestructible. Built with a patented PillarLock System that screams durability, feel at ease with the protection of your firearms in any conditions. With the ability to hold a large scoped long gun, this case has plenty of room and safety for any gun you may own.
Patented PillarLock System
For the rough and tough firearms owner, the Pro-Max Single Scope offers a PillarLock System that is crushproof and designed to withstand the toughest situations.
Interlocking Foam
For added protection of your firearm, this offers a high density, interlocking foam core to protect your firearm from the toughest shocks, in any situation. The interlocking foam is built to last.
Cost and Value
Crush resistant and rugged outer shell, combine to protect your firearms in the most extreme conditions. Offering added security with an interlocking foam core, this case was built to last at a reasonable rate!

10

. Pro-Max Double Scoped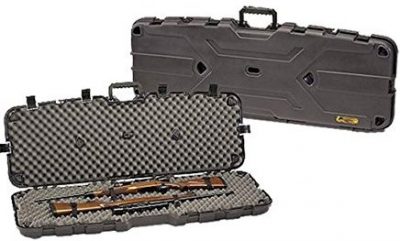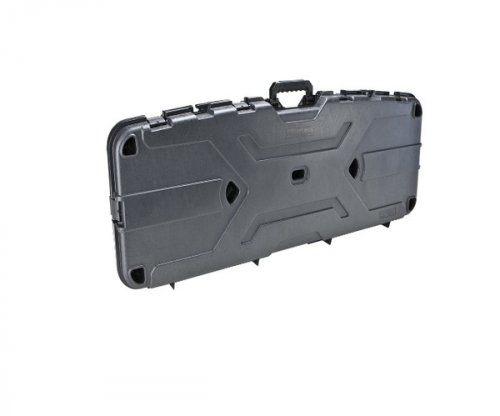 You bet your firearms will stay safe in the Pro-Max Double Scoped, thanks to the PillarLock technology and contouring foam inserts. Backed with durable hinges, and durable locks, your firearms are sure to stay secure in this gun case. Add in a comfortable and flexible handle, travel with comfort and style.
Super Storage
This offers a super storage style and four security straps to keep your firearms in place. Extra storage guarantees a secure fit.
Durability
This case offers a PillarLock system that is designed to be crushproof. Along with the PillarLock system, this case also offers a thick wall construction for added durability.
Cost and Value
This one is overflowing with extra durability and protection for all of your firearm needs. A contoured comfort handle for easy travel and extra room to ensure your firearm will fit. With this case, you also have a high-density foam insert and secured latches to promise safe travels.

Subscribe to our Newsletter