Best Weighted Vests Reviewed & Rated for Quality
In a Hurry? Editors choice: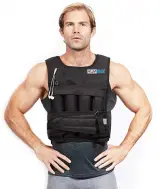 Test Winner: RUNFast/Max Pro

If you aren't already using a weighted vest there are a bunch of reasons why you should be. For one, they make all
physical activities
harder. Even the simple act of
walking
coupled with a weighted vest can help you burn up to 12% more calories than your body weight alone. For seasoned athletes they can help you take your training to the next level. Or for those who are out of shape, they are a great starting point to increase your calorie burn without overloading the intensity. They help to build strength and increase cardiovascular endurance. How do you know which weighted vest is right for you? Read our list for the top ten picks, and why we chose them, to take all the guesswork out of buying the best weighted vest for your needs.
Standout Picks
Criteria Used for Evaluation
Breathability
Any product designed for fitness should have breathability in mind. People tend to work up a sweat while they are working out, and having ample room for air flow will help keep you cool and comfy. Some fabrics are more breathable than others, and some designs offer side ventilation as well. Moisture wicking fabric is another key feature to look for if you plan to wear your vest for intense activities on a regular basis.
Comfort
You will not be very inclined to strap on your new vest for any type of activity if its not comfortable. Products with adjustable straps offer a customized, snug fit. This is important so the vest doesn't shift around during use, and potentially cause you uncomfortable rubs or fabric burns. Products made from supple materials that move with the body, or flexible weights such as sand, as also key to increasing the comfort. For heavier vests, look for options like padded shoulder straps or optional shoulder pads, to further reduce the stress of wearing the vest around.
Materials
Vests are made from a variety of materials. Options like neoprene are great because they are flexible and will move and conform with your body to prevent discomfort. Nylon or polyester are more heavy duty materials used in the production of weighted vests. These options are good for heavier weight loads, as they offer more durability. Reinforced seams and straps are another feature of the material production that increase the strength of your item. Premium products with sweat-wicking, odor resistance fabric are the top of the line, but will come with a higher price tag as well.
Weight
Depending on your fitness level, and the reasons you're purchasing a weighted vest, your desired load will vary greatly. While some vests are as light as 4 pounds and options going all the way up to 80 pounds on some models, there is a weight out there to suit everyones needs.
The option to remove weights is another great feature to look out for. This would allow you to purchase a vest at your goal weight, and lighten the load until you work up the stamina for the full amount. Also, removable weights will allow you to customize your vest based on the intensity of your workout that day, making it heavier or lighter as desired.
Adjustability
A secure, snug fit is key to prevent chafing and fabric burns. Adjustable straps allow you to customize the fit of your vest, so it will never shift around and rub you the wrong way. It is also crucial to ensure your vest is well fitted, so the weights don't shift around while you are moving. While this may not seem like a big deal if you are only walking, you certainly don't want 60 pounds throwing you off balance for more intense activities like Crossfit or HIIT.
Top 10 Picks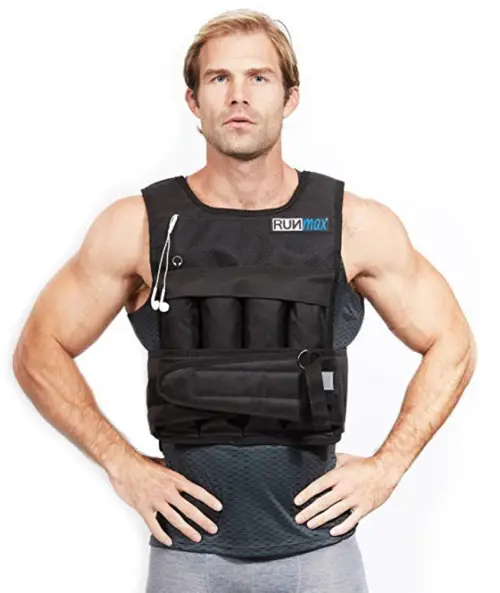 This is a number one best seller, and recommended by a load of fitness professionals. We think it is easy to see why. Some of the features of this vest include interchangeable weight loads, a one size fits all adjustable design and soft, pliable sandbag weights that are less restricting against the body. The RUNfast vest is a great option to look at if you are trying to add a little (or a lot) of extra weight to any of your physical activities.
Available in 12/20/40/50/60 Pound Weight Loads
There is a wide range of weight options available in the RUNfast vest. This is great because not everyone is starting at the same place in their training. All the vests with the exception of the 12 pound, allow you to take some of the weights out. This is a great feature if you purchase a heavier vest but want to work with a decreased intensity on some days. Simply take some of the weights out and your vest will instantly become lighter. This gives a ton of flexibility to your workouts.
Sandbag Weights are Comfy
Reviews loved that the weights in this vest were sandbags, not steel bars like in some other brands. The sandbags are softer and more pliable against your body so this vest is really comfortable to wear. Considering you will be utilizing your vest for physical activity comfort is a key factor.
Cost and Value
Reviewers had so many good things to say about this vest it is definitely a great purchase. We really like the option to choose your weight load when you purchase, and that the weights are removable so you can always lighten the load if need be later down the road. The weights are sandbags, which many reviewers mentioned provided superior comfort for extended wear. We give bonus points for the two pockets on the front of the vest for water bottles and cell phones and the fact that the velcro straps make it easy to secure snugly against your body.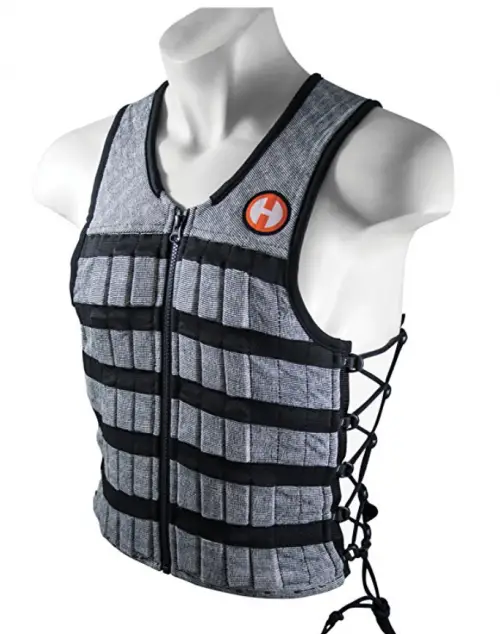 We love so many things about this vest! The flashy silver color of this adjustable, side-laced design is just the beginning of the things that are great. Reviewers loved how easy it is to adjust for a perfect fit and raved about how comfortable it was to wear. If you need a vest guaranteed to fit and look great, we suggest you check this one out!
Adjustable and Breathable
We really love that this vest is super breathable, so you can easily wear it for strenuous activities that work up a sweat. The fabric is odor-resistance and moisture wicking- two more great features that add to the superior comfort of this product. The open-side laced design allows for exceptional ventilation, keeping you cooler and making your workouts more enjoyable. The other bonus of having laced sides is that this vest is super adjustable, so you can ensure it will fit snugly and not chafe or irritate you while you wear it.
Unique Design Moves With You
This vest comes pre-loaded with 10 pounds of weights that can be re-distributed or increased as needed. The design allows for horizontal stretching, so you will never feel restricted even during intense activities like crossfit or HIIT. This is also key for providing room for chest expansion during heavy breathing. The shirt-like fit and compression of this product mean it will stay in place but never restrict your range of motion.
Cost and Value
There are a ton of features on this vest that really make it worth the price tag. For one the fabric. It is odor-resistant and moisture wicking, two great things to look for in any workout apparel. Two, we love that there are 5 sizes to select from, and the vest is further adjustable with the lace-up sides, so you can really ensure a snug, comfortable fit. You will be more inclined to wear your weighted vest for workouts if isn't cumbersome and irritating. The zipper front make this easy to put on and off, and the weights are removable so you can make the vest lighter or heavier, if necessary.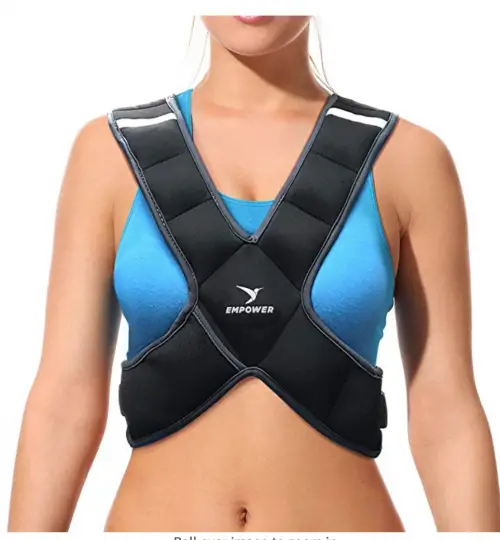 The Empower Vest is a great option for women. It is comfortable, easy to adjust and looks great so you won't feel out of place wearing it anywhere. If you are searching for an easy way to burn more calories while completing everyday tasks such as gardening, cleaning and walking or an effective way to add more resistance to your workouts at home or in the gym, this vest is a perfect option for you.
Reflective Accents
One great feature we love here are the reflective accents on the front and back. This is perfect if you plan to wear the vest for walking, running, jogging or hiking. You can feel safe knowing that you will easily be seen by cars and motorists, especially during dawn and dusk, night time or inclement weather.
Soft Lycra and Woman Friendly Design
The lycra design of this vest is stretchy and soft so it is comfortable enough to wear for strenuous activities. The side straps allow you to adjust the size of the product, from 24 to 48 inches, so it can easily fit anyone. The sewn in sand weights are evenly distributed as well as pliable and soft so they won't chafe or rub you during use. This vest also looks less utilitarian than some of the other ones on our list, which is nice for women who don't want to look like GI Jane.
Cost and Value
For the price, this vest offers a ton of value. While it is lower in weight at only 4 or 8 pounds, it is geared for women and experts agree that 8 pounds is a perfect amount of additional weight for the average sized female. We really like that the weights are sand,not metal, and the material of the product is soft and stretchy, both factors adding to the comfort and wearability. The feminine design of this vest make it a great choice for women who still want to look good while working out.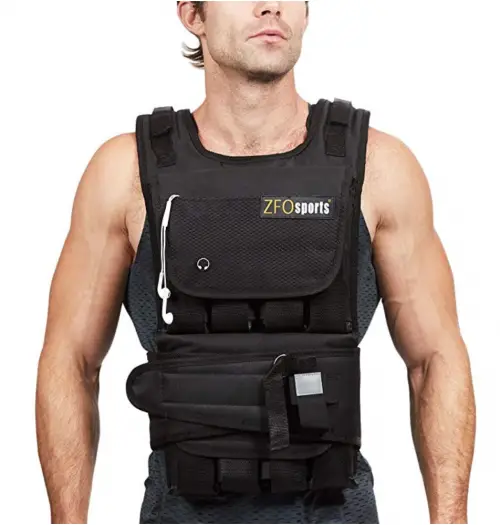 The ZFOsports is a great option in the weighted vest market. The product is made to last, being constructed with heavy duty materials and extra-reinforced stitching. Velcro straps at the waist make it easy to get a snug fit, reducing the amount of rubbing or chafing while working out.
Durable and High-Quality Construction
Tons of reviewers loved the extra heavy duty construction of this product. There were comments about the high-quality of the stitching and the material of the vest being super tough to withstand any vigorous workouts you put it through.. Other users stated that this product was 'especially well made' and 'they would recommend it to anyone'.
Iron Ore Weights
While we talked about sand weights, and steel weights, this vest uses the best of both worlds in a hybrid design. Iron ore is a mixture of sand and small bits of fine iron. It is heavy for extra resistance yet supple enough to move and bend with your body at the same time.
Cost and Value
The price tag on this vest is superb! There are four options available-20,40,60, and 80 pounds, with the weight being distributed between 8 pockets on the front and back. We really like that you can adjust the weight in 4 pound increments, so you can slowly work your way up to a goal or adjust as necessary based on the desired intensity for your workout. We give bonus points for the extra pocket that can be used to carry keys or a cell phone. This vest is a great budget friendly way to increase the resistance of your favorite workout routine.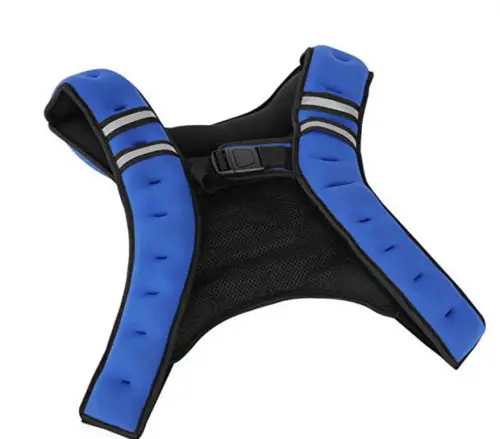 Here is another option on the market geared towards the female demographic. The X shaped design helps distribute weight evenly across the body without squishing any sensitive lady bits. Perfect for adding weight to any activity, many users have commented that they use this vest for walking, running, gardening or cycling. Are you looking for a comfortable way to add extra resistance in your day to day activities? Consider this product for wearing while you walk the dog, shovel the driveway or take the kids to the park, increasing the amount of calories burned without any noticeable extra effort!
Breathable Neoprene Fabric
This vest comes in two colours- blue or black so you can pick whichever suits you more. The construction of the vest is neoprene, which is known for being stretchy, supple and comfy for prolonged wear. Neoprene is also durable and long-lasting, so your new vest will stand the test of time.
Adjustable Fit
This vest can be adjusted at the top closure. Simply shorten or lengthen the adjustable front belt before putting the vest on. There is only one clip to do up, so this vest is easy to get in and out of as well. Being able to adjust the size will allow you to ensure a snug fit no matter what you are wearing your vest over, so you can use it in all seasons comfortably.
Cost and Value
While this vest is slightly more expensive than the last one geared towards women, it also 4 pounds heavier in weight which adds to the cost. The single snap front closure is super easy to operate and the strap can be adjusted for a snug, comfortable fit. We give extra points for the reflective accents on the front and back, perfect for increasing visibility if you workout outside in low-light conditions. Neoprene fabric is comfortable to wear during all sorts of physical activity from walking and light gardening or housework all the way up to intense HIIT workouts or plyometrics which adds value because you will get a lot of use out of this product.

6

. CROSS101 Adjustable Camouflage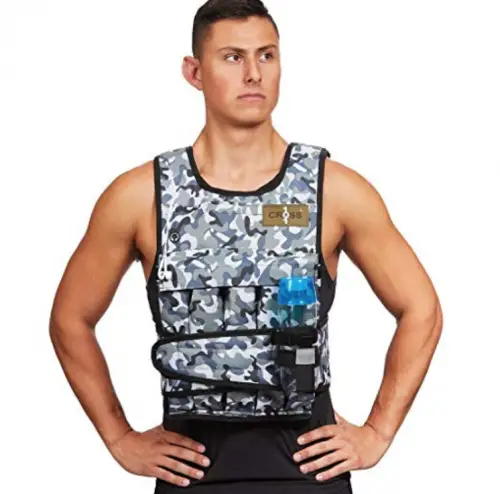 This vest comes in an impressive variety of weight loads, as well as two camo patterns. It is adjustable in two areas, at the shoulder and around the waist, for a custom, snug fit. The weights are removable (with the exception of the 12 pound desert option) so you can customize the level of resistance. Are you looking to add more intensity and resistance to your workouts and look great while doing it? With the eye catching camo pattern and a ton of great features, the Cross101 vest may be just the pick for you.
Two Unique Camo Patterns
We love that this vest is offered in two rugged camouflage patterns. The arctic pattern is is traditional camo in shades of blue, white and grey. Then there is the desert pattern, which is a more digital looking camo design in army and beige shades. Both patterns will look macho and tough whether you plan to wear your vest in the gym, at crossfit or outdoors.
Optional Shoulder Pad Inserts
The Cross101 vest comes with the optional to purchase, for an additional fee, shoulder pad inserts. Anyone who was worn a weighted vest for any extended period of time will tell you that your shoulders, especially the traps, take on a lot of the additional stress. These soft and supple inserts, that are offered in the desert pattern only, are perfect for reducing fatigue during long distance workouts.
Cost and Value
We love that this vest looks as tough and rugged as it is built, with a fair price tag that won't break the bank. There is a pocket on the front to hold your water bottle, and the vest can adjusted at the shoulders and the waist for a comfortable and secure fit that won't move around or rub you. The Cross101 is offered all the way up to an impressive 80 pounds, one of the heaviest options on our list. It is worth noting that the weights can be removed to lower the level of resistance provided, another feature which adds value to this product.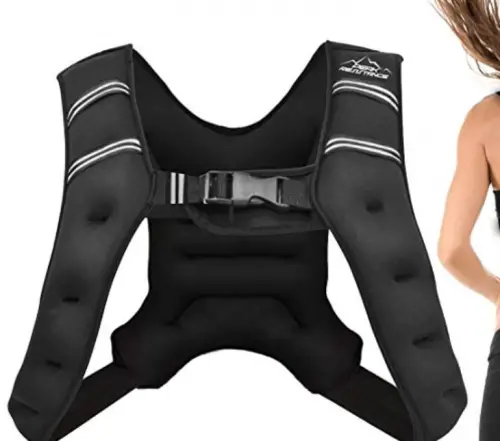 The Aduro vest is another X shaped design, however it is offered in more of a weight variety than some of the other X designs we have seen. While X-shaped vests are often geared towards women, the black color and heavier weight options of this product make it a suitable pick for both genders. We like that the neoprene fabric is supple and conforms easily to your body as you move, perfect for intense workouts.
Lifetime Warranty
Aduro sport is so confident in the workmanship of this product, they have backed it with a lifetime warranty! This is an awesome bonus for people who don't mind investing in quality products that will last for a long time.
Mesh Pocket on Back
There is a large mesh pocket on the back of this item. It is one of the largest storage areas on any of the vests we have seen. This is a great feature for people who plan to wear their vest for long hikes or outdoor activities. You can easily stow your keys and cell phone and still have room for an energy bar or snack as well.
Cost and Value
This all black vest is available in 3 weight load options- 6, 12 and 20 pounds. The back pocket is roomy enough to store more than just your keys and we really like the easy to operate single adjustable strap at the front. The neoprene fabric is soft and durable, so you can be comfortable wearing this product during even the most sweaty, plyometric activities. Reviewers raved that this vest is the perfect solution for increasing the difficulty of your cardiovascular activities. If that is your goal as well, we suggest you check the Aduro Sport out.



This is a super heavy duty option that would be best suited for serious athletes who are already well conditioned in both strength training and cardiovascular fitness. The army green color looks rugged and manly, while the dual shoulder widths allow for a customized fit based on your activity. If you need a vest that is guaranteed to last a lifetime then check out the V-Force. Over 30 years of weighted vest design went into creating this model and it really shows in the premium craftsmanship and extra features of this 40 pound military style vest.
Adjustable Shoulder Widths
This is the only option on our list that allows you to customize the width of the shoulder straps on your vest. Choose a narrower width for increased arm mobility while doing things such as pull ups, push ups and burpees. Adjust to a wider shoulder fit for increased comfort during longer periods of wear, such as running or hiking. This is a great feature that allows you to get the most wear out of your product.
Made in USA
Backed by a lifetime warranty and made in the USA you rest assured your new vest will stand up to any type of abuse you put it through. All the stress points, pockets and straps have been fully reinforced to further add to the durable construction. This vest is made with a material called 1000-D Cordura. In independent tests, this fabric reigned supreme for abrasion and stress resistance, making it an obvious choice for highly abused
Cost to Value
This vest has a heftier price tag than others, however it is a premium selection that is packed with features and will last forever. There is an option to purchase a hydration pack clip for carrying up to 50 ounces of fluid on your workouts and as well as an internal sweat-liner, to protect your vest from sweat and keep you comfortable. Removable reflective strips make your vest safer to wear outdoors in darker conditions by increasing your visibility. We love that this vest was made entirely in the USA, in Idaho to be specific, as well as backed by a lifetime manufacturer's warranty. Another feature that adds considerable value is the adjustable shoulder widths, making this vest comfortable for any activity you wish to wear it for.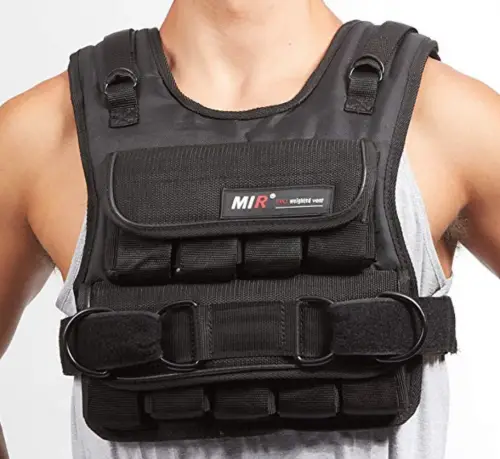 The compact 11" length of this vest isn't the only great thing about it! With four weight options to choose from, 20, 40, 50 and 60 pounds, you can select the level of resistance appropriate to your fitness level. It is hassle free to increase or reduce the weight, by removing the steel weights from the secure pockets. If you haven't been blessed in the height department, or are a female but want a heavier loaded vest than available in an X shape design, the MIR vest is a super pick to consider.
Snug Weight Pockets
The MIR vest uses steel weights in 3 pound increments. There are pockets on the front and back of the vest to hold the weights and reviewers commented they are all very secure. This is an important factor to consider, as you don't want the weight in your vest bouncing around and throwing you off balance or disrupting your workout.
Compact Design
The shorter, compact design of the MIR vest makes it a great pic for women or anyone who isn't as blessed in the height department. One major complaint that many reviewers of weighted vests had was the fit on the torso could rub or restrict movements such as squats and hinge patterns. With the short design of this product that ends mid-torso even on the shortest frames, you can perform any movement or activity freely without being constricted.
Cost to Value
This vest has removable weights, one feature that adds value because you can reduce or increase your resistance as needed. While the price tag may be higher than some other vests there is still a lot of value here. Two velcro straps offer an adjustable fit for ease of use and comfort. Reviewers loved the quality craftsmanship and built to last design. The MIR vest is a great option to check out, and especially recommended for shorter individuals who do not want to feel restricted while wearing some bulkier, longer products on the market.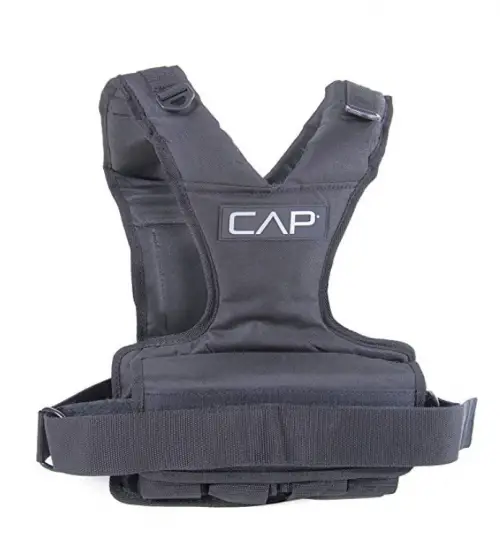 Rounding out our list is the CAP Barbell vest. Although the company states this vest is made for women, the 30 pound option and black color makes this a great pick for men and women alike.
Padded Shoulder Straps
Since weighted vests place a lot of strain on your shoulders and neck muscles, the addition of padded straps is a welcome feature. You will be able to wear your vest for longer periods of time with less discomfort, so you can burn off all the calories you need. Padding will make jarring activities like running or crossfit more enjoyable by taking the pressure off of your shoulders.
Higher Weight Option for X Design
At 30 pounds, this vest is the heaviest X- shape design on our list. X designs are great because they evenly distribute weight over the body, and are comfy to wear freeing up a lot of space on your chest and around your arms. We like that this vest weighs in at 30 pounds, so it is heavy enough to add a considerable degree of difficulty to any workout , yet the design is still comfortable enough for a women to wear.
Cost to Value
CAP has been making trusted fitness gear for over 30 years. This vest is made from fully reinforced nylon and polyester. The adjustable weight belt is velcro for ease of use and offers a customized snug fit. Further adding value are the D-rings, for parachute resistance training, if such a thing is up your alley. The padded shoulder straps offer superior comfort and wearability and we like that the iron ore weights are removable, for a customized level of resistance. The reflective strips are a nice bonus feature, and we really like that this vest is machine washable if you remove the weights. This will extend the life of your product and keep it looking and smelling fresh.

Subscribe to our Newsletter