Best Portable DVD Players Reviewed & Rated for Quality
In a Hurry? Editors choice: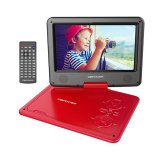 Test Winner: DBPOWER 9.5-Inch

If you're getting ready for that long summer drive to the perfect vacation, you may want the perfect way to keep entertained while on the go. Restless children in the backseat or a significant other who doesn't enjoy the same music can often cause turmoil from the start, or a cheap hotel might not have as much to offer in entertainment even though it is easier on the wallet.

Often your own DVD collection is the best in the way of selection to entertain you, so why leave it behind? So, take your favorite DVDs with you, or pack just the right movies to make an end to the backseat arguments with a perfect selection to choose from of portable DVD players.
Standout Picks
Criteria Used for Evaluation
Durability
First and foremost, when traveling, anything electronic you buy, you want to know it will last, and what it can go through before it stops working. This is especially important when considering portable DVD players that are usually intended to entertain children on long rides as kicking, hitting and spills are quite common on long road trips. Children are extremely hard on any electronic, but most especially on anything with a screen that is meant to occupy them.
With this in mind, we checked both the description of the product from the company and compared it to what other buyers claimed to have experienced. Most of these products have seen quite a bit of abuse without falling apart or having problems working, and when they do, many have good company reviews when it comes to repairing or replacement. This is good news for any parent looking this list over and hoping to find something durable and easy to use.
Always keep in mind, that many times if a player on this list is having issues reading a DVD or a file type from the USB/SD card, it can be easily fixed with a quick call to the company. More often than not, it is an update that can be gotten easily with such a call, and when it isn't you can usually get a company to help you find what you need.
Most of these players have been shown to survive kicks, drops and even having something spilled on them during a trip. Of course, we do not recommend testing your own purchase for such, as accidents are just that- accidents. Intentional abuse of any machine results usually in just what you would expect, a broken machine. Just because they survive accidents, which are usually brief, quickly taken care of and not as harsh as an intentional throw at a cement or drowning in a sink, doesn't mean they will survive all thrown at it.
Ease of Use
As mentioned above, and in combination with durability, is functionality. Is this player not only going to survive the use but is it able to play what you need it to play? If you have DVDs from out of a country or a lot of USB/SD card movie files, you don't want to get stuck with a player that cannot read the DVD or file type. Some DVD players can offer the ability to read USB or SD cards (or both) but only read certain file types. Today the most currently used are AVI, MOV, and MP4- and not all players support all three types.
In selecting our top ten we tried to assure that each player offers one or more of these common file types and listed under the pro/con section which ones were or were not read. Keep in mind that only DVD players listed as "region free" offer the ability to play all DVDs- so if you are not sure, you may want to check the region aspects of both your player and your DVDs to make sure they are compatible before purchasing.
Size
While not always the most important aspect when purchasing a portable player, for those with glasses, who like to watch subtitled movies, or who have more than one set of eyes trying to watch a single screen, size becomes very important. We tried to keep the screen between 7 and 14 inches to allow for both those who have limited room and those who needed more viewing space.
Some important questions to ask when considering a screen for your portable player are: How much room will I really have? What method of travel am I using? How big do I need the screen to properly view what I plan to watch? Lastly, how big of a device is actually permitted in the area I intend to use it? This will help our list to better help you, and if the size is not mentioned in our pro's/cons section, be sure to check it when you look up the product before purchasing.
Battery Life
Obviously, this is a very important topic to cover with anything portable, and it goes beyond the simple question of "how long does a charge last?". When considering anything portable you want to know how it charges, where it charges, what kind of battery it uses, and if they are replaceable. Especially on long car trips, you want to know how much time you can rely upon a portable DVD player to keep it's intended audience occupied before you either need to stop off for a break or if it can be recharged on the go. Keeping this in mind we looked not only at the actual wireless battery life but also on what ways it can be charged and if it can be watched while charging.
Every player on our list has at least a noted four-hour play period with some being much longer. Only one made it on our list due to quality that fell short of that mark, and the reason stays was because it can be used while plugged in. All of the players on this list can be used while charging and nearly every single one has a car charger. In fact, when looking at each of these all but one could be easily plugged into the charger and still reach the back seat which is great for news for parents!
We don't want to list a product where the most often reason for the purchase whose needs are not met. In this case, you can charge the player while watching it so the battery life is good in a way most do not consider when buying such.
Another consideration we took when considering this aspect was if the player came with the cord to charge it in the car. All of the players on the list at the time it was made came with the car charger and the wall charger. This allows you to rest easy in knowing that you can charge the player whether you're still on the road, or are currently at your first hotel rest stop on a long journey.
Bottom Line
Other important facts to consider:
How easy is it to contact the company?
Some companies are easier to communicate with than others. If your purchasing a product online a major consideration might be where your product is being shipped from. Language barriers can make it difficult when attempting to find answers or get a problem resolved quickly. A good thing to consider doing before purchasing a product is to try contacting the seller before actually making the purchase. Ask questions that you may have in regard to the product such as how long it would take to ship, and how long it might take if the product needs repairing or replaced for whatever reason. Answers to these can help you decide if the player and its company are a good fit for you.
Some companies can also start out quick to answer and seemingly friendly, but when faced with a problem back away and turn quiet. To assure this won't be the case once you buy the item, look over customer reviews from your area. Also, check the company's rating on the site your buying from as well as other sites to see if it has a genuinely good feedback. With larger company's you can even check the BBB and see what they have to say about the way the company handles its business.
What are you looking for?
While this list was based on the idea of someone going on a trip, you may simply be an artist looking for a player to display your work. If that's the case- as with any- check what file formats the company says the player can support. Look over the reviews to see if anyone else purchased the product for the same thing and see what they had to say about the quality. If you can't see anything on the site that says it covers your file type, don't fret! There is a lot to choose from, and in some cases, if you contact the company they may have an updated driver that will support your files.
Effectiveness
How to Fix Your Portable DVD Player Even While on the Road
There is nothing quite as upsetting for a child who is enjoying a good movie while on the road, then coming across technical difficulty from their DVD player. Not only does this ruin the moment and the movie, but the child will become relentless until the issue is solved. Most of the time portable DVD players can be fixed easily and quickly, with a little bit of knowledge and a whole lot of patience. If you happen to encounter a problem while traveling and it's nearly impossible to get in touch with a professional, here are some helpful tips that will help you fix your portable DVD player with little to no hassle.
Identify the Issue
In order to fix the problem effectively, you first need to identify the source of the issue. You want to check the power cord and ensure the DVD player is turned on properly. If it doesn't turn on the next step is to check your cables for any loose connection issues. In the case, that the cables are the issue; this can be easily fixed by replacing the power cords.
On the contrary, if you are able to power the device and it is still having issues playing or recognizing the DVD, it is time to consider other options. In this instance, try interchanging your DVD for another and seeing if this time the movie will play. If that fixes the problem; then the issue was the DVD itself. If that is the case, you simply want to clean the DVD properly and try it again.
Picture Settings
Many DVD's come with preset widescreen settings and this may cause an issue for some players, particularly those that were designed to read specific picture settings. In most cases, the player will adjust the size of the picture in order to fit the screen, if that is the case the issue will lie in the picture settings.
To fix the picture settings, you want to manually check all corners of your settings and adjust the sizing yourself. Changing the size to suit your player can fix most picture issues if not all of them. Doing so will allow you to find the perfect resolution size and picture image for your player.
Clean the DVD and your lens
It may come as a surprise, but most DVD player issues can be solved by simply cleaning your DVD. Keep in mind, the lens will not be able to read the disk properly if it is filled with dust or dirt and grime. In this case; you want to carefully clean your lens to remove dust or any dirt and grime without causing additional damages or scratches.
Ensure to clean your DVDs with a gentle and clean cloth every time you want to use them. Doing so will help you know if the issue does have to do with the disks you are using in your player. If cleaning your DVDs with a gentle cloth does not solve the issue, consider using a cleaning product such as a DVD cleaning solution. Additionally, it is a good idea to run your DVDs on a regular basis to keep them in tip-top shape.
Running your DVDs or even running your player on a constant basis will keep the player clean while allowing you to get the best bang for your buck. Portable DVD players are expensive; therefore, you want to get the most value out of what you purchase. Keep in mind, you do not want to touch your DVDs with your bare hands as it can damage the lens due to the nature dirt on your hands. Always use a soft cloth or even handling gloves to prevent fingerprints from forming an extra layer of grime.
Safety Hazards
Apart from the issues above, you may come across battery problems. Conflicts with your battery are easier to fix as there really are only two options; either your battery is completely dead or damaged. In the case, of your battery being dead; you want to completely charge it before putting it back to use.
Additionally, remember to discharge your battery completely before recharging them, doing so will extend their lifespan tremendously. Make sure your battery's power cable works properly as this could be another reason your player isn't charging the way it should.
Once you take care of all these issues; your portable DVD player will be running like new, without the need of calling a professional service provider.
10 Best Portable DVD Players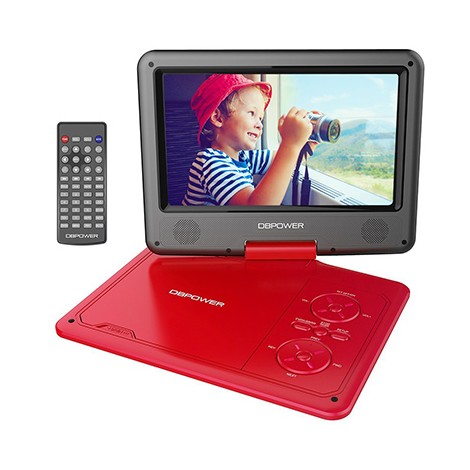 If you're looking for a portable DVD player with a screen you can see easily, and that has a versatility that may be difficult to reach, look no further. DBPower's DVD player has a great size screen for the back seat, a hotel nightstand or even an in-flight stand without being overly bulky or inconveniencing your neighboring seat. It also boasts interchanging power sources and the ability to connect an additional screen for those families with kids who just can't seem to share screen space.
Size does matter!
When watching movies where the noise around you can get too overpowering and headsets aren't the answer, you have to use the captions. This is also true when watching movies with foreign languages or fantasy languages (such as anime or space-age series). The screen simply has to be large enough to allow for the words to be read easily without straining, but small enough so you don't bother anyone nearby. With a perfect 9.5 inch screen, you can read subtitles and still keep a respectable amount of room to yourself.
Always have power!
The DBPower Portable DVD players varying options you don't have to worry about if you'll have power where ever you are. The player can be run on its rechargeable power battery for up to five hours and has a cord to recharge via outlet or car charger, so you always have power when you need it.
Cost and Value
The good news is that DBPowers value doesn't come with an expensive price tag when compared to others. This company is great to go with not only for the value of its product but its considerable price, which makes them number one in our book.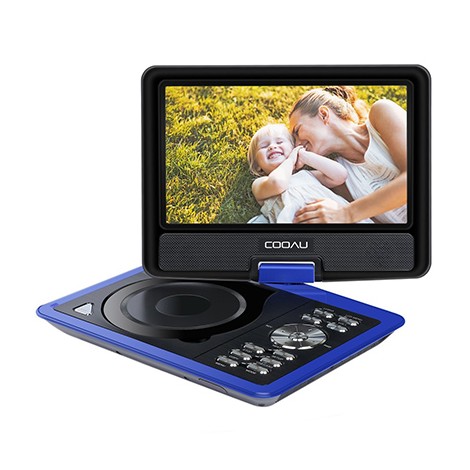 Want quality and good support to come with your purchase? The COOAU offers a good size screen and a company that will help you with all your questions on its features. You get a great player at a good price and the comfort of knowing you won't be wondering about your product afterward.
Size of screen
The COOAU offers a good 9.5" viewing screen to allow you the ability to easily watch your movies without taking up too much space. The size is perfect for travel outside the typical car ride.
Response is a major plus!
If your having problems with your player, or something arrived not as specified, you're going to want a company that works with you promptly and can aid with your needs. Whether you want to return it or simply be assured that you will have an answer to your problem before takeoff, COOAU is known to respond to requests in a fast and friendly manner.
Cost and value
Still, a reasonable price when compared to other portable DVD players, COOAU also gives you the value of peace of mind. With a company that is willing to work easily and quickly with its customers in resolving their issues- should any arise- the price of the product is worth every penny.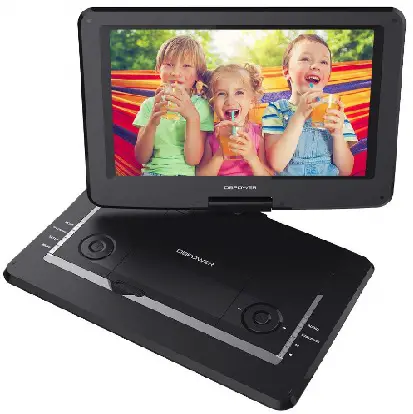 While size isn't the main feature you should be looking for in a portable DVD player, having a large screen does come in handy when you are watching your favorite movie on the road, this DVD player is the perfect example of how accommodating a large screen can be. Featuring a 14-inch, high-resolution 270-degree rotation swivel screen, this player can be placed behind your car headrest or even showcased on the big screen at home. Additionally, it comes with a break-point memory function that allows you to pick up from where you last stopped watching.
Loud Enough?
Just like a good image quality is a necessity, a good sound is too. Even the best movie pictures won't entertain anyone while traveling or at home if the sound is lacking. However, that is not a problem with this player as it features duo-speakers right in the front, so the sound is crisp and clear every time.
Power Systems
This player comes with three different power sources, so you never run out of ways to watch your favorite movie. It comes with a high-capacity, large rechargeable battery that can last up to three hours, a strong power adapter for those times you are at home and need entertainment and it gets even better! This portable player comes with a car charger, giving you the flexibility of knowing you will have a charged battery no matter how long your trip is.
Cost and Value
No one will argue that most electronic with great quality features will cost a hefty penny; however, due to how much you are getting for your buck this DVD player proves why the price tag is a bit higher than the others on this list. It's not only convenient but it brings all the features you would want, and more.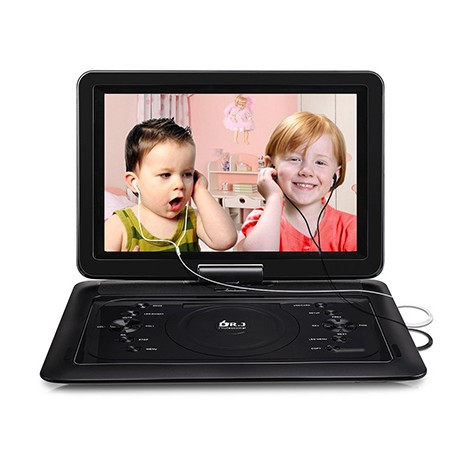 A great choice for those looking to have a portable player with a longer play time is the Thzy 2018 Upgraded Professional. This player offers many of the same features as other players, but with the ability to go longer between charges.
Charging up
Most portable DVD players can only boast somewhere between 4 and 6 hours. Thzy wanted to make sure they stood out from the crowd. On one full charge, this battery is intended to last 7 hours of play time without needing to go in for a recharge. This is great news when traveling as it means fewer wires to contend with and more quiet hours of riding without having to stop off at a hotel.
Size priority
While most players have a decent 9.5 inches, which is great for travel outside of the car, when you know it's a car ride with several eyes on the screen, you want to make sure you get the most for your money in both quality and space needed. With the Thzy boasting a 14 inch LCD screen, you can rest assured that all those watching in the back seat are able to sit right and still see what is going on in the movie.
Cost and Value
Meeting your needs and giving you the best price available on our top ten is THZY. While the company is still little known, they are providing new quality DVD players and listening to their consumers who need to find a decent price tag attached for that family vacation to go smoothly.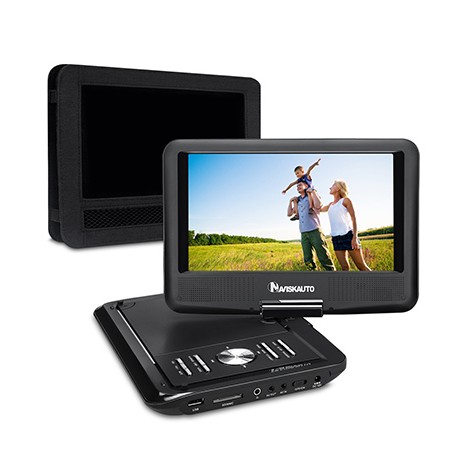 With a 9-inch screen and ready to go packaging that includes cords and a headrest mount, get ready to go with Naviskauto portable DVD player. Boasting a region free player, you'll be able to enjoy any DVD you like!
Where did this DVD come from?
Ever get a movie you really wanted to watch, but when you stuck the DVD in for some reason it refused to play? Check the DVD case, it might just be that your player is set by region and your DVD is not from there. Like other types of media, DVDs have a regional format to them. With NAVISKAUTO you don't have to be worried- it's region free! That means it will play your movie no matter where it is from!
Ready, set, go!
NAVISKAUTO has all your travel needs covered for its player right out of the box! It comes with both the wall and car charger, the AV cable to connect it to another screen, a remote control and the headrest mount. No worries everyone, the shopping quest is over.
Cost and Value
This is yet another company on our list who does what few will, offer you the most for your dollar. Keeping the price at less than you would have to pay for the player and the rest of its packaged goods, NAVISKAUTO supplies everything you need to watch on the go and keeps the quality of product on par with its challenges.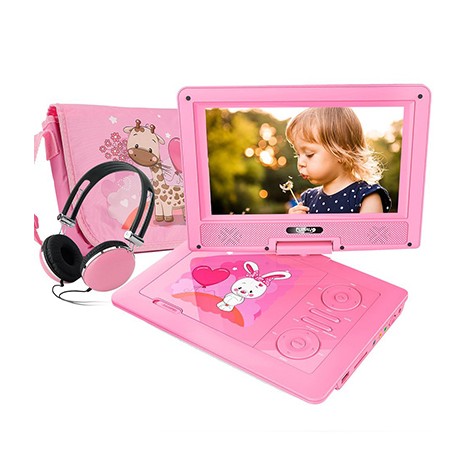 Built with a younger audience in mind, this portable DVD player makes a good gift. Comparatively, its price and availability make it great for those looking for both design and longevity of watch time.
Loving the Extra's
Most of us will have to go out and purchase a headset in the end with other portable brands. When you're in transit and not in a car, no matter how loud your player may be, the sound of a crowd can overtake it, and when on the train, bus or plain, earphones are often required. Thankfully, FUNAVO thought of this and made sure our shopping need go no further, they come right in the box!
Already packed
Again FUNAVO thinks ahead for those of us traveling outside of our own vehicles. Don't have a case picked out to start? Not a problem, rather than having to figure out size dimensions for the perfect fit, FUNAVO has already supplied the case for travel and packaged it with the product to make life that much easier.
Cost and Value
When hunting for a DVD player that appeals to children, it is often difficult to find a cost-efficient and still quality player. That is why we are happy to bring you FUNAVO's portable DVD player with its genuine appeal for the younger audience. The player met our value for the quality, and still sits at a very affordable range of cost, allowing you to get the perfect gift for the younger traveler.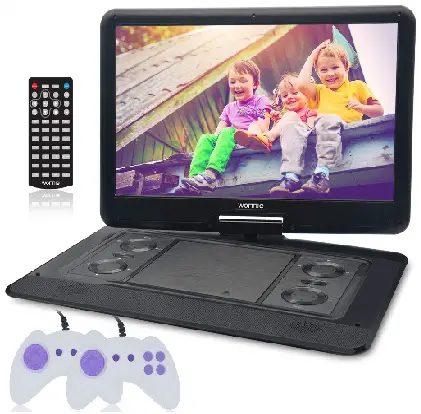 Created with convenience in mind, this DVD player ships with everything you will ever need for a long trip or two, virtually the only accessory you will need is a car headrest mount. WONNIE presents a DVD player with entertainment as its main purpose. It features a 15.6-inch high-definition screen with 270 ° swivel &180° flip integrated for better viewing from all angles, breakpoint function so you can begin or stop any movie at any given time with the trust that it will play at that same spot the next time you use your player, and it even comes with a gaming function for much-needed versatility.
Great Pictures and Sound
What good is having great picture quality when you don't have the sound to match it? This particular DVD player takes the fuss out of trying to find a good quality player with even better sound as it offers both. The sound is crisp and clear even when it is in game mode.
Game Mode
Just when you thought this player couldn't get any better; it offers a game mode option. This option is great when you want to have additional entertainment for you or your children to play with. It offers 64 different kinds of 1980s style games that are classic entertainment and always a good time.
Cost and Value

Talk about a value for the price tag! WONNIE doesn't just give you a great DVD player, but it provides you with all the additional accessories you need for hours upon hours of entertainment. There is also the fun twist of having a gaming console as part of your DVD player.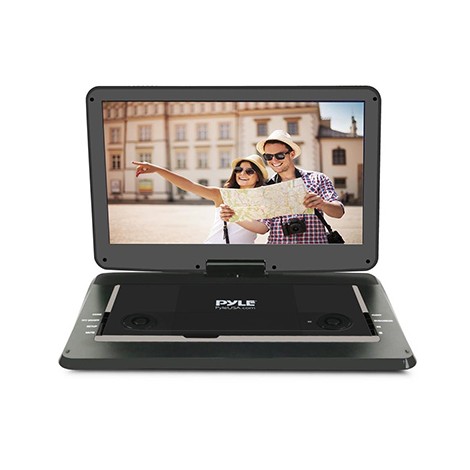 Want a larger screen for your dollars? Pyle Upgraded is a 15 inch portable DVD player offering an easy view when watching your movies on that long trip.
Just press play
Most DVD players portable or otherwise are not region free, and, even when they are, often any burned home movies or DVDs simply won't play. Pyle Upgraded offers you the comfort of knowing even your burned/recorded disc will play along with everything else. So go ahead- put on that homemade cartoon you did for your kids and enjoy!
Speaking the language
Pyle Upgraded offers a unique support on multiple languages. If your movie can't be heard or you don't speak the language, don't worry, the subtitles in the movie are covered. So sit back, relax, and enjoy the movie in one of the supported languages you know.

Cost and Value
The price tag for this player seems rather shocking with all the others on this list. With its brand not being entirely known, one may wonder how it can be worth so much. Well, many DVD players are neither region free, nor do they run all DVDs. NAVISKAUTO offers not only to let you watch movies in other languages easily, but also runs your family movie DVDs as well, making it's value as a player far outweigh the cost.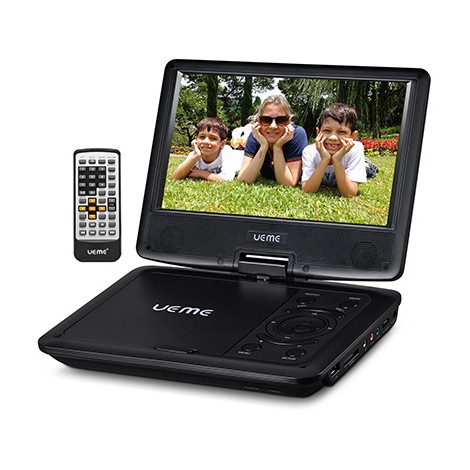 Want something durable and easier on the wallet? Try the UEME 9 inch portable DVD player. Able to play DVDs, USB and SD cards in most formats for hours of entertainment.
No more skipping
This durable machine can take a beating and still not skip a beat, and when you have a toddler watching in the back seat, you know the punches and kicks are going to fly. This anti-skip will allow you to know that even if they do decide they need to move, their attention may quickly be grabbed back without their video freezing on them soon after.
Don't miss it!
UEME has a feature we all love and look for: memory playback. Some players you simply have to hope where you left off is somewhere close to where the menu can take you, or that your timing is perfect with the rewind and fast forward buttons. With Memory Playback, no matter where you left off when you hit stop or turned it off, the player will pick right back up in your spot.
Cost and Value
For what UEME offers in quality and features, the price tag is quite affordable. The good news? It is still in the low range for portable DVD players on this list. With UEME you get both great value and great cost all in one package, and if you do have any issues, their customer support is one of the best parts of this package! There is no price for peace of mind!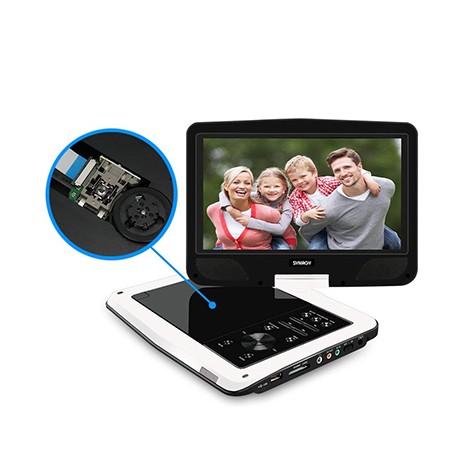 With a good-sized screen and sleek black finish, the Synagy portable DVD player can be a great addition to your trip. Synagy's playback last memory function allows you to step away for a break and not waste battery without having to miss a minute of your movie while on the road.
Recall where you were going
SYNAGY is one of the companies who thought ahead for you. When the power goes out or you hit that stop button, you don't want to have to go time surfing to find where you left off. With memory playback, you just turn it on, hit play and the DVD player does it for you. Don't spend another minute hunting down your last spot!
What files again?
SYNARGY wants to please the customer, so in thinking ahead again, they decided to make things easy. Where most players have a USB port but may only play a very limited amount of file types, SYNAGY made theirs able to read all the most common types so you do not have to convert all your files to fit the machine, the machine conformed to fit your files.
Cost and Value
Last but certainly not lacking in value, SYNAGY offers a player that has great play ability. Comparatively it also is not the highest costing on this list. If you can't find a player that can read the files you need elsewhere on our top 10, you will likely find it with this one. Great value doesn't have to come with a high price tag.

Subscribe to our Newsletter