MaxKare iSUP Board Review
Editor's Conclusion
The MaxKare line of inflatable SUP boards offers a great entry level and budget-friendly opportunity for anyone to experience the joys of iSUP riding. These particular boards are built tough and are all remarkably stable and durable for their price point. While they're not the most graceful in handling or speed, we think there's a place for MaxKare in many peoples' homes.

We rate MaxKare boards as best for beginner paddle boarders, kids over the age of 10, aqua yoga, and the budget-conscious. Additionally, we think these are great inflatable SUP boards to have handy if you're the type of person who'd like a few extras for friends and family to use.
MaxKare iSUP Board Review Review Facts
The MaxKare Cruiser iSup Full Review
MaxKare has been producing inflatable paddleboards for a few years now but, like SereneLife, really took off in the mass market and e-commerce space in 2020. They offer 2 different models - the Cruiser and the Max - all of which are geared toward the beginner and casual paddle boarder. With so many models, we aren't going to review each one in-depth but will make mention of the notable differences between each.
MaxKare boards are designed to be the budget-friendly all-around board for as many people as possible. As evidence of this, the company has added materials to increase stability and maximize the boards' capacity, offering 330lb up to 370lb stated weight capacity on their boards. With most low-cost
inflatable SUP board
models maxing out around 275lbs, this is a huge advantage.
What's in the box?
The iSUP package included all standard paddleboard accessories that you'd expect for this kind of offering:
- 3-piece aluminum paddle with nylon blade
- Triple Action pump (more on this later)
- Backpack
- Ankle leash
- Repair kit
First Impressions
Of note, the board (Green Cruiser was tested) was much more difficult to blow up than its competitors. I chalk this up to part materials/construction and part pump. The board's materials felt heavier-duty than other low-cost inflatable SUP boards, so I believe that had something to do with the added difficulty of inflating this board. While it hurts the inflation process, this should be a good thing! We shall see...
But the pump. Oh, that pump. Oy vey! First of all, what in the world is a 'triple action' pump? It's like a term MaxKare just invented to sound innovative. Single action = air blows when you push down. Double action = air blows when you push down and pull up. Since this pump doesn't go sideways or around in circles, I cannot understand where the third action comes from. Perhaps that should've been my harbinger for the impending experience. But I digress...
This might have been one of the worst pumps I have ever used on an inflatable SUP board. Once I got the board to somewhere in the ~11 PSI range, I had no energy left for this pump. I eventually tossed the pump and switched to a different pump from a different board. MaxKare's pump just didn't cut it. Perhaps the third action was the air rushing out of the garbage can as the pump landed in it.
Also of note: this board is conspicuously lacking in handles and D-rings. With only one center-mounted handle and 2 D-rings (one at the nose, one at the tail), handling this iSUP out of the water presented some difficulty. My wife was not happy about the absence of a grab handle op on the nose. I'd agree - it's always nice to have a handle up there to pull it into the water.
It's finally inflated!
So, now that the board is fully inflated (and my shoulders and arms are burning and I'm dripping with sweat), the board felt notably more solid than a competitor like SereneLife. Once we actually got it in the water, the board produced a wide mix of emotions. There were aspects we really liked, and others we really didn't care for (and it's altogether possible that the inflation fiasco soured me for a time).
Let's start on the high notes, shall we? For a low-cost, entry-level iSUP, the MaxKare really shined in the stability department. It felt exceptionally rigid and seemed durable enough. My kids made sure to jump on it a bunch of times just to test it out. Pass! Per my earlier note, MaxKare really did put a nice emphasis on a strong, sturdy build. Once I got a ways out into the lake, I even did a few yoga sequences to see how it would handle. While my sun salutations were probably best left in the privacy of my home gym, this board did offer an admirable platform for aquatic yoga.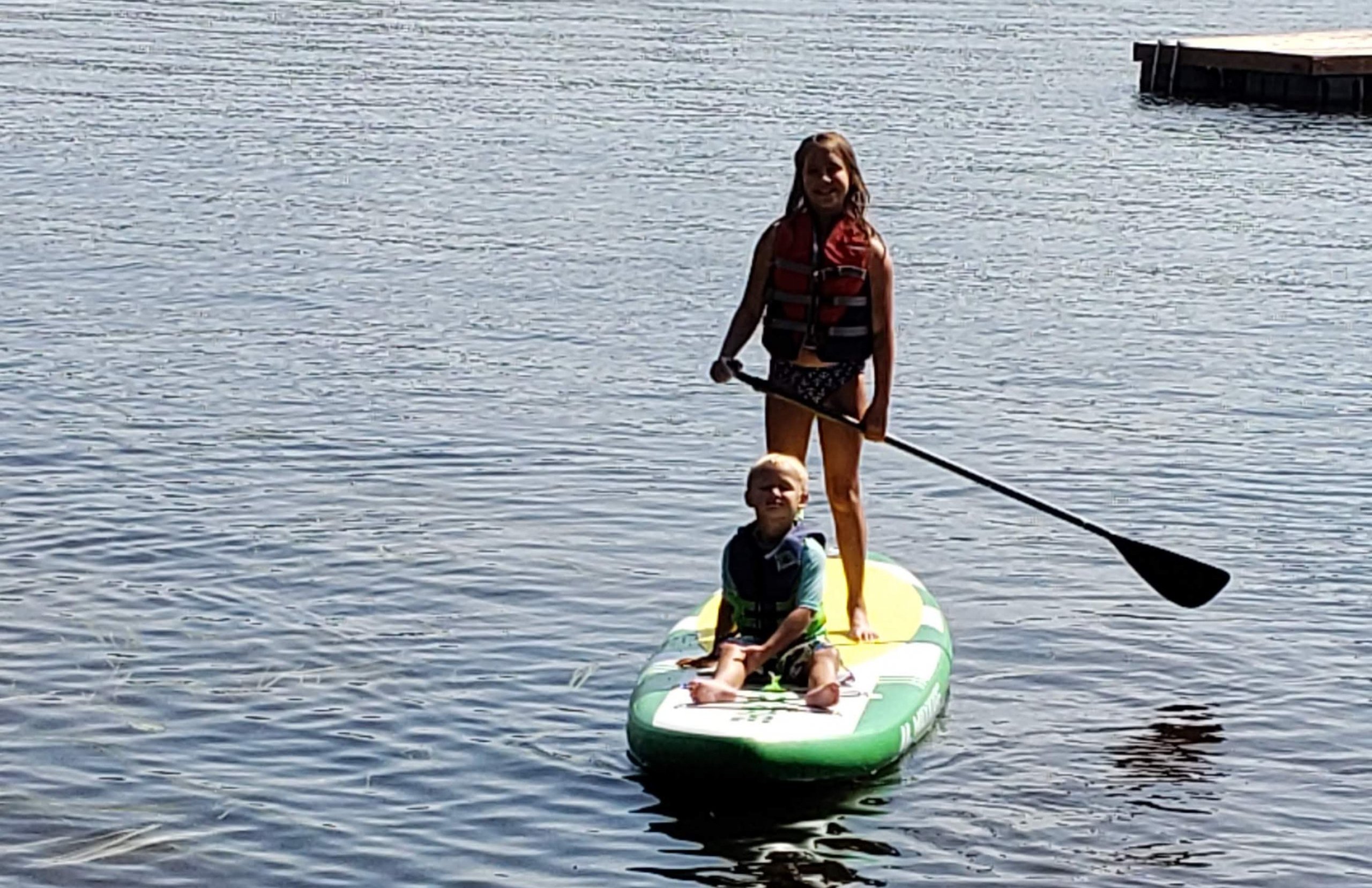 On the downside, steering this iSUP was sloppy and I could feel just about every wave slapping up against the underside of the board. Paddling in straight lines took more focus and effort than it should have. Additionally, it was hard to get enough momentum and flow to maintain any kind of meaningful glide for when I'd take a break from paddling. All told, these factors definitely hindered my paddling enjoyment as I attempted to cruise around the open water.
Finally, the paddle leaves a good deal to be desired. Ours got jammed up a number of times while trying to adjust the length. This caused enough frustration to warrant upgrading to a buying a separate
3rd party paddle
.
Wrap up
What's the verdict on the MaxKare iSUP boards? Well, at a performance level, they're a bit clunky. You know that one socially-awkward cousin who shows up to every wedding and hits the dance floor with 25 extra pounds on top of her two left feet? Yeah...that kind of clunky. Similar to a Costco paddleboard. The upside of the clunkiness was that it WAS super stable and I don't doubt that it'll withstand a great deal of abuse and use.
Did I mention that the pump is a disaster? Don't even bother. In fact, here's a shameless plug to upgrade to an
electric pump
. Trust me on this one.
Finally, while I did enjoy doing some yoga on this board, it's worth mentioning that the footbed is notably smaller than many of its competitors' footbeds. It didn't cause a problem for me (I'm short), but taller people needing good length for aqua yoga should skip the green MaxKare iSUP and opt for the Blue Cruiser model with its 3/4-length EVA footbed.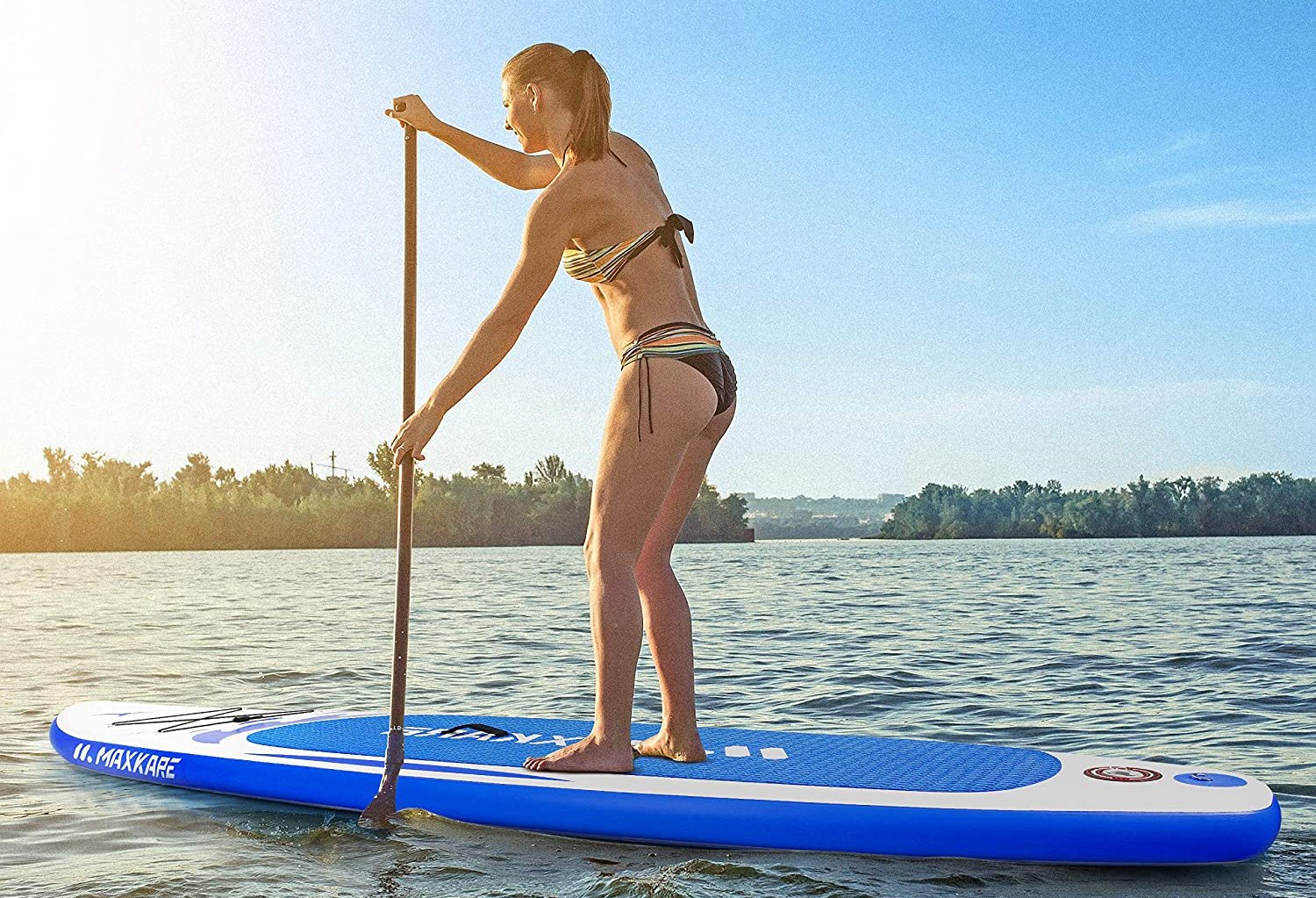 Subscribe to our Newsletter