ISLE Explorer Inflatable SUP Review
Editor's Conclusion
The Isle Explorer has become a fast favorite on The Gear Hunt team. It's easy to ride, nice and stable, and has a lot of room for cargo or extra passengers. Its combination of high-end construction, all-around performance, and modest price tag (compared to most high-end iSUP) make it a great choice for anyone willing to make the investment.

We think this board is best for just about anyone. Beginners and casual riders will find this inflatable SUP approachable and stable. Experts will appreciate its maneuverability and construction. The Explorer is a true gem!
ISLE Explorer Inflatable SUP Review Review Facts
Exploring the ISLE Explorer
The Isle Surf and SUP Co boasts that they have an iSUP for everyone. They aren't lying! Ever since I learned about Isle and digged into their product offering, I have been saving up to add the Explorer to my family's inflatable SUP board collection.
The Explorer iSUP is our focus for today's review.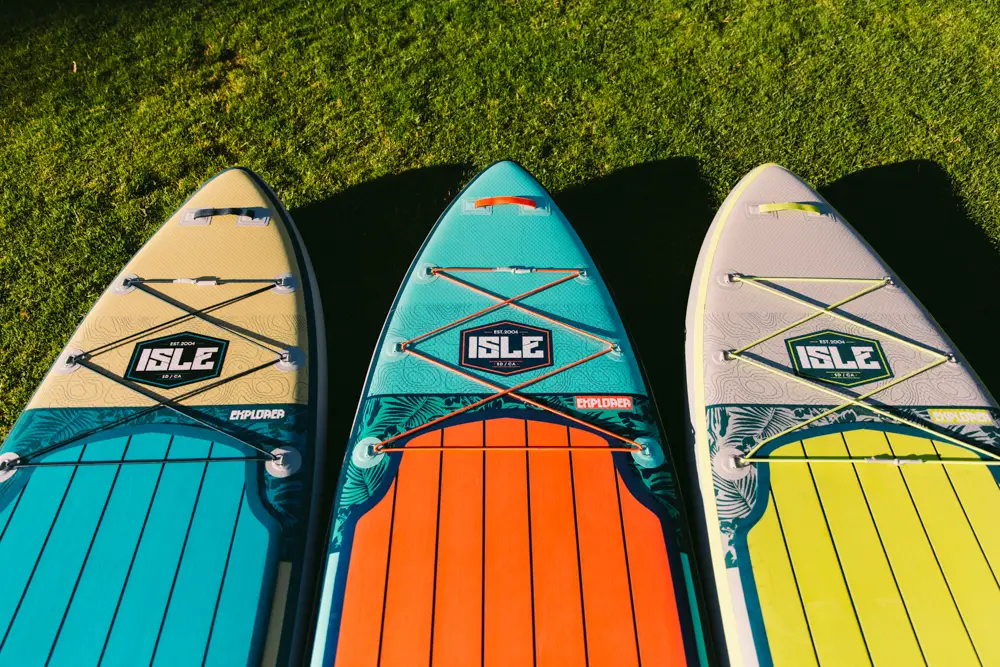 First off -- Isle's description of the board:
"Our highest performing inflatable paddle board. Portable, durable and functional, the ISLE Explorer will carry you and your gear on any water, near and far."
Alright. Let's dig in.
First Impressions
This board is beautiful. Frankly, everything about the design, packaging, and accessories is beautiful. As a connoisseur of both form and function, I love Isle's style.
The accessories included are standard for an inflatable SUP. Quality and design is where they stand out above the crowd.
- Dual-action pump
- Backpack
- 3-piece paddle (more on this below)
- Ankle leash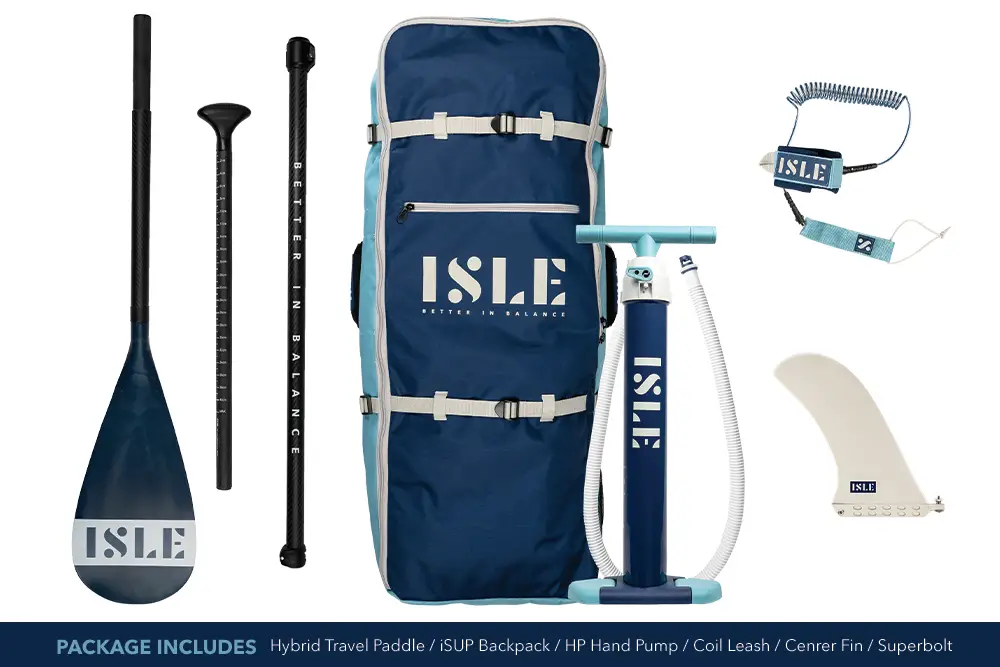 Right out of the box, the board itself has notable heft. At 24 lbs, it's on the heavier side for an inflatable SUP, but then again, it's also 11' long. Extra length = extra weight. Let's keep in mind that this board is designed for long-distance touring and stability, which necessitates a more solid construction.
Like most every iSUP, the Isle Explorer utilizes a Halkey Roberts valve rated for up to 17 PSI. It has bungee tie downs in both the front (6-point) and rear (4-point) to stow all your goodies for longer treks and a pair of D-rings mounted just behind the center of the board. There aren't enough D-rings to mount a kayak seat, but you can attach your ankle strap here or use them to tie down fishing gear if you're into that kind of thing.
Three real high points from our first impression were the traction pad, handles, and paddle holder. The traction pad in the center of the board is really nice on the eyes and also really nice to the touch. Secondly, with three grab handles, Isle has maximized the carry/pull options for the Explorer iSUP. Finally we LOVE paddle holders. Boards with paddle holders get extra gold stars and glitter bombs in my book. What's more, Isle's paddle holders aren't just c-clips - they also include velcro straps to secure the paddle down when you're taking a nap...er...break.
Final point to note before moving on: the included paddle is carbon fiber with a plastic blade. This might be the best
paddle board paddle
included by a manufacturer that we've seen. Most manufacturers just toss in a cheap aluminum-shaft paddle and call it a day. Isle doesn't cheap out here.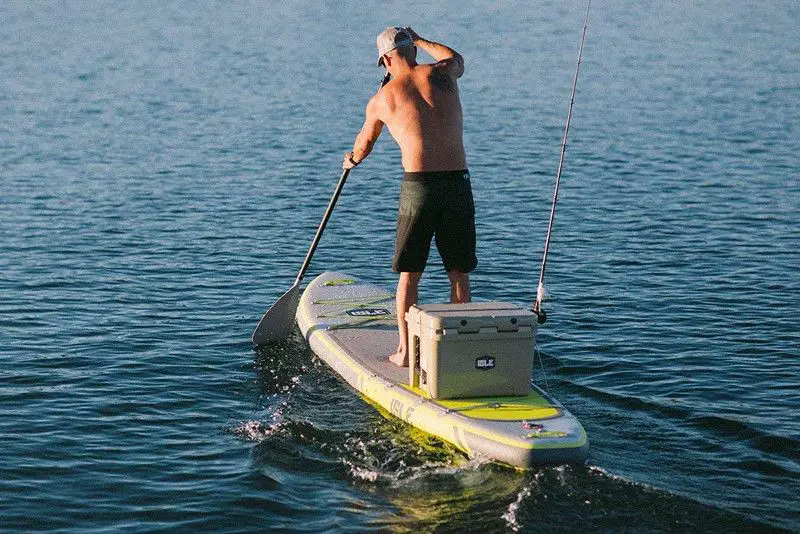 Also worth noting is the pump. Isle recently upgraded their included pumps to be dual-action pumps - a welcome improvement over the previous single-action model. Nonetheless, with a board intended to reach higher PSI levels, we would highly recommend investing in an
electric SUP pump
. Pumping up a blow up paddle board is difficult enough using a manual pump. Save your arm strength for the paddling!
Performance
As I mentioned earlier, this is a bigger, heavier board. Once you get it in the water and get both feet on, you will feel the strength and stability. I added my 45 lb 6 year old on the front of the board and it was like nothing. If my 65 lb dog wasn't such a spaz about the water, this board probably could have handled her addition as well. The board's stability comes as a testament to its manufacturing process they call 'Airtech fusion lite." It's basically a fancy way of fusing their high-density PVC outer layer to the drop-stitch internal core. This results in a nice balance of weight and size while also allowing the board to be inflated to 17 PSI (vs 15 for most boards). This adds rigidity and strength which is evident under your toes as you glide and maneuver on the Explorer.
If you're the type of rider who expects to be hauling gear or people around on your SUP board, the Explorer will definitely get the job done, however, stability will be affected by the addition of too much weight, and unevenly balanced weight. Take a few minutes before launch to make sure everything is centered and balanced. It will make all the difference in your time on the water!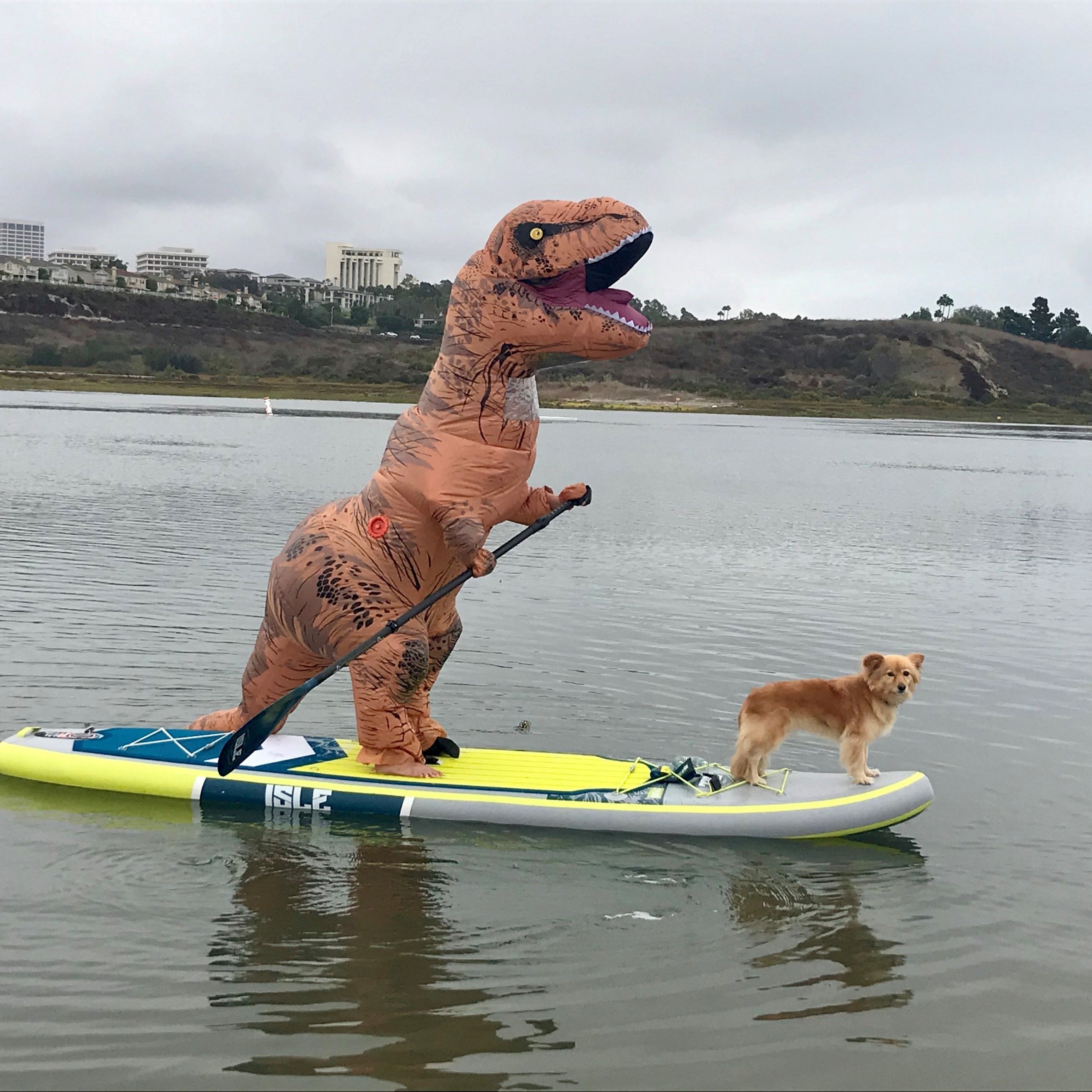 In smooth water, the Explorer has a nice glide and can achieve decent speeds. It has great maneuverability for a board of its size, especially for general paddling or longer distance trekking.
Hitting choppier water posed no problem for the Explorer. It truly shines in cutting long lines through the water, whether straight across or around curvy shorelines or rivers. Turning and maneuvering were easier than expected for a large and heavier board and, thanks to my non-advanced paddling skills, I bumped a few rocks and docks with the board before my expedition came to an end. The board was no worse for wear.
Wrap-Up
I've said it before and will say it again - the Isle Explorer inflatable SUP is one of our favorite
iSUP boards
and think it's a great choice for just about any SUP rider.
Subscribe to our Newsletter