Kifaru 44 Mag Hunting Backpack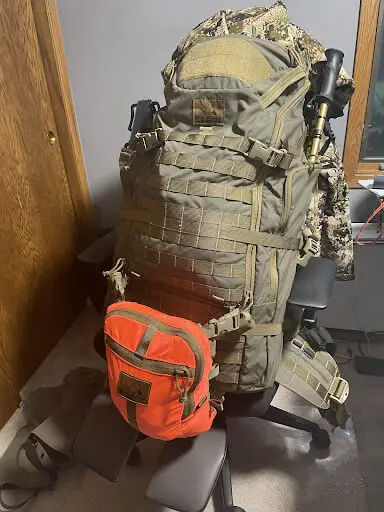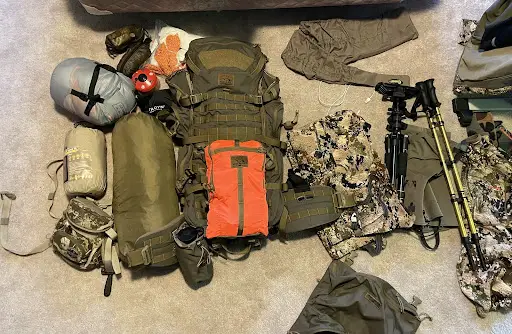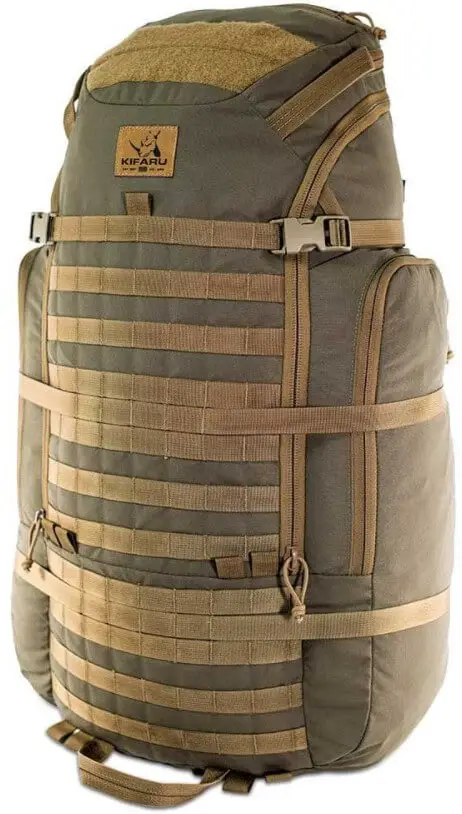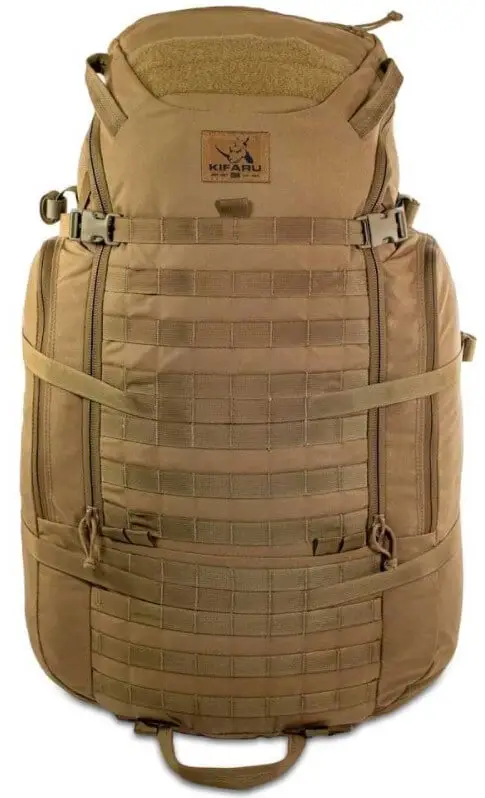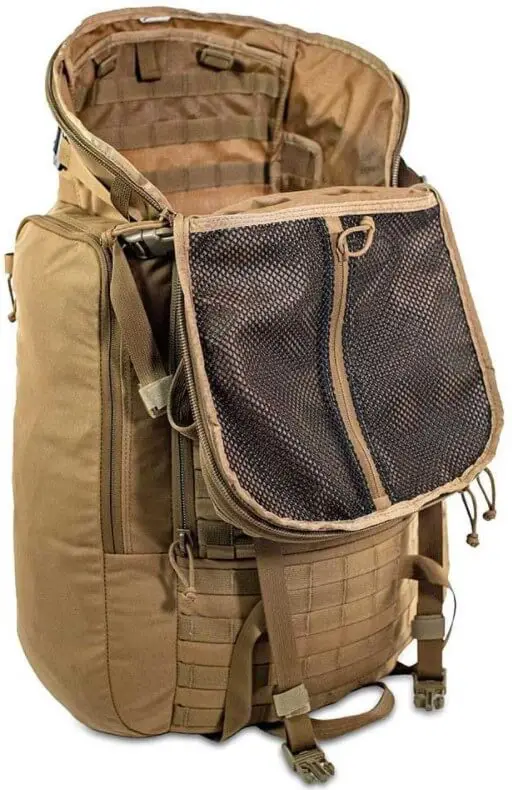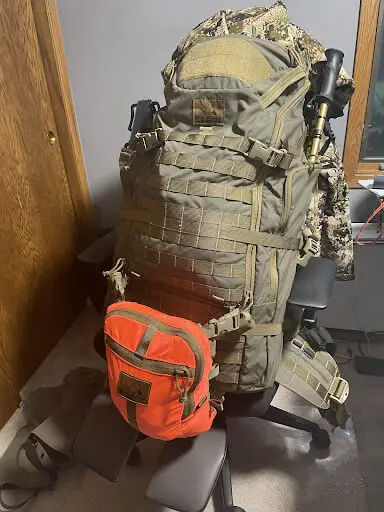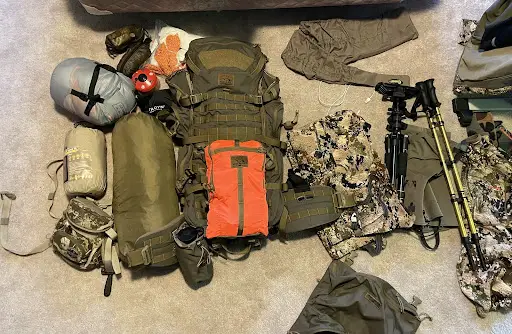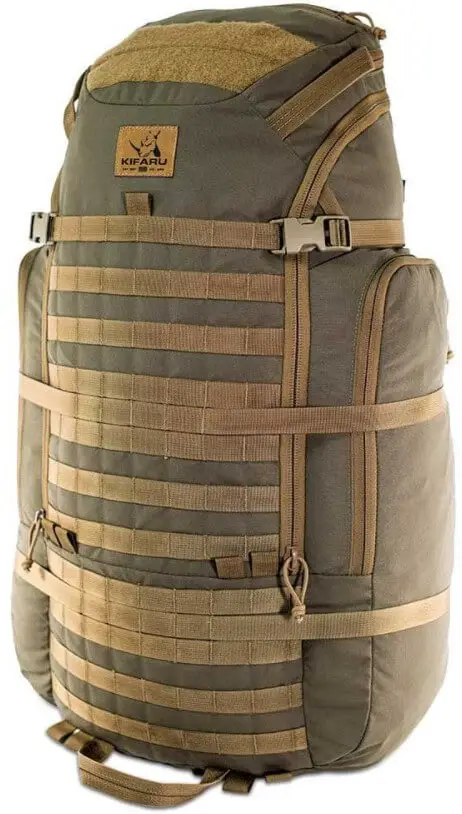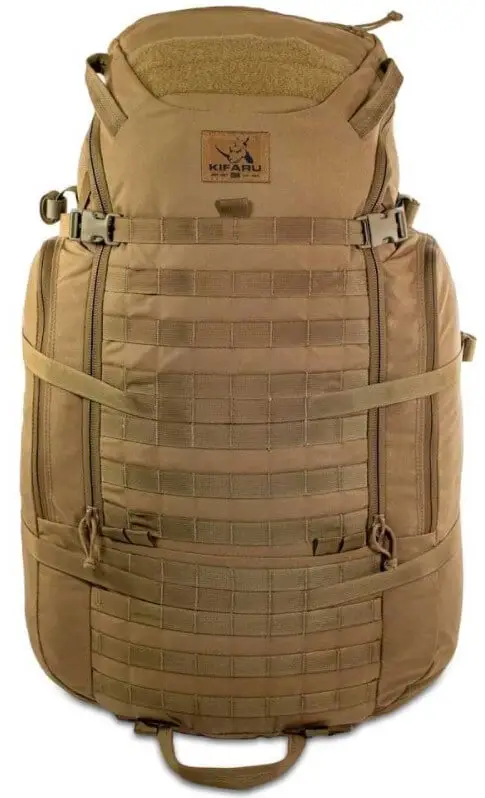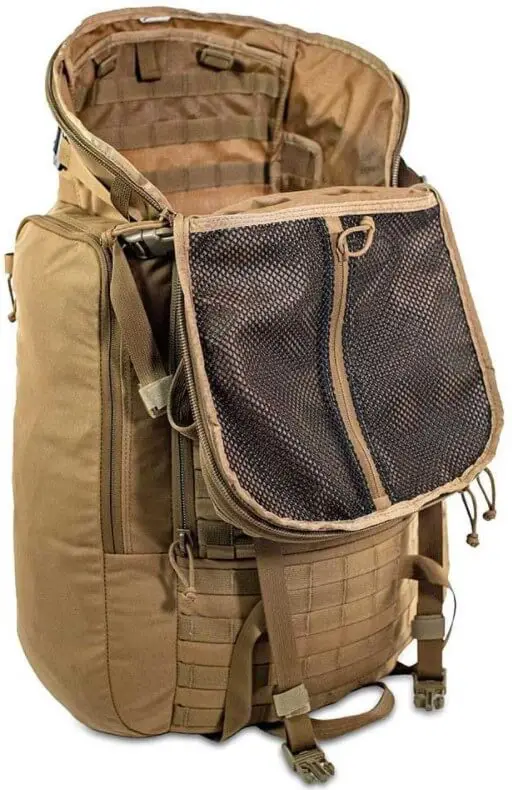 Our Conclusion
The 44 Mag from Kifaru International is a multi-day pack designed to be modular and multi-purpose for a wide variety of
backpacking
or hunting situations.
Made in the USA, in Colorado, by a top-of-line outdoors equipment company, the 44Mag is a great pack with an external frame and 72L of storage space. It also has a meat shelf, perfect for keeping your harvest separate from your gear or just hauling large things outside of the main pack compartment.
It sounds like the perfect advertisement, but you really do get a premier customer service experience, bombproof, and comfortable backpack for your backcountry adventures.
Pros & Cons
Sturdy design made from 500D Durable Water Repellent (DWR) Coated Cordura
Built-in hydration sleeve for water bladders with ports to run tube externally
External PALS/Molle webbing for attaching accessories and pouches
Multiple internal mesh pockets
The required frame comes in multiple sizes and shapes, further increasing fit and comfort.
Requires an external frame to function, further increasing cost
Limited color options, coming in Ranger Green (pictured), Coyote Brown, and Multicam for an additional charge.
Key Features
Technical Specs and Features
Main Compartment is 4,400 c.i. Or 72.1L

Weight: 3.5lbs/1.58kg

Main Bag Size is 27" tall x 11" wide x 9.5" deep, 68.5cm tall x 28cm wide x 24cm deep

Fabric is 500d DWR Coated Cordura

External Features


Side pocket zippers on both sides, 310ci/5L volume. 20" tall x 7" wide x 2.5" deep / 50 cm tall x 18cm wide x 6cm deep.

The top lid volume is 6.4L and features two zipper pockets for quick access to things

6 compression straps, 3 on each side.

Meat Shelf between frame and pack

Large and sturdy fabric handles on top and bottom of pack

Internal Features


Chamber pocket, a small quick-access pocket for valuables hanging on the inside of the top of the pack.

Water bladder hangar and dual hose ports

Water bladder sleeve

3" x 8", 7.6cm x 20.3cm Pals panel

11" tall x 12" wide, 28cm tall x 30.5cm wide zippered mesh pocket

12" tall x 11" wide, 30.5cm talll x 28cm mesh slot pocket
Key Features
The top lid of the pack allows you to store things you need quick access to throughout the day. You can easily store a day worth of food, snacks, first aid, and hygiene throughout your backcountry adventure. It's a very particular feature, but knowing that at any point in time I can take my pack off and not need to dig deep into the crevices of my pack, between clothes,
a tent
, and a sleeping bag, to grab what I need is awesome.
The long side pockets on the pack make for great storage of
trekking poles
, tripods,
spotting scopes
, and any other long and awkward items you may need to take with you. No more needing to place something on the insides of your compression straps, cinching them down as tight as you can, and hoping they don't fall out. You can comfortably collapse a tripod and place it into the side pocket without having it stick way out above your head when hiking.
The main compartment of the pack contains a zipper that runs alongside the entire pack and is basically holding a flap over the large main compartment. This makes it where you can lay your pack down on its back and perform a game of operation where you open the entire flap and quickly access whatever you need without having to pull things in and stuff them back in.
Finally, the oversized lumbar pad. I didn't realize how much of a benefit a lumbar pad has to a comfortable hike. The pack almost felt more comfortable as I added weight to it, counterintuitive but seemingly a side effect of this overside lumbar pad. The pad keeps the pack against your body removing any bounce/movement and seems to help keep the weight off of your shoulders and onto your hips, how a well-fitted pack should.
Accessories
The external
PALS/Molle system
gives the user a lot of flexibility to customize their pack to the need. Commonly used on the 44 Mag is the Sherman Pocket, seen in blaze orange on my pack, which adds 500ci/8L of storage space and can double as a means to carry a rifle strapped to the outside of your pack.
The Sherman pocket has buckles at the top that attach to the webbing on your pack, can be unbuckled and hung forward, revealing a small opening that can fit the stock of your rifle. Using compression straps in a cross pattern over the front of your pack gives your rifle a secure place to sit during a long hike.
The belt also has PALS/Molle compatibility and this is commonly used for a Nalgene
water bottle pocket
, a
belt pouch
, and
a gun bearer
. You can see the water bottle pocket and gun bearer being used on my pack in the image of me hiking. Finally, you can attach an additional "guide lid" like the
organizer guide lid
on top of your pack to give you more quick access organization to your items.
The gun bearer works great for having quick access to your rifle but needs to be configured well because it does end up sitting directly in front of your face hiking. In a low-light situation where you need to use a headlamp, it is quite irritating having it block your line of sight.
Finally, Kifaru offers a
light and compact pack cover
for each size pack that is a silicon-coated fabric for complete waterproof protection. The pack cover has a bungee drawstring to tighten around your pack and ensure your equipment stays dry.
Company Background
Kifaru
truly seems to be a company that practices what it preaches. From a hunting perspective, the owner Aron Snyder alongside many other Kifaru employees constantly tests and utilizes the gear that they sell in the field. This creates equipment that has been well thought out and has been used to haul out 100lb+ loads and comfortably, as much as it can be with that weight.
Additionally, they offer plenty of different pack sizes, styles, and accessories to give you an all-around pack system that fits your needs. If you're interested in buying a pack from Kifaru, especially if it's your first, reach out to them and talk to their knowledgeable staff.
They will help guide you through your purchase and ensure that your pack will fit you. A proper pack fit will ensure comfort throughout all situations.
Customer Support
An incredibly important part of having a successful backcountry adventure and the hunt is comfortable with your equipment. Kifaru has many online videos detailing proper pack fit and setup, ensuring that your pack will be fully functional and comfortable to your body type.

Additionally, you can call their customer service phone line and describe what your goal is and they will help recommend packs for your liking. Additionally, they will help you select the correct frame and belt size to ensure your pack fits you.
Our Verdict
Kifaru creates comfortable and durable equipment for the outdoorsman. Their great line of equipment gives anyone a large selection of gear and their 44 Mag acts as a great middle ground. The durable 500D DWR-coated Cordura can take a beating.
The external PALs/Molle system gives you a ton of flexibility with accessories and even places to hang
carabiners
and really anything else you can think of. The internal pockets are well thought out and give you a way to organize your gear.
Finally, the lid gives you a quick access solution for items you may need to be grabbing throughout the day, without needing to open your entire pack and reorganize every time you're stopping to eat a snack. While the 44 mag is an expensive choice, requiring an external frame to function, this pack will surely last you a lifetime, and the Kifaru Limited Lifetime Warranty protects against craftsmanship failures.
They back their product and know its efficacy through thousands of hours of field testing. You can't go wrong with a 44 mag for your next multi-day expedition.
Subscribe to our Newsletter