Hilleberg Nallo GT
Editor's Conclusion
Hilleberg is a word class name in the outdoor industry, headquartered in Sweden. Their tents are some of the lightest, well made, and indestructible ones on the market. They only manufacture backcountry tents and offer multiple varieties for different environments and group sizes to suit your needs.
Hilleberg Nallo GT Review Facts
Editor's Pros & Cons
Extended and enclosed vestibule
Removable and replaceable inner liner
Very light for its size
All-season
A true 2 person tent, fits 2 comfortably
Builds up moisture inside quickly
Extended guy lines can be easy to trip on
Pricey
Lightweight
For any backcountry outdoorsmen, weight and size are important. The limited space of a pack and the weight of it directly affects how your backcountry experience can go and even how long you're able to stay in the wilderness. The Nallo GT 2 comes in at 6lbs 5oz in its packed size and 5lbs 5oz unpacked. Some competitors' tents like the Mountain Hardwear Trango 2 come in at 9lb 10oz packed, making the Nallo GT 2 highly competitive in its category for weight.
Setup
The setup of the tent isn't very difficult but does require a large amount of space. The inner liner and outer liner can be attached and packed that way, requiring less time to fully set up. The liners being attached is great because this means your tent can be set up in a rainy situation and minimize the amount of water to reach the main sleeping area. The tent uses a standard lightweight pole system to give the tent shape but also uses extended guy lines to keep the tent upright and rigid. Due to the guy line system, the amount of space necessary to use the tent increases and can be difficult in certain environments. The tent utilizes lightweight pegs for both the tent itself and the guy lines stretching off of the tent.

Additionally, the guy lines can be a tripping hazard. They do have reflective fabric stitched into them to make your tent visible during dark situations. This helps a lot when needing to avoid the lines. When setting up the tent, the guy lines can be tensioned to help with the use of space.

Shape
The tunnel design of this tent is an important factor for its rigidity and reliability during poor weather conditions. However, the Nallo is considered hilleberg's "middle line" in this family and still isn't the strongest in heavy snow conditions. It's recommended to knock off snow from the inside of the tent by pressing on the liner to prevent a collapse. The more rigid Nammatj is the bigger and sturdier brother to the Nallo.
Vestibule
For any backcountry outdoorsmen, storage of your equipment is important. The backcountry can be unforgiving and unpredictable, making the safety and status of your equipment a high priority. Keeping your gear dry is crucial to the success of your trip and your well-being, as wet clothing can easily lead to serious conditions like hypothermia.

The vestibule on the Nallo is perfectly designed for keeping your gear enclosed and near you when you are using the tent. It does not have a bottom liner and is exposed to the ground, however, it is part of the enclosed tent. This vestibule acts as the entry into your tent and is great for taking off boots and other clothing. This is a great addition for any backpacking activity because it allows you to keep dirt, snow, mud, etc out of your main sleeping area, keeping your main tent area clean. The vestibule is separated from the main sleeping area by a zipper on the inner liner of the tent, providing another layer to keep your main sleeping area warm.

Removable and Replaceable Liner
Being an all-season tent, the Nallo has an outer shell and an inner liner, separated by a small gap of air. This system keeps the main sleeping area warmer as you are not directly contacting the exterior of the tent. This inner liner can be removed for warmer environments and even replaced with a mesh liner for breathability.

Comfortable 2 Person Sleeping
"Person" sizing on tents is notorious for being incorrect in the outdoor industry. Generally, a 2 person tent would be tight for two people, especially full-grown adults. The Nallo GT sizing is true to its description. In a recent hunt, I was able to fit myself on a Klymit Static V Luxe and a friend on a standard roll sleeping pad, with some space between us comfortably. I am a 6' 3" man and my friend is a 5' 11" man, and we were able to sleep without rolling onto each other during the night.

During one of our nights in the Colorado backcountry, we experienced unexpected snow and cold temperatures. We suddenly had approximately 8 inches of snow and close to -10F temperatures hit us overnight. During the snowstorm, we were able to fit all 3 of us, the third man being 6' 4, into the tent. While we were definitely shoulder to shoulder and rubbing against the inner liner it was an option for us.

Inner Windows
To help with airflow and condensation, the tent has an interior window available to it. This window can increase the airflow inside of the tent to help remove condensation and help with the temperature management if needed.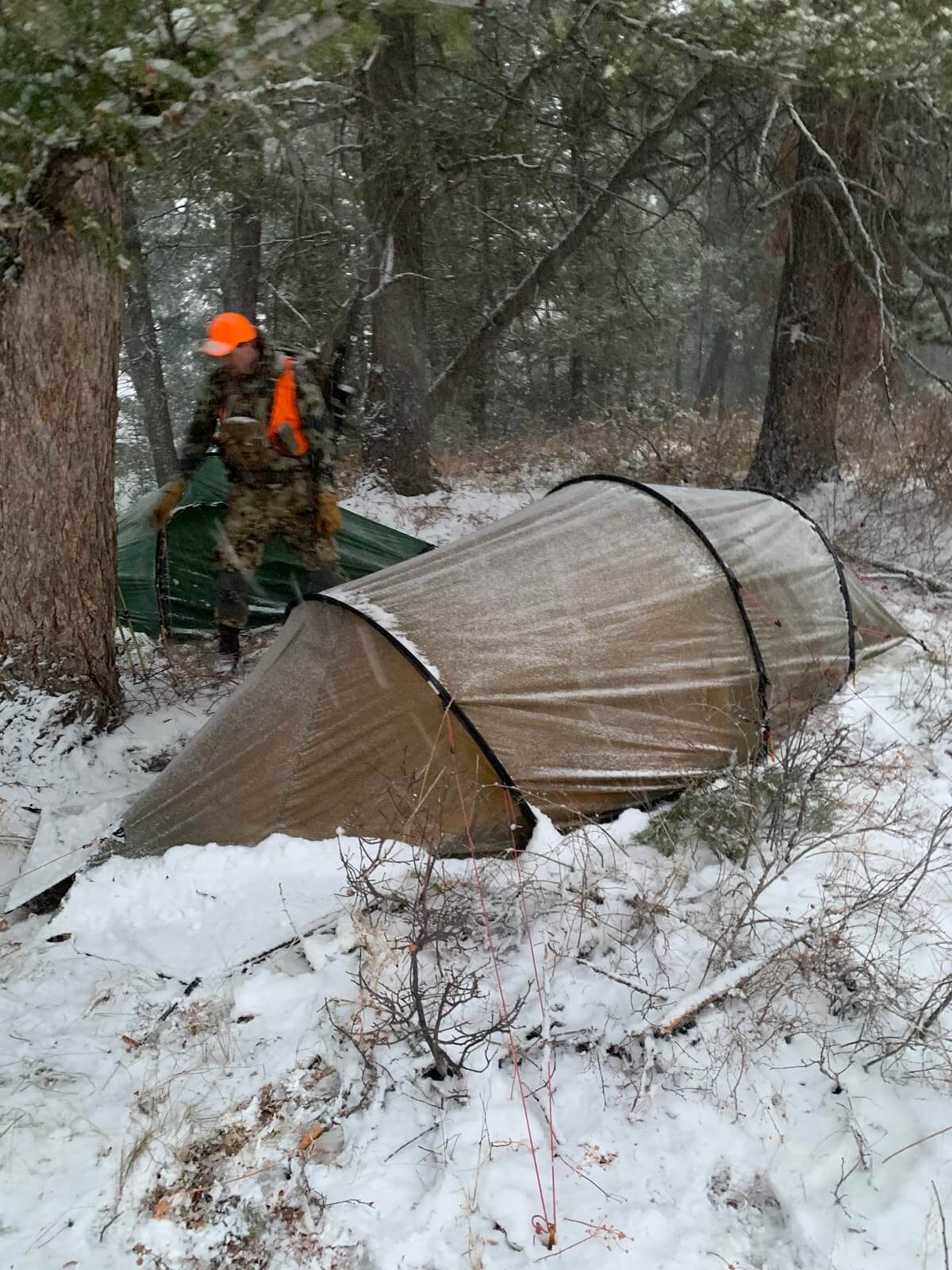 Conclusion
In all, I am glad I went with this particular tent. It's lightweight enough to haul quite a ways with the rest of my gear, to get to where I want to set up camp. Airflow, setup, protection from the elements, and sleeping space are the big things for me, and this one meets all of my needs in those areas. Like any other essential piece of gear, there is a bit of personal preference involved in choosing the right gear, but this tent works for me.
Subscribe to our Newsletter