Best Trekking Poles Reviewed & Rated for Quality
In a Hurry? Editors choice: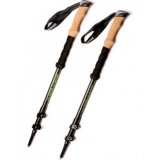 Test Winner: Hiker Hunger 100% Carbon

Whether you're a
seasoned hiker
, or just starting out, having the right trekking poles can be crucial to your hike!
Hiking poles are the
essential equipment
you will need as a hiker. When considering these poles, you should know that there are many benefits to hiking and walking with them. They can help to provide stability and great balance! Hiking uphill and downhill while carrying a heavy
backpack
can be tricky, without hiking poles to help keep you balanced! They also will help keep your traction in mud and snow, leaving less chance for a fall and injury.
Some are collapsible and lightweight but they are stronger than if you used something like
tent poles
, providing better protection from strong winds. This guide will show you top-rated hiking poles on the market today, and lead you to your perfect fit!
Standout Picks
Criteria Used for Evaluation
Size
Choosing a properly sized pole will not only help you maximize your treks but will help you to stay safe while on the trail. A properly fitted pole will place your elbows at a 90-degree angle while you're holding the poles with the tips on the ground.
Hiking poles come in adjustable lengths or in fixed lengths. Adjustable options offer the hiker the ability to adjust the height of the pole to account for different types of terrain. A shorter pole will aid in uphill sections of the trail while longer pole lengths will help when it comes time to go downhill. Fixed-length poles are comprised of fewer parts and mechanisms which make them a more lightweight option for hikers who want some stability and balance without too much-added weight.
If you're worried about choosing the wrong length of the pole, the adjustable poles might be a desirable option so that one can use trial and error to find the right size. It's recommended if you're taller than 6' to choose a hiking pole that is at least 51 inches tall. If you're shorter than that, you should be able to adapt most adjustable poles to make them work for you.
Materials
The most common material used to make hiking poles is aluminum. They tend to be the most durable and cheapest options on the market. That said, however, aluminum does tend to bend under very high stress but is unlikely to break. It is also easy to bend it back into shape if it's been bent. Aluminum will be a heavier option than carbon fiber, so that's something to take into consideration if you're sensitive to extra weight. It's also important to note here that aluminum poles are bound to cause more vibrations than carbon fibered poles because aluminum is not stiff like carbon fibers. Without shock absorbers on your poles, the vibrations may become annoying.
Another shaft material option is carbon fiber. This type of material is very lightweight and offers the user a bouncy feel. Carbon fiber also tends to absorb vibrations better than aluminum. That said, this material is more fragile. If carbon poles are subject to sharp edges or rough rocks, they're likely to develop weak spots which make them more prone to break, where aluminum material is more likely to just bend. Another important thing to note about carbon fiber is that if they fail, it often comes on suddenly with a total and jagged break. Reports of broken carbon fiber poles are more common in the ultra-light models.
It's worthwhile to take into account the types of terrain you might be using your poles on. If you tend to favor well-worn trails, carbon fiber would be an okay fit for you. If you are a bit on the wild side and often find yourself vaulting off of boulders and rocks or frequently leaning onto your poles, aluminum might offer you more of the durability you're looking for.
Style
In addition to there being different pole length options on the market, there are also different styles as well.
The strongest and most durable design for poles features a two-section telescoping mechanism. These are well-suited for winter activities like snowshoeing or cross-country skiing and a great option for people who have been known to be rough on their poles. They are often heavier than other pole designs and will take up more space than other options as well, making them less convenient for hikers or climbers who need something that can shrink to fit into their bags.
The most common type of hiking pole design is the three-section telescoping pole. This type of pole usually folds down small enough to be conveniently strapped to a backpack or packed inside a suitcase. They are usually more lightweight than two section poles but aren't made to be quite as durable. They do tend to last longer than folding poles (to be discussed later), though, and offer more adjustability that will suit the needs of hikers, backpackers or climbers.
Some poles are shock-absorbing. These poles feature springs inside that aid in shock absorption on downhill portions of the trail. Some poles that have the anti-shock mechanism offer the ability to turn off the feature when it's not necessary, such as uphill portions. Though some people swear by shock absorbers, others find that this option is more of a gimmick than anything. Shock-absorption is a nice feature to have for hikers who have issues when their joints get jolted or for people with bad hips, knees or ankles.
Another popular option is a "tentpole" style. These are the newest style of poles. They featured a shock cord in the middle and fold up just like camping tent poles. They are among some of the most lightweight hiking pole options on the market but often aren't as long-lasting as their telescoping counterparts. They are easy to pack, take up much less space in a backpack and are quick to maneuver, making them a great option for climbers.
Durability
All hiking poles feature a locking mechanism which helps to ensure the poles won't slip in and out while they're being used. This is to ensure safety on the trails as well as comfort and durability.
For poles that aren't adjustable, they will lock and unlock so they're extendable to full length for when you're using them and collapsible when you're storing them. Poles that are adjustable are similar, but their locking mechanisms often allow you to adjust the length of the interlocking sections. This allows the buyer to adjust the poles to their height as well as to the terrain.
External lever locks are a clamp-like mechanism that is convenient to adjust on the go. The tendency for the pole to slip in the locked position is reduced using this type of locking mechanism.
Push-button locks are another type of locking mechanism featured in some poles. This type of lock will snap into place and lock with one pull. There's a push-button present to release the lock and to collapse the poles.
Twist locks use an expander and screw system that has been said to be strong. However, twist locks are often prone to slipping, can be unreliable and not as durable as other locking mechanism options. They are also difficult to grip when you're wearing gloves.
A fourth locking mechanism option is a combination lock. Some poles use a combination of the above mechanisms to attempt to reach a balance between strength, lightweight and accessibility. As an example, a hiking pole might feature the external lever lock on the upper part of the pole and a twist mechanism on the lower portion.
Features
The shape of the pole handle helps to determine how comfortable the pole will be for the hiker. Some poles feature ergonomic grips with a 15-degree corrective angle. The purpose of this is to aid the trekker in walking in a neutral position to ensure they stay safe and pain-free on their adventures.
The grip can be made from many different types of materials.
Cork grips will shape to your hands through time and will offer moisture-absorption for sweaty hands. This type of grip will also decrease the number of vibrations you feel as your poles strike the ground. Cork is chafing-resistant so it's a great material option to choose if you plan to trek in warm weather and it also features natural antimicrobial properties to resist that smelliness that can often come over time.
Rubber grips offer the cold weather trekker more insulation than cork. They're not as comfortable or conforming as cork grips, but they're the most water-resistant which makes them a great companion for people who want to do their hiking in the winter months. They don't hold up as well as a cork in warmer weather.
Another grip option is foam. This type is the lightest and the softest material to the touch. Foam grips will also help to wick moisture away from sweaty hands. It is also, however, the least durable of the three grip types listed here. Foam grips will lose their shape the quickest and break down the fastest of the other options.
The tips of hiking poles are typically made of carbide steel. This is because this type of material provides great traction, even on ice. Carbide is a more durable metal than aluminum so that's something else to take into consideration when choosing your poles. The carbide tips can often be noisy, however, and they don't provide the best traction on harder surfaces.
It is often recommended to also have rubber tip protectors to help extend the lifespan of the steel tips. Rubber protectors will not only protect the metal tips of the poles but will also shield your backpack or suitcase from being destroyed by the sharper steel tips. Rubber tips are also helpful in environmentally-sensitive areas so as to reduce the impact on nature.
Baskets are the round rings that are found at the bottom of hiking poles. The baskets ensure that the poles will not sink into the ground or snow. The baskets are removable and are usually quite small so they won't get caught in any undergrowth on the trails. One can swap out the summer basket for a powder basket, often shaped like a snowflake, when it comes to trek in the snow. Larger, more solid baskets are a great option to use when the terrain is muddy.
Many poles feature adjustable wrist straps. Properly fitted straps offer the user support that aids in diminishing hand fatigue. Many people who use poles without straps will find that they grip the pole too tightly, resulting in fatigued hands that will ache the entire trek or increase the likelihood of injury.
10 Best Trekking Poles
1

. Hiker Hunger 100% Carbon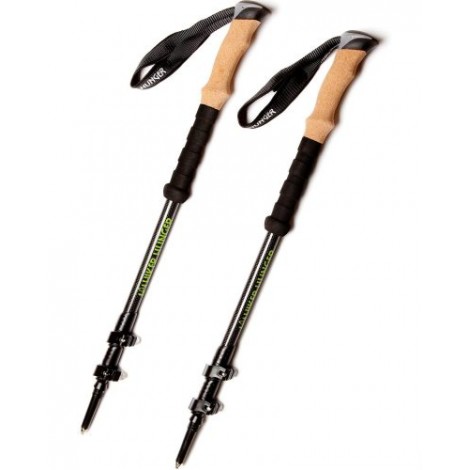 Lightweight, collapsible, interchangeable tips! What more could you ask for in a hiking pole? This seems to be a great pole for any hiker, whether it's a professional or a beginner. From steep hills to flat land, these will have you covered.
Poles are retractable
Take them on any adventure! They can be easily stored in a backpack when they are not being used. Opening and closing them is simple, and easy for anyone to do!
Interchangeable tips
When changing trail surfaces it's important to have the right tips for the right traction! This product comes with Tungsten Carbide Tips, rubber tips, and rubber feet!
Cost and Value
Specifically designed to hike or walk just about any terrain, these seem to be a great value for their price, considering it's about an average price for hiking poles. Throw in the fact that it comes with the interchangeable tips, a nice bonus!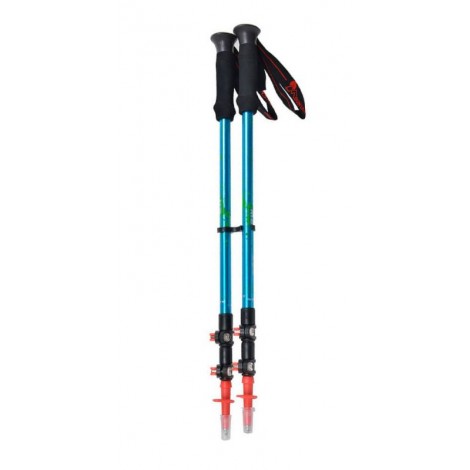 These budget-friendly ultra strong hiking poles are built to last! They are built with the same aluminum as airplanes, and promise to never snap! As if that isn't intriguing enough they are lightweight and collapsible, they are easy to take anywhere, and can even fit in your backpack! This top-rated choice will not disappoint!
New IMPROVED Model
Dropping your poles is something you will never have to fear again! Nylon straps take these poles to another level, providing a safer way to walk or hike
Strong and Compact
Made with the aircraft aluminum, these are strong and will not snap! It's hard not to rave about the strength and durability of these poles!
Cost and Value
Getting more bang for your buck is an understatement when it comes to these ultra-strong poles! These are super budget-friendly compared to other top-rated hiking poles and are highly rated among users!

3

. Black Diamond Trail Ergo
These hiking poles are known for their durability and comfort! These lightweight poles use an external lever locking style system, making them more durable and easier to use! They have a higher price tag than some of the other poles, but if you're looking for comfort, the unique design of the Trail Ergo might be for you!
Optimal Grip Position
Have a comfortable grip on your poles can make or break your trip! This product comes with a cork handle, at a 15-degree corrective angle! It's known to provide the ultimate comfort for gripping!
Versatile
Don't be fooled by the lightweight design of the Trail Ergo! It's very versatile for all seasons. Along with hiking, these are popular for snowshoeing and using off trails!
Cost and Value
While this product is a little more steep in price than others, it does have some great features that definitely add up! Especially if you have ever struggled with finding hiking poles with a comfortable grip! Comfort is priceless!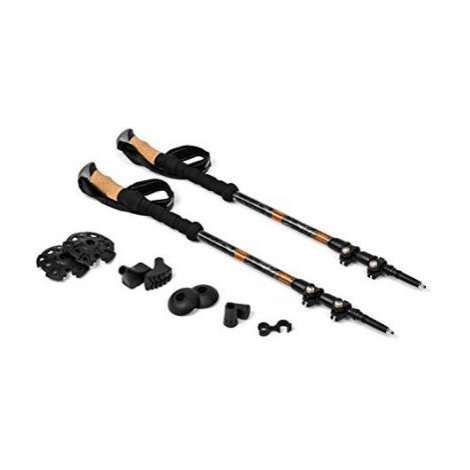 These 3 section carbon fiber poles are perfect for any hiker! They are lightweight and make of 100% carbon fiber making them very strong! They have cork handles to help resist moisture from sweaty hands and reduce the vibration! Take them on any trail! They are one of a kind!
Quick Locking Mechanism
The quick locking mechanism makes it very easy to adjust the height while on your hike. If you're about to head uphill or downhill, you can quickly adjust them, with ease!
Choose your handles
While lots would rave about cork handles, they aren't for everyone! The nice thing about these is you have the option to choose between foam handles or cork handles.
Cost and Value
This is one of the best-priced set of hiking poles on this list! With great reviews on durability and dependability, you really can't go wrong with trying these out!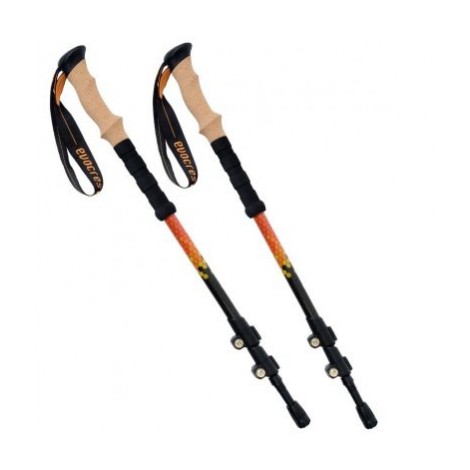 Being very similar to some of the other top-rated poles, the Evocrest Carbon Fiber poles also promises to deliver! Made of 100% carbon fiber, we are looking at another set of strong poles, to take you on just about any hiking adventure! Enjoy these year-round, as they are suitable for all weather conditions!
Ultra lightweight
These lightweight hiking poles are very versatile! The two poles combined weigh less than one pound combined, but don't let that fool you, due to their tough aluminum material they are very strong poles!
Compact
These poles can adjust from 24 inches to 54 inches which makes them very versatile for different types of walks and hikes! They fold up nicely to fit in their bag or any backpack.
Cost and Value
These hiking poles are one of the highest quality products you will find at its very budget-friendly price! It's slightly cheaper than some of the averagely priced options, with most of the same great features!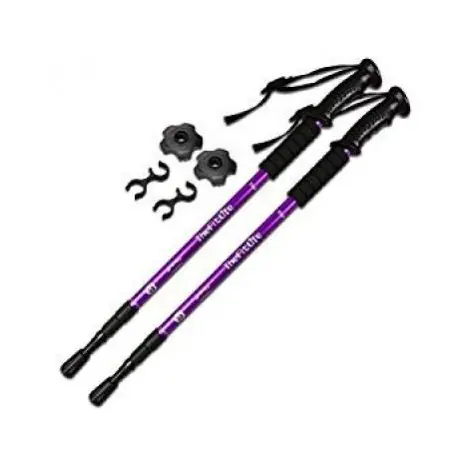 TheFitLife Nordic poles are probably the most budget-friendly hiking poles out there! They are known for their durability and are sure to not disappoint! While being made out of strong aluminum they are also lightweight and easily fold and collapse. Balance and stability won't be a worry with these!
Shock Absorbing
TheFitLife Nordic are designed with an antishock system, that will help to absorb any force put on them, being that they are made out of very strong aviation aluminum.
Made of Aviation Aluminum
If you are looking for a tough hiking pole, resistant to impact, look no farther. These are crafted from aviation aluminum, making them some of the strongest pole out there!
Cost and Value
These hiking poles, are some of the most affordable poles out there. A great price point for newcomers who want to try walking/hiking poles, without the risk of losing a lot of money.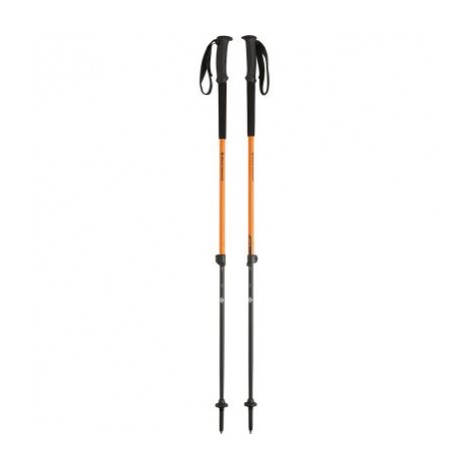 Foxelli takes hiking to a whole new level! Made with 100% carbon fiber, they are strong and built to last. You can hike comfortable and confidently year-round with these! With 100% satisfaction guaranteed or your money back, you have nothing to lose if you're not happy with these hiking poles. Although these poles were not designed to disappoint!
Very Lightweight
Weighing in at just 7 ounces per pole, the two combined weigh in at less than a pound! Very lightweight for such a strong product! Perhaps one of the lightest poles on the market!
Conforming Cork Handle
The grip handle, being made of natural cork, conforms to your hand after a short period of time, fitting like a glove! Being natural cork, it also helps to cool your hand and is sweat resistant!
Cost and Value
Foxelli poles have a great price point being right around the average price of any set of good poles! WIth some of its great features, it seems like you will definitely be happy with what you are getting for such a great price!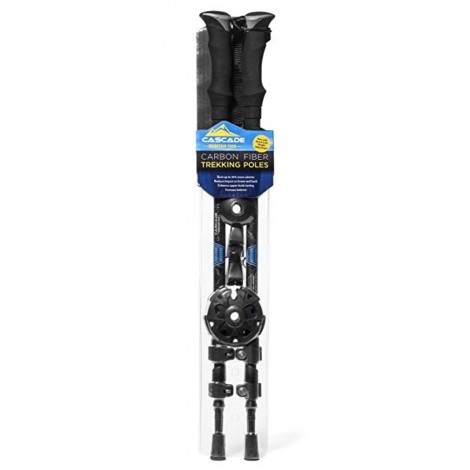 These hiking poles are probably the most budget-friendly pair on the list! They come with unique features and great reviews! Chose the poles that are best for you, as this company offers different grips, shaft materials, and locking mechanisms! Customizable poles, at a low price, sounds like a great deal!
Quick Lock Feature
Cascade Mountain offers a quick lock feature that users are raving about! Not only is it very reliable, but it makes adjusting your pole much faster and much easier!
Grip Extensions
These poles come with grip extensions, allowing you to adjust the grip for your own comfort! They also allow more variety for hand positions, taking these poles to a whole new level!
Cost and Value
Being that these hiking poles are some of the lowest prices we have found, the cost is great! You definitely get more than what you pay for with these poles.

9

. Mountainsmith Carbonlite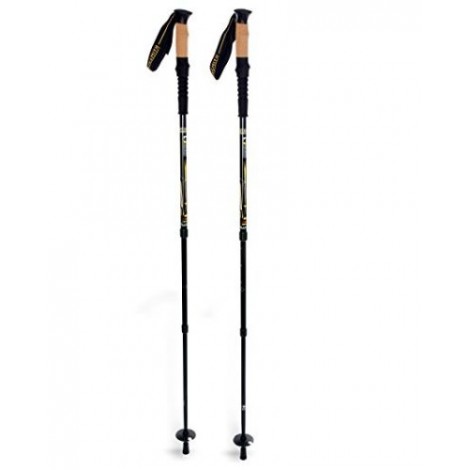 These poles may be one of the most unique of its kind on the market made with carbon aluminum, they are very lightweight, compactable and easy to use. These prove to be strong and are great for any type of adventure. Whether your a professional hiker, or just going for a walk, these may be the right ones for you!
Carbonaluminum
Is that even a word? Apparently, it is and it's very cool! These were made with carbon and 7075 aluminum providing a very strong pole that is very lightweight!
Anti Shock System
The Carbonlite Pro comes equipped with a spring-loaded anti-shock system. This is a great feature that not all other poles have to offer!
Cost and Value
These tend to be slightly higher than the average set of hiking poles but with the carbon aluminum material, and other great features it seems that these may be worth the slightly higher investment.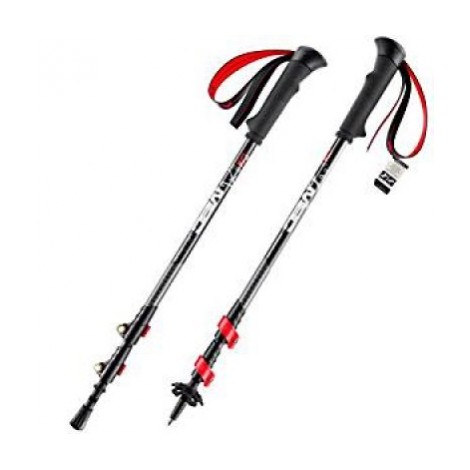 These great hiking poles are strong and durable, built to last! They are known to be able to bear extra weight, which is always a plus! They are also comfortable and lightweight Coming in at an average cost, these are a great pick for an experienced hiker or newcomer!
Money Back Guarantee
Don't let the fear of not liking them stop you from ordering! If your unhappy with these poles for any reason the manufacturer offers a 30-day money-back guarantee!
Bear Extra Weight
Carbofox tests all their poles with extreme pressure in their lab before selling them! These strong poles are made to support you, and whatever you bring with!
Cost and Value
Coming in at an average price for hiking poles, these poles are worth it! They have great features, prove to be strong, and are still affordable.

Subscribe to our Newsletter