The Best Backpacking Gear Reviewed
last updated:
Mar 05, 2021
If you cover these two bases on your next adventure out in the wild, you are guaranteed to have an easy trip. In this guide, we have selected some of the best backpacking gear that fits snugly into your backpack. And don't worry, we included our favorite backpack too!
When it comes to braving the elements, the gear your need typically falls into 2 different categories. The first category is gear designed to keep you safe, such as tools, first aid, and lights. The second category is gear to keep you comfortable, such as ponchos, blankets, and packs.
When shopping for gear quality is key! The best backpacking gear is meant to withstand the elements, as well as the inevitable tumble or two. Keeping things light also means that you won't have a heavy and comfortable pack weighing you down.
In a Hurry? The test winner after 8 hrs of research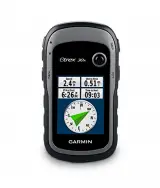 Garmin eTrex 30x
Why is it better?
Trusted brand
Long battery life
Preloaded map
In a
Hurry? Editors choice: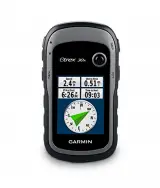 Test Winner: Garmin eTrex 30x

2
Researched Sources
920
Reviews Considered
8
Hours Researching
10
Products Evaluated
Features
Comfort
Ease of Use
Weight
Materials
By Default
10 Best Backpacking Gear Essentials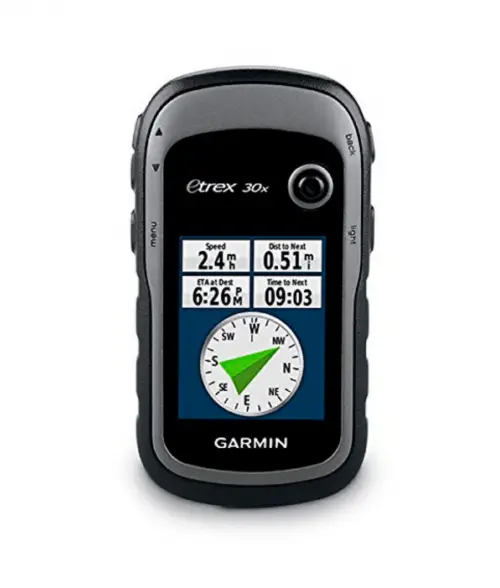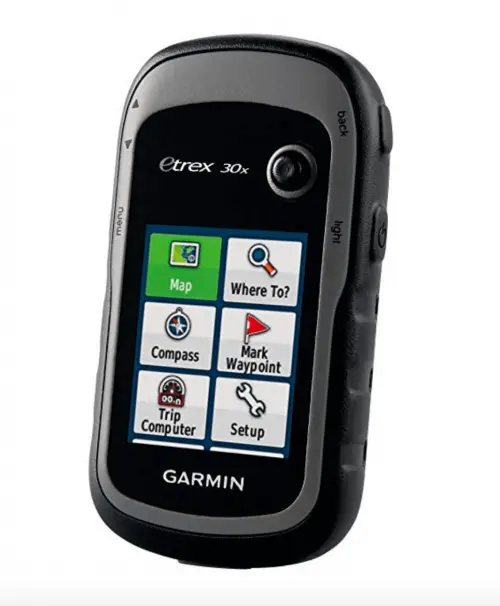 Trusted brand
Long battery life
Preloaded map
Unintuitive menus
Slow loading maps
Getting lost in the woods never to return not exactly your thing? While our cell phones often have all of the information you need, cell phone reception gets a little spotty and unreliable in the middle of the woods. Packing a GPS gives you peace of mind that you won't have to tell your boss you missed work on Monday because you were lost.
Garmin is one of the most trusted brands for GPS tools, and the eTrex 30x is no exception. A good step up from the previous model eTrex 20x, It offers almost 4 gigs of storage to load up various maps of the areas where you intend to explore. Even if you forget to load up your map, it also comes with a basic preloaded map as well.
What users really love about this little device is that it has a battery life that lasts up to 25 hours off of a single charge. It has a simple 2-inch color LCD display that makes reading your location and direction traveled simple and easy. Plus, you can even send your location to other compatible devices in case you get separated from your group.
When traveling on unfamiliar trails, it's important to keep a tool in your belt to ensure that you never get lost. Early travelers simply relied on the basic compass, but today we have more reliable tools to make sure we never get turned around!
2

. Black Diamond Storm Headlamp
Trusted brand
Various settings
Waterproof
Makes buzzing noise
A little heavy
If you plan to stay out on the trails after the sun goes down, you need a reliable source of light. Standard handheld flashlights are nice, but they occupy a hand that could be better used holding trekking poles or GPS devices. A good quality headlamp ensures that wherever you look the trail is illuminated before you. Plus, it keeps your hands free!
Black Diamond is one of the most trusted brands in the outdoor gear world, which is why we included it on our best backpacking gear list. It is waterproof and dustproof and can be worn even in the rain. It can also withstand up to 1 minute completely submerged in water.
What we loved most about this design is that it also has various settings such as red, green, and blue lights for night time travel. It has a strobe light if you need to be seen on the side of traveled roadways. The quality LED light is also able to be dimmed if you feel that full power is too bright.
Equipping a headlamp while traveling in the dark keeps the trail ahead of your illuminated and your hands available to wrap around your thermos of hot coffee.
3

. A2S Protection Paracord Bracelet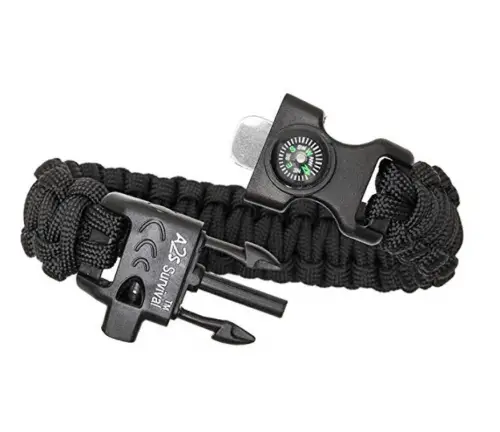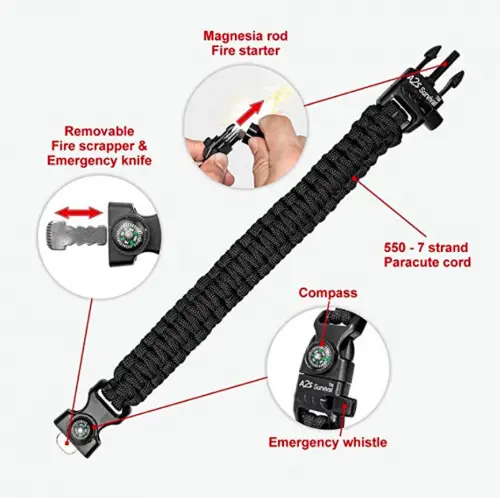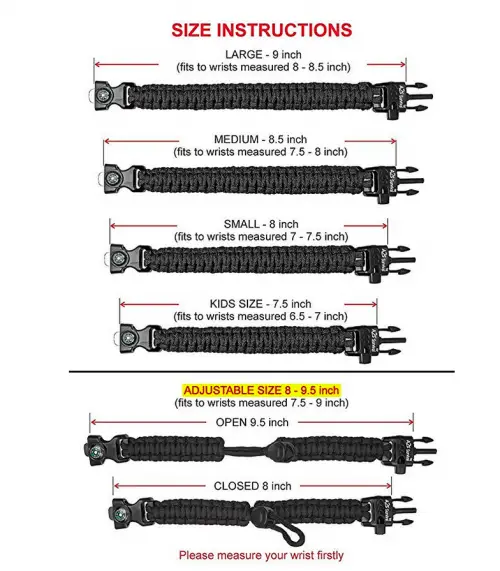 Lightweight
Long-range whistle
Flint starter
Odds are, your next outdoor expedition will go off without a single problem. However, it is incredibly important that you are fully prepared should any problems arise. What we love about equipping a paracord bracelet is that it is a piece of gear that could potentially save your life without adding any additional bulk to your gear load.
The paracord itself is able to be used in a myriad of ways to ensure your survival if things go sideways. It can be used to help fashion a splint if you take a nasty tumble, or used to bundle sticks together. It can even be used as a makeshift fishing line.
What we loved most about this bracelet, however, is the small but essential features. It comes with a flint starter that can help but build a fire to keep warm if you need to stop and set up camp. It also has a long-range whistle if you get separated from your group, as well as a built-in compass to help find your way back.
This paracord bracelet is incredibly small, lightweight, and it won't add to your load. You may go on 99 adventures and never need to use it, but it is a literal lifesaver for that one trek where you need it.
4

. Foxelli Trekking Poles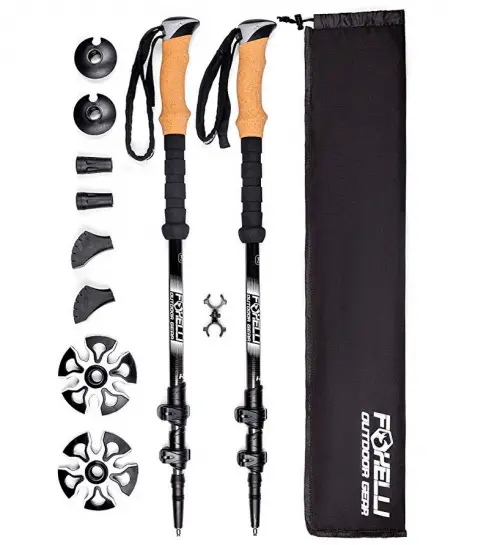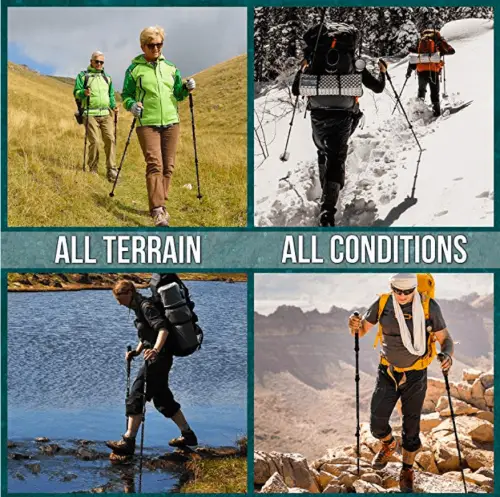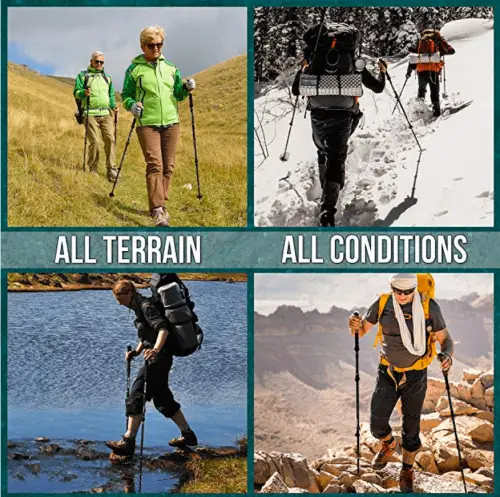 Trusted brand
Retractable
Cork grip
The last thing you want to do while out on the trails is to take a nasty tumble. Bringing along a trekking pole on your next adventure will ensure a good and steady footing when the trail gets a little difficult to navigate. Foxelli makes poles that are not only lightweight and secure, but they also fold up to hang off of your pack or belt buckle when not in use.
What we loved most about this style of pole is that it is constructed from 100 percent carbon fiber. This means that it can withstand a lot of pressure as you lean on it, but it doesn't add a lot of additional weight to your travel gear. Plus, it folds to half it's extended size to pack away when not in use.
The grip on the top of the handle is composed of a lightweight cork that wicks away sweat from your hands. As your hands start to get sweaty on hot days, it still ensures a firm grip on the handles. It also sports a soft EVA foam grip beneath the cork that forms to the shape of your hand over time.
If you love exploring off the beaten path, added stability will prevent tripping over rocks or tree roots which can lead to injury. It folds up to store in your pack and is ready for you when you need it.
5

. MediKit Deluxe First Aid Kit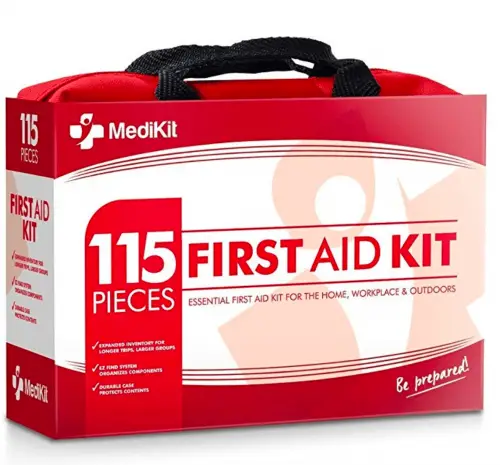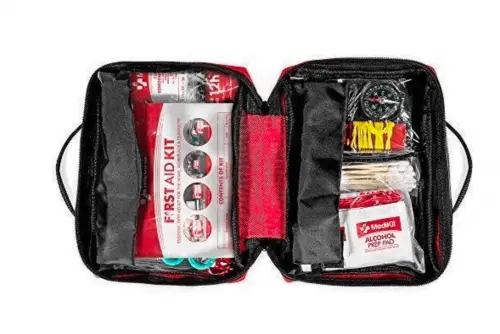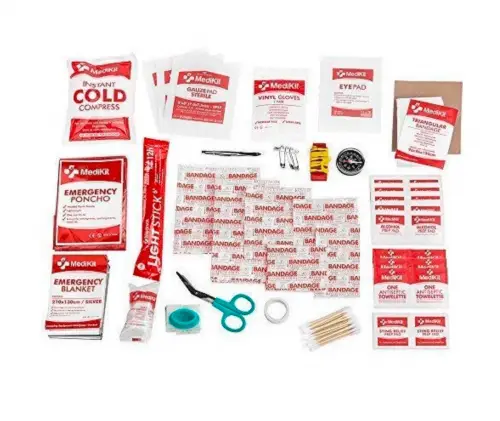 Compact design
299 pieces
Lightweight
Narrow medical tape
No antihistamines
When you are far away from a bar of soap and a hot shower, it is important to keep all cuts and scrapes properly cleaned and bandaged. While it may not be something that you ever open, it's a good idea to keep a quality first aid kit tucked into the side of your backpack for easy access when you need it.
What makes this design from First Aid only stand out from the pack is that it is stuffed with 115 pieces of bandages, alcohol wipes, and aspirin for when you need it. Even if you suffered a minor cut or scrape, it is important to keep it clean and covered until you get back home.
It comes in a small nylon zippered case that measures to be 9.5 inches tall and 7.25 inches wide. These dimensions make it a perfect fit for most backpacks. Simply tuck it into a zippered pocket in your pack without adding a lot of additional bulk. It also comes with scissors and a pair of tweezers as well that can come in quite handy for a myriad of reasons.
Cuts and scrapes are incredibly common when adventuring out in the wilderness, and it's important to keep those cuts and scrapes clean. What we loved about this kit is that it has a ton of different tools and bandages to keep those cuts clean which reduces the risk of infection.
Trusted brand
Well placed pockets
Breathable
Suspension system
Small hip pockets
Narrow shoulders
No backpacking trip is complete without a backpack! The Osprey Packs Talon 22 is one of the best Osprey backpacks on the market and the perfect companion for long or short hikes. It has a myriad of features that makes it easy to access your gear without taking the pack off. Plus, it is lightweight and breathable and comes with a suspension system to keep you light on your feet.
What users love about this design is that the back and shoulders contour to the shape of your body with mesh vents to promote air circulation when you really start to sweat. It has a pair of hip pockets which is a perfect place to keep easy access to essentials such as your phone or energy bars.
It has a mesh water bottle holder as well as an external hydration pack. It also had a panel to equip your Foxelli trekking poles when not in use!
It comes in a wide range of colors which include black, red, blue, and green. The styling of this pack is simple, which means it's something that will never go out of style. It is constructed from durable and lightweight materials, making it one of the pack packs you may ever need to buy.
Osprey was founded in 1974 by a fellow backpacker, so you know that all of the products in the Osprey line have been tried and tested. It comes with all of the features you want from a pack, such as easy access to gear, a comfortable fit that won't dig into your shoulders, and thoughtfully placed pockets.
7

. Victorinox Swiss Army Multi-Tool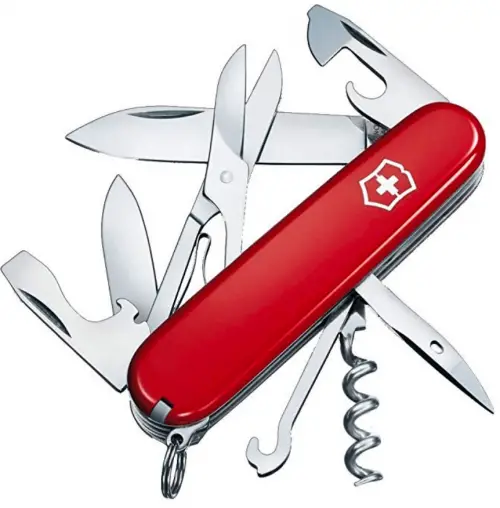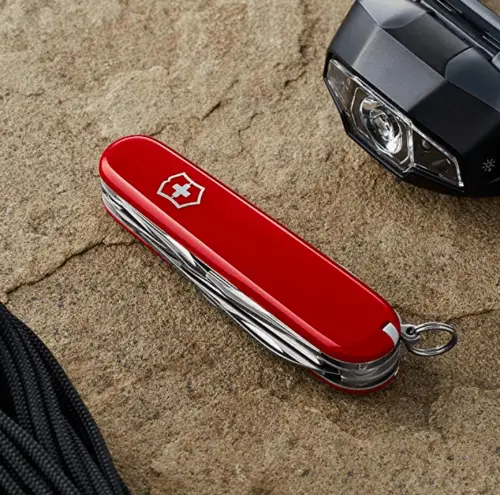 Textured grip
High-quality materials
Sharp knife
No trip outdoors is complete without a handy pocket knife. This design from Victorinox has a surefire grip that makes working in less than ideal and rainy conditions just that much easier. Plus, it is equipped with all of the tools that you would ever need when traveling outdoors.
The most notable feature about this option is the thick and grooved grip. While some of the other options out there on the market sport a smooth grip, this one is a better choice when working in rainy or cold conditions. Plus, it is small and lightweight so it is easy to slip into your pocket when you need it.
It comes with all of the standard tools you would expect from a swiss army knife. It has a standard knife, a pair of clippers, a file, a Phillips head screwdriver, and even a bottle opener. It also sports a small ring along the top so that you can affix it to the side of your backpack or keychain with your car keys.
When traveling outdoors, a tried and tested swiss army knife is incredibly helpful completely those small little tasks when you are far from home.
8

. Healthy Human Water Bottle Stein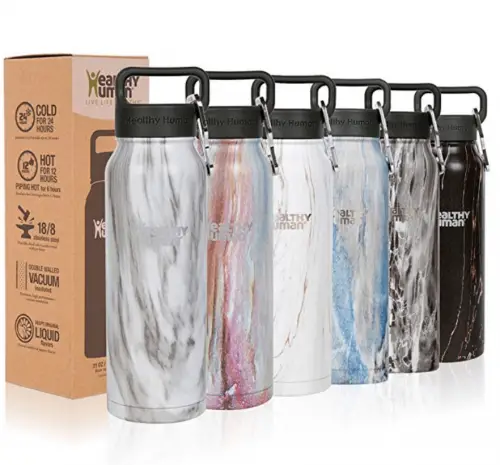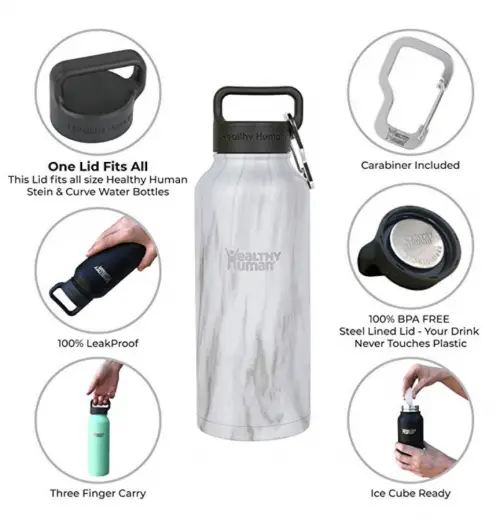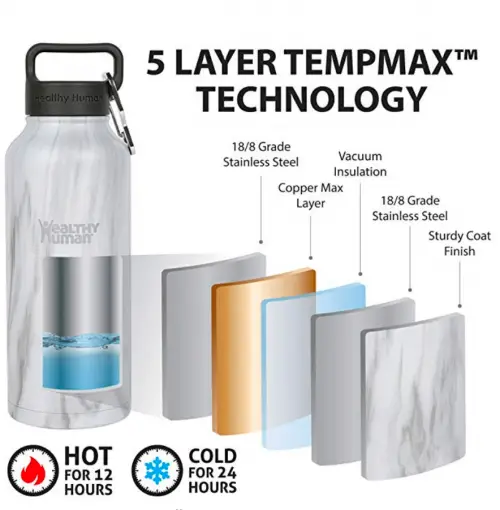 Insulated
BPA free
Stainless steel
Dents easily
Difficult to clean
Whether you are out for the afternoon or a longer trek, it is incredibly important that you stay hydrated. What we loved most about this water stein from Healthy Human is that is has a design that slips easily into a pack or affixes to the side via a sturdy clip. Plus, it comes in a ton of fun colors and design options.
If you need to keep water cold or coffee hot, the double insulated walls of this stein keep your beverages the perfect temperature. These also prevent the outside from sweating when it's packed with ice, which makes it ideal to place into your pack worry-free.
Multiple layers are what make this design stand out from the rest. It has 2 layers of 18/8 stainless steel, a layer of copper, and a vacuum seal to prevent sweating. It the outside layer and lid are constructed from BPA plastics that meet all safety regulations.
A good water bottle is one of the most important pieces of gear for any hiker, and the Healthy Human Water Bottle Stein meets all of the boxes of what users need. Fill it with ice at the beginning of the day and enjoy ice-cold water all day long!
9

. Foxelli Hooded Rain Poncho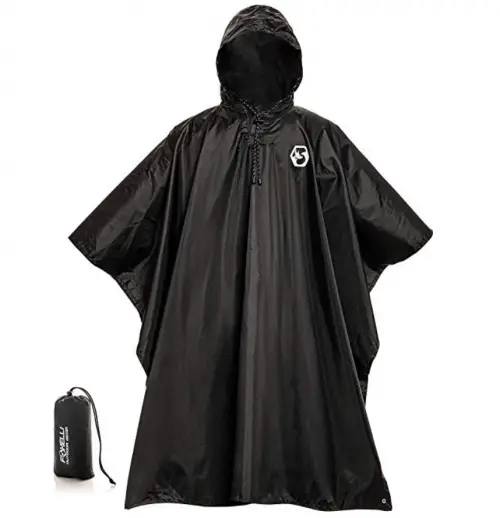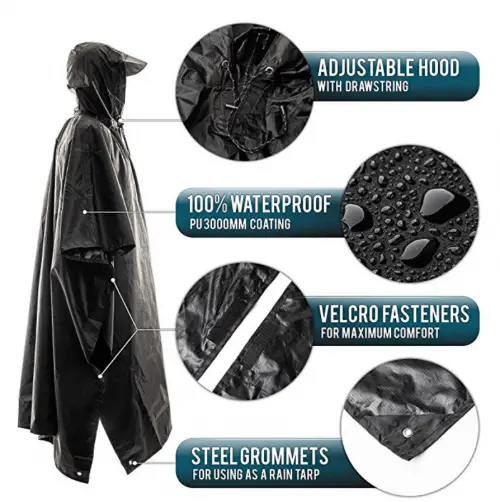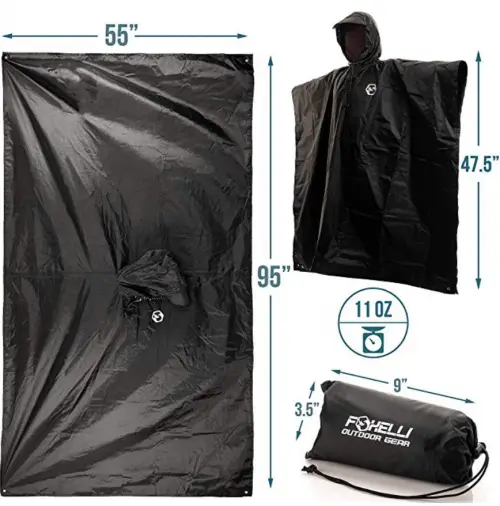 Trusted brand
Long cut
Wind resistant
The weatherman often gets the forecast wrong, and a bright and sunny day can turn wet and swampy at the drop of a hat. Keeping a quality poncho tucked into the side of your pack ensures that you stay high and dry when the weather inevitably turns rainy.
Foxelli makes our list yet again with this compact and high-quality rain poncho. It is constructed from lightweight high density coated polyester that wicks away water, even if you get caught in a monsoon! Plus, it is also considered wind resistant that keeps you warm when the weather is wet, windy, and cold.
It has a long cut that keeps your legs dry as well. Many ponchos and raincoats stop short at your belt, which results in uncomfortable and soggy cargo pants. When not in use, it rolls up easily and fits snugly inside a narrow carrying case. This allows you to pack it neatly into your backpack for when you need it.
This design rolls up small and compact, and it comes from a trusted brand that holds up well to keep you high and dry.
10

. Yaktrax Walk Traction Cleats
Easy to wear
Spikeless
Lightweight
The outdoor season doesn't have to end just because sunny weather has hibernated for the winter! Even if trails become slippery or snow-covered, the proper gear keeps you on top of the trail with confidence. The Yaktrax Walk Traction Cleats affix to your shoes or boots the same way equipping chains to your tires to give you more traction in the snow.
These cleats have a low provide that will not add much additional bulk to your shoes. Steel coil that measures to be 1.2 millimeters lines a stretchy polyester band that slips up over your shoes. An elastic outer band makes it easy to pull them on and off as needed.
Unlike similar designs out there on the market, this option doesn't use spikes. This means that you can wear them on various surfaces without worrying about damaging your floors. It also means that they are just a little bit easier to work with.
If you don't want to hang up your backpack once the snow starts falling, it just means that you need to invest in more versatile gear!. The Yaktrax cleats come in a wide variety of sizes that accommodate every shoe size, and equipt to your shoes in a snap.
Criteria Used for Evaluation

Features
Unique and sturdy features help to make your life just a little bit easier. While the basic designs are often tried and tested, everyone loves to pack the best backpacking gear that has more than one basic function.
Headlamps, for instance, are something that has far more function over your basic flashlight. You may be compelled to reach for the flashlight that you keep in your toolbox, but headlamps are designed specifically for the outdoors. They have multiple features that allow you to change color or brightness and keep your hands free.
We also liked that paracord bracelets offer a few more features over your standard paracord. Most paracord bracelets come with additional accessories such as a loud whistle and a flint starter. The flint starter is a real lifesaver if you find yourself stuck in the woods on a cold night.
One of the most important features that we looked for was foldability. You want to keep your pack lightweight and comfortable, so products that are able to be folded up for easy storage made them leap to the front of the pack. Hiking/trekking poles, for instance, are incredibly helpful when you can fold them up and hang them off of the back of your pack.
All of the features on the backpacking gear that we selected for our list had to answer two specific questions. Will it help keep you safe, or will it make you more comfortable? If it didn't answer these questions, we found it to be frivolous and unnecessary, and that is an item that you don't want weighing you down on treacherous trails!

Comfort
The more comfortable you are while outdoors, the longer you can travel. It was important to select backpacking gear that is considered to be lightweight and comfortable. This means straps that don't dig into your skin and materials that are breathable and easy.
For backpacks, it is key to pick a style that is long and narrow so that it distributes weight evenly over your back and shoulders. Padded shoulders prevent the straps from digging into your skin, even when your pack is filled to the max. A breathable mesh material along the backside also helps promote circulation to prevent you from overheating.
Not every adventure is sunshine and butterflies - you may get caught in the rain. Even if there isn't a single raindrop in the forecast, it doesn't mean that a quick summer shower won't occur. That's why it is super important that your gear is considered to be waterproof. Wet and soggy clothes are the number one ingredient to create an unhappy camper.
Ponchos, for instance, need to hang lower than the top of your belt, and a bit oversized. Selecting a long and oversized poncho helps to comfortably cover your backpack and your pants as well. We also liked products that were considered wind resistant as well to keep you warm when the wind really starts to blow.

Ease of Use
When faced with the cruel outdoors, weather can make the most simple tasks a little more difficult. This is why it is important to select gear that is super easy to use.
When selecting a multi-tool for our list, a textured grip is essential. Working with small tools in the wild can be difficult, especially if it is raining or your fingers are cold. Many of the swiss army knives out there on the market have a smooth plastic grip that may slip right out of your hands while in use. Selecting a design that has a textured grip makes it far easier to work with while you are subjected to less than ideal conditions.
Gadgets also need to be simple and easy to use. The Garmin GPS, for instance, is touted for its user-friendly interface. Even if you don't know how to load up your own maps before setting out, this device comes with a preloaded map that gives general details about the terrain. It also includes a standard compass that is accessible at all times.

Weight
Weight is a huge factor when it comes to backpacking. While you want your gear to be made from high-quality materials, they also shouldn't weigh you down very much. The lighter your backpacking gear, the easier it is to navigate rocky and uneven terrain.
It is incredibly important to look at the weight of each item that you load up into your backpack. Be sure to test out your pack before heading out on to the trail.
It may seem like your bag isn't all that heavy as you take a few spins walking around your living room, but 10 pounds could start to feel like 100 pounds as you start to leave miles behind you on your adventure.
One of the ways to ensure that your pack doesn't break your back is to double-check that it is packed correctly. Be sure to distribute the weight evenly throughout the pack so that the shoulder strap doesn't dig into your skin. Also, leave the non-essentials at home! Your back will thank you later.

Materials
High-quality materials mean higher durability and function. Below, we wanted to get into a little bit of detail about the reasons we selected the materials for our list.
Carbon fiber: For gear such as trekking poles, carbon fiber is the way to go. What we love most about it is that it is one of the toughest materials out there on the market, but it is still incredibly lightweight.
Feel free to put the brunt of your weight on to poles made from carbon fiber without worrying about it snapping or bending.
Aluminum is another great material to use for these poles because it is slightly more affordable than carbon fiber. It's incredibly lightweight and easy to handoff of the back of your pack. The downside to aluminum poles, however, is that they are slightly more prone to dent and bend when the pressure is on.
Waterproof or water-resistant: Even if the sun is shining, mother nature may have different plans. Whenever you intend to be out in the elements for an extended period of time, waterproof materials are a must. The gear that we selected for this list is all water-resistant or waterproof.
Water-resistance simply means that if you get caught in a summer shower, the water will not ruin your gear. Waterproof, on the other hand, means that water cannot penetrate the surface. In fact, the Black Diamond headlamp is even able to be submerged in water for up to a minute in case you accidentally drop it in a lake!
Expert Interviews & Opinions
Most Important Criteria
(According to our experts opinion)
Experts Opinion
Editors Opinion
Users Opinion
By Default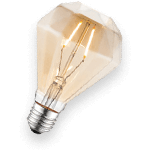 Keep You Footing
Backpacking doesn't have to just be a fair-weather sport! When the snow and ice begin to accumulate outside, it doesn't mean you have to stay indoors. Equipping cleats to your shoes and carrying a sturdy trekking pole means that even the iciest trails can be navigated safely.
Pack Thoughtfully
A sloppy pack not only means that you will have trouble finding gear when you need it, but it also affects your center of gravity. Be sure to evenly distribute the heavier objects throughout the top and bottom of your pack. This helps keep you centered, and also takes a lot of pressure off of your back and shoulders.
Keep It Light
Before adding gear to your pack, ask yourself if it is really necessary. While it may sound lovely to read your copy of War and Peace on the top of a mountain, you may never make it to the top with that heavy book weighing you down!
Other Factors to Consider

Bottom Line
Expect the best, but prepare for the worst. We're sure that your next outdoor adventure will go off without a single hitch. However, it's always important to be prepared just in case. Many of the backpacking gear that could potentially save you life, such as a paracord bracelet, are generally affordable and incredibly lightweight.
Gear such as first aid kits are slim and lightweight and are perfect for when you need it most. We suggest slipping a first aid kit into one of the side pockets of your pack to live permanently. They are so lightweight, you may even forget that it is there!
Keeping your pack lightweight is incredibly important - as is packing the best backpacking gear to keep you safe and comfortable.
Before you pack it up into your bag, ask yourself if it is something that you need to keep you safe and comfortable. If it doesn't pass this simple test, you may be better off leaving it at home.
Frequently Asked Questions
q:

Can I just use my phone as a compass or flashlight?

a:

As the years march on, we become increasingly dependent upon that small little rectangle that we carry in our pocket. The truth is that when you are in the wild your phone has limited functions.

First of all, the battery life of your phone is rather limited when compared to gear that was designed for longer trips. For instance, if you want to use the flashlight on your phone, your battery may die in just a few hours of continued use. The Black Diamond Storm Headlamp, as seen on our list, is made to be used for over 24 hours of continued use.

The GPS on your phone is rendered useless if you can't get a single bar. Investing in a GPS device allows you to load up maps before you enter the land free of cell phone reception. Plus, it has a battery life that far outlives the battery on your phone.
q:

What are the benefits of a paracord bracelet?

a:

Hands down, the paracord bracelet is one of the more useful tools you can wear. From a design standpoint, it has a stylish and sporty appearance that many novice hikers may just mistake as a fashion bracelet! However, this small and compact piece of jewelry may be what stands between you and an uncomfortable night lost in the woods.

The paracord is able to be rolled out to provide an incredibly sturdy line that has many uses. This line can be used to help secure a splint or bundle sticks together to bring back to camp. If this situation is dire, it can even be used as a makeshift fishing line!

Other features that are essential are a whistle for when you get separated from the group and a small analog compass. We love that they also come with a flint starter so you're not reduced to rubbing two sticks together in an effort to make a fire.
q:

Does my backpacking gear need to be waterproof?

a:

Waterproof gear often comes at a higher price point, but it is well worth the additional cost.

It is important to note that there is a slight difference between gear that is classified as waterproof and water-resistant. Waterproof means that it is able to be completely submerged in water for a slight period of time without water penetrating the surface.

Water-resistant means that it repels water, but is not able to be subjected to extended exposure to water. Don't worry, though, this gear is still able to be subjected to modest rainfall.
q:

How should I pack my bag?

a:

Sure, you could just toss everything into your pack, but you may be in for a bit of a surprise when you suit up. A sloppily packed bag not only means you will have a hard time finding the thing that you need when you need it, but it also makes you unsteady on your feet.

When packing you gear up in your bag, it is important that the weight is evenly distributed. If you place all of the heavy gear at the bottom of the pack, you put a lot of strain on your lower back and hips.

When you place the heavier gear at the top, you put unneeded strain on your shoulders. It also means that it moves your center of gravity from your hips to your shoulders so you are less steady on your feet.

The perfect pack has an even distribution of heavy and lightweight gear dispersed from the top to the bottom. This ensures that there will be no strain on your back, and you are more steady on your feet.
q:

How do I clean my backpack?

a:

After a few sweaty hikes, you may notice that your pack smells a little ripe. So, how should you clean your pack to lengthen its lifespan? The most important tool to use is detergent-free soap. We recommend using Tech Wash. It is designed especially for waterproof outdoor gear.

Soap your pack in warm water to loosen up dirt and debris from the surface. Use a sponge or a cloth to wipe away dirt and grime. Using your gentle soap, wipe down areas that collect a lot of sweat, such as shoulder straps and the back.

We also recommend using an old toothbrush to scrub down all of the zippers. By doing this, you will extend the lifespan of your zippers.

When you are done, rinse with cool water and hang in a well-ventilated away (away from direct sunlight) to dry completely.
q:

Do I really need a trekking pole?

a:

Not all hiking expeditions require trekking poles, but they are essential for difficult trails. Plus, they come with a myriad of benefits that you may not even know about.

These poles really help hikers scale difficult terrains, such as trails that have a steep decline or incline. They add stability to prevent you from losing your footing on unstable soil.

They also keep you stable in icy or snow-covered conditions. Some hikers use them to push away potential poison ivy off of the trail. In some instances, hikers have even used them to fight off unfriendly wildlife!

If you don't like the idea of bringing along a long pole with you, we suggest opting for a foldable design that you can pack into your bag, or clip right along the side.
Subscribe to our Newsletter