Best Spotting Scopes Reviewed & Rated for Quality
In a Hurry? Editors choice: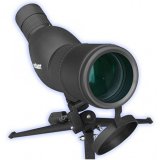 Test Winner: The Roxant Authentic Blackbird HD

Hunting
, bird watching, target
shooting
, these three and many other sports like them have one thing in common: they all revolve around a target of interest that is, to say the absolute least, jumpy.
Birds
have trained themselves to be as vigilant as possible, as man's means of hunting them to near extinction for their own amusement have only gotten better and more efficient. So what can you do to outwit your feathered foes? Simple, by making sure you have them in your sights from a far distance. This is where spotting scopes come into play. So put on your camo, get your best tripod, and learn how to crawl while prone, because we're counting down.
Standout Picks
Criteria Used for Evaluation
Durability
Durability doesn't play into the quality of a spotting scope as it would for other products, because if you're using it correctly, that spotting scope won't go anywhere near anything dangerous. However, you obviously don't want something you spend hundreds or even thousands of dollars on to fall apart on you while using it, so durability is still important.
This also plays into making sure that your scope has a good grip to go along with it. Mostly because, generally speaking, the most durable materials, are also the best when making a good firm grip as well. The usual materials used to make durable spotting scopes are either metal or very hard plastics, which help your grip when you're carrying your spotting scope up a very steep cliff, and you'd very much prefer to not drop your extremely expensive spotting scope.
Effectiveness
A spotting scope, with certain exceptions, is typically a medium-range telescope. Their magnification usually extends between 15x-60x. How much magnification a spotting scope has is usually decided via single zoom eyepieces and/or fixed-length interchangeable eyepieces. If you want to scan an area with a spotting scope, you're going to need a low power eyepiece. However, if that isn't an option, you can still get the same results by using a zoom eyepiece and putting it on its lowest setting.
Eye relief
These are still light-gathering objects, it's part of what makes their images come through all crystal clear. However, long periods of staring through an object like this can put a strain on the eye. So any quality spotting scope needs to have some form of eye relief, in order to make sure the user doesn't get too strained too quickly, and can thus keep using the scope for longer periods of time. If the scope's eye relief is longer, then the focal point needs to be stretched behind the eyepiece. This gives the eyeglass wearer a better field of view on top of reducing the strain.
Eyepiece angle
An angled eyepiece goes a long way to getting a spotting scope on this list, as they help to fix a major issue that spotting scopes tend to have. The thing about spotting scopes is that they're best used when you're lying prone and watching from a distance.
However, the problem is that a lot of people can't do that comfortably for very long, and when you're lying that prone, comfort is a major factor that determines whether you're going to be able to stay like that for long periods of time that it takes to get that perfect shot. To combat this problem, spotting scopes typically put the eyepiece at a 45-degree angle, which is comfortable enough for someone to look down with relative comfort, even with certain back problems.
Versatility
This more refers to the versatility of use rather than the versatility of function. You really only expect a singular function from a spotting scope, but what matters is the environments in which you can use it. Spotting scopes can be tricky when it comes to operating in different climates since they can be susceptible to intense heat and cold.
This is why high-quality spotting scopes make sure to weather test, and more importantly, weatherproof their spotting scopes in order to make sure that they can be used whenever and wherever they need to be used. Make sure to find a weatherproofed spotting scope if you can.
Value
Next, we have the cost. While there are definitely high-quality spotting scopes that don't cost all that much, usually around $50-80, if you want the truly great scopes, with the HD camera, digiscope adapter, and firm, durable grip, then you're going to need to break out the big bucks. You saw that the prices for these things can jump to extreme heights. Luckily, if you don't want to shell out your next 5 paychecks just for one spotting scope, you can definitely settle on a cheaper spotting scope without necessarily sacrificing quality. As long as you know where to look, you can find a high-quality scope for a more reasonable price, but don't expect any of the big shops to have it.
10 Best Spotting Scopes
1

. The Roxant Authentic Blackbird HD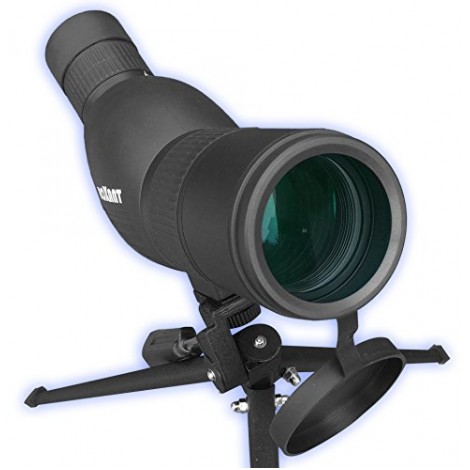 The Roxant Authentic Blackbird isn't just a scope, it's a work of technical and engineering art. This high definition scope shoots to the top of the list with barely any effort. While not perfect (what scope is?) it's about as close to perfect as these scopes get. With a magnification range of 12x-36x and a smooth glide to get you there, this is one of the best spotting scopes on the market.
No need for glasses
If you think the fact that you need glasses means you can't enjoy spotting scopes like you used to, then the Roxant has a pleasant wake-up call just for you. Not only does the extendable and retractable eyepiece used by this scope work wonders for spotting at long range, but it's also great for people with vision problems.
Superior grip
This grip utilizes a rugged rubber armor that gives it a superior grip to many of its peers. You wouldn't think you'd need a great grip for something that you're expected to put on the ground and keep as still as possible. But rest assured, you're going to need a really good grip to keep a scope straight and unmoving, especially during windy days.
Cost and value
This is a pretty good deal for a spotting scope of such high quality. While not the cheapest on this list, it's more than decent a price when you consider what you're getting.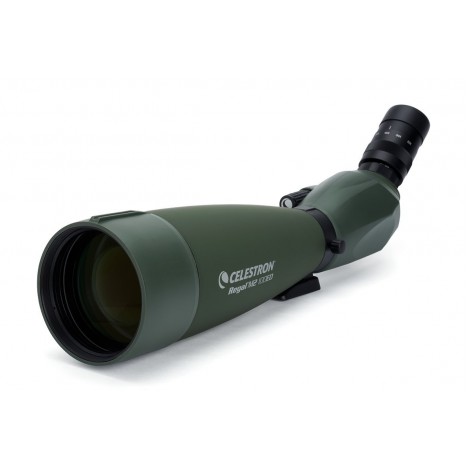 We have yet another great guy with the Celestron Regal M2 Spotting Scope. Like a lot of great spotting scopes, it provides clear crisp images without any kind of distortion. So what's the Regal's secret to its success? Well, it's really quite simple.
Low dispersion glass
Even if the center area of the lens is crystal clear with most scopes, you'll still find that the edges are distorted. However, with the Regal's low dispersion glass, not only is the entire image, edges included, completely clear and free of distortion, even at increased magnification, the image doesn't alter.
Durable body
Durability isn't as much a concern with spotting scopes since the whole point of the things is that they stay as far away from things that could potentially break it as possible. However, it's always good to know your stuff is made from top quality material, and the magnesium alloy body that makes up the Regal is certainly that.
Cost and value
The main issue with this scope is its cost. Not the most expensive thing we've seen on this list, but then again, just because a full home makeover isn't as expensive as a yacht doesn't mean it isn't still expensive.

3

. Vortex 20 - 60 X 85 Razor HD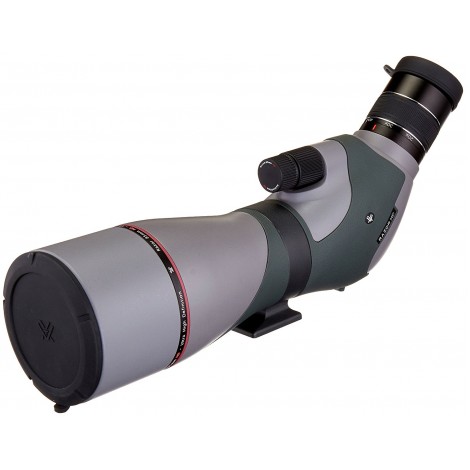 Next, we have a spotting scope from Vortex, with their Razor HD. This scope comes in at around 85mm, with a focus of 16 ft, and a sophisticated lens system that helps to enhance images better than most other scopes on the market. What other features does it offer besides that? Well, for starters:
Triplet apochromatic lens
This specializes lens uses a series of smaller lenses to help enhance images from farther away than most other singular lenses. Combined with a sophisticated prism, this is one of the most powerful lens systems on this list, and certainly of the market at large.
ArmorTek Lens coating
Oils like sweat and other liquids can get onto your lens when you're bent over the thing for hours on end, so to combat the potential vision issues this may cause, the lens of this scope is coated in a special ArmorTek coating that helps to repel oil from the lens. Making it easier to see.
Cost and value
One of the big downsides to this scope is the cost. But considering the high quality that this scope provides and the expensive technology that went into making it, it's safe to call this a fair price. However, it does cost it the #1 spot.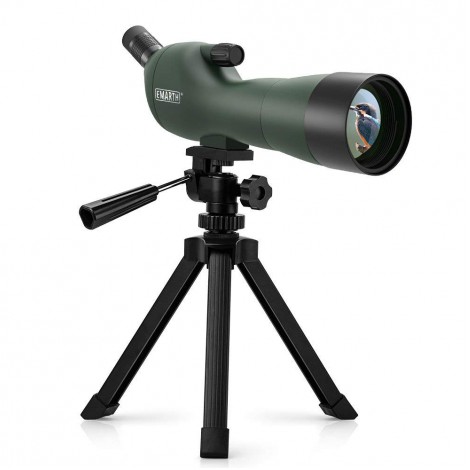 Equally powerful, Emarth Waterproof Angled Spotting Scope. Equipped with the same 45-degree eyepiece as our #1 spot, this spotting scope has quite a few features to call its own that separate it from the crowd and elevate it to the #2 spot on this list.
BK7 Prism
What is a BK7 Prism? To cut a very long and very technical story short, it's essentially what helps give these scopes their clear crisp images. And the BK7 prism is one of the best on the market. Using the BK7 Prism, you'll be able to get a continuous, clear, crisp image at almost any length that this scope can extend to.
Extendable and retractable sunshade
If there's anything that consistently gets in the way of a good shot with a scope of any kind, it's glare from the sun. Luckily, in comes Emarth's scope with its extendable and retractable sunshade which helps to remove glare from the equation on those bright and sunny days.
Cost and value
This scope isn't that much cheaper than the Blackbird but is a lot of money these days, so many buyers will more than appreciate the difference.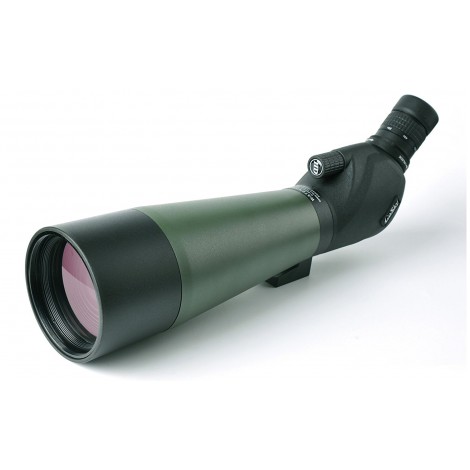 Grosky with their Porro Prism Spotting Scope. Armed with a 20x-60x magnification range and an 80mm green film objective lens that's completely multi-coated, this scope comes in dressed to impress. But that's far from the only thing this power player brings to the table.
Usable in any terrain or climate
Like many high-quality spotting scopes, the Gosky Porro Prism has been thoroughly weatherproofed and terrain tested. However, unlike other scopes, this was not done with the aim of seeing what climates or terrains it could or could not withstand. This was instead done go see what needed to improve to make it usable in any climate and terrain. Needless to say, the tests paid off.
Digiscope adapter
Unlike our #2 spot, this scope actually remembers to pack the digiscope adapter. And what's so special about the digiscope adapter anyway? Well, it lets you attach your phone to the lens. This lets you record the footage the digital camera inside the scope picks up. Meaning that there's no complicated transferring process afterward, the footage instead sent straight to your phone from the start.
Cost and value
It's certainly in the realm of pricey. However, considering what the #3 spot charges for its services, this scope's price tag is downright cheap by comparison.

6

. Bushnell Trophy Xtreme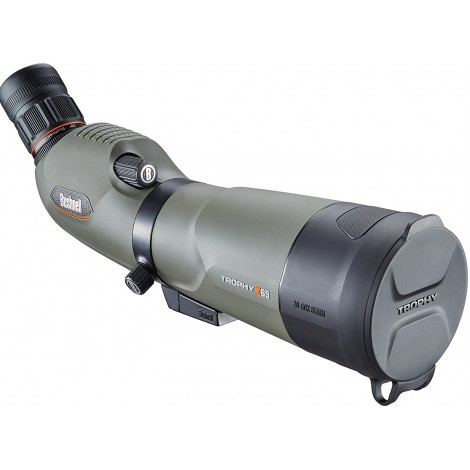 Terrible grammar for the name aside, Bushnell is consistently known for quality material, and it's no exception with the Trophy Xtreme. So what is it that makes this particular spotting scope so good? There are a few things in fact.
Wide Field of view
One problem with scopes like this is that the field of view is extremely narrow. Which is understandable, given that scopes are meant to focus on just one person or object, but it can bite you in the tail on more than one occasion to limit your field of view so much. Luckily the Trophy Xtreme doesn't have this problem, using a specialized scope to result in a wider field of view.
BAK4 Porro Prism
Inside every great spotter scope is a great prism, and in the Trophy Xtreme's case, that prism is the BAK4 Porro Prism. These prisms specialist in maximizing the light in the image and ensuring the sharpness to result in a cleaner, clearer, more striking imagery.
Cost and value
If you still want to remind money conscious, then you should invest in a smaller size.

7

. MINOX MD 16 - 30x50 W Angled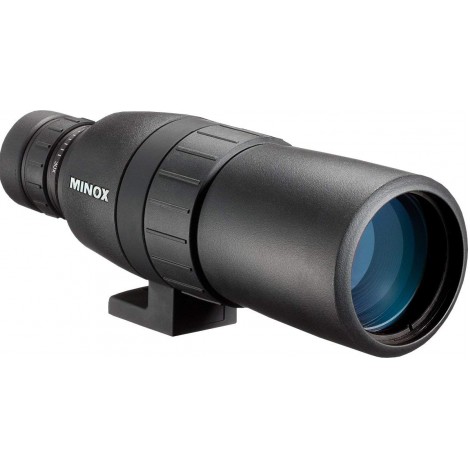 Now we have the MINOX MD, a quality lightweight compact spotting scope. This scope is great for the traveler, one who likes to pack light when on a trip because they don't want to be held down. And this scope will definitely not hold you down, but it also won't hold you back either.
Exceptional color
The color attained with this scope is thanks in large part to a combination of a Porro prism and a full multi-colored lens. This makes for brilliantly vibrant colors that enhance the quality of the image exponentially.
Non slip surface
If you're rock climbing with one of these things, you need to make sure that little sucker isn't going anywhere. So the MINOX has a metal exterior with a rubber, non-slip coating that ensures a firm grip.
Cost and value
The price range for this scope is a pretty modest price for a spotter scope, all things considered.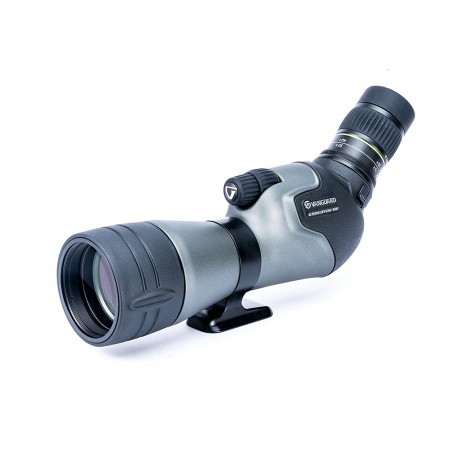 If you're looking for a spotting scope with a prestigious pedigree and reputation like no other, then you need to look no further than the Vanguard Endeavor. Not only is this one of the highest-rated spotting scopes out there, but it's also one of the most reasonably priced.
Vivid color and detail
As spotting scopes moved into the digital age, one of the things sadly sacrificed was that color and small details were lost in translation. However, with the Vanguard Endeavor, you don't need to worry about that, as the colors and the environment and the smallest details of your game's movements are intact and even intensified under the scope's HD filter.
Extended eye relief
Staring through a magnified image for long periods of time can be a bit of a strain on the eyes. Even if you don't feel it, for the most part, it will cut down on the amount of time you can bear to look down the scope. However, this scope does away with that by providing you with extended eye relief that helps you keep watching for longer periods of time.
Cost and value
Obviously, such a high powered scope would be priced decently high, but thankfully the Endeavor manages to keep to a comfortable price range. Not too low, but definitely far from the most expensive price tag on this list.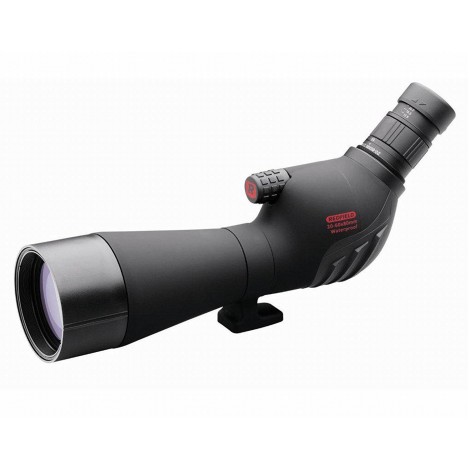 If you're looking for a spotting scope of guaranteed quality and a low price range to boot, then the Redfield Rampage is the scope you've been looking for. In addition to its crisp 20x-60x magnification range, the Rampage features several assets that you don't normally find in scopes this cheap.
Lightweight but high powered
A high powered scope usually requires more hardware to attain it's higher power, which inevitably means that it's harder to carry around, more cumbersome to hold, and harder to store. However, the rampage breaks this streak by being just as high powered as the leading brands, while also being lightweight and very easy to carry.
High quality mid range magnification
While the scope will get the job done, by all means, at short and long-range, this is a mid-range scope through and through. Mid-range is where the image is at its most crisp and clear and definitely where it's best utilized.
Cost and value
Much less than other scopes that do the exact same thing as the rampage, making it a far better deal.

10

. OXA 20 X 60 Angled Waterproof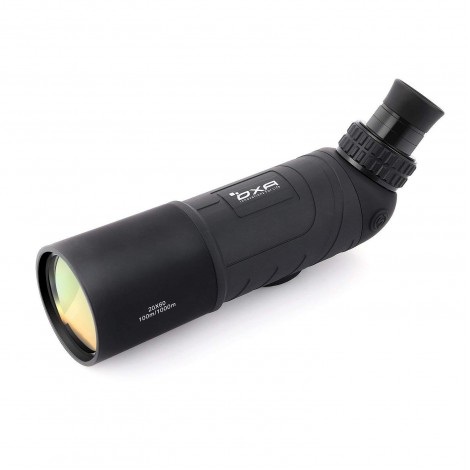 In the penultimate place, we have the OXA Angled Waterproof Scope. Despite its low placement, it's actually one of the best spotting scopes in its price range. Like the other angled scopes on this list, the eyepiece is angled 45 degrees for maximum comfort when looking through it. What else does this scope have going for it? Read on to find out.
Magnalium framework
If you've ever looked at certain conditions and concluded that this was no place for your spotter scope, then you need the OXA. The OXA is equipped with a magnalium framework and shock-absorbing rubber armor that withstands even the harshest conditions.
Angled eyepiece
Why is the angling of an eyepiece so important? Well for starters, if you have a really bad back, you probably can't get down completely prone like younger men can. So having an angled eyepiece that you don't have to bend down completely to use is a godsend for those in that situation.
Cost and value
This is a very good deal for a spotter scope. Among the best deals for a spotter scope on this entire list, in fact.

Subscribe to our Newsletter