GILI Adventure 11'/12′ Inflatable SUP
GILI Adventure iSUP Unboxing and First Impressions
Alright alright! Today we're digging into the Adventure iSUP by GILI. This is one of those boards I like to call a sleeper. It doesn't get a ton of attention in the iSUP world (nor does GILI as a brand) but we think it can hold its own against a lot of the other higher-profile premium inflatable sup board models on the market. Let's see what we can see.
Unboxing the Adventure
Inside the box you'll find the GILI 11' or 12' inflatable SUP, nicely rolled up, along with the following accessories:
- Backpack
-
3-piece carbon fiber paddle
with nylon blade
- Dual-action pump
- Ankle leash
- 9" removable center fin and 2 removable side fins
- GILI stickers!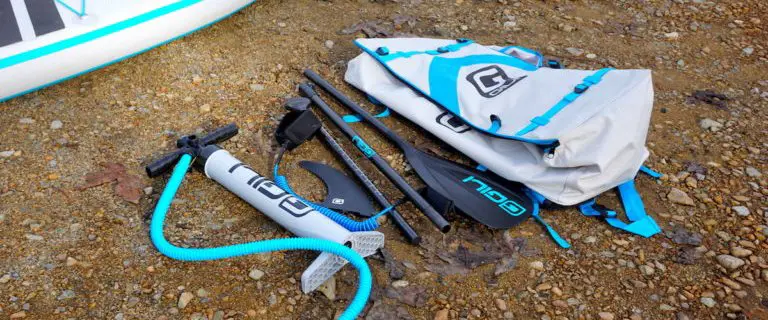 First Impressions
The board's new design is really sharp. GILI has clearly thrown the R&D budget at the remodel of the Adventure iSUP. The first things to hit me are that the lines are striking but not overdone or offensive, there are D-rings everywhere (20 of them!), and they've bumped up the rear kick pad for surfer-like maneuverability. And they've added...(drum roll)...paddle holders! My FAVE iSUP add-on. So far, so good.
Pumping the board up went pretty smoothly. I didn't go super-hard on the pump and it took about 8-9 minutes. The dual-action pump is nice and has a cool feature where you can toggle between dual-action and single-action. Use the dual mode to get the paddle board started, then when you reach those final, more difficult PSI levels (10-12), then switch to single action. Huge difference! Personally, I still favor an electric SUP pump, especially for anyone planning to travel a lot with his/her inflatable SUP board. You can check
our list of favorites
, or get one
direct from GILI
to match your board.
We appreciate the
carbon fiber paddle
that GILI has included. It's a really nice value-add to this package and we were able to assemble and adjust it quite easily. We also really like the travel backpack. Most iSUP bags are just one big compartment that you stuff everything into. Not here. GILI has designed the bag with compartments for all of the components including a pouch for the fins and a side mesh pouch with straps for the paddle. Add in some heavy-duty straps and handles galore for probably the best iSUP bag we've ever seen. This thing could double as an airline carryon bag (don't know if dimensions fit FAA regulations). Brilliant!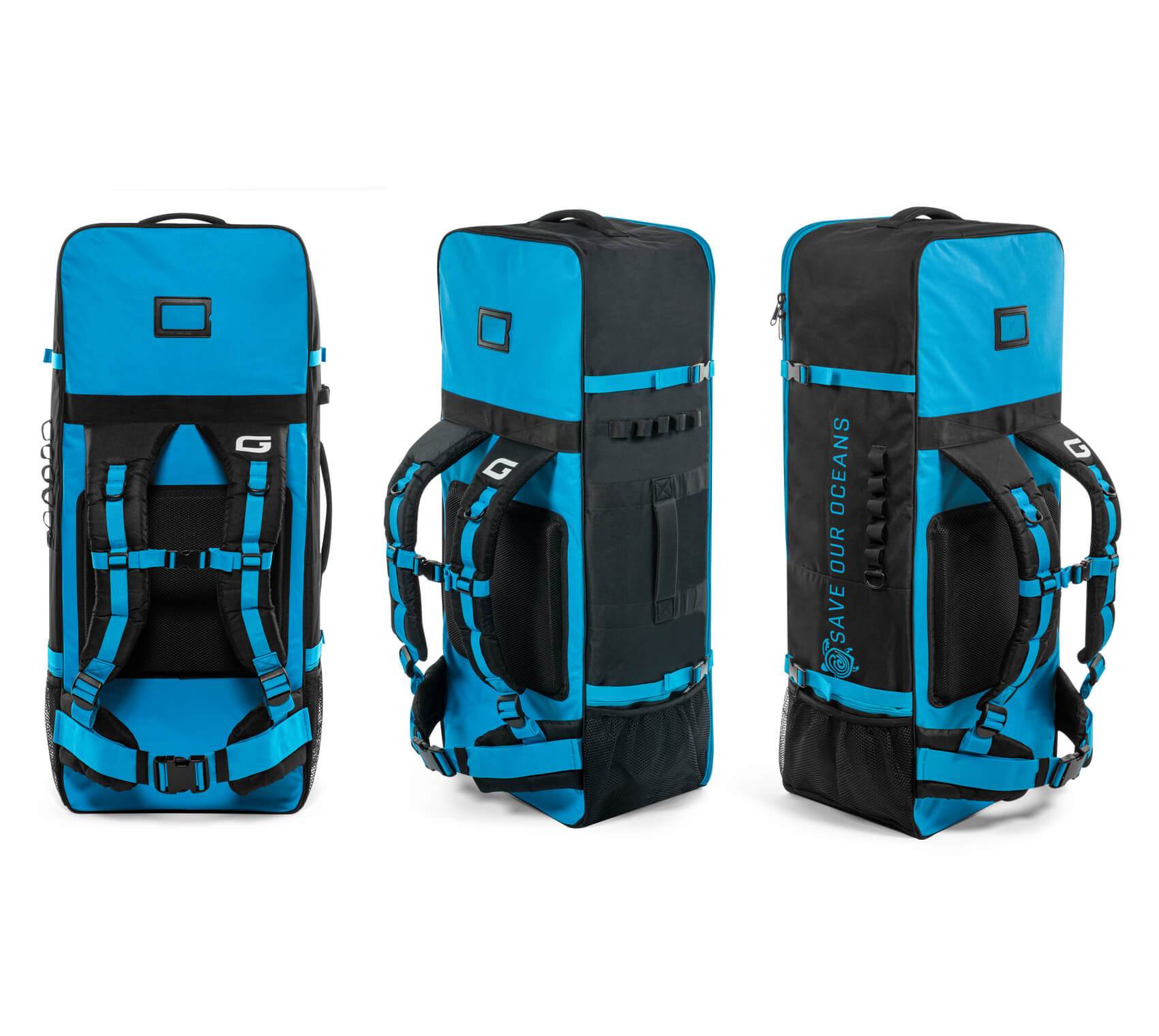 Other points to note before moving on: the 2021 version of this iSUP includes three GoPro
Action mounts
for you selfie-lovers out there, as well as two scotty mounts for
fishing accessories
. This board truly offers something for everyone.
Performance and Conclusion
Once getting this board out on the water we continued to be impressed. Just getting it TO the water was nice and easy thanks to the myriad of grab handles that GILI added.
I really like the way this board looks in the water. I know I mentioned its design earlier but it's worth mentioning again. Super sharp and a different, but acceptable, take on design than my other favorite, the Isle Explorer.
On the water, the Adventure iSUP was a rock star. The added rocker design on this 2021 model made the board exceptionally maneuverable and I was surprised by its speed. When paddling straight lines I was able to get a real nice flow going on and I had covered a lot of distance before even realizing it. This might be the fastest board we've reviewed that isn't a racing board. Lateral stability was also very solid as tested by some sizeable boat waves. Stability was bolstered by the EVA traction pad. It's what you'd expect out of a premium iSUP (again, at a mid-level price!), providing great security underfoot and tactile pleasure for my toes.
The
paddle
performed as I had hoped. The rigidity of the carbon fiber construction held up to some more aggressive paddling and the nylon blade didn't feel cheap.
The bungees on the front and back offer storage for any gear you could imagine, plus, with all those D-rings, you can tie down anything. As touring board, you can stow
a cooler
with food & beverages for a some-where-out-there picnic, tie down
your PFD
, and keep your sandals secure for when you hit land.
On the downside, it's hard to find anything to criticize about the GILI Adventure iSUP. If there's anything noticeable, it's that the board's rocker design can hinder it's tracking on long, straight paddle tours. This would likely affect beginner paddlers more than anyone else, so it's something to be aware of if you're newer to inflatable SUP board activities.
The only other thing that we dislike is that their popularity results in GILI sometimes struggling to keep them in stock! The most reliable place to find them in-stock is straight from the
GILI website
. While we love the convenience of Amazon, we also like to support small business so we're in favor of buying direct if you have the chance.
Conclusion
The folks at GILI have left very little room for criticism with the 2021 redesign of the Adventure iSUP package. The board is deftly maneuverable and quick, built to handle long treks, and packed with accessories you'd typically only find on a board costing $1,000 or more. We are very impressed with the GILI Adventure and think it will please even the most discerning inflatable SUP palates. This easily ranks as one of our
best paddle boards
.
Subscribe to our Newsletter