Best Zippo Hand Warmers & Accessories Reviewed
In a Hurry? Editors choice: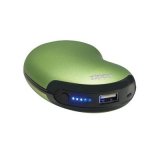 Test Winner: Zippo Rechargeable 6 hour

Zippo is a well known and trusted brand worldwide. They design and create many useful gadgets to a high standard. Zippo's hand warmers are a welcome source of instant heat when out and about in the winter, or even for cold spots indoors. It is important to check an item before purchase. Products cater for a wide range of different needs and it is always useful to get a heads up before any purchase. Zippo products are a trusted name, and the amount of products they offer is vast. The need to assess each for its personal suitability is well founded. This review will look at 5 of the best Zippo hand warmers to give a broader overview of each product; the aim – to assist in making the right choice for the right job!
Standout Picks
Criteria Used for Evaluation
Style
When people first hear about zippo hand warmers, they immediately think of the catalytic style of hand warmer. This is understandable since this is the kind of hand warmer that the company has made for years. However, there have been changes and now Zippo is also making battery powered hand warmers that use electricity to generate heat as opposed to burning lighter fluid.
When you are picking out a Zippo brand hand warmer, you will want to decide on what kind of hand warmer that you will want to use. The different styles of hand warmers have advantages and disadvantages over the other style of hand warmer and they offer different features. In other words, one style of hand warmer is more suitable for some situations over the other kind of hand warmer.
The most common style of Zippo hand warmer is the gas-powered hand warmer. This style of hand warmer works by combusting fuel inside of the hand warmer. They are known to produce heat for hours at a time and can keep you warm even at extremely cold temperatures.
Battery powered hand warmers are the alternative style of Zippo hand warmer. Rather than using a chemical reaction to produce heat, this style of hand warmer uses electric resistance. As electricity passes through a serious of internal resistors, heat is generated and this will ultimately produce heat with which you can warm your hands. One of the main advantages of this style of hand warmer is that you can turn it on and off easily with just the push of a button.
Effectiveness
The length for which a hand warmer will produce heat for you will make a difference as to which kind of Zippo hand warmer you purchase. Zippo hand warmers run for different amounts of time and sometimes you only need a hand warmer that will last for a morning or an afternoon while other times you may want a hand warmer that will last you all day. The type and model of hand warmer that you choose will make a difference as to how long the hand warmer will produce heat.
The catalytic style hand warmers are sold in either six or twelve-hour models. These style of hand warmers cannot be stopped once they are started, but they will produce heat for most of the day and they can be refilled easily so it's more of a matter of preference as to what size you end up choosing.
The battery-powered hand warmer is currently sold in two hours and six-hour models. This may change in the future as battery technology continues to improve. One of the main advantages that a battery powered hand warmer has over the catalytic style of hand warmer is that you can switch it on and off as needed. This allows you to conserve power and can be useful in situations where you are walking between heated and cold environments.
Potency
You should consider how much heat you will need when you are purchasing a Zippo hand warmer. The reality is that some days are warmer than other days and on the colder days you will need more heat while you need less heat on warmer days. You will want to consider the amount of heat each kind of Zippo hand warmer is able to produce when you are looking at the different kinds of hand warmers.
The catalytic hand warmers are capable of producing enough heat to burn your hands so you may need to be careful when you are using them. On the other hand, the battery style hand warmer has multiple heat settings that you can choose from depending on how warm you need the hand warmer to be.
Ease of Use
For many people, the ease with which they can use a hand warmer is an important consideration. Some people prefer a hand warmer that is much easier to use over a hand warmer that may last longer. Zippo makes two styles of hand warmers and they vary greatly as to how easy they are to use although neither style of hand warmer is difficult to use either. Overall, the battery style of hand warmer is easier to use than the gas-powered kind so if ease of use is a concern for you, then you will want to go with the battery style of hand warmer.
The battery style hand warmer is easy to use because it can be powered on and off with the click of a button. There is no filling it with fuel and then lighting it and you won't need to accept that it will run until it is out of fuel. This offers a lot of convenience over the catalytic style hand warmer because you just simply turn the device on when you need heat and then turn it off when there is no longer a need for it to warm. When it has run out of battery power, you just need to plug it into the wall for a few hours and then let the battery recharge. At this point, you are free to use the device again.
The gas powered hand warmer has more steps to ignite because you have to fill the hand warmer and then light it. You need to start by figuring out long you need the hand warmer to run because you will be unable to stop it once it has started. Zippo hand warmers are sold with a measuring cup that will assist you with how much fuel you will need, but if it does not have a cup then you should figure that a six-hour hand warmer will run for about three hours when it has only been filled halfway. You can adjust the amount of fuel that you need at that point. Once you have determined how much fuel you need, then you will need to pour the fuel into the hand warmer.
Value
In order to be happy with your choice of hand warmer, you should consider both the overall quality of the hand warmer as well its affordability. If you find that the hand warmer has a low quality, then you will most likely become frustrated with it and are less likely to be happy with your purchase. On the other hand, a high-quality hand warmer can be enjoyable to own and you are more likely to use it if it works well for you. The affordability of the hand warmer is also an important consideration and includes the upfront price of the hand warmer and the price of the fuel to use it.
BEST ZIPPO HAND WARMERS & ACCESSORIES REVIEWED
1

. Zippo Rechargeable 6 hour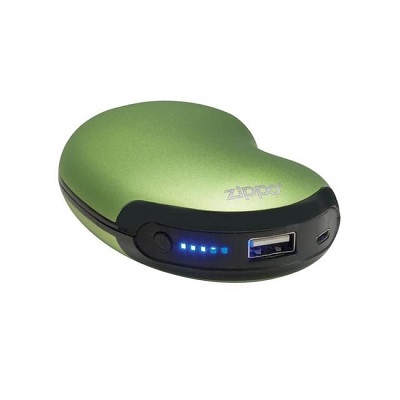 This stylish green rechargeable Zippo hand warmer is capable of a 6 hour run time. It benefits a 5200 mah lithium-ion battery which provides a steady supply of cozy heat, to a temperature of 120 degrees Fahrenheit. A convenient source of warmth for cold winter activities that is also stylish and very practical.
Lights
The Zippo rechargeable hand warmer has both battery and heat indicator lights so it's easy and convenient to stay in control and not lose the heat source. This is really useful when camping when electricity is in short supply.
Heat Settings
This device has no less than five heat settings for complete comfort, it can be adjusted to suit from hot through to lukewarm for convenience. This is really useful for most activities when variation in overall temperature is liable to fluctuate.
Cost and Value
This rechargeable hand warmer is in the high middle end, but this is totally justified by the extra useful features it incorporates. The overall cost and value are excellent, and the adjustable heat settings give it even more value for money.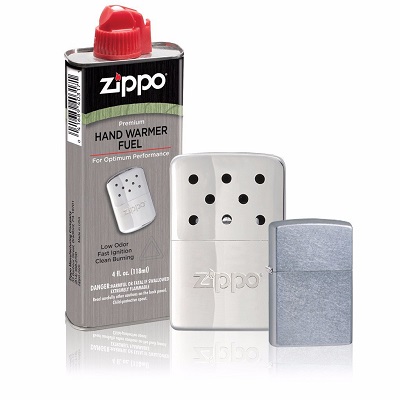 This useful Zippo hand warmer gift set comes complete with a lighter, hand warmer and a 4oz can of fuel. This set is a great gift and is offered with the confidence in the brand; the sleek design of the hand warmer makes it a safe, handy gift. The set is ready to use and this is a real selling point and will be a welcome present for anybody who loves the winter months.
Low Odor
The Zippo hand warmer is low odor so is highly recommended for those trips when concealment is of paramount importance - i.e hunting and fishing. The low-odor it emits reduces the loss of hits by not polluting the area being used.
Reusable
The environment is considered and boosted by the reusable metal hand warmer, less damage than disposable warmers and fully reusable over and over. This is of paramount importance both personally and for the environment.
Cost and Value
The hand warmers are overall an excellent purchase, and this gift set has the bonus lighter included ensuring very good value for money. The overall balance between cost and value is well justified and combines functionality and price.

3

. Zippo Hand Warmer Standard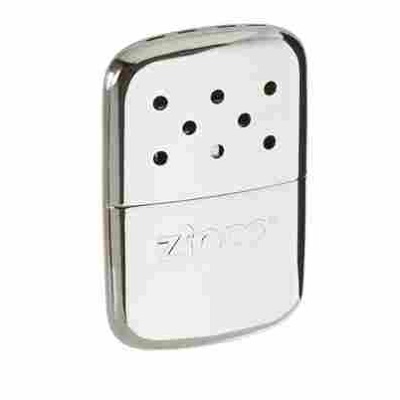 This Zippo hand warmer is compact and comes in a variety of four colors, and has a quick lighting platinum-catalyzed glass fiber burner. It benefits from being able to create real heat without the use of a flame; this is a unique Zippo safety element that ensures hassle-free heat and boosts confidence in use.
Design
This hand warmer is designed in a smart sleek body, which provides non-bulky heat for safe placements in pockets and gloves. It is also virtually odorless so is ideal for hunting season - warmth without the concern of excess odor.
Longevity
This hand warmer offers up to 12 hours of heat so is convenient for longer trips out in the cold, it benefits from being easily refilled so reduces the chance of running out of heat. This can be an essential asset when out in winter temperatures.
Cost and Value
The overall cost and value of this product are well balanced, and for the confidence of buying a trusted product - it is very good value for the purchase price. And the refillable aspect of it; serves to increase the value even more.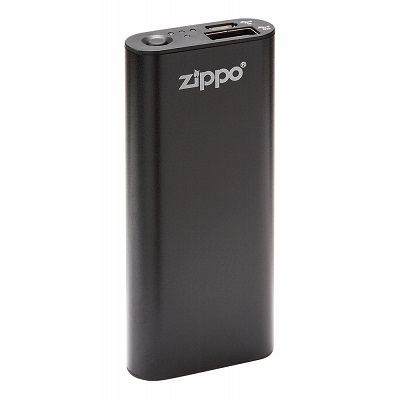 This Zippo rechargeable hand warmer comes complete with a 1900 mah lithium polymer battery; this provides up to 2 hours of lasting reliable warmth. It benefits from being two-sided and heats up to 113 degrees Fahrenheit - making for cozy snug hands out in the cold. The two-sided heat also means it is useful for warming most areas of the body within a pouch.
Versatile
The battery also charges USB compatible devices and this is very convenient when out and about, meaning one less thing to pack in the kit bag. This is an invaluable asset when on longer trips and helps ensure a lighter load to carry.
Adjustable
The heat is adjustable from a low setting for milder temperatures and a high setting for when temperatures plummet. The adjustable heat setting is really useful to help prevent over-heating and sudden temperature drops.
Cost and Value
The Zippo rechargeable is an excellent purchase, the longevity of the charge life means out time is increased meaning good value for money. And the versatility of the pack gives it a value-added bonus that makes it well worth the cost.

5

. Zippo Replacement Burner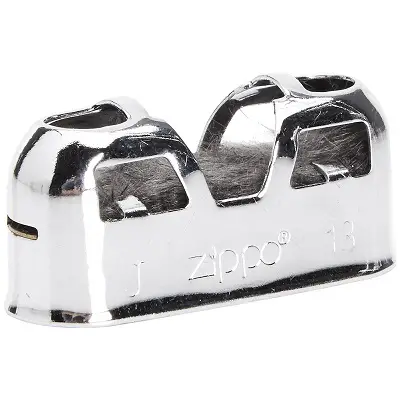 This Zippo replacement burner is a must have for elongating the life in any hand warmer. It has a platinum-catalyzed glass fiber burner and is ideal to give hand warmers an extra boost; it is metal in its' construction and is durable. The fact that it is ideal to save on a complete re-purchase makes it a great addition to any outdoor kit.
Quick
The replacement burner acts just like an original and provides quick easy lighting when it's needed most. It is light and won't take up valuable space in any pack. The ease of changing the replacement burner means no need for long periods without heat.
Versatile
This burner replacement will fit most existing Zippo hand warmers, making it a convenient way to boost any previously bought product. The versatility of this burner means it can be purchased in advance for any trip in the winter months.
Cost and Value
The low cost balanced with the exceptional value of this ensure it is a very good purchase and provides value by saving the requirement for purchasing a complete unit. This value is useful and gives even more overall for the price.

Subscribe to our Newsletter