Best Tent and Space Heaters Reviewed for Quality
In a Hurry? Editors choice: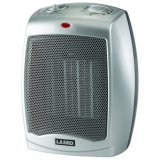 Test Winner: Lasko Ceramic

Forget
winter is coming
, Winter is here! But you, you wild person you still want to go camping. Well okay, we get that, but let's not be ignorant about this. The weather being what it is when you're
doing winter camping
, especially if you're at altitude or off the grid even a bit staying safe and is all about the preparation. So if you're in the Northern Hemisphere and it's past October and you're going out into our version of the outback well then you're going to make room for a heat source other than matches and wood just to make sure you're safe in the wild. And so without too much more fanfare we off our best tent heaters. Some of these babies are meant for car camping and some of them will fit into your backpack but they'll keep you warm.
Standout Picks
Criteria Used for Evaluation
Features
Every heater has a fuel source in order to produce heat. There are usually a few different types to choose from. The most popular kind is usually gas-powered, but there is also an electric heater as well. Another option also is a chemical powered heater as well, but this one does not seem as popular so you may not have many choices for this type of heater.
You will want to consider which type of fuel you would like to use to power your heater that will best suit your needs. Each kind of heater has its own positive and negative qualities which is why you need to weigh out the pros and cons to make an informed decision for the best type of heater for your tent.
Fuel-powered units are probably the most popular types. Most commonly you will see propane heaters since propane is widely available and burns clean. There are still kerosene powered tent heaters as well but these heaters are becoming less common than the propane heaters.
Electric heaters are portable and powered by direct access to electricity or through a battery. Generally speaking, electric heaters do not produce as much heat as a gas-powered heater, but they are much safer to use than a gas-powered heater in a small or closed space like a tent. And electric heaters have less risk of starting a fire and do not produce any carbon monoxide.
The final heater on our list is a chemically powered option. This kind of heater is only intended to be used in an emergency situation as it will only produce a small amount of heat. So it is not a viable option for common use.
Size
Tent heaters come in different weights and sizes. Depending on the room in your tent or the kind of camping you will be doing will help you decide the best heater for you. You will need to think about the size of your tent and if you will be carrying a heater a long distance if you are backpacking. You will want to keep it as small and compact as you can if you will be carrying the heater a long distance. Generally speaking, larger the tent, you will need a more powerful heater.
Some only weight a few pounds which makes them great for backpacking or ice fishing because they will not require a lot of space in your gear. There are also heaters that weigh well over thirty pounds but these heaters have a high thermal output and can produce a lot of heat, so you can usually go for a smaller and lighter heater. The weather and the temperature is also a factor you will need to consider. Smaller heaters may not have as much thermal output as a larger heater. But if you plan on camping in mild weather, this may not be a concern. But if you are camping in cold weather, you may want a larger heater with a little more thermal output.
Safety Hazards
Safety always needs to be at the top of your list when dealing with gas, flames, and electricity in small and closed spaces (or just in general). Any device that produces heat has the risk of causing a fire. So make sure you are aware of the risks of each type of heater and each safety protocols and features so you can stay warm and safe.
Usually, heaters have two safety features that tend to be common. One is the automatic shut off and the other is a tip-over shutoff. The automatic shutoff is a feature where the heater will turn itself off after a certain amount of time or when the heater reaches a certain temperature. This feature is important because you do not want your heater to run too hot or too long.
If you are using a fuel-powered heater, make sure it turns itself off if it is tipped over so there are no safety concerns. For gas-powered tent heaters, you will also need to think about the risk of carbon monoxide poisoning. Carbon monoxide is invisible and odorless. The risk of carbon monoxide poisoning is high in a tent because it is a small, enclosed space. So make sure your heater has a carbon monoxide safety feature.
Adjustability
Heat is normally measured in British Thermal Units (BTUs) and the number of BTUs will determine how much heat these are capable of producing. The higher the BTU, the stronger the heater. You should always think about the amount of heat that you will need when you pick out a heater for your tent because more heat means more fuel. You will want to know how much fuel to bring if you decide to invest in a fuel-powered heater.
It is worth noting that almost all tent heaters are adjustable in their heat output. So in other words, just because a heater says that is is a 40,000 BTU heater does not mean that you have to turn it up to the highest setting. Such heaters are perfectly happy to produce less heat when they are turned down.
With that in mind, you will need to think about the weather, your tent, and how much fuel you will need to bring when you are looking at the BTUs of the heater. Weather is important because sometimes you will be in weather that is only mildly cold and will not need as many BTUs as what you might need when the weather is icy cold and below freezing.
Your tent's insulating abilities will also matter when you are looking at the BTU output of your heater. Although no tent is as well insulated as a house, some tents do a better job of retaining heat than other tents. Also, a smaller tent will require less energy to warm up than a larger tent would require. So in other words, if you have a small tent that is well insulated, then you will not need as many BTUs as a poorly insulated large tent.
Value
When you are looking for a tent heater, you will need to think about the cost of the heater in terms of upfront cost as well as the cost to use the heater. Electrical heaters just need a power source like an outlet, but heaters that need fuel will require you buying fuel each time you run out. So you need to calculate that into the budget. If you are between a fuel and an electrical heater, maybe looking at the cost to buy and use will help you make a decision. Also, the quality may play a roll in the cost. If you get a cheap heater that breaks easily or that uses a lot of fuel, then you may end up spending more money in the long run. So sometimes a mid-priced or higher-priced heater may be better if you plan on using it often.
Best Tent Heaters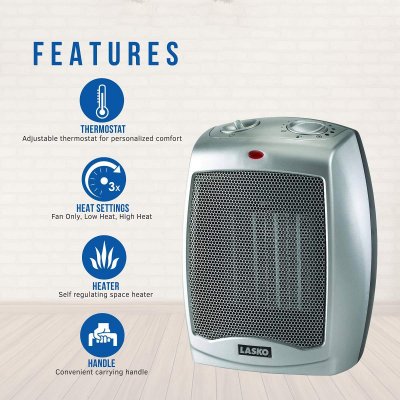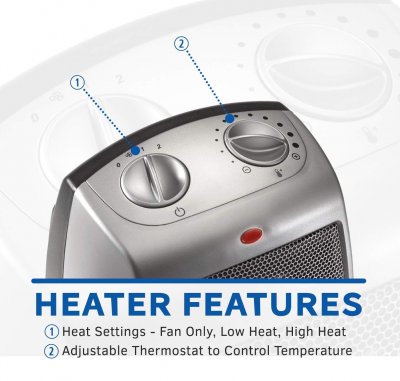 Since 1906 Lasko has been a company known for creating quality designed appliances with the consumers' needs in mind. Over 110 years later Lasko is one of the leading manufacturers of home comfort products including fans, humidifiers, and heaters. The Lasko Ceramic features an adjustable thermostat and an auto-shutoff feature that engages when it senses itself getting too hot.
Heated Whispers
This is so quiet that you might forget it was in the room with you. The only thing that will remind you of its presence is the warmth of your surroundings. This is great for small rooms and if you decide to take it camping you won't have an obnoxiously loud fan keeping you awake.
Ceramic Heating Element
It has a ceramic heating element and a fan that disperses the heat into the surrounding room. The Lasko Ceramic has a 6-foot long power cord and a handle. This allows you to plug into a power source and not have to worry about natural gas or fumes. The adjustable thermostat allows you to set the temperature so the heater will turn on and off when needed.
Cost and Value
Like many Lasko products, this with an adjustable thermostat is very affordable. You won't have to burn through your wallet to get one.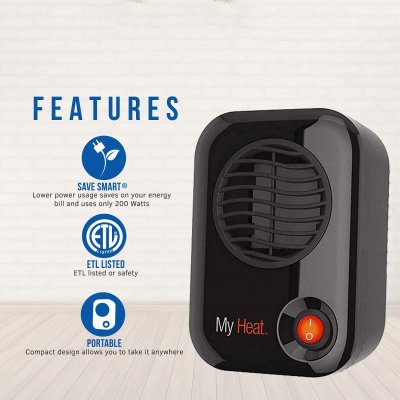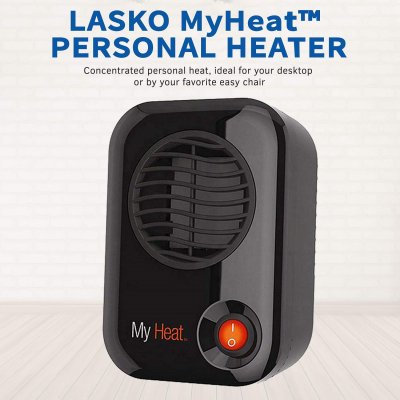 The next Lasko product on the list is the MyHeat personnel. This is great for camping or using in an office. It's extremely efficient using only 200 watts. It is designed to heat only the person using it and not the space around it.
Cool Touch Housing
While this little guy cranks out the heat, you won't burn yourself if you touch it or pick it up to relocate it. Cool-touch housing keeps the heat directed where it needs to be, towards you.
Saves Electric Bills
You do need an external power source with this heater. With only 200 watts used as compared to others on this list who may consume around 1500.
Cost and Value
The MyHeat personal model earns the best value spot on the list. Not only is it extremely affordable, but it will keep you warm when you need it.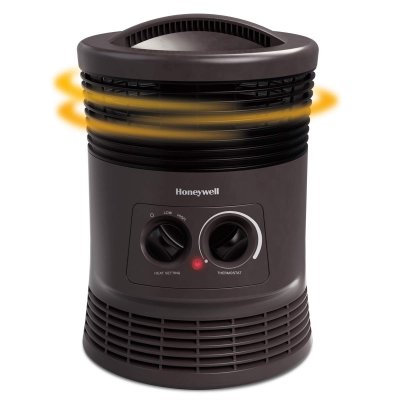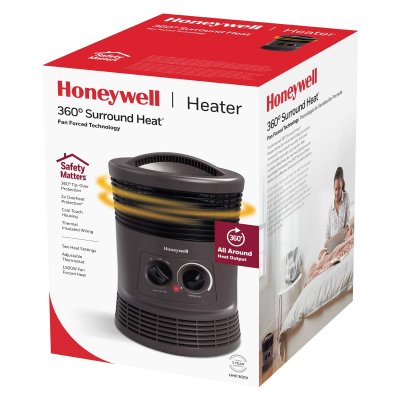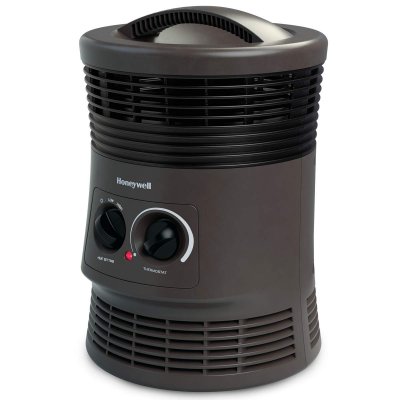 You're going to need to be near a generator if you're want to use this but if you're car camping it's definitely going to heat up your space quickly and easily. It doesn't take much electricity but puts out 360 degrees of heat that are going to warm up your tent in no time. And just in case it gets too hot it has two settings so you can turn it up or down as needed. And for added safety, we like the auto-shutoff feature in case it gets knocked over or comes close to overheating.
1500 Watts of 360 Degree Heat
This cylindrical model is going to do its best work when it's sitting in the middle of a room. It puts our heat in all directions and has two settings just in case it gets too hot or if you need an extra boost of heat. But one of the great things about this heater is that it will stay cool to the touch no matter how much heat it's pumping out.
Ceramic Heat
This is the best kind where electricity heats up the ceramic coils and then forced air pushes the heat out into your room at 360 degrees. The ceramic heating element heats up slowly and cools down quickly and provides a nice ambient heat as opposed to hairdryer type heated coil heating. If you need to keep a room warm this is a great way to do it.
Cost and Value
This comes in at a great price. It's not much money to keep a room warm and that's not even counting the money you'll save in home heating by using this in your home, and there's really no price tag on keeping you safe and warm if you're camping.

4

. Mr. Heater Little Buddy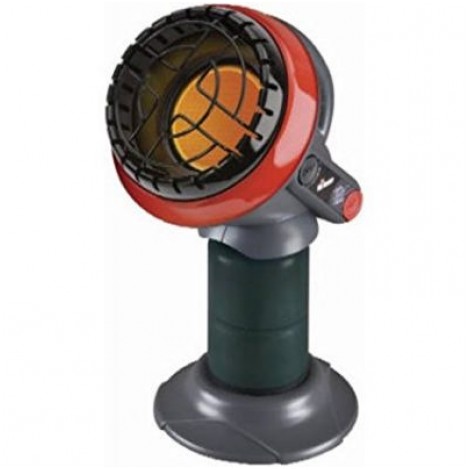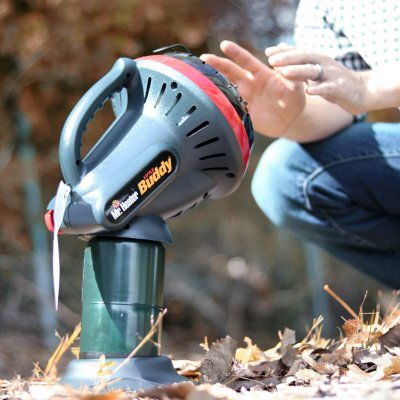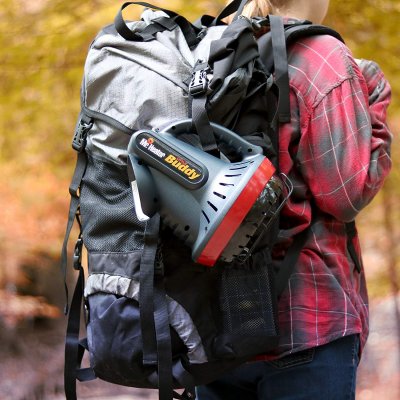 Also from Mr. Heater, this series of compact and portable units make use of radiant heat and does not need external electricity to run. The Little Buddy heats up to 95 sq. ft. and burns propane at almost 100% efficiency so you will not have to worry about noxious fumes. Adding to the Little Buddy's safety operation is an oxygen sensor and auto shut off when tipped over. With a simple on/off button, you just turn it on and bask in the heat.
Oxygen Sensor
One of the main things that scare people away from tent heaters and especially propane ones is the fear of breathing harmful propane fumes or carbon monoxide. If your camping in a tent with plenty of ventilation, you typically don't have to worry too much about this. However, the Little Buddy adds to your peace of mind with a built-in oxygen sensor. If O2 levels dip below the liking of the little buddy it will automatically shut off.
Great Things in a Small Package
The Mr. Heater Little Buddy runs solely off of a 1 pound propane tank. This eliminates the need for an external power source and lets you take this truly anywhere. It is also easy to pack and carry with you if you are hiking, fishing, hunting, or even boating
Cost and Value
This is a great option for creating portable heat. Not only is it truly self-sufficient but you can pretty much take it anywhere. It is also very affordable and was a consideration for the best value on this list due to its affordable nature and function.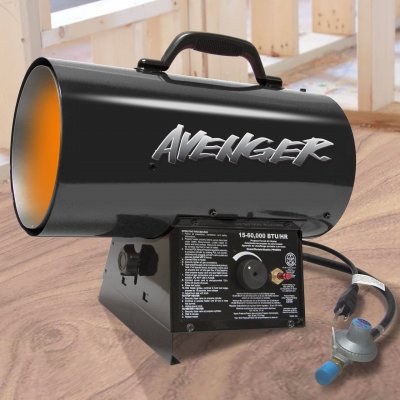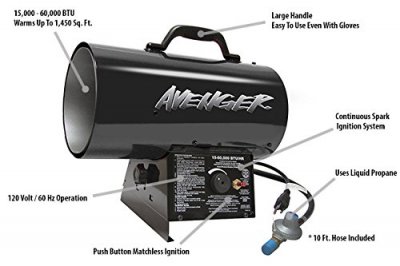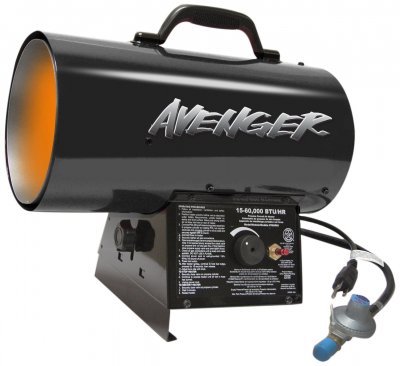 This propane-powered unit is travel-ready and there's no need for an outside electricity source just a small propane tank is enough to keep you warm and toasty in your tent. This baby lights up and pushes out enough BTU's to keep just about any outdoor enclosed space warm and toasty. The gun design pushed heat wherever you need it most so you can aim it exactly where you want your warmth.
Powerful Propane Heating
Just hook up a small propane tank and you're pushing out 60 thousand BTU's of power. That's a lot of heat and when the fan is pushing that air out into the world it'll fight off even the most bone biting cold. But just in case it's pushing out too much heat it is adjustable so you can back off the heat to 15 thousand BTU's in case things are getting a bit too toasty.
Economical
This works with a 20-pound propane tank and once it's hooked up it will burn for hours and keep even a large room pretty toasty so you can save a lot on heating if you decided to use it to keep your house warm in the winter.
Cost and Value
This is pricey and it doesn't come with propane included but we do really like the Avenger just because it's so powerful and so portable you can take it with you just about anywhere. Plus it's safe and honestly, it looks really cool.

6

. Texsport Portable Outdoor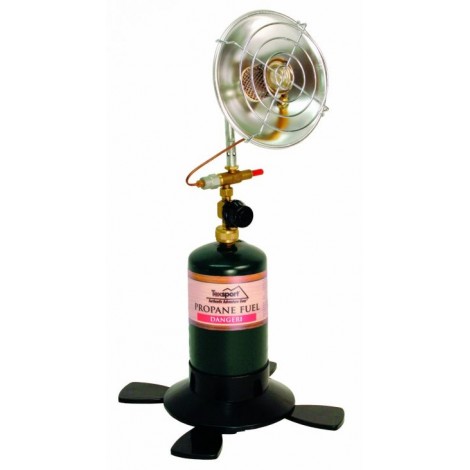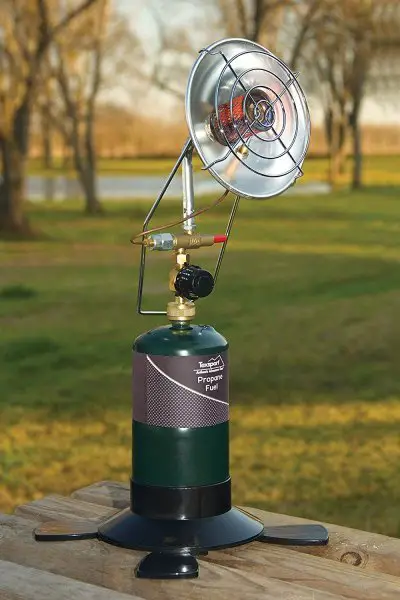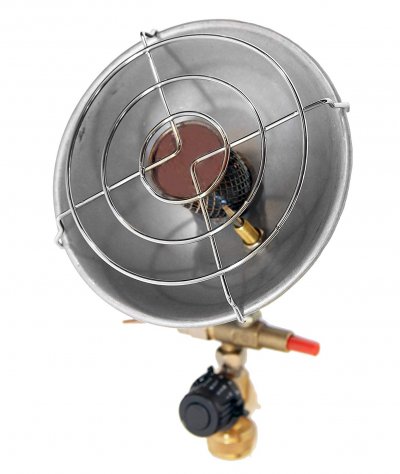 Texsport has created outdoor and adventure equipment for over 40 years. They make another appearance later on in this list but the first one is the Portable Outdoor Propane Heater. This little guy runs off one pound or 14 oz. propane cylinder and comes with a base for stability.
Auto Shut Off Gas Valve
While it does not have a tip-over shut off feature, this Texsport comes with a shut-off valve that kills it if the flame ever goes out. This keeps the heater from just distributing propane into the environment.
Designed for the Outdoors
This can be taken almost anywhere and is also great for sporting events, heating a patio, or camping. The compact nature of this heater makes it easy to store and travel with.
Cost and Value
One of the most affordable units listed, this is a versatile option for outdoor heat.

7

. Mr. Heater Big Buddy Grey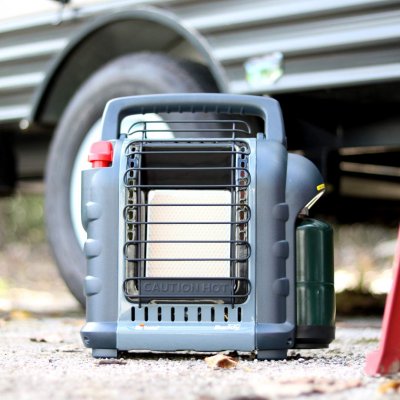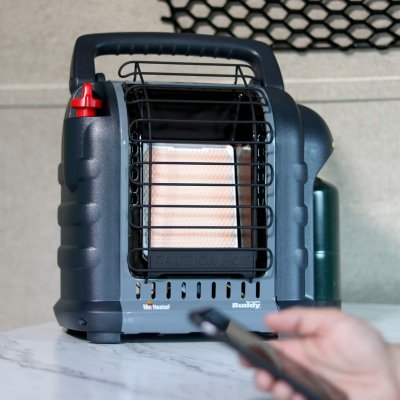 Another appearance by Mr. Heater is Big Buddy. The Big Buddy is the big beefy, brother of the little buddy and belongs in the MH18B series which is also included on this list. This grey model runs off of propane and burns at nearly 100% efficiency so you won't have to worry as much about carbon monoxide and propane fumes. It also has multiple safety features that will give you peace of mind when operating.
Safety First
Safety is one of the most important things to keep in mind when purchasing a portable heater. The Big Buddy is loaded with safety features. An interesting thing about carbon monoxide is its ability to take up space where oxygen is normally present. It even clings to red blood cells in almost the same way oxygen does. The Big Buddy includes an oxygen depletion sensor that shuts off the heater if oxygen levels get too low. It also has an auto shut off the sensor which shuts off the gas and flame if the heater is knocked over or if the pilot light goes out.
Battery Operated
Some of the units on this list need an external power source in order to operate. Not the Big Buddy. While you can use an AC power supply to power the fan, it is also able to run off of four D batteries. This feature makes the Big Buddy truly portable so you can have heat almost anywhere you need it.
Cost and Value
As one of the more expensive heaters on the list, the Big Buddy is by no means the most affordable. However, with heat control settings, battery power capabilities, and also the ability to run it off of propane or a central gas line, you might not mind paying a little extra.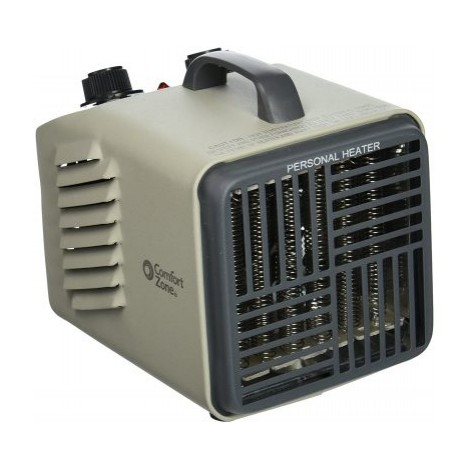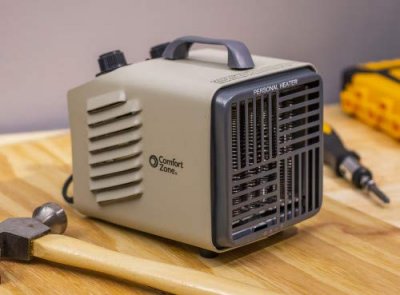 Comfort Zone is a relatively new company. However, in a short amount of time, they have made quite a name for themselves in producing great quality air products such as humidifiers, heaters, and fans. The Personal Heater Fan is no exception. While it requires an external power source and, due to being made completely out of metal, is not the most portable but it cranks out a tremendous amount of heat for an electric model.
No Gas
If using combustible gas for a heater makes you nervous, the Comfort Zone Personal Heater Fan is a great alternative. Not only is it capable of cranking out quite a bit of heat but it also has a fan only mode for those warmer times of the day.
All Metal Casing
While a heater being made out of all metal can have its obvious downsides(heat conduction) it also has some advantages. The personal Heater Fan is very durable and can stand up to quite a bit of abuse. It also has a carry handle.
Cost and Value
This is a very affordable option for a heater. Although, the need for an external power source may limit your uses for it more than others on the list.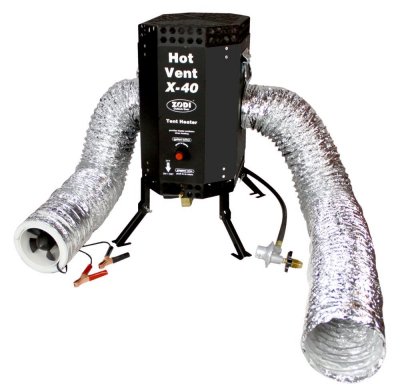 This is big and a bit bulky but if you need a great way to heat a big space then this is going to get the job done. This comes with two blowers and you do need propane and a battery to make it work but once it's up and running it blows all kinds of hot air.
Two Vents
Two aluminum wrapped vents allow you to direct heat in a few directions. So if you need to direct the airflow in a number of ways this is a great heater for you.
Sets up easily
A simple batter and a 5-gallon tank of propane are all you need to get this heater going. The Battery runs the fan and the propane fires up the first-rate heater.
Cost and Value
This is a big heater and it's expensive. But if you need to heat up a big room or a tent say for a winter wedding then this is a great heater for you.

10

. Texsport Sportsmate Portable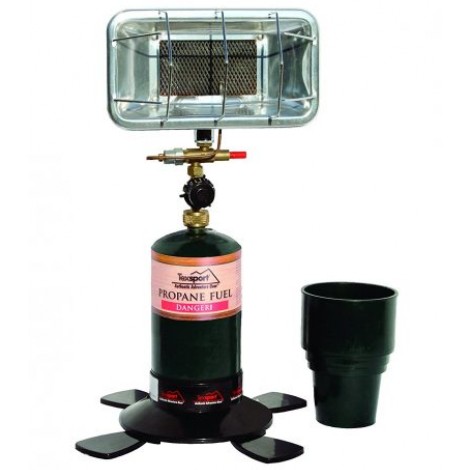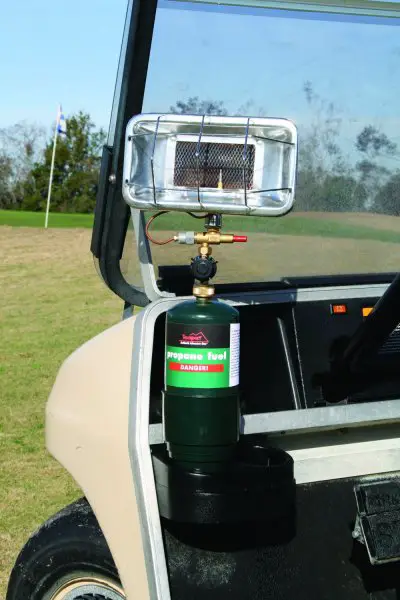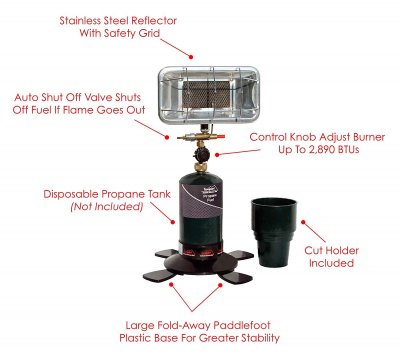 Closing out the list is another amazing product from Texsport. The propane-fueled Sportsmate comes with a paddle foot base for keeping it stable on the ground and also a cup holder that for use in a golf cart. The cup holder is designed to specifically fit the 16 oz. propane bottle that powers the Sportsmate. There is also an igniter that is included along with an auto shut off gas valve so if the flame goes out the gas will not continue to run. The Sportsmate is a great option if your looking for a heat source while hunting, fishing, camping, boating or any other activity that puts you out in the cold.
Truly Portable
This is a very light and compact option. The whole thing weighs only 3 lbs. and can be easily packed into a bag. The durable steel burner can take some hits without damaging the heating element. The Texsport Sportsmate does not need an external power source, allowing you to have heat virtually anywhere.
Big Heat In a Small Packages
While it's compact and portable, it is also able to crank out 3000 BTU's of heat. This is comparable to some of the larger units on the list without the cumbersome size. If you're not looking to be quite that toasty, the thermal regulator can be adjusted to give you just the right amount of heat.
Cost and Value
This mid-level priced heater is affordable and a great option for keeping you warm while outside. The Texsport Sportsmate is also oftentimes sold in a two-pack. It's very important to use this heater in a ventilated area as there have been reports that it puts off quite a lot of propane fumes.

Subscribe to our Newsletter