10 Best Camping Shovels
In a Hurry? Editors choice: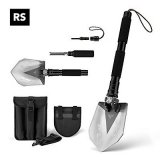 Test Winner: FiveJoy Military Folding

The shovel, a tool for the ages and now with an abundance of variation. A shovel can be so much more than a shovel, it can also be just about anything you want thanks to some ingenious new uses for this age-old tool.

There are many reasons why you should take a shovel on your camping trip. You may have to dig your own fire pit in order to build a fire safely, you may also have to dig a hole to bury left over from a meal so that animals do not get into it either. There may even be times where you need to dig a trench and direct rainwater away from your tent. This is an important tool for your trip- so it will be worth your effort to find the best one.
Standout Picks
Criteria Used for Evaluation
Portability
A good shovel for camping will be small and lightweight. Unless you can get a vehicle to your campsite, you are most likely going to need to carry your camping gear with you. The smaller and lighter your gear is, the easier it will be to carry it. Size and weight really start to matter when you are planning on going backpacking where you will need to carry all of your gear with you on the trail. If you have a large and bulky tool, then it is going to be harder to carry your gear with you while you are backpacking.
Most of these tools fold up or disassemble into smaller sizes. This is a good thing and is something that you are going to want to look for when you are shopping. Most of the time you will only be using your camping shovel briefly so there is no need to bring one that doesn't fold up along with you. It's a good idea to see how big the tool is when it has been folded up since some of them are larger than others.
While you are looking, you are going to want to consider the overall weight of the item as well. This can be a little tricky since you do want to get something that is so light and small that it can't be used reasonably but you also do not want to get something that is too heavy either. Generally speaking, you will want to try and find the happy medium between size and weight so that the tool is easy to carry and pack but is also useful when you need it.
Versatility
A single tool that can be used for a variety of different applications will give you more utility in the field and help you cut down on the gear that you need to carry. For this reason, you are going to want to look for something that can be used as a shovel, saw, and as an ax at a minimum. The more jobs you can do with a single tool, the better off you will be so you will want to look at the different features and benefits to see what the tool can be used for. This will help you cut down on the amount of gear that you will need to take with you which will reduce weight and make room for other things.
As mentioned, the three most important functions are shovel, ax, and saw. In order to camp safely and survive in the wilderness, you are going to need to build a fire. Building a fire will mean that you need to dig a fire pit and then you are going to need to gather kindling and wood. If you can use the same tool to dig, cut, and saw, then you will have all of the tools that you need to build a fire. It may even be helpful if your tool has a fire starter so that you can light your fire once it has been built. Of course, there may be other things that you will want your tool to do besides building a fire. You may be able to want to use it as a hammer so that you can pound in tent stakes or you may need to use it as a hoe to dig a trench. The more your tool can do, the better off you will be.
Durability
You are going to need to think about the long-term health of your outdoor tools to make sure that they will last. Some tools are made better than others and if you have a tool that isn't durable, then it may break on your when you need it the most. This principle is true of camping shovels as well. You need to make sure that the blade doesn't crack or bend when you start to dig and that the handle is durable enough to withstand digging. There are a few different things that you can look at to see if the shovel will be an item that is long lasting.
One thing that you should check is the type of metal that is used for the blade and how thick it is. For example, a blade that is made of thick high carbon steel is more likely to last than a blade that is made of a low-grade aluminum. You should keep in mind that there is going to be some trade-off in this area that you are going to have to consider. A thicker blade will be stronger than a thinner one but it's also going to weigh more so you are going to have to find the sweet spot in this area. The durability of the handle also matters as well. Sometimes the handle is made of thin metals or wood in order to keep the weight of the shovel down, but that can also mean that it isn't as strong as it needs to be. You are also going to want to make sure that all of the metal parts are protected against rust in some fashion otherwise the life expectancy of the shovel will suffer.
Protection
One of the things that will certainly want to have is a carrying case. Not all camping shovels come with one but it is an important thing to have since it will make it easier to carry the tool in your pack and it will help to protect it. When you are looking for a carrying case, you will need to make sure that it will protect your camping shovel from the water. This is important because exposure to water can cause the tool to rust which can make it hard to fold and unfold when you need to use it. Furthermore, rust will cause the blade to get dull and weak which will affect how long the tool will last. It isn't going to matter how well your camping shovel is built if you don't take care of it, which is why you need a carrying case.
There are a few attributes in the case that you will need to look for when you are looking for one. The most important thing is that it needs to resist water. Moisture comes from a lot of different sources but some of the more common ones are rain, soil, and humidity. When your carrying case is water resistant, it will protect your camping shovel from the rain in the event that you find yourself in a drizzle or in heavy rain. The case also needs to be strong enough to make sure that it won't get cut open if you have the tool inside of it. Some camping shovels have sharp edges that are used for cutting so your case needs to resist getting cut by the edges. Finally, you will want to look for loops in the case so that you can attach it to your gear.
10 BEST CAMPING SHOVELS
1

. FiveJoy Military Folding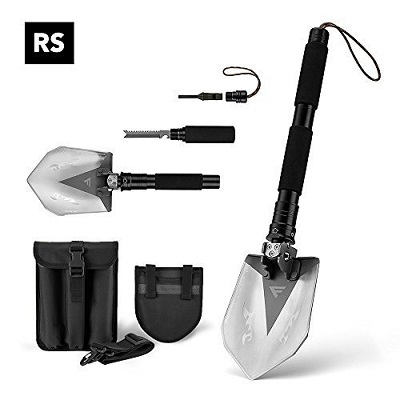 The best part of this shovel is it can be used as a saw, ax, shovel, hammer, or as a knife. Its design and versatility mean you are getting many different tools from the same shovel, all easy to store and alter whenever you need.
Multi-purpose
With a single tool, you can dig a fire pit and then use it to chop your wood for the fire. Then you can even start a fire with it. There are plenty of other things that you can do with this tool also.
Durable
The tool is made of high-quality metals that include carbon steel and aircraft grade aluminum. This will help it last for a long time and allow it to work in different applications.
Cost and Value
You will need to plan on spending a premium on the FiveJoy since it is sold at a price that is higher than the average price. This is because of its versatility and high-quality materials.

2

. Bond LH015 Mini D Handle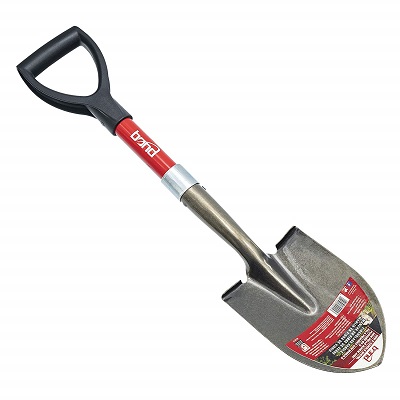 The Mini D is a plain shovel that you can use for digging small holes and trenches. It has been designed to be lightweight and easy to carry. You will love how the handle feels since it has been designed to have a comfortable grip so that it feels good in your hand. The metal parts have been treated to resist rust so that it's long-lasting.
Heat Treated
The metal parts have been heat-treated so that they are stronger and more durable. You are less likely to experience failures such as bending, breaking, or cracking thanks to this feature.
Rust Resistant
The metal parts are also treated with a powder coating that will keep water from reacting with the steel. This will help to fight off and reduce rust so that it lasts longer.
Cost and Value

You will find this item sold at a price that is lower than the average price. The lower price is due to it being a single purpose item that doesn't cost much to make.

3

. Tabor Tools J35 Folding Shovel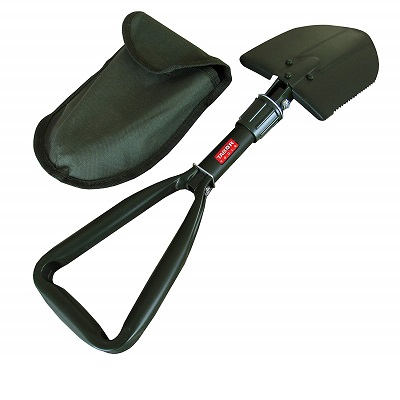 We love this little shovel. It literally does everything you might need a camp shovel to do. From simple hole digging to wheel extraction and it comes with a serrated edge just in case you need some cutting power. Light of weight and sturdily made of hardened steel with a price in the basement, this is a tool for the outdoors person with lots of guts but not so much cash.
Multi-functional
The tool not only has a serrated edge but it can also lock into a straight tool or be set at a 90 degree angle. That means it's going to get you out of most any jam that comes up.
Light Weight and Portable
The shovel comes with its own carrying case and the shovel folds twice to fit into a small carrying case that will fit easily onto a backpack or into the back of a car. Believe it or not it actually fits into the glove compartment. A great all-purpose small little shovel built for trouble.
Cost and Value
We saved the best part for last. This shovel comes at rock bottom pricing. That gets you a lot for not much money, a serrated edge, lightweight, compact design, foldability, and high-quality craftsmanship make this new entry onto this list one we're proud to present.

4

. TFS Survival Folding Shovel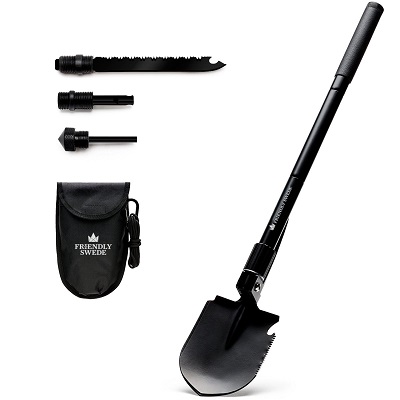 Another tool that's just got so many features we just had to add it to our list. Not only is it a shovel but it has a number of really cool attachments that make it more like a pocket knife than a camp shovel. Included in this little baby are ten attachment tools including a fire starter, glass breaker, pickaxe and whistle and that's just the few we can fit here. We feel bad just calling this s shovel.
Carbon Steel Smart Design
This is made of high quality Carbon Steel with a strong non-slip rubber grip. The materials promise endurance and make the shovel easy to handle no matter if it's being used as a straight shovel or cantered to its 90 degree position or using one of the tool attachments.
Lifetime Warranty
The Friendly Swede Company offers a lifetime guarantee and the team promises award-winning customer service 24 hours a day, and promise to answer any questions you might have within hours. We like that promise.
Cost and Value
Not too bad for a tool that has all this other stuff included with it. It's towards the high end but consider the way it folds, the high quality craftsmanship and all the add-on tools this will definitely be a go-to tool and while it's a bit higher end it definitely won't break the bank.

5

. Military Issue Tri-Fold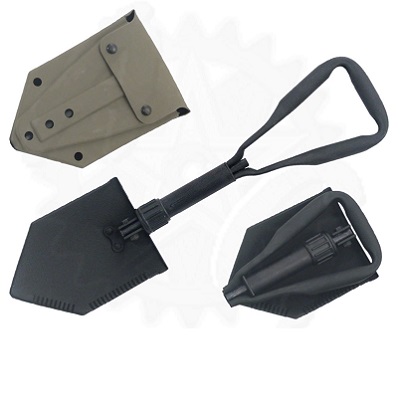 This is another tri-fold camping shovel that is issued to the U.S. military. The tool can be used for a variety of purposes that allows you to perform tasks such as digging a hole, cutting wood, and starting a fire. When you aren't using it, you can fold it up into a small item and store it in the included pouch.
Vinyl Cover
This tool is also sold with a vinyl cover where you can safely store it when it is not being used. The cover is water resistant which will help to reduce rust.
Powder Coat Finish
The tool has been treated with a powder coat that is black in color. The coating will help to keep water from touching the metal and works to prevent rust from developing.
Cost and Value
You will see this tool sold at a price that is slightly higher than the average price. The higher price is worth paying since you get a lot of features in a single tool.

6

. IUNIO Military Portable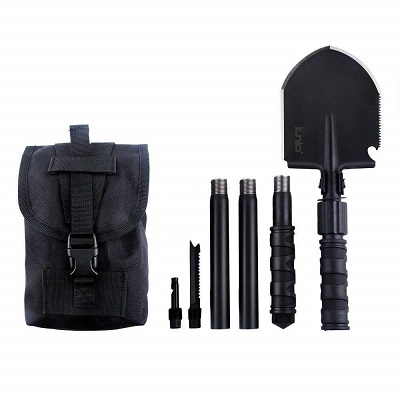 Sometimes the small portable shovels used in the outdoors have handles that are too short. This is done to save weight but you give up leverage when you have a shorter handle. However, this tool made by IUNIO has a 35-inch handle that folds up to save space so that you get portable along with leverage at the same time.
Long handle
The tool comes in 17, 31, and 35 length handle. A longer handle will give you more leverage when you are digging which can be an advantage in hard ground.
Multi-purpose
The tool can be used for a variety of different tasks. For example, you can use it as a hoe and even as a bottle opener. This makes it into a great outdoor tool.
Cost and Value
You will see this tool sold at a price that is slightly higher than the average price. The higher price is due to the many features that are provided by this tool.

7

. Glock Entrenching Tool


This is a high-quality outdoor tool that is made of premium materials that allow it to be strong and lightweight at the same time. You will love some of the more advanced features such as the telescoping handle that provides you with different lengths and a blade that can be locked into four different positions depending on your needs.
No Welds
The tool does not have any welds or rivets. This helps to increase the sturdiness of the tool since you don't need to worry about welds breaking or rivets getting loose.
Lightweight
The tool has been designed to weigh about half as much as a regular entrenching tool. This will make it easier for you to carry it with your gear while outdoors.
Cost and Value
You will notice that this item is sold at a price that is higher than the average price. The higher price is because it uses durable and high-quality materials to help it last.

8

. Gerber Gorge [22-41578]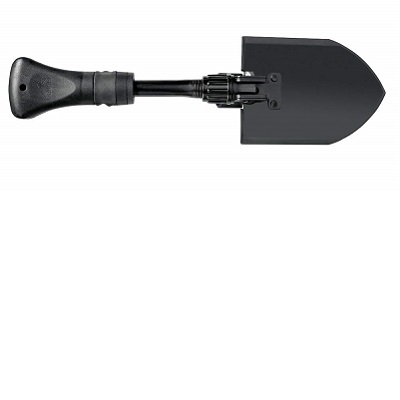 This is a lightweight option for when you need something that is basic and can perform a few normal tasks such as digging a small hole or pounding in tent stakes. The blade has been designed to be durable and long lasting so you can use it as a hammer, ax, or as a shovel. This is a great tool to have outdoors.
Push Button
You can expand the tool quickly and easily using the push button. Once the button is pushed, you just slide it out to expand it to its full length so it's easy to use.
Ergonomic Handle
The handle has an ergonomic design to it. It comes with a grip that has rubber so that it cushions your hand and helps to keep you from slipping while you use it.
Cost and Value
This is an item that is sold at a price that is much lower than the average price. The low price turns it into a bargain buy since it's a great tool for the money.

9

. ROSE KULI Folding Shovel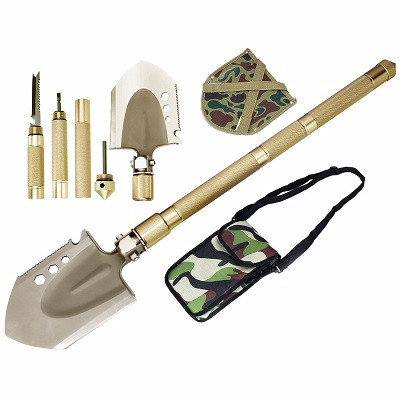 Ultra-small and ultra-lightweight but this is the little shovel that can. It has 15 multi-function add-ons that make this another shovel that falls into the pocket knife category. A few of our favorite add-ons: A saw blade, a bottle opener and a fire starter, and there's more. Really we hate to say it- but don't leave home without one.
Smart Function Multi-Use
Let's add a few more things that this shovel can do once you start playing around with the add-ons: Scrape a fish? Check! Serve as a kitchen knife? Check! Break a car window? Check! Now we certainly hope you don't need this to do much breaking of car windows, but it's nice to know it's there if you need it.
Foldable and Easily Storable
Like most of the camp shovels on our list, this one folds up into a tiny little package that will easily fit into your backpack, or into the back of your car or even into your glove box. Not only that but it's strong enough to take the kind of pounding that only well-built camping equipment can live through.
Cost and Value
This one is really quite affordable, not too much and not at the bottom this is just an all-around small, multi-purpose tool that will come in handy in all kinds of situations.

10

. Fobachi Military Survival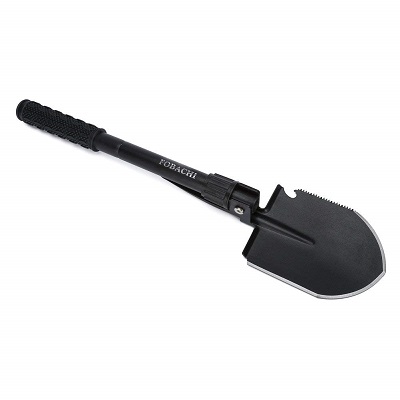 Here is another military style camping shovel that is made by Fobachi. It is great for outdoor usage thanks to its size and versatility. With a single too you can dig, cut, saw, and even use it as a hoe. This will allow you to do just about anything you need around the campsite which makes it a great addition to your gear.
Foldable
It has a design that allows it to fold into a small and compact size. This will allow you to easily store it along with the rest of your gear.

Durable
The metal parts are made of a high carbon steel which makes it durable and long-lasting. The steel lets this tool perform even the most difficult jobs without fail.
Cost and Value
You will find this tool sold at a price that is slightly lower than the average price. The lower price is great because you get to save when you purchase a high-quality tool.

Subscribe to our Newsletter