Best Video Gaming Chairs Reviewed & Rated for Quality
In a
Hurry? Editors choice: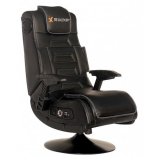 Test Winner: X Rocker Pro Series

There's nothing quite as comfortable as having your very own chair. You and your new chair will become entwined so that it becomes comfier and comfier the more that you sit in it. Another layer worth adding to that delectable equation is to get one that is designed
specifically for your video games
. They are perfect for making a nice stoop to plop yourself in when you just want a controller in hand, and a game on the screen. They strike a good balance between feeling completely relaxed in your chair, but not so far leaned back that you can't get into that zone that occurs when things start getting intense. This is a list of ten of the best gaming chairs that you can find. They are all comfortable, and perfect for a few hours of enjoying a game, whether it's a beloved classic or something new.
Standout Picks
Criteria Used for Evaluation
Comfort
Sitting down in front of your console of choice for a full night of gaming just wouldn't be the same without somewhere comfortable to drop your butt into. That is why comfort finds itself at the top of the categories for gaming chairs. If the chair isn't comfortable, then why would you sit in it? The chairs on this list are all made of the most comfortable materials that can be found on the market. It takes a special balance to find the right chair for the job, which means that it is difficult to get the balance right between comfort and support. Regardless, these chairs succeed with flying colors. The chairs on this list are designed out of comfortable materials like memory foam or soft suede. The higher the rating in this category, the more comfortable you will be while sitting in your new chair.
Potency
A big thing that separates a gaming chair from any other kind of chair on the market is the ability of these chairs to make it easier for you to immerse yourself in the game. These chairs do it in a few different ways. Letting you focus on the game, and not on your back is one way, but there are other things that these chairs can do. The biggest is add some audio features to the chair. Having speakers in the chair is a quick way to feel like the game is coming to you. The chairs on this list with audio usually put speakers to each side of your head so you are always hearing the game in glorious stereo. Some chairs also add a rumble feature so you can feel like the game is coming to life for you. The higher the rating in this category, the more immersed you will feel while you are playing in your chair.
Adjustability
Everyone who sits down in a chair does it slightly different from each other. That means that it is important tot be able to change how your chair is to better suit your needs and mood. It may be the case that you want to lay down like your sleeping while you are in your gaming chair. It can be nice to be laying down in an upright bed sometimes. The gaming chairs on this list come with tons of different options for how you want to set up your chair. There are lots of ways that they can move. A popular style are the rocker chairs that you can let move along with you as you go. Then there are chairs that can be adjusted into lots of different positions, such as with the Birdrock or the Homall. The higher the rating in this category, the more control you will be able to have over your chair.
Support
It is important to look for a chair that will do a good job of keeping you supported. A comfortable chair is a good thing to have, but it can also be dangerous if it is a chair that lets you sink right into the fabricy folds of the seat. A good deal of support is important so that your back won't go kaput after too many long nights of gaming. The best chairs will have lots of support in the lower back so that you don't feel like you are cramping up after a while. Some of the chairs on this list will make it easy for you, because they have been designed with ergonomics in mind. This can be seen in the rocker style chairs on this list, which do a great job of having the perfect amount of curves so your back is always feeling protected from the dangers of prolonged sitting. The higher the rating in this category, the more supported your back will feel during your hours of gaming.
10 Best Video Gaming Chairs
Subscribe to our Newsletter