Best Video Gaming Chairs Reviewed & Rated for Quality
In a Hurry? Editors choice: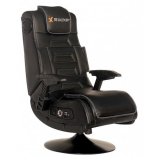 Test Winner: X Rocker Pro Series

There's nothing quite as comfortable as having your very own chair. You and your new chair will become entwined so that it becomes comfier and comfier the more that you sit in it. Another layer worth adding to that delectable equation is to get one that is designed
specifically for your video games
. They are perfect for making a nice stoop to plop yourself in when you just want a controller in hand, and a game on the screen. They strike a good balance between feeling completely relaxed in your chair, but not so far leaned back that you can't get into that zone that occurs when things start getting intense. This is a list of ten of the best gaming chairs that you can find. They are all comfortable, and perfect for a few hours of enjoying a game, whether it's a beloved classic or something new.
Standout Picks
Criteria Used for Evaluation
Comfort
Sitting down in front of your console of choice for a full night of gaming just wouldn't be the same without somewhere comfortable to drop your butt into. That is why comfort finds itself at the top of the categories for gaming chairs. If the chair isn't comfortable, then why would you sit in it? The chairs on this list are all made of the most comfortable materials that can be found on the market. It takes a special balance to find the right chair for the job, which means that it is difficult to get the balance right between comfort and support. Regardless, these chairs succeed with flying colors. The chairs on this list are designed out of comfortable materials like memory foam or soft suede. The higher the rating in this category, the more comfortable you will be while sitting in your new chair.
Potency
A big thing that separates a gaming chair from any other kind of chair on the market is the ability of these chairs to make it easier for you to immerse yourself in the game. These chairs do it in a few different ways. Letting you focus on the game, and not on your back is one way, but there are other things that these chairs can do. The biggest is add some audio features to the chair. Having speakers in the chair is a quick way to feel like the game is coming to you. The chairs on this list with audio usually put speakers to each side of your head so you are always hearing the game in glorious stereo. Some chairs also add a rumble feature so you can feel like the game is coming to life for you. The higher the rating in this category, the more immersed you will feel while you are playing in your chair.
Adjustability
Everyone who sits down in a chair does it slightly different from each other. That means that it is important tot be able to change how your chair is to better suit your needs and mood. It may be the case that you want to lay down like your sleeping while you are in your gaming chair. It can be nice to be laying down in an upright bed sometimes. The gaming chairs on this list come with tons of different options for how you want to set up your chair. There are lots of ways that they can move. A popular style are the rocker chairs that you can let move along with you as you go. Then there are chairs that can be adjusted into lots of different positions, such as with the Birdrock or the Homall. The higher the rating in this category, the more control you will be able to have over your chair.
Support
It is important to look for a chair that will do a good job of keeping you supported. A comfortable chair is a good thing to have, but it can also be dangerous if it is a chair that lets you sink right into the fabricy folds of the seat. A good deal of support is important so that your back won't go kaput after too many long nights of gaming. The best chairs will have lots of support in the lower back so that you don't feel like you are cramping up after a while. Some of the chairs on this list will make it easy for you, because they have been designed with ergonomics in mind. This can be seen in the rocker style chairs on this list, which do a great job of having the perfect amount of curves so your back is always feeling protected from the dangers of prolonged sitting. The higher the rating in this category, the more supported your back will feel during your hours of gaming.
10 Best Video Gaming Chairs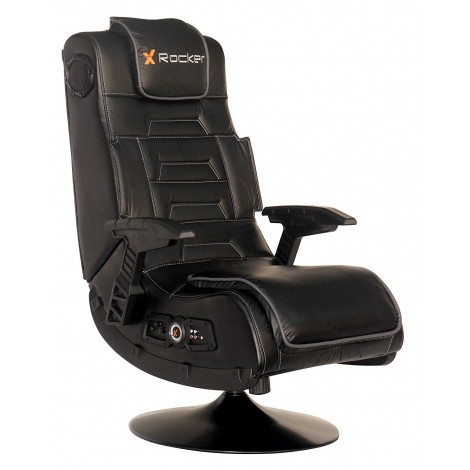 The X Rocker brand is the template that all other gaming chairs are built on. It strikes the perfect balance between comfort and posture.
Built For Gaming
The Rocker Pro is designed so that you are going to become fully immersed in whatever game you are playing. It does this by attaching a few speakers to the chair so that your surround sound experience is right near your ears, where you can really get into the game. It has two speakers on the sides of your head, and a subwoofer in the back for a three hundred and sixty degree experience.
Other Feature
The Pro Series has a lot more to show off before you move on in the list. It has the perfect curve to it that makes it the perfect chair for all kinds of activities. You will quickly realize that it is the perfect place for any of your activities at home. It comes with a pedestal that turns and tilts so you can lean back when you want to, too.
Cost and Value
The X Rocker Pro is a great chair that you will begin to treat like a home away from home almost immediately. It costs more than the other additions to the X Rocker line, but it has the added functionality from the speakers. Beyond that, it also comes with the ability to move the chair around in a ton of different ways.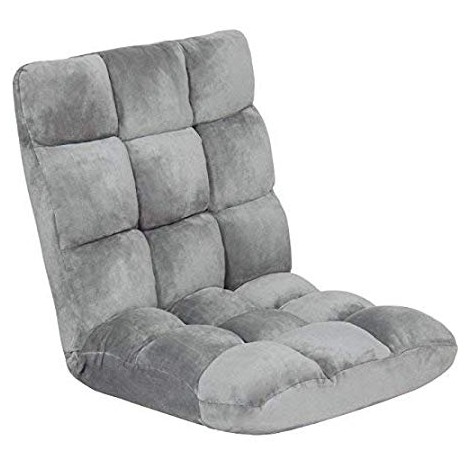 Not all gaming chairs need to be serious looking behemoths of ergonomic technology. Be like a kid again, and try out this comfortable and simple floor cushion.
Live Like A Kid
Best Choice Products have designed a simple and comfortable chair that feels great to sit in. Just sit it down on the floor and get ready to do any kind of activity in the truest of comforts. The interior is made out of memory foam, and will do a great job of keeping you as comfortable as you felt sitting on the floor to play a game as a kid.
Other Features
The Best Choice Products Sofa Chair is a great choice for anyone looking for a comfortable place to settle in for an evening of relaxing activities. This includes things like reading and watching TV, and not just playing games. Something that will aid you in your quest for the perfect place to perch is the ability of this chair to be put into a grand total of fourteen different positions.
Cost and Value
Best Choice Products have a real winner here when it comes to vegging out in any way that you want. The array of positions that you can put it in, including flat for napping, and the comfortable construction of the chair, make this a great place for anyone to find themselves after a long day of work. Best of all, it doesn't cost enough to stress the bank account.



The Cohesion is an inviting middle ground between the previous two options on this list. It has the rigidity of the Rocker Pro, but with the floor seating of the Best Choice Products chair.
Perfect for Relaxation
The Cohesion uses a rigid construction to put you in the perfect pose for all of your games. It also takes advantage of being a chair destined for being on the floor by letting you rock gently in it as you game away. Another great thing about it is that it comes with speakers, just like the X Rocker, so that you can playuyour games in total immersion.
Other Features
The Cohesion is a great gamming chair that will have you playing at peak performance every time that you use it. The chair's audio gives you lots of options for how you want to use it, which is great for getting to switch it up as the day progresses, and you might need to be quieter. It comes with a headphone jack so that you can listen to your games in private, as well as a volume control right on the chair.
Cost and Value
The Cohesion is a great little gaming chair that is perfect for relaxing in while you play your games into the wee hours of the night. It also has a great feature where you can fold it up to put it away if it takes up too much space in your living room. The Cohesion can be had for a pretty good price, and it will prove its worth very quickly.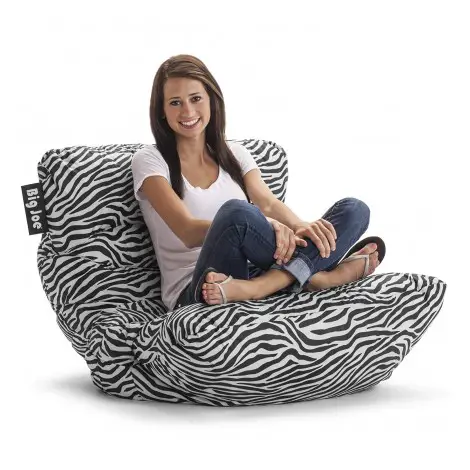 Big Joe brings you a great chair that feels like a premium deluxe version of a bean bag chair. You can have that sinking in feeling of a bean bag chair, but with the addition of a bit more support and structure.
Deluxe Bean Bag Chair
The Big Joe chair is a great place to go if you want to sink deep into a nice chair and really learn to relax while you are playing your video games. Instead of the classic beans, this chair uses ultimax beans, which provide an extra level of comfort that will not be denied once you find yourself sitting in this chair.
Other Features
The Big Joe is smart enough that it has covered all the stops on its way to being the ultimate bean bag chair. It is made out of a material that is soft and plushy, but designed for easy cleaning. All it will take is a few wipes of a wet cloth, and you will find yourself with a cleaned chair. With the Big Joe you won't need to worry about drinking cranberry juice while you play.
Cost and Value
The Big Joe brings a lot to the table that will make you rethink if the bean bag chair is a dead trend of the past. It is about as comfortable as you are going to find, and is the perfect place to wind down a long day relaxing with your favorite video game. It also comes at a very good price, which is just another thing that Big Joe does very well.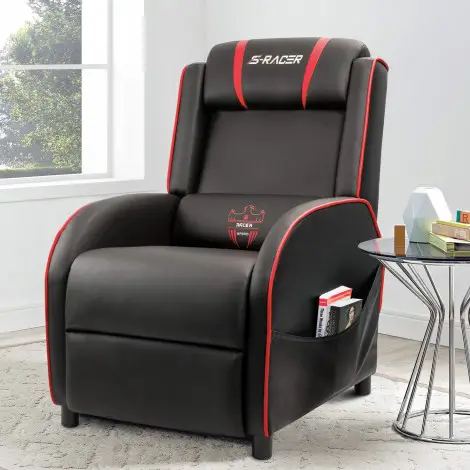 The Homall is what you get when you mix a classic gaming chair with your dad's favorite lazy-boy. Welcome to the Homall Gaming Recliner.
Gaming Recliner
The Homall looks just like a classic lazy-boy recliner, but it has been updated with all the latest in fashion trends among gamers. It is a very comfortable recliner that uses faux leather so that you are always comfortable, but without needing to worry about your drinks falling and making a mess of the chairs. It even comes with an extra pillow for that extra bit of lumbar support.
Other Features
The Homall has a lot to love. There is a reason that this style of chair is so popular. It is adjustable in multiple ways, and can have both its back, and its foot rest, adjusted. This means that you can switch up your sitting position as you go through the day. The Homall also brings an incredibly large amount of room for you to relax in, so that you always feel at home in your spacious chair.
Cost and Value
The Homall is a great gaming chair that will quickly become the first place you go to after a long day of work. It has tons of options so you can relax in the way that suits you best. The added aesthetics of that distinctive gaming style will do a good job of masking the fact that you have adopted the sitting style of the previous generation.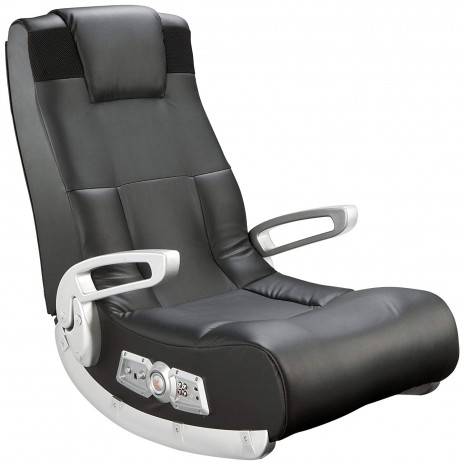 The Ace Bayou is another great chair in the style of the X Rocker chairs. It brings immersive audio and great back support to gamers everywhere.
Audio Support
The Ace Bayou is designed with multiple speakers built into it. It comes with two speakers in the back of the chair that do a great job at surrounding you with immersive, clear audio. There is also a subwoofer in the back of the chairs that will provide a rumble pak for your entire body. The audio can be controlled from the side of the chair to make things easy to fiddle with.
Other Features
The Ace Bayou is also comfortable, so don't worry that you will only be absorbing the audio, and no comfort. It has been designed with ergonomics in mind. It has a gentle curve to it that feels great on the back, and will make it easy for you to lean forward in your chair when the game starts ramping up. The Ace Bayou is perfectly balanced, as all things should be.
Cost and Value
The Ace Bayou is a great little chair. It looks a lot like the X Rocker Pro, but it comes at quite a bit of a cheaper cost. This is a great chair if you are looking for a prototypical gaming chair that you don't need to break the bank to buy. The immersive audio, and posture setting seat, will do a great job at making it easy for you to game deep into the night.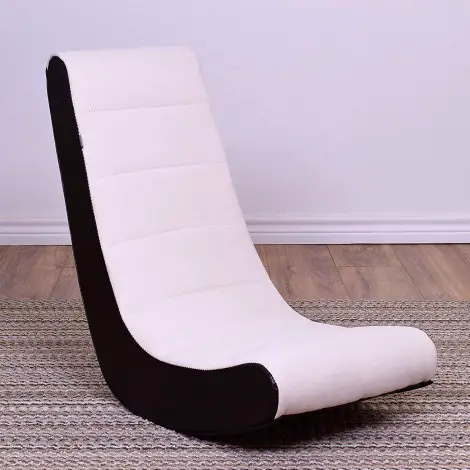 The Crew Furniture has brought along a budget friendly alternative to the more expensive gaming chairs on the market. This is a great little rocker.
Rocker Chair
The Crew Rocker is a no frills gaming chair that will make you feel extremely comfortable, but without any of those bells and whistles that some people find unnecessary. Its aim is to provide simple comfort that you can rely on when you are gaming and doing lots of other things. It is designed with an ergonomic contour that feels very comfortable on your back.
Other Features
What else has The Crew got in store for you? This chair is made out of a simple construction that feels great comfort-wise, and budget-wise. It is made out of wood and polyester, which makes it a very lightweight design. That makes it easy to move this chair all over your house. The surfaces are made of micro-suede, which feels soft and is easy to clean.
Cost and Value
The Crew Rocker is a great gaming chair for anyone who wants something simple and effective to sit in when they are settling in for a night of gaming. It does a great job of making life easier for you back. Another big selling point of the Crew gaming chair is that it can be bought at an incredibly low price when compared to the other rockers on this list.

8

. X Rocker Extreme III 2.0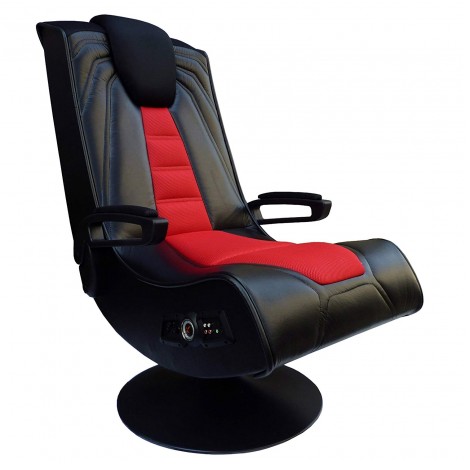 This is the big kahuna of gaming chairs that come from X Rocker. It is packed with audio features, ergonomic curves, and some other goodies.
Vibration Mode
The immersion is cranked up to eleven with the Extreme III. It is designed so that you will have an easy time getting ready for any type of gaming world that is on the screen for the day. It uses the subwoofers and speakers of the other audio chairs on this list, but it adds in bassy vibrations that activate with the sounds of the chair, which adds a real rumble feature to the chair.
Other Features
The Rocker Extreme has more going for it than vibrations, though. It comes packed to the gills with comfort and relaxation. The chair is made out ergonomic curbes and stiff padding. It is a perfect very balance between comfort and the ability to move around as you see fit. The chair is also mobile, and can be easily rocked back and forth as you feel like it.
Cost and Value
Surprisingly, the Extreme III doesn't cost as much as you would think for something so fully loaded. This is about as feature packed as it gets for gaming chairs, and it doesn't even stretch the limits of your wallet to do it. It comes with everything you could hope for in a gaming chair, and is the perfect place to look if you are the type to want to have it all.

9

. Birdrock Home Memory Foam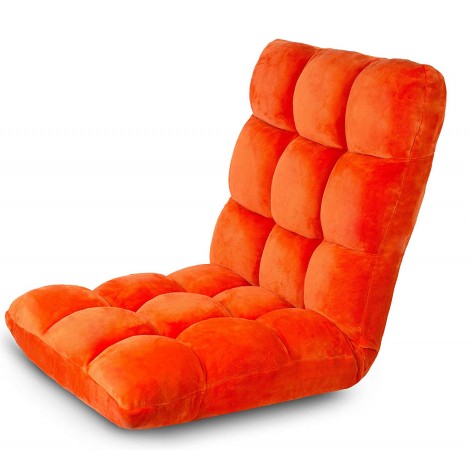 This is another entry in the world of floor chairs. It does a great job at giving you a relaxing place to plop yourself down and get some gaming in before bed.
Memory Foam Chair
The Birdrock is a comfortable chair that you can just plop down on your floor, and then be immediately ready to get snuggled up with. It is packed with tough memory foam that will do a good job of keeping you comfortable and supported while you game. The memory foam is shredded, which is a great way to feel like you are sitting in a comfortable bean bag chair, minus the noises.
Other Features
The Birdrock has a few other tricks up its sleeve to impress you. It can be put into fourteen different positions. One of those positions is completely on its back, which is a perfect position to lean back into to take a nap if you want. It can also be easily folded up into a tidy square, which makes it incredibly easy to take advantage of for storage purposes.
Cost and Value
The Birdrock is a simple solution to the person who just wants somewhere comfortable to sit down and game. It gives you lots of options for just how you want to relax too. This makes it a good choice for those natural fidgeters, who need to change it up every twenty minutes. The Birdrock is great value too. It costs much less than the more serious chairs on this list.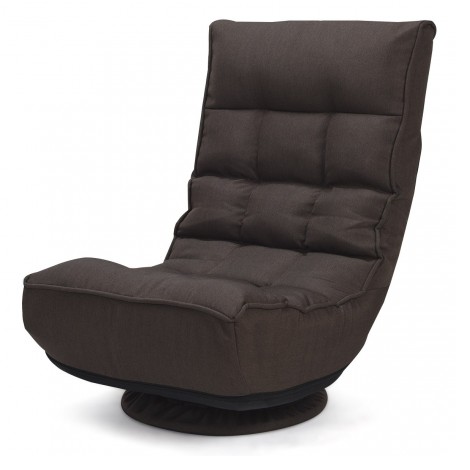 The Swivel Chair from Giantex is a good solution for those who are looking for something that strikes a good balance between the leather gamer chairs and the memory foam chairs of the list.
Balanced Swivel Chair
The Giantex does a great job at bringing what there is to love about all the other gaming chairs into one place. It is made of a soft fabric that feels just like your sofa at home, but it mixes that with the ergonomic design of the rocker chairs on the list. On top of that, it can also be adjusted into multiple positions for the perfect level of comfort.
Other Features
The Giantex is a great chair that does a lot of things right. It is designed for storage, and can be folded forward so that the chair takes up the smallest amount of space possible. It also can swivel all the way around, which is a welcome sight for those people who enjoy being able to keep track of all their surroundings, or maybe for someone who likes VR.
Cost and Value
The Giantex is a cool mix of what there is to love about many of the gaming chairs on this list. It is a good chair for sinking into for that relaxing, sleep inducing comfort. The more modern features, such as the strong construction and the ergonomic design, push it more towards a modern chair that any gamer would be happy to call home.

Subscribe to our Newsletter