Best Snowboard Boots Reviewed & Rated
In a Hurry? Editors choice: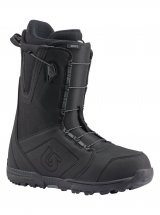 Test Winner: Burton Moto

Before you fork out cash for a
snowboard
, you need a pair of snowboard boots. Experts recommend that you buy the boots first and use them to pick the right
snowboard
and bindings. Buying snowboard boots go beyond just ordering a pair when you spot your size online. There are many other things that you need to consider. But don't fret, we have done all the grunt work and made it easier for you to make the best purchasing decision. Look beyond aesthetics and settle for snowboarding boots that give you a classy performance rather than leave you with feet fatigue after long hours of riding. It is crucial to find a super
pair of boots
that give you that satisfying experience and leave you with happy feet anytime you hope off that snowboard.
Standout Picks
Criteria Used for Evaluation
Size
Choosing the right length size is important. Shoe sizes fluctuate and change among manufacturers. So there really is no fixed standard. You might be an 8 and a half in one pair of snowboard boots and a 9 in another.
Snowboard boots do not only reveal their traditional boot sizes, but also show it the "mondo-print" size. Mondo is basically the length of your foot in either millimeters or centimeters.
The mondo-print shows the foot size that the boot is meant to fit. So if you have a 25cm foot (250mm) and you see a boot with the same mondo size cm or mm, you can sure that the boot will take your foot length. All worldwide boot manufacturers recognize the Mondo Point Scale and use it in sizing all footwear.
However, there are exceptions where the mondo-print would not be exactly spot on. But all in all, it offers a more effective means of ensuring that you get a boot size that fits. You can measure your foot at home with a measuring tape or use a Brannock device which you can find in most outdoor sports stores.
Style
When you are hunting for snowboarding boots, you need to know your riding style.
Freestylers
A soft or medium-soft flex boot is usually recommended for freestyle riders. This type of rider is mainly concerned about the shock-absorbent qualities of his boots.
Freestyle riders more than other riders require plenty of shock absorption because they do plenty of tricks, landing jumps and require sharp movement for butters and presses.
Freestylers need to choose boots that come with plenty of cushioning to absorb ground shock. These boots must come with EVA padding and airbags or gels that can complement the cushioning. The softer flex for freestylers ranges anywhere from 1 or 2 out of 10 to a medium-soft flex if you do a lot of large jumps.
Freeriders
These types of riders require a stiffer-flexing boot. This translates to a flex ranking of 8, 9, or 10 out of 10. Even though shock absorption is important to the free-rider, traction is equally more important.
The free-rider also does plenty of hiking and needs boots that can grip any terrain. It is important to have to cushion that can take impact. However, too much cushioning can make boots almost impossible to walk in. A smart way to strike a balance is to use bindings with a sizeable amount of shock absorption and go for boots with a maximum amount of traction.
Freeriders want a maximum response and need boots that will work well in powder, tight spaces and down quick slopes. They want boots that can handle any challenging terrain they encounter while riding backcountry.
All Mountaineers
Flex-wise mountaineers use boots anywhere from medium-soft to medium-stiff. This basically ranges anywhere from 4 out of 10 to 7 out of 10. In terms of the cushioning, a lot of it depends on your preferences.
For example, it will depend on the terrain you prefer to use and how much time you spend in the park and freestyle as a whole as compared to how much time you use in the backcountry. All-mountaineers looking for fun should make a play for a softer flexing boot. However, those looking for a challenging and aggressive terrain should settle for a stiffer flex.
Ready for tricks on the mountain or you want to do park laps without the daunting terrain? Medium-soft is what works here. This would be a 4 or 5 out of a 10. Alternatively, if you are looking to maneuver mazy slopes and zip around trees and enter backcountry, a stiffer side of the medium will work for you. A flex of 6 and 7 out of 10 sounds about right.
Features
There are three lacing systems. They include the traditional lacing system, speed lacing system and Boa lacing system. Your lacing system is pre-determined by your riding style among other inclinations.
Traditional Lacing System
Traditional lacing systems are for those who like to keep things simple and are looking to customize the lacing to their foot. You can adjust the fitting here like you are tying your shoe and use wax coated boot laces to avoid them getting undone.
So if you are good with tightening your boot by hand and know a handful of lacing styles, this would work well for you. A major drawback of this system is that they are difficult to knot with gloves on or with bare hands in cold conditions.
If you are not used to tying your laces the traditional way, it takes quite an effort to get the tension right. Customary laces might take time and effort to tighten and adjust for the newbie. But they still offer the most customizable options when compared to other options.
Knowing how to tie your laces by hand comes in handy if the other lacing systems disappoint. When these lacing systems end up being faulty and you have no idea about lacing up the traditional way, you will need to buy another pair of boots.
Speed Lacing Systems
Speed lacing systems are faster than traditional lacing systems. This system uses the zonal lacing system that allows you to tighten your lower leg area, independently of your ankle or forefoot area.
They are designed to provide you with customizable tension and allow you to fasten your laces with gloves on. Even though these boots are convenient because they work with multiple lacing zones and can be adjusted by the yank of a handle, the tension does not release quickly when it's time to get out of the boots.
Alternatively, some riders complain that this quick-lacing option does not give them the tightness that they want. Moreover, the laces are far from being fool-proof and have a tendency of loosening when not securely locked into place. A broken or worn out lace could bring a premature end to your day on the slopes. If you have a pair of extra laces, it could take you an additional 30 minutes to get them fixed.
Boa Lacing System
This lacing system is the most expensive and works with an ultra-suitable twist and tighten cable reel that releases tension in a matter of seconds. This lacing system comes in handy when you want to take a quick break (like lunch) and get them on again. Boa dials are glove-friendly and allow you to wear boots in the freezing temperatures without any hassles.
It is a one-dial system meaning that you can fit a whole foot in using just one hand. The traditional and speed lacing systems, on the other hand, concentrate more on specific areas on the foot.
One of the shortcomings of the Boa lacing system is the uneven pressure it places on the boot because of its inability to space out tension to different areas of the foot. However, there are top-dollar Boa boots that sort this problem out with lacing zones and multiple reels.
All in all, the Boa lacing system scores the highest mark among the three, but it will cost you more than a pretty penny.
Protective Liners
A liner is the inner portion of a snowboard boot made from moldable, lightweight material known as Ethylene Vinyl Acetate or EVA for short. It is crucial that your boot not be without this crucial component because it provides stability, cushioning and insulation for your feet.
Basically, liners fall into three different categories: non-moldable, thermoformable and custom moldable. Non-moldable provides basic padding and stability for your feet. This might seem alright at the beginning but the persistent pressure of your body weight will eventually cause it to lose effectiveness. Thermoformable liners use the heat generated from your feet to craft a custom fit that can break in a day or two on mountain slopes.
Custom-moldable liners use artificial heat to generate a custom fit for your whole foot. This heat molding process is the ultimate custom fit for your feet. It gives you a better closure system and a harness that keeps the ankle firmly in place.
Comfort
Shock absorbent insoles help whittle down impact on the muscles. They also distribute body weight evenly, making your boots highly responsive to movement. Moreover, they align with your feet, knees, hips, and ankles against overuse injury.
Arch fatigue, pains in the balls of your feet and an inability to maintain sustained pressure in your edges are issues that can be rectified with a well-supported foot-bed.
You might need to fork out some extra cash for customized padding and cushioning if you are an air-bound powder hound. You need all the protection that you can get so that you do not make a jump and feel it in your knees.
Even if you do not experience pain with insoles, it is imperative that you provide additional support underneath your entire foot and not just the bottom of the boot. A customized pair offers more support, better comfort, and optimum performance. It will undoubtedly make you a better rider as well.
10 Best Snowboard Boots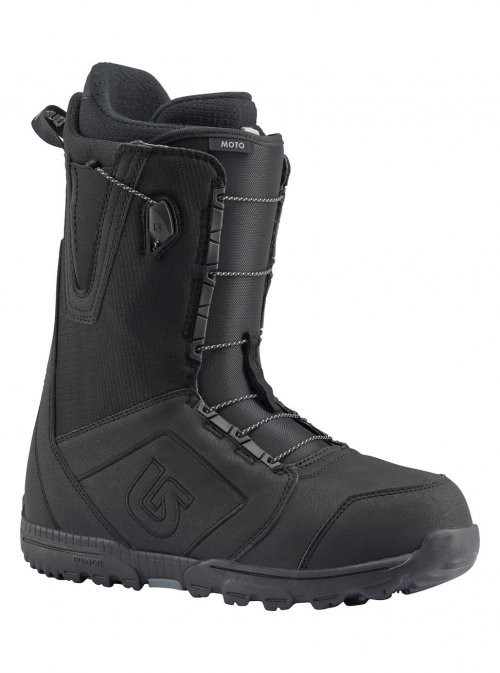 The Moto has been the world's top-seller for snowboard boots and there are many reasons why. Burton Moto might be lightweight but it packs plenty of absorbing power against impact—a joy to behold for a beginner's foot. The speed zone lacing system and heat moldable imprint liners ensure that these boots last a long time and give you one blistering ride after the other.
Speed Zone Lacing system
The dizzying-fast lacing control allows you to customize the fit of the upper and lower zone in a matter of seconds. The New England Ropes add to the invincibility of the Moto. Little wonder it comes with a lifetime warranty.
Superior Sole Cushioning
The DynoLITE sole of the world's bestselling snowboot comes with an exclusive cushioning compound effectively formulated to warm up in ice-cold temperatures and withstand recurring impact.
Cost and Value
These boots are reasonably priced ahead of all counterparts on this list. The exclusive features of the Burton Moto and its lifetime warranty justifies a big bang for your buck.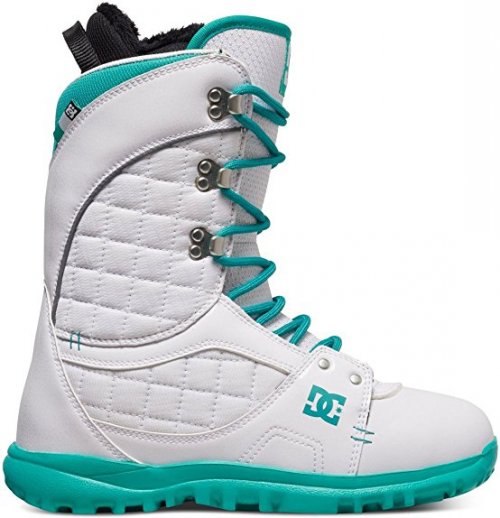 DC Karma Snowboard boots are versatile all-action mountain boots. They combine stylish appearance, the superlative board feels and traditional lacing to give feet plenty of security. The Red Liner, UniLite outsole and EVA footbed feature ensure that these boots are not only fashionable but highly functional.
This boot is an excellent choice for rookies and experienced riders who love to spend their days in the park.
Red Liner
The Red Liner fleece lining provides the feet with warmth and plenty of comfort buoyed by its classic lace closure.
Durable UniLite Outsole
The outsole of the DC Karma does an excellent job of absorbing the brunt of hard landings and prevents a snow build-up on the tread.
Cost and Value
In spite of the relatively low price tag, compromises have not been made on performance or comfort. DC Karma is the true definition of stylish ability and offers years of consistency at an affordable price.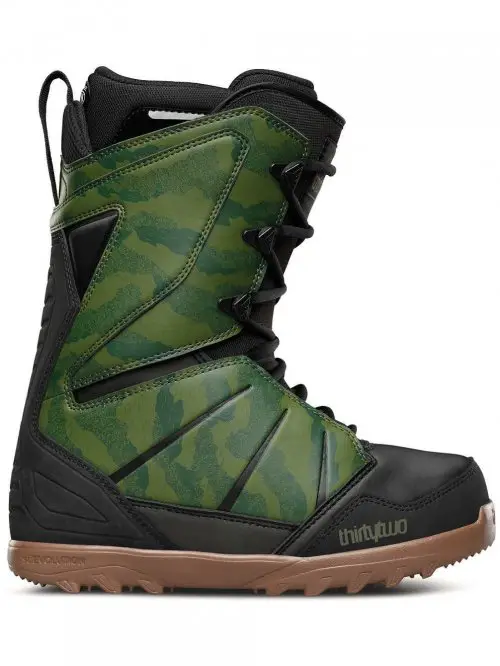 The ThirtyTwo STW BOA fitting provides top-notch support and comfort. These boots are characterized by a quick and simple Boa system, an articulated cuff that protects the ankle, a high-impact dispersing STI Evolution foam sole and a 3D molded tongue.
This boot is the right choice for intermediate and advanced level snowboarders because of its sophisticated features.
Lacing System
The integrated lacing system makes the Boa the proper fit for every size and is replete with resilient stainless steel laces. Each lace has its own eyestay that allows it evenly distribute lace tension across the foot for superb comfort.
Evolution Foam Outsole
ThirtyTwo outsole boots are characterized by the revolutionary STI Evolution Foam which makes it the lightest boot in the industry. Unlike traditional foam materials, the STI Evolution Foam impressively whittles down the need for a heavy rubber outsole.
Cost and Value
Prices fluctuate depending on what you want. However, the integrated lacing system, optimal heel hold, and lightweight sole make ThirtyTwo the perfect pair of boots for doing tricks.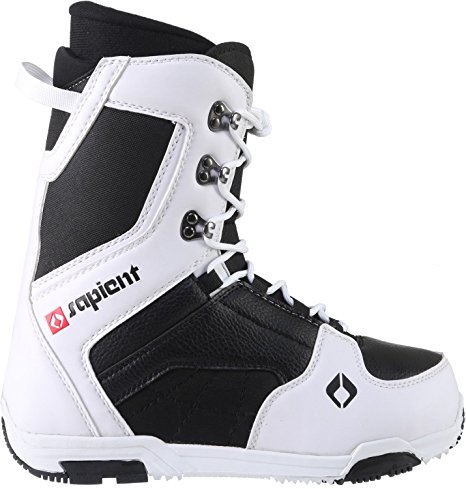 The Mason's wide array of abilities makes it a firm favorite for outdoor enthusiasts looking to pick up the sport. Sapient Mason is built for tough terrain. The underfoot cushioning, support panels and reinforced spin give it the crown as king of the mountain. These boots are a perfect blend of affordability and comfort. They are great for beginners with a penchant for snowboarding anywhere on a mountain.
All-Mountain Use
Sapient Mason boots are perfect for all-mountain riders. These highly adaptable boots are well-suited for any mountain terrain including backcountry, groomed runs, and even park and pipe.
Fleece Lining
The fleece lining ensures that your feet remain dry and warm by whiffing away the moisture. This is a must-have especially when you are snowboarding in icy conditions.
Cost and Value
The Sapient Mason is a comfort at an affordable price. The lightweight construction affords the newcomer rider the chance to ride anywhere on a mountain without blowing a hole in the pocket.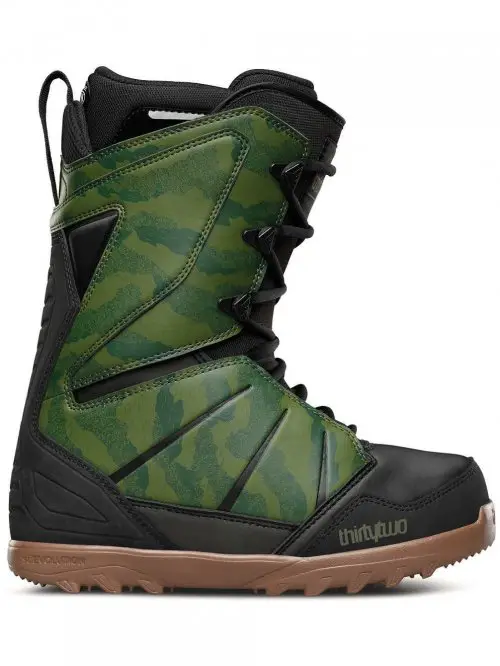 The Lashed has been around for years, and still remains a huge-seller in the snowboarding world. It is a go-to entry level boot for both mid and wide footed riders. The inside harness keeps the foot totally locked down against abrupt heel lifts. The back of the boot comes with plenty of support. A flex down to the ankle allows zero distortion courtesy of the design of the outer shell.
Mountain Friendly
ThirtyTwo Lashed boots are ideal for mountain riders. The heat-moldable liner delivers a perfect fit allowing the sizing to be as accurate as possible. This allows you to skip across any part of a mountain without hassles.
Shock Absorption
These snowboarding boots can handle jolts and high-end impact. This comes in handy on choppy days by making bigger jumps a bit easier as well as allowing you to increase your runs.
Cost and Value
If you are looking for a durable, custom fit, lightweight boot that's not too pricey, go with this option. ThirtyTwo Lashed is a great choice for intermediate snowboarders.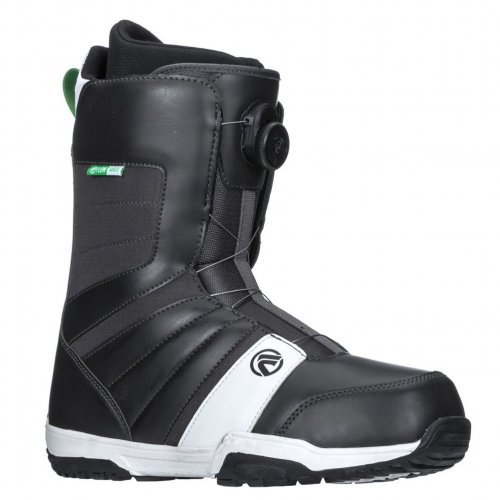 The Flow Ranger Boa is a soft boot that offers comfort and incisive movement for those looking to twist, turn or zip through the park. The ankle natural flex, 3D Molded Tongue, EVA insole and Boa closure system provides a deft mix of absolute control and top-notch performance. This boot delivers plenty of feet comfort particularly if you want to spend plenty of days on the hill.
Boa Lacing Technology
This technology allows you to get the boots on and off fast—without even having to remove your gloves. The system ensures seamless closure without pressure points.
Removable Liner
The Flow Ranger boot comes with a removable liner. These liners have a strong advantage over non-removable liners because they are easier to air or dry.
Cost and Value
The Flow Ranger Boa is a fan favorite because of its Boa closure system and soft flex. You get box comfort with a special broken-in heel from the very beginning.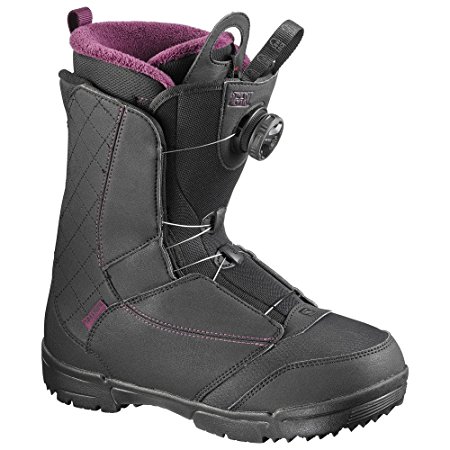 Salomon Pearl Boa is ideal for beginner and intermediate riders looking for all-around performance and comfort. These boots are lightweight, so be rest assured that you won't be bogged down as you coast around the resort. The shock absorbing boot sole, the Boa lacing system, auto-fit moldable liner, and extra-comfy footbed is truly everything you want and nothing you don't.
Ortholite Footbed
Ortholite footbeds generate a drier, cooler and healthier cushioned environment for your feet. These no-nonsense footbeds are there for the long haul. They do not break easily. Furthermore, they help you stay warm and comfortable ride after ride.
Wash It Wear It
The Salomon Pearl Boa is made from exclusive materials that do not require glued seams. So you can wash and wear like your favorite tee. You can do this without deterioration.
Cost and Value
The Salomon Pearl Boa is a fantastic boot and comes at an affordable price. It matches up nicely with other snowboarding footwear on the market.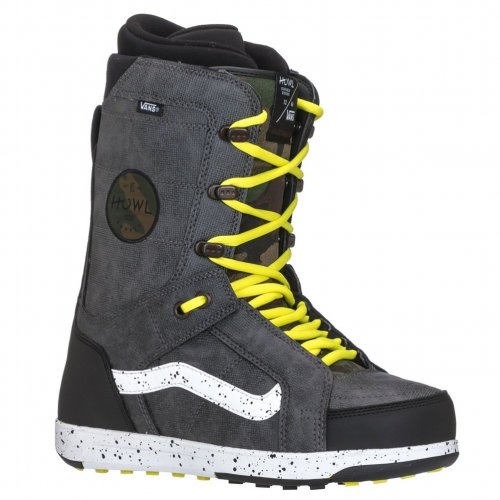 This is one of the best-selling boots of the Van family. The Hi-Standard boot is reputed for its original style and present-day performance. The boots are crafted with an adaptable composition that includes the revolutionary Flex Liner UltraCush Lite Foam. The Hi-Standard snowboard boots from the Van team are a clear choice for beginners and park riders.
Reverse Waffle Outsole
The resilient shred foundation can take a serious hit and still maintain great feel and control. The Hi-Standard's single piece rubber cupsole is a unique recipe for all-condition traction. The inverted and oversized waffle tread pattern improves traction no matter the conditions.
UltraCush Lite
Custom-type foam is specifically crafted for upping comfort and reducing the weight on your foot. It offers an anatomically-accurate 3D molded topography and provides an airflow puncture for moisture resistance.
Cost and Value
The Vans Hi-Standard is a super soft friendly boot and is nicely priced for snowboarding starters.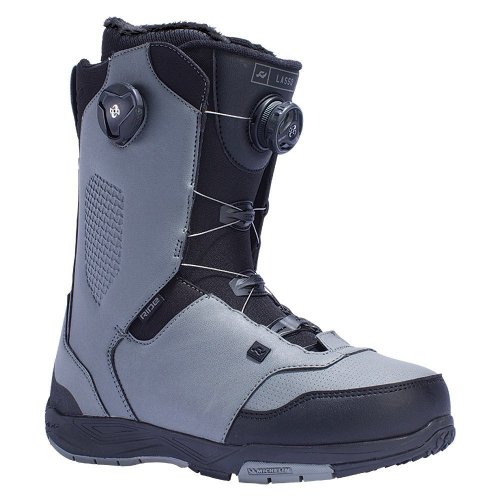 The Ride Lasso is not for beginners and definitely not for the faint-hearted. Featuring dual Boa closure and a mid-stiff flex, it is intended for intermediate and advanced riders who love charging down a steep mountain. This bold boot is built all-day long for mountain riding. All-mountain freestylers will find it versatile. It is lightweight and allows adventurous riders to perform their tricks.
Michelin Rubber Outsole
This sole is a hard-wearing blend of Michelin rubber and phylon. It provides a superb grip for slippery parking lots and hiking in frigid conditions. These lightweight high-performance boots are what you need when you cowboy up that towering ridgeline.
Tongue Tied BOA Closure
This unique technology provides an iron-clad fit for the ankle zone, thereby removing the need for the habitual harness. Thanks to the Tongue Tied Closure the Ride Lasso laces up in seconds. With a simple dial twist, you can even make adjustments on the move.
Cost and Value
If you are experienced and looking for a fast and resourceful lacing system, this is a top choice. However, be prepared to stomp out a sizeable amount of cash.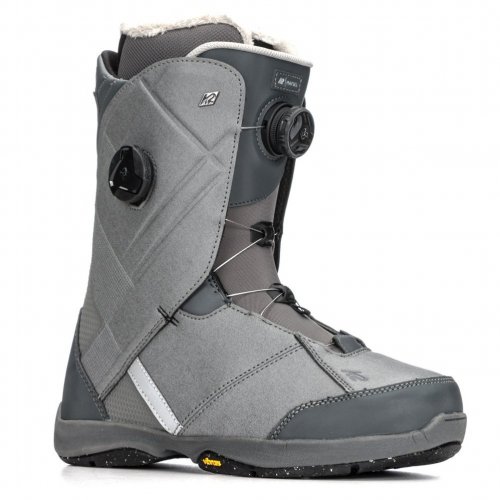 The Maysis is a versatile boot crafted with simplicity and purpose in mind. The Maysis team has been making snowboarding boots for more than 30 years, so they definitely know what the people want.  The high-quality leather colorway is impeccable from the box and even after a few days of ripping still maintains composure.
Vibram Outsoles
Vibram Pro Light technology is tough on their superlight soles. These soles are accompanied by solid treading that maintains proper footing in all conditions.
Endo Flex Construction
The construction and flexes of the K2 Maysis is a 100% urethane structure that adds an energetic feel to the boots that will reduce foot fatigue.
Cost and Value
K2 Maysis is a mid-stiff flex free-ride boot with additional bells and whistles. It comes at a reasonable price for riders looking for more support and less flexibility.

Subscribe to our Newsletter