Best Vibration Machines Reviewed & Rated for Quality
In a Hurry? Editors choice: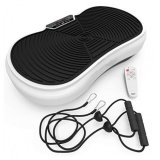 Test Winner: PYLE Hurtle Fitness

The vibration machines on this list are not your mama's vibration machines of old. You won't be tying a leather belt around your middle and jiggling your way into a new pant size. And there are no promises of erasing cellulite without even breaking a sweat. But these machines will deliver killer results with
less stress on the body
and in less time when used along with a healthy diet.
The high-frequency vibrations created by these machines cause the muscles in the body to stretch and contract involuntarily, so doing one squat on the machine is equivalent to doing about 20 squats on the ground. So whether you're looking to tone, strengthen, or lose weight, there are tons of exercises that you can do sitting, standing, and laying on these machines that will deliver greater results in less time.
Standout Picks
Criteria Used for Evaluation
Features
One of the main pieces of criteria that we looked at when compiling our list of the Top 10 Vibration Machines were the features that each unit offered.
We love machines that feature multiple different speed settings. Many of the units on our list have almost 100-speed settings so your workout is super customizable. We also love machines that come pre-set with different targeted workout programs so that you don't have to fiddle around with settings before your workout.
Of course, we love machines that come with resistance bands so that you can enjoy a full-body workout.
Machines that included remotes rank high on our list of features, as well as units that have simple and straightforward program boards that are easy to use and read from a distance. An added bonus for some of the machines on our list were extra reading features like heart rate monitors and BMI.
We love machines that are equipt with wheels so that they are easy to move.
Finally, machines that come with extras like mobile apps or online support ranked highly on our features list because they serve to motivate you and keep you on track.
Capacity
When analyzing exercise equipment--especially those units that are meant to be used at home--we always consider capacity.
Almost every unit on our list has a weight capacity of 330 pounds, so they are good for most users. Every unit on our list can support those weighing 250 or less.
Size
As with all home workout equipment as well, we consider size. After all, who wants to look at bulky machines when they're not in use?
About half of the machines on our list are full-sized, while half are just bases (lacking handlebars). Most of the full-sized units on our list come with wheels (either 4 wheels or 2 wheels on the front) so that the units are easy to move from room to room or to store in closets when not in use. Even some of our base machines come with wheels for easy movement. We especially love our base machines because they can slip under furniture, not just inside closets.
Ease of Use
Again, as with all at-home exercise machines, we want to ensure that the items on our lists are easy to use.
We love machines that come with diagrams and user-manuals that have suggested exercises so that you can get targeted workouts that are just right for you. We also love units that come with apps and mobile supports for the same reason.
It is worth mentioning, though not all of our units come with manuals that are super descriptive, a quick search on the internet at large or youtube will turn up hundreds if not thousands of suggested exercises for you to try on your machine at home.
Value
And no matter the product, we always consider value.
Most of the products on our list are super-affordable, especially considering the cost of other home exercise equipment and the cost of your standard gym membership.
We tried to select units that offered a number of features that more expensive units do while ringing up at a fraction of the cost.
Ten Best Vibration Machines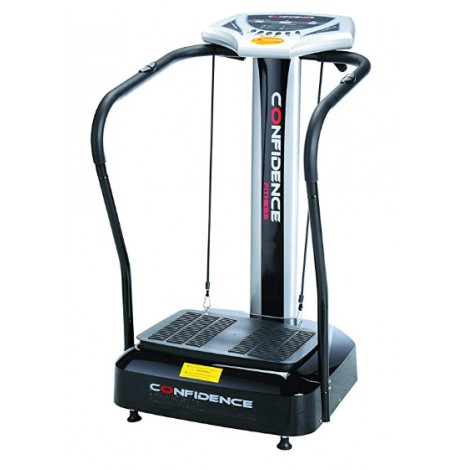 The first vibration machine to make our list has literally thousands of positive reviews. It is compact, user-friendly, and delivers a major workout in a short amount of time. With tons of settings to choose from, this home workout gadget is suitable for all fitness levels. It can hold up to 300 pounds.
Get a 60 Minute Workout in 10 Minutes
Confidence Fitness's Trainer Platform delivers a full body workout in a fraction of the time. By observing a healthy diet and using this machine just 3 times a week for 10 minutes, you will see similar results to going to the gym and completing a 60-minute workout 3 times a week. With 50 different speed settings, it's a machine that can be used by all fitness levels (keeping in mind that those with pacemakers or heart conditions should consult a doctor before using). The Trainer Platform also comes with 3 programmed settings to boost your workout, as well as a guide for suggested exercises that you can do standing, sitting, and even laying down. With an easy-to-read monitor, you'll have no trouble programming your workout. Plus, it includes a heart rate reader. The Trainer is great for strengthening muscles as well as boosting metabolism, circulation, density in the bones, and flexibility. It also fights stubborn cellulite. And to top it off, it comes with yoga straps to work the upper body and arms as well.
Wheels Make It Easy to Store
Home gym equipment is not meant for interior design flair, nor is it meant to hang your clothes on while not in use. That's why we love this machine for its small footprint and handy wheels that make it easy to move and store. The machine itself weighs 62 pounds and can be rolled to fit in virtually any closet. We also love how easy this Vibration Trainer is to put together. All you have to do is attach the plate! Keep in mind that the plate is heavy, so you would do well to put it together where it gets delivered to you because once it is assembled, all you have to do is roll where you want it.
Cost and Value
The Vibration Trainer rings up at the higher end of our price range but is by no means one of the most expensive on the market as heavy duty machines can cost upwards of $10,000. This is a great machine for home use that won't break the bank. The before and after photos of reviewers are enough to make us fall deeply in love with the Vibration Trainer, so it gets an A+ value rating from us.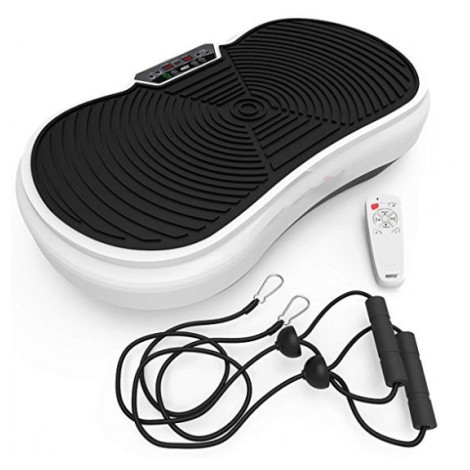 Our Silver Badge goes to Hurtle Fitness's Vibration Platform. This machine is a whole-body buster, plus, it's super compact and great for those wanting to take their workouts on the road. The maximum weight capacity for the Vibration Platform is 265 pounds.
2,300+ Revolutions-Per-Minute
The Vibration Platform delivers a great workout for the whole body. With 20 different speeds and up to 2,300+ revolutions-per-minute, this machine is great for all fitness levels. It comes with resistance bands to amp up the upper body and arm workouts and is guaranteed to give you stronger legs, glutes, and core in just 10 weeks if used 2-3 times a week for 10 minutes each session. In fact, the workout is so banging that the maximum time allowed for each is 10 minutes so you know you're getting the job done. It is tested in the lab to reduce cellulite and burn fat if you follow the fitness routine provided and adhere to a reasonable diet. The controls are easy to operate, and it even comes with a remote control so that you can easily adjust your program while standing.
Super Portable Design
The machine itself only weighs 33 pounds, making it a great choice for those that want a compact device that is easy to travel with. And because it doesn't have handles, it can slide under almost any piece of furniture with ease. Plus, no assembly required.
Cost and Value
The Vibration Platform is one of the more simple machines on our list and is also one of the most inexpensive. However, it still delivers a great workout and its simplicity makes it easy to store so we love its value.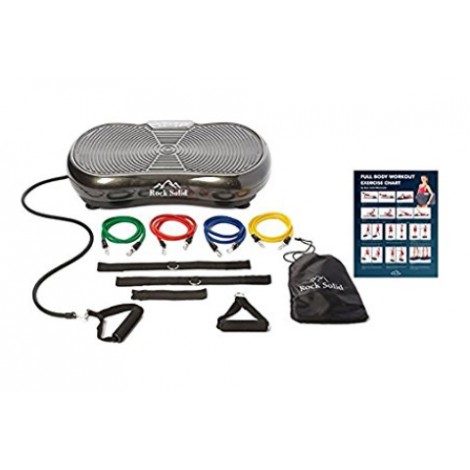 Rock Solid has been helping people improve their bodies for over 30 years, and this machine packs a huge punch in a tiny package. Used in hospitals and homes alike, it is a total-body changer. Rock Solid can hold up to 330 pounds of weight--one of the highest weight capacities on our list.
9 G-Force Rating
Even though this machine is small, it is super mighty. With 99 different speed options to choose from, you can really get any range of workout that you're looking for. It even has a 9 G-Force rating, so it delivers major power. In as little as 3 weeks, if you use the machine every day for just 10 minutes a day, you will start to notice less pain in your joints, more strength and flexibility, and muscles that are more toned. Plus, this baby is great for the core. It comes with multiple different resistance bands so that you can ramp up your workout as you get more in shape to prevent stubborn plateaus. It also comes with a remote and workout guide to help you get the most out of its use.
Quiet Vibration
Though vibration machines are not the quietest at-home workout pieces of equipment, users report this machine specifically being much quieter than others on the market. Plus, it's light enough to pick up and move from room to room (weighing only 33 pounds), which means it's great for traveling with as well. It is also slim enough to slide under furniture. And there's no hassle with assembly either.
Cost and Value
This machine is on the higher end of our price range, but it can support more weight than most other machines on our list and it delivers more power. What makes us love its value, even more, is that it comes with a 2-year warranty on parts and labor.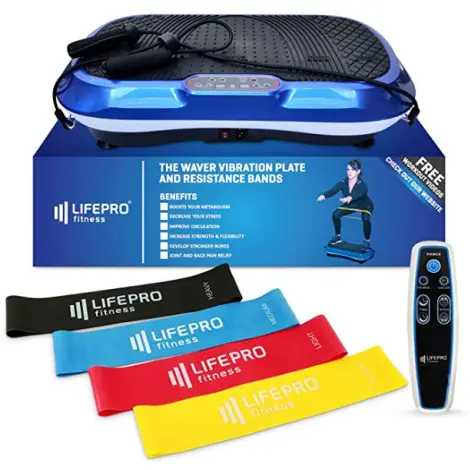 LifePro delivers a super user-friendly home-exercise experience in a tiny package. Constructed with you in mind every step of the way, you'll have no trouble using this machine or reaping the full-body benefits of its use. The weight capacity for the Power Plate is 330 pounds.
Online Training Manual and Ebook
There's nothing worse than getting excited about your fitness and then getting your machine and having no idea how to use it properly. After all, you need to use a machine properly in order to get the best results. The Power Plate comes with amazing instructions to make sure that you can start using it effectively right away. With an online Ebook and access to training guides, there are endless possibilities and combinations for your workouts so you won't get bored and hit those sticky plateaus. It comes with 99 different speeds as well as 10 different pre-programmed settings. The yoga straps and different resistance bands that come with the unit will add multiple new layers of difficulty, so you will be able to build your body up through different challenges over time. We love this machine because you can get an insane workout at home in less time than it would usually take for you to get your butt to the gym.
Lightweight with Wheels
The Power Plate is lightweight enough to pick up but comes with wheels so you can push it with a foot underneath a nearby piece of furniture for easy storage. There's also no need for assembly, so you can put your toolbox away.
Cost and Value
Even though the Power Plate comes with some amazing features (features that are available in much more expensive machines), it rings up on the lower end of our price range. For this, we love its value. And to top it all off, it comes with a lifetime satisfaction guarantee. What beats that?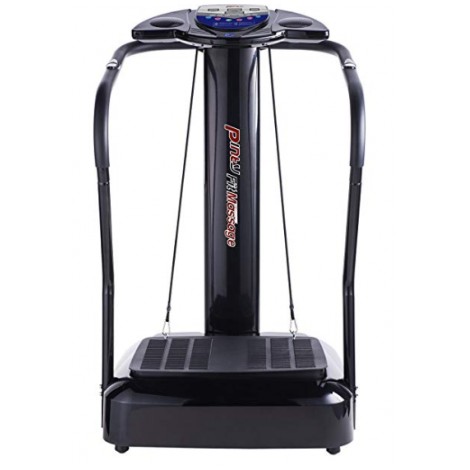 This is the second vibration machine to make our list that comes with handlebars. That means it's more idea for injured and elderly users when used standing. It also comes with some other features that will razzle-dazzle you. The Vibration Platform can sustain weights up to 330 pounds.
Integrated MP3 Player
A feature not yet incorporated into other machines on our list, the Vibration Platform has an integrated MP3 player so that you can enjoy your favorite tunes while getting a fat-blasting workout. Also, this machine has a more sophisticated LED reader than others on our list. Data displayed includes the mode, pulse, time, and speed of your workout. With 10 different pre-set programs and a whopping 180 different speed options, this device provides a great variety of workouts. And because it comes with handlebars, this machine is great for those who are trying to recover from injuries or for the elderly who need more support during their workouts. It also comes with resistance straps that can detach so that you can experience an upper body and arms burn as well.
Frame Made from Super-Solid Metal
The frame of this unit is made from super-solid metal so it can hold up to heavy use by the whole family. The machine weighs about 66 pounds and most users report that it is very easy to assemble. If you are having difficulties with assembly, there's even a youtube video to help guide you. The Vibration Platform is not the easiest to slip out of the way, so best to put it in a place where you don't mind looking at it.
Cost and Value
This machine rings up in the middle of our price range so we absolutely love its value because it provides so many features that other items on the market do not. With more speed settings, LED reader data, and handlebars, it is a super versatile machine that can be used by folks of all fitness levels.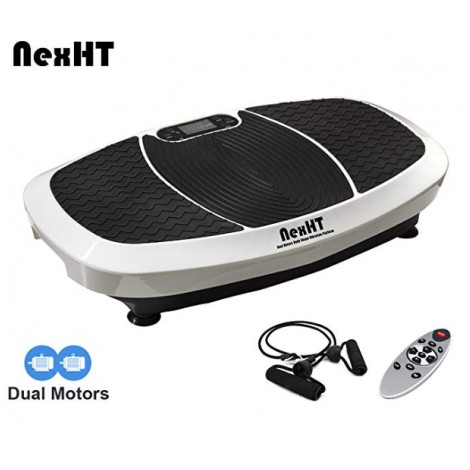 The Vibration Platform is one of the lightest units on our list, but don't let that fool you. It can sustain weights up to 330 pounds and will deliver a boost to your workout that you can count on. Plus, NexHT is backed by over 30 years of success in the industry.
Large LCD Display
A major problem with some vibration machines is the tiny LCD display. If you're like many, reading small numbers on the ground while standing is a challenge. That's why we love the large LCD display of this unit. You'll have no problem tracking your progress with this machine. It comes with a remote and resistance bands so that you can incorporate an arm and full upper-body burn to your daily workout. Plus, the dual motor guarantees a super intense workout if you want it. You can use this machine up to 20 minutes a day, but it is not good for children and the manufacturers warn against using 2 hours after a meal (you can guess why). They also mention that you might feel a little dizzy after your first few uses, but that this effect will fade as your body gets accustomed to exercising on this machine.
Only Weighs 30 Pounds
The Vibration Platform is one of the lightest on our list. That makes it even easier to store and travel with so you don't have to worry about missing a workout. Plus, its compact body means that it comes to you completely assembled so you don't have to worry about calling a handyman to get this unit up and running.
Cost and Value
The Vibration Platform rings up in the middle of our price range. We like this unit because it has a larger LCD screen than others on the market and because it's lighter while still being able to hold the same amount of weight.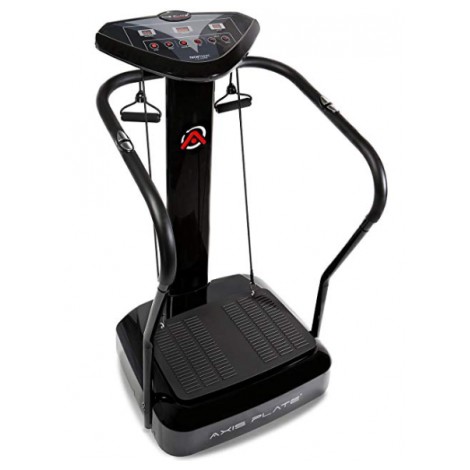 This product name is a mouth-full--but it provides a rocking full-body toning workout, so we don't mind. It's another full-sized unit so it has a lot of versatility, and it also features some unique designs that make it super user-friendly. The Axis-Plate can sustain weights up to 265 pounds.
Over-Sized Base for Safety
We love the full-sized units on our list because they have a wider functionality for those with less physical capabilities than just bases alone. This unit takes it a step further by adding an over-sized base with anti-slip technology for supreme security and safety. With a large and easy to read program board featuring 99 different speeds and 3 pre-set programs, this machine is simple and straightforward enough for anyone to operate. The machine comes with resistance bands so that you can begin to incorporate an upper body and arm workout into your routine. It also features BMI sensors on the handles so that you can get readings while you work out.
Great for Home and Office Use
The quiet motor in this unit makes it great for home and office use alike. While you probably won't want to be taking phone calls while you're vibrating away, you can use it in the office without disturbing your boss. Users report the product being easy to assemble with super clear directions, so don't let that scare you away. The unit weighs in at about 66 pounds and comes with wheels mounted on the front so it's easy to move around.
Cost and Value
The Axis-Plate rings up in the middle of our price range and we love its value because of the special features it offers: over-sized base, BMI readers in the handles, and super user-friendly programs.

8

. Pinty Fitness Platform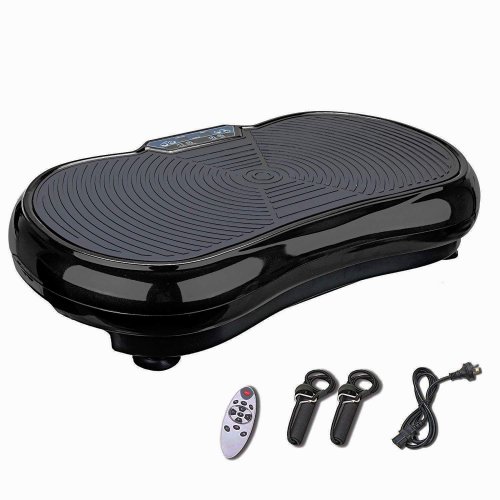 This is our second Pinty Fitness option in our buying guide. This machine employs a space-saving design and boasts a loading capacity of 265 pounds.
Adjustable Speeds
This machine has vibration speeds from level 1 to 99, with 99 providing the maximum vibration intensity. Each speed is for a different purpose. The included remote will easily control the speed.
Sleek Design
If you're wanting to invest in one of these machines but don't have space for a full-sized style, this product from Pinty Fitness might be just what you're looking for. Its sleek and ultra-thin design will easily fit in with your home decor. At just 5.5-inches tall, you may even be able to hide it under your sofa when not in use.
Cost and Value
This unit is on the lower end of our price range. It's an affordably priced option for those who want to incorporate vibration training into their workout regimen.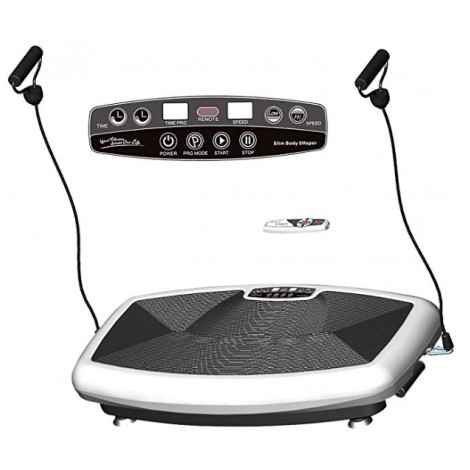 This low-cost, small-bodied unit is a must have for anyone looking to sneak those workouts in at the office. It has an incredibly engineered and super-quiet motor so it won't disturb others. The Health Line can hold up to 330 pounds.
Oscillation Vibration
The Health Line features oscillation vibration that moves from side-to-side to help invigorate the cells in the body and to increase functioning across the board. It comes with 20 different speed settings and 3 factory pre-sets so that you can choose the workout that is right for you. While other machines require 10 minutes, this unit claims that only 5 minutes per use can equal an hour-long standard workout at the gym. It comes with a remote and resistance bands to help add even more to your workout. Plus, the program board is straightforward and easy to read and use.
Super Quiet Motor
Our favorite feature of this unit is the super-quiet motor. It is more powerful, lasts longer, and saves more energy than other products on the market. Plus, you can hardly hear the motor from more than 3 feet away. That means it is a great piece of equipment for the office as it won't disturb other workers nearby. The unit weighs 33 pounds and comes with rubber wheels so it's easy to move around the house or travel with. No assembly required.
Cost and Value
The Health Line is one of the more inexpensive items on our list and it comes with a 1-year warranty, so we love its value--especially considering the super quiet motor, making it a great office addition.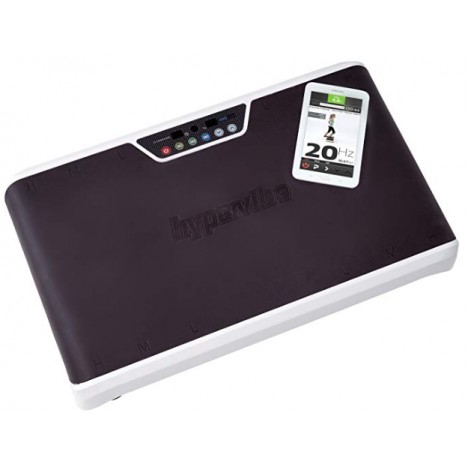 Though the unit itself is pretty basic, it comes with a mobile app so it rounds out our Top 10 List. Hypervibe is committed to providing non-drug based solutions to improve overall health and body function. The Hypervibe can sustain weights up to 310 pounds.
Comes With Mobile App
As always, we love at-home exercise machines that come with mobile apps to guide proper use and track progress. It is Bluetooth capable and can pair with most smart devices to enable access to 40 exercise programs aimed to meet your specific goals. Additionally, the app allows you to access over 100 workout videos for further guidance. But that's not all! Hypervibe has a full support website where you can access videos and seek advice about your machine and workout programs from experts.
"Portable Powerhouse"
This 35-pound machine can hold up to 310 pounds and deliver a G-force rating of almost 10. That is a mighty powerful unit that is still small enough to take with you anywhere. Plus, no assembly required. Simply remove from the shipping box and plug it in. But don't forget to download the app so that you can gain immediate access to all of Hypervibes online features.
Cost and Value
This is the most expensive unit on our list, but it also provides the most interactivity and the most support after purchase. We love its simple design and the fact that it's so portable, despite delivering majorly powerful vibrations and g-forces.

Subscribe to our Newsletter