Best Smart Scales Reviewed & Rated for Quality
In a Hurry? Editors choice: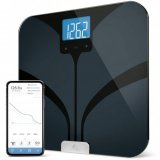 Test Winner: Greater Goods Bluetooth

If you're trying to stay or get into shape
, then you probably know already that one of the most important parts of doing so is checking your weight on a regular basis. After all, the only way to
know that you're making any sort of progress
is to constantly check on yourself to make sure that, yes, you are still losing weight and you aren't falling behind. But a simple bathroom scale, as ubiquitous as it may appear, may not provide you with all the answers you're looking for. Luckily, like all analog devices, bathroom scales have been subject to something of a makeover recently. What once were bathroom scales have evolved into what we now know as "smart scales". These are digital scales that can track far more than just your body weight.
Standout Picks
Criteria Used for Evaluation
Model
Let's start with an easy one: aesthetics. The design is key, you want to make sure that the smart scale you buy looks right at home in your bathroom, just as everything else does. It helps keep the consistency of the room and makes for a better environment overall. This is why smart scales come in multiple colors.
But that's not all they do. Your bathroom may have a general geometric aesthetic. For instance, you wouldn't buy a circular smart scale for your bathroom, when everything else in your bathroom is square-shaped. While there are more technically important things to consider on this list, aesthetic will always have a vital place.
Accuracy
Obviously, you want your smart scale to live up to its title, and be as accurate as it can possibly be to your weight and overall health. This is actually one of the many reasons why these scales come with corresponding health tracking apps.
The apps help to monitor your eating habits, your exercise routines, your sleep patterns, and whatever else it needs to compile an accurate picture of your overall physical health. It and the scale then share and compile that knowledge. This then makes the scale's readings when weighing you all the more accurate, because it has more data to work with. Using the corresponding app may seem like an annoying extra step, but rest assured it is worth it if you want this scale to do everything it can potentially do for you.
Value
The price of a smart scale tends to waver significantly, not really maintaining any kind of real consistency. Most of these scales do the exact same thing that the others do, yet they cost way less or way more. It constantly bounces back and forth with no rhyme or reason, all depending on the brand that makes them. So, the only way to determine the best one for you is on a case by case basis. Find a scale that does everything you need a smart scale to do, and that does it for a reasonable price.
10 Best Smart Scales
1

. Greater Goods Bluetooth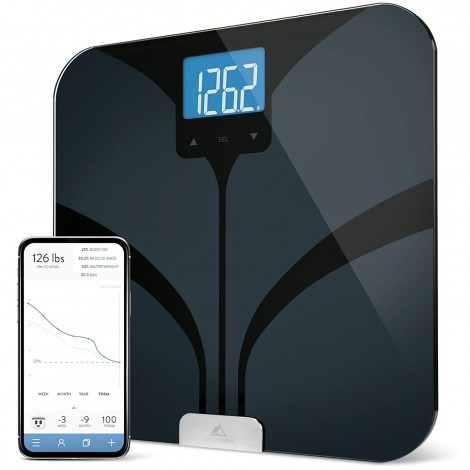 Kicking off our list, we have the Greater Goods Bluetooth Smart Body Fat Scale. Like a lot of smart scales, this can sync up to your phone to help you better organize your fitness data, making it into a log of sorts detailing your progress, which can then be shared with other fitness apps. But that's definitely not all this scale has going for it.
Full Overall Picture of your Health
With other scales, you get a look at your weight, but that's far from the entire story. There are several factors that all play into whether or not you actually lose substantial weight. Luckily, when paired with the free corresponding app, this scale will tell you those factors. These include your BMI, lean mass, bone mass, body fat, and water weight. Thus, giving you a full overview of your weight, as well as your overall body health.
Private syncing
Not everyone is exactly comfortable with displaying their weight for all the internet to see, so this scale makes sure to only sync up to your phone when you step on the weight, privately showing you your weight and giving you the option of whether or not you want to display it for the rest of the world. Making this scale infinitely more comfortable to use.
Cost and Value
You'll find this smart scale sold at a very reasonable price for a scale of such high quality at most retailers. While definitely not cheap, it isn't as expensive as other entries on this list, and you're definitely getting a quality product for a good deal.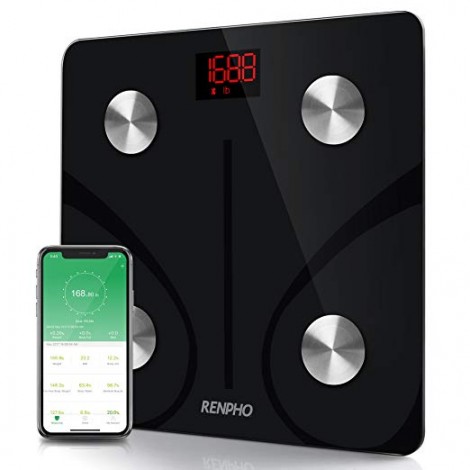 In our second-place spot, we have the Renpho Bluetooth Body Fat Scale. If you have multiple people who need the use of a smart scale, this is the scale for you, as it allows almost unlimited amounts of users, and save and displays more data than almost any other scale of its type on the market. What else does it do? Let's find out.
11 essential measurements
This scale and app combo can successfully measure up to 11 different measurements of your body. These include your body fat percentage, BMI, estimated body age, and even your basal metabolism. This means that the Renpho gives you a complete picture of your body weight and overall health than almost any other scale on the market.
Never lose track
The scale will work regardless of whether or not you activate the app when using it. But one benefit it does have is the fact that even if you aren't connected when you weigh-in, the scale will save the data, and sync up with your phone automatically when you do connect. That way, no data is ever lost.
Cost and Value
This scale is much cheaper than the previous entry. That mostly has to do with the hardware used to make it, which isn't quite as advanced. However, it's just advanced enough to keep up, and as long as it measures accurately, then that's all the average man needs from his bathroom scale.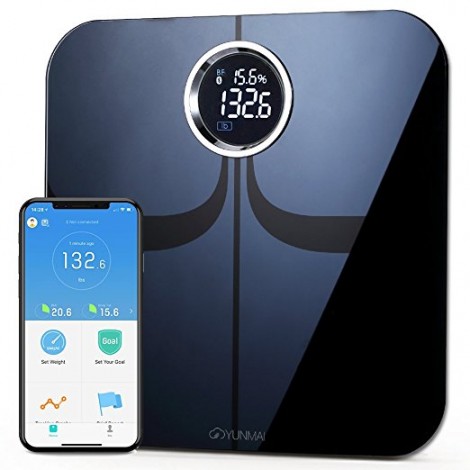 Finishing up our top 3 entries, we have the Yunmai Premium Smart Scale. When tested, this scale was found to be consistently accurate in its readings, even in back to back testing with people of vastly different body weights. It doesn't come with its own app, but there are a few reasons why that isn't as big a problem as it seems.
Compatible with popular apps
While this scale doesn't have an app to call its own, it thankfully syncs up with whatever popular app you currently have, including apps like Fitbit. Meaning that you don't have to fill up more of that precious phone space with yet another, very situational, app.
Consistent accuracy
This scale will always give you an accurate reading, no matter how many times you have it read you. Its ultra-sensitive sensors allow it for pinpoint precision in its measurements, and while it doesn't track certain things like calorie intake, it measures what it does all the more accurately as a tradeoff.
Cost and Value
This smart scale is actually very reasonably priced. True, it isn't the cheapest thing in the world, and it's no cheaper than the #2 pick, but for what you're getting out of it, it's actually a pretty good deal.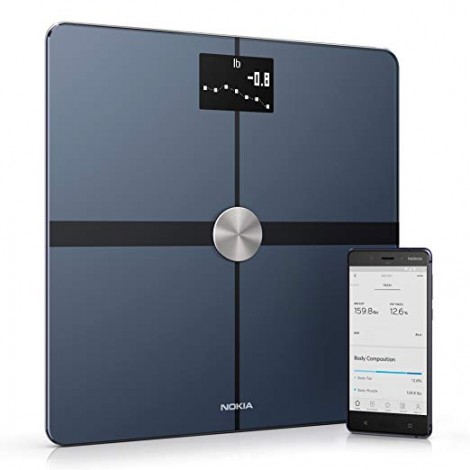 If you're looking for a complex, intuitive design that still remains easy for a beginner to use, then you need to look no further than the Nokia Body+. This smart scale is the perfect balance between complexity and user-friendliness. How do we mean? Well, to give you an idea.
Resting heart rate recording
You may not think it at first, but once you give it some thought, you realize how important your resting (i.e., default) heart rate is to your overall health. How fast your heart moves when you are completely at ease will help determine the health of your heart and with it the entirety of your body. It also tells you the weather, which is also neat.
User-friendly app and interface
Being a Nokia product, it, of course, connects to a Nokia Healthmate Account. You can use the data recorded and stored there to help you keep track of your progress. And don't worry, the interface is incredibly easy to use. This is all the good news…
Cost and Value
Now for the bad news. This is one of the most expensive items on this list. You'll be lucky to find it sold at a retailer for late double-digit prices, and if you're unlucky, you'll probably find it being sold in the mid-100 range. This is an incredibly advanced piece of hardware, but there are cheaper scales on the list that do everything this scale does.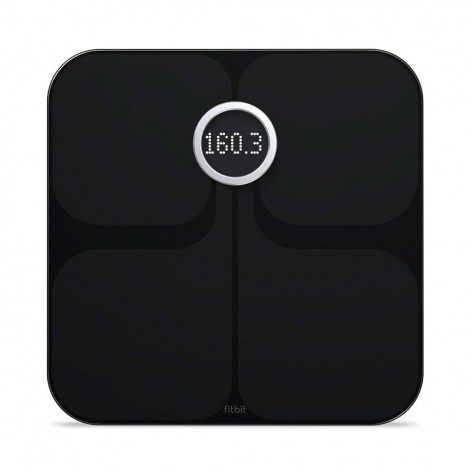 In the #5 place, we have the Fitbit Aria 2 Wi-Fi Smart Scale. The Aria 2 is, as you can imagine, an upgraded version of the original Aria model. However, that may be hard to tell, given its all-glass body and LCD display with backlights, making it very similar in appearance to its predecessor. Don't be discouraged, though, because there are some stark improvements over the original with this smart scale.
Easy setup
You'd normally expect the setup of this scale's Wi-Fi to be somewhat tricky, but nope. All you need to do is log onto the Fitbit app on your phone, press a few buttons, and it takes you right to the Wi-Fi and just like that you're online. This is a definite improvement over the way you connected the Wi-Fi with the previous Aria.
Knows your daily workout
If you're really into Fitbit, this scale makes your fandom worth your while by keeping track of your workout routines via syncing with your activity tracker. This means that your scale will get a superior reading from your body because it knows what your daily workout routine is, making it much more convenient.
Cost and Value
Once again, the big weakness of this product is its price, which is very high, even when compared to the last expensive item on this list. Except the difference is that we consider this scale to be more than worth the price.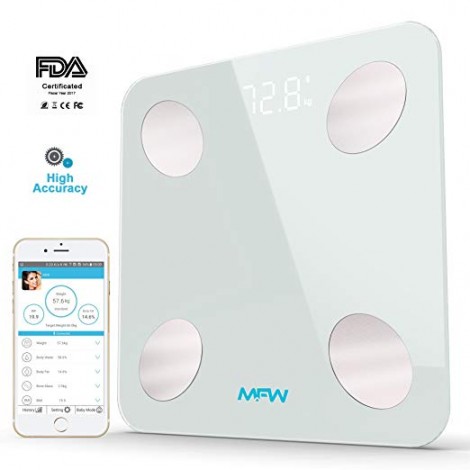 In our 6th place spot, we have The MFW Smart Bluetooth Scale. You might just find these scales in doctor's offices because they're generally considered to be the scales used by professionals. What makes this scale so arbitrarily more "professional" than the previous entries on this list? Well, for starters.
Large LED display
A big problem with these smart scales is that the numbers on the display are often very small and hard to make out. This can be especially frustrating if you have poor eyesight. If you do, then we highly recommend the MFW, whose display is large and easy to make out no matter how tall you are or how bad your eyesight may be.
Measures important fitness metrics
It's always important that a smart scale measures the most important aspects of your body. If you don't want to know your water weight, then you probably won't go for a scale that measures it when you could be learning your BMI. Fortunately, this scale measures only the most important fitness metrics, including body weight, your body fat percentage, your bone mass, and your muscle mass.
Cost and Value
The best part about this scale is the price, which is actually incredibly affordable for all that's being offered. You get professional-grade quality from your smart scale, and you only pay around half of what you would normally pay for a scale of this quality.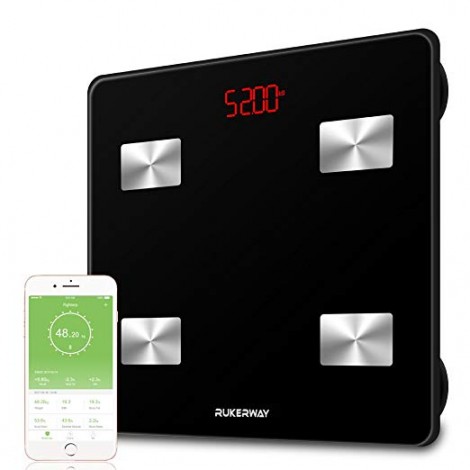 In our #7 spot, we have the Rukerway smart scale. Rukerway isn't as well known as the more popular brands, which is a genuine shame, because they turn out excellent products on a near-constant basis. And their latest stab at making a smart scale is no different, giving you high-quality readings for reasonable prices.
Precision body composition data
The Rukerway scale utilizes a dual BIA tech interior. This, in turn, allows the scale to provide even more accurate readings for BMI, body weight, and other important body factors with increased accuracy and faster timing. Not only that, but it's also helpful for tracking things like metabolic age, BMR, and skeletal fat.
Highly sensitive surface
The surface of this scale is made from an ultra-sensitive, completely transparent glass that's been reinforced to make it almost impossible to break when standing on top of it. On top of that, this glass lends itself well to the sensors installed underneath it, meaning that it's faster to pick up the pressure of your body, and more sensitive to that pressure, meaning that it can give out a better, more accurate reading.
Cost and Value
You'll find this high-quality piece of equipment for a very reasonable price, as smart scales go. It's a little bit above the average retail cost, but not so much that it becomes a problem worth considering.

8

. Health-o-Meter Lose It!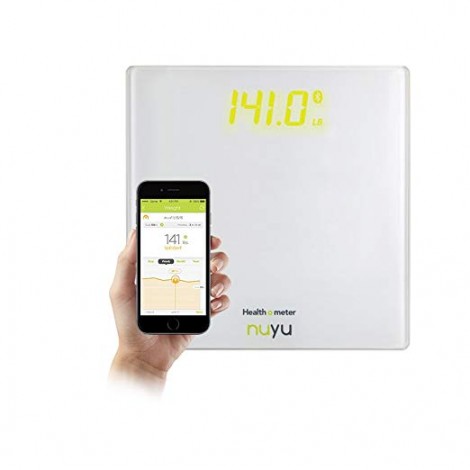 Kicking off our final 3 entries with our #8 spot, we have the Health-o-Meter Lose it! Smart Scale. This is more of what you go for if you're only interested in body weight and little else. If your primary focus is weight loss, then this is the smart scale for you. Streamlined for precision measurements, this scale is exactly what the weight-loss crowd is looking for.
Food and exercise databases
Can't quite help with weight loss if you don't have a means of tracking what you're eating and how well you're exercising. This is where the food and exercise databases on the free companion app for this scale come into play. These databases keep real-time track of every bit of food you eat and every bit of exercise you do. So now you have a constantly updating log of the progress you're making and categorized to boot.
Milestone updates
Got a social media presence? Who are we kidding, of course, you do. Which is why the app that comes with this scale also has the ability to instantaneously update on Facebook and other social media sites every milestone you set for yourself every time you cross it. Which in turn, adds leagues to your encouragement.
Cost and Value
While not as cheap as other entries on this list, you'll still be very satisfied with the prices you find this scale put at on the retail market. It's just a little below the average retail value, but it's low enough to be notable.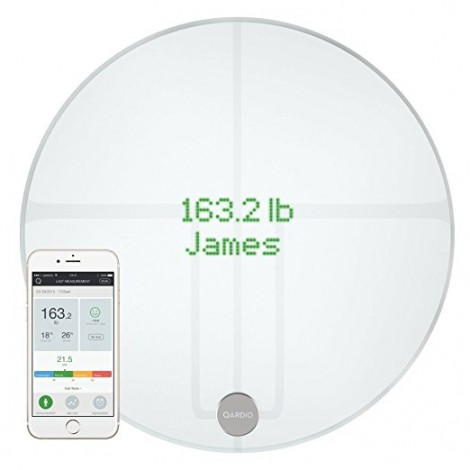 In our second to last place spot, we have the QardioBase 2. While not the cheapest entry on this list, it doesn't earn that high price point for nothing. This stylishly designed, the high-quality smart scale is one of the best scales you can buy out there. What makes it that way? Let's find out.
Year long charge
It may dishearten you to find out that you have to actively charge this smart scale. Well, don't worry. One, it's nowhere near as bad as the Qardio 1, which required 8 AAA batteries just to start working. And two, it may need to be charged, but that charge will last you up to a year of use. So, make sure you don't go losing that charging cable, because you will need it again, just not anytime soon.
Pregnancy mode
If you're pregnant or wish to become pregnant, you may want to find a smart scale that knows the difference between pregnant you and default you. This is where the Qardio 2 comes in, with an adjustable pregnancy mode that you can set to certain times, so as to adjust for how far along in your pregnancy you may be when you buy the Qardio.
Cost and Value
This is easily the most expensive scale on this list. While there are other scales on the list that sit within the triple digits range, this one is very firmly in that area, with very few retailers letting drop to the double digits.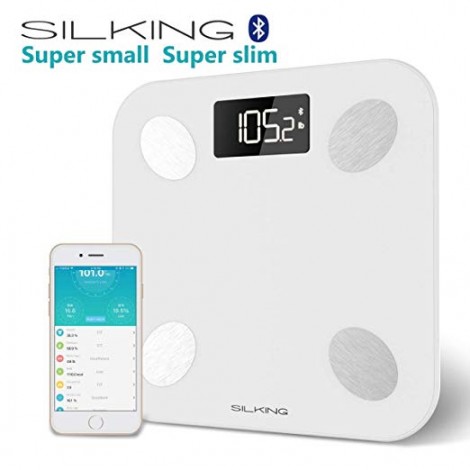 Why break the bank just to stay in shape? You shouldn't have to, especially not just because you want the best smart scale you can get your hands on. This is the mindset behind our final entry, the #10 pick: The Silking Bluetooth Body Fat Scale. So, besides the affordable price, what else got this entry on the list? Well, let's take a look and find out.
Free AIFIT app
As a companion to this scale, the AIFIT app offers you real-time body data, recorded and displayed whenever you need it. All you need to do is set up, then sign in to your account, then step on the scale. You'll be instantly taken to the display page. This is a very user-friendly app, and the fact that it's free probably doesn't hurt either.
Anti slip material
There's nothing quite so harrowing as stepping onto one of these glass smart scales right after you get out of a shower because there's this ever-present fear of slipping and falling. Well, no need to worry when using the Silking scale. Its surface is made from an anti-slip glass that will keep your feet nice and secure on the scale when you step onto it.
Cost and Value
This is definitely the scale you go with when you need a smart scale on a budget. In fact, it's likely the cheapest entry on this list, costing less than half of what the average price is for these smart scales.

Subscribe to our Newsletter