Best Vegan Cookbooks Reviewed & Rated for Quality
In a Hurry? Editors choice: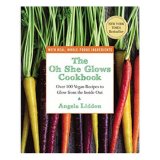 Test Winner: The Oh She Glows Cookbook

Did you know that eating a plant based diet is the most effective way to help combat climate change? Over two thirds of the crops grown in the world are used to feed meat animals. Not only does raising the animals used for food take up valuable crops and resources, but transporting the animals to slaughter, the processing plants and finally to the shops where you purchase meat, also creates a ton of greenhouse gases from the emissions of the trucks. Experts recommend going meatless at least one day a week. Aside from the great benefits to the environment, a plant based diet is also high in
vitamins
, nutrients, and
fibre
. If you aren't sure where to start creating plant-based meals that your meat-eating family will love, then keep reading! Here is our rundown of the top vegan cookbooks, guaranteed to satisfy meat-eaters, vegans and everyone in between!
Standout Picks
Criteria Used for Evaluation
Flavors
This one is a no-brainer! Clearly, any product making the top ten list of a 'cookbook' buying guide better be killing it in the flavor department! We have covered a wide range of cuisines with books that explore flavors from India, Africa, the Caribbean and down south.
If the standard fare is more to your liking, not to worry. There are many adaptations of your favorite comfort foods and childhood classics that can be enjoyed while still being plant-based as well.
Adjustability
One common complaint people have when trying vegan recipes is they do not have the ingredients already on hand, or the items are hard to find. Many of the products that made our list have listed various substitutions that can be used. Being able to adjust the recipe so you can still prepare it with items that you already have on hand will make the switch to plant-based eating that much easier.
Taste
This seems pretty standard as well. No one wants to slave away in the kitchen to end up with a less than stellar end result. We scoured thousands of reviews to find cookbooks with tried and true recipes that were loved by reviewers and their families, whether they were vegan eaters or not.
Do not worry about wasting your hard earner money on a book full of recipes that no one wants to eat, these dishes are sure to be winners!
Ease of Use
We understand not everyone is as confident as Guy Fieri or Martha Stewart in the kitchen. Don't let your culinary skills (or lack thereof) discourage you from discovering the wonderful world of plant-based eating. There are recipes in these books to suit any level of at-home cook.
Brand
Plant-based eating can be a whole lifestyle journey if you want to make it one. There are many popular vegan blogs on the internet these days, some of which have amassed a cult following of readers. We considered the brands of the books that made our list, and choose many that were authored by well-known figures in the vegan community.
10 Best Vegan Cookbooks
1

. The Oh She Glows Cookbook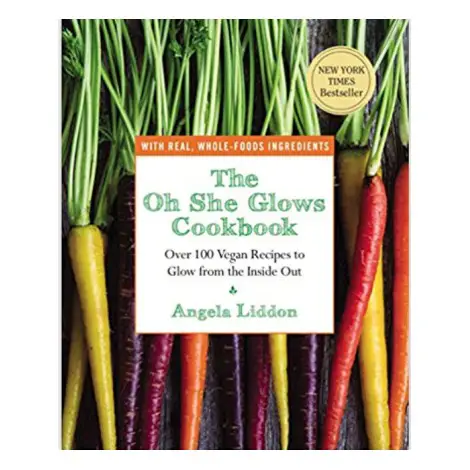 Claiming the top spot on our list is The Oh She Glows Cookbook by Angela Liddon. There are a ton of reasons why this international bestselling cookbook landed in the number one spot on our list. If you are new to vegan cooking and looking for easy, tasty and healthy ways to try out some plant-based recipes this is a great place to start. Alternatively, this product would also be a great choice for established vegans or vegetarians who are looking for new and exciting flavors and dishes to try.
Award Winning Author
The author of Oh She Glows is Angela Liddon who is a self-taught chef, recipe creator, and food photographer. Angela started her blog, ohsheglows.com, and it quickly became one of the most popular vegan blogs on the internet, winning VegNews 'Best Vegan Blog' for three consecutive years. The blog also won FoodBuzz's 'Best Veg Blog' and 'Best Overall Blog'.
Angela has been featured in such publications as O Oprah Magazine, Fitness, Shape, Self, The Kitchn, Glamour, Best Health, The Guardian, and The National Post. The Oh She Glows Cookbook was Indigo's Book of the Year for 2014 and also appeared on The New York Times Bestseller List. Angela also won Chatelaine's Woman of the Year Hot 20 Under 30 award!
Over 100 Recipes
The Oh She Glows Cookbook contains over 100 recipes! The instructions are detailed and easy to follow and there are full-color photographs included for each recipe. One of the reasons to love this product is that over 90 of the recipes are also gluten-free! For those who eat a gluten-free diet or suffer from celiac, this will really come in handy!
Cost and Value
This product offers excellent value for money. The selection of recipes includes a good mix of both re-invented classics and innovative new creations. Each recipe includes a full-color photograph, unlike some other products which only include photographs for a portion of the recipes.
In addition to being vegan, many of the recipes in this collection are also free of common allergens such as nuts and soy. Over 90 of the recipes are completely gluten-free and many of the desserts are sugar-free which is an added bonus for those who are trying to eat healthily and cut calories.
Adding even more value to this item is the back section which includes the recipes for many household basics such as vegan mayo, salad dressings, soup stock, and pesto. Whether you are just beginning your plant-based journey, or have been a dedicated vegan for years, you are sure to find many recipes that peak your interest inside The Oh She Glows. One reviewer stated that her only complaint with this item was that she couldn't decide what recipe to prepare first!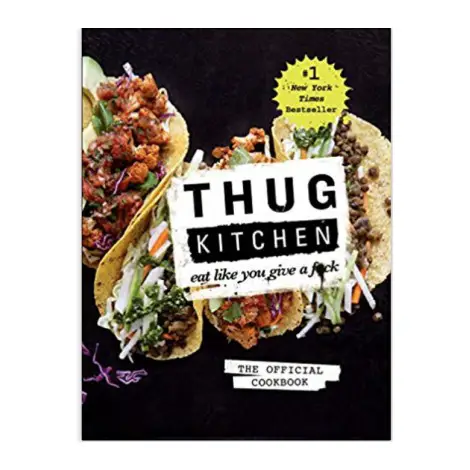 Next up on the list is Thug Kitchen: The Official Cookbok: Eat Like You Give a F*ck. This urban, funky anthology of recipes has almost a cult following of Thug Kitchen enthusiasts. The idea for Thug Kitchen started originally as a website whose goal was to 'get people to eat their damn veggies'. Endorsed by celebrities such as chef Jamie Oliver and actress Gwenyth Paltrow, Thug Kitchen has something for everyone, from one-pot quick and easy dinners to extravagent dinner feasts fit for a king!
Vibrant Photography
One reason to love Thug Kitchen is the vibrant and colorful photographs. It is always easier to envision a dish (and execute it well) when you have a reference point to start with and know what your finished product should look like. The photographs in Thug Kitchen are full-page and will certainly make your mouth water with anticipation.
Fun to Read
One of the biggest reasons we LOVE Thug Kitchen is that it is fun to read. While other healthy cookbooks could come across as boring or even pretentious sometimes, Thug Kitchen is written in a funky, urban style that will keep its readers entertained. Please note, if you are sensitive to a few curse words, than you may want to skip this one as the authors have thrown a few in here and there.
One reviewer stated that she purchased Thug Kitchen for her mom as a gift and her mothers favorite part was the colorful language which kept her interested and wanting to read more!
Cost and Value
There are a ton of reasons why Thugs Kitchen: Eat Like You Give a F*ck offers great value for money. The recipes range from classics re-invented to wild and adventurous creations like Pumpkin Chili or Beer and Lime Cauliflower Tacos!
Another reason that we love Thug Kitchen is how fun it is to read. Reviewers raved about the creative and playful way the authors have presented their recipes, making it exciting to read and giving your motivation to get in the kitchen and whip up some healthy meals.
Adding more value for money is the bonus section about techniques to shop for your groceries on a budget. Reviewers also stated that Thug Kitchen makes a great gift, for vegans, vegetarians and omnivores alike. We give bonus points because this is available in a long-lasting hardcover or a digital Kindle version.

3

. But I Could Never Go Vegan!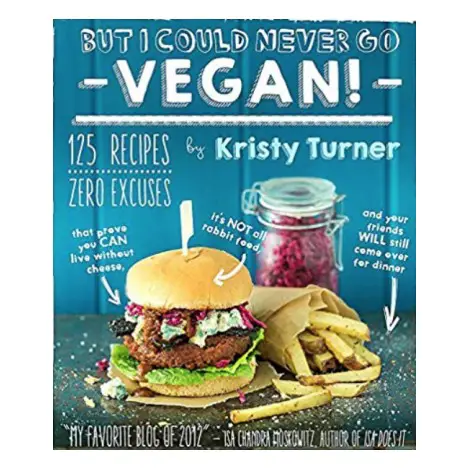 Rounding out the top three picks we have But I Could Never Go Vegan! 125 Recipes That Prove You Can Live Without Cheese, It's Not All Rabbit Food, and Your Friends Will Still Come Over for Dinner by Kristy Turner. As the name implies, this book is chock full of recipes that are flavorful, complex, and can be enjoyed by veggies, vegans, and meat-eaters alike!
125 Recipes
With 125, But I Could Never Go Vegan has about 25% more than the average cookbook. This means more value for your money, but also, 25 more new delicious recipes that you have on hand to try out whenever the mood strikes you.
Recipes for Childhood Favorites
Vegan food gets a bad reputation and people often associate it with bland, tasteless and boring cuisine that only appeals to those who follow a vegan lifestyle. Kristy Taylor busts many common misconceptions about vegan cooking such as 'the ingredients cost way more than regular ones' or 'none of my friends will want to come to dinner at my house if I cook vegan food'.
She includes recipes for a ton of your childhood favorites, classics like mac'n cheese but puts a spin on it by including vegan bacon tempeh. Looking for something more adventurous? No problem! Kristy has that covered as well with dishes such as Carrot Cashew Paté or Portobello Carpaccio. There is also recipes for condiments and dressings such BBQ sauce, Tofu Sour Cream, and Zesty Ranch.
Cost and Value
But I Could Never Go Vegan! Offers a ton of value for the price. It includes over 125 recipes, which is more than the average cookbook on the market today. The author has adapted many of our favorite recipes that traditionally include animal products and put a vegan spin on them. This means that both vegans and meat-eaters alike can enjoy the dishes.
We love the section devoted to dessert (can you say we scream for ice cream!). Bonus points for the option to purchase this product on Kindle if you prefer a digital format. The great part about having a cookbook on a Kindle is you can take the recipes anywhere, so preparing healthy and tasty plant-based meals at the cottage, cabin, or anywhere you may travel will be a breeze. You can't go wrong purchasing this book for yourself, or as a gift for any foodie in your life.

4

. Vegan Comfort Classics: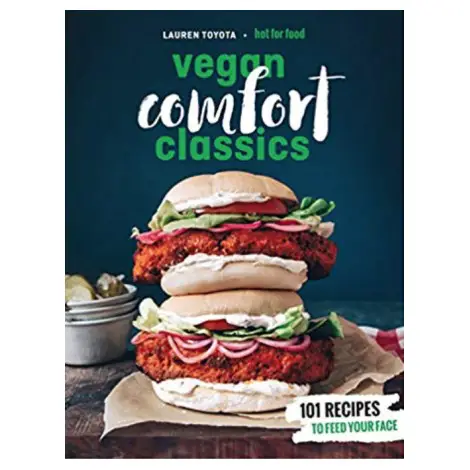 Next up we have the national winner of the 2019 Gourmand Cookbook Awards in the Vegan Cookbook catagory. Chock full of recipes to 'feed your face', author Lauren Toyota has adapted all of our favorite comfort foods to make them suitable for vegans.
Vegan Comfort Food
Everyone has that comfort food that they crave after a long day at work or play. It could be creamy, savory mac n'cheese or the cripsy, salty goodness of fried chicken. Hot For Food is all about comfort food! Eating a plant-based diet doesn't mean giving up your childhood favorites. Reviewers loved that this isn't a 'healthy' vegan cookbook - the recipes are rich, nostalgic, indulgent, treat yourself kind of food. No rabbit food salads here folks!
Author Has YouTube Page
The author of Hot for Food is Lauren Toyota, a former MTV DJ, and television celebrity. We love that Lauren has a YouTube page featuring many of her vegan recipes. There are over 240 videos on her channel.
For newbie cooks or those who are clumsy in the kitchen, it is often easier to grasp new or difficult techniques by watching someone perform them versus reading the directions in print. After her years hosting on MTV, Lauren has an engaging and personable screen presence that makes her videos enjoyable to watch.
Cost and Value
There are over 100 recipes in Hot For Food so no matter what your favorite comfort food is, you are sure to find it in this well-currated collection. This is a great cookbook to have on hand if you often entertain for vegans and meat eaters. With classic recipes such as Stuffed Crust Pizza, it will be a cinch to prepare dishes that everyone can enjoy. There are some fun twists on classics as well, such as the Mac n' Cheese Onion Rings.
If dessert is more your thing, Lauren has you covered in that department as well. We give bonus points for the Hot For Food YouTube channel, which breaks down many of the recipes and techniques for those who need a little more guidance than printed instructions. Many non-vegan reviewers raved that this book had quickly become a staple in their kitchen and even children who are fussy eaters loved the recipes.

5

. Vegan Richa's Indian Kitchen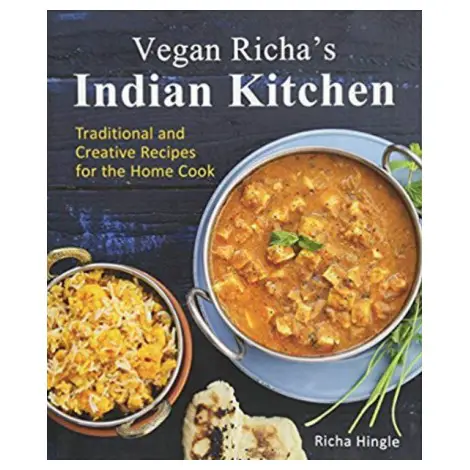 The next product we have for consideration is Vegan Richa's Indian Kitchen: Traditional and Creative Recipes for the Home Cook. As the name suggests, this book focuses on Indian cuisine with recipes for a wide range of curries, dals, rices, appetizers, dips, and even Indian desserts! If you are interested in branching out and exploring new cuisines, or are already a lover of Indian food and want to try re-creating some of your favorite dishes at home then Vegan Richa's Indian Kitchen is the book for you!
Indian Cuisine
This book focuses on Indian cuisine. Vegetables and lentils have long been the star of many popular Indian dishes such as Chana Masala. Richa has adapted recipes that traditionally included animal products, making them suitable for vegans as well. Along with recipes it also features tips to incorporate modern devices in your cooking and ways to improve your productivity and workflow.
Recipes Include Substitutions
One thing we really love about this product is that Richa includes many substitutions for spices which may be difficult to find in the average grocery store. Nothing is more frustrating than not being able to find the ingredients you need for a recipe you have been itching to try. This can be especially challenging when working with ethnic cuisines which often call for ingredients that we may not have on hand or be able to purchase at the average grocery.
Richa thoroughly explains techniques and goes into depth on the history of Indian food and variations of cuisine throughout the regions as well. No need for expensive kitchen appliances either, Richa offers up substitutions for those as well so you don't need to run out and buy a food processor and hand blender if you don't already own one.
Cost and Value
Since this item is focused on a particular cuisine, it probably would not be the first cookbook you would want to consider if you are just starting to explore plant-based cooking. Perhaps you already enjoy take-away curries and are eager to try your hand at preparing one at home. For those who already own various vegan cookbooks and are looking for something with some new, exciting recipes to try then Vegan Richa's Indian Kitchen would be a great choice.
Adding more value to this product is the additional content that is included such as information on Indian culture, regional cuisine variations, and local foods. We give bonus points because this product is also available on Kindle. Digital cookbooks are great for people with a cottage, cabin or vacation home because you can always take your favorite recipes with you to easily prepare anywhere.
Another great feature of this product is the many substitutions it provides for ingredients that could be difficult to find, so you never need to worry about not being able to find something you need.

6

. The Homemade Vegan Pantry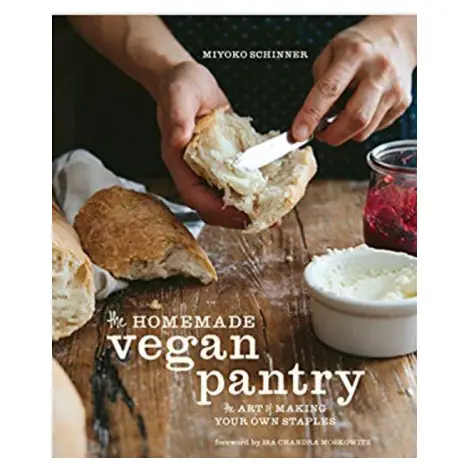 Coming into the sixth place spot we have The Homemade Vegan Pantry: The Art of Making Your Own Staples by Miyoko Schinner. Unlike a traditional cookbook which includes recipes for various dishes, The Homemade Vegan Pantry is all about making your own pantry items from scratch. For serious home chefs, people with food allergies who need to be careful what ingredients they eat or just the average cook looking for a challenge and something new, this book is a great option to consider.
Great For Clean Eating
Have you ever checked the ingredients on your favorite salad dressing or sandwich condiment? Many of our favorite items, such as mayonnaise, are made with canola or other types of hydrogenated oil because they are cheaper. However, these saturated fats are not good for the body and experts recommend avoiding them to reduce your risk of obesity, heart disease and a whole slew of unpleasant health problems. If you are trying to follow a 'clean eating' diet, then The Homemade Vegan Pantry will be a great option for you to consider.
No Preservatives, Colors or Additives
Another great plus to making your own pantry staples is you can avoid all the unnecessary things that are often found in store-bought brands. Items that are kept on the shelf in the grocery are loaded with preservatives. Store brands are also full of sugar and salt, which the manufacturers use to excite your taste buds. While these products may taste good, they are full of calories and bad fats and have no nutritional value either.
It is common to see artificial flavors and colorings as well on many labels, more ingredients which have been linked to health problems. Miyoko shows you how to make great tasting, healthy food that you can feel good about feeding yourself and your family. Another great thing we love about making your own staples is that many of them keep just as long as store-bought brands if stored properly in air-tight food containers.
Cost and Value
The Homemade Vegan Pantry is a great investment for anyone who is serious about clean eating. There is such wide variety of recipes in this book that it offers a ton of value in all the things you could prepare after. Some of the recipes you will find include pizza dough, tofu sour cream, granola, ice cream, and breakfast sausage.
This product would not be a practical choice for people who are looking to try plant-based cooking, for the first time as some of the recipes may be a bit more on the 'vegan' side of things. It certainly wouldn't appeal to the die-hard meat lovers out there, however, If you are serious about eating clean and want to make more of your store bought products at home, this book would be a fantastic option to consider.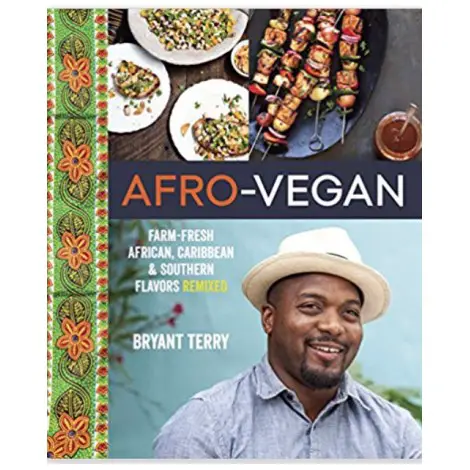 Our next cookbook is Afro-Vegan: Farm-Fresh African, Caribbean, and Southern Flavors Remixed by Bryant Terry. Bryant is a renowned vegan eco-chef, food justice activist, and author. This is his fourth cookbook and it focuses on a combination of African, Caribbean and Southern flavors. If you are looking to try something new, or already have a palette for soul food, then this is an option you do not want to ignore.
Caribbean, Southern and African Cuisine
The recipes in this cookbook are not for fussy eaters or those with a bland palette. You will find recipes based on dishes from around the world such as Kenya's 'irio' or Morroco's 'tangine' meals. This is a perfect cookbook choice for people who are interested in trying something a little different.
Includes More Than Recipes
Another reason Afro-Vegan made our list is that it includes some really neat bonus material that you maybe wouldn't expect to find in a typical cookbook. Alongside Bryant's mouth-watering recipes you will also find recommended musical tracks from around the globe, insight in Bryants personal views on using food to build community and a list of Bryant's favorite books.
The personal touches in Afro-Vegan make it more than just a cookbook and definitely something people who enjoy reading as well as cooking can appreciate.
Cost and Value
If you are tired of the same old Italian, Mediterranean, and Middle- Eastern cuisine then this is the cookbook for you. With over 100 recipes there is a ton of value in this product. We love that Bryant has included personal suggestions for music and books as well as anecdotes that give Afro-Vegan a unique edge you won't find in a standard cookbook.
This product wouldn't be the best option for someone who likes more traditional fare or is new to plant-based cooking. Another reason we love Afro-Vegan is that Bryant Terry is one of the leaders in the healthy eating movement so you can feel good about cooking up dishes that are not only delicious but also good for you as well.
Those who want to spice things up a bit in the kitchen, excite their palette, and try something new should definitely give this one a consideration.

8

. Oh She Glows Every Day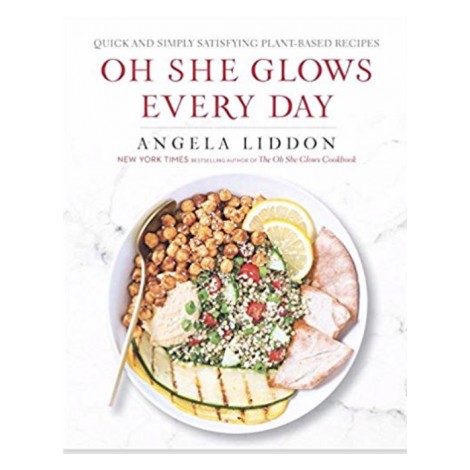 Angela Liddon has done it again! We already saw her debut The Oh She Glows Cookbook swipe the top spot on our list, and here she is again with her second book grabbing seventh place as well. It is no surprise that someone who won Indigo's Book of the Year in 2014 would come back again and hit us with another fantastic vegan cookbook.
Follow-Up to International Bestseller
As we already talked about, The Oh She Glows Cookbook grabbed the number one spot on our list. Released in 2014, it instantly became a sensation with newspapers, magazines, bloggers, and even celebrities buzzing about the delicious, nutritious and easy to prepare recipes it featured. Released in 2016, Oh She Glows Everyday is Angela's follow-up that does not disappoint.
If you loved the first Oh She Glows, then you will definitely love the second one just as much!
Drinkable Recipes
One thing we love about Oh She Glows Everyday is the wide variety of recipes for smoothies, juices, and elixirs. Drinking your fruits and vegetables is a great way to ensure you get all your daily vitamins and nutrients.
There are so many delicious drinkable recipes featured in Oh She Glows Everyday that even the fussiest eaters (or drinkers) can find something that suits their tastes and is chock full of healthy stuff to boot.
Cost and Value
We would suggest investing in the original Oh She Glows if you don't already own a copy, before checking out Oh She Glows Everyday. The recipes in the second volume are slightly more complex and call for some ingredients that may not be available in the standard grocery. This option wouldn't be the perfect pick for someone who is skeptical about trying plant-based cuisine as the recipes do have a very 'vegan' vibe to them.
Oh She Glows Everyday would be a great investment for those who follow a strict vegan diet and are looking to add some new recipes to their repertoire. This item is also very health-forward, so it is a great choice for people who are trying to lose weight and make a switch to a healthier lifestyle. It is worth noting that you will need a heavy duty blender to make the smoothie recipes .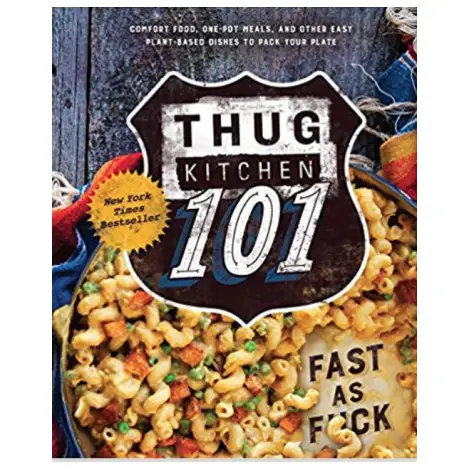 Hitting our list again we have Thug Kitchen 101: Fast as F*ck, the follow-up to Thug Kitchen: Eat Like You Give a F*ck. It is no surprise that the authors and recipe creators who came up with the New York Times bestselling cookbook series would be back to deliver more delicious, cannot believe this is vegan, goodness.
Hardback Book
Although hardcover books are heavier and take up more space on the bookshelf they are way more durable and long-lasting than their paperback friends. Thug Kitchen publishes all of their cookbooks in hardcover, which means you can get down and dirty in the kitchen worry-free.
The Thug Kitchen duo wrote their 3rd installment in the same funky, unconventional way as the first two, making these cookbooks as fun to read as the food is to eat. It is worth noting that there is the occasional curse word so this may not be suitable for children or those who find it offensive.
Fast and Healthy Dishes
Inside this hardcover, you will find over 100 recipes that are guaranteed to be faster to whip up than ordering some take-out. Extreme bonus points are given for the fact that the dishes are also way healthier than take-out as well. Reviewers cannot say enough good things about Thug Kitchen 101.
Meat-eaters raved that they were excited to keep trying new plant-based dishes. College students loved that most of the recipes could be whipped up on a budget and the leftovers are frozen to enjoy later on. For best results, vac-seal before freezing to avoid freezer burn.
Cost and Value
If you were a fan of the first Thug Kitchen, follow their blog, or just want a great cookbook to have on hand for those days you need a nutrient-packed meal to dish up at home on the jiffy, well Thug Kitchen: Fast as F*ck is the answer to you. Based in LA, the Thug Kitchen duo strives to make vegan food taste just as good, as if not better, than its meat-filled counterparts.
Reviewers loved how easy the recipes were to follow and how many of the dishes could be prepared with items that most people readily have on hand in their pantry and refrigerator. It saves a lot of time and frustration when you don't need to go hunting around different grocery stores to locate hard-to-find ingredients that some recipes can call for.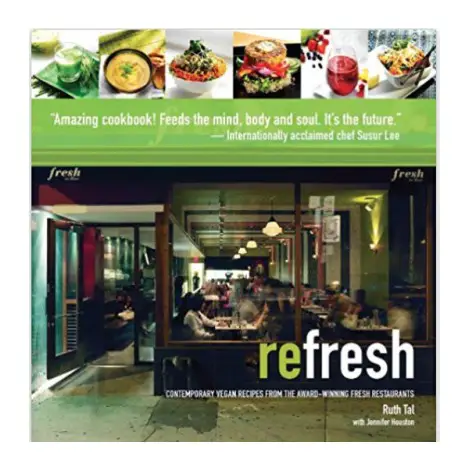 Finishing up the top ten we have Refresh which is written by Ruth Tal and Jennifer Houston. This product contains simple, easy to follow recipes that are very health focused. The recipes are taken from the popular Toronto restaurant chain, Fresh, founded by Ruth and Jennifer.
Recipes From Popular Vegan Restaurant
Those of you who don't live in Toronto, Canada will not be familiar with Fresh, but those of you who do will most likely have heard of the chic vegan eatery with four locations in the downtown core. Refresh is a collection of the favorite recipes from the longstanding restaurants.
If you are lucky enough to hit up a Fresh in Toronto and want to recreate some of their signature dishes at home, this a great place to start. If you haven't been to the restaurant then expect to find recipes for bowls, appetizers, dressings, and dips, appetizers, as well as an assortment of drinkable items as well.
Juice Recipes
Since Fresh offers a huge selection of smoothies, juices and elixirs it is only suiting that Refresh reveal some of the secrets to their creations. Inside you will find that roughly half of the cookcook is devoted to drinkable items. A bonus for those of you who like to drink your fruits and vegetables as much as you like to eat them.
Fresh juices and smoothies are loaded with vitamins and nutrients that we can always benefit from adding to our diet
Cost and Value
Coming in on the lower end of the price range, this book is a great option for all the plant-based eaters out there. One thing to love about Refresh is the recipes are super simple and easy to follow. No advance cooking techniques or fancy terminology is used.
There is a section devoted to dips and dressings, which adds value to this item because you use these pantry staples to build easy, nutritious meals with items you already have on hand in your fridge.
We give bonus points for the section devoted to information about purchasing the right at-home juicer for your needs. Side note, some of the juice recipes do require the use of this appliance.

Subscribe to our Newsletter