10 Best Slow Cookers
In a Hurry? Editors choice: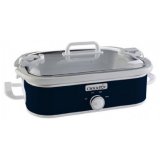 Test Winner: Crock-Pot 3.5-Quart

The uses of a slow cooker can drastically speed up the
cooking
process, at least when referring to ones hands-on time in the kitchen. The reason that slow cookers are such a great tool is that there is relatively no end of uses for them. You can manage to cook a near unlimited amount of things within one, all at the ease of turning it on and waiting. There are endless
cookbooks
out there with the essential knowledge needed to make astounding
meals
versatile and convenient.
In the universe of slow cookers, there are some standard things, and some additional perks that are offered (or not) depending on the model. So we went for a wide range in order to hit the biggest portion of the market possible. Here are our picks for the ten best slow cookers on the market today.
Standout Picks
Criteria Used for Evaluation
Materials
Build
It's easy to imagine. These pieces of technological wonder that improve our kitchen time, and help out in the food prep or cooking department aren't very shy about technology, which makes them complicated tools. But only if you open them up.
This all makes the build of these machines even more important. There are so many things that go into making a quality slow cooker that you've got to imagine a combination of sorts that would be perfect for use, or just perfect for you.
Things like the materials the crockpot itself is made out of (usually made out of glazed ceramic, which is a wonderful conductor of heat and allows it to spread easily across its entire surface), or whether or not the external crock pot base will be quality enough to support such immense heat. You'd assume that if something made it through inspection, and onto the assembly line, that it will be able to do the job it was designed to do, but that's unfortunately not always the case.
Like we mentioned a second ago, the best make and material for the pots themselves is going to be ceramic. While the technological aspect of this appliance is preferably stainless steel of some make or combination.
Avoid slow cookers with too much plastic in parts, because that stuff is notoriously poor when attempting to hold up against heat. And try to find a slow cooker with rubber feet and a glass lid. Those in combination with the other things we mentioned are the cream that will rise to the top of your crock pot (that gastronomy joke was a bit of a stretch, but I think it got there in the end.)
Versatility
Variety
There isn't a lot of variety in the basic concept of a slow cooker. These kitchen appliances, as they are designed to take the hassle and hand-on out of the slow processes in your kitchen, are all made with that single goal in mind. So the base combination is always (or should always be) the same. You'll have a pot (a removable, hopefully) ceramic pot, that sits within a metal shell that houses a heating element. The base heats the pot and cooks your food. Slowly.
The variety will come in other junctions of the design. Some slow cookers have lockable lids, which is something used for safety or bubbling liquids, more than anything else. That will keep your child, or your house-pet from knocking the lid off of the cooker while you're away from the meal-to-be.
Other slow cookers will be simplified concepts designed to uphold that ultimate goal, and nothing else. Maybe they have a simple dial on the front which allows you to choose a temperature. There's no built-in timer, and no programmable options to speak of.
The variety in the pot is also common. One of our slow cookers has three smaller pots, instead of a single large one, helping you prep and cook three different ingredients (or entire meals) separate from one another.
Another one of our slow cookers also has programmable settings for things like rice, or puddings, or any number of other types of meals.
Try to make the most out of your kitchen and cooking experience, getting a product with a varied range of capabilities can be amazing, but sometimes one just needs the job to be done, without the fluff you'll never use. The choice is yours, which is why we focused on gathering a wider variety of slow cooker options rather than putting a bunch of similar machines up against each other.
Value
Price
We mentioned this in the intro, the kitchen market, and the kitchen appliance market, are lucrative businesses that span the entire globe. Which unfortunately means that there is going to be a steep mountain when it comes to price ranges. But as with any other product we've ever tested and suggested, it's important to decide (prior to shopping) what your price range is going to be.
It took a bit of arguing, but we landed on the "general consumer" market for slow cookers as a price range to focus on. There's nothing on this list that is going to force you to re-mortgage your home in order to get more hands-off time in the kitchen. But some of these appliances aren't what you'd call cheap in any sense. There's a lot of disparity in the marketplace, but our list has a narrowed point of view of that market. On purpose.
A budget slow cooker with all the capabilities to do the job right will run you enough to make you have to consider it more than once, while the top end of our list isn't a dizzying enough number to make you throw the whole idea out the window to begin with.
There is, as we've said, a lot of technology that goes into some of these machines. Which means you have to take a technology consumers approach to part of this equation. As with any technology-based product, you're going to get what you pay for (for the most part), meaning that the less you spend, the more likely things may have been made poorly, or there may not be a whole lot of flash. The more you spend, the more (generally speaking) you can assume was cared for in the design and manufacturing of all the little electrical components.
Price can be a deciding factor as to which slow cooker you bring into your home, and it was a factor in deciding which ones to put on our list.
10 Best Slow Cookers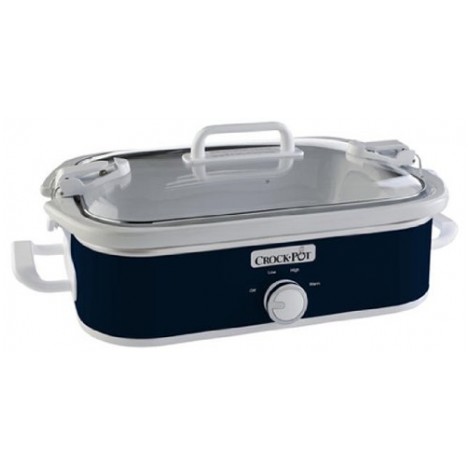 We thought we'd take a little detour near the top of our list because things we use in the kitchen are amazing, and some things need to change just a little bit. Insert the Crock-Pot made three and a half quart casserole pot slow cooker. This little monster takes casserole cooking, or any other cooking that can fit within a not-so-deep dish, and turns all of the dials to eleven!
Stick it to Your Oven
Not that this is the only reason you'd ever want to, but some of us live in extremely hot climates. And during the blazing seasons of the year, a lot of homes refuse to use their ovens for anything because it's just an added heat source in an already planet-altering heatwave. If you had the Crock-Pot Casserole Slow Cooker, you'd be able to make casseroles in the summer without the extra heat around your abode. It's also far cheaper to run a slow cooker off of electricity than it is to run an oven.
Lock or Warm it
The casserole slow cooker from Crock-Pot comes with a wicked set of hard-locking clamps for the glass lid, making it a perfect seal, and with the two outstretched carrying handles, it's perfectly easy to transport, even if it's full. Making a casserole beforehand, or even in your stove? Then the Crock-Pot Casserole Slow Cooker can do a bang up job keeping that meal warm for you, or even heating something up after you've traveled to a destination with it. It's the perfect tool.
Cost and Value
Somewhere near the middle of the top-half of the scale we're working on today, the Crock-Pot Casserole Slow Cooker is an amazing appliance to add to your kitchen arsenal, even if it's a bit shorter than most other slow cookers out there. The value comes in the classic casserole dish size, rather than a giant six quart pot.

2

. Crock-Pot Cook & Carry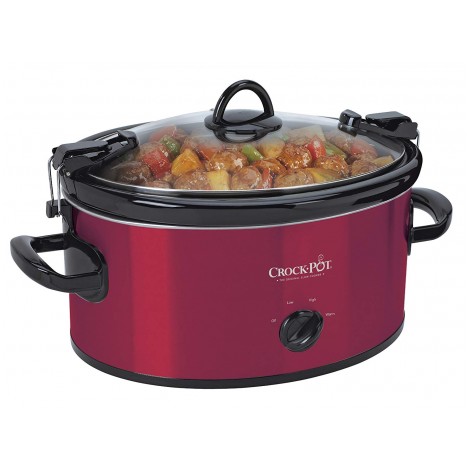 We know what you're saying. You're peering up to your computer screen (or your phone) and you're saying, "hey internet man, with the lust for delicious, and slow cooked meals, what's with all of the Crock-Pot items?" and to that I would say … they invented them, so it would only be right if they are one of the best companies on earth currently making the things.
The Sweet Life
This has nothing to do with Zack and or Cody, but rather, it's directly related to how beautifully easy it is. The sweet life comes on the waves of easy living, and washes up on take-it-easy island for some relaxing fun in the sun. The simple dial goes from warm, to low, to medium, and finally high, and there isn't a single more complicated part about it. It's truly wonderful.
Bring Your Friends!
The simple, yet stunning slow cooker from Crock-Pot is a large six quart capacity, and it has a locking lid, and carry handles, meaning that you can make a sweet meal within it, then carry it to where you need to eat, then open it up, fresh as a daisy, and serve it to many people. The product description says it serves seven people, but we all know those serving sizes are bogus. But we can assure you that it'll serve four or more, to the point of bursting.
Cost and Value
Currently listed at a fifty percent discount online, the Crock-Pot Six Quart Slow Cooker is a heck of a great deal, and may be the highest value for a slow cooker on our list. It's an astoundingly simple machine, and everyone would be lucky to have one on their appliance shelf.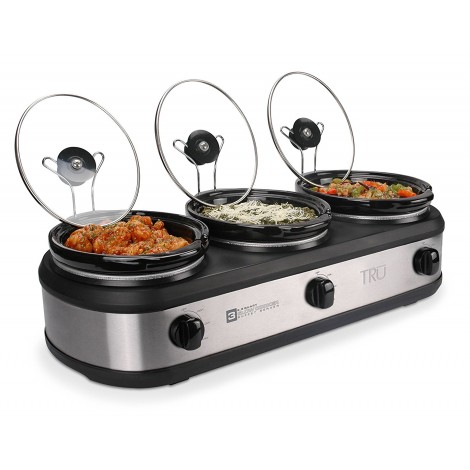 We decided to keep the intrigue, and the magic going with our number three pick. Here we've got this beautiful three-pot slow cooker from Tru, a longstanding, and wonderful company with a foot in almost every pool you could possibly imagine. Entertain in style, they say, with this amazingly well crafted slow cooker, and warmer. Three times the noms, means three times the fun, right?
Buffet Beast
There's not shaking this bush, there's no hiding behind the obvious, this slow cooker doesn't have a single crock pot within it for your foods, it has three. Yes, three. It's perfect for those meals where you need to cook three things separate from one another, or perhaps three things at different temperatures. But best of all, it's a beast on the buffet line. Capable of keeping three dishes or dips warm at once, the Tru BS-325LR Slow Cooker(s) can be the MVP at any event.
Substance Despite Style
In most cases, when a company would choose to make a machine with three bowls instead of the one pot, you'd be forced to lose a lot of the size. They'd throw three small things into the mix, and hope that having all of them together would make up for the lack of one larger crock pot. But Tru avoids the extreme, instead, putting three two and a half quart crock pots (that's only one quart smaller than the giant casserole slow cooker we just spoke about) which gives you so much room to work with.
Cost and Value
Definitely considered near the bottom of the price scale, the Tru BS-325LR triple slow cooker machine is the epitome of excess with substance. All three of these ceramic crock pots are meticulously designed and manufactured, and the stuff you put in them will probably total more money than you paid to have them. What a value!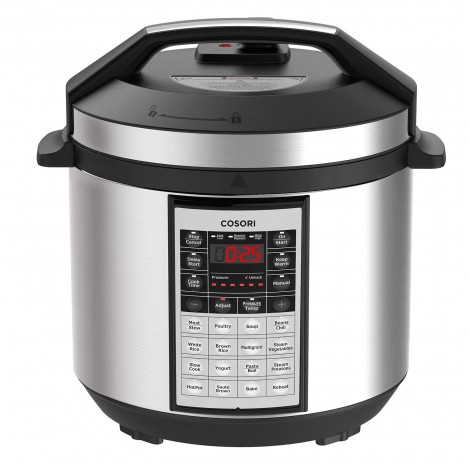 Oh, you thought we were going to stick with a strict list of only slow cookers here? How wrong you are. If a standard crock pot ceramic slow cooker is like a really good knife in the kitchen, then the 8-in-1 Multi-Functional Cooker from COSORI is the swiss army knife of the gastronomy world. It'll dice, and it'll dassle. Spoiler alert: it can't actually dice. I just wanted to sound like a tv infomercial person.
8-in-1
We had to get this part out of the way right out the gate, right? Correct. The COROSI Multi-Functional Cooker has not one, but eight disciplines nailed, and ready for your never-ending orders. Within this one machine is a fully capable pressure cooker, a slow cooker (hence it being on this list), a rice cooker, a steamer, a saute pot, a yogurt maker, a hot pot, and a warmer.
Final Form
With all of that, you'd expect this machine to a either be a flimsy piece of junk, or a headache-inducing costly adventure. But it's neither. Made with high-end stainless steel, and brushed steel outer shell, the multi-functional oozes quality materials, and attention to details. All of the right moves were made when putting this kitchen behemoth together. It's an inspiration for all other kitchen appliances.
Cost and Value
These extremely multi-faceted (perhaps too useful) kitchen appliances, big or small, are usually rather gouging in the wallet department, but not the COROSI 8-in-1. Is it slightly above our median price range? Yes. Does it do seven other things extremely well, that most of these other machines can't do? Also yes. Considering the amount of care put into each and every material used to manufacture these appliances, and the skills they show up with, the value is as deep as the ocean is wide.

5

. Ninja Multi-Cooker 4-in-1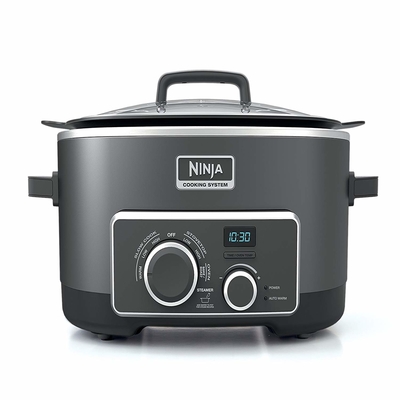 Would a cooking appliance list be complete without an item from the world known brand- Ninja? Absolutely Not! Ninja has become a top-notch brand with exceptional kitchen appliances that make cooking easier, quicker and even fun. With that being said, in our 5th position we have the Ninja Multi-Cooker 4-in-1, while we are counting down the best slow cookers, we wanted to add a few multifunctional bits and this one is one of the very best.
Triple Infusion Heat
While most appliances rely on one form of heat to circular throughout the entire interior of the unit, this particular cooker does not, instead it uses a unique technology known as Triple Infusion Heat. Triple Infusion heat consists of three different types of heat working together to ensure your food is cooked to perfection from every angle. Having this feature not only allows your meals to cook a whole lot quicker but ensure that they are flavorful and juicy throughout as the heat is even from the very beginning.
4-in-1
Just as the name states this is a 4-in-1 system, featuring a traditional stove top cook option, slow cooker, steamer, and oven. Furthermore, this appliance allows you to have all you need to make healthier meals in one single space. Additionally, let's not forget that you can program it to begin and end according to your needs and liking.
Cost and Value
When it comes to the cost of this item it is one of the pricier ones on your guide. However, when you take into consideration the quality of the products the brand has put out so far, and all that one single pot can do the price becomes a bit easier to fathom. With that being said, this is a 4-in-1 appliance which means in the long you're saving a whole lot of money and getting a bang for your buck.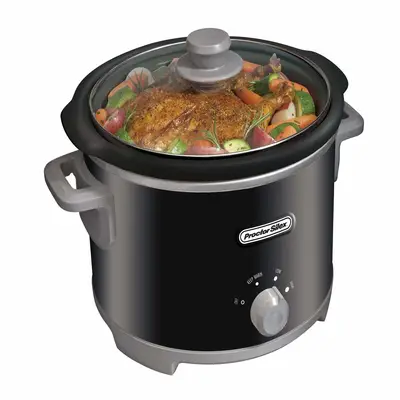 Coming in at number 6 we have the Proctor-Silex, a new fuss or frills slow cooker that gets the job done easily and quickly. While many of the options on our list offer an abundance of different things that they do, this one is a straight forward slow cooker that works hard at making your dinner time, one pot meals the best they have ever been.
Easy to Use
While most appliances aim at offering multiple different functions this one works on being the best slow cooker on the market while being easy to use. One of the best features the Proctor-Silex offers is how easy it is to use. It comes with 3 different settings: high, low and warm allowing you to select what you need and for how long you need it. There is also the element of being a large, deep pot so you're able to cook more for less time.
Removable Stoneware
Most slow cookers are a pain to wash because their interior unit is not able to be removed; however, this one offers that quality while being dishwasher safe as well. The non-stick internal unit can easily be removed and rinsed or placed in the dishwasher for deep cleaning after you're done with your meal.
Cost and Value
When compared to others on our guide this slow cooker is extremely affordable, it gives you a no-fuss meal while not breaking the bank- a truly win, win situation. Furthermore, it comes with everything you need to use it immediately upon arrival.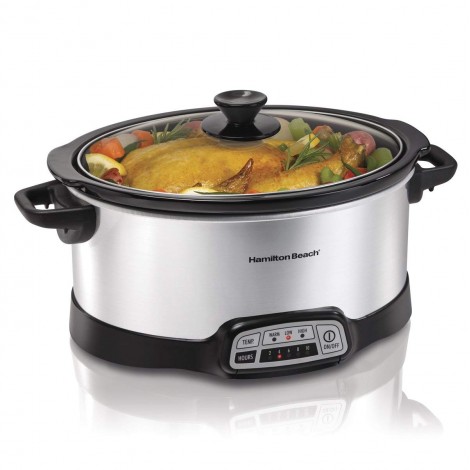 More from Hamilton Beach, the Programmable Seven Quarts Slow Cooker is a real beast of a kitchen appliance that comes with a lot of the standard touches we've come to love from Hamilton Beach, and yet a lot of great additions that make this a premium slow cooker.
The Beast
The normal size for consumer level crock pots or slow cookers usually taps out around the six quart mark, but this model of slow cooker from Hamilton Beach weighs in at seven quarts for some of those bigger birds, stacks of ribs, or a whole extra quart capacity of soup stocks. To be frank, even the six-quart slow cooker is pretty large for a home-cooked meal.
Elegant Program
With their easy-to-follow button panel, the Hamilton Beach 33473 Seven Quart Slow Cooker has an amazingly intuitive, and simplified programmable system that allows you to choose from a set number of cooking times, and cooking temperatures, automatically switching to its warm mode once either of those two things is hit. There are no flaws in this simply designed interface, and anyone can get this bad boy purring.
Cost and Value
Thanks to it's relatively paired down -- it's pretty simple for a Hamilton Beach product, anyways -- system, the 33473 Slow Cooker can hold a large meal, and cook it with ease. The hassle-free approach makes this one of the most essential products one could add to their kitchen arsenal.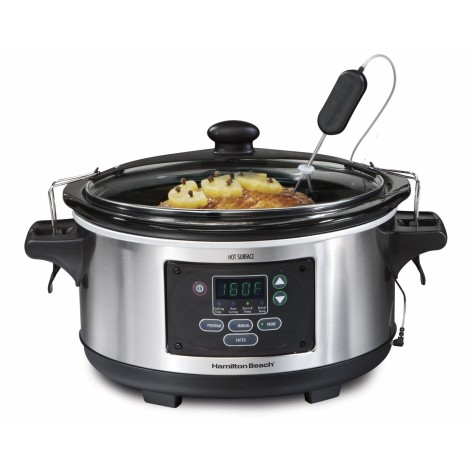 The name of this brand might be extremely recognizable to you, and that's for good reason. Hamilton Beach might be the most trusted, and beloved kitchen appliance company on the planet. Or at the very least, in North America. The Programmable Six Quart Slow Cooker is the peak of their line-up without going too far into the overly complicated, or too low into the simple. In fact, this is the slow cooker I own, and it has been of astounding use around my own home for years now. It's perfect.
Programmable Perfection
Instead of a simple dial or temperature setting, the Hamilton Beach *insert a bunch of boring numbers* Slow Cooker has three options for use. There's a probe (a metal spike that plugs into the machine) that can be programmed to ensure that the meal you are cooking (aimed at meat mostly) reaches a predetermined internal temperature. Once it does reach that temp, it will auto-set itself to "warm" mode until you're ready to eat. The time mode allows you to set a specific time and a heat setting that allows you to just set a heat and do your own counting. All three are very useful in different situations.
Stake and Potatoes
The probe is the real hero with this slow cooker. Even if I'm not using the slow cooker, I'll often bring the whole thing out just so that I can use the digital temperature gauge in the probe. The lid of the slow cooker (is lockable, which is amazing) has a hole in it specifically designed for you to be able to probe your roasting hunk of choice without taking the lid off and having the heat escape. It will show you the current temperature of whatever you stick it in, and try to match it to your set desired temperature.
Cost and Value
Given all of the additional technology thrown into this piece of kitchenware, you'd be extremely surprised that the cost of this beautiful machine from Hamilton Beach is less than a few days worth of groceries. Get the extra help you need to perfect your cooking game at home with this magical addition to your gastronomy arsenal.

9

. Crock-Pot Programmable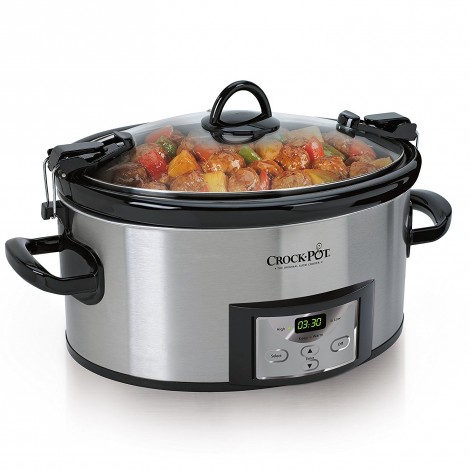 Another powerhouse slow cooker from the folks at Crock-Pot, this six quart programmable appliance has a whole lot of weight behind it with the extensively trusted Crock-Pot behind the wheel. This thing has a locking lid, a removable stoneware ceramic pot that is dishwater safe, and far more additions to the standard mix.
Take It With You
It might seem like a very simple thing, but the fact that the Crock-Pot Six Quart Slow Cooker comes with built-in carry handles means that you can take whatever fabulous meal you've made with you easily to the next place it needs to be. Barbeque's, or potlucks, the Crock-Pot Slow Cooker is super easy to pick up and go with. Though, we suggest you wait until it's cooled off a bit.
Programmable Original
The brand behind the original slow cooker usually standardizes their programmable modes across their brands, and this model is no different. The *extremely boring set of letters and numbers* model name of this Crock-Pot has a digital control system that can be programmed to cook from thirty minutes to twenty hours. Automatically setting to warm when the time has been reached.
Cost and Value
Right in the bullseye of general price range of consumer slow cookers, the Six Quart Digital Slow Cooker is a wonderful addition to your kitchen, especially if you're looking for something very solid, and not ultimately complicated. It'll fit right in amongst the rest of your small counter-top appliances, and be reliable for years to come.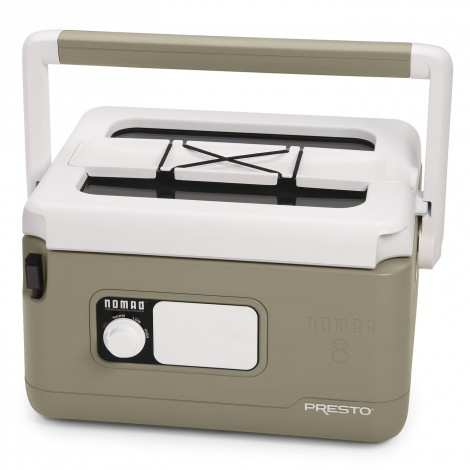 Surprise! You thought we were going to travel through a whole list of small kitchen appliances without hitting up something just a little weird? Well, guess again. If you see my big'ol dumb name below the title of the article, chances are we will reach this point in the list before the end of the day, and Presto Nomad has done me the gracious favor of supplying us with the coolest, and most unique slow cooker you've ever seen.
The Cooler-est Looking Thing
You'll have to excuse me for the best food-related, and cooler-themed pun ever known to man. Or don't excuse me. That's fine too. But have you ever seen a slow cooker that can go from plugged-in and cooking to packed up and looking like a beverage cooler in seconds with a heavily insulated lining, a plastic exterior, and a big' ol white handle for carrying?
The Little Things
Enjoy the little things. That's what plenty a wise human have stated. And with the Presto Nomad Eight Quart Slow Cooker -- wait, what? It's eight quarts large?! That's huge! -- you get a whole lot of little awesome things. Like the cord storage. Or the white-board label on the front to write what's in it. But the best of all is the spoon storage, and spoon plate removable from the top of the slow cooker.
Cost and Value
Would it surprise you to know that this fabulous, and aesthetically unique slow cooker isn't a budget-priced trick, but a powerhouse at an astonishing eight quarts big, with a neat looking exterior, and it's useful? Being able to take something on the go so easily is fantastic. And it's very well made.

Subscribe to our Newsletter