Best Juicers Reviewed & Rated for Quality
last updated
Mar 07, 2019
Juicing has become more popular in recent years as raw food and vegan ways of eating are on the rise. It's also become more popularized as folks are leading busier lives and don't necessarily have time to ensure they're getting the daily recommended amounts of their fruits and veggies. Juicing is an easy way to get a load of vitamins and minerals from your fruits and vegetables in a relatively quick way. With the popularization and oversaturation of these products on the market, how do you know which one will be the one to suit your needs? That's why we're here! Let's go over some of the best juicers available today.
In a Hurry? The test winner after 30 hrs of research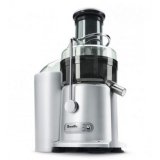 Breville JE98XL
Why is it better?
Pulp container can be washed in the dishwasher
The cord can be wrapped around and stored in the base so it never flops around when not in use
Cover must be locked into place in order for juicer to be used
The chute is extra wide
Comes with a 1 liter jug and froth separator
In a
Hurry? Editors choice: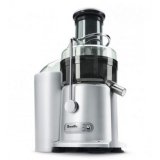 Test Winner: Breville JE98XL

3
Researched Sources
30
Hours Researching
10
Products Evaluated
Advanced Features
Capacity
Value
Power Source
Effectiveness
Ease of Use
Versatility
Size
Speed
Durability
Sound Quality
Protection
Accessories
By Default
Top 10 Picks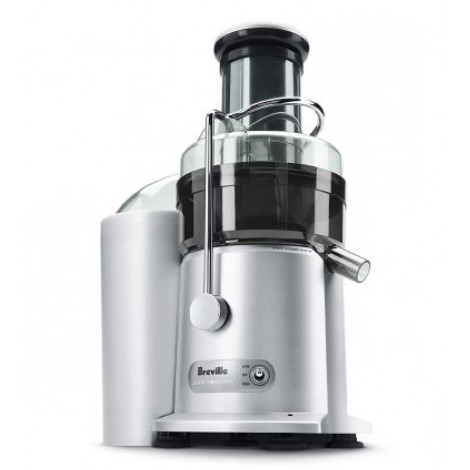 Pulp container can be washed in the dishwasher
The cord can be wrapped around and stored in the base so it never flops around when not in use
Cover must be locked into place in order for juicer to be used
The chute is extra wide
Comes with a 1 liter jug and froth separator
Unit is powerful and feels like it might spit veggies out at you without the stopper in place
May overheat and need a break with extensive use
This is a serious juicer that has a lot of neat functions. It has a wide mouth, is capable of making 8 ounces of juice in as little as 5 seconds, features overload protection, has a safety lock, and the pulp collector holds a good amount of pulp. You can clean it in the dishwasher and make up to a liter of juice that is free of froth.
3 inch Wide Mouth
The feeder chute on this juicer is 3 inches wide. This will allow you to put minimally processed fruits and veggies right into the chute. Less processing, less time consuming, and more nutrients for you. This juicer is made for the health conscious, busy individual.
Powerful

This unit packs a lot of punch; both figuratively and literally. It has a powerful 850 watt motor and features cutting discs made of stainless steel. The combination of the two means more juice faster. You can get a single glass of juice in as little as 5 seconds and can make up to a liter of it before having to change or empty anything.
Cost and Value
This juicer is not a low end juicer. It is made of quality material and will make you delicious and nutritious juice quickly. None of those things come cheap. However; you will be making juices worthy of any juicery and will ultimately save yourself time and money in the long run by making them at home. Additionally, you will know exactly what went into them. Winning.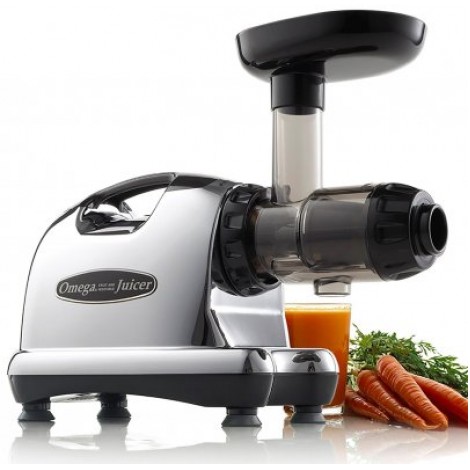 Juice yield is high
Easy to put together, use, and even clean
Features a 15 year warranty
Comes with a food processor attachment that allows it to do a number of extra functions not available on most juicers
Collection cup does not indicate how much juice is being made
The website doesn't have a ton of helpful usage instructions
If you are looking for a product that you can get extensive use out of, this one may be the juicer for you. It features a slow speed that nearly eliminates heat buildup and allows it to process both leafy, stringy greens and soft, delicate fruits without losing flavor or nutrients. You'll get full flavor and nutritional content with less waste.
Multipurpose

You can do much more than simply juice with this machine. While it does very effectively produce delicious juice, it will also allow you to grind coffee beans, make your own frozen desserts, mince any sort of herbs or garlic, make your own baby food, and even allow you to make homemade pasta and nut butters.
Less Waste
With this Omega you get more juice and less waste. The pulp produced here is very dry so that you know you are getting the most out of every vegetable and fruit that you juice. Not only that, the 80 RPM speed that is used to process your juice makes it in a way that it lasts longer. You will get minimal separation and be able to store it for up to 72 hours.
Cost and Value
When you want a juicer that does all the tricks this one does, you will absolutely be paying the price for it. You get a multifunctional tool here and your health, as well as your entire family's health, will benefit from this purchase. It is expensive, but is worth it if you want all of the extras featured here.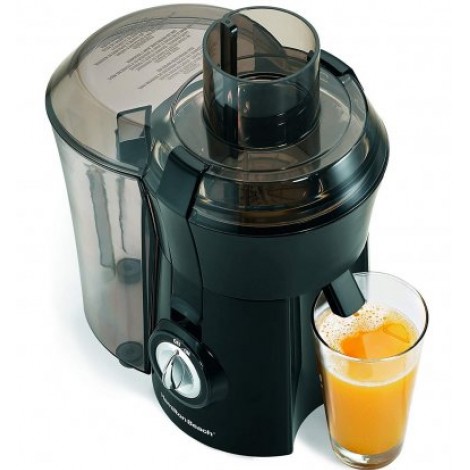 Has a powerful 800 watt motor
Comes with a cleaner brush to make cleaning the strainer basket a little bit easier
All removable plastic parts can be put in the dishwasher
Comes at a much more affordable price than others on our list
Tends to allow a little bit of pulp into the juice
Does not come with a cup or container to catch your juice in
If you are looking for a quality juicer to improve your everyday health, but don't want to spend an arm and a leg purchasing one then you should look into this option. It has an extra wide mouth, a powerful motor, and is produces very dry pulp. The pulp collector is extra large so you can process a decent amount before having to empty it. All in all, this has great features, is easy to use, and will make your juicing experience a good one.
Easy to Clean
A big issue with basically any juicer that you will buy is that you have to clean it. Separating all the juice from the pulp makes a mess, there is no way around that. However; this Hamilton Beach unit is completely dishwasher safe. All parts and pieces are made of BPA plastic and can be thrown in making your clean up much less of a hassle.
Bigger and Better
While not always the case, sometimes bigger is better. This machine features an extra wide mouth chute so that you can throw whole fruits and bigger handfuls of veggies right in. Less processing on your end certainly makes life easier. However; it also features an extra large pulp bin so you can keep going as long as you want with less stopping to empty the waste.
Cost and Value
This juicer is one of the less expensive ones on our list. While Hamilton Beach is a well known maker of small appliances, they do target a more reasonable price range in order to be able to serve more people. If you are looking to get more fruit and veggies into your everyday diet but don't want to spend a ton of money doing so, then this is definitely a good option.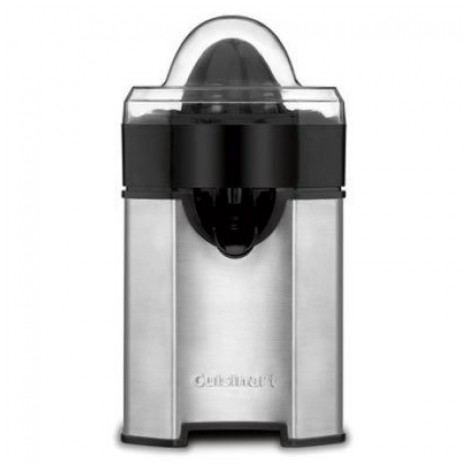 Has a final spin feature that will ensure more juice comes from your pulp
Plastic parts are BPA free and dishwasher safe
The juicer cone is universal and auto reversing so that you have quick and efficient juicing
Has an aesthetically pleasing brushed stainless steel design
Only capable of juicing citrus fruit
Unit is lightweight and may move around when in use, which may end up spilling your juice
Sometimes your juicing needs are actually quite simple. Maybe you just want to have homemade orange juice or lemonade. You have no need for fancy juicers that can juice anything from a beat to an apple. That is where this Cuisinart comes in. It is one of the best citrus juicers you can find and is meant only for that purpose, which means it is very good at what it does.
Pulp Control
Pulp is not always the enemy, especially when you are only talking about citrus fruit. In fact some people prefer some level of pulp in their orange juice. Here, you can adjust how little or how much pulp you get. There are low, medium, and high settings for pulp so that you can get it exactly as you like it.
Snap Up Sprout
This unit is a little smaller and comes with less details than others on this list. One of those details is the lack of a cup, or pitcher, to catch your juice. However; Cuisinart has made this a non issue with their snap up sprout that is extra long. It will accommodate nearly any glass you like and even prevents dripping. Because, let's be real, you may cry over your spilled juice when you are the one who went to all the effort to make it.
Cost and Value
As mentioned, this is much cheaper than others you will find on this list. It is appropriately so as it is a smaller and less sophisticated unit. However; if you only want to routinely juice citrus fruit, then you are well served to only spend the money that you need to and not get a super fancy unit when you don't need it. This one is functional and does its job very well.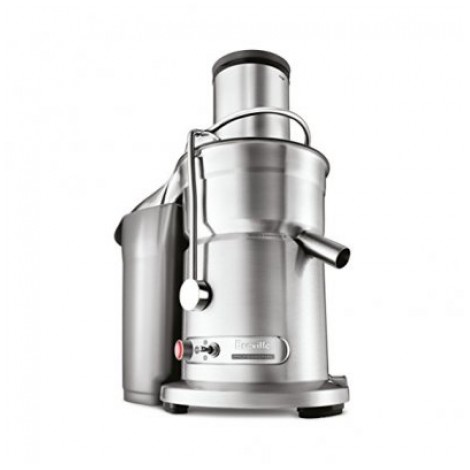 Nutri disc helps to ensure that the blades of this juicer stay sharper longer
Juicer does not turn on if the lid isn't appropriately locked into place
Features a 3 inch wide chute
Clean up brush included that makes all parts reasonably easy to clean
Vital replacement parts are frequently out of stock
Nothing to prevent dripping while emptying out the pitcher
This is a powerful, high speed juicer. It will easily tackle any task you throw at it and have you eating healthier and faster than many other available options. It features a wide, 3-inch mouth and can fit many fruits and veggies whole which ultimately means less overall time spent. It is heavy duty, made largely of stainless steel, and has convenient cord storage.
Two Speeds
You get two speeds with this unit. A slower speed, 6,500 RPM, and a faster speed at 13,000 RPM. The ability to vary your speed will ensure that you get the most nutrients out of your food. The slower speed is great for softer fruits and more varied textures whereas the higher speed is ideal for items with harder textures.
High Capacity
When you get this juicer, you get the ability to juice a lot at once. The jug itself is a liter, and has a froth separator, and a 3.2 quart pulp container. The juicer is so efficient, that your juice jug will fill up much quicker than your pulp container will.
Cost and Value
Quality and efficiency demands a high price and that is what you get here. It is quite expensive, however; it does give you the ability to feel like you have a commercial juicer right in your home. It is fast, works very well, is reasonably easy to clean, and will get a lot of use because of those perks. If you are serious about juicing, whether newby or have been juicing for a long time, this one will meet nearly all of your needs.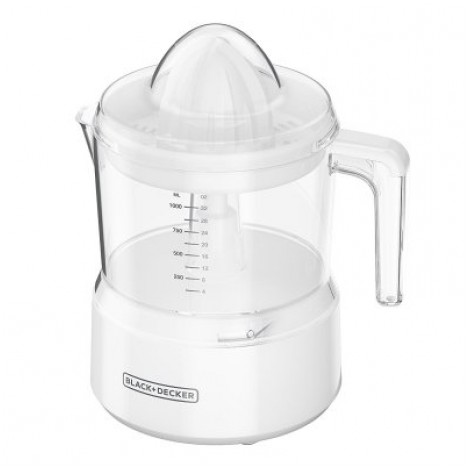 Comes with a storage cover so that it is ready to use when you are ready for it
All removable parts are dishwasher safe
Pulp control allows you to get the texture you want
Easily handles both large and small citrus fruits
Auto reverse feature can be too sensitive
Must fully disassemble the entire pulp screen in order to effectively clean it
This is another great citrus juicer. It features a 32 ounce, easy pour pitcher with an easy to pour spout, and has a dual purpose cone. Measurements are easy to read and it even comes with pulp control so you can get exactly the consistency and texture that you are looking for.
Dual Purpose Cone
The newly designed dual purpose cone included on this machine will allow you to juice any citrus fruit you want to. It has a bigger option for things like grapefruit and oranges, but also has the option to do smaller citrus fruit like lemons and limes. It very effectively handles both big and small options and will allow you greater flexibility in use.
Auto-Reverse
You can rest easy knowing that you will get nearly all the juice that you can extract when using this unit. It is turned on simply by pressing a fruit onto the cone, but the cool feature found here is that it will automatically rotate in opposite directions each time you use it - clockwise one time, counterclockwise the next. This gets you the most juice out of your fruit.
Cost and Value
It is really hard to beat the price of a citrus juicer. They are very inexpensive, even when they have cool features to make them user friendly and easy to use. However; as citrus is all they do that largely factors into their small price. This is an awesome little unit if all you want to juice is citrus fruit and it should absolutely be near the top of your list if that is what you are leaning towards.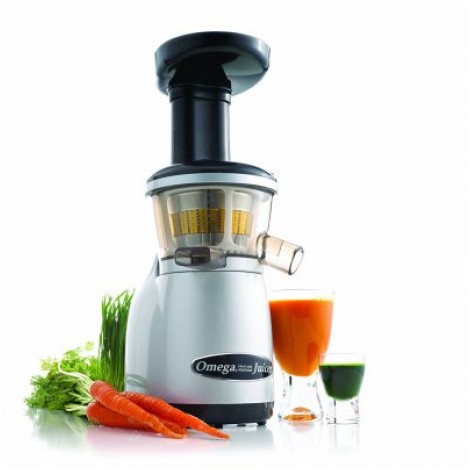 Masticated produce at a low, slow speed
Pulp is automatically ejected for easy clean up
Has a small footprint so takes up less overall space in your kitchen
Froth is limited thanks to the masticating process
May jam with fibrous fruits, like pineapple, or veggies, like celery
Produce must be cut down pretty small in order to use
This juicer is built to get you the highest amount of juice with the smallest overall footprint. It will get more fruit out of less produce because if its effectiveness, you'll get greater nutrient extraction as well as taste, it is good in the fridge - without separating - for 72 hours, and it takes up minimal space in your kitchen thanks to its small footprint.
Masticating Juicer
This unit falls into the masticating camp. What that means is that it moves very slowly - to the tune of 80 RPM rather than the thousands of RPMs other units boast. It will first crush the fruits and vegetables and then squeeze them to get the most possible juice out. This slow method is said to maintain greater raw quality with more enzyme and nutrient preservation with no oxidation.
Easy to Use, Easy to Clean
Set up here is very easy. It is a vertical unit so you just assemble the hopper on the bowl and the bowl on the base. It is easy and intuitive to put produce in the top and use the pusher to feed it. Best of all, it comes apart easily, and is relatively easy to clean. There is even a reverse option to help with any sort of clogging issues that arise and create cleaning nightmares.
Cost and Value
You will be hard pressed to find an inexpensive Omega Juicer - and if you do it is either refurbished or a knock off. This unit lives up to that name, but it also lives up to the price. You will also be hard pressed (pun intended!) to find a juicer that produces better tasting juice with as little ingredients as this one does. If you are willing and able to pay it, this unit is well worth its price tag.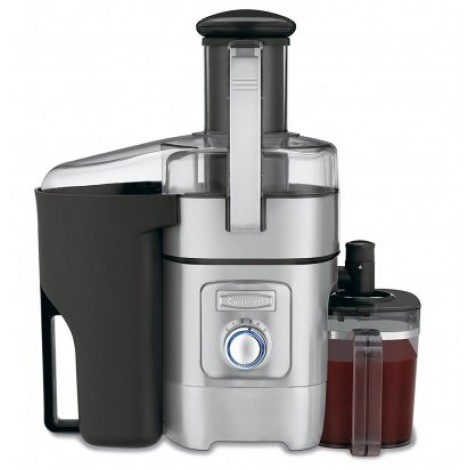 Powerful 1000 watt motor
Comes at an excellent price for all that you get
The spout is both adjustable and anti-drip
Features 5 different speeds
Has a wide 3 inch spout
Pulp could perhaps be a little drier
Can be a bit messy
When an appliance looks good, that is the first step at making you want to own it. This unit is made of die cast stainless steel and it controlled by a blue, LED lit dial with 5 different speeds. It comes with both a 2 liter pulp container, a 1 liter juice pitcher, and even includes a recipe book. It has 1000 watts of power and will make you juice quickly and quietly.
It's All in the Cleaning
Cleaning a juicer is a big pain and one will stand out if it is easier to clean than others. This one fits that roll. All removable parts are dishwasher safe so once you've emptied that juice pitcher or pulp container, all you have to do is throw it in. In addition, it comes with a cleaning brush that is designed to better clean it to help further ease the cleaning pain.
Quiet

Having a low noise level is a hard claim for a juicer to make - especially a high power, high speed one. After all, they do take whole vegetables and effectively remove nearly all the moisture in a matter of seconds. This juicer does just that though. While it isn't the quietest appliance you will own, it is quiet enough to use before everyone in the house is awake and that is a big win in the high speed juicer arena.
Cost and Value
Cuisinart does a great job at toeing the line between cost and value with this juicer. It has the features of a more expensive unit, juices very well, but comes at a lower cost than higher end models do. You will get the juice you love and crave at a fraction of the cost.
9

. Champion Juicer G5 PG710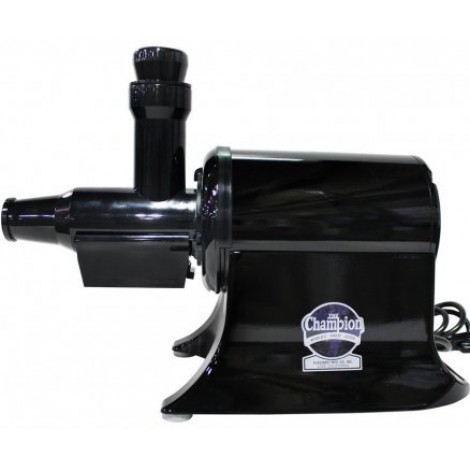 Heavy duty construction to last a long time
Has a stainless steel shaft
Cleans fairly easily
Easy to use
Not great for wheatgrass
Unit is heavy and difficult to move
Those who are truly serious about juicing want a serious juicer. This Champion model is just that and is even effective in commercial settings. It will quickly and effectively make you delicious juice out of just about any sort of produce you can throw at it. It is easy to operate and has high quality parts that will make it last for many, many years. In fact, it comes with a 10 year warranty.
Electric Conversion
Somewhat unique to those on this list, this juicer is the ability to be used in both the United States and abroad. It has the ability to convert from 110 to 220v and from 50 to 60 hz. This is very important for those who are back and forth, or maybe want a high quality juicer but are not located in the United States.
Cool Operation
Something that is critical to the operation of a high speed juicer is the ability to not heat up. A large part of the nutritional benefits found in juicing are destroyed if the fruit and vegetables are heated in any way. With this juicer, it will stay cool and maximize the amount of nutrients you get out of your juice no matter how much juice you are making in one go.
Cost and Value
Anything that is rated commercial grade comes with a price to match it. This is perhaps the second most expensive unit on our list, though it does process juice effectively and quickly. If you are looking for a juicer for business purposes, this will serve you beautifully. The same is true if you plan on juicing a high volume. If not, you may be well served saving yourself a little money.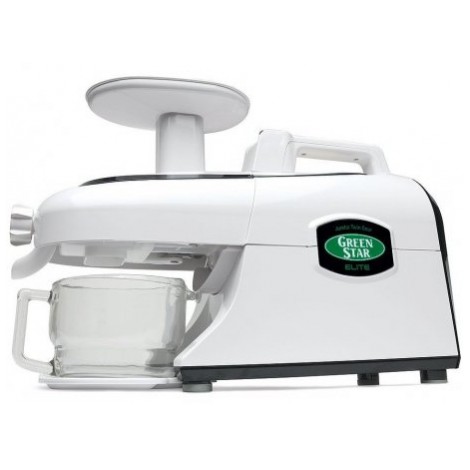 Comes with a 12 year warranty
Juice has a longer shelf life thanks to the slow mastication process
It is easy to adjust the amount of pressure applied to accommodate all sorts of fruits and veggies
Recover higher levels of essential minerals like zinc, calcium, and iron
Can be hard to clean
Expensive
As one of the fanciest units on our list, this Tribest Greenstar has a lot to offer. It's masticating process preserves more enzymes and nutrients than other systems out there. It works at a slow 110 RPM and can virtually take apart any veggie or fruit you throw it's way. It is relatively easy to assemble and clean and features both stainless steel and bioceramics in it's construction.
Human Mastication
This unit is truly built to mimic a human chewing and breaking down a piece of produce. It has different blades and parts to make it work just like our teeth do. The equivalent to our incisors are the pocket recesses, their are cutting points to handle cellulose (like is found in celery) and they mimic the canines, and the gear teeth that are used for crushing work just like our molars do.
Homogenizing Accessories
Not only is this one of the best juicers you can own, it also comes with a homogenizing accessory making it one of the best and most versatile appliance in your kitchen. With the homogenizer you can make nut butters, frozen fruit sorbets, salsa, and even pasta.
Cost and Value
When you want the best you need to be prepared to pay for the best. This juicer will put many others to shame and make the best, most complete juice you are able to find. It produces very dry pulp and will even do other various kitchen tasks. You absolutely get your money's worth here, you just need to be prepared to drop a lot of it and then use your machine frequently.
Criteria Used for Evaluation


Application
The best juicer for you may not be the best juicer for your neighbor or your coworker. The options are endless and all will produce delicious juice in their own right. One important thing to remember is that the taste and nutrient value in your juice is likely to go up with the price. There are a number of things to consider; however, when you go to make our purchase. Things like type, style, and size need to be thought out well before moving forward.
What Will you be Juicing?
The very first thing that you need to determine is what you plan on juicing. Do you simply want to make fresh orange juice every morning? Maybe lemonade is your jam? If you fall somewhere on the citrus only scale, there are juicers specifically meant for citrus fruits. This type of juicer is typically very affordable and can either be manual or automated and will juice any size of citrus. As long as that is all you want and expect, you will be more than pleased.
However; if you plan on doing anything more than citrus, you would be better served getting a bigger more heavy duty juicer. These types will juice nearly any kind of produce you can throw at it. They are louder and more expensive but the sky is basically the limit with what type of juice you can create.


Style
Style or Type of Juicer
If you have decided that you want to do more than citrus, then the next step is to decide what type of juicer you want from here. There are two main types. The first is a high speed centrifugal juicer. This style spins very fast, cutting the produce down and separating the pulp from the juice. They are fast and efficient but also quite loud. You can get reasonably dry pulp and will get yummy and nutritious juice. One big benefit here is that they tend to have wider chutes which means less cutting and chopping of the fruit for you. If it fits in the chute, send it through! They offer a good compromise cost wise, falling mid range between citrus only juicers and the much more expensive Masticating juicers – which is the next type we will discuss.
Masticating juicers are the gold standard for juicing. They masticate the produce, much like the human mouth would, ejecting as much of the nutrients, enzymes, and other goodies found in fresh produce as possible. They work at a very slow speed, somewhere around 100 RPM depending on the brand. They are much slower and also much quieter. This process produces more juice from the same amount of produce as other juicers would and also does not oxidize the juice in the process which makes it last much longer and not separate in the fridge. Most masticating juicers also have the ability to fit attachments. This allows them to also make nut butters, sorbets, and even pastas.


Size
Size
It is also important to take size into consideration for two reasons. First off, you know how much space is in your kitchen and how much you'll be able to fit in there. If you have a small kitchen, a big unit that isn't easily stored is impractical; but would fit great in a bigger kitchen or even business setting.
Size also matters when you are talking about producing juice. You want to be able to make enough at one time to satisfy your needs and don't want to have to worry about changing out cups, pitchers, or pulp containers in the middle if it can be avoided. You can get various sizes of all the above mentioned containers and you want to make sure you get the one that will best fit your needs.


Value
Price Point & Value
You can get juicers for as cheap or as expensive as you want. The price range spans the gamut with citrus only juicers falling to the low end with very small prices. As they only juice delicate citrus fruits, there is no real need for more expensive or heavy duty parts and these ones are very affordable. The fancier you get, the more expensive things tend to get. The next step up from a citrus juicer both in quality of juice produced and price is a small centrifugal juicer. Depending on the brand, the bigger centrifugal units are similar in price to the entry level masticating units. Once you get above that level, they can get outrageously expensive. In summary, you can find a juicer for the price you are willing to spend, whether it be very cheap or very expensive.
Expert Interviews & Opinions
Most Important Criteria
(According to our experts opinion)
Experts Opinion
Editors Opinion
Users Opinion
By Default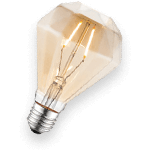 Fit: Inside and Out
When buying a juicer, consider the fit, both inside and out. What does this mean? Well, internally, you want to consider how much juice you would like to make and what you'd like to make the juice out of. Will it fit in the juicer? Will the juicer produce the amount you are looking for?
The other thing to consider is the space you have in your kitchen, or wherever the juicer will live. They can get large sometimes, so make sure you know how much space you have.
Frequently Asked Questions
q:

Does this unit stay stable on the counter/tabletop while operating?

a:

A couple rules apply here. First, the heavier the unit, the more likely it is to stay put. Second, the slow-moving, masticating machines are much less likely to move around than the high-speed units. Those are the ones you need to worry about more movement with; though most of them are fairly stable.
q:

How do I wash my juicer?

a:

It depends a little on the specific juicer, but the first and most important rule that applies to any one you choose is to wash it as soon as you finish juicing! It is much easier to clean that way, before everything dries and cakes on. Many have dishwasher safe parts and also come with their own cleaning brushes to assist in the process.
q:

Is this unit BPA free?

a:

All units on this list that have plastic parts or parts that are capable of going in the dishwasher are, in fact, BPA free.
q:

How loud is this juicer?

a:

uicers are loud, there is no real way around that. However; the masticating juicers tend to be quieter and the Cuisinart Die Cast Juicer is quieter than the other high speed options.
q:

Does this juicer produce a lot of foam?

a:

Again, high speed juicers are the problem here. They tend to make a decent amount of froth and foam; however, most of them have screens to make it less of an issue. This is not a problem with slow juicers.