Best Ultralight Tents Reviewed & Rated for Quality
In a Hurry? Editors choice: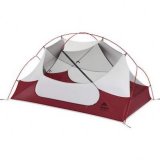 Test Winner: MSR Hubba Hubba NX

Now and then some of us may feel the need to get in
touch with nature
, and so we may go camping or take some time off for a backcountry hiking trip.
Choosing the right tent
is a great place to start setting up for a memorable experience. Ultralight backpacking options are ideal for any camping or hiking trips. They are lightweight and durable so you're adequately protected from the elements and many of them carry model variations designed to enhance the outdoor experience.
Standout Picks
Criteria Used for Evaluation
Durability
Sealing the seams of a tent a means of waterproofing it. This ensures that no water is able to seep into it case of heavy rain or even condensation from early morning dew. Depending on the tent you buy you may have to seal the seams yourself. High quality tents may be factory sealed during the manufacturing process. Many tents are also factory taped. This is when a waterproof material such as polythene is placed between the seams after which it is double stitched. This ensures gaps are secured and remain secured even when the tent is stretched out with devices such as clips, which are used to increase the space inside of the tent.
Tents that are constructed with a bathtub bottom are elevated off the ground. This reduces some wear caused by direct contact such as scrapes and reduces the chance of a tear forming because of friction. The base of these types of tents are usually a more durable material than the fly sheets. They also tend to be waterproof. A footprint can also be used under your tent to reduce wear. This is a sheet like spread that is designed to keep your tent off of the ground. Grounding sheets are also used to protect the base of your tent similar to footprints. With the bathtub design some grounding sheets are already built into your tent and does not need to be acquired separately.
Ease of Use
Tent poles come in a variety of different designs that makes tents easy to assemble. Shock cord poles have a cord that runs through them that snap into place during assembly. This ensures that no pieces are out of place or lost during transit. It also makes it easier handle as one pole instead of having to work with many.
Single wall tents are made from breathable material that is already waterproof. This makes them lighter than double walled tents and therefore easier to use on hiking trips, and they are easier to carry over long distances for an extended period.
Free standing tents offer a lot in terms of maneuverability. The entire structure can be taken and moved to a new location without having to disassemble. This convenient as often times especially when camping it may take some time to find a location that is adequate and it frees up time that can be used for other necessary activities around the campsite.
Many tents require poles to help stabilize the structure. When these poles are damaged, however, the tent is rendered inept. Some tents are designed to be hoisted on trees, branches or sticks. They can be set up virtually anywhere and don't require poles to maintain their structure.
Features
Footprints are pieces of cloth that you place under your tent. This reduces the wear at the bottom of your tent that is commonly the result of rough terrain. Some manufacturers provide this item upon purchase but it can also be acquired separately. A rain-fly is generally found on the exterior of a tent that is double walled. It is designed to make the tent waterproof. Some tents, however, use breathable cross ventilation. This eliminates the need for a rain-fly.
Vestibules are very common in ultralight tents. They usually coincide with the occupancy capacity. These areas provide extra floor space within the tent. This space can be used as a change area as well as for extra storage for your gear and other personal items. Proper ventilation prevents condensation within the tent. If left unattended it can cause damage to the seam of the tent and produce water buildup. Many tents have ventilation windows that can be adjusted to increase breath ability. There are also cross ventilated tents. These work efficiently to circulate air in and around the tent even when it is completely sealed.
Mesh is located on the interior part of the tent it is a thing woven fabric that helps to keep the tent cool and lowers the risk of condensation occurring on the tent walls. Alternatively solid fabric can be used on the inside of a tent. This can add to the durability of the product.
Materials
Polyester is a lightweight synthetic fabric and one of the more common fibers used in ultralight tents. Not only is it inexpensive but it is also very pliable. This enables your tent to be easily compressed and stored for easy transportation. This makes polyester tents an excellent choice for outdoor activities such as hiking and backpacking as it can be easily carried for extended periods of time over long distances.
Nylon is also a synthetic fabric with many of the characteristics found in polyester. Nylon, however, is the most common of the two when it comes to tent materials. Apart from being lightweight and pliable, nylon similar to polyester is a very strong, durable fiber. This makes the two less prone to tears and damage from wear. Nylon in particular tends to be coated with materials such as silicon. This is done to improve UV protection as well as to increase water resistance.
Since synthetic fabrics do not breath well manufacturers at times blend the fibers with natural fabrics such as cotton. Mesh is installed on the inside of tents and some feature cross ventilation. Many tents are also equipped with windows and other ventilation alternatives to counteract the lack of breath ability and heat retention of the synthetic materials.
Size
All tents are constructed with their own unique features and offer differing sizes. Some have increased floor space by the addition of vestibules that act as storage areas. Others have clips that can be attached to the tent to help stretch it to increase the floor space inside the tent. Compression sacks are usually included with each purchase to assist in correctly storing tents, so they are not as bulky and become easy to carry. Many also provide separate carriage for items such as poles and footprints which help to divide and lighten the load.
Floor space for an ultralight tent can range between 20 and 30 square feet. This is affected by the number of occupants for the tent and therefore the number of vestibules included in the structure. A vestibule is generally between 7 and 10 feet in diameter, however, they design of each vestibule varies based on brand and model. When correctly packed an ultralight tent should not exceed 2 feet in diameter or 4 lbs in weight.
It is good practice to check the height on your tent before acquiring it as many are generally around 4 feet in height and this may be a challenge for taller persons. Some manufacturers have high volume tents that raise the ceiling of the tent causing the walls to be almost straight. This feature makes it possible for persons to comfortably sit upright in their tents which is especially useful when experiencing extreme weather conditions.
10 Best Ultralight Tents
1

. Kelty Salida Backpacking
This product is three season option that is ideal for both camping and backpacking. It comes in three variations that can accommodate 1, 2 or up to 4 persons. It also has a vestibule that can be used as a storage space or changing area. Two folding poles are included for easy set up and its seam-taped design allows this to stand up to the elements confidently.
Ease of Use
The folding poles are compact and easily fit into backpacks and similar storage devices. This is ideal for activities such as hiking where you have to carry your gear for long periods and distances.
Materials
The Kelty Salida ultralight tent has walls made of polyester while the floor is constructed solely of nylon. This design includes mesh walls. This feature allows you to do star gazing without the fear of being attacked by bugs and mosquitoes.
Cost and Value
The price range for this tent is very low. It also features a wide entry door and internal pockets that can be used for additional storage within the tent. It also has a freestanding design and is relatively easy to set up.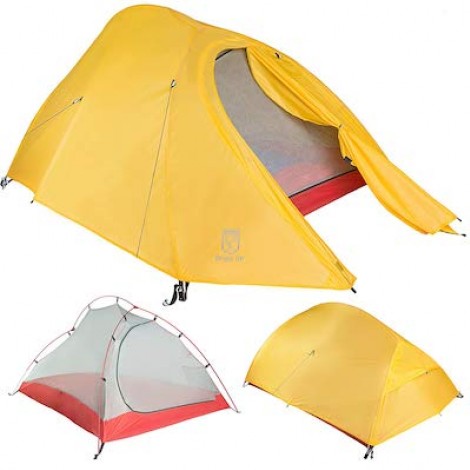 This product can be used for a number of outdoor activities including but not limited to backpacking, camping and kayaking. It has model variations that can fit 1 person or two people. The single occupant measures 85 inches in length, 36 inches in height and 36 inches in width. The dual occupant bests the original with a 17 inch increase in width. It features a 20 denier silicon coated nylon rain-fly while the floor area is 40 denier of the same material.
Made to Brave the Elements
This product is fully equipped to brave the elements. It is completely waterproof with seams that have been factory taped and coated with 5,000 mm silicon. Its silicon coated nylon construction improves durability.
Lightweight
The entire kit for single occupancy weights on average just over 3 lbs, however, the dual occupancy model can get up to 4lbs. To decrease weight the footprint, poles, and rain-fly can be removed from the carriage.
Cost and Value
The price range for this option is moderately low. It is an ideal choice for outdoor activities and as it is not only light but compact. Both the single and dual occupancy options can get down to under 17 inches x 7 inches when properly stored.

The MSR Hubba Hubba NX is a lightweight, 3 season, backpacking tent. It has the capacity to accommodate up to 2 persons. This product is easy to carry around on hiking and camping trips. The set up of the device is fairly simple and produces a freestanding design. This tent is the pinnacle of comfort. The non-tapered floor design maximizes internal space while the structure offers 2 vestibules for an additional 8 feet each of usable space.
Size
The MSR Hubba Hubba NX has 29 feet worth of floor space with an additional 8 feet on each side for a vestibule. Its structure measures 39 inches tall and when packed correctly fills a mere 18 inch x 6 inch diameter with a weight of 3.8 lbs for the entire kit.
Rain Fly
This features 2 vestibules on either side of the tent, a cross-ventilating rain-fly that can easily be adjusted and a kickstand vent to improve air circulation. There are also mesh panels as well as solid panels that are designed to increase breathability.
Cost and Value
The MSR Hubba Hubba NX is constructed from mainly nylon. Both the floors and the rain-fly have been coated and the poles are made from aluminum. This product has a moderately high price range.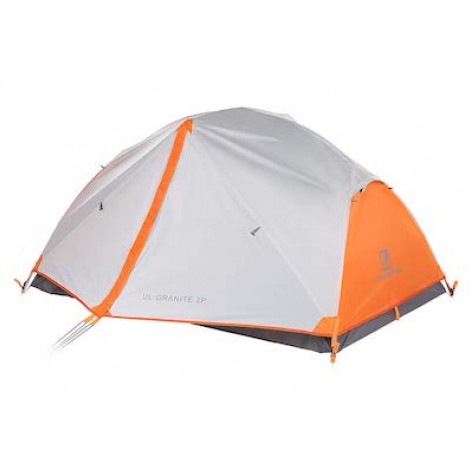 The Featherstone option is an ultralight 2 person tent that can be used for outdoor activities. This product is easy to build and durable enough to withstand an environmental onslaught from up to 3 seasons. The structure is built with a mid pole design which helps to increase floor space. It is freestanding with allows for easy maneuvering of the entire structure. This eliminates the need to continuously mount and dismount the device.
Features
The Featherstone Outdoor tent has 2 large doors, 2 vestibules and a secure rain-fly that effectively protects the user from the elements. A compression sack is included which offers efficient storage of the product.
Durability
This product is constructed from tear resistant fabric and is also waterproof. The seams have been taped and the floor design elevates the structure off of the ground. Mesh fabric reduces condensation and improves breathability.
Cost and Value
The feather stone Outdoor tent has a freestanding construction which eliminates the need to disassemble the structure for it to be moved to a new location. The price range of this product is very low.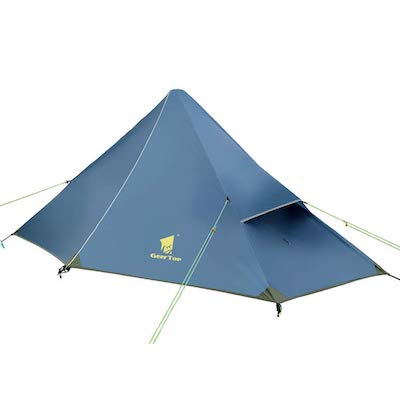 This Geertop product can be used for outdoor activities such as hiking, camping and backpacking. The flysheet is made from nylon and coated with silicone for water resistance. Its seams are not only tape sealed but also double stitched. The interior of the product is constructed from high-density mesh with its floors also constructed of nylon and coated with silicon.
Ease of use
This can be used effectively with any sturdy structure available in nature and does not require poles. It also has a weight of only 2 lbs making it easy to carry around for long periods of time across any terrain.
Size
This measures 82 inches x 35 inches in diameter and is 41 inches in height after assembly. Each package includes 6 guide ropes and 16 aluminum pegs that can be used for assembling the structure.
Cost and Value
This single occupant option has 3 different model designs to choose from. All are able to withstand 3 out of 4 seasons, constructed with nylon and coated with silicon for water resistance. The price range of this product is very low.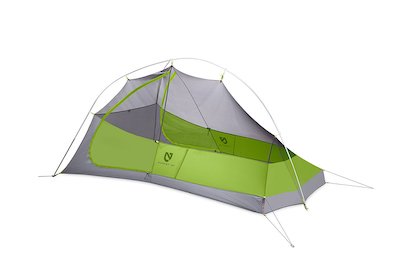 The Nemo Hornet is ideal for backpacking. The model has 2 variations accommodating capacity of 1 or up to 2 persons. This has a weight of 2 lbs for the single occupant design while the dual occupancy has a weight of just 2.5 lbs. The floor area measures 21 feet with the dual occupancy variation offering 28 square feet of floor space. Both designs measure 41 inches in height with doors equivalent the occupancy ratio.
Feature
The Nemo Hornet tent has a tub construction that elevates the structure off the ground so as to reduce wear. Its privacy panels improve both security and coverage of the product.
Ease of use
Poles intersect at selected points to help support the weight of the tent as well as simplifies the assembly of the product. The freestanding design makes it easy to relocate the entire structure without it having to be disassembled.
Cost and Value
Volumizing clips are used to stretch the nylon structure resulting in increased interior space. A stuff sack is included for easy transport of both the tent and poles. This item has a moderately high price range.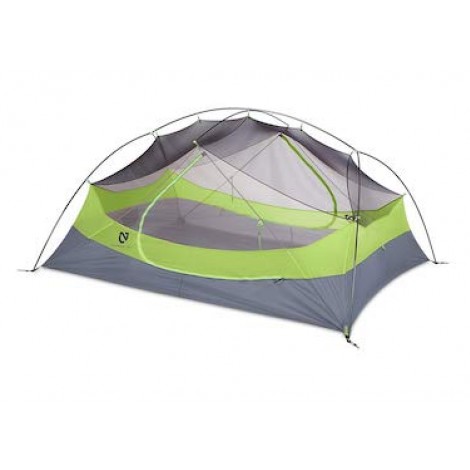 The Nemo Dagger is a great choice for backpacking. It has a lot of internal space and is extremely comfortable. This has 2 trapeze-like vestibules that can be utilized for things such as changing out of wet clothing or storing extra gear within the tent. It also features two large doors and specially designed pockets in the roofing that creates an even diffusion of light for a cool glow within the tent.
Two Person Capacity
The Nemo Dagger can comfortably house up to two persons. It also contains 2 vestibule areas that can be used for extra storage. The structure also features 2 large doors for a smooth transition in and out of the tent
Ease of Use
There is no need to remove the fly sheets for stargazing or light infusion as this device features specially made pockets in the ceiling designed to evenly distribute natural light throughout the tent.
Cost and Value
Not only is this lightweight and easy to carry on outdoor adventures, but it is also spacious and comfortable with special features designed to add to your outdoor experience. The price range of the Nemo Dagger is extremely high.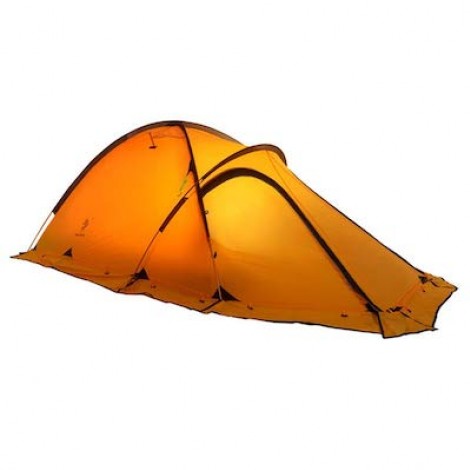 The Hillman product is built to withstand the elements during any season. Its double silicone layer makes it exceedingly durable. It is completely waterproof. It is also durable enough to withstand the most extreme elements including high winds, rainstorms, snow and even sediment thanks to its double layer silicon design. In the midst of all this it still has amazing breathability. It is well insulated and features a cross aluminum pole design for stability and support.
Durability
The legs of the Hillman tent are made of high grade aluminum. This ensures they are not only strong but rust resistant. This adds to the longevity of the product. A double stitched seam that has also been taped keeps water and moisture out.
Features
This model comes equipped with storage bags for gear and other personal effects as well as vestibules for increased storage space. The interior is sectioned off into living room and bedroom areas and has 2 adjustable ventilation windows.
Cost and Value
The Hillman ultralight tent is not only strong but temperature resistant. It features no-tear materials and rust resistant poles. The price range of this product is moderately low.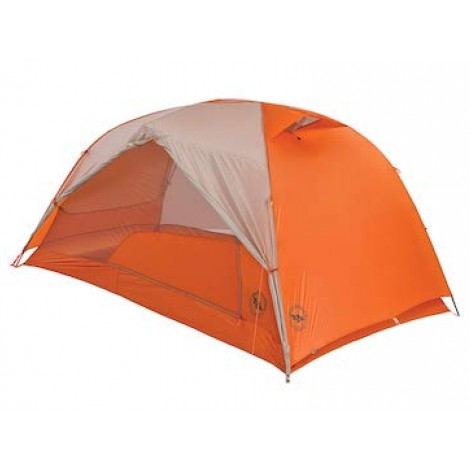 The Big Agnes is ideal for backpacking with a high volume hub and dual zipper doors. This has a very spacious interior with high walls that are almost vertical. With dual occupancy this product offers 2 doors and 2 vestibules. The rain-fly offers full coverage and it can effectively resist water damage. High grade aluminum poles are included to strengthen and add support the structure.
Small Size
This product has 29 feet of floor space. The entire kit weighs just over 3 lbs and each vestibule area is 9 feet in diameter. When packed correctly, it takes up a mere 7 inches x 20 inches area.
Materials
Both the fly and the floors of this ultralight tent is made from rip-stop nylon that is coated with silicon to increase water resistance. The mesh is constructed from polyester and the seams are taped with polythene.
Cost and Value
This product has its floor and fly woven with tenacity yarn to increase durability and water resistance. This tent has a very high price range, however, it can withstand of up to 3 seasons.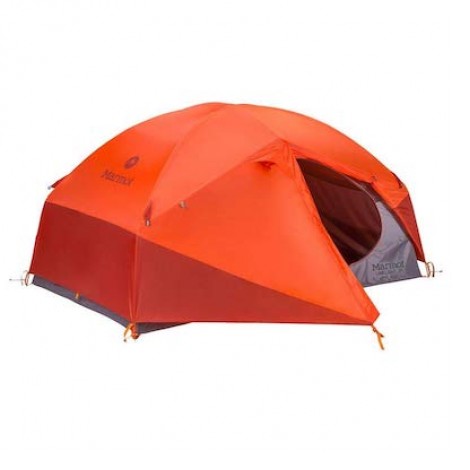 This product is designed for 2 person occupancy and comes equipped with a footprint. This option features vertical walls for additional living space. It as a wide main double door as well as a small door at the back of the structure. It has 2 vestibules for individual storage space. There is also a pocket in the interior that is designed for lamps or any other ambient light source.
Ease of use
The Marmot tent has a number of convenient features. A footprint is included to decrease wear and tear at the base of the structure. There are also pockets on the inside of the tent to store gear and others designed for an ambient light source such as a lamp.
Materials
The canopy is made entirely of polyester and features a privacy mesh on the inside of the structure. Poles are made of high-grade aluminum. Zippers are made of nylon to avoid the jingling usually heard during bad weather.
Cost and Value
This product has 33 feet of floor space. Seams are taped for full coverage, however, vents are featured for increased breathability. The price range of this product is moderately high.

Subscribe to our Newsletter