Best Camping Knives Reviewed & Rated for Quality
Camping is a great way to get back in touch with nature. Sleeping under the stars, exploring the surrounding environment, and catching and cooking your own food are just a few ways to experience the wild and all it has to offer. However you choose to enjoy the outdoors, there's one thing that everyone agrees about; you always need to be prepared. One of the best accessories you can have is the camping knife, it can help keep you safe, ensure that you can create a fire, and help you catch and prepare food.
With so many unexpected situations that can come up while camping our just hiking through the woods, having a good survival tool vital. A durable camping knife may be useful if you need tool to help improvise a shelter. The strong blade can cut vines or small tree branches to help you build a new shelter. It's also great for preparing food and is an effective self-defense weapon. If you are in a dangerous area and feel threatened by wild animals, it may save your life.
Featured Recommendations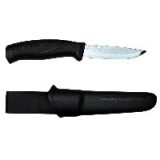 Morakniv Companion

Our rating
Sandvik 12C27 stainless steel
Price:

See Here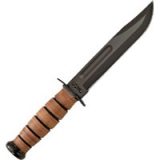 KA-BAR Marine Corps

Our rating
1095 Cro-van steel
Price:

See Here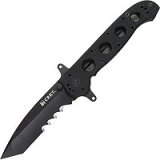 CRKT M16-14SFG EDC

Our rating
Safety Liner
Price:

See Here

On this list of 10 best camping knives, we review a variety of knives that suit different purposes for different budgets. Like tools, there are many, many knives on the market and choosing the right one for you depends on your needs. The type of metal is also important. For example, a high-carbon steel is stronger and holds a better edge, but must be kept dry and oiled after use or it will rust. A stainless steel blade, conversely, can handle moisture but can vary wildly on quality of hardness. Lucky for you, we have narrowed down some of the best blades you can take with you to the outdoors.
10 Best Camping Knives
1. Morakniv Companion Stainless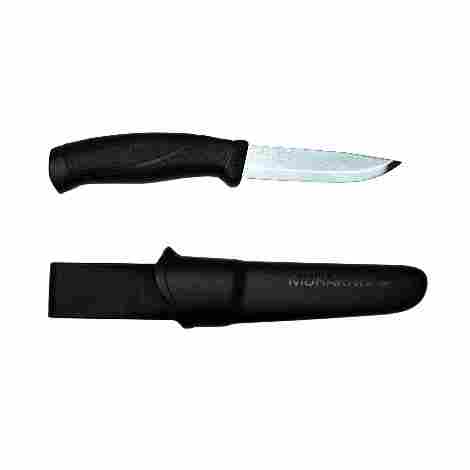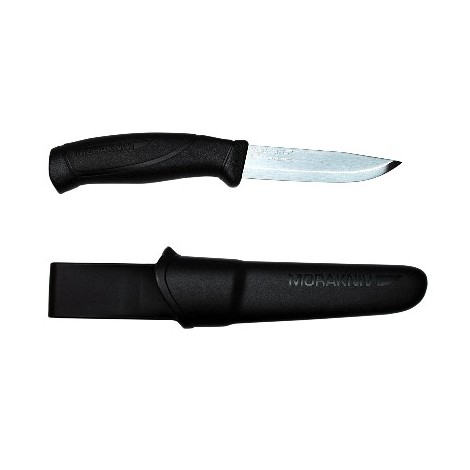 The Companion is a very popular, well-rounded
knife
. It sports a quality 12C27 stainless steel, giving it a resistance to corrosion while being able to take a beating. It holds a razor-sharp edge that can handle your food or fire making prep needs. The Swedish knife is paired with a polymer belt clip sheath that holds the knife in place.
Expand to see more
Small and Lightweight
Weighing in at only 4.1 oz. this knife is truly easy to carry around. It has a 4.1-inch blade that covers a wide variety of tasks making it a go-to knife under most circumstances.


Friction grip rubber handle
The TPE textured rubber handle provides an enhanced grip, even while wet. The rubber is soft and has an ergonomic shape to increase grip and comfort. It snaps into the sheath for a secure hold.


Cost and Value
For all that the Mora knife can do, it is one of the cheapest options out there. There would be little reason not to have one of these in your kit because even if you lost one or somehow managed to break one, you would be able to easily replace it.

2. KA-BAR Marine Corps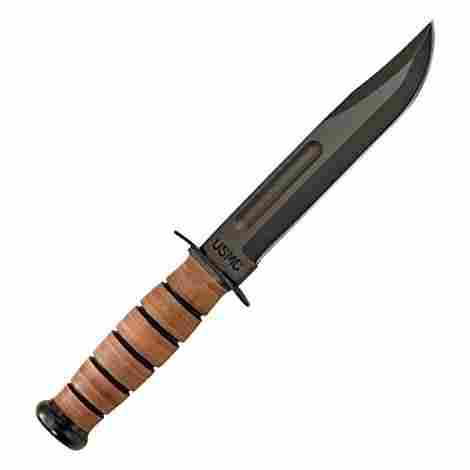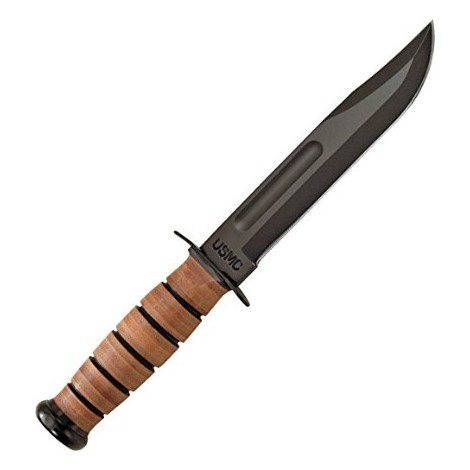 A knife with a noble heritage, the KA-BAR was born in World War II. It has since become a military standard and a favorite of those adventuring in the outdoors. Tough, versatile, and elegant, this knife is a top choice for anyone looking to do a little more than filleting fish. The upgraded hard plastic Kydex sheath is a recommended upgrade.
Expand to see more
Sharp tipped fixed blade
The famous KA-BAR design includes an incredibly sharp tip with a flat, straight spine. It has a partially serrated edge for sawing and a large hilt that protects your hand. The fixed
blade
design offers more durability and stability while using it for demanding tasks.
Tough Cro-Van steel
The 1095CV metal used for the blade clocks in a 56-58 on the Rockwell C hardness scale. It holds a sharp edge while standing up to the punishment this knife was meant to take on.
Cost and Value
For a knife that is meant to do everything from keeping you alive to general camping or outdoor tasks, it has a highly attractive price. This is a knife built to last, so you are getting your money's worth here.
1095 Cro-Van black epoxy coated steel
7-inch partially serrated blade
Solid, stack-leather, polished handle
Famous KA-BAR utility design
½ inch hilt coverage on each side of the blade
You should have maybe 2 cons
Cons can be found on Amazon reviews
3. CRKT M16-14SFG EDC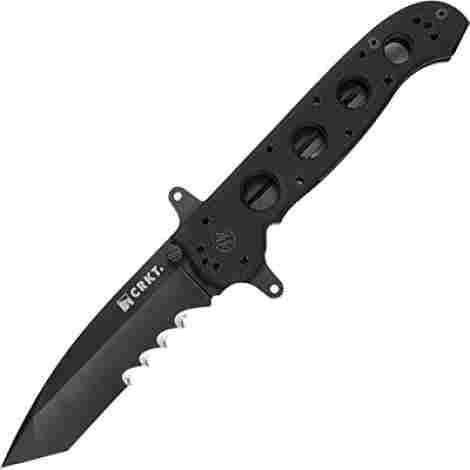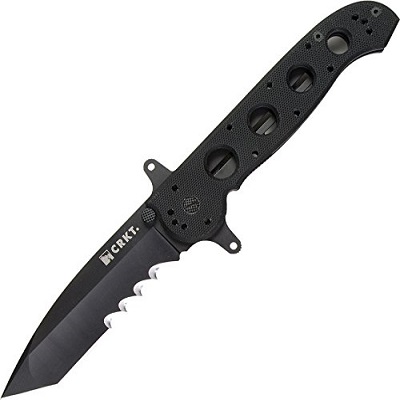 This camping knife is excellent for those who want protection and efficiency. It is designed for military and special forces in mind, but it's also very practical for everyday outdoor activities. It also features an automated liner safety to prevent accidents. You can easily use the clip system to fix it to your belt for quick access. Its lightweight construction won't create any inconvenience while carrying it and you can choose from five different colors.
Expand to see more
Corrosion Resistant

The blade of CRKT M16-14SFG EDC has a black titanium nitride coating which works as a barrier against corrosion, making this knife ideal for any weather condition. Even when it's raining, you won't have to take special care of your survival tool. This is a great choice for wet environments.

Automated Liner Safety

Unlike other folding knives, this one has automated liner safety. This system consists of an additional pin that doesn't allow the locking liner to accidentally disengage. Therefore, the chances for an accident to happen decrease considerably.

Cost and Value

This survival knife is made to handle any outdoor experience. It comes together with a lifetime warranty offered by the CRKT Company. So, if you notice any manufacturing defects or it simply doesn't meet your expectations, you'll get a new one.

Features a liner safety
Special design by Kit Carson
Comes with serrations
Has a titanium nitride coating
Some found it very stiff
Cross guard is large
4. Opinel Carbon Steel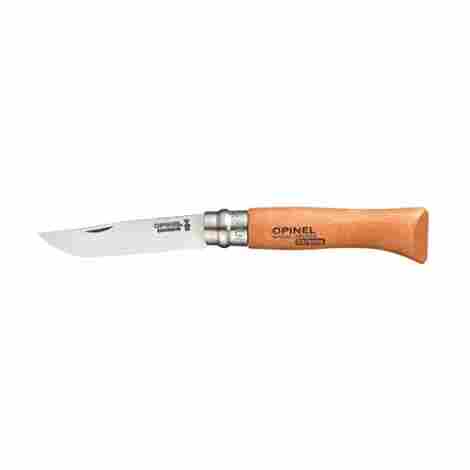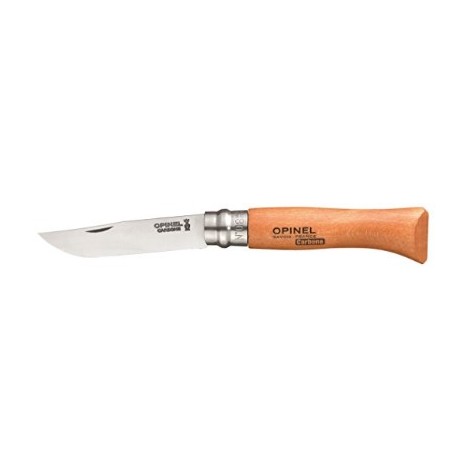 The long-running French
knife
, invented by Joseph Opinel, has been a traditional pocket knife to have. Its small, folding design makes it easy to carry around while being versatile enough to handle many tasks. Often seen whittling or cutting apples, this knife can be used by anyone from outdoorsmen to handymen alike. Taking care of the carbon steel will make sure your knife will last a lifetime.
Expand to see more
Sandvik Stainless Steel
The 12C27 Sandvik stainless steel is highly resistant to corrosion in comparison to most carbon blades. It contains at least .40% carbon for a very strong and sharp blade that holds its edge.

Locking collar
The folding knife sits inside of a beech wood handle that is a pleasure to hold. A custom, locking collar secures the blade in the open and closed position, so you never have to worry about an accidental open during transit.

Cost and Value
A reliable knife since 1890, the craftsmanship it exhibits alone is enough reason to get one. The number next to the Opinel name dictates the size you are getting in inches. The bigger the knife, the more expensive it is, though remains affordable.


Strong and sharp carbon blade
Beechwood handle from sustainably managed forests
Vibroloc safety collar locking mechanism
Guaranteed under normal use and care
A solid knife since 1890

Quality control at the factory could be better
Can have issues opening at times
5. Truly Garden Hori Hori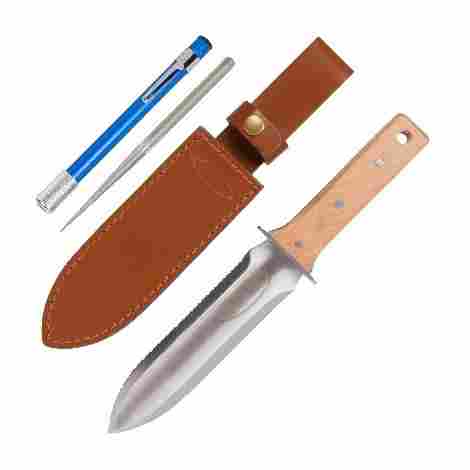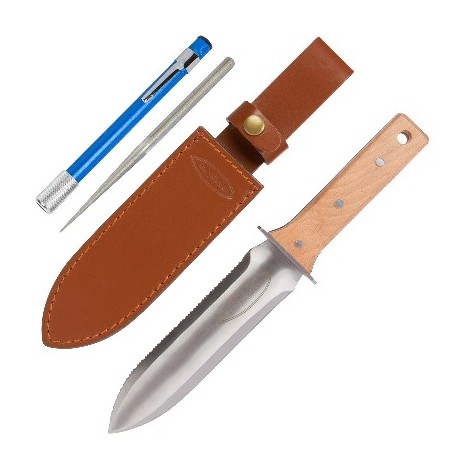 The Hori Hori, meaning to dig, is a unique Japanese design. It is a utility knife that allows for digging, cutting, and even has a ruler for planting to certain depths. It's curved faced shape helps scooping actions whether it is digging for bait, cutting roots, or taking out weeds. It comes with a quality, extra-thick leather sheath.
Expand to see more
Unique Shape
The large 7" blade has a unique curve on the face of the blade, serrated on one side, is very sharp and is paired with a hilt guard to protect your hands. Secured with 3 rivets and includes a lanyard hole to keep it fastened to your wrist.

420 Stainless Steel
The blade is a strong 420 Stainless steel that resists corrosion when you use it in wet conditions. It can withstand demanding utility tasks and not break. It comes with a diamond sharpening rod to bring it, and your other knives, to maximum sharpness again.

Cost and Value
This highly useful knife at a very low cost is a must have for everyone, even if you are adventuring in your own backyard. It is an easy choice as having a screwdriver and hammer on hand for general use.

Concave faced shape
Double edge 7-inch blade, serrated on one side
Weather resistant 420 stainless steel
Full tang with wooden handle and lanyard hole
Free sharpening diamond rod
May have protruding rivets on defective items.
6. MTech Xtreme MX-8054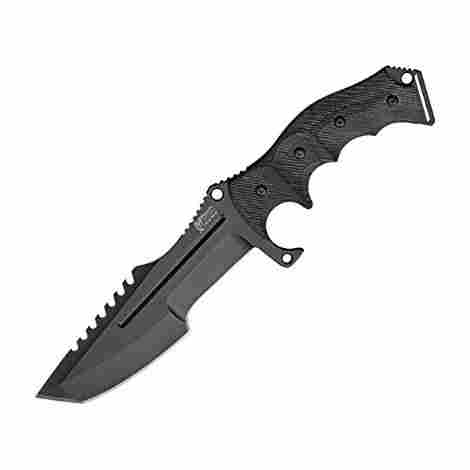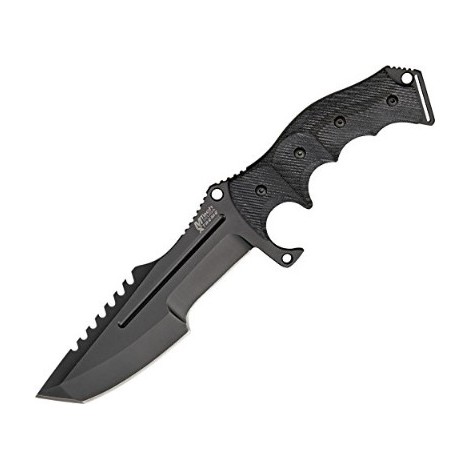 Another, more tactical, knife enters the list due to its multi-functional shape. It can easily cut branches, puncture, and cut rope. It's ergonomic handle with trigger-style grip, makes sure the knife stays in your hand when it gets wet. It can seamlessly be used as an outdoor tool or for self-defense.
Expand to see more
440 Stainless Steel
The thick, heavy metal that Mtech uses is high in carbon and corrosion resistance. It holds an edge while easily sharpened and is a large 5 ½ inches in blade length.

G10 Handle
The ergonomic, pistol-grip handle features a large finger guard for superior safety. It is textured for increased grip in wet situations and includes an extension of its one-piece design. The handle has belt and lanyard loops for customizing your carry.

Cost and Value
For a low range price, the quality of this knife is surprising. It has a hefty weight and size to remind that this is a tool, not a toy. Multi-functional and tactical, the knife's limit is up to the wielder's imagination.

Large 5 ½ inch tanto-style blade
5.5 mm thick with a solid, one-piece design
Multi-purpose, tactical and outdoor uses
Lanyard holes for customization
Heavy-duty nylon sheath with multiple carry options
Saw feature needs a re-design
Handle does not fit all hand sizes
7. Buck Knives Vanguard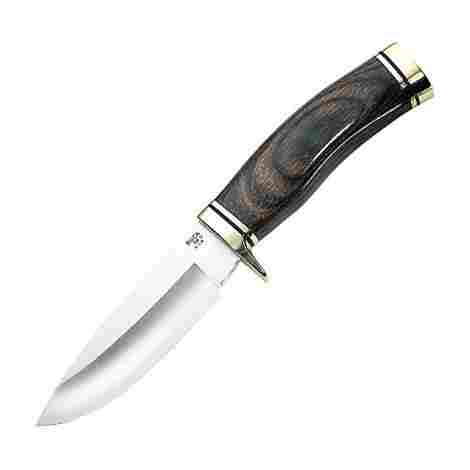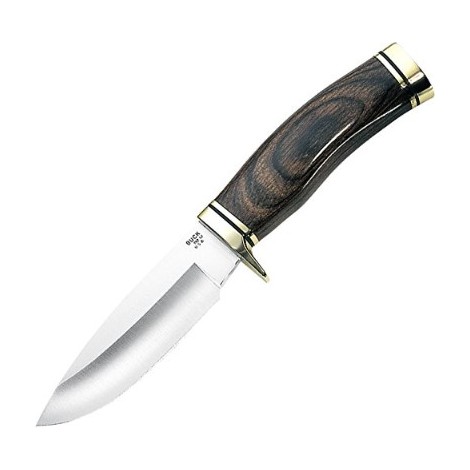 Praised by outdoorsmen and
campers
alike, the Vanguard is geared for those who like to find their own food. It is excellent for dressing, filleting, and most other tasks for the hunt. A durable and corrosion resistant stainless steel, polished brass hilt/pommel, and a contoured walnut handle lend to the beauty of the knife.
Expand to see more
Drop Point 420HC Steel
4 1/8 inches of razor sharp stainless steel with a drop point for better field dressing make this blade
a hunter's favorite
. It features a balanced full tang design with a weight of 6.3 oz.
Classic Heritage Walnut handle
It's always great when form meets function, and this knife boasts both. A solid, polished, walnut handle with a contoured grip sits in between the polished brass pommel and hilt with a finger guard.
Cost and Value
The Vanguard hits all the right notes with a solid, long lasting design, beautiful design, and a great, low price. With a lifetime warranty, there is nothing to lose except the reason not to get one!
Razor sharp 420HC steel
Full tang, drop point design
4 1/8 inch blade at 6.3 oz
Lifetime warranty
Classic Heritage Walnut handle
Sheath is quality but generic design
8. Benchmade SOCP Dagger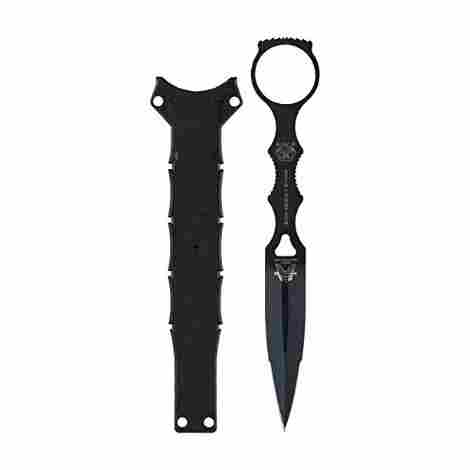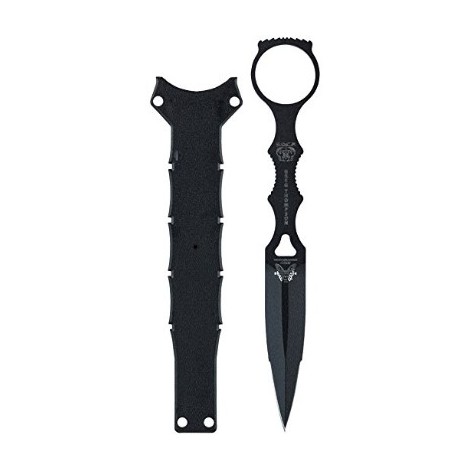 Here is a unique design that may not be as
necessary around a campfire
as in other scenarios. However, the SOCP dagger is lightweight with a smartly design sheath that allows for gear integration such as a
vest
, leg, or backpack. Its multi-function design can help in using it as a spear or keeping your hands useful without putting down the knife.
Expand to see more
440C Stainless Steel
The skeletonized dagger made from high-grade stainless steel retains as much carbon as possible to stay sharp and tough while being highly resistant to corrosion. The blade shape is useful for puncturing or as a spear.

Low profile
The single-piece design means no moving parts to worry about failing. It is very light at just under 3 oz. with a slim frame that opens up many options for carrying. It is 7.25 inches overall length with a 3.22-inch blade.

Cost and Value
The Benchmade brand does tend to come with a price, however, they are consistently a go-to for those investing in a quality tool. High-grade materials with expert design, backed by a lifetime guarantee. The SOCP is no exception, providing a great quality tool for your specific needs.


9. StatGear Surviv-All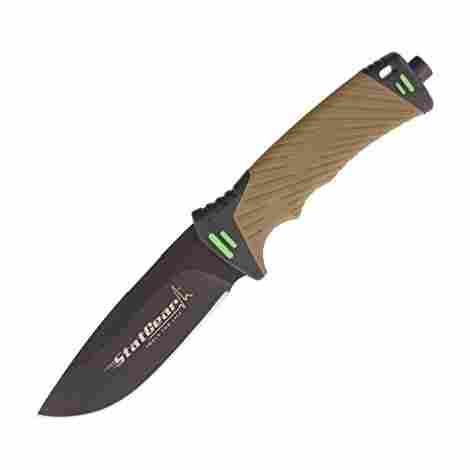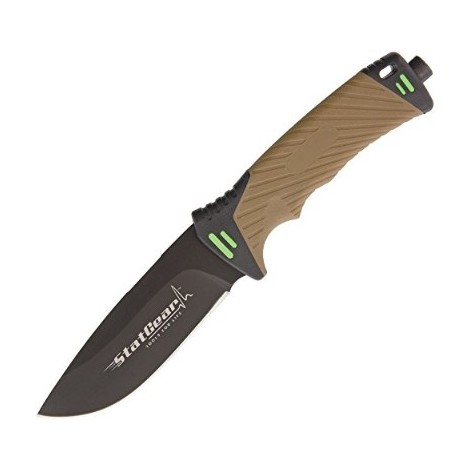 Knives serve all different purposes and are usually designed to a specific one. The Surviv-All covers more than one use with a 440 stainless steel blade and a heavy-duty sheath that includes paracord,
fire starter
rod, cord cutter, and sharpening stone. StatGear really made use of the generally ignored real estate of the sheath to match a quality knife.
Expand to see more
440 Stainless Steel Drop Point Blade
A 4 ¼ inch blade gives you plenty of cutting surface. The full tang design gives it increased durability for some tasks. The drop point design gives it a sharp point while aiding in dressing game. A window breaking point is built into the pommel.

Heavy Duty Kydex Survival Sheath
The sheath is unique in that it has a variety of features built in including a fire starter rod, sharpening stone, rope cutter, lanyard hole, and glow in the dark trim to help in finding your knife should you drop it in the dark.

Cost and Value
The price being as low as it is makes the knife easily accessible, giving you a handy tool to have around at all times. Quality materials and a smart design give this knife a good value.

4.25-inch drop point blade
Textured rubber handle with glow-in-the-dark trim
Kydex multi-function survival sheath
Full tang 440 stainless steel
Great price
Not MOLLE compatible
Could use more paracord attachment
10. Cold Steel Outdoorsman Lite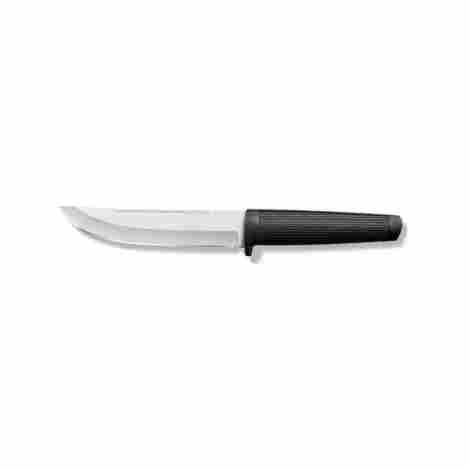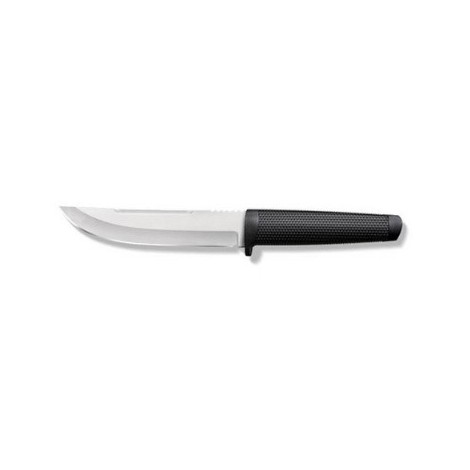 Cold Steel has a reputation for quality and unique knives that are highly functional. The Outdoorsman Lite is an all-around
tool
that handles tinder, game, fish, rope, and more. It is born of a sub-zero, cryogenic quenching process, known to be used by Cold Steel, providing a strong, corrosion resistant blade.
Expand to see more
4011 Krupp Stainless Steel
A unique process of forging these blades, the German steel is easily sharpened and highly corrosion resistant. This is a practical must-have when faced with the weather of the
outdoors
.
Polypropylene and Kraton handle
The deep checker, over-molded Kraton design on the handle provides an extra-secure grip, even during wet or slimy conditions. A polypropylene core creates a strong, wear resistant, handle over a full tang.
Cost and Value
Another low-cost entry that is hard to pass up hits the list. The seemingly simple design has all the right features made with quality materials. This versatile knife is great for a backpack or belt loop.
Cryogenically quenched 4116 Krupp stainless steel
Polypropylene core, over-molded with Kraton deep checker design
Partial, tapered spine made for fire starter and "bone breaking"
Full tang with a straight-point style blade
Large 6-inch blade and 5-inch handle
Sub-par sheath, consider upgrading
So many choices to match the many uses out there. These knives made it on the list to cover some of the most common uses with a proven track record. The main thing to keep in mind is that a knife is a tool, even in self-defense, and anyone spending time in the outdoors should prioritize their knife choice by their intended outdoor experience. Reviewers all have a preference for the metal, design, etc., but the right knife is the one you will use when it matters to you. It will also be durable so that you can depend on it, time and time again. A great price helps taking a chance on experimenting with what works for you. Another key point to remember is that high carbon blades (with low or no chromium) will be tougher and hold a sharp edge longer but is susceptible to corrosion if not properly maintained. That is, keeping it away from moisture when not in use, and keeping it cleaned and oiled after every use. Conversely, a stainless-steel metal would be highly corrosion resistant but is not as tough. It may not hold an edge as well but is easily sharpened. Overall, the knives on this list will serve you well in all your adventures.