Best Toy Chests Reviewed & Rated for Quality
In a Hurry? Editors choice: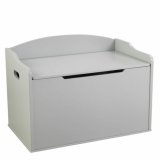 Test Winner: KidsKraft Austin

One of the best feelings in the world in walking into your home, and feeling a sense of
cleanliness
. However, anyone with a child, or children for that matter, know this is an impossible task to accomplish. In reality, the majority of us walk into our home and see
dishes
in the sink, clothes in the
hamper
, and most importantly, toys all over the place! But by purchasing a toy chest you'll have an easy way to keep the mess from getting out of control, and make a place for your child's
toys and games
. And even more, it's also a great way to instill a
sense of responsibility
in your child. To make your decision easier, we've narrowed it down to the top 10 toy chests, and some of them will fit great into your
child's bedroom
.
Standout Picks
Criteria Used for Evaluation
Materials
Materials & Building the Toy Box
Having a toy chest that doesn't open, falls apart, or wobbles is not a toy chest you need in your life. Toy chests are a product that is by and large made for children. While there are some products on this list that you could buy to store your sheets and duvets in, we believe that they should still be able to hold up to the brute force of small baby hands.
Kids can be merciless with their toys; just imagine what they might do to their toy chests. Kicking, banging, and slamming is all within the realm of possibility for what kids will do with their toy chests. You need to be able to know that the toy chest you buy will hold up to all of your child's strength.
The build of these products was an incredibly important evaluation factor. The material the toy chest is made out of, the way it attaches, and how sturdy it is after being assembled is something that we took very seriously when looking at these products. We hope we've found the best fun, quirky products that also offer a strong and reliable build.
Style
Style
Your child might be young, but that doesn't mean that they don't have a personality. Kids are some of the most outspoken people you'll meet, and they're very vocal about what they like, what they don't like, and what they want. They don't want a toy chest that looks plain and boring. They want a toy chest that suits who they are on the inside.
You, on the other hand, want a toy chest that fits seamlessly into your living room or office. You want a chest that could double as a side table, or even as an ottoman. However, it also needs to fit all of your child's toys… And be easy enough to open and close that they can handle all the clean up themselves.
With such drastically different needs, we decided that we would take a variety of styles into account. We tried to pull the top styles conceivable, for every potential family's need. All of these toy chests are going to give you the tidy space you're craving; now it's just a matter of choosing for yourself which style works the best for you.
Safety Hazards
Safety & Safety Hazards
Finding a product which is safe is a huge concern for many parents. Both new parents and well-seasoned parents want products that allow them to sleep easier at night. Toy chests that snap shut, have sharp corners, and splinter easily were not picked for this list. Those are the kinds of toy chests that turn playroom into a danger room.
Luckily for you, we did, in fact, find all the toy chests that prioritized safety as one of their selling points. We looked for the toy chests that are guaranteed to give you peace of mind, rather than short-lived panic every time they're opened.
While what the safety looked like depends on the product, there were a few features that really caught our eye. Toy chests with safety hinges (or hydraulic hinges) were more likely to be picked over non-safe hinges. Safety hinges ensure that the lid won't close quickly on your child's fingers. This means no more hinge-related injuries. The other safety aspect we looked at was whether or not the product had any reports of splintering or breakage. This is part of the reason there are so many cloth options on this list, as they seem to be the safest.
All in all, safety was a huge factor in our evaluating these products. If you can't guarantee safety, we believe the product shouldn't go in the child's room. Period.
Value
Cost & Value
You want a clean home, but you don't want to waste time or money. We get it. Both are valuable to you as a person and a parent, which is why we're pleased to have done the dirty work for you. Looking at all the potential toy chests out there, we believe we've found 10 of the best options for you from a build, safety, style, and price perspective.
When it gets right down to it, the price is a very important factor in deciding whether or not to commit to a product. Toy chests generally don't last forever. When your child outgrows their baby bedroom, you're meant to get rid of the products and start a new style of room for them. This means that you likely don't want to spend an arm and a leg on a toy chest that's only going to be used for a few years.
We get it; that's why we chose the toy chests that had the fairest price for the quality of the object. While we did include some high-end toy chests, they're so versatile it's absolutely worth it. We also strived to include a price for every budget. All kids deserve a good toy chest, and your budget shouldn't stand in the way of getting a high-quality one.
Through these criteria, we evaluated which toy chests to include on our list. We hope we took the evaluations into the product write-ups themselves so you can make an informed decision too. Toy chests are a tricky business. Don't get swayed by fancy styles and child pleading. Stick to the criteria and find a toy chest that's cost-effective, high-quality and a perfect match for your family home.
Our Favorites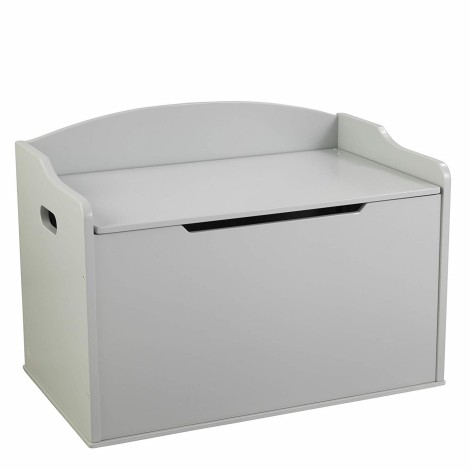 This classic toy chest gives you the power to put things away. You'll not only love the look of this toy chest, but your kids will love being able to both put things in and place them on top of the box. The white/gray color means you could even let them paint it in order to make it their own. You can't beat the style and simplicity of this toy chest, and we guarantee that it'll look good in both a child's playroom as well as the living room. The nice thing about this chest is that it's easy for little fingers to open, while still being safe because of the safety hinges!
Carrying Handles
Due to the fact that these are all kids' toy chests, they're not going to be the biggest things in the world. The Austin Toy Box actually measures quite small. The height on the inside is 15 inches, while the length is approximately 30 inches. You're able to fit a decent amount of toys in this box, and the carrying handles make it easy for any adult to pick up. You can move it between rooms, onto the back porch, and even take it with you on vacation at Grandma's house! And the handles make it so simple to pick it up and move.
Plain, Versatile Color
Grey, white, and black are colors that work in almost any home. While white and grey have the tendency to show fingerprints, smudges, or other smears, the finish on the box means it's easy to wipe off. This helps the toy chest retain its beautiful, plain color for many years. It also means you're able to place it in a public area of your home without embarrassment or compromising your interior design!
Cost and Value
This toy chest is an excellent value for the price. It's sturdy, good-looking, and has safety features already in place. The box itself is easily moved, opened, and integrated into your living situation. For a product that's ultimately going to be in the hands of a rough-and-tumble kid, $90 price tag is worth it. It might feel expensive at first glance, but it's actually an incredible value. Cheaper toy chests won't last more than a couple months, which means you'll spend more over time. This sturdy chest requires you to pay once and only once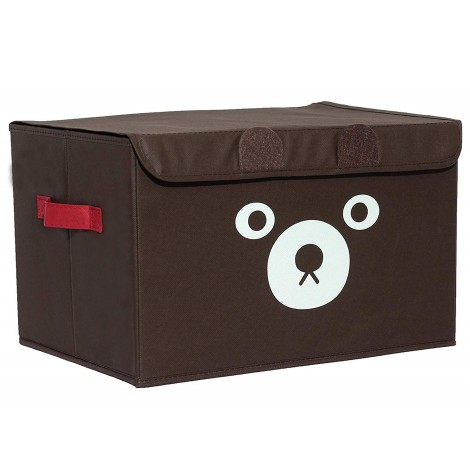 Sometimes we just want to let our kids keep being kids. While there's nothing wrong with teaching them some valuable life skills (like cleaning up after you've made a mess), you don't want to rain on their joyous, imaginary parade. They're still kids, after all. Teach them responsibility in a fun, safe way with this collapsible toy chest. The bear face on the front is oh-so-cute, and you don't need to worry about them getting fingers caught in the lid. They're totally safe working with this cloth-based chest. It's small enough that you can even get them a couple, so they've got a place for absolutely everything. Almost all the reviewers say that this box is a hit!
Adorable Design
Sometimes you just want to own something because it's cute. Why wouldn't that extend to your kids? Sometimes they don't want the pristine white toy chest that doubles as a window seat; they want the bear face with the floppy ears and soft edges. We don't blame them. This box will make even the most tantrum-prone kid happy to clean up their toys. This toy chest is perfect for any kids' bedroom or playroom, as it will automatically fit in amongst the stuffed animals and soft design.
Collapsible Chest
Are you planning on moving from that starter home to a bigger, more permanent location soon? The last thing you want to do is bring more furniture into your starter house. This is not the time to collect bulky stuff. By making these chests collapsible, Katabird has made all your moving dreams come true. When you decide it's time to pare down your child's toy collection, the last thing you want to have to deal with is the empty chest. This collapsible chest means you can fold it flat and stick it in the back of a closet, pulling it out again when the toy collection has grown, or you're ready to move on to your next home.
Cost and Value
While this is one of the smallest boxes on our list, we believe that you really, truly get more than you pay for with this product. Collapsible, carryable, and cute. This makes for an amazing toy chest. It even comes in different colors, so your child can pick their favorite. The quality is amazing, and the fabric holds up no matter what you're putting inside. Plus, the smile it brings to your child's face is priceless; that alone makes it worth much, much more than the $15 pricetag.

3

. KidKraft Limited Edition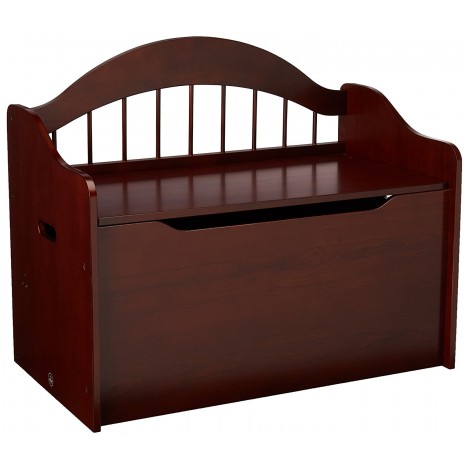 Not everyone is looking for a toy chest that's suitable for a kids' room. Many parents choose to put a toy chest in the living room, an area that doubles as a playzone and a family entertainment area. If you're looking for a box that looks right at home in your living room, look no further than this toy chest. KidKraft is an excellent brand, which makes a variety of toy chests for all shapes and sizes of products. This is a chest that looks amazing in any space, as its look is high quality without being ostentatious. Plus, you just can't beat that dark finish on the wood.
Hydraulic Hinges
You're always looking out for your child. Safety and security are priorities in you and your family's life. Why bring something into the home that could hurt your child? While it's sometimes unavoidable, KidKraft knows that minimizing the risk is easy. You don't need to fear the fact that there's a potential for pinching; hydraulic hinges means this chest opens and closes slowly and easily. It doesn't take forever to set up, either. The hinges are easy to attach, which means even the least handy of us can handle putting it together.
Made Of Real Wood
The look of a toy chest is important, especially for those sleek and modern designed homes. While you want your child to be happy with it, you also need to think about integrating it into your entire design. The fact that these toy chests are made of real wood make for a beautiful, classy look. The dark finish means sticky fingers won't show up right away. When they do, you can wipe them right off (similar to the other KidKraft chest on this list). Nobody does it better than KidKraft!
Cost and Value
This toy chest is a little more expensive, but worth the price. If you have a little extra spending money, you'll be happy to receive this quality product. The look is beautiful, which can elevate even the simplest of spaces. The quality is great, and the safety of this chest is unparalleled. While it's more expensive than some of the other options, it is a good quality chest. You won't be disappointed, and you certainly get your money's worth.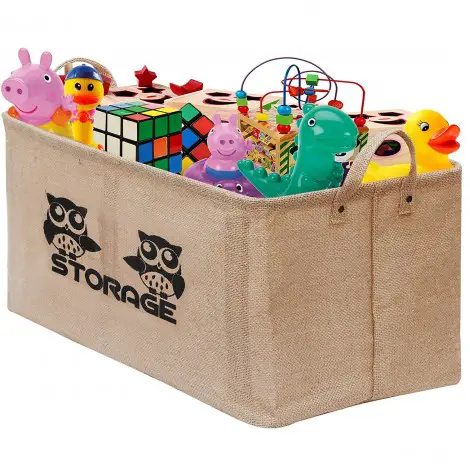 This soft basket will become the envy of all your new-parent friends. As new parents, you're often exhausted all the time. Between feeding, changing, and constructive playing, you don't have time to also pick up and pack away toys in a chest that has an elaborate, difficult-to-access design. This toy chest fits easily under any bed or on top of any shelf, and will be able to grow with your child's style. If you're looking for a toy chest that supports your focus on your child and not necessarily on the look of the room, this is the perfect option. You'll be grateful to have this kind of easy, carryable toy chest!
Neutral color and design
When you're buying a piece of furniture for your newborn or 18-month old, you want something that's going to last at least a couple years. That's what you get with this Gimars toy chest. Made of a soft fabric, you don't need to worry about dangerous corners or hard wood that could cause bruises. The color makes it work with any design of a child's bedroom, and will be able to grow with them for many years to come. The durability of this toy chest makes it feasible for that to happen as well!
No Lid
While most traditional toy chests boast sturdy, unbreakable lids, this one boasts no lid. We honestly believe that this makes for a better soft-shelled toy chest, especially for newborns and young babies. It makes it easy to toss the toys into the chest without having to think too much about packing it so the lid will close. It also means that you don't have to take the toy chest out of its shelf spot every time you want to take a toy out. You can slide it out halfway, grab the toy, and put it right back in. This avoids the problem of taking out every last toy to find the one you're looking for as well, as most people can see all the toys that are in there at a first glance!
Cost and Value
The cost of this carryable toy chest is even less than the other cloth toy chest we listed, but it's just as sturdy and about the same size. The handles are a great touch, and are easy to grab. They won't cut into your fingers, even with heavy toys lining the basket. The sides and corners are supported by plastic and wire, which also means there's no chance of collapse. The quality of fabric is excellent and durable as well. We recommend purchasing a couple and lining the top of a child's closet or shelf with them.

5

. Delta Children Multi-Bin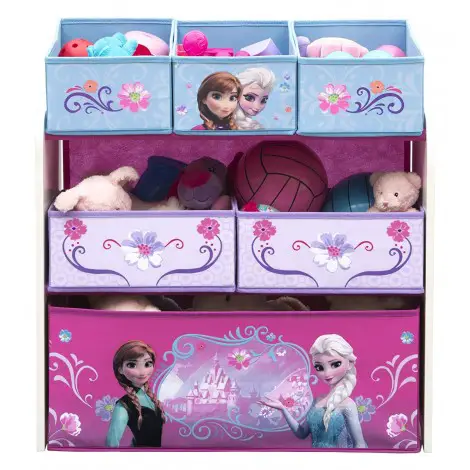 Do you have a young child obsessed with that ice-cold movie, Frozen? You can make all their dreams come true with this fantastic toy organizer. While this is a little different from a toy chest, we think you'll find that it's actually much more effective. The toy chest is made with different levels. Due to the fact that it's a little higher, it's perfect for your toddler. With the construction being made of wood and fabric, you're getting something sturdy that still features your child's favorite characters with astonishing likeness. The pink, purple, and blue will match most bedroom color palettes, and will give you kid a smile every time they go to clean things up.
Many boxes and places for toys
Putting everything in its place isn't just for the kitchen anymore. You can teach your child the best way to pick things up and put them away with this amazing toy chest. While you might think that it would be easier to give your child a big box to put all their toys in, the multi-box style of this toy storage unit actually gives them more ownership over clean up time. They get to decide which box to put which toy in, and will have lots of fun figuring out where to put their favorites.
The Theme
One of the best parts of this toy chest really is the theme. Everyone loves the movie, and many kids love the characters. The color palette of the box is on-brand with the movie, and you'll love the way that it inspires your child to sing "let it go". We would also like to suggest crafting a new clean up song to go with the theme of this toy chest: "Pick it up, pick it up!"
Cost and Value
This toy chest is actually the best value for its cost on the whole list! Not only do you get cloth shelving units, but you also get the frame for the shelf boxes. This unit not only looks amazing, but reviews said it was sturdy, large, and easy to put together. For $40, it's truly gone above and beyond what we'd expect from a toy chest. Throw in the fact that your child will get to play (and store their toys) with Anna and Elsa, it's a total bargain.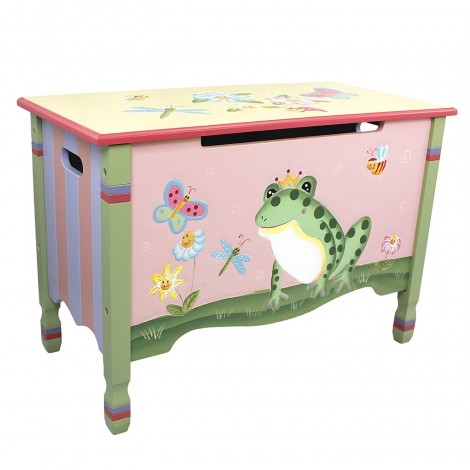 This chest is one of the most whimsical, unique options we have on our list. If you want to feed your child's imagination, but don't want to bog them down with branding and pop culture references, this is the toy chest for you and your child.
Hand Carved Designs and Features
Tired of mass production, but don't want to spend a year or more carving your own toy chest? Get the best of both worlds with this hand-carved box. Teamson Design Corp. says that all of their boxes are hand carved. We believe that this is part of what makes them so beautiful. It's important for kids to be taught the value of work. By support hand-crafted goods, it's a great way to start the conversation when they're young (or even a little older, when reminiscing about the box). It also makes each box unique… Just like each and every child.
Bright colors and out-of-this-world themes
You want to invest in your child's future. This means cultivating in them a strong sense of self, positive coping mechanisms, and a rich imagination. The themes on these boxes are unique to Teamson Design Corp, which means you don't have to be worried about giving them a branded box. The uniqueness of the toy chests gives them the perfect chance to make up whatever stories they want, and to facilitate a unique playtime experience. So often kids will regurgitate the movies they've watched or cartoons they've seen; you can now minimize this by purchasing a toy chest that has a totally unique design.
Cost and Value
This is one of the more expensive toy chests we put on this list, but for a very good reason. You can't beat quality, and this chest has an excellent quality to it. We love the colors and the fact that it's hand-carved. The original designs make each of these boxes unique, which means your child is sure to get their favorite genre whether it's sci-fi, fairy tales, or even sports! There have been a few reviews of hinges getting stuck or causing the lid to stay up; however, most of the reviews haven't had this problem. For these reasons we think that this chest is generally worth the splurge.

7

. La Jolie Muse Dinosaur


This toy chest is, again, a little different from the rest of our choices. This is a small toy chest that would be perfect for hot wheels, books, or barbies. The toy chest itself isn't meant for huge toys contraptions. In fact, it's actually built for the dinosaurs it comes with! Yes, this toy chest comes with toys. If you're looking for a chest as a gift for a child, this is a definite buy. Kids of all ages will love it. However, if you're looking for a large storage solution for bulky toys and playthings, you might want to consider a different chest.
It comes with dinosaurs
You read that right, folks. Not only does this toy chest have dinosaurs on the outside of the box, it also has them on the inside too! When you purchase this toy chest you're also purchasing six dinosaurs. It even includes a playmat when you fully unfold the lid. This is truly for the dinosaur aficionado, whomever it might be.
The box folds flat
We admit that we're not entirely sure how it's possible. The distributor of this box writes in the product description that the toy chest itself (aka the dinosaurs' home) can collapse. We assume this means that it is an extension of the play mat. This makes for a creative opportunity for any and all budding paleontologists. Let your child live out their best dinosaur-wrangling life with this toy chest/play mat combo, and then fold it back up into a handy compartment for all their toys.
Cost and Value
Considering the fact that you get six dinosaurs with this toy chest, we think it's a pretty decent deal. While you won't be getting the best toy chest here, you'll certainly be getting a great storage container for dinosaurs, Barbies, or whatever your child chooses to put inside. There's no end to the amount of fun your kid will get out of this two-in-one-box-and-play-mat set. We definitely think it's worth the money. It might not be everything you want in a toy chest, but it's definitely everything you want in a dinosaur playpen.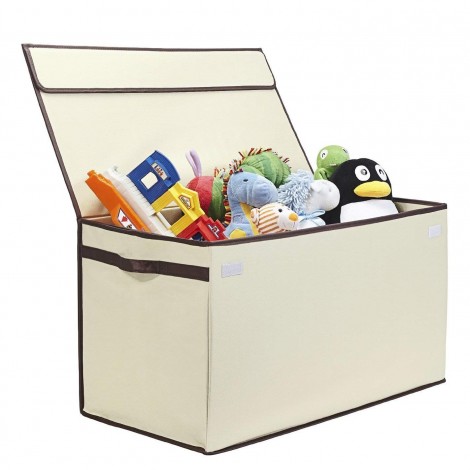 Versatility, durability, and low-maintenance are the name of the game when it comes to toy chests. As a busy parent, you don't have time to fuss around with your kids toys, let alone fussing around with your kid's toy chest. You also don't want to worry about a hard toy hitting wood and causing a risk for splinters. This toy chest is easy to fill, easy to fold, and there's not a splinter or wood chip to be seen. Rest easy knowing that the fabric on this toy chest is gentle and easy on little hands (and big, hard toys).
Does not impact play space
Most of the toy chests that we've looked at have been the kind where you set them up and move on. They live in the middle of the living room, playroom, or bedroom and take up space… Even when they're empty. That's not an issue with this toy chest, which is perfect for the child who likes to dump out every single toy before the playdate starts. The folding power of this chest means it's fast and efficient to put it away, and so simple the child themself can do it. This leaves more floor space for playing. The best part? It's so easy to pull it out and pop it up for quick and easy clean up. Now your child can make all the mess they want, while keeping all the space available for those precious playtime memories.
Velcro Closures
Something that many toy chests lack is the ability to keep the lids secure. If you're taking the toy chest to Grandma's house, you don't want the lid banging open and shut every time you go over a bump in the road. Not only does the fabric cause it to be soft and silent, but the velcro will ensure that there are no accidental spills. They keep the lid snug to the top of the toy chest, ensuring that precious toys like Mr. Bear, malibu Barbie, and "Chompy" the plastic t-rex dino toy your baby loves all stay inside the box.
Cost and Value
G.U.S. offers several different variations on this chest, which means there's a few different prices to choose from. None of them are more than $50 though, making it one of the cheapest large-sized toy chests that are on this list. The quality is so good that you won't believe this isn't hand-crafted out of magic wood from Never Never Land. The soft fabric is surprisingly sturdy, and the amount of space that's on the inside is comparable to the first toy chest on this list, which still remains our top choice. You can't go wrong with this toy chest. At an excellent cost and good manufacturing quality, you'll definitely get enough bang for your buck out of this product.

9

. LEGO Friends Storage Brick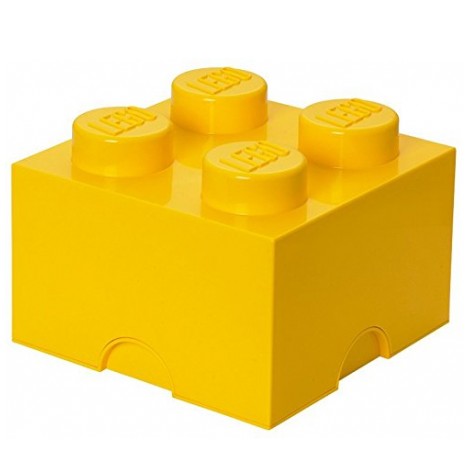 Everyone's favorite building block company has created yet another genius product. This gigantic LEGO block is actually a toy chest. While you might not be able to put all of your child's toys in this one little box, it's definitely big enough to hold off your child's LEGO toys. Figurines, blocks, pre-made castles and animals all fit in this box. The large LEGO brick comes in almost any basic color you can think of, making it easy to integrate into any bedroom design. We also would like to point out that you could even get a couple of these and stack them on top of each other. Alternatively, you could try building your own version of these out of regularly sized LEGO. LEGO storage made of LEGO? So meta.
Specific and Unique purpose
When you're just starting to teach your child the do's and don'ts of cleaning, it makes it easier to have a specific place for everything. Your child won't get confused about where to put their LEGO when this storage box so obviously shows off its purpose. They'll love the novelty of having an oversized LEGO brick, and you'll love the fact that those sharp, easily-stepped-on blocks are up off the floor. Plus, we bet there won't be anymore tantrums wondering about where the cowboy LEGO guy went. You and your child will know that he's right there in the LEGO brick storage.
Stackable
You heard it here first, folks. These babies are stackable, which means you're also getting your kids a new toy when you purchase these storage blocks. By purchasing a product that makes clean up into an extension of LEGO playtime, you're guaranteeing the fact that your child will want to clean up. The stackable feature is also great for creating more space in your child's room. By being able to stack these on top of each other (rather than just one by one) you're ultimately going to have more shelf space. Not to mention being able to get rid of all those bulky LEGO packaging boxes that are currently holding all of your child's pieces.
Cost and Value
One reviewer pointed out that it's possibly because of it coming from the brand that makes it slightly more expensive than other options. While we think that might be a part of it, we also think that there's something to be said for the quality of the product itself. Not only can you be sure that you're getting LEGO-style warranty on it, you're also getting a sturdy, pvc-free plastic product. Nothing could be better than knowing that no matter what, this product is going to last. That's why we think the price is fair, especially for your little LEGO lover.

10

. Wildkin Princess Bench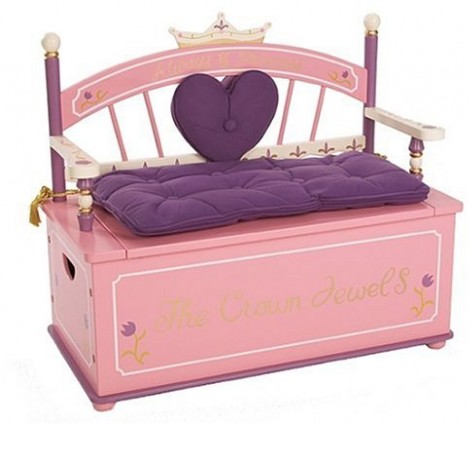 The last one on this list is for all the young royals out there. Not only do we have a toy chest here which doubles as a throne, but Wildkin also has chests that double as chaise lounges, fairy benches, and butterfly seats. The variety is perfect if you're looking for a product that isn't as pink and frilly as the princess bench. This is certainly a chest that will grow with your young royal, and will give them joy for many years. The storage space inside the bench is large, especially for a two-in-one product.
Doubles as a chair
...Or a chaise lounge, depending on which one you buy. This is the perfect dual-purpose product for your living room or playroom. Not only have you just given your child their own special place for all their toys, you've also given them their own special seat. Family gatherings will be much easier now that your child will want to sit in their special seat, rather than running around willy-nilly.
Comes with pillow
Okay, this positive does depend on the style you order. Not all of them come with a pillow, as pillows are obviously reserved for the royal highness. At least, that's what we're getting from the product images. While every bench looks lovely, there's something special about getting a pillow with it. It adds an element of softness which makes us believe that the company really does have our child's best interest in mind. Plus, your kid will love crawling all over it when it's got such a soft, squishy side to it.
Cost and Value
This is a product that we feel obligated to warn you about. There have been some reviewers which have said the safety aspect of the hinges stopped working within a few months of purchasing it. We can't blame it on the company, as we don't know how these people were treating their toy chests. As one of the most expensive brands of toy chest out there, however, we felt it was only right to say something. The rest of this product is amazing, however, and we absolutely love the fun that's inherent in this product. The pillow add-on is a nice touch, and really raises this toy-chest-bench to the next level.

Subscribe to our Newsletter