Best Kids Cameras Reviewed & Rated for Quality
Okay, let's be honest with each other. We're going to assume that one of the main reasons any child wants a camera is because they don't have a phone yet. Are we on target? So, let's start there. But we also understand that an Instamatic or some other kind of actual film camera is a wonderful thing when it comes time to play around with friends. When is said and done, instant cameras have a niche and can be a great way to take instant pictures in places where you want snaps but your locale isn't optimal for your new gabillion dollar phone, like say, underwater. So we've gathered a nice collection of instant cameras, sport cameras, and just plain fun kids cameras that might just inspire the Ansel Adams in your little one.
But to be serious for a moment, creativity at a young age is crucial to childhood development. Luckily there are numerous products on the market currently that aid in this type of brain development. Being able to create is human nature and helps create a stronger sense of wonder in young minds. This type of development helps the child think outside the box later in life and also helps develop the child's ingenuity. The cognitive and social development also start to build as the child plays and creates, therefore, creating a better environment for the child to excel in social and emotional skills thereby connecting better with other children and later in life, adults. There are many ways to help develop this area of the brain for children like being outdoors (exploring), art activities and role-playing.
Featured Recommendations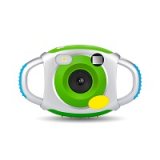 Powpro Pcam

Our rating
Silicone Protective Shell
Price:

See Here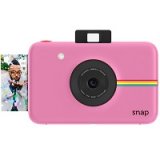 Polaroid Snap Instant

Our rating
Prints Ready in 1 Minute
Price:

See Here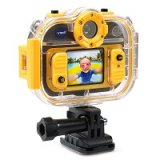 VTech Kidizoom

Our rating
Fun Camera Effects
Price:

See Here

We focus on art in this article. Art can be painting, drawing, play-dough, and photography. There are luckily many products on the market right now targeted in this area due to its importance. In this article, we focus entirely on children's photography equipment. Photography creates an environment where the child can specifically target one area that they deem attractive and capture it. Early on we had the Polaroid camera which instantaneously popped out an image for the individual taking a photo. Soon after something similar was released where the photo was much smaller with an adhesive back meant for the purpose of sticking on windows and doors. Now we have moved more into a technology era where we have the digital camera where the image can be uploaded onto a computer and can be viewed that way. This way we can delete the image and print out only the pictures that are good quality. In this article, we touch on different models and the best of each.
Creativity does not only foster higher social skills in children but it also allows them to cope with their feelings. It is a way for them to express themselves through something physical that is not violent or disruptive. The great thing about photography is that the child will make less of a mess. The problem with it is they may shoot you at bad angles. We found the top products on the market today. We looked at ratings and reviews of consumers who purchased the products and found the pros and cons of each. We also listed the criteria that we looked at for each product and why we chose what we chose. Finally, we listed some frequently asked questions for anything we may have missed. Let's get into it. These are the best children's cameras of 2018.
10 Best Kids Cameras
1. Powpro Pcam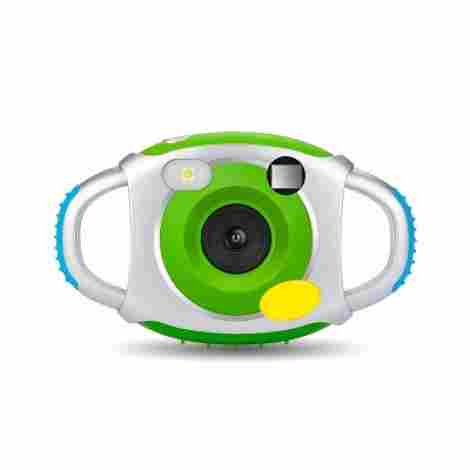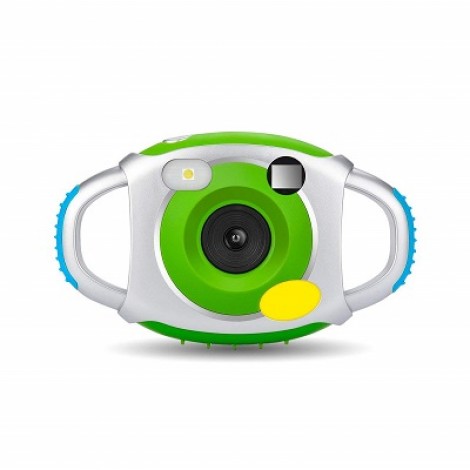 This product has a soft silicone shell which helps with protection from drops. This product is our editors choice. It includes 3 triple A batteries and comes with a carrying strap. It has both photo-taking functions as well as video-taking functions. It comes in one color and one size.
Expand to see more
5 Mega-Pixels
This product 1.3-megapixel camera with funny photo frames and can take pictures up to 5 megapixels.

Both photo and video capable
This product can take both photos and videos for additional opportunities for creativity.

Cost and Value
This product is mid-range in price. With the silicone protection from drops, as well as its functionality (functions like an adult camera with LED light and viewfinder), this product is worth the price.


Silicone protective layer makes it kid-proof
Great picture quality for a kids camera
Handles are easy for little ones to hold
Design is kid-friendly
Eats through a lot of batteries
2. Polaroid Snap Instant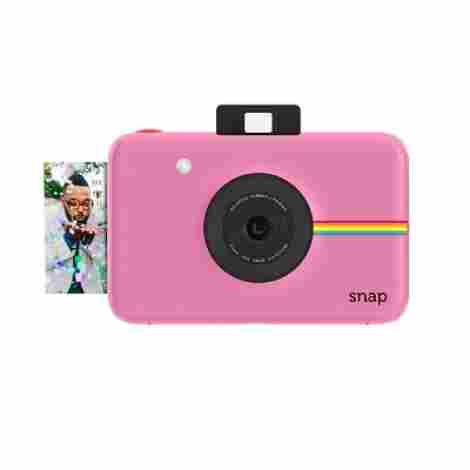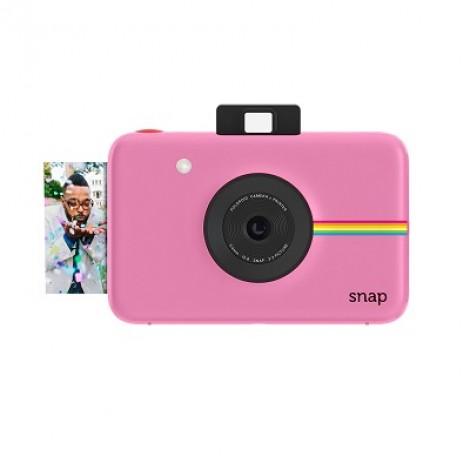 This product is from the very popular photography company Polaroid. This product is also our Top 3 product. It automatically prints out photos directly from the side of the camera after the shot is taken. It also has digital capabilities to use the images online. It is cute in design and comes in 6 different colours (black, blue, pink, purple, red and white).
Expand to see more
Both polaroid and digital capabilities
This product not only prints out the image immediately after taking the photo but will also store the image internally and can be used as a digital photo as well.

Cute design
This product is super cute in design. It has a simple color scheme and easily fits in your hand. They also come in 6 different induvidualized colors.

Cost and Value
This product is higher in price. This is due to its ability to both print and store pictures. It also has a 10 megapixel camera and includes a wrist strap, Micro USB cord and SD card. Because of these functions and add-ons this product is worth the price.
Can accept larger SD cards for more memory
Creative picture modes available
Built-in selfie mirror
Self-timer feature
No zoom
No viewfinder or photo preview
3. VTech Kidizoom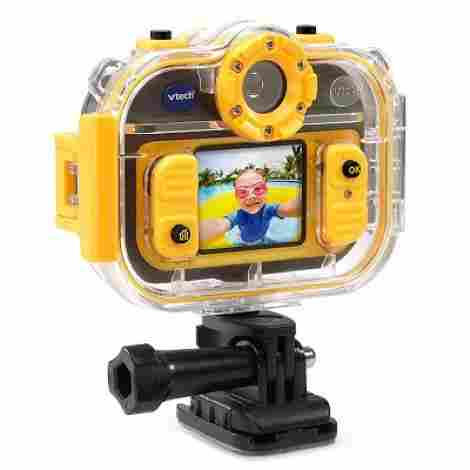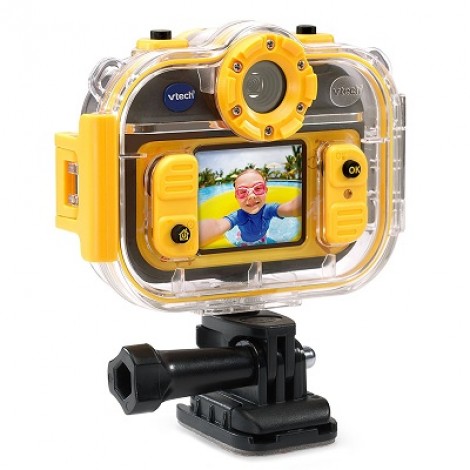 This is also a waterproof, mountable product. It is also our best value product. It is from the popular brand VTech and comes in one color. It can take both video and photos. It has both slow and fast-motion capabilities. It also comes with a sturdy, durable casing.
Expand to see more
Fun mounting capabilities
This product can be mounted onto a bike or a skateboard for live-view and action type videos.

Augmented reality game options
This product has three games that can be played with augmented reality technology which is more advanced than comparable products on the market.

Cost and Value
This product is inexpensive in cost. With all the additional features like gaming and the mounting stand, this product is definitely worth the cost.
The included games are fun for children
Easy to use
Great for encouraging creativity in young minds
Great for physical activities
Picture quality isn't the greatest
Doesn't have a lot of memory
4. Polaroid Snap Touch Portable Instant Print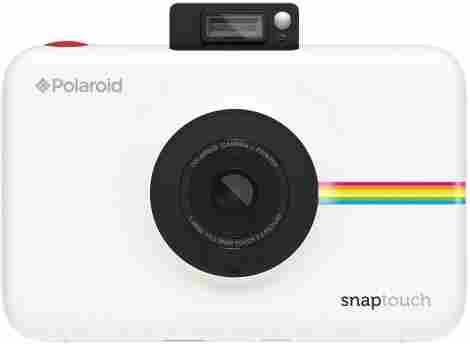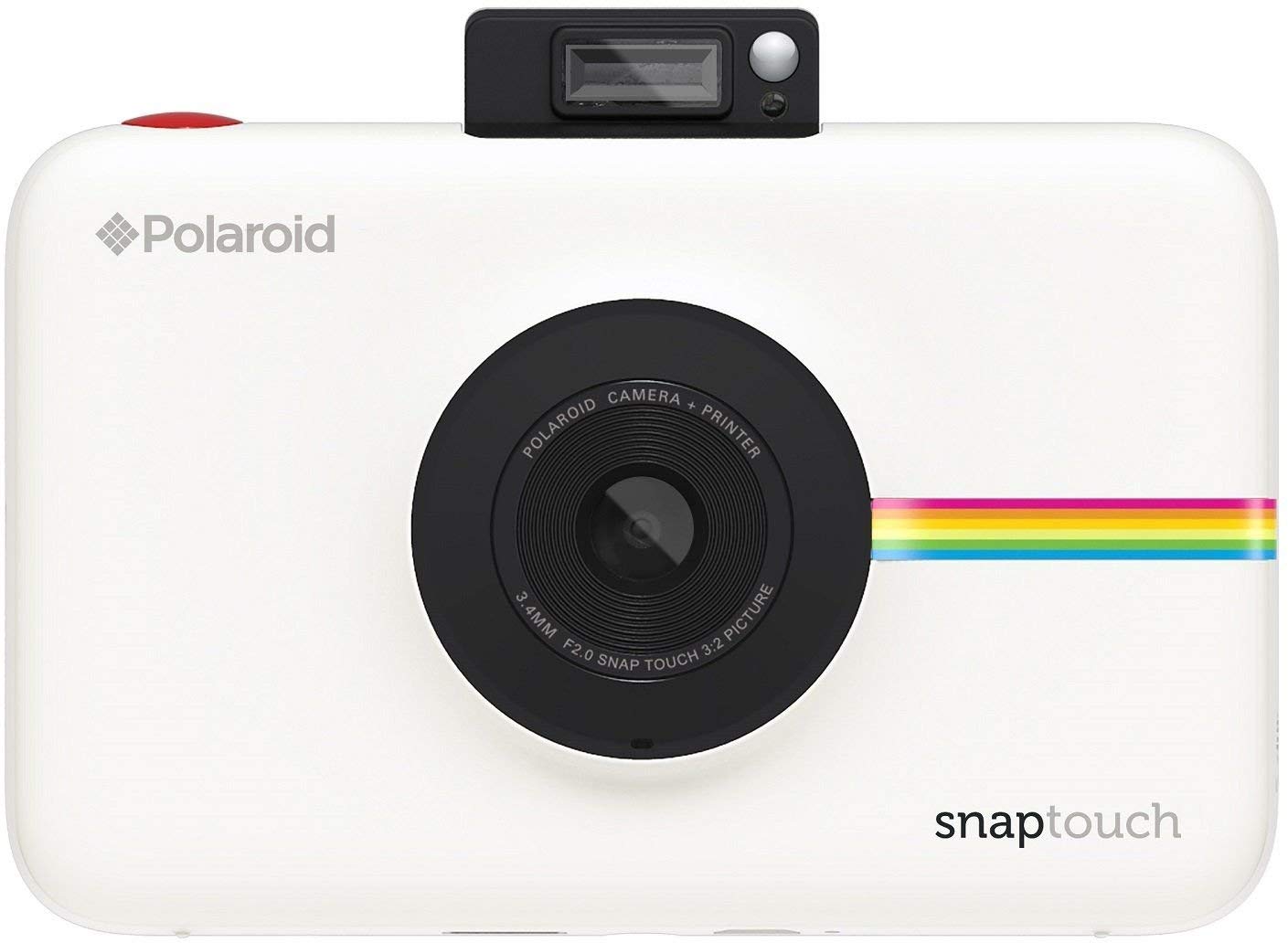 This is the high-end version of the Polaroid Snap portable that is already on this list. It's simple to use, has a nice touchscreen display and best of all you can have your prints right away. Honestly, we've moved way past thinking these cameras are just a nostalgic playtoy. We think they're just guaranteed fun in a small little package.
Expand to see more

Camera and Printer
Let's be clear this isn't really a film camera, it's a camera printer. You just load it up with paper, no ink or toners necessary and the camera does all the rest. It's called Zink Zero Ink and to make it work you don't do anything more than load it up with paper and it does the rest. We don't really understand how it works but we can say it works great.

Polaroid App
This is a nice feature that lets you easily send the photos you've collected to a nearby phone and edit away on your smartphone. This is a great add-on that just makes this a more attractive camera. It also doubles as a movie maker and can capture a fair amount of motion if you take advantage of the microSD card slot.

Cost and Value
Towards the high end, this little Instamatic really has quite a lot going for it. It's an Instant camera, a video recorder, Bluetooth compatible, prints easily without ink. There are a lot of bells and whistles on this camera and enough to keep any budding photographer, or videographer busy for weeks.

• Motion Picture and Still Capture
• Polaroid App
• Instant Print Inkless Prints
• Bluetooth Capability
• Small Travel Size
5. Cabinahome Waterproof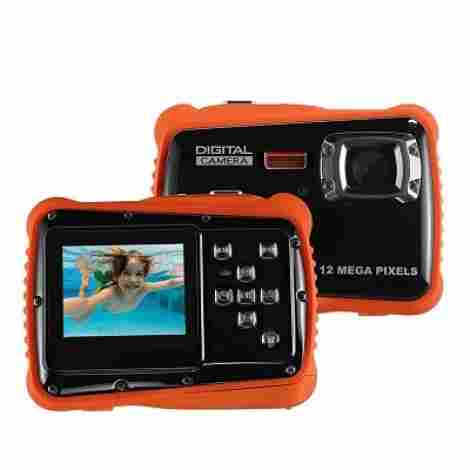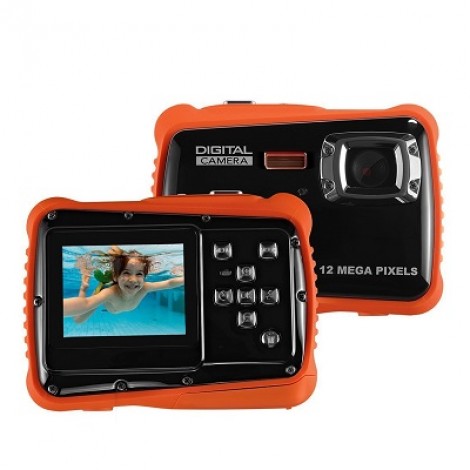 This product is a cute little one from CabinaHome. It has a silicone casing to protect it from drops and can be used everywhere from home to the beach. It has both a flash and digital zoom. It comes in one colour and one size.
Expand to see more
Waterproof
This product is waterproof up to 3 feet so no worries if used around a pool or on the beach, this product will not stop working due to a little water.

Loaded with features
This product has a 12-megapixel camera, a 12X digital zoom, a 2.0" LCD screen and much much more.

Cost and Value
This product is a little higher in cost, however, it comes with a lifetime warranty and has both protection from drops and water. With these features, there is no risk in purchasing this product.
HD Quality video
Bright flash
Can take up to 12 MP of photos
Has both video and photo capabilities
Battery doesn't last very long
Picture quality is average
6. YTAT IED Underwater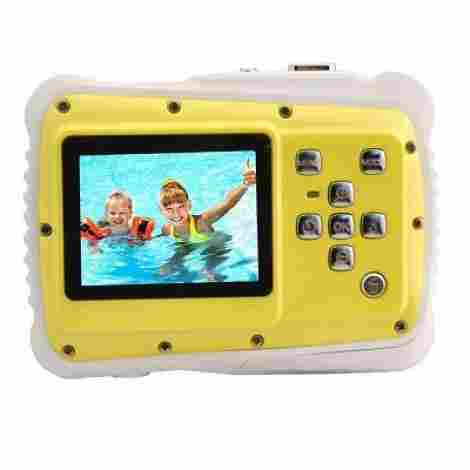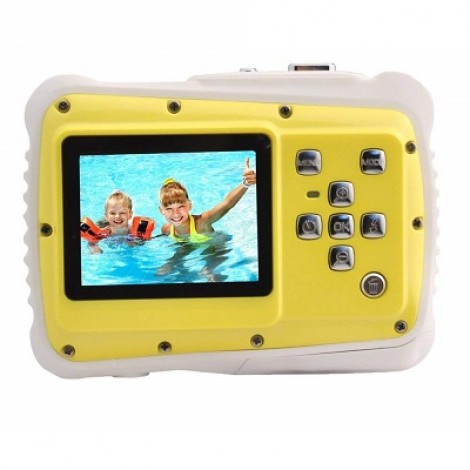 This product is both digital photo-taking and video-taking. It also has a silicone casing ideal for little hands and is powered by 2 AAA batteries. It comes in two colors and one size.
Expand to see more
Waterproof
This product is also waterproof but this one is up to 9.8 feet. It is also dust proof.

Action-Camera
This product is meant to be used in action which is ideal for when filming under water.

Cost and Value
This product is on the higher end in price. It can be used in most environments due to its waterproof and dustproof qualities. It also is super lightweight and easy to carry about. For these reasons the product is worth the price.
Is charged by a USB cable (included)
Can be mounted
Includes a hand strap and storage bag
Also includes a 16 GB SD card
Comes with AAA batteries but not rechargeable ones (need to be purchased separately)
Not the best picture quality
7. Lightfamily Underwater Camera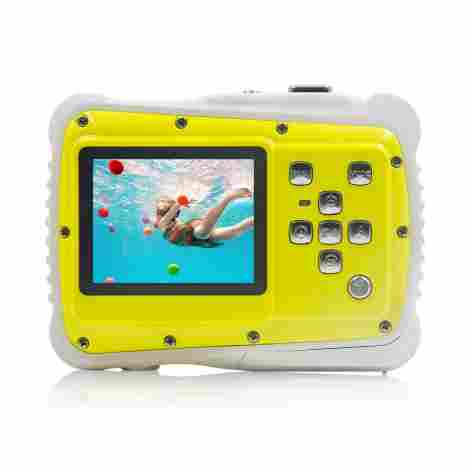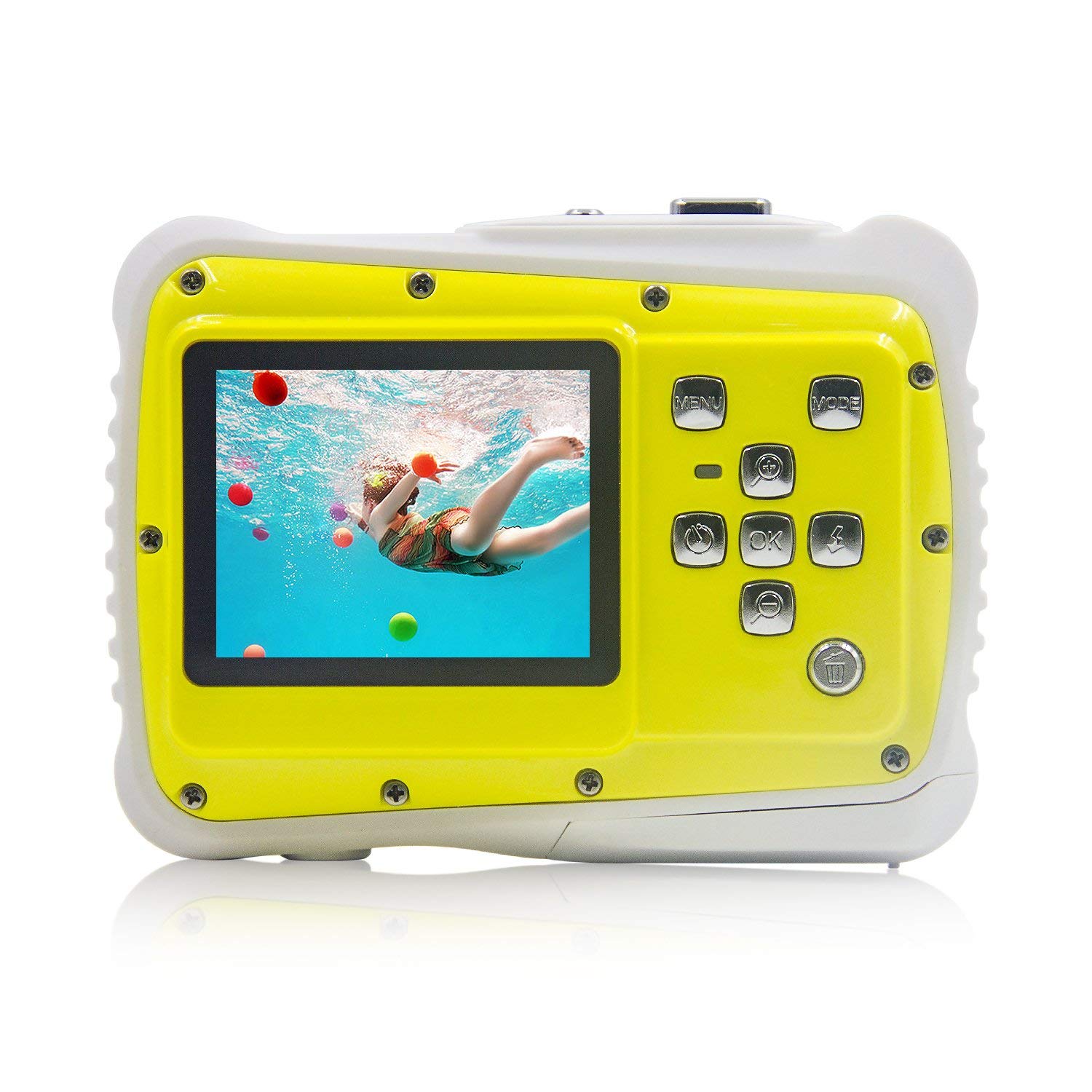 Perfect for the beach vacation this camera does everything you can imagine in an underwater setting. It has a large easy to see LCD screen and the controls are easy to use. And it's good to 3 meters underwater. Don't take it into the Marianas Trench, but a few yards offshore should be okay.
Expand to see more
LCD Screen
This allows your child to see exactly what they're about to take a picture of. A lot of cameras still have viewfinders but this is a really nice add-on that we really like.

Long Battery Life
Only 2 AAA batteries are going to keep this one going for some time so have fun. This is going to come in handy we guarantee especially if you're somewhere in the world where batteries are hard to come by.

Cost and Value
This camera comes at a great price. It's cheap but well made. Simple but with enough bells and whistles to keep your little photographer busy for weeks.


• LCD Screen
• Long Battery Life
• Micro SD Card Slot
• Easy to Use Controls
• Difficult to Figure Out Buttons
• Not Quite Waterproof
8. Fujifilm Instax Mini 9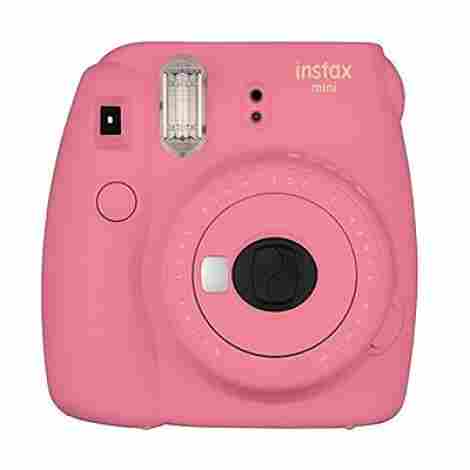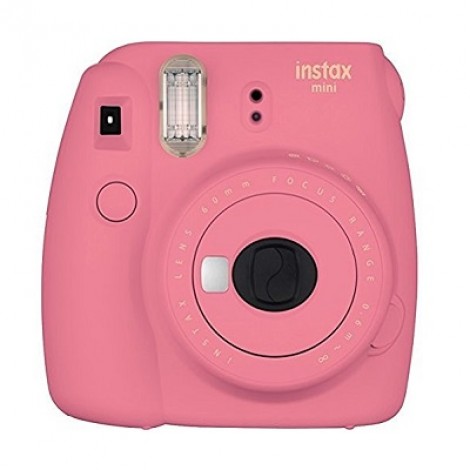 This product is from the other very popular brand Fujifilm. It has a super fun and light design and comes in five different colors (blue, pink, light blue, green and white). It also comes in different bundles depending on what the photographer wants to do with it. It has a macro lens adapter and a selfie mirror.
Expand to see more
Ideal for selfies
This product not only has a little selfie mirror but comes with the ability to take brighter, softer pictures ideal for taking self-portraits.

Perfect lighting
This product is perfect for all sorts of weather. It has a brightness adjustment dial and a soft flash meant to be used in all sorts of weather so that you get the perfect picture every time.

Cost and Value
This product is mid-range in price. It has print features, a zoom and is ideal in all sorts of weather conditions this product is worth the price. Plus it is super cute in design.
Is both a digital and automatic printing product
Has 35 cm to 50 cm zoom feature
Has an LED flash
Ideal for all weather types
Focus is a little off on objects further away
Ink cartridges are pricey
9. KoolCam AC200 HD 1080p Waterproof ACTION Camera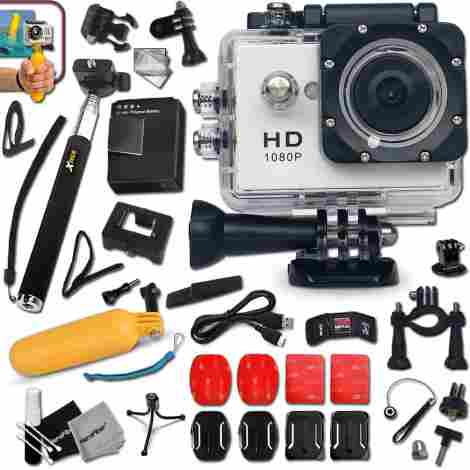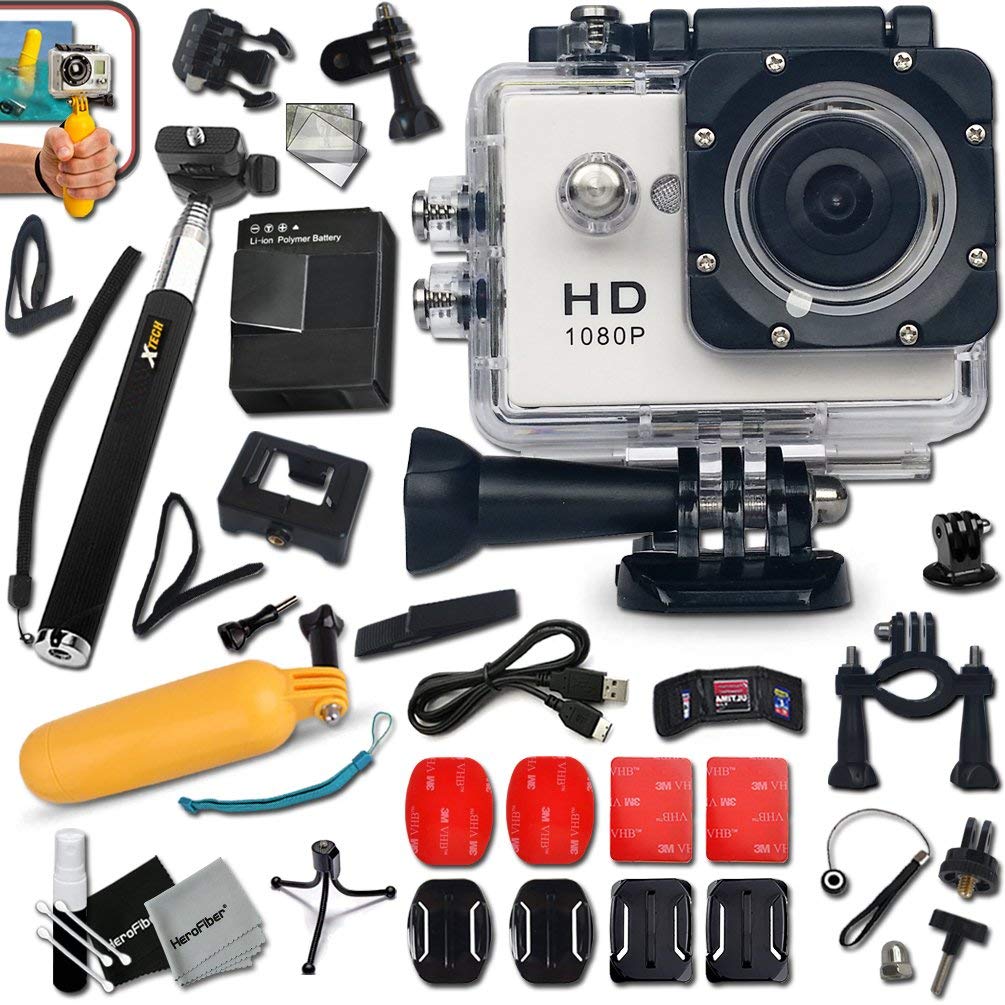 We're not quite sure how to start talking about this camera mainly because there's just so much going on here, where to start! Do we like the camera itself? Heck yes, we do. It's an HD camera that'll capture underwater and action shots and also shoot video. What else, the monopod pole, the selfie stick, the surface mounts or the adjustable tripod. It's all here, what a camera, and it's made for kids or adults, this is the whole package.
Expand to see more
Waterproof Action Camera
It's a 1080p HD camera that records 30 frames a second. It also has a 140 degree wide angle lens and it is waterproof and able to capture above and below water great shots and video. It also shoots in slow and high speed so you can capture the action shots you want.

Extras, Extras, Extras
The things that come with this camera make it an incredible deal. It comes with a selfie stick, a monopod, and an adjustable tripod which makes this a truly full function camera. Anything you want to do, just dig through all the extras and chances are you're going to be able to get it done.

Cost and Value
For what you're getting this is a steal, literally a steal. It cost about as much as a cheap night out and you get a camera and all the trimmings that's going to serve you above water, underwater and is tough as nails so it's almost kid proof. If you want an all-around great camera, this is the way to go.

• 1080p Hi-Def Action Camera
• Wide Angle Lens
• Selfie Stick Included
• Comes with Adjustable Tripod
• Cleaning Kit Included
• Instructions Difficult to Understand
• Only Comes in Black
10. VTech Kidizoom Pix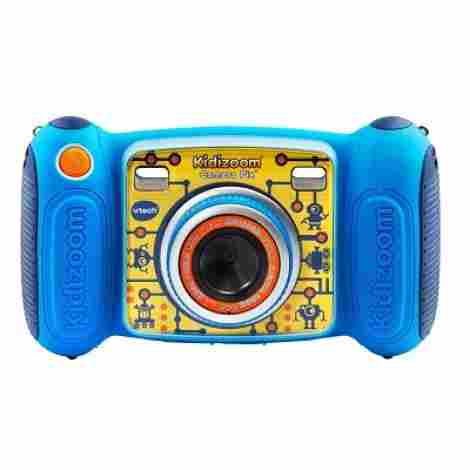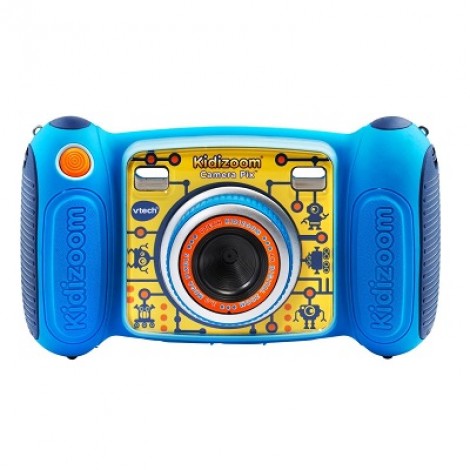 This is another VTech product. It is more playful in design and is intended for children between 3 and 8 years of age. It includes a built in memory with the option of adding additional memory (with a built in SD card slot). It comes in one color and one size. It also has built in games similar to the Best Value product.
Expand to see more
Face detection technology
This product is ideal for starting selfie-takers. It has a built in face detection feature that will take the perfect picture.

Numerous fun games and effects
This product comes with 4 games and 35 photo effects to really let the creativity soar. It is also ideal for road trips and long car rides with both the ability to take photos and videos, but also the games feature.

Cost and Value
This product is inexpensive in price especially considering all the additional feautres.
Durable
Expandable memory option
Built-in zoom
Easy to use for even very young children
Battery area is easy to get at so younger children may open it a little too easily
Does not come with a USB cord to get the photos onto the computer
In conclusion, photography is both clean and easy for children to express their creativity. Features included in this type of product ranges from simple photography to video, to fun designs and augmented reality. Some products can be mounted on various sports equipment (like skateboards and helmets) for live-view type videos too. Giving your child something creative helps build confidence and better social skills. They are also excellent gifts for something a little more unique. Below we discuss some criteria we used to choose each of these products as well as some commonly asked questions. We hope that this product review was helpful to you and we also hope that it helped spur some creativity in your little one. Happy picture taking!
Criteria Used for Choosing the Best Kids Cameras
Materials Used
Because children tend to have slower reflexes than adults it is important that the materials being used to produce this type of product are both durable and safe. Silicone is a common material type for protection on this particular type of product because silicone is not only better for grip but is also a good protective material. It will not break upon impact (not as easily) and also absorbs shock to help the rest of the materials from breaking down. You will also see a fair amount of plastic protective casings on this type of product. Thicker plastics help protect the glass components (or the more fragile materials) on the device. The materials being used should also be non-toxic. Little lungs and more delicate skin can't take as many toxins as adults. It is important that the materials being used are safe on them as a result. Ensure that the materials being used are good quality and non-toxic in order to get the most use out of the product being purchased.
Price
Price is usually the first thing that we look at. We want to ensure that we are getting the best bang for our buck. This is especially true when it comes to items for children. Not only do children quickly grow out of items (both due to size and brain) but they also easily break items. Price is considered a larger priority in children than any other purchase. The issue with purchasing inexpensive products means (usually) buying lower quality items. With electronics especially, it is important that the quality is there. Without quality, the product will more than likely break and you will be left with a pointless item. Paying a little more for a better product is worth it because then there will be fewer items purchased to replace it in the future. Ensure that the items you are purchasing is made of quality materials and will last for while to ensure that you are truly getting the best bang for your buck. Another thing to consider it the opposite side of the spectrum, just because it is higher in price does not mean it is higher in quality. There are companies out there that offer more expensive products even if they don't necessarily have a superior product. Ensure that you get what you are paying for. The issue with online shopping is that it is hard to know the quality of the items you are buying. This is where reviews are super handy. Check for the words "durable" and "performed as it said it would" to ensure that you are buying what you think you are. This will help in the long run.
Features
The features of the product are important because you are buying the item for a specific purpose. If you are buying an item based on the price you will probably not get what you need in the product while if you are buying something only because it has a bunch of features even if you may not use all the features then you are probably paying more than you need to. The features of this type of product are items like expandable memory. Expandable memory helps because it gives you the option for more room later down the road. Flash is another feature, where the child can take better photos on gloomy or dark days. The live-viewer helps the child review their shots and retake if needed. Some products come with an option for a stand for photos or videos on a timer or action video/shots. Other features are items like silicone or plastic casing for clumsy children and fun features for more creative play. An interesting feature of some of this type of products is the augmented reality games. This is interesting because this is a new technology and it incorporates real life into a game. This feature became popular with a Nintendo app that encouraged individuals to get off the couch and play games outside. This encourages both creativity and a more active play approach. It is also reviewed as a very fun type of entertainment for the child.
Battery Life
Battery life is important because charging can be a pain. It is even worse if the batteries in the product are not rechargeable. Having to replace batteries can be a big pain and an expensive one too. Consider a product with rechargeable batteries for convenience. You also don't want to have to interrupt play with a dead battery either. Battery access is a big thing to consider as well. Younger children may be more inclined to open the product and attempt to take it apart. You want to ensure that the battery housing is secure and can only be accessed by an adult. Batteries can be dangerous and expensive to replace. Consider something with less or more difficult access to the battery casing to be safe. Most of the products in this article have child safety locks on the battery casing.
Durability
The durability does go back to the quality of the materials being used but the durability of the product is important because children tend to have slower reflexes and smaller hands. These products will be dropped and spilled on so you want to ensure that the product can withstand that. A feature in some of this type of product is waterproofing and dust-proofing. This feature helps for those spills and leaks but it also helps for full submerges in water. Some can go up to 9 feet under water which is fun for children who like to swim. Being durable and having proofing will help with the longevity of the product and will save both money and time in the long run.
Age Range
Age range is important because it will dictate if the child should and can work the device. It may seem like a 3-year-old and an 8-year-old can use the same type of toy but you do find more sophisticated features on products meant for older children. For instance, additional functions on the display screen could confuse a much younger child. It can also be harmful for a child younger than the set age range to use the product (swallowing hazards for instance). Ensure that the product you are using is for the age range set by the manufacturer. Some of the Polaroid products would not be appropriate for younger children because they require processing time. Any additional touches to the film could affect the quality of the photograph. The polaroid refills can also be very expensive and you want to make sure that the individual using the product is developed enough to know that better photos should be reserved for printing. This is why age range should be followed.
FAQ
Frequently Asked Questions
Q: What age ranges can use this product?
A: They range a bit but the general age range is between 3 to 8 years of age. The polaroid varieties are typically meant for older kids and young adults due to the cost associated with refilling the cartridges. It is wise to check the box or the links to each product in this article before purchasing them. Any child below the age of 3 probably won't find use in the product and wouldn't benefit (yet) from its benefits.
Q: Do they require batteries?
A: They either require batteries or have a rechargeable battery. The products that require non-rechargeable batteries in this article come with the batteries included. It is wise to purchase the rechargeable double A or triple A (depending on what is required) as the most common complaint about this type of product is how quickly the battery drains on them. This is usually because children forget to turn the product off thus draining the battery. Some of the products do come with an auto-power off feature that will turn the product off after being unused for a minute or two. If battery life is a concern consider something with an auto-power off feature or one that comes with a rechargeable battery.
Q: Are they waterproof?
A: Not all of this type of product is waterproof, no. It will specifically say on the product if they are. Also, remember that just because it is waterproof does not mean that it can be submerged in water. There are different specifications for the amount of water each can take. Some are just splash proof while others can go up to around 10 feet submerged under water. If the intent of this product is to bring to the beach but not in the water a light waterproofing should be fine however if the point is to film underwater ensure that you are using something that can take quite a bit of depth.
Q: Are they safe?
A: Yes, they are safe. The only issue that you will see is the battery possibly breaking within the product or the product itself being made of toxic materials. All these cameras are child proof and therefore are not made with toxic material. If the battery is a concern try to keep the camera out of super hot or high-pressure environments (like under something). This will not only preserve the life of the product but will also keep the child safe. Also, consider a product with a protected or childproof battery casing as discussed above.
Q: Can I upload the images from this product on a computer or smartphone?
A: Yes, all the products are digital or video recorders. This means that all pictures are stored on an internal memory card. The majority of these products either have internal memory (and therefore include a cord to plug into your computer to download the images) or an SD card that can plug into your computer for download. Even the polaroid variety have them which is super handy. They typically cannot be downloaded directly onto your smartphone but can be transferred there via your computer.
Q: What happens if the memory card is completely filled?
A: There are a couple options here. You can delete them (usually from the camera itself), you can download them onto your computer then delete them from the memory card or you can buy additional memory. The first two are available for all the models in this article. The additional memory is only available for the products that come with either an additional slot for an SD card or the SD card being the primary memory on the product. If it has an SD slot then you will be able to increase the memory on the product with either an additional card (to also fill) or with a larger memory. Note that there are also micro-SD cards which work the same way but are just smaller.
Q: What is augmented reality?
A: Augmented reality is a new type of technology whereby the individual using the product uses a camera to alter the view through their screen. This can be done by adding computer-generated imagery to the environment and interact with it. For example, if the camera is facing an empty field, augmented reality can place a computer-generated tree into the field. You would be able to look up and see that the tree is not there but if you are looking into the viewfinder of the product you used to augment the environment you would be able to see the tree reacting with the natural environment. The augmented reality games use the actual real environment and add computer-generated objects to it for the purpose of play and challenge. Usually, in these games, you would be tapping on objects or moving objects for the purpose of some goal. The benefit to augmented reality is that it gets children up and moving while playing a video game. Not all products on the market right now have this add-on so those that have it are quite unique. The add-on of this feature is great because it aids in road trips. The child can play the game while on the road and take photos when out exploring, it is a two-in-one feature that can really help with long trips.
Sources