Best Laundry Baskets Reviewed & Rated for Quality
In a Hurry? Editors choice: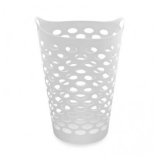 Test Winner: StarPlast

You rush down the stairs to the basement laundry room, then realize that you left the laundry basket to gather the clothes from the dryer in, up in your bedroom. What's even worse is when you do remember to take the basket with you, only to have the handle break halfway up the stairs, spilling all of your clean clothes onto the not-so-clean laundry room floor. Luckily, there is a simple remedy for preventing all that running and for preventing the clothes from hitting the floor. If you are ready to find the right one to suit your laundry hauling needs, whether it's clean or dirty clothes, read on below for the best baskets on the market!
Standout Picks
Criteria Used for Evaluation
Durability
The durability of the product is something that is extremely important as well. The last thing you need is for the hamper to break going down the stairs of your dorm, spilling your clothes all over the floor. If possible, check the material of the basket and see if it feels flimsy or strong. Read reviews as well and see what others have had to say about it's strength. The top-rated in this guide are made of durable materials that are built to last, while still being lightweight.
Style
Just because this item is going to be holding your dirty clothing doesn't mean you don't want it to match your decor as well. That is why appeal and design are extremely important for many people when choosing this type of product. The top-rated on the list come in many different colors from polka dots to elegant wicker or even just a plain hamper if that is your preference.
Another metric we made sure to consider when choosing the top 10 for this list were the reviews that came with each item. You can learn a lot from looking through the reviews and the star ratings on the item you are considering purchasing. Remember, however, to take reviews with a grain of salt, as some are more reliable than others.
Size
The tote you choose to carry your dirty or clean clothes in sometimes has to fit in a tight space. With that in mind, the top-rated in this guide are convenient to use. Many fit in tight spaces, but can still hold quite a bit of dirty laundry when they need too. Many of the items on our list also fold quickly and efficiently so they can be stored until they are needed again. Many of the items are also perfect for other things, such as storing blankets or baby toys, if you don't need them for your laundry.
Weight
If you don't own a washer or dryer, then this consideration is one that is going to be very important to you, or even if you carry your clothes from the second floor of your home all the way to the basement to be washed and dried. When it comes to portability, the best on the list have cushion grip handles, hip-hugging capabilities and are lightweight to ensure that getting your clothes to the washer and back again is a breeze.
Value
No two laundry baskets are the same, so the prices on them are going to be different as well. The top-rated range from $20 to $40 on this list. It's important to note, however, that when weighing this particular metric, you need to not forget your durability as well. As the saying goes, "You get what you pay for," so a lower price could mean a lower quality in some instances.
Top 10 Picks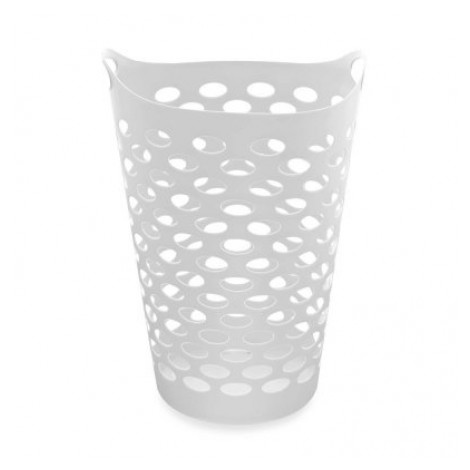 The StarPlast laundry basket comes in white and holds two loads of laundry. This is the perfect hamper for a baby's room as it is durable, yet lightweight and fits into any decor. It also features holes, so that odors from clothes don't get trapped. If you are looking for the perfect hamper for the baby's room, you may have just found it.
Holds Two Loads of Laundry
This product is capable of holding up to two loads of clothes if they are baby clothes, probably quite a bit more. It has a simple, yet elegant design to recommend it as well.
Tall and Lightweight
This product is tall, durable and yet is still lightweight enough to carry from the kid's room to the laundry room and back again with ease.
Cost and Value
If you are looking for a hamper that is simple, yet elegant, then this is the just the hamper to suit your needs. It's durable, lightweight, simple and affordable. What more could you want?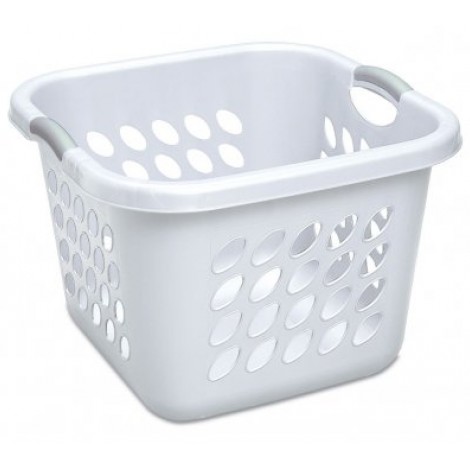 The Sterilite is actually a six pack that comes with titanium inserts and is made in the USA. It features comfort grip handles and has a 1.5-bushel capacity. All six come in the color white and are made of sturdy plastic and a super durable design.
Smooth Sidewalls
If you have ever snagged your expensive new sweater on the rim of your laundry basket, resulting in a snag that can't be fixed, then you will appreciate this feature. Smooth sidewalls keep clothes from becoming snagged on the side of the basket, meaning your clothes are safe from harm during transport.
Heavy Duty
Made of a solid construction, this will be easy-to-haul those heavy loads of clothes from the bathroom to the laundry room or from the house to the laundromat to be dried when the dryer is out of commission.
Cost and Value
There are six baskets in this set, which makes it well worth the money spent. Add in the smooth sidewalls and heavy duty plastic construction and you have a winner.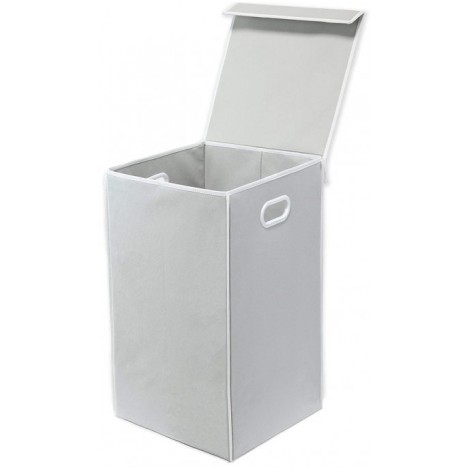 Not only do you want the basket you use for your clothes to be heavy duty, you also want it to be convenient as well. Simple Houseware makes such a product. You can choose either lidded or standard, meaning if you can't stand for your dirty clothes to be seen, this is the right choice for you if the product is hidden, then standard could be your choice. It features a lightweight design that is perfect for when you have to move from one location to the other and is durable enough to take with you, and not worry about it collapsing. This product is also compatible with different size laundry bags, which is a solid plus.
With Lid or Without
No one wants their smelly clothes to be out in the open or have the smell wafting out of the laundry room and into the rest of the house. This product has the option of buying one with a lid or one without, that way you can keep your dirty clothes and the scent in the hamper where it belongs.
Collapses for Easy Storage
You don't always want your hamper out in the open for everyone to see. Luckily, this one comes with the capability to collapse so you can easily store it out of sight. It fits neatly into the corner of most closet spaces or bathrooms so that it's not noticeable if you don't want it to be and doesn't take up a ton of room in your home.
Cost and Value
This laundry basket is a great value for the price. It competes closely with less durable hampers and is easy to store, making it a good option for tight spaces and dorm rooms. It's compatible with different brands of laundry bags, meaning you don't have to constantly be on the search for bags you can't find. If you are looking for easy storage and heavy-duty durability, this is the right product to suit your needs.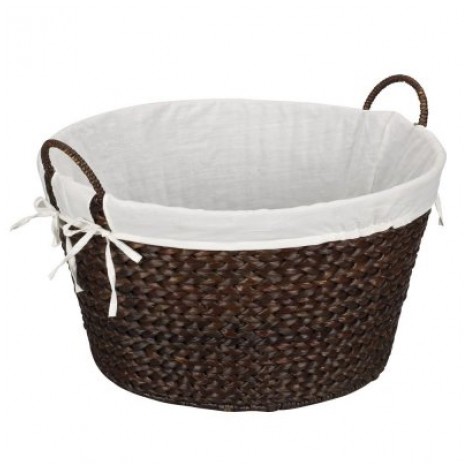 If you want style in your hamper, along with durability and lightweight design, then Household Essentials has the product you need. This is a wicker hamper that has a cozy look, but is still capable of hauling dirty, or clean clothes from point A to point B, and back again. It comes in your choice of two different colors and features two sturdy handles to help with transporting the product from one location to the other. Not only can it be used for clothes but it could be used as an elegant place to store blankets in plain sight or any other matter of items. It's large and features a removable liner for easy cleaning.
Humidity Tested
When it comes to wicker, many people worry that the dampness from wet clothes will cause mildew to form on the product. That is why this laundry basket is not only humidity tested, but coated as well to prevent mildew or mold from forming, making it safe to tote your wet clothes in.
Two Designs to Choose From
Since this product isn't just for carrying dirty clothes, it's a good thing it comes in two different design options. Choose from a dark brown stained wicker that would look great in a den or the popular lighter colored willow, which is what a wicker basket normally looks like.
Cost and Value
While this is one of the pricier items on the list, the fact that it has been humidity tested and can be used for more than hauling around your dirty clothes, recommends it. The designs that are offered with this item are rich, vibrant and have a cozy look to them. The removable liner and sturdy handles are added bonuses.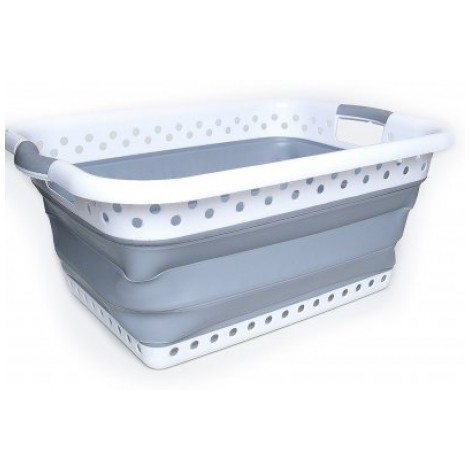 Whether you're in a dorm room or a small apartment, Proper Goods has the right basket to fit your needs. It is easy to use and easy to carry to the laundromat or from the bathroom to the laundry room. Since the pop-up product is collapsible, it's also versatile and can be used for something other than your clothes. It makes the perfect storage container and can be stored everywhere from the trunk of your car to the office. It features durable, lightweight construction, for carrying stability. Available in three brilliant colors, this one is one you will want to check into.
Available in 3 Vibrant Colors
Even though it's just something you want to store your belongings or your dirty clothes in, most people still have a color preference. This product comes in three vibrant color choices of grey, mint blue, or scuba blue, so everyone can find a color they like. Some people like their baskets to match the decor of the laundry or bathroom, with this product you have that option.
Smart PopUp Capabilities
This smart pop up product is one that is easy to use and can be collapsed to ensure easy storage. When you're ready to use it, simply pop it up when you need it and then collapse it when you don't, which makes it easy to fit it into spaces that are small when not in use.
Cost and Value
This inexpensive foldable storage container offers you just what you want in a basket. It's easy to use, easy to store and versatile enough to be used for just about all of your storage or laundry needs. Add in the choice of colors and the fact that it's durable and lightweight and you have a winner.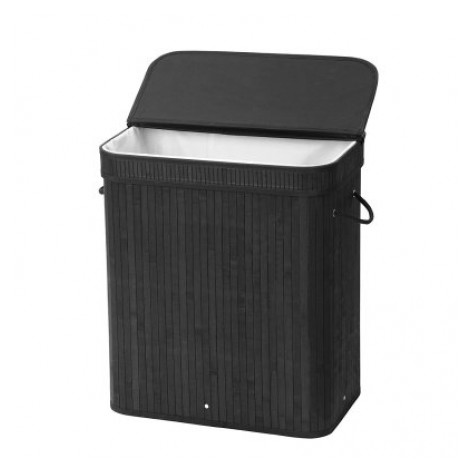 When you're searching for a high-quality hamper, you want one that has a convenient design, that is easy to assemble, comes with easy instructions and is durable, yet lightweight. Songmics delivers on those requirements, with a bamboo hamper that comes in your choice of four colors. The product features a removable, washable liner, cotton handles, and is large enough to hold the whole family's laundry.
Features a Flip Top Lid
This hamper features a removable lid that stops the problem of the lid falling on you when you're trying to put in and take out clothes. The lid is stable and makes the hamper easy to use.
Made of Environmentally Friendly Materials
If you are environmentally conscious in everything you do, then this hamper is right up your alley. It's 100 percent bamboo and has an elegant look about it. It's also carefully crafted, healthy and renewable. So, if you want to do your part to reduce your carbon footprint on the earth, then this is the right hamper to suit your needs.
Cost and Value
Being one of the higher priced products on the list doesn't make this one less worth the money spent. Not only is it environmentally friendly but it's made of bamboo that has an elegant look about it, making it easy to put in any part of your home. With the removable liner and soft cotton handles for easy transport, you would do well to check out this product.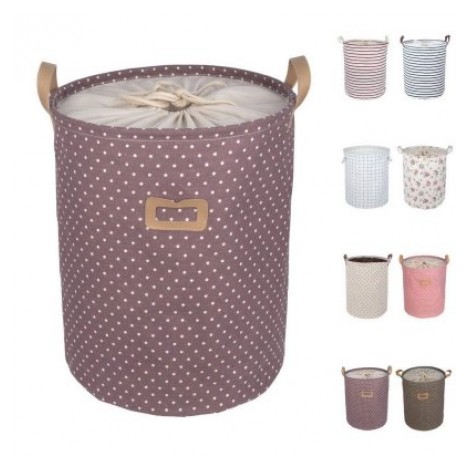 The Dokehom laundry basket is perfect for someone who is unique in their thinking and wants a bit of splash to their laundry containers. It comes in medium and large, and a variety of appealing colors and designs. If you are a fan of dots or other patterns, then this is the hamper for you. Not only are they colorful, but the container is lightweight, durable, and affordable as well.
Drawstring Cotton Linen
Made of 100 percent cotton, this product is waterproof, so you don't have to worry about damp clothes causing mildew to build up on the fabric. It also comes in eight color options from purple dots to blue stars and more. It also features a drawstring that makes it easy to haul the item around, without having your clothes spill out everywhere.
Lightweight
Since it is made of 100 percent cotton, the basket is lightweight, making it easy to carry from bathroom to laundry room or to the laundromat should the need arise. The lightweight design doesn't mean it is any less durable though.
Cost and Value
With its lightweight design and the fact that it's collapsible for easy storage, it's no wonder this item made the list. The drawstring for easy carrying and the fact that it comes in eight different colors makes this one a winner for sure.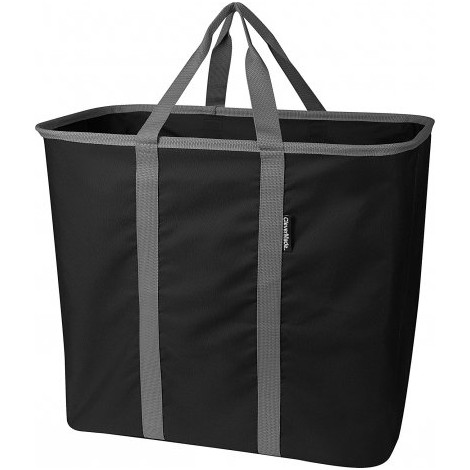 Sometimes you just need something light to carry your clothes or a few other items in. That is where the CleverMade tote comes in handy. It features a sturdy handle for easy transport and is an extra large pop up hamper as well. It comes in eight vibrant colors and a set of one or two to choose from. It's heavy-duty, yet lightweight, and collapsible for easy storage when it's not needed.
All-in-One Performance
When you are traveling, you hate to have to take a hamper and a tote with you. With this item, you don't have too. It's the perfect space-saving solution when you are traveling because it combines packing, transport, and then storage or laundry, in one bag that collapses when it is no longer needed.
Features Two-Carry Handles
If you have ever lugged a laundry basket around that had no handles or just uncomfortable handles, then you will appreciate this item with its two soft carry handles. The handles also enable you to balance the load and weight of the clothes you have packed in this sturdy item.
Cost and Value
One of the least expensive items on the list, the fact that this is a space-saving item is enough to recommend it for use in dorms and tight spaces. Add in the variety of color options and the handles for easy carrying and this one is well worth checking into.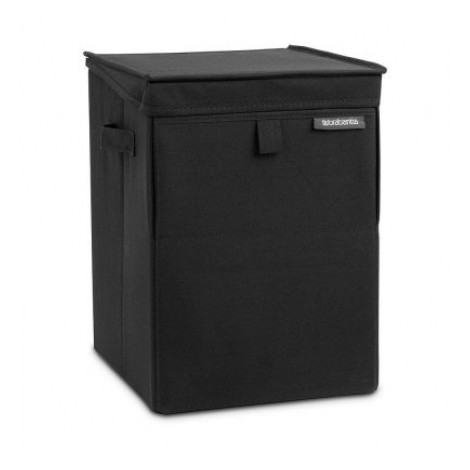 The Brabantia is certainly different from any of the other hampers, totes, and baskets on our list. If you are searching for a couple of bells and whistles with your hamper, then this is it. Not only is this hamper stackable but it has a compact design and has a 9.25-gallon capacity to recommend it. The bells and whistles come in with the fact that you can load the hamper from the front or the top. It's made of fabric and comes in your choice of black, grey, mint or warm red for color options. This hamper is easy to move, lightweight and, has sturdy handles, and folds easily and quickly for storage when it's not needed.
Front and Top Openings
If you are searching for a hamper that is easy to load from any angle, then this is the one for you. It has an opening in the front and opens from the top as well, so you have easy access to the hamper when it's needed. The neat compact design has a front flap that opens easily for depositing clothes and a top opening for pulling clothes out to launder.
Lightweight and Compact
The last thing you want, especially if you live in the dorms, is a heavy hamper to struggle carrying down to the washer. This item is lightweight, for easy carrying and even features two sturdy handles so you can get a grip on the hamper with ease. If you live in the dorms, then you don't have much space to go around, luckily this item folds up nice and quickly, so you can store it until you need it once again.
Cost and Value
This lightweight, yet compact hamper makes it possible for you to take this hamper from point A to point B and back again with ease. Add in the front and top openings and this one's a winner. The sturdy fabric design and the choice of colors to match your decor are also bonuses you don't want to miss.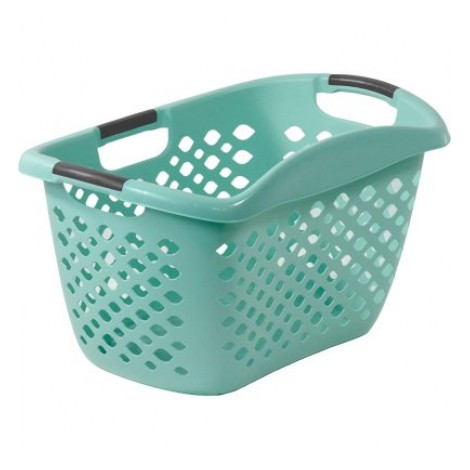 Rounding out our list at number 10 is the 1.8 BU hip grip laundry basket. It has a large capacity, which means it's big enough to hold more than a few loads of clothes, dirty or clean. If you are looking for a simple basket, without the bells and whistles, then this is the item you want. It comes in a teal splash color and is hip hugging, so it grips your hip for easy toting to and from the laundry room or laundromat. It's very sturdy, yet lightweight for optimum performance in the clothes carrying department.
Features 3 Handles
This item features three sturdy, comfort grip handles, so you have less of a chance of dropping a full load of clean clothes on your way back up the stairs. Made of plastic, this product is lightweight and the perfect simple basket for clothes, dirty or clean.
Hip Grip
If you have ever had a laundry basket that constantly slipped off your hip as you were walking, then you will love the hip grips on this item. The grips keep the item firmly against your hip as you walk.
Cost and Value
One of the least expensive items on our list, this simple product is one you will want to check into. It comes in an appealing color, is lightweight, durable, and features hip grips for extra comfort and practicality.

Subscribe to our Newsletter