Best Towel Warmers Reviewed & Rated for Quality
In a Hurry? Editors choice: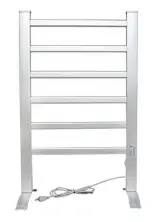 Test Winner: LCM Home Fashion

After a hard day's work, then coming home and taking care of chores around the house, there is no better way to end the day than a relaxing, hot bath! Then when you finish, having a thick, warm towel to wrap around you is a great feeling, which will have you even more relaxed. With a
towel
warmer, you will reap these amazing benefits! When choosing a unit, there are several factors to consider. Price points, heat settings, sizes, and heat output, are all aspects that will affect a unit's performance.
We've compiled a list of the 10 top towel warmers on the market in 2019 - completed with the pros and cons of each review. This will take the guesswork out for you.
Standout Picks
Criteria Used for Evaluation
Connectivity
Central Heating Towel Rack
There are many homes, especially the ones located in rural areas, that are considered 'off the gas grid'. For around 50% of houses that have a central heating structure in place, towel warmers that use central heating are quite the option. For this type, the rail is plumbed into the heating system. Radiator valves is all that will be required to accompany them.
With this method, your towel warmer will work the same way as a conventional radiator. Take into consideration that it will give out a lower output of heat against a standard convection radiator.
Electric Towel Rack
An electric towel rack is typically ideal for high-rise buildings or apartments. These are places where it is difficult to obtain the pressure needed for central heating. This also goes for homes where there is no central heating or gas present.
Electric towel racks are easy to set up and install. These are a less expensive alternative to central heating. They offer the most affordable way to heat up your towels. Plus, the modern design provides an aesthetic appeal.
Dual Fuel Towel Rack
Dual fuel towel racks are growing increasingly popular. They allow users to enjoy the best of both worlds. This type of rack requires both an electric operation and central heating. The rails uses electric heating, and they are plumbed into the central heating unit. A T-piece fitting isolates the towel rack from the plumbing unit, which allows it to work separately from your central heating. You will maintain a constant stream of warm towels as a result.
Hydronic Towel Rack
Hydronic towel warmers are hooked up to hot-water plumbing. Just like a radiator, hot water runs through the rail bars, heating up the room and keeping it warm. These are usually mounted on the wall. If you have a hydronic radiator in your home, the best way for installing a floor-mounted warmer is to replace your radiator, according to DIY.com. This will prevent having to tear up your flooring or draining your system.
Size
The bathroom will be the obvious place in your home that you would envision a towel rack to be placed at. However, you are not strictly limited to just that room. Utility rooms and kitchens are other places that can use one. Cloakrooms and en-suites are other areas as well, (that is, if you have either one or both in your home). Wherever you wish to place your towel warmer, there are a few major ways to use it. This include in terms of operation too.
The Bathroom
There are a few factors that determine if a towel warmer would be a sufficient heating source for your bathroom. Depending on the size, an additional heating unit may be needed. Every bathroom is different, with separate requirements regarding space and temperature.
Bathrooms are typically warm and humid. As such, they will have unique heating requirements. Towel warmers can be used as a main heating source for a small to medium bathroom. You can purchase other heating units to add more warmth, however the size of the bathroom will be the determining factor whether an extra unit can accommodate it.
If you have limited space but need a towel warmer, adding a towel rack attachment to a radiator can be ideal for a larger bathroom. This provides a more powerful heat output needed to keep your bathroom comfortably warm.
The Kitchen
The layout of a kitchen will determine which type of towel warmer you choose. By installing one, you can ensure you will always have a warm towel to use for drying the dishes or your hands.
Towel warmers are not uncommon for kitchen use. You will only need the right fit for hanging a few tea-towels on. Be sure to look for a smaller design if your kitchen size lean towards the narrow side.
For larger kitchen spaces, you will struggle to find a towel warmer that will effectively warm the area. Therefore, the better alternative is to choose a radiator that doubles as a functioning towel storage. It will enhance the look of the radiator and adds to the practicality factor.
The Cloak Room - En Suite
For a en-suite or cloakroom, you will not necessarily need a towel warmer that produces massive heat. Shopping to fill in such a smaller area brings its own unique challenges. You will need a warmer unit with a compact design that still delivers adequate towel storage space.
It adds a vintage appeal and maximizes a small space in providing a solution for heat. A model that has a lower heat output would not be problematic for an en-suite or a cloakroom. Therefore, it is compensated for by its functionality and the minimalist style the towel rack provides.
Materials
Steel
Towel warmers made from mild steel is a popular material used in their design. It heats up quickly, is affordable, and retains heat for a decent length of time. Therefore, it provides a practical means to deliver warmth to a room.
Aluminum
Certain manufacturers, tend to lean towards aluminum for designing towel warmer units. Aluminum typically heats much quicker than their steel counterparts. In some cases, they are five times as quick to heat up in certain instances and are a more efficient way to heat up a specific area. They normally store less water than steel racks. This alone can save on energy bills.
Certain towel warmers are made to be lightweight, which makes it the ideal option for stud walls that may not have the foundation to support a heavier steel radiator. The downside is that aluminum heating will not retain heat as long as steel racks or radiators. If you want something that holds heat longer, a steel model is the ideal choice.
Style
Now, more than ever, towel warmers can bring about a certain style in the home. Manufacturers are designing towel warmers that reflect an existing decor. Some consumers are choosing styles based on the color of their chosen towel rack.
Chrome Heated Towel Racks
Chrome heated towel warmers were pretty much one of the most popular styles available on the market. It is unsurprising that they are still trending as of today. One of the major reasons for this is that they are designed to fit with almost any decor. They also complement shower heads, faucets, etc. More than other finishes, chrome can provide a coordinated appearance to the bathroom. It is an ideal option for traditional style spaces.
White Heated Towel Racks
Similar to chrome heated units, a white rack will go with any bathroom decor. It will deliver a catchy style and functionality to your space. A white towel rail can also provide a sense of cleanliness to any area. It gives the look of a hygienic, crisp bathroom with a designer feel - although you will have to clean it regularly.

Anthracite Heated Towel Racks
Anthracite finishes are slowly being incorporated into the design of towel warmers. It gives off a designer look as compared to chrome or white towel warmers. Having an anthracite towel rail can cause your bathroom to become the focal point in your home, while maximizing available space. It will still provide easy access to dry, warm towels as well. Delivering adequate heat output, this towel rack would be the perfect choice for a modern, small bathroom.
Silver Heated Towel Racks
Silver towel racks are similar to chrome. The heating from silver units is less prone to fingerprint markings. This is something to take in consideration in households that has small children. These rails blend in great with accessories and bathroom fixtures while providing an alternative to chrome or mirrored radiators. They will certainly add value and style to your bathroom or any room in your home.
Traditional Towel Racks
Traditional racks will bring style to a classic bathroom, kitchen, or an en-suite. They exude a vintage appeal while exuding authenticity. These towel warmers are available in both wall-mounted and freestanding designs. This can be the perfect accessory to add to your home, whether you are requiring a compact heating option or you're looking to accommodate a larger space.

Modern Towel Racks
These towel warmers create a modern and classic look in your home. They will also increase the value of it. In addition, they offer practicality.
Model
There are different models of towel warmer types.
Bar Towel Warmer
A bar towel warmer is usually made from metal materials which resembles stainless steel. It is built with a heating mechanism that runs through the rails to provide the heat. Generally, the part of the unit that touches the rails themselves will heat the fastest. The heat inside will eventually spread between each bar for even heat distribution. Heating capacity will depend on how many bars on the unit, the size, and their distance apart.
Bar Towel Warmer - Wall Mounted
Wall-mounted warmers are a great idea if you have limited floor space. These can take the place of towel bars. Wall units are available in electric and hydronic versions, and can be either hardwired or plugged in. Hydronic warmers are either floor or wall mounted since they use radiant heat or hot water plumbing.
When choosing from either a wall or floor unit, consider the wall placement. If your wall design includes a facet like wainscoting, or your wall's bottom half is tiled and the top is flat, you have to consider if it will be practical to have the warmer placed on the floor in front of the wall, above the tile line, or find a unit that is designed to be level on uneven walls.
Bar Towel Warmer - Freestanding
A freestanding bar towel unit offers flexibility in placement. Plus, the installation is simple- even a DIY-er could do it! Freestanding units are electric and most use a standard outlet plug to operate.
Bucket Towel Warmers
Bucket towel warmers are heaters that resemble buckets. Like water in a bucket, they take the towels and hold them. The opening is located at the top. Fill it with towels, place the lid, and they will heat up. The heating inside the unit heats the towels from all sides and through the middle of the pile. Bucket warmers have a solid capacity, but not as large as a bar warmer.
Cabinet Towel Warmers
Cabinet heaters resemble a cabinet or microwave. Like a bucket warmer, towels are heated by a mechanism inside the unit. They are available in many sizes and are the most portable out of the three warmers.
Top 10 Picks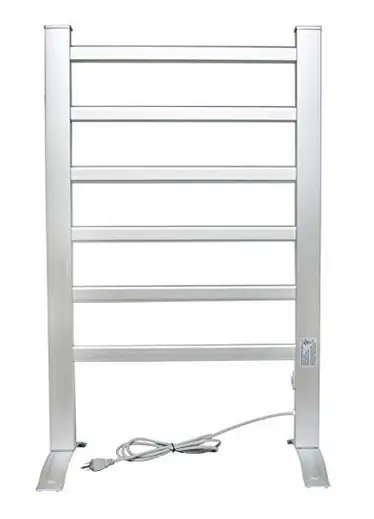 Many consumers have used, the LCM Home Fashion towel warmer for its heating benefits. Since its launch, this heating unit is known for its convenience and versatility. This is the ideal unit to choose if you are looking for an exceptional heating output at a great value! Product dimensions are 21.7 x 13.2 x 35.6 inches, and weighs 8.35 pounds.
Maximum Temperature Reaches Up To 122 degrees F
This towel warmer has the ability to heat towels in 30 minutes, thanks to the high settings this unit provides. You can step in the shower; and by the time you are finished, you will find a warm towel ready for you to use.
Ease of Installation
The LCM Home Fashion towel warmer is a freestanding unit that is easy to set up. All that is required is mounting the brackets on the wall or the freestanding feet. This unit has a matte finish, requiring little cleaning.
Cost and Value
This unit requires little energy, which makes it the ideal towel warmer. It is manufactured to run continuously without having to readjust the temperature. This is a versatile warmer that is designed to meet all of your needs. If you are not satisfied with your purchase for any reason, you can contact LCM Home for exchange or refund options.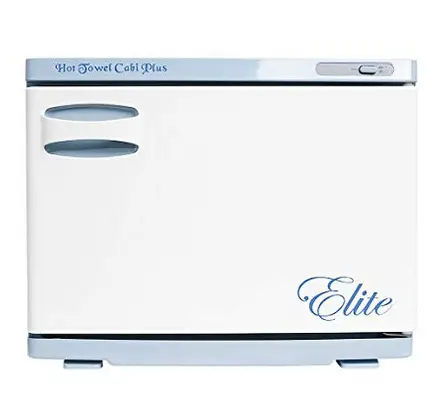 If you are looking to have a constant supply of warm towels in your home, the Elite Cabi-Warmer can be an excellent investment. This heating unit work efficiently in sanitizing and warming washcloths within minutes. What's more? You will see that this cabinet has a sleek design and is a space saver. Product dimensions are 17.5 x 10.5 x 14 inches, and weighs 17 pounds.
Easy to Maintain
This heating unit comes with a drip pan. This stops water from leaking from within the unit. The towel rack provides a smarter way to organize your towels, keeping them neat in one place. Pre-soak towels and wring out the excess water. Roll them and place on the wire rack. Turn on the power and the unit will do the rest.
Great Performance
The Elite Cabi-Warmer is insulated with a padded heating mechanism that surrounds the interior to warm up towels in a matter of minutes. It comes with internal temperature controls which prevents the unit from overheating. Plus, it does not require a light bulb to use.
Cost and Value
The Elite towel warmer does an awesome job in heating towels quickly. The moment you turn on the unit, the hot towel cabinets starts heating up instantly. Moreover, with the right temperature level, towels turn out warm as expected. For returns and exchanges, you can contact Elite through Amazon regarding their policy rules.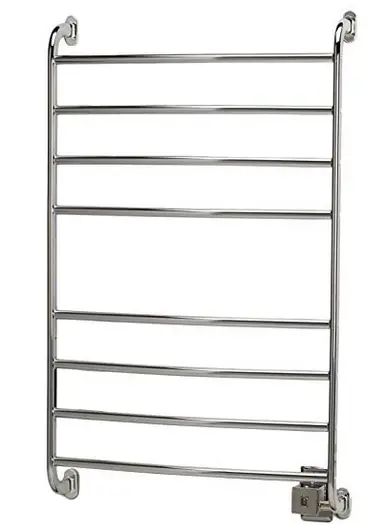 The Warmrails HSKC Kensington towel warmer will turn your place into a home spa the moment you install it. This unit comes with eight hanging bars which you can place multiple items. It requires 150 watts of electricity; which is very efficient. This unit is perfect for drying towels or clothes on cold days. Product dimensions are 6 x 24 x 40 inches, and weighs 8.8 pounds.
Perfect For a Small Space
The Warmrails heating unit comes with a wall mounted design which makes this unit the perfect choice for consumers with limited spaces. You can choose between hardwired and non-wired models. All warmers are designed with a chrome finish which increases its beauty, while protecting it from rust.
Portable
Measuring 24 inches in length, this heating unit comes boxed together with a 7 ft. electrical cord. It has an illuminated, off/on switch. Installation hardware is provided along with an instructions manual. This portable unit weighs only 8.8 pounds, meaning you can take it with you from place to place.
Cost and Value
This unit is perfect for drying hand washables along with items that does not require using a regular dryer. The Warmrails towel warmer comes with a one year limited warranty if there are any problems.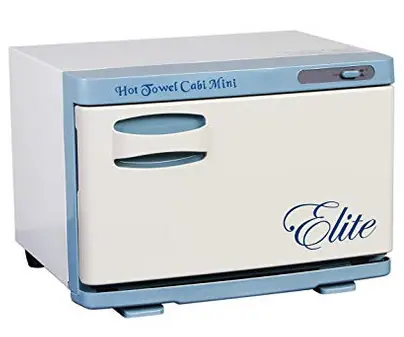 Having a warm towel on hand after a massage or workout is an experience to relish. The Elite Mini hot towel cabinet is specifically designed to provide warm towels, however fast you need them. For effective results, use this unit with smaller towels. Product dimensions are 17.8 x 10.5 x 14 inches, and weighs 9 pounds.
Large Capacity
The Elite cabinet mini holds a capacity of 12 small facial towels so that you will never run out of them. Its large capacity makes this portable heating unit the perfect addition for domestic and commercial use.
Water Drip Rack
This towel warmer is fitted with a water drip to make water collection easier. This ensures that the dripping water will not interfere with the functionality of the unit. A rack is included to place your towels on.
Cost and Value
The Elite hot towel cabinet has maintained a high rating among many customers. Those who had used the towel warmer reported that they were satisfied with their purchase. The unit provides reliability, quality, and a great performance. For returns and exchanges, you can contact Elite through Amazon regarding their policy rules.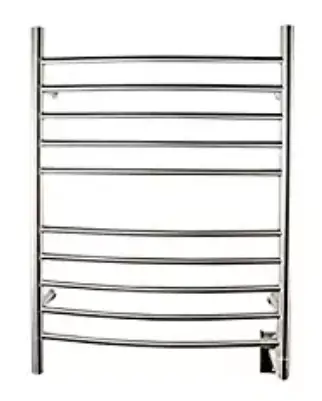 The Amba RWH-CB curved towel is a versatile towel warmer that is available on the market. It features 10 crossbars for optimal drying. The bars warm up quickly, making this model ideal for home and commercial use. This unit is a high-quality towel warmer. Product dimensions are 31.5 x 5.8 x 23.6 inches, and weighs 10 pounds.
Optimum Heating
This model is fitted with bars which heat up horizontally as well as vertically. This model, by design, ensures a maximum heat output, providing you dry and warm towels within a short amount of time. You can adjust the duration, thanks to the controllable timer - making the unit even more practical.
Sturdy Construction
The RWH-CB is constructed using a heavy duty 304 stainless steel. This not only increases its stability, but also its longevity. The concealed wire inside the unit reduces the risk of electric-related injuries.
Cost and Value
The towel warmer consumes power that equivalates to a couple of light bulbs. In addition, this unit boasts a UL Certification, making it safe to use. If the item is defective, and you choose to return it rather than replace it, Amba will charge a 15% fee for restocking. Original processing and shipping charges will not be refunded.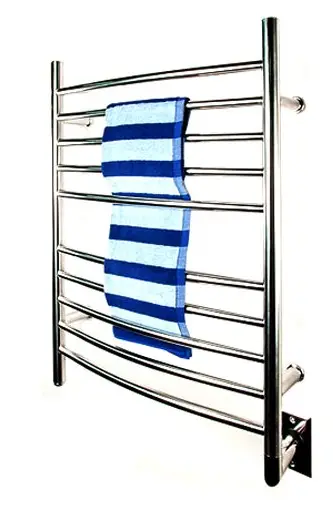 Made by Amba, the Amba RWH-CP is the unit choice if you want to experience an effective towel warmer. This model is regarded as one of the best on the market today, due to its features that increase efficiency. Product dimensions are 31.5 x 4.8 x 23.8 inches, and weighs 10 pounds.
Ten Heating Crossbars
This model is designed for optimum heat output. The reason being is that it is fitted with 10 heating crossbars. These crossbars allows the unit to heat up amazingly fast, thereby increasing energy efficiency - which saves on heating time.
Discreet On/Off Switch
The Amba warmer comes with a discreet off/on switch, which controls the towel warmer. Just plug it into the wall outlet and you can use it for 24 hours with the programmable remote.
Cost and Value
The unit requires minimal power to operate. The Amba RWH has an impressive rating for being easy to use and well built. If the item is defective, and you choose to return it rather than replace it, Amba will charge a 15% fee for restocking and your original processing and shipping charges will not be refunded.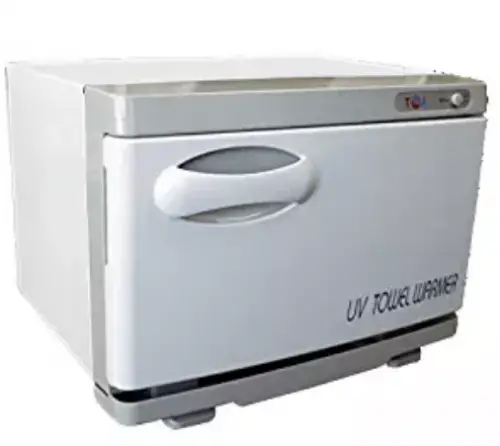 The TOA towel warmer has advanced heating options to provide dry, heated towels. This unit is designed with an inbuilt UV lamp for killing off most single micro-organisms. A structural temperature control is provided. It has an appealing appearance - all which guarantees a hassle-free and safe operation.
Advanced Heating System
This is a compact UV cabinet, which comes with an interior that is rust-proof. Inside, this unit maintains a temperature of 155 F. It comes with a door seal and towel rack for heat retention.
Multi-Functional
The TOA towel unit has a structural technology which makes this model a great idea for your business and home. The unit's easy pull-out doors provide for effortless removal of dry towels. It comes with a drip tray that catches all excess water for keeping your counters dry. Features a UV lamp that kills micro-organisms.
Cost and Value
The frame is sturdy, which allows for years of trouble-free and safer operations. TOA remains true to their original concept regarding quality products. If you are unsatisfied with your unit, TOA will accept new products within 15 days of received shipment. Customer is responsible for the cost of shipping. Restocking fees applies for items returned after 15 days. Items over 30 days will be denied.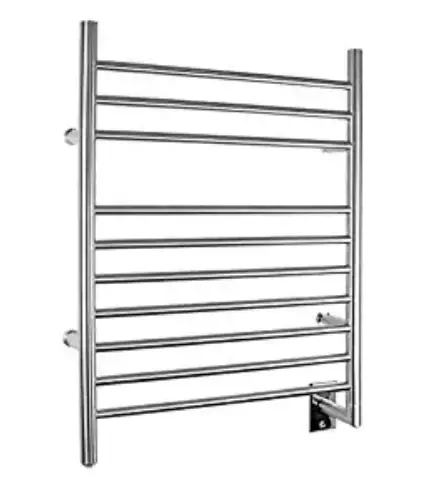 The 10-bar towel warmer by Warmly Yours features ten horizontal bars and comes in two models. It comes in hardwired, which is meant for permanent installation, and the plug-in model, which is for temporary use. The hardwired model provides a programmable timer for setting it in a way that it can operate at whatever times you choose. Product dimensions are 32.4 x 24 inches, and weighs 12 pounds.
It's Cordless
The Infinity warmer's plug-in unit is accommodated with an automatic control timer to start and stop the unit according to your preference. This model's design gives a lot of room and holds up to 2 towels and robes to heat evenly.
Easy Installation
This model is created to mount on the wall. It is easy to install and offer a 150-watt heat output. Robes and towels are warmed using minimal wattage. It fit neatly into a bathroom and blends with various decors. No wiring is shown, which improves aesthetics and function.
Cost and Value
WarmlyYours' mission is to make luxury a reality. It has a Zen inspired design for providing a spa environment in your home bathroom. The model comes with a 2-year warranty if there is a defect.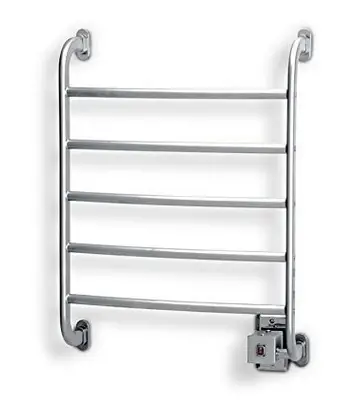 The Warmrails wall mounted towel warmer is a hard-wired electrical heating unit that can be placed on the wall. To use this particular model, it has to be hardwired into your current electrical source. Product dimensions are 5 x 19 x 25 inches, and weighs 6.85 pounds.
Ideal for Smaller Bathrooms
This towel holder is a necessity for smaller bathrooms. This unit is designed to mount on the wall and comes with all directions, making it the perfect accessory for nearly every bathroom. The off/on switch is lighted for night use .
Efficiency
What is great about this unit is that it's energy efficient. It helps that the unit is capable of holding multiple towels at once. There is no denying that the Regent towel unit is well-designed, which makes it a great value!
Cost and Value
Warmrails towel warmers embody the right combination of luxury, style, and performance. Each model comes with power and ample room to heat up a full set of bath towels. The HSRC Regent towel unit comes with a one year limited warranty if there are any problems.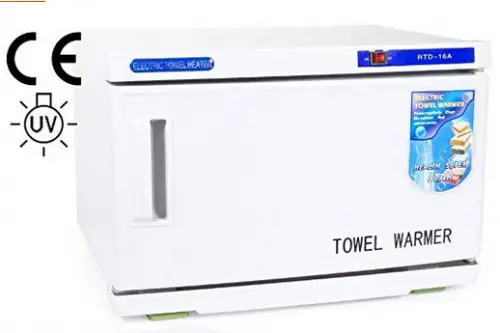 Has a UV sterilizer
Convenient
Accommodates 20 - 60 smaller towels
Consistent high temperatures
Suitable for hotels and restaurants
Sterilization Feature
The 2 in 1 hot towel warmer prepares sanitary, dry towels using a UV light sterilizer. This prepares your unit for hygienic use. This combination warmer cabinet heat towels to around 175 F.

Roomy Interior
The WYZ towel warmer accommodates 20 - 60 towels at once, depending on towel sizes. It comes with a removable and durable towel rack.

Cost and Value
Suitable for use in hotels, restaurants, or to enjoy in the comfort of your bathroom or kitchen. Any returns must be approved before sending back any items. Unauthorized units will not be accepted and customers are responsible for shipping charges. WYZworks accepts return for defective units only. There is a 30-day refund for unused products and 60 days for any defective items.

Subscribe to our Newsletter