Best Infrared Heaters Reviewed & Rated for Quality
In a Hurry? Editors choice: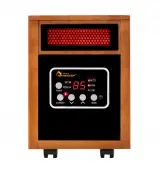 Test Winner: Dr. Infrared Portable

Everyone needs
some kind of extra heat
in their home, maybe there's that one corner of the house that always seems chilly or there's that one window that lets the warm air you want out and lets the cold air in. Maybe it's just a way to keep the garage warm so you can work in the winter. You could get a normal heater, but on the other hand, you want something with a bit more power to it. But what could it be? The answer to this is simple: an infrared heater. Infrared heaters are basically normal heaters, but instead of hot air
to keep you warm
or indeed any kind of naturally generated heat, it instead uses infrared heat that warms the air in the room from a small source. It's a good option so we're counting down the 10 best infrared heaters.
Standout Picks
Criteria Used for Evaluation
Capacity
To many, it isn't so much how much heat a heater can generate, as it is about how much of an area it can generate it within. Generally speaking, the smaller the heater, the less area you got to cover, but on the other hand, the smaller ones are, the easier ones to carry around, which is also important. The area of effect basically means how much area the heat circulated by the heater can cover before it starts to peter out and lose to the colder air. Because hot air can only travel so far, especially when compared to cold air. We judged each potential entry by how much area they could cover and how thoroughly, because the further out hot air travels from its source, the colder it gets, so how evenly the heat was distributed was a big part of this criteria.
But of course, how much of an area the heater covers doesn't matter if the heat put out by the heater isn't enough to actually keep the area warm. Fortunately, pretty much all heaters on this list had something of a solution for this, as even the lowest tech entries on this list have some means of adjusting how much heat the heater puts out. However, infrared heaters tend to have a lower heat limit than electric or gas heaters, usually capping at around 90 degrees. Which, to be fair, is often more than enough since even when it's freezing cold outside, we doubt you want to turn the inside of your house into Florida in July. But even still, if you're getting a heater, you probably want it actually to heat stuff up.
Safety Hazards
Every infrared heater has at least a slight chance of overheating and catching on fire. It's the nature of the equipment and technology used to make it. Luckily, manufacturers figured that out a long time ago, and have worked double time to make sure each of their new products reduces that risk more and more. There are many different ways to prevent overload or perform damage control when one does happen. But the most common one is for the heater to just shut down automatically as soon as the internal computers realize that an overheat is imminent. Despite this seemingly airtight countermeasure, we chose to play it better safe than sorry and judged each entry by how much danger the user was actually in of an overload occurring.
Versatility
But putting out heat is just one job that these heaters can do, as we've seen throughout this list... Infrared heaters love to compensate for their limited temperature output by having a bunch of other useful tricks and quirks up their sleeves. One of the most common is an eco-mode, which has the thermostat of the heater judge what the correct temperature would be to properly warm the room, while also staying at the bare minimum so as to not use too much electricity, and then automatically adjust itself to that temperature for you. This saves you way more money than you think it does, which is why it's so common. But there are also a lot more functions that these heaters have beyond that which give each entry its own unique flair, even if they're exactly alike in literally every other respect.
Size
With an infrared heater, the size only really matters when it comes to figuring out where and how you will fit it into your home. Choosing the right sized heater only relates to the amount of space that you have. It does not mean that a larger heater will keep you warmer. Typically, you want to look for a heater that effectively heats the room or space that you need it to. So when it comes to it, look for a space heater that effectively heats and is radiant, which could be a heater that is large or small.
Top 10 Picks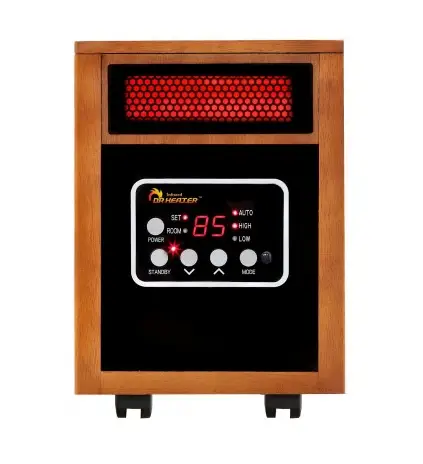 Dr. Heater has been around for quite some time, making high-quality heaters of all kinds. And their Dr infrared line of heaters has more than left a good impression on us and the market at large.
Dual heating systems
Most infrared heaters use single heating systems, and those work well and good for what they're seeking to accomplish. However, this heater uses a dual heating system that spreads out heat more efficiently and at a much more balanced rate than a normal heater. And you don't need to worry about it running too long, it has a 12-hour automatic shut-off timer.
High pressure, low noise
While they don't rely on it as normal heaters do, infrared heaters still have a fan-like device that guides the heat out of the machine and out into the room. This fan gives off a very high amount of air pressure, while also keeping the noise to a low hum so as to not be annoying about it.
Cost and Value
It only makes sense that infrared heaters, on average, would be pricey, as all heaters tend to be. However, by that metric, the price for this one actually isn't all that bad.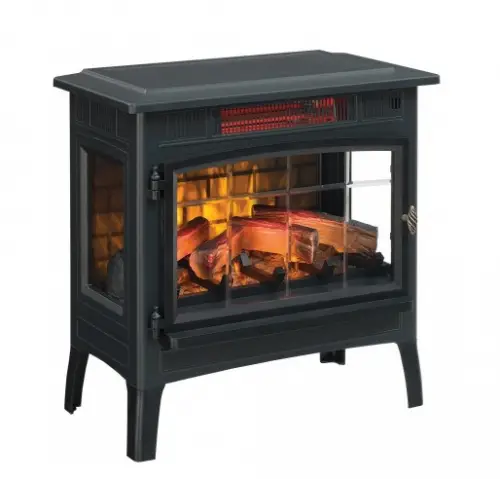 Duraflame is considered one of the oldest names in fireplace building, and in the time since they started they've put out a lot of heaters, so of course, they hopped right onto infrared heating when it first hit the scene. And this product is probably all of their efforts in this field brought to fruition.
Maintains natural humidity
Humidity, if you're lucky, should never not be in a room. It's imperative that an environment's air has some amount of moisture in the air in order for things to be comfortable otherwise the dryness will irritate your skin among many other areas. Fortunately, this heater provides even heating to the room while still keeping the moisture levels at their usual amount, so as to not completely dry up the room's air.
Overheat protection
One flaw that manufacturers constantly try to either prevent or stop from spiraling out of control when it does happen is the heater overheating. Indeed, like all machines that put off this much heat at this consistent a rate, the very heat that it puts off can end up frying the circuitry. Which is why this heater has multiple sensors in place to check and make constant sure that the heater is not in any danger of overheating. If it is, the heater will automatically shut off until it cools down.
Cost and Value
In stark contrast to the previous entry, this heater is much more expensive, lying well into the triple digit area like most of the other entries on this list.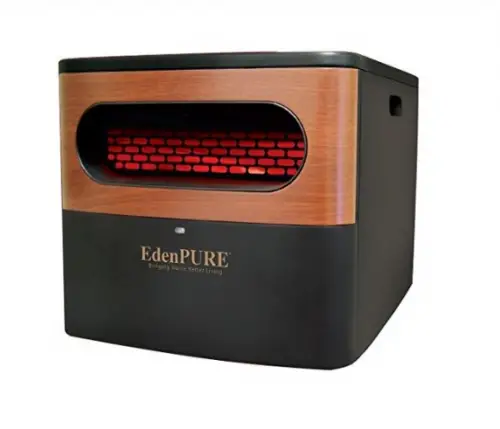 This is one of the simplest designs for a heater on this entire list, and while the price is still pretty up there, its compact size and customization options make the price a lot more agreeable.
Compact design
There are a lot of benefits to this heater being so small. While not necessarily as powerful as other entries on this list (though it is definitely no slouch either), its smaller, lighter design makes it a breeze to carry it around the house to wherever you need it to be. So, if you have a power outage during the winter and need a heater in whatever room you're in, this can ease the hustle of having to carry a heater from room to room.
Circulate air option
People often put up their heaters once the weather starts to take its foot off the "freeze everything" pedal. But during the summer months, the air can become stale or stuffy from the increased heat and humidity. Fortunately, this heater has a solution. By turning off the heat with the push of a button, you can switch this heater to a mode that circulates the air of any room it's in. And since stale, stuffy air is the majority source of most of the discomfort you feel during summer, this can be a godsend for you.
Cost and Value
As we said, this is still a rather expensive heater, at least when compared to the 1st entry. But its small size and compact nature make it much cheaper than other entries on this list.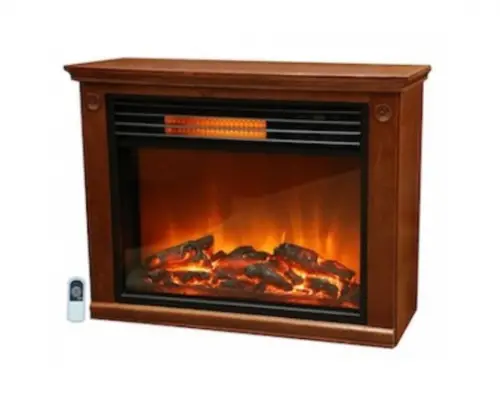 LifeSmart is known for a lot of different products, but infrared heaters are one of their wheelhouses. They're the type of company that's focused on doing things well consistently rather than getting it really right once. And this heater is the best fruit of that mindset.
Two level fire glow
Fireplace infrared heaters are all the rage and for a good reason. Who doesn't want to have a mini fireplace that they can just take with them wherever they want? However, LifeSmart's fireplace heater has one of the most realistic fire glows on this entire dual-layer to its dual-layer glow.
Natural, quiet, and efficient
The big problem with infrared heaters, as you've likely noticed by now, is that they're all really loud. Since this machine has to actually produce the heat itself through means that don't include actually setting something on fire, it can make a lot of noise to pull that off. Which is why it's always worth mentioning when one heater manages to give off the same amount of heat as any other heater on this list without waking the entire house in the process.
Cost and Value
Thankfully, we're back to a much more reasonable cost. Not quite to the low level of the 1st entry, of course, but still a very reasonable asking price for a heater of such quality.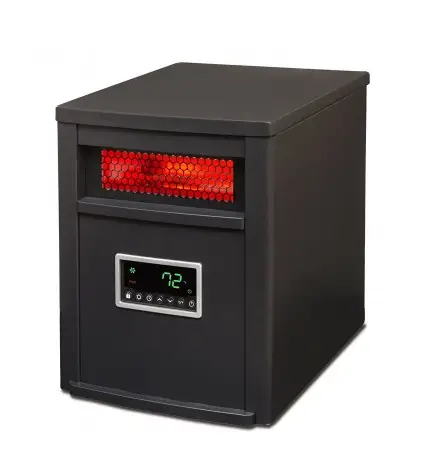 When we said LifeSmart preferred consistent quality over maximum but short-lived quality, we meant it, as they have a monopoly on a lot of the rest of this list. And as we go over this heater and those to come, you'll very quickly pick up on why.
Small size, wide AOE
This may not be the biggest entry on the list, but it has a shockingly large area of effect (AOE). You can heat up an entire dining room in the dead of winter with this heater in mere minutes. And with its multiple heat settings, including500-watt friendly 500-watt setting, this heater will help you get to exactly the temperature you want your room to be in.
Digital thermostat
But of course, sometimes those preset don't give you exactly what you want. Sometimes the situation calls for a little specificity, which is why this heater comes with a digital thermostat and remote for instant customization of the heat output to suit your needs. So, if all of the given settings are too high or low for you, just alter the output for what you need.
Cost and Value
Like before, the cost of this compact size heater is much more reasonable and fairer. Not quite as cheap as the previous entry, but the margin there is so minuscule as to be ignorable.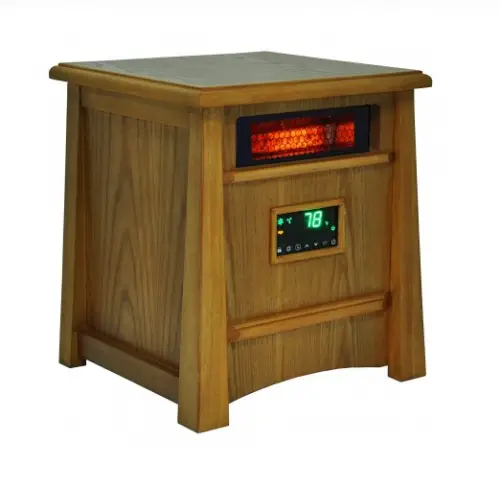 Don't let the simplistic wood grain exterior make you think you're in for an inferior product with this entry, as it's one of the best choices for when you need an extra-large area nice and toasty in no time flat.
Superior AOE
This has one of the largest areas of effect on this entire list when it comes to circulating heat around a large open area. While the previous entry floundered once it hit the 1000 sq ft mark, this one can evenly heat rooms of up to 1800 sq ft. So, if that big spacious living room you have may as well be a butcher's freezer during the winter, this heater will change that nice and quick.
Cool to the touch
LifeSmart chose the wood cabinet design for the exterior of this heater for much more than aesthetics. Due to some clever design implementation, this heater is almost completely cool to the touch, even after running at full blast for hours on end. The worst you'll feel when you touch it will be a soft warmth if even that. Meaning you don't have to wait for the thing to cool off before being able to move it to a different room.
Cost and Value
The big problem with this entry is the price. This is easily the priciest entry yet on this list, with an asking price across general retailers that easily dwarfs the previous entries with basically no comparison between them. It will give you everything you pay for but be prepared to pay.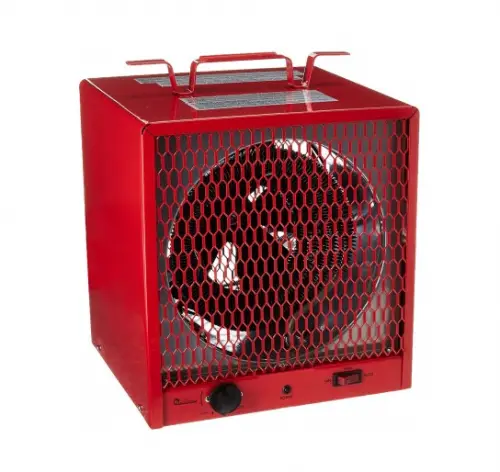 This is probably the most strikingly different entry from the others on this list since it has none of the sleek design flourishes that the others do. Which makes sense, considering the name implies that it's built more for a work environment. Let's see how it measures up.
Great for garages and workshops
If you need a heater for the garage or workshop during those cold winter projects, this is about as perfect a choice for that as you can get. Unlike other Infrared fans, this one relies much more on its fan, which makes it perfect for blowing out lots of needed heat into what's likely a very cold, not very well insulated space.
Adjustable thermometer
The crude, simplistic design of this heater might make you think that there isn't a lot of climate control for this device. And with this, you would be wrong, as it is having a fully controllable manual thermometer rather than a digital one. Giving you the ability to dictate what temperature the heater puts out with a turn of the dial.
Cost and Value
Of course, being so small and simplistic, it's no wonder that this is one of the most affordable entries on the entire list. While not quite to the level of the #1 entry, it's definitely the one that's come the closest so far.

8

. Homegear Infrared Heater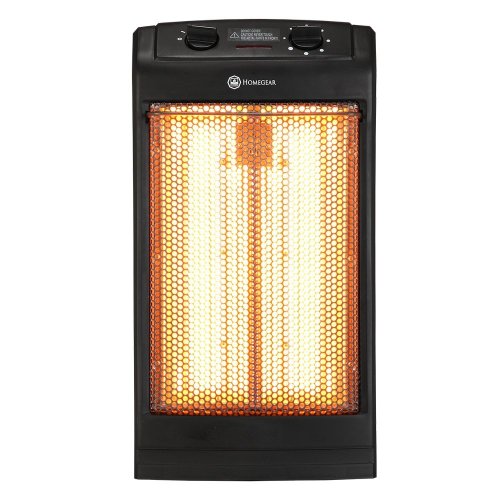 While not quite as famous as the other brands on this list, Homegear has had a lot of wins. If you are looking to keep warm, here's a good option for you. Let's dig into it and see what makes it so good.
Efficient and powerful
This heater is a 1500W powerful heater. It provides instant directional heat like you would want it to. Because it offers instant and powerful off-put, it's an incredibly effective heater. This reflective IR heater makes sure to keep you warm without wasting any energy on the spaces that you are not in.
Eco function
Speaking of not wasting energy, this heater also offers an eco-setting function to help save energy. You can swap out the 1500W for 750W on the eco setting, which will still keep you warm, you'll just help save the energy.
Cost and Value
This heater comes in at a very affordable price. As efficient and powerful as it is, this is a great deal. Shocking for a heater of such high quality, but hey, we're not going to complain.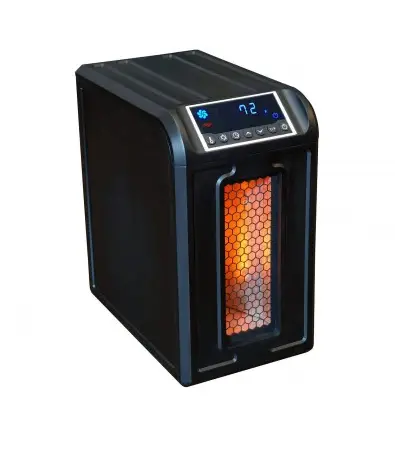 This is the entry you go for when winter has not only come, but also brought all its friends, and you're strapped for cash and need to keep the electricity bill down. It's the quintessential budget option.
Easy placement
This is one of the most compact and lightweight entries on the entire list, which is good when you need a heater with you when it gets particularly cold. Its small design and light weight make it incredibly easy to place around the house wherever you need it. Whether it's on the living room table to warm up your family gatherings, or under your desk to keep the cold off your toes during those late night work hours.
Quick and efficient heating
Don't let its small stature turn you off, this heater is one of the most efficient on the entire list when it comes to spreading and circulating heat around a room. If you need the entire room nice and toasty, then just place this heater near the center of the room and leave it to its work.
Cost and Value
Up to now, we have been comparing other entries to the first one on this list since it was the cheapest one of them all. Well, that title has been usurped by LifeSmart. This is the cheapest Infrared heater we could find on the market, that was still of very high quality.

10

. Heat Storm HS-1500-TT Infrared Heater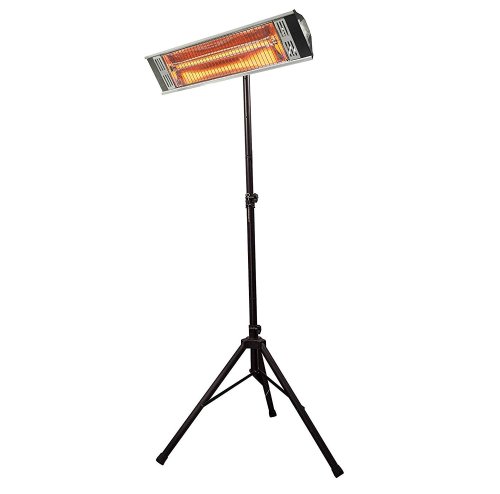 Looking for some warmth while you work or relax? This is the infrared heater for you. Whether you are indoors or outdoors, say in your workshop or on the patio, this heater can go along with you. What makes it different from all of the rest is that it isn't low to the floor, it's above you on a tripod.
Versatile and portable
You don't have to connect the heater to the tripod, which makes it versatile for whatever space you are working or lounging in. The tripod and roll cage accessories this product offers make it something easy to transport with you.
Safer heating
You can mount this heater vertically or horizontally wherever you need it. This heater does not output CO2 like propane or natural gas heaters that burn fossil fuels. And, it does not require any dangerous tanks, plumbing or ventilation.
Cost and Value
This heater is among one of the pricier on this list, but it is not out of line. For the heat and the use, the value seems completely acceptable.

Subscribe to our Newsletter