Best Night Stand Reviewed & Rated for Quality
In a Hurry? Editors choice: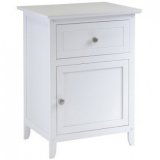 Test Winner: Winsome Wood with Drawer

Believe it or not, there are those who would simply run to the store and grab the least expensive nightstand they can find, without doing much research on the topic. However, once you have painted the walls, carpeted the floors, found the perfect mattress and
headboard
, and topped them with your pleasure of
comforters and pillow shams
, you should definitely spend the time to choose the nightstand that will top it all off and be
your finishing touch
. There are so many different options out there, it can feel a bit overwhelming. But we're here to help by giving you a nice look at what's out there with all kinds of styles and price ranges.
Standout Picks
Criteria Used for Evaluation
Effectiveness
You need somewhere to sit your lamp, charge your phone, set your alarm clock, or store your personal belongings that is close to your bed and within easy reach. Of course, you should choose a style that is fun and fits your personality. You should also think about whether you simply need something with a top-shelf or if you need to fill that space with more storage. When you take the time to consider what you need in a nightstand, you will then be able to find the right size and style just for you.
Features
You can find just about anything you are looking for in a nightstand. For example, some more expensive nightstands actually have a docking station to charge your phone and stand it at an angle. If you're looking for any fancy features, look around! You'll find them. If you need something that will just serve as a table to hold your wallet, keys, or alarm clock you may just need a tabletop design.
If you need some extra storage you may want to look at something that has a storage drawer, or a shelf to contain some larger items that need to be close by. Also consider if you need just one, or two nightstands. That may also determine the size that you can get in order to fit both on either side of your bed.
Style
Even though this may seem really superficial at first, you actually should take this factor into consideration. Do you want to compliment the room and decor, or do you want it to stand out a little and create a nice contrast with your room and decor? If your room is mostly white, you'd probably want a white nightstand so that it will blend in.
You could also choose a more brightly colored nightstand to give your room some color. Unfinished nightstands are also a good option because you can either stain it and keep the natural wood look or paint it whatever color you'd like. Using a crackle type stain will also make it more antique and rustic.
Size
You should consider this on carefully. Other than the normal bed lamp, alarm clock, phone charger, wallet, keys, etc., do you plan to have other things on your nightstand? For example, if you plan on having coffee or soda, hot chocolate, or even water you should consider having a sleek metal or glass nightstand that will not be damaged with any liquid leakage. If you are certain your nightstand won't be getting wet, you would likely want a wooden nightstand. If any of these liquids leak on the wood it can cause discoloring or even bubble on the surface.
Best Night Stands
1

. Winsome Wood with Drawer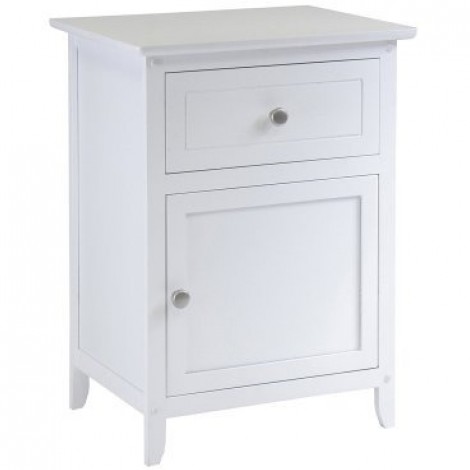 This is a fun nightstand for several reasons. For one, it comes in several different colors. Being able to choose from Espresso, Natural, Walnut, or White will allow you to mix and match whatever type of bedding and style you have in your room. It comes with a top drawer as well as an opening bottom cabinet for a lot of extra storage room where no one else will see what you need to keep close by. The top knob is in the middle and the bottom knob is on the left-hand side which gives this little nightstand a very fashionable look.
Easy to Assemble
This beautifully designed nightstand comes with all the parts and tools necessary to assemble it on your own. The wooden parts are solid and are a very sturdy construction so will last for a really long time. The instruction booklet is easy to follow and includes pictures of all the parts and pieces so it is really more difficult to mess it up that to put it together!
Drawer and Side Door for Extra Storage
No matter what you intend to keep close to your bedside, you will have space and capability with this handy nightstand. The top drawer can hold basically everything; your chargers, book, wallet, remote control, even your laptop or iPad. Then you will still have room for larger items underneath with the door that opens like a cupboard door. It is everything you need in one convenient and stylish nightstand.
Cost and Value
This adorable nightstand which comes in a variety of colors, and is also a remarkable price! It has a standard height and depth, measuring 18.9 x 14.96 x 25 inches. It is very important to measure the area next to your bed before ordering a nightstand, as you don't want something on which you will continually stub your toe. This is easy to assemble and very stylish. You will not be disappointed with this purchase.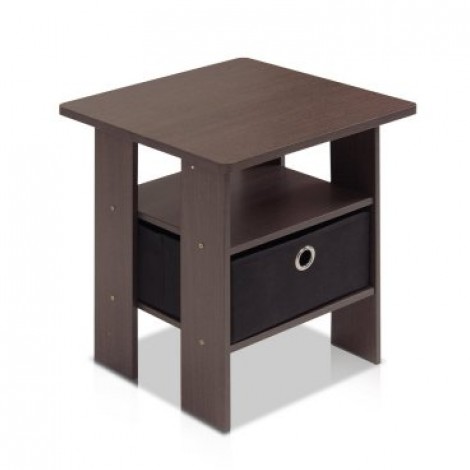 Well, this is a fun little concept nightstand! It is classic square with a shelf below the top shelf and a simple pull out bin basket with a small circular opening for a handle. It comes in a variety of wood colors as well as bin colors, so you can add a little pizzazz with little effort. It is functional and will be a great addition to any room. It has a rounded edge design so if your littles (or you) fall on it, it can help prevent any potential injuries.
Variety of Colors
The variety of these simple and stylish nightstands are so much fun and functional you'll almost forget the real purpose of why they're there! It comes in Americano, Columbia Walnut, Dark Brown, Light Blue, Pink, Steam Beech, and so many more. Then you can also get a coordinating pull out bin with French Oak Gray, Polka Dot Pink, Blue Clouds, and others.
Rounded Edge Design
You know those times when you're half asleep and trip and fall over yourself on the way back to bed in the middle of the night? Yup, apparently that happens to more people than you'd think. This nightstand has a comfortable rounded edge design which will help prevent any serious injury. It will sit sturdy on a flat surface after the easy assemble instruction.
Cost and Value
This is a very inexpensive nightstand made of pressed particle board that you will have to assemble. It is very cute and offers a certain appeal, but do be aware that when you pay this price, your product may not last for as long as you want it to. The variety of colors are fun and it will certainly fit in your budget, so if you need something to enjoy while biding your time for a higher quality product, this cute little guy will fit the bill.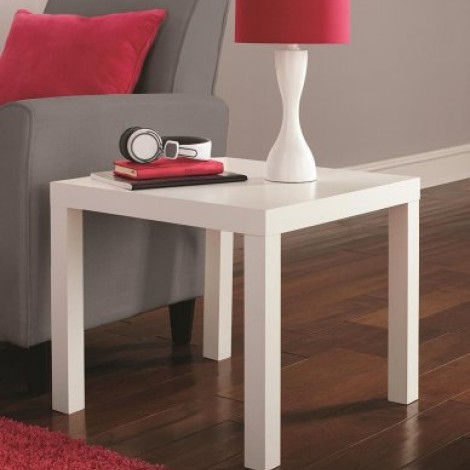 This is a fabulous little nightstand/end table that is super light with a hollow core construction. It is great to throw in a corner somewhere and just add to the decor and lift things up off the floor. It is made of a durable wood grain finish and is remarkably easy to clean. Super easy to assemble, great for college dorms, guest rooms, or anywhere you need just a touch of dimension. This nightstand is also eligible for replacement parts, so if something does break you can get the necessary part and fix it up! Great little accent for the price.
Variety of Colors
Whether you plan on putting this in your kids' room at home, or if you're sending it away to a college dorm, this easy to assemble little table comes in a variety of colors from which you can choose. Make it match any decor and add a little splash of your personality and style. It is also easily sanded down and painted to whatever color or distressed look you may want.
Easy to Assemble
One of the really nice things about this little nightstand is that it is very basic to put together, the instruction manual takes you step by step including pictures, and has all the necessary parts and pieces to do the job. No matter where you want to use it, you can have it put together in a matter of minutes from the time you get started. That is always a relief!
Cost and Value
Of course, everyone's ideas of what they will want in a nightstand/end table will vary. Personally, I think that if I am going to pay the asking price I would want a drawer, or at least a shelf, to help with some storage space. However, if you are not in need of any extra storage and you simply want a nightstand that is the right height for your bed and plan to just use the top surface, this little guy will work great for you. It is super light and well constructed, so you'll likely be able to get some use out of it, I would just expect more table for that money.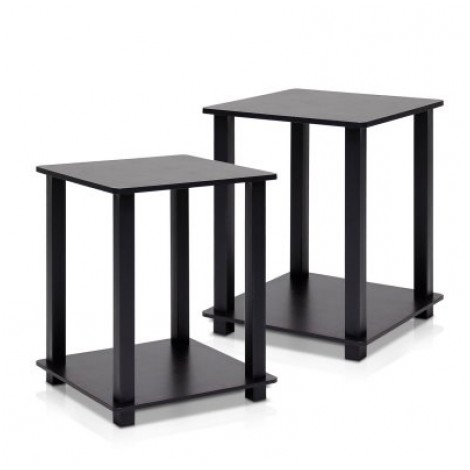 I really like these nightstands for several reasons, but especially because they are actually sold in sets of two. It will fit in your budget and on either side of your bed. They are small enough that you would be able to fit one on each side, and when you have two people in a room you will definitely have two sets of "things" that need to be stored on a nightstand. These are also versatile enough to serve as end tables in your living room or family room.
Everything is Better in Pairs
Gosh, this is a great idea! Instead of having to pay twice the price to get that second nightstand, you can just order this set and get one for each side of the bed at the same time and at the same low price. They sit sturdy on a flat surface and can function as a nightstand, an end table, or even an indoor plant stand. Very versatile and attractive, you'll be proud to display them in any room in your home.
Variety of Colors
Another great little perk of this nightstand set is that they come in contrasting colors; for example Espresso and Black, French Oak Grey and Black, Marble Cream and White, and several others. That throws a classy little twist to this set and especially when there are so many color options from which to choose. You can definitely find your perfect fit here.
Cost and Value
These are small nightstands and nothing incredibly fancy. They are made of compliant composite wood and PVC tubes but have enough flare to serve as a lovely little accent table. The price is right even if you just got one table but when you realize you are getting a "two for one," it makes the deal even a little sweeter! Go crazy and order a set for a few rooms!

5

. Winsome Wood with Drawer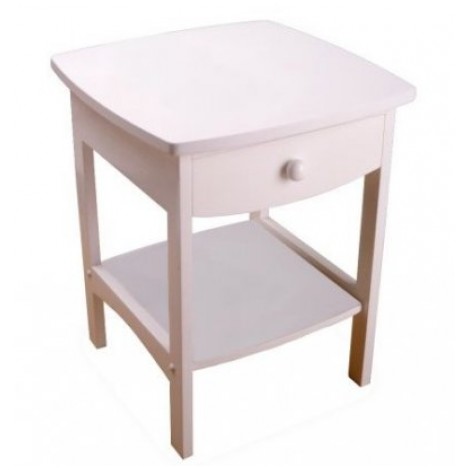 This nightstand, which can also serve as a classy little end table, is made of solid beechwood and has wood nailhead accents. It has a bottom shelf and an oversized, roomy storage drawer on the top. The rails are simply carved and will complement any room you use it in. There is some assembly required, but that is pretty standard. It comes in a variety of colors so you can choose the one which best suits your bedroom decor.
Variety of Colors
This handy little nightstand comes in black, natural, walnut, or white. It is a perfect accent table in your bedroom as a nightstand, in your living room as an end table, or even in your kitchen to hold an extra small appliance or to hide those receipts you never throw away in the storage drawer. It will be an excellent addition no matter where you choose to display it.
Roomy Storage Drawer and Bottom Shelf
I sure love the convenience of having an appropriately sized nightstand that includes some extra storage for all my little knick-knacks. I like to throw all the little extras; chargers, my laptop, hair ties, dental floss, gum, expensive chocolate I don't want my kids to find, in that top drawer and call it a sacred place. With this nightstand, you also have the added convenience of folding an extra blanket on the bottom shelf or using it to hold the next book (or two, or three) you intend to read. All in all, this is a nice looking and space-wise nightstand.
Cost and Value
This nightstand is a classic, and clean-lined casual style. It is made of solid beechwood which gives it a little more girth and stability than some of the other nightstands you can order online and assemble at home. It has a great and roomy storage drawer plus another storage shelf. It comes in a variety of colors and will throw a nice appeal in any room.

6

. Prepac EDC-2428 Fremont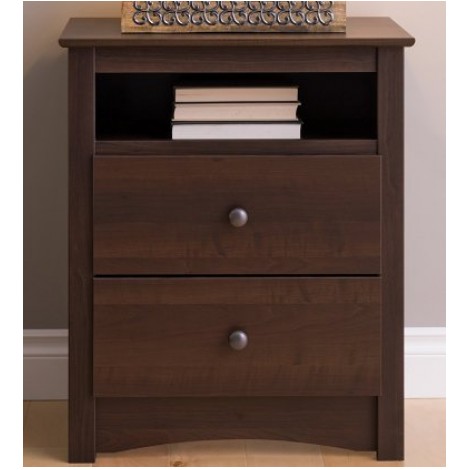 I'll be honest. This is the nightstand I would buy. I appreciate the neat, clean look. I like that it has two storage drawers so you can keep your things more organized. I like the open shelf at the top that has easy access for the items you may need more regularly. And as you've all come to expect, I really appreciate the wide range of colors available. Mine would be drifted grey, but that is just one of several options. It is a sturdy little nightstand and the drawers run on metal glides with built-in safety stops. Easy to assemble, and I could go on and on…
Metal Glide Drawers
This nightstand is a little higher quality than we've seen thus far and the metal gliding drawers are just one indicator of such. Having the smooth push and pull of metal glides is definitely a luxury, but one I am willing to pay a little extra for. It also has built-in safety stops so you can't accidentally close it "too far," or pull it right out of the stand without extra effort.
Two Storage Drawers and a Shelf
That's all that needs to be said! But really, when you can organize and store your personal items right close to the heart of your bedroom and have an open shelf not only for organizational purposes but also easy access that still looks clean and tidy, why would you not? It is made of CARB-compliant, and laminated composite wood and includes a sturdy MDF backer. This is a high-quality nightstand with a much more economical price than you'd think.
Cost and Value
As previously mentioned, this nightstand is a little higher quality than ones also mentioned in this review and therefore will have a little higher price tag. Do not be alarmed, or hesitant, though because you will definitely be getting what you pay for! This one is made of compliant and laminated composite wood which gives it a lustrous finish. It also has those metal glides and safety stops with a sturdy MDF backer. This guy will last for years to come and you will be pleased with the much longer durability for the little higher price.

7

. Southern Enterprises Mirage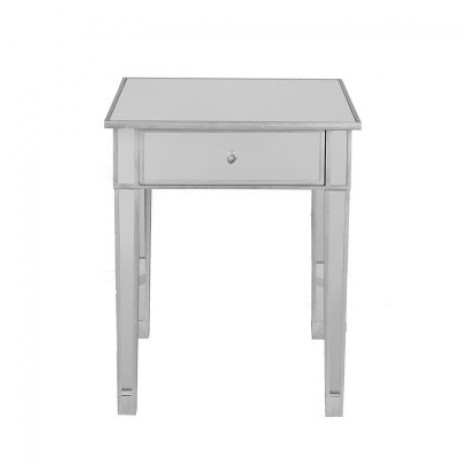 Ah, now here is the nightstand and an accent table all of you really elegant people will love! This has a matte silver finish with lovely faux crystal knobs. The shimmering mirror reflects across the tabletop and drawer which makes this nightstand absolutely glamorous to behold. It is just the right height for most standard beds and weighs 41 pounds, so it is remarkably sturdy! If you love all things shiny this nightstand is the one for you.
Highly Versatile
This beauty can be used in a variety of settings. Obviously, it would be beautiful next to your bed, but it can also lend a simple elegance to your living room, dining room, or even your master bathroom. The matte silver finish and mirrored tabletop will adapt to any color scheme you set it amongst, and the large storage drawer can hold anything and everything you want to toss in!
Easy to Clean
This lovely nightstand is made composite wood that has been painted matte silver. It is simple to clean just by using a wet, warm cloth. It is always in your best interest to wipe away any spills or splashes right away, instead of letting them sit and dry, but a warm cloth will take sufficient care of that. The tabletop is an actual mirror finish, so spray on some glass cleaner and go to town. The better care and attention to detail you give your new nightstand, the longer it will let its beauty shine for you.
Cost and Value
I believe you would really have to fall in love with this style of a nightstand, and once you've done so you'll be in love all your life. This is a beauty if a little pricey. But like I said, once you've decided this is your look, this is definitely your look. It can support up to 40 pounds on the tabletop and the drawer can support up to 10 pounds, so you will definitely be able to get your money's worth from this nightstand.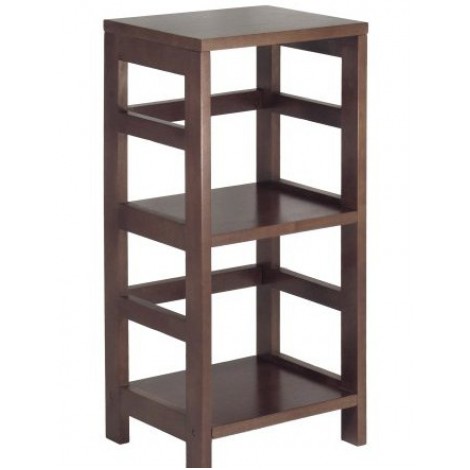 This particular nightstand is unique in that there are no storage drawers and it literally looks more like a shelf than a table. This seems to draw to its appeal, however, and you can decorate or store things on the shelf to give it your own personal vibe. It is incredibly versatile as well and can be used in your kitchen, bathroom, dining room, or anywhere really. If you order it and decide you absolutely need another one, you can also get it in a "tall" size which is way more fun for your kitchen or bathroom storage.
Additional Shelving Available
You do have to purchase these separately, but you can opt for a variety of different shelving. You can get the classic 2-shelf wide (as pictured), 2-shelf narrow, 3-shelf wide, or a 4-shelf narrow. Basically, you can custom order this nightstand to be just exactly as you want it. It is easy to assemble, no matter which shelves you use, and all the parts are included.
Wire Baskets
Instead of the traditional drawer or cabinet door, this nightstand can hold a matching wired basket for a more unique look. I know I really don't care what I throw all my stuff in as long as no one can see it, so why be basic and just go with a drawer? And if you're using this in your kitchen you can store potatoes or onions, or a variety of other things that need to be contained but do not need to be refrigerated.
Cost and Value
Unfortunately, both the additional shelving and the wire baskets have to be ordered separately. I think this would add to the appeal and more people would be interested if it just normally came with those. However, it is quite inexpensive, as are the extra pieces, so even ordering everything individually will not break the bank. This is a cute nightstand and shelf. You'll enjoy it.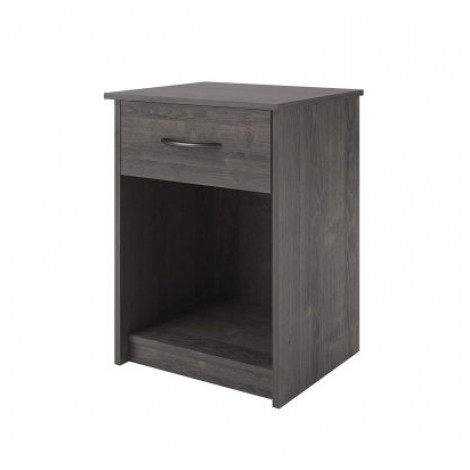 This is a sleek and modern style nightstand made of laminated particleboard which gives it a glossy, clean finish as well ask keeping it a at a reasonable price. They do suggest two adults help with assembly in order to hold all the pieces in the correct positions while tightening. It has an open shelf on the bottom which is great for storing larger items or blankets, and a drawer on the top which allows you to store smaller and more private items.
Variety of Colors
Available in Bank Alder, Black Oak, Northfield Alder, Walnut, Weathered Oak, and your classic White, this nightstand will be a nice addition to your bedroom, matching any style and color of bedroom decor. It is in laminated particleboard which gives it a natural shine and durability to resist water stains and other types of spilling. The oak wood grain finish compliments the refined lines of the wood.
Top Drawer and Cubby Hole Storage Space
Whenever I think of a nightstand I envision a drawer where I can store small and more personal items that I don't want to be on display in my bedroom, and an open shelf to keep an extra blanket close by because I am always cold! Those are the selling features I would like to highlight in this nightstand because both are prominent. I feel like this is all you need in the convenience of one clean and beautiful package.
Cost and Value
The shipping weight on this nightstand is approximately 30 pounds, which means to me that it will assemble as a solid and sturdy finished product. I also appreciate that it is made of laminated particleboard because this not only makes is shine, it also helps repel water damage and other types of spills and leakage. It cleans up easily, looks classy, and has the coveted drawer and open shelf storage, with a reasonable price tag. Overall it is a win-win!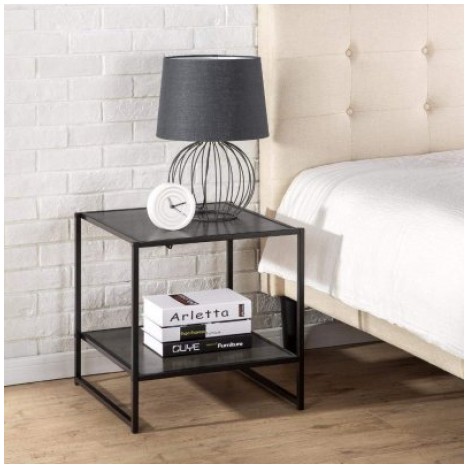 I sure like this one! It is a beauty and very unique in its functional and stylish design. It also has an additional shelf that is lifted up off the ground. It is strong and sturdy with a square steel tubing frame. It is finished in a rich black wood grain finish. It is easy to assemble and easy to clean. It is simple and modern looking and is perfect for any studio bedroom, or simply decorated bedroom anywhere in your home.
Functional and Stylish
A very basic design with one top and one bottom shelf will hold everything you need to keep close by. It has an amazing weight capacity of up to 100 pounds, so load on every book that will fit! It is tall enough to be within easy reach from your bed but small enough to fit into those tight spaces you get in a smaller bedroom. It has a nice modern design and adds a touch of class to any bedroom and with any decor you choose.
Easy to Clean
The wood grain is polished and easy to clean. Just use a wet, warm cloth and wipe it down. No need to use soap or any special cleaning supplies. It is always best to clean any spills immediately and use coasters for any liquid that will sweat and create bubbles on the wood. When you take care of this nightstand, it will take care of your needs for years to come.
Cost and Value
Just a little nightstand and end table for a little price. It is easy to assemble, does the job for which it is intended, appeals to the eye, and is sturdy and strong. This nightstand is perfect for your kids' rooms, college dorms, or any other tight spaces that need a little more storage space. The cost is very reasonable and you'll be satisfied with this purchase.

Subscribe to our Newsletter