Best Throwing Knives Reviewed & Rated for Quality
In a Hurry? Editors choice: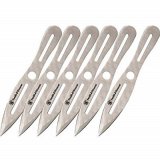 Test Winner: Smith & Wesson SWTK8CP

Whether you are throwing knives in tournaments or you are just doing it as a hobby, it is crucial to choose the throwing knife that is best for you. The right one will allow you to have more remarkable performances, better efficiency, and even more fun. There are several factors that you need to look into when picking out the right throwing knife. For instance, you should consider its size, design, construction, material, and weight. If there is a budget that you want to stick to, go for the knife that would give you the best value for your money. To help you with that, here is our review of the best throwing knives that you can choose from!
Standout Picks
Criteria Used for Evaluation
Materials
It is important that your throwing knives are made from quality material to ensure that it has the hardness, sharpness, and weight needed to be effective. Stainless steel looks really good and is great for decorative pieces, but may not be as durable or able to keep sharpness as needed. Look for knives made with carbon steel that is resistant to shock. They last longer and can retain its sharpness for a long period of time. If your knife has a handle made from a different material than the blade, then you want to ensure that it breaks or unravel easily as it will mess up the balance.
Durability
Considering that the whole purpose of these types of knives is to be thrown at hard objects, then it's needless to say how important this criterion is. Not all throwing knives are made the same, however. The material used to make the product plays a major role in how durable it is, but it's not the only thing. The design of the knife can also have an effect. If it's not able to withstand shocks or it's not balanced properly, it'll cause unnecessary abuse and tension. Check out reviews and find out what others have to say about the product and if they experienced any chips or cracking.
Ease of Use
Depending upon the makeup of the knife, throwing is different across the board. You have to handle the knives in a certain way, while throwing, to hit your objective target. Typically, knives are held by the handle of the knife. With the throwing knives, you will actually hold on to these by the blade. Sounds dangerous? Not quite. As previously discussed, a good throwing knife is dull on the sides of the blade, and only sharp at the point.
If you're asking yourself why throwing knives are held by the blade, here is the answer. Depending upon how many spins you need, that is how you will hold the knife. If you have a target set up and you think that the blade will spin 2 times before hitting the target, you will want to throw it by holding onto the handle of the knife. If you have 1.5 spins before the target, you hold it by the blade. Gauging the spins required is simple, based off of the distance of the blade.
Style
When you are searching for a good throwing knife, there are some key points and characteristics that you want to look for. On average, a standard, well-built throwing knife will have dull edges and a super sharp point. This allows for the knife to stick, as soon as it hits its target. More importantly, throwing knives are made thicker than the average knife. The reason behind this is simple, the knife will not bend on impact! If the knife wasn't made thick, you would just destroy a knife, each time you threw it, which would then become an incredibly expensive hobby!
Without these characteristics, you are posing the risk of ruining your knife, every time it makes an impact on a target. As previously mentioned, this hobby would become expensive, in the event you bought knives not intended for throwing purposes. When it comes down to competition, you will always want to have a well put together blade, so you don't miss out on winning!
Value
Throwing knives have been around for thousands of years and date as far back as 1300 BC! While the purpose of throwing knives changes with every person, religion, society, and location, there is always a good use for them. The original throwing knife was more closely related to a throwing stick that was used solely for hunting purposes. Can you imagine having to get dinner with a throwing stick? The earlier throwing knives were made solely from sticks, carved to make a sharp edge and then handles were formed with different leathers and other materials, allowing for a good grip and total comfort.
As soon as metals were introduced, throwing knives became an essential part of everyday weaponry. These knives were used as deadly weapons against man, especially in war. With the popularity of the throwing knives, almost every culture had some form of throwing knives that were used in war, as home protection, and also against predators.
Later in life, throwing knives became more of a hobby and special interest. As time went on, throwing knives became smaller, easier to throw, and even made special, for throwing competitions. As recreational throwing became more popular, competitions came about. With competitions, men and women compete for the best skill and the most accuracy. It is great to see, how much the history of the throwing knives have changed!
BEST THROWING KNIVES REVIEWED & RATED FOR QUALITY
1

. Magnum Bailey Mini Bo-Kri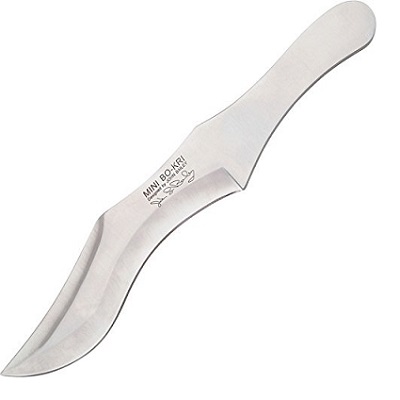 The Magnum Bailey Mini Bo-Kri is a design from John Bailey, a famous thrower. This knife offers excellent balance as its weight is distributed evenly. It is also relatively long and heavy, which keeps throws from rotating too fast. Its strong build allows it to survive violent throws, and it works great for throwing at both long and short distances.
Balance
This knife's perfect balance is what a lot of throwers are fond of. It has unique lines and style that provide the ideal balance point. Its weight and length are also just right.
Sharpness
The tip of this knife is so sharp that you don't really have to throw that hard just to make it stick to the target surface. You can even use this knife for competitions.
Cost and Value
The Magnum Bailey Mini Bo-Kri is not the most affordable throwing knife out there, but it is undeniably more durable than the cheaper options. It is a must-have if you are looking for a throwing knife that's reasonably priced and able to take hard throws.

2

. Smith & Wesson SWTK8CP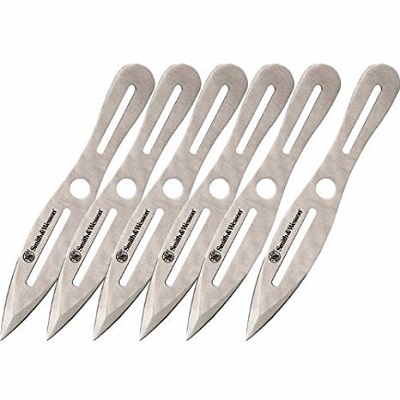 Smith & Wesson is best-known for manufacturing high-quality firearms, but they also produce throwing knives. Their knives are built with the same quality as their firearms, so you can trust that they are durable and long-lasting. The Smith & Wesson SWTK8CP is a 6-pc set of 8" knives. The knives have straight-edge blades that are created from stainless steel. Each set comes with a nylon sheath that can carry all 6 knives.
Trusted Quality
Smith & Wesson is a reputable company. Needless to say, their knives and other tools carry the same prestige that comes with their firearms. These tactical knives come with a minimalistic design and are well-balanced.
Sturdiness
These throwing knives are made of hard steel. This means that they will not easily bend or chip, unlike other inexpensive throwers. They also allow for good throwing control and are ideal for beginners.
Cost and Value
The Smith & Wesson SWTK8CP set really is an amazing deal. Why? You'll get all six throwing knives for a low cost! They are reasonably priced, yet built with impressive craftsmanship.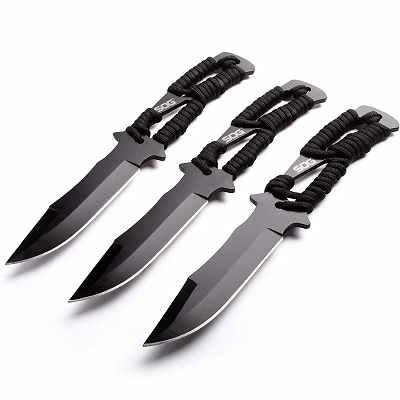 The SOG F041TN is a 3-pc set inspired by the Vietnam Tomahawk. This model is an evolved and modernized version of the original. These throwing knives are meant not only for sporting but also for a lot of other practical applications. Each knife features a stainless steel head and a nylon handle. Heavy-duty bolts were used to mount the head to the handle for enhanced reinforcement.
Utility
These throwing knives are pretty versatile, in that they can be used for multiple purposes, including extraction, excavation, and others. Because of their practicality, they can also serve as field knives.
Balance
These knives are great for throwing because of their proportions and their balance. Flinging them into the air is enjoyable, and they are great for both close-range and long-range throws.
Cost and Value
The SOG F041TN throwing knives are wonderful for their price. They are sharp, lightweight, and multi-purpose. With all their practical uses, it will be as if you bought multiple tools for the price of one.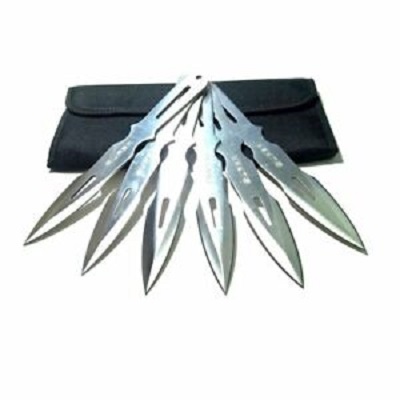 The Avias Knife Supply 9-inch 3-pc set features stainless steel knives, ensuring durability. These knives' design allows them to suit any throwing style that you might have. Their shape and size are also ideal, providing an enjoyable throwing experience. Beginners and professionals alike will find these knives impressive, considering their price. Each knife also comes with a loop design that will let you latch it on a bag or cartridge belt.
Strength
These knives are pretty strong and are able to stay intact even after landing on hard surfaces. Because of their durable construction, they can hold up well on various materials, including concrete.
Weight
They are not too light but not too heavy as well. Their nice weight provides a good balance and allows for an easy throw. They also fit the hand perfectly.
Cost and Value
Their stainless steel material is durable and endures throws on various materials. The blades are designed well, and they are also shaped and don't get dull easily. They definitely are worth their price.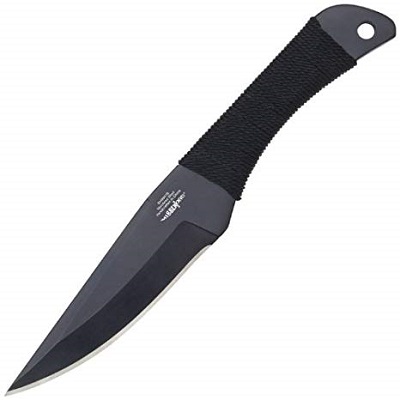 The Gil Hibben Cord Grip triple thrower knife set is a great choice if you are looking for high-quality throwers that can fit a tight budget. The knives' blades are constructed of stainless steel. These throwers are also ideal for you if you are still a beginner and you are looking for practice knives. Hone your skills with these easy-to-grip throwers.
Grip
These knives' best feature is probably its grip's non-slip design. The grip also has high-quality wrapping. It can help you handle the knife easily and allow you to have a good throw.
Sharpness
The blade's tip is very sharp, and it has no problem sticking to different targets - even wood. This sharpness will ensure you that your thrower will embed in your target perfectly.
Cost and Value
This is a knife set that is affordable but does not skimp on the quality. It is well-balanced, durably built, sharp, and easy to throw, making it a good deal for its price.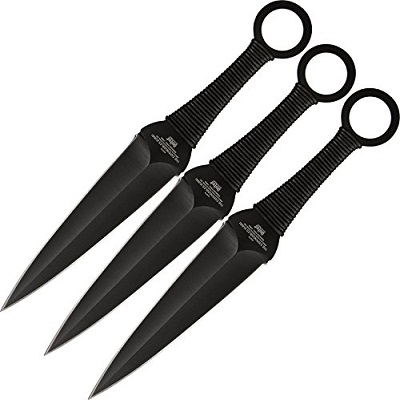 The United Cutlery UC2772 Expendables Kunai is a set of three pieces throwing knives with sheath. For 20 years, the United Cutlery has been known to produce amazing throwing knives that can be used for both sporting and hunting. Each throwing knife features an anodized stainless steel blade and measures 12 inches overall. These knives' quality craftsmanship ensures good balance and easy throws.
Accuracy
These throwers are just like the ones that were used in the film 'The Expendables' - accurate and well-balanced. You can throw them while holding either the blade or the handle.
Toughness
The steel used for the throwers is hard, making the knives tough and durable. Unlike other throwing knives that chip and bend easily even with just normal throwing, these ones hold up really well.
Cost and Value
This set comes with 3 pcs of throwers, which is already a plus. What makes the United Cutlery UC2772 even more awesome is that they have great quality while being affordable. This set is clearly a wise investment.

7

. Perfect Point RC-179 Series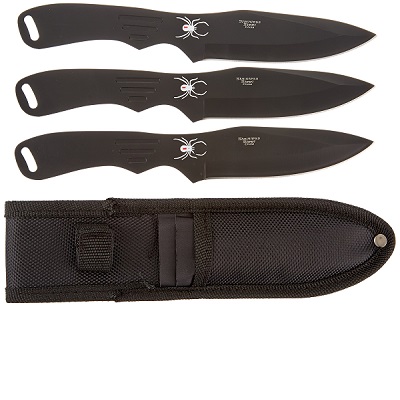 The Perfect Point RC-179 Series is a set of three knives that come with steel handles and black blades. Each of the knives offers a balanced throw. It also features a laser cut-out at the end of the handle, allowing you to tie a ribbon to it. With the knives' black nylon sheath, you can have the peace of mind that you can transport them safely.
Stylish
The Perfect Point RC-179 is one of the most stylish knives sets out there. Each knife is 8-inches long and features a black stainless steel blade decorated with a spider print.
Precise
The knives' stainless steel blades will make it easier for you to make your throws speedy and more precise. They are also lightweight and are great for close range throws.
Cost and Value
The Perfect Point RC-179 Series is an affordable knife set that features stainless steel blades and a decent sheath. The knives have a good balance and are worth their price.

8

. Cold Steel 9733 80PGTK GI Tanto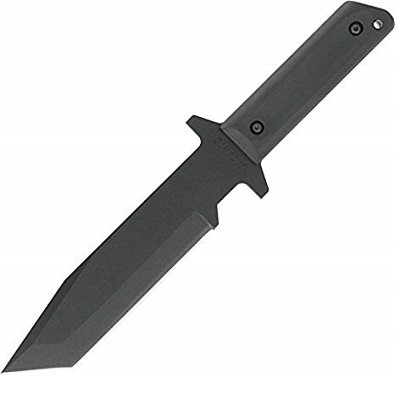 The Cold Steel GI Tanto is a reliable tactical knife that can be used for a lot of practical purposes. This knife is a no-nonsense one that can give you just exactly what you need in a throwing knife. The GI Tanto can be thrown by the handle or by the blade, and you can even convert it into a spear in an instant.
Dependability
With its Polypropylene handle scales, integral quillon guard, and broad blade, the GI Tanto is really all about the bare essentials. It also has a rust-resistant finish, making it long-lasting and dependable.
Versatility
Another great thing about the GI Tanto is that it is a helpful tool for self-defense and survival. The knife is convertible, and you can easily transform it into a spear.
Cost and Value
The GI Tanto is inexpensive and affordable, and you can easily buy several more pieces to keep as back-ups. Considering its durability and practicality, the GI Tanto is definitely a steal.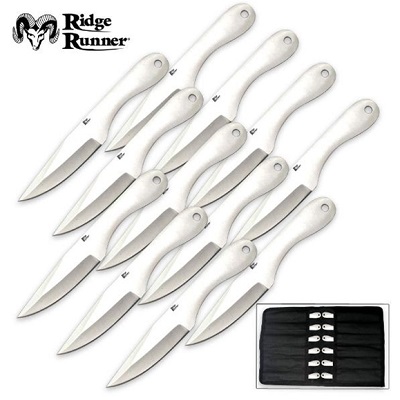 This 12-pc set of Ridge Runner Ninja throwing knives is ideal for budding throwers who are looking for something to practice with. Each knife measures 6 inches long and has a handle that's ⅓ cm thick. The design of these knives allows for the weight to be distributed evenly, providing a good balance. The set also includes a nylon sheath that can hold all of the knives.
Design
The knives' balanced design provides stability to each knife's flight. The blade can also easily leave the hand, and its small size does not get in the way of its throwing performance.
Sharpness
The tip of these knives is quite sharp, allowing them to penetrate the target well. The edges are not very sharp out of the box, but they are enough to embed into your chosen surface.
Cost and Value
This is no doubt a really cheap purchase. The price is low, but the quality of the knives is decent. It even has a nylon pouch that can be rolled up for a means of convenient and safe transport.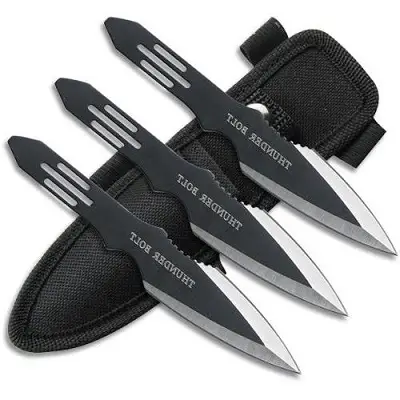 The BladesUSA Perfect Point RC-595-3 thunderbolt throwing knife 3-pc set will help you enhance your knife-throwing skills, no matter if you are a beginner or a professional. This set comes with a black tactical nylon sheath that can hold all 3 knives. These throwers have stainless steel construction and are durable and sharp. They are also able to fly swiftly.
Sharpness
These knives are sharp and durable, allowing them to penetrate almost any target - both hard and soft. They also have two-tone black and silver blades as well as stainless steel handles.
Portability
The sheath that comes with this is perfect for transporting the knives all at once. The knives are also lightweight, making it easy for you to bring them anywhere you go.
Cost and Value
With its durability, sharpness, and balanced weight, this set truly provides awesome value for money. They provide great fun and are relatively safe because even if the tip is sharp, the sides are dull. This set is pretty cheap and it serves its purpose.

Subscribe to our Newsletter