Best Bow Targets Reviewed & Rated for Quality
In a Hurry? Editors choice: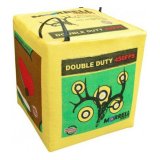 Test Winner: Morrell Double Duty

Bowhunting or archery is a skill that needs to be practiced to be successful. Many towns will have a local archery club that will have everything you need to brush up on those skills or get your target practice in before the big hunt. First, you should check to be sure that it is legal in your area to shoot a bow outside of an archery club or other designated areas. Secondly, you should be sure that nothing is behind your target for as far as you can see. When selecting a target to be sure to choose one with enough density to stop your arrows. That being said there are a few choices that you have when it comes to choosing types of bow targets.
Standout Picks
Criteria Used for Evaluation
10 Best Bow Targets


The first target is one that will offer you lots of use. These are made tough to withstand field tips from even a crossbow. Offering you different designed pictures, so you can practice your hunting shots or shoot simply for entertainment.
Durable
Made to withstand plenty of shot from either your compound bow or crossbow. This target is rated for field tips only, but will surely do the job. The cover is replaceable giving you years worth of practice shots.
Entertaining
This target offers you a graphic design that comes in several options. Hunters can use this bow target to simulate the shot they are looking for while hunting. If your not into hunting but enjoy a little target practice this target offers some fun graphics for you to make up your own games.
Cost and Value
This target comes with plenty of use for its cost. You can order a new cover to replace the old when it gets faded from the shots. This target is strong enough to withstand impact from even an air bow. Which by the way is the fastest arrow around.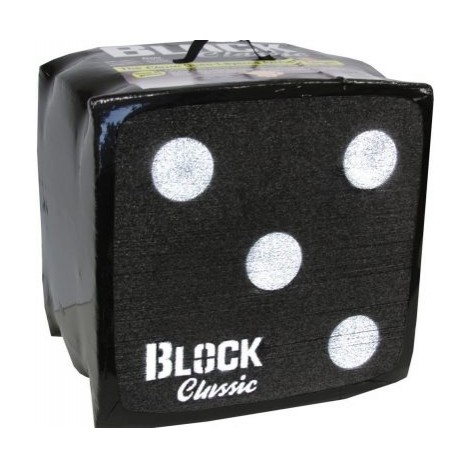 The next bow target gives you contrast so you can actually see the shots you have been making. If you hate the way your arrows get stuck in some bow targets, then this target might be worth giving a try. They have a different styled design so that your arrows can easily be removed.
Contrast
White on black is the color scheme for this bow target. This allows you to see your shots better by offering you some contrast. Being able to see what you have shot will help you to improve your accuracy.
Design
Most bow target users complain about arrows getting stuck in their targets. This target has changed things up with its open layer design. Most targets stop your arrows with force this causes them to get stuck. The design for this target uses friction to stop arrows, this allows arrows to be removed easily.
Cost and Value
This target offers benefits to both your skill and frustration levels. You can improve accuracy with the white on black pattern. While their design helps to reduce your frustration level because your arrows can be removed easily. I would say this target offers a lot for the price you pay.



Next on our list of targets comes one that is perfect for those beginning to shoot their bow. Perfect for teaching those young hunters how to become more accurate with their bow before heading into the woods.
Learning Target
This target is rated for 40 pounds of draw or less, making it a great choice for beginners. They can learn with either field tips or broadheads, as this target is designed to withstand both.
Improve Accuracy
The white on black contrast offers more visibility for each shot. You can teach your beginner on the big white dot and watch them improve to be able to move to the smaller white dots. This is sure to boost any beginners confidence.
Cost and Value
Cost should not be an issue here with the learning possibilities that this bow target offers. This target offers any beginner the level of skill they will need to improve their game.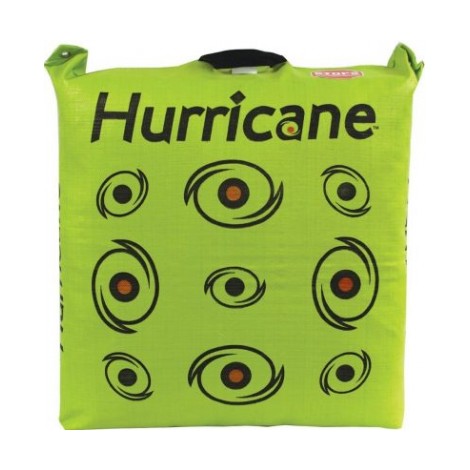 A bow target such as this one offers you different sizes as well as being two-sided. A nice sturdy handle for easy movement and placement. This is great for hunting practice or for just messing around with family and friends.
Two Sided
One side of this target has nine different aiming targets that are very visible with the color contrast. The other side offers you deer vitals to practice with. These are off-centered from the aiming points on the opposite side to provide lasting use.
Sizing
Bow targets, such as this one, are sometimes available in different sizes. This particular target comes in three size choices ranging from 20 inches, 25 inches, and finally 28 inches. This option is to better suit your skill level and available spacing.
Cost and Value
This bow target falls under a good price range for its use. Offering you a longer lasting target in several size options. Double sided with two different shooting options, this target can be bought to suit any style of archery.


For those looking to use a more lifelike target to practice with this 3-D buck target might be a good selection for you. Practicing for the next big hunt, this lifelike buck will simulate the thrill of the hunt. Made to be very durable this target will stay standing during your practice.
Life Like
This 3-D buck target is made to be the most lifelike as possible. Standing 48 inches tall, this buck target comes with stakes to keep it from falling over. This 3-D target can be moved around to simulate just about any situation you may come across during your hunt.
Durable
This target can withstand both field tip and broadhead arrows. In order to prolong the use of this target, it is designed with a replaceable shooting core. This allows you to use this target time and time again without replacing the entire target.
Cost and Value
Although this 3-D buck target is at a slightly higher cost, it will surely make up for it with the amount of use you get from the target. By simply replacing the shooting core you can simulate your hunting experience time and time again. Giving you the satisfaction of getting your money's worth.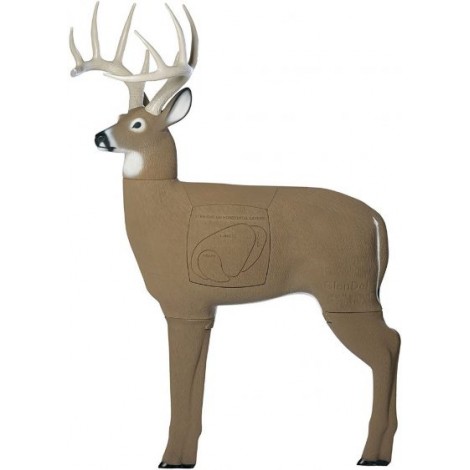 This 3-D buck target offers you an entirely different approach to your hunting practice. You can simulate several hunting scenarios with this one buck target. Built to withstand both your field tips and broadhead arrows, this 3-D target can take a beating.
Hunting Scenarios
The shooting core for this 3-D buck is four-sided, extending the lifetime of use before it needs to be replaced. You can simulate several hunting scenarios with this type of replaceable core. Whether you want to practice a broadside shot or have it like your in your tree stand, this core gives you four different positions to choose from.
Lasting Lifetime
The core for this 3-D buck is said to have a longer life than some of the rest. That is due to the design of this core, the layers have been fused, allowing for better compression. This extends the life of not only your target but your arrows as well. Being able to easily remove your arrows helps with the lifespan of your arrows.
Cost and Value
This 3-D buck target is not the most inexpensive on the market, but with the amenities, it has to offer you will get what you paid for. The design to this core gives this target an extended amount of life. With the different shooting scenarios, you can recreate this target is great for sharpening those hunting skills.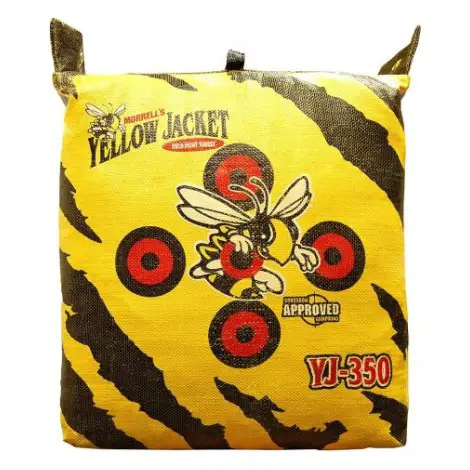 Next, we take a look at another bag style of bow target. This one gives you plenty of contrast to view your shots for accuracy improvement. This target can stand alone or be hung and can withstand your crossbow shots as well. With a quick cover change your target life can be extended for several more years.
Removable Cover
The cover for this target provides adequate contrast to continuously improve your accuracy. Looking to improve the lifetime of your target? This bag's targets cover can be removed allowing you to put a new one on. This will extend the life of the shooting ore, therefore, extending the life of the target.
Hanging Grommets
You can use this target as a self-standing target as it does stand on its own. For those who prefer to hang their targets, this one comes with the hanging grommets sewn into the top of the bag. This will surely make for a quick hanging job.
Cost and Value
Being able to replace the cover to extend the targets lifetime will increase the value of this target for you. You can change up the position, have it stand alone or hang if you prefer, this target will give you plenty of use at a small cost to you.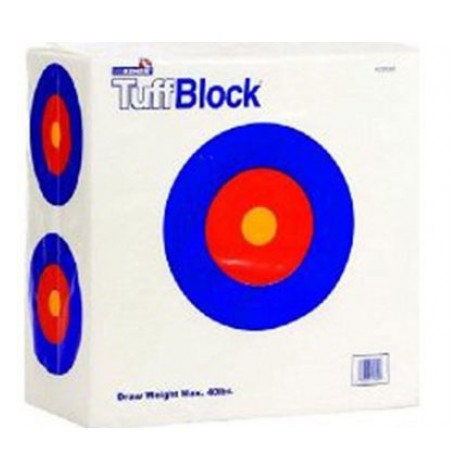 This block style target is great for those just starting out in archery. It is made for a lower rated poundage, that means as a beginner with a lower set poundage, your arrows will stick in and not bounce off. You can improve your accuracy with the pattern design on this block target.
Lower Poundage Rating
Most people who are just starting out in archery can easily be frustrated because of their arrows just won't stick to the target. How can you possibly improve your skills when this keeps happening? Well, a target like this block target is rated for 40 pounds or less. This is beneficial to those just starting out, as most beginners won't be able to pull back much more weight than that.
Improve Accuracy
The pattern design of this target is said to help the person just starting out improve their accuracy with every shot. The design offers you a selection of circle sizes, So start with a bigger size, then switch to smaller ones as your accuracy improves.
Cost and Value
This target is of little cost to those just starting out. No one wants to sink a ton of money into something they are just starting. This target will help you improve your skills, so you are ready for that next step, now that is a valuable purchase.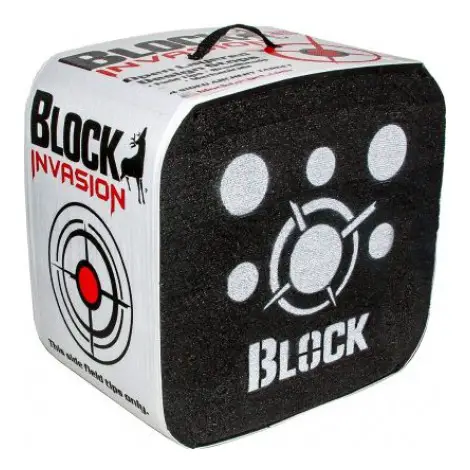 This style of block target is rated for use with a field tip and broadhead arrows. It offers you four shooting sides with a color contrast that you can depend on for improved accuracy. Ranging in three different sizes to suit several spacing needs.
Four Sided Target
Both the front and back of this target are suitable for your broadhead tips. You can choose to use either an expandable or fixed broadhead as these two sides of the target are designed to withstand both. The two side panels are wrapped making them suitable for your field tips when you are just looking to play around.
Improved Accuracy
All sides of this target offer you ranging shooting marks. So if you're just learning you can choose a slightly larger target. For more of a challenge choose a smaller sized target to improve your accuracy.
Cost and Value
The value of this block target is at the top of the charts. You can use all four sides giving the target the longevity that satisfies the user. Sharpen your archery skills with differently sized shooting marks.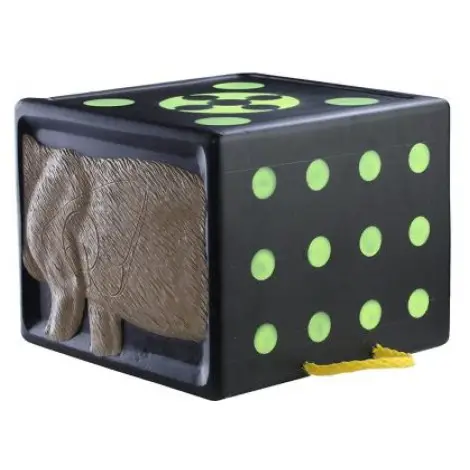 The last target we come to has six sides to pick from. Offering you two selections and four other sides with contrasted shooting marks. This target works with both your field tips and broadheads which is great for those practicing to hunt.
Six Sided Target
This style of block target has six functioning shooting sides. Two of these sides are 3-D style giving you the chance to practice your vital shots for hunting. Spread out on the other four sides are 40 different shooting marks. you can use the larger ones to practice your aim. While choosing the smaller ones to hone in your consistency.
Extended Lifetime
The core of this target can be replaced for extended lifetime use. The design of the foam allows it to take plenty of shots without losing its shape. Meaning your arrows will hold in the target but won't go all the way through. When you remove your arrows the shape of the foam will return time and time again.
Cost and Value
This target has a higher cost but will prove it's worth with the amount of practice it allows you. Eliminating the need for more than one target, this target can definitely be labeled as multipurpose, giving you six useful sides to pick from.

Subscribe to our Newsletter