Best Bow Targets Reviewed & Rated for Quality
Bow hunting or archery is a skill that needs to be practiced to be successful. Many towns will have a local archery club that will have everything you need to brush up on those skills or get your target practice in before the big hunt. But life doesn't always allow us to set aside a couple of hours of our time to go to the range for practice. Maybe you're looking to get in a quick couple of rounds in with the 30 minutes you have to spare during the day. Before you go out to purchase a target for your bow, there are some important details for you to consider.
First, you should check to be sure that it is legal in your area to shoot a bow outside of an archery club or other designated areas. Secondly, you should be sure that nothing is behind your target for as far as you can see. If this is not possible, then you should use a backstop, such as a fence, woodpile, or some type of material hung behind your target. This will stop any arrows that don't hit the target.
Featured Recommendations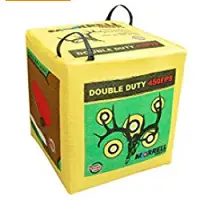 Morrell Double Duty

Our rating
Field point only
Price:

See Here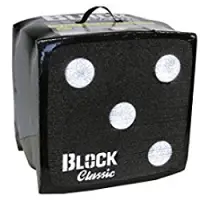 Block Targets

Our rating
Classic 2-Sided
Price:

See Here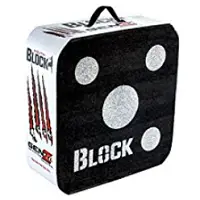 Block GenZ

Our rating
open-layered technology
Price:

See Here

When selecting a target be sure to choose one with enough density to stop your arrows. So let's say you shoot a bow that is set to 70 pounds of draw weight you wouldn't want to purchase a target that is only rated for 30 pounds of weight or less. If you do attempt to shoot at a target like this with a weight that is higher than the target is rated for your arrows will go right through. That being said there are a few choices that you have when it comes to choosing a type of target.
10 Best Bow Targets
1. Morrell Double Duty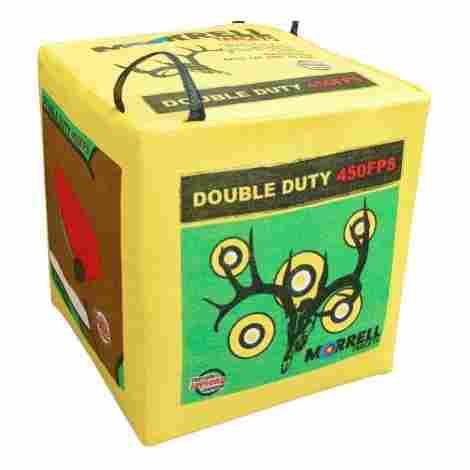 The first target is one that will offer you lots of use. These are made tough to withstand field tips from even a crossbow. Offering you different designed pictures, so you can practice your hunting shots or shoot simply for entertainment.
Expand to see more
Durable
Made to withstand plenty of shot from either your compound bow or crossbow. This target is rated for field tips only, but will surely do the job. The cover is replaceable giving you years worth of practice shots.

Entertaining
This target offers you a graphic design that comes in several options. Hunters can use this bow target to simulate the shot they are looking for while hunting. If your not into hunting but enjoy a little target practice this target offers some fun graphics for you to make up your own games.

Cost and Value
This target comes with plenty of use for its cost. You can order a new cover to replace the old when it gets faded from the shots. This target is strong enough to withstand impact from even an air bow. Which by the way is the fastest arrow around.
Lightweight
Durable
Comes with handles for easy carrying
Replaceable cover
Arrows get stuck easily
Not for broadheads
2. Block Targets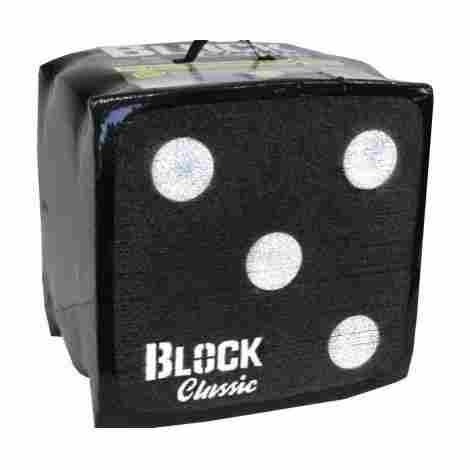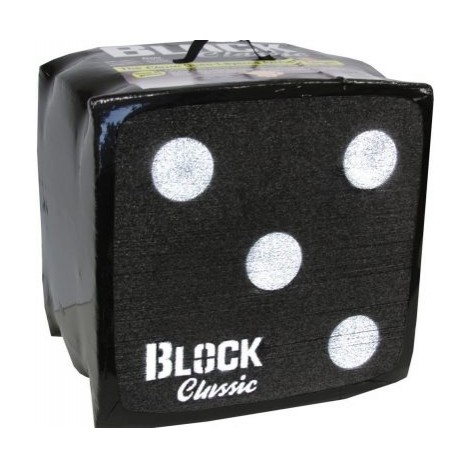 The next bow target gives you contrast so you can actually see the shots you have been making. If you hate the way your arrows get stuck in some bow targets, then this target might be worth giving a try. They have a different styled design so that your arrows can easily be removed.
Expand to see more
Contrast
White on black is the color scheme for this bow target. This allows you to see your shots better by offering you some contrast. Being able to see what you have shot will help you to improve your accuracy.

Design
Most bow target users complain about arrows getting stuck in their targets. This target has changed things up with its open layer design. Most targets stop your arrows with force this causes them to get stuck. The design for this target uses friction to stop arrows, this allows arrows to be removed easily.

Cost and Value
This target offers benefits to both your skill and frustration levels. You can improve accuracy with the white on black pattern. While their design helps to reduce your frustration level because your arrows can be removed easily. I would say this target offers a lot for the price you pay.
Open layer design
White on Black Contrast
Two-sided target
Comes in three sizes
Handle breaks easily
Not for crossbows
3. Block GenZ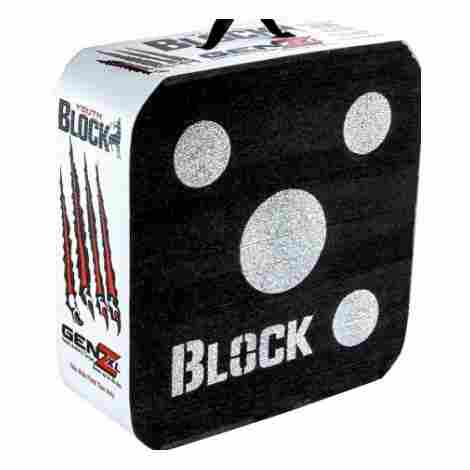 Next on our list of targets comes one that is perfect for those beginning to shoot their bow. Perfect for teaching those young hunters how to become more accurate with their bow before heading into the woods.
Expand to see more
Learning Target
This target is rated for 40 pounds of draw or less, making it a great choice for beginners. They can learn with either field tips or broadheads, as this target is designed to withstand both.

Improve Accuracy
The white on black contrast offers more visibility for each shot. You can teach your beginner on the big white dot and watch them improve to be able to move to the smaller white dots. This is sure to boost any beginners confidence.

Cost and Value
Cost should not be an issue here with the learning possibilities that this bow target offers. This target offers any beginner the level of skill they will need to improve their game.
Open layer design
White on black contrast
Different sized target circles
Lightweight to easily transport
Seam stitching came apart too soon
Could last longer
4. Hurricane Bag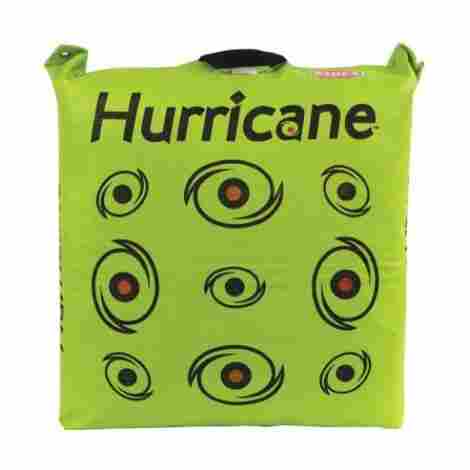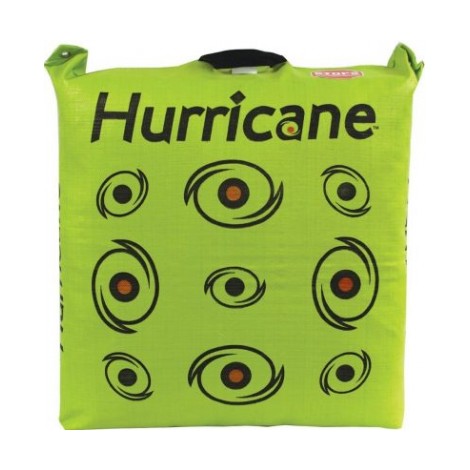 A bow target such as this one offers you different sizes as well as being two sided. A nice sturdy handle for easy movement and placement. This is great for hunting practice or for just messing around with family and friends.
Expand to see more
Two Sided
One side of this target has nine different aiming targets that are very visible with the color contrast. The other side offers you deer vitals to practice with. These are off centered from the aiming points on the opposite side to provide lasting use.

Sizing
Bow targets, such as this one, are sometimes available in different sizes. This particular target comes in three size choices ranging from 20 inches, 25 inches, and finally 28 inches. This option is to better suit your skill level and available spacing.

Cost and Value
This bow target falls under a good price range for it's use. Offering you a longer lasting target in several size options. Double sided with two different shooting options, this target can be bought to suit any style of archery.
Two sided target
Sturdy handle for transport
Comes in three different sizes
Off center targets for longer lifetime
Crossbow arrows tend to go through
Can't be left out in the elements
5. Field Logic

For those looking to use a more lifelike target to practice with this 3-D buck target might be a good selection for you. Practicing for the next big hunt, this lifelike buck will simulate the thrill of the hunt. Made to be very durable this target will stay standing during your practice.
Expand to see more
Life Like
This 3-D buck target is made to be the most lifelike as possible. Standing 48 inches tall, this buck target comes with stakes to keep it from falling over. This 3-D target can be moved around to simulate just about any situation you may come across during your hunt.

Durable
This target can withstand both field tip and broadhead arrows. In order to prolong the use of this target, it is designed with a replaceable shooting core. This allows you to use this target time and time again without replacing the entire target.

Cost and Value
Although this 3-D buck target is at a slightly higher cost, it will surely make up for it with the amount of use you get from the target. By simply replacing the shooting core you can simulate your hunting experience time and time again. Giving you the satisfaction of getting your money's worth.
Lifelike 3-D buck
Replaceable shooting core
Can use field tips or broadheads
Comes with stakes to prevent it from falling over
Arrows get stuck easily
Replaceable core installs with some difficulties
6. GlenDel Buck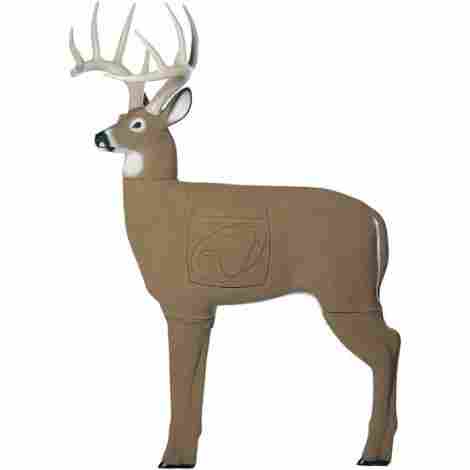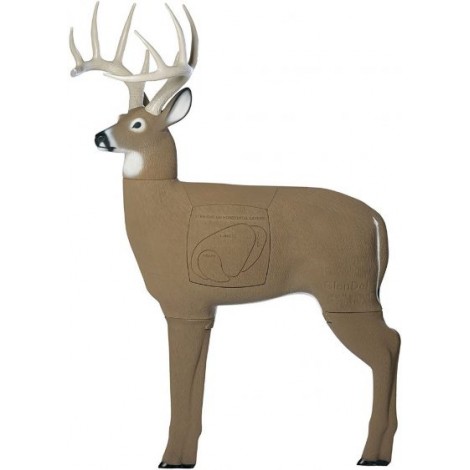 This 3-D buck target offers you an entirely different approach to your hunting practice. You can simulate several hunting scenarios with this one buck target. Built to withstand both your field tips and broadhead arrows, this 3-D target can take a beating.
Expand to see more
Hunting Scenarios
The shooting core for this 3-D buck is four-sided, extending the lifetime of use before it needs to be replaced. You can simulate several hunting scenarios with this type of replaceable core. Whether you want to practice a broadside shot or have it like your in your tree stand, this core gives you four different positions to choose from.

Lasting Lifetime
The core for this 3-D buck is said to have a longer life than some of the rest. That is due to the design of this core, the layers have been fused, allowing for better compression. This extends the life of not only your target but your arrows as well. Being able to easily remove your arrows helps with the lifespan of your arrows.

Cost and Value
This 3-D buck target is not the most inexpensive on the market, but with the amenities, it has to offer you will get what you paid for. The design to this core gives this target an extended amount of life. With the different shooting scenarios, you can recreate this target is great for sharpening those hunting skills.
Lifelike 3-D target
Extended life core
Core offers four shooting sides
Good for field tips and broadheads
Smaller than expected
Not very sturdy
7. Morrell Yellow Jacket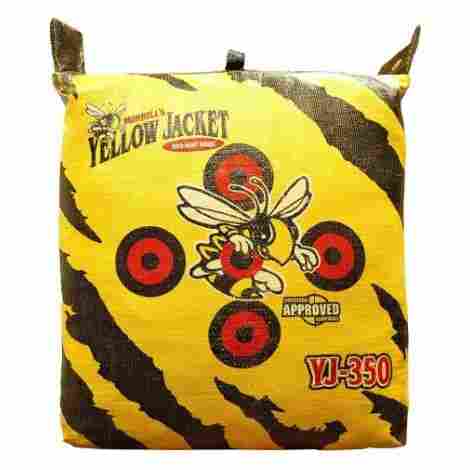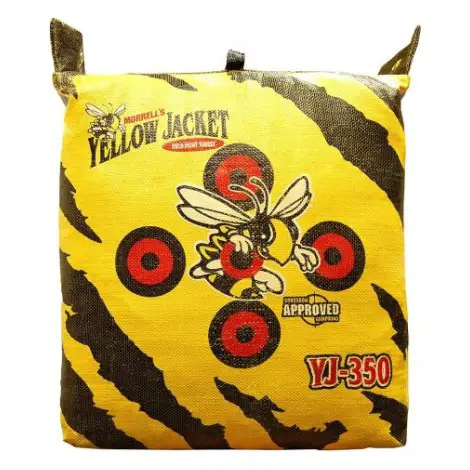 Next, we take a look at another bag style of bow target. This one gives you plenty of contrast to view your shots for accuracy improvement. This target can stand alone or be hung and can withstand your crossbow shots as well. With a quick cover change your target life can be extended for several more years.
Expand to see more
Removable Cover
The cover for this target provides adequate contrast to continuously improve your accuracy. Looking to improve the lifetime of your target? This bag's targets cover can be removed allowing you to put a new one on. This will extend the life of the shooting ore, therefore, extending the life of the target.

Hanging Grommets
You can use this target as a self-standing target as it does stand on its own. For those who prefer to hang their targets, this one comes with the hanging grommets sewn into the top of the bag. This will surely make for a quick hanging job.

Cost and Value
Being able to replace the cover to extend the targets lifetime will increase the value of this target for you. You can change up the position, have it stand alone or hang if you prefer, this target will give you plenty of use at a small cost to you.
Replaceable cover
Good color contrast
Can stand alone or be hung
Good for crossbows or compound bows
Not for broadheads
Handle is not very sturdy
8. Mckenzie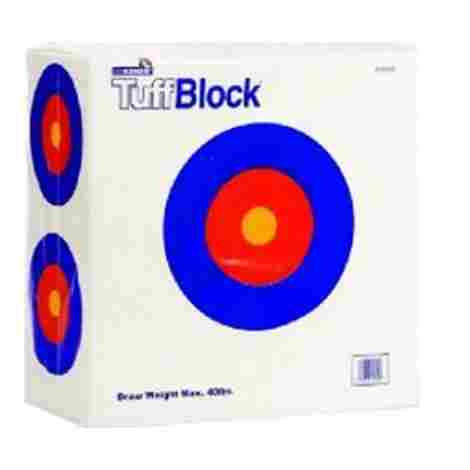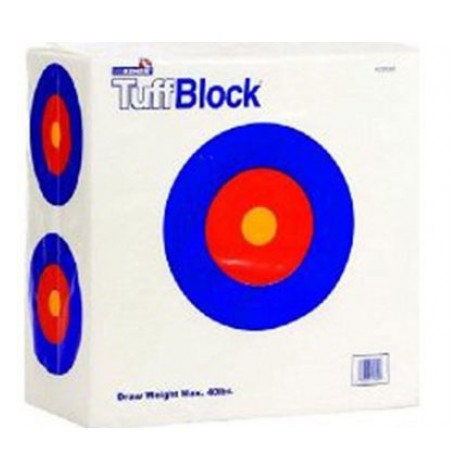 This block style target is great for those just starting out in archery. It is made for a lower rated poundage, that means as a beginner with a lower set poundage, your arrows will stick in and not bounce off. You can improve your accuracy with the pattern design on this block target.
Expand to see more
Lower Poundage Rating
Most people who are just starting out in archery can easily be frustrated because of their arrows just won't stick to the target. How can you possibly improve your skills when this keeps happening? Well, a target like this block target is rated for 40 pounds or less. This is beneficial to those just starting out, as most beginners won't be able to pull back much more weight than that.

Improve Accuracy
The pattern design of this target is said to help the person just starting out improve their accuracy with every shot. The design offers you a selection of circle sizes, So start with a bigger size, then switch to smaller ones as your accuracy improves.

Cost and Value
This target is of little cost to those just starting out. No one wants to sink a ton of money into something they are just starting. This target will help you improve your skills, so you are ready for that next step, now that is a valuable purchase.
Great for people just starting out
Improve accuracy with smaller circle sizes
Durable
Lightweight for easy handling
Needs something behind it
Not for use with broadheads
9. Block Invasion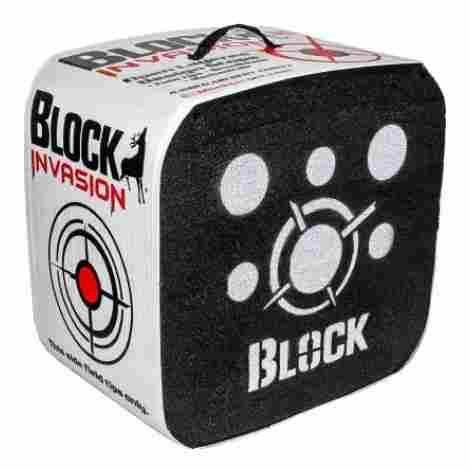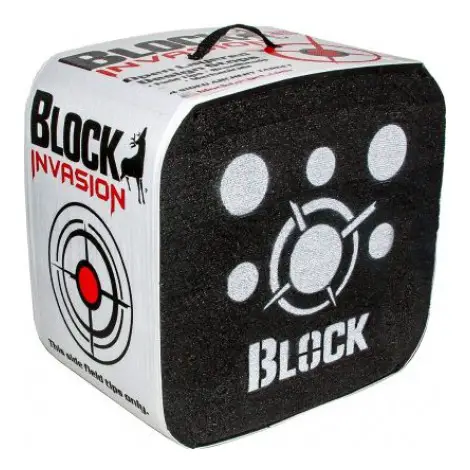 This style of block target is rated for use with a field tip and broadhead arrows. It offers you four shooting sides with a color contrast that you can depend on for improved accuracy. Ranging in three different sizes to suit several spacing needs.
Expand to see more
Four Sided Target
Both the front and back of this target are suitable for your broadhead tips. You can choose to use either an expandable or fixed broadhead as these two sides of the target are designed to withstand both. The two side panels are wrapped making them suitable for your field tips when you are just looking to play around.

Improved Accuracy
All sides of this target offer you ranging shooting marks. So if you're just learning you can choose a slightly larger target. For more of a challenge choose a smaller sized target to improve your accuracy.

Cost and Value
The value of this block target is at the top of the charts. You can use all four sides giving the target the longevity that satisfies the user. Sharpen your archery skills with differently sized shooting marks.

Four-sided target
Good for field tips and broadheads
Differently sized shooting marks
Comes in 3 different sizes
Not for use with crossbow
Foam somtimes fall apart too quickly
10. Rinehart RhinoBlock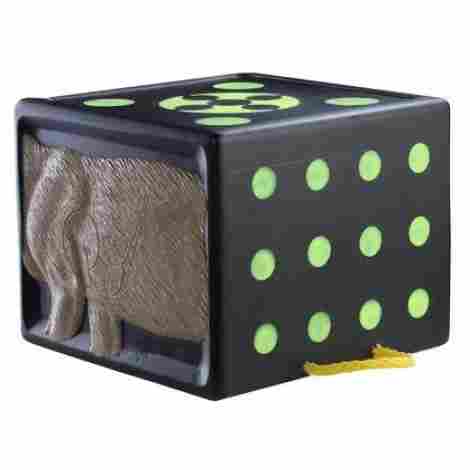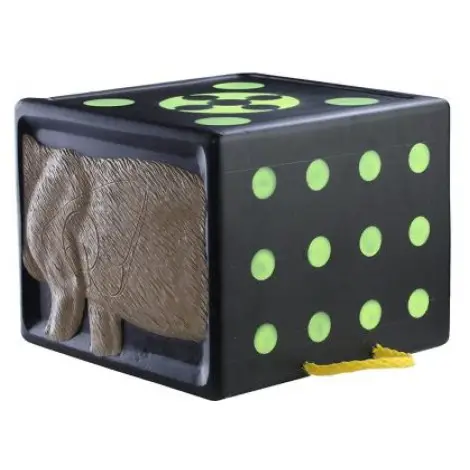 The last target we come to has six sides to pick from. Offering you two 3-D selections and four other sides with contrasted shooting marks. This target works with both your field tips and broadheads which is great for those practicing to hunt.
Expand to see more
Six Sided Target
This style of block target has six functioning shooting sides. Two of these sides are 3-D style giving you the chance to practice your vital shots for hunting. Spread out on the other four sides are 40 different shooting marks. you can use the larger ones to practice your aim. While choosing the smaller ones to hone in your consistency.

Extended Lifetime
The core of this target can be replaced for extended lifetime use. The design of the foam allows it to take plenty of shots without losing its shape. Meaning your arrows will hold in the target but won't go all the way through. When you remove your arrows the shape of the foam will return time and time again.

Cost and Value
This target has a higher cost but will prove it's worth with the amount of practice it allows you. Eliminating the need for more than one target, this target can definitely be labeled as multipurpose, giving you six useful sides to pick from.
Six-sided target
Two 3-D sides
Differently sized shooting marks
Replaceable shooting core
Difficulties removing arrows
Target is heavy
Bag targets are great for practice with your field tips, but not for broadheads. These targets are filled with stuffing and can be hung or just simply set on the ground. Foam targets are cube-shaped and offer you six sides to use. Some of the foam targets are rated for both field tips and broadheads. They are normally fairly lightweight so you can easily take them with you from place to place. The last target we come to is the 3-D style of target these are made from foam and can be found in the shape of just about any big game animal. Great for all the hunters out there, these can be turned to simulate multiple positions to practice even the toughest shot. You can also get these for a form of entertainment when you shoot, as they also have zombies and dinosaur shaped targets.
The most important thing before you purchase a target is that you make an informed decision on which one will best suit your needs. Reviews such as this one are designed to provide you with the information you need to make your purchase.
Criteria Used to Evaluate the Best Bow Targets
Durability
You want to be able to shoot at your targets more than once, obviously. But how long your target lasts depends on the density of the materials used and the outer layer's ability to withstand multiple hits while also releasing the arrows when you come to retrieve them. A target should also be at least mildly weatherproof, and the heavier the target, the more weatherproof you will want it to be so you don't have to lug it around inside and out depending on the forecast.
Some bag targets will spread out the main aiming points on the front and back side so that the arrows don't all hit in the same spot when you flip the target around. The stuffing in a bag target is usually cotton or scraps of foam. They can get weather-worn, but since they are so lightweight, you can easily move them inside to protect them from the elements. Also, many archers use bags inside, which obviously takes weather out as a factor in their demise.
Block targets vary in the external and internal materials, so their lifespans can vary dramatically between products. Layered foam targets rely on friction to stop arrows and the layers aren't able to withstand as much exposure to the elements. Still, they tend not to "shed" as much as bags when the arrows are removed, so they do resist some kinds of deterioration more easily.
3D models come in all shapes, sizes, and species. Many have replaceable "vital" areas in case you are on target a lot. Generally, the 3D models are quite durable and have the ability to withstand reasonable amounts of abuse.
Harder blocks are made of dense plastic, thus making them harder to hit and harder to kill. Heavier targets weigh more, which requires them to be more durable in varying climates. These targets often have replaceable layers that in the end might make them more expensive, but they are made to last and generally worth spending a little more on.
Versatility
Targets vary in their ability to stop different kinds of arrows and at what speeds. A beginner archer is likely to have a significantly lighter draw than an expert, and a target's capacity for absorbing the shock of varying speeds will be a key factor in your selection. Other targets can take much higher speeds and various types of arrows. If the target is rated too high, a beginner's arrows will bounce right off, whereas a lower rating will be virtually destroyed by the weight of an expert's draw.
3D models can be moved around for practice in "real world" scenarios, making ethical hits easier to practice so you can hit the right spot without a bright green circle telling you where to shoot. Other bag or block targets can be hung up or turned around to practice on lifelike photos or abstract but entertaining and challenging designs. Along with mobility/portability, visual versatility is a major way to keep yourself engaged and challenged.
Visualization
If you are practicing long range shooting, then visibility will be a prime factor in your choice of targets. Bright or contrasting color schemes make the target easy to see from miles away, while the detail on the more "lifelike" drawings and 3D targets obviously allow you to practice aiming at vital organs without the bright "SHOOT HERE" targets of the more representational bags and blocks.
For beginners, bigger targets are easier to see and, obviously, easier to hit. When you're starting out, looking for the heart on a 3D buck will likely lead to frustration without much improvement. It's better to start out with a wider, easier to see the target and then hone your skills from there.
The benefits of 3D models are probably obvious. If you're looking to hunt deer, then practicing on a fake deer with the location of vital hit points highlighted for you will be the best way to ensure that you are taking effective, efficient shots.
Portability
The portability, or lack thereof, in a target is an important factor, and not just for considering whether you can take it on vacation with you. Sure, a lot of people travel and want to keep up their archery practice on the road, but there are also more practical considerations. Where and how you practice is as important as how often you get your shots in, and a versatile, portable target could make the difference in your training.
As noted above, if your target will not survive long in extreme weather or temperatures, it had better be easy to move it inside when you've finished practice for the day. In addition, a portable target can be placed in different settings. This is especially attractive for 3D models, so you can practice hitting the vitals in a bunch of different settings and from all kinds of angles. Hitting "ethically" is important to a responsible archer, so if you plan to hunt with a bow and arrow you need to practice making effective shots.
FAQ
Frequently Asked Questions
Q: What kinds of archery are there?
A: There are actually several different types of archery:
Target archery

involves shooting at stationary targets, such as the classic "bullseye" target with multiple concentric circles. In most DIY ranges, a sturdy paper or cardboard target is attached to a bale of hay, or bags of seed. Target archery is what is played in the Olympic games and possibly the most visually recognizable form.

Field archery is like an archery scavenger hunt! Targets are set throughout a course, generally through the woods. Archers get to practice shooting from various distances and at different angles and elevations.
3D Archery

uses realistic foam animal targets that are often marked in the vital areas that make for efficient, ethical shots. You can put these 3D models anywhere in the woods to set up real-life shots.
Traditional Archery utilizes "old fashioned" bows and arrows to recreate the sport without the modern equipment. Traditional archers shoot at all kinds of targets but generally, they would not use the high tech models we've reviewed here.
Q: Does my experience matter when choosing a target?
A: Absolutely it does! You might be hitting the bullseye over and over, but if you haven't developed a certain level of speed and strength in your shots, your arrows might bounce right off denser targets. Also, if you are trying to shoot the small area where a 3D animal's heart would be or a tiny little circle on a giant bag target, you're just asking for frustration. If you feel like you're not getting the hang of it no matter how hard you try, and how much it looks like you're hitting that target, you'll never stick with it. Be sure to choose a target that will work with you.
Q: Can I use any kind of arrow with any kind of target?
A: No. One of the key features of a target is the kind of arrow that can be used without basically ripping it apart. If you want to use broadheads arrows, you need a denser block. The foam overlays of the lighter models are great for absorbing weaker shots and easily removing arrows, but those blocks and bag targets will be practically ripped to shreds if you use a broadhead.
Q: What's in the bag?
A: It varies, but the bags do come pre-stuffed with plastic foam or cotton.
Q: Where do I put bag targets?
A: So you aren't shooting down at the ground, you generally will want to either hang the bag or prop it on some kind of stand. You might want to consider putting some kind of extra backstop behind the target, just in case you have a stray arrow or two.
Q: Do all 3D models have replaceable targets?
A: No. In fact, some 3D targets have so-called "self-healing" foam. Those that don't generally have removable and replaceable foam pieces so that you can keep the model even after successful hits to the target areas.
Q: How do I get my arrows back after I hit the target?
A: It depends on the target. Some will release the arrows with a steady pull. Others, like some 3D models, are recommended for use with special lubricants that will make the arrows easy to remove.
Q: Can I extend the life of my bag target?
A: For the most part, yes, by protecting it from the elements and replacing the cover on most models.
Sources
Scott, Cassie. "Which Archery Target Do I Need?"

https://www.archery360.com/2017/12/21/archery-target-need/

December 21, 2017.

Wikipedia. "Modern Competitive Archery."

https://en.wikipedia.org/wiki/Modern_competitive_archery#3D_archery

(Accessed February 5, 2018).

Archery 360. "Archery 101." https://www.archery360.com/archery-101/ . (Accessed February 5, 2018).