Best Teen Bedding Sets Reviewed & Rated for Quality
In a Hurry? Editors choice: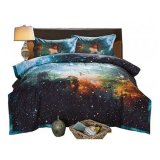 Test Winner: A Nice Night Black and Blue Galaxy

Are you tired of the everyday battle to get your teenager to keep their room clean and tidy?
Parenting experts agree that one way you can encourage your teenager to keep a
tidier personal space
is by giving them some control over the decorating of their room. Just like you have
decorated your home
in a style that reflects your personal tastes, your teen wants to do the same.
Once your teen feels like they have some control over their space and it is a place they want to hang out with their friends, the desire to keep their bedroom clean without nagging will come naturally.
A new bedding set is a great place to start in a bedroom makeover so e did the hard work for you and rounded up the top ten to match all budgets and decors.
Standout Picks
Criteria Used for Evaluation
Comfort
It is easy to understand why comfort was one of the top criteria that we used when compiling our top ten list. To get a good nights sleep you need to be comfortable. A restless slumber will leave your teenager tired and cranky in the morning, and can affect their performance in school and activities.
Materials
Materials in a key factor to consider when purchasing a new bedding set. Whether you prefer natural or authentic fibres is very much a personal choice, as both have their pros and cons. Cotton is breathable and lightweight but it also wrinkles easily and is more prone to stains. Synthetic fabrics will be more wrinkle and stain resistant, however they may not be the best choice for people with sensitive skin.
No matter your choice, both types of fabrics are super soft and generally machine washable. For over-the-top softness, look for products that are made from 'brushed' cotton. This is specially treated by a machine to remove any lint or fibres on the face side for a fabric that is soft to touch and helps trap heat.
Breathability
Breathable sheets and blankets will help your teen get the most restful nights sleep. For hot or sweaty sleepers, having breathable bedding will be especially important so they do not overheat in the night. If you live in a hot climate this will also be a factor you want to give extra consideration While synthetic fabrics are often cheaper than natural ones they are not the best choice as they trap moisture and sweat against the skin instead of absorbing it like cotton.
Style
Teenagers are just as discerning with their personal tastes as adults. While you may not necessarily appreciate the same style that your teen does, their bedroom is one place you can let them have some control over the creative process. We selected teen and tween friendly styles that will appeal to the younger generations, but will still be parent approved as well .
Value
Our goal is to show you the best value products for your investment. When it comes to purchasing anything in a set, getting the most value is even more important. After all, buying in bulk is one great way to save money.
Having children is no cheap task these days, and teenagers are notoriously costly. Adding in the fact that teens are also known for going through stages and changing their personal tastes and interests like wildfire, it makes sense that budget-savvy parents wouldn't invest a fortune their teen's bedding.
And the good news is, with so many great looking affordable options on the market today, you don't have too!
10 Best Teen Bedding Sets
1

. A Nice Night Black and Blue Galaxy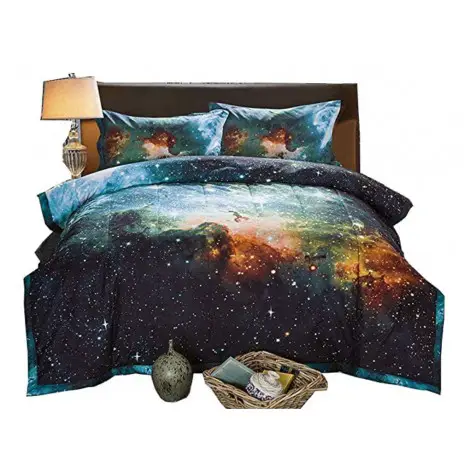 Grabbing the number one spot on our list we have this great pick from A Nice Night. This comforter plus pillowcase set made the top spot for a number of reasons. This set could easily be the focal point of any bedroom! It works just as well for a girl as it does for a boy, the vibrant, eye catching galaxy print is available in a variety of colors for anyone's personal preference. With a great price tag, attention to small details such as the quilting and stitching around the edges, and the space-inspired print you cannot go wrong selecting this for any teenagers bedroom.
Machine Washable
One great thing about the A Nice Night set is that it is machine washable! You won't need to worry if your teenager spills or makes a stain on the new bedding because you can easily toss it into the washer at home. The comforter is made out of a microfiber polyester fabric which also ultrasoft so you can guarantee your teenager will get a great night's sleep.
The galaxy design is great for any teen who is curious about space, the universe or just wants a really awesome comforter that will make all their friends jealous.
Unisex Design
Another factor that helped A Nice Night Galaxy win the top spot was that it is a unisex design. While some of the other products we featured may lean more towards a masculine or feminine decor, A Nice Night would be great in any teenagers bedroom. If you have more than one child, this can be passed down to younger siblings once your teen is finished with it.
Although, with such a great design it is very possible your teenager will want to take this with them once they are ready to leave for college or their first apartment.
Cost and Value
With two pillowcases included along with the comforter, this set offers great value for money. The microfiber fabric can be machine washed, which will save you money on dry cleaning bills that can be necessary with feather duvets. Another factor that adds value is the A Nice Night Galaxy is a comforter, not a cover. This will save you money since you do not need to purchase a duvet insert.
There are multiple colors to choose from, all with a galaxy-inspired print that will look great in any teenagers room, so this could easily be passed down to a younger sibling if your teen outgrows it. Reviewers loved the high quality of this item, one woman stated her daughter has had the A Nice Night Galaxy for over a year and even with weekly washings, there are no rips, tears or loose threads!
Reviewers also loved the quilting details as well as the supreme softness that this product offered. If you want to help your teenager create a bedroom that will be the envy of all their friends, the A Nice Night Galaxy is a good place to start.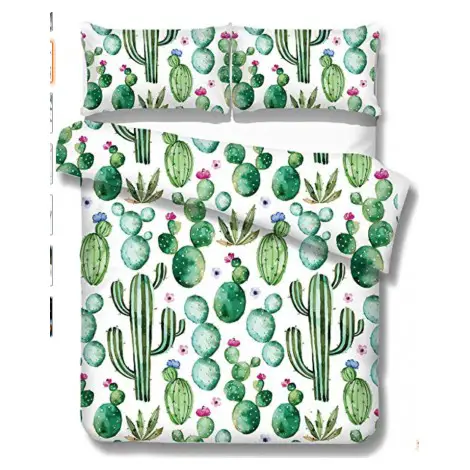 Up next in the number two position, we have a fantastic option from Arightex that features a cool, bohemian-vibe, green cactus print. This set offers a duvet cover along with two matching pillow cases. We love the casual look of this print that will be great for a teen who loves nature, the outdoors, or perhaps is obsessed with the prickliest succulent out there - the cactus.
Allergy-Friendly Microfibre
One key consideration when selecting a new bedding set should always be the fabric. To have a restful, rejuvenating sleep you need to be comfortable and scratchy fabrics, or being too hot or too cold can certainly ruin your slumber. Teens especially need a good night's sleep since they are still growing, and most likely need to wake up early for school in the morning.
Arightex makes this Green Cactus set out of an allergy-friendly microfibre material that is ultra-soft. Other benefits include being machine washable, shrink and wrinkle resistant, and breathable.
Available in 4 Sizes
Another great thing that helped the Green Cactus set lands in the number two position was the fact that it comes in all four standard bed sizes. This is ideal so you can choose the right fit for the bed your teen already has in the bedroom as well as your existing duvet insert.
Reviewers raved that this print looked as good in real life as it did in the pictures, and the quality was superb. One reviewer stated that their teen 'absolutely freaked' when she showed her this new addition to her room.
Cost and Value
We really like that the Arightex Green Cactus won't break the bank. Having a teenager is not easy on the pocketbook, and parents are always looking for a way to save a couple bucks. For the great long-lasting quality and ultra-soft feel, this duvet cover and pillowcase set offer excellent value for money. You could easily spend double or triple this much on designer brand products from department or big box stores when you don't have too!
If your teen outgrows this or wants to change up the decor of their bedroom later down the road, this will easily transition into a guest room or look equally as cute used at the cottage or vacation home as well!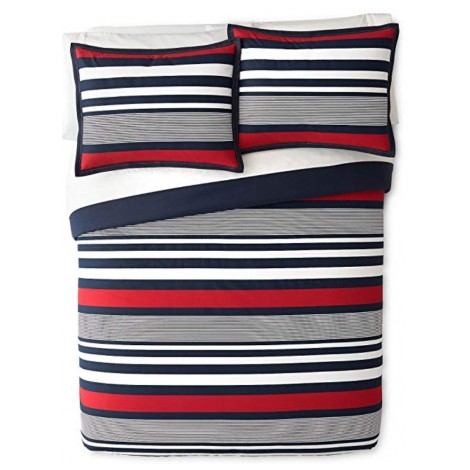 Finishing up the top-three finishers, we have a great pick from men's fashion retailer, IZOD. The bold, geometric stripe print features primary colors red and blue along with white for a nautical feel. Reviewers loved the brushed twill fabric used by IZOD which is treated for the utmost in softness. This product will look great in any teenage boys room and offers great quality as well.
No Insert Needed
Since the IZOD Varsity Stripe is a comforter set, you do not need to purchase an additional duvet insert. We love that IZOD has used ecofill as the stuffing. This is a synthetic product that is made from recycled water bottles, so not only is it good for the environment but also a top-pick for allergy-sufferers who need to avoid down or feather products. Another great thing we loved about the Varsity Stripe set was the fact that the comforter is reversible. If you are getting tired of the striped print, or just want to switch things up a bit, the reverse offers a solid navy option.
Great for Boys
While it is easy to find loads of products that are geared towards teenage girls, the selection of bedding for teenage boys is a little more difficult to navigate. The bold combination of red, navy, and white stripes will look great in your teenage boys room and is something you and your son can both agree on! Bonus points because this IZOD set will easily transition to the dorm room or apartment when your teenager is ready to leave home.
Cost and Value
This set is a little more pricey than some of the other options on our list, but considering it is a brand name designer we still feel it offers a great value for money. The Varsity Stripe set is fully machine washable, so you never need to worry about dry cleaning bills. Reviewers raved about the high-quality that this product offered, and said that it withstood repeated washings with ease. The fabric has been brushed to add additional softness, which will help your teenager get the full nights rest that they need to perform well in school, sports, and life. Adding more value is the fact that the comforter can be reversed, offering two looks in one and the addition of a bed skirt to give your room a polished look.

4

. Intelligent Design Raina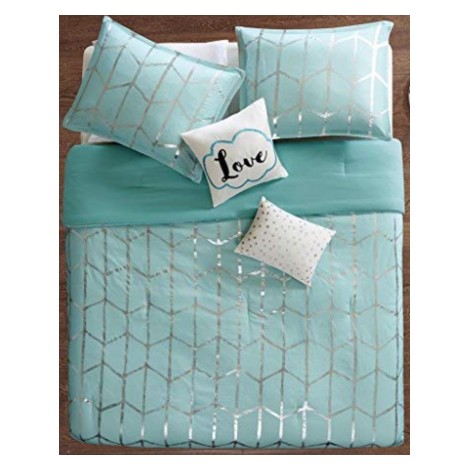 Up next we have a great 5 piece set from Intelligent Design called the Raina. This set would look lovely in any teenage girls room and features a bold metallic geometric print design. We love that there are four equally beautiful color combinations to select from so it would be easy to pair this set with your existing paint color. If your teenage daughter is in need of a bedroom rehab, the Raina set is a great option to consider.
Gold Metallic Print
The Raina set features a metallic, geometric print that is backed by a solid pastel shade. The four color combinations to select from are aqua/silver, grey/silver, blush/gold, and ivory/gold. The fabric of the comforter is a microfiber blend, that is super soft and also machine washable. One reviewer stated that this set looked absolutely fabulous in her teen daughters room as was just what she wanted. Reviewers also stated that the colors looked as good in person as the did in the pictures, which can often be a worry when ordering online.
5 Piece Set
We love that the Raina is a 5 piece set. It comes with a comforter, so you don't need to worry about purchasing an additional duvet insert once your new product arrives. Also included in the set are two matching shams, and as an extra bonus, two decorative throw pillows. We love the addition of the embroidery and metallic typography on the throw pillows. Design experts agree adding small details like accent pillows can instantly help transform a space. Plus, your teen may feel more inclined to make their bed in the morning if it can become a great focal point of the room.
Cost and Value
One thing that we especially love about this Intelligent Design set is the modest price tag. Teenagers are known to change their mind at the flip of a dime, and what they love today may be completely not cool and unacceptable in a couple months. Since the Raina set is so affordable, you won't need to stress if your picky teenager wants to redecorate their room all over again next year. Adding more value is the addition of two accent pillows, which help tie the room together and add some visual interest. The comforter and pillow shams are machine washable so you never need to worry about dry cleaning bills either. With four beautiful metallic and pastel color combos to select from, the Raina set will make a great addition to any teenage girls bedroom makeover.

5

. VClife Yellow Pineapple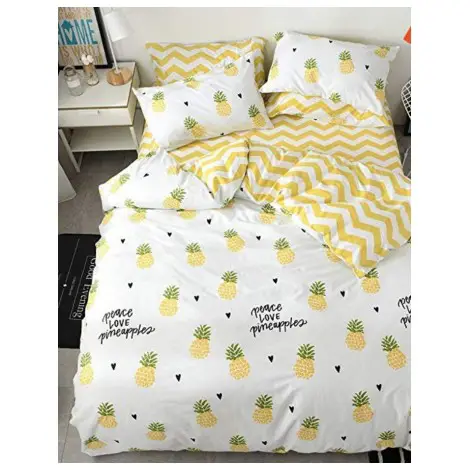 The next bedding set that stood out enough to make our list is the VClife Yellow Pineapple. WIth loads of satisfied reviewers raving about everything from the softness of the fabric to the quality and brightness of the print, VClife is definitely onto something good with this Yellow Pineapple 3 piece set.
Double Sided
The Yellow Pineapple set features a geometric yellow and white zigzag print on one side and a fun pineapple print on the other. We love that the duvet cover is reversible, so you are essentially getting two items for the price of one! The addition of a zipper closure at the bottom is quicker than buttons.
Since this set features a duvet cover, it is ideal for people who live in areas that experience different seasons where a standard comforter may not be warm enough all the time. The Yellow Pineapple cover can be used year round if you switch up your duvet insert in between hot and cold seasons!
100% Cotton
Another huge factor that landed the Yellow Pineapple set on our list was it is made from 100% cotton. For people with sensitive skin or hot sleepers, cotton fabrics are the ultimate choice. They are breathable, lightweight, and delicate on the skin. VClife uses brushed cotton for superior softness to help your teen get a good night's rest. Anyone who has ever tried to sleep with scratchy, itchy, or uncomfortable bed sheets will appreciate the huge difference that a quality set with soft fabric can make!
Cost and Value
The Yellow Pineapple set comes in around the mid-price range on our list. There were a number of factors that we feel really make this item worth it's cost. First, the comforter is reversible so it is basically like getting two for the price of one! We love that VClife uses 100% brushed cotton for superior softness and breathability. People who are hot or sweaty sleepers will appreciate the difference sleeping in natural materials versus synthetics ones can make to getting a comfortable rest.
Adding more value is the addition of the two matching pillow shams. This set is also machine washable, so you never need to worry about dry cleaning bills. While the price may be slightly more than some other options, the attention to small details such as the envelope closures on the shams and the corner ties to keep the duvet in place are nice touches that make this product feel and luxurious.
Bonus points because this would also look great in a guest room, spare room, or home office if your teenager decides they want to redecorate again later down the road.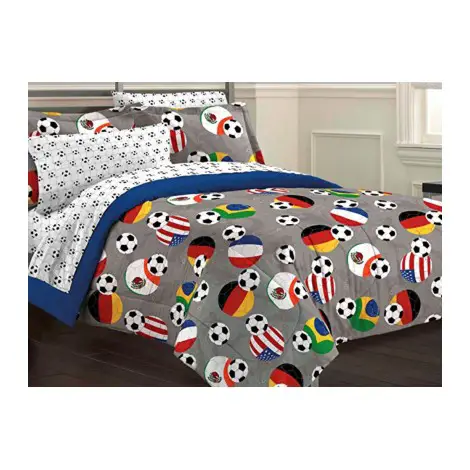 Up next for consideration we have this bed-in-a-bag set from My Room. My Room focuses on designing on-trend bedding for fickle tweens and teens, and we think they have really hit the gold mine with this fantastic soccer theme set. For any soccer crazed tween or teen out there, you cannot go wrong adding this My Room set into their bedroom makeover.
Reversible
The comforter in this set is reversible, which adds a ton of value. One side is printed with a smaller white and grey soccer ball design that is offset with a blue border. The other side features a gray background with a bright, colorful soccer ball and flag print. If you get tired of one side of this comforter simply flip it over and you have a whole new look for your room in under 30 seconds!
This would also be great for tweens or even school age children who crazy about soccer, and can easily transition with them as they grow.
Bed In A Bag
One of the best things about the Soccer Fever set from My Room is it includes virtually everything you need to get your bed set-up, in one bag. Unlike other bedding sets that require the additional purchase of fitted and flat sheets or a comforter covers that require duvet inserts there is no extra or hidden cost with the Soccer Fever set. It includes a reversible comforter, a flat sheet, fitted sheet, pillow sham and pillowcase.
Cost and Value
This set offers a ton of value for money for a number of reasons. One, it includes everything you need for your bed set-up, no additional purchases necessary. The cotton/polyester blend is machine washable, so you can save money on costly dry cleaning bills.
Reviewers raved that their soccer-obsessed tweens and teens LOVED this set and that the quality held up very well. One mom stated that the sheets held up well to repeated washing, and even became softer over time.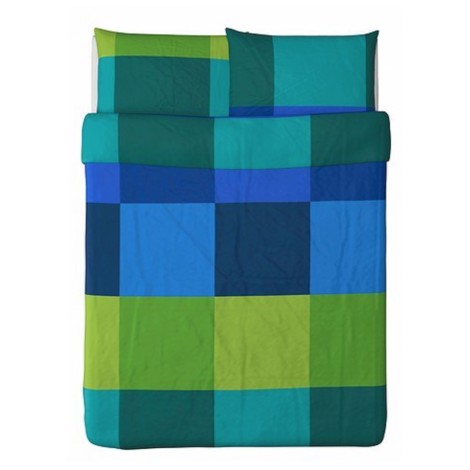 Next up we have the IKEA Brunkrissla.IKEA is a swedish retailer who is known for their crazily named, build-it-yourself furniture and funky designs. The Brunkrissla features a funky green and blue geometric square print that really makes this stand out. Teenagers will love the bright colors as well as the softness of the fabric and there are loads of reviews from satisfied parents who say it is definitely a great buy.
Wallet-Friendly
One reason the Brunkrissla made our list is it is certainly light on the pocketbook. With all the expenses of having children these days, it is always nice to save a few bucks where you can. There are two pillowcases (one for twin size) and a duvet cover included, so you will need to purchase a duvet insert and sheets separately. However, with this great price tag, you will still come in well under budget!
Geometric Print
Another thing we love about the Brunkrissla set is the bright colors and the square geometric print. Teenagers are all about expressing their creativity and unique personalities and this set will be perfect for the artsy, funky, creative ones who want something eye-catching.
Cost and Value
The Brunkrissla from IKEA is a great buy for a reasonable price. For those who need heavier blankets in the winter, this is a great option as it allows you to switch our your duvet inserts instead of buying a whole new comforter! The fabric is 100% cotton, which is breathable, soft, and perfect for people with sensitive skin.
Adding more value, the Brunkrissla is machine washable so you never need to worry about dry cleaning bills. Bonus points because IKEA also makes bed sheets, so finding a matching set will be a breeze! For any teenager who wants their room to showcase their bright, quirky personality, the Brunkrissla will be a perfect pick.

8

. The Northwest Company NF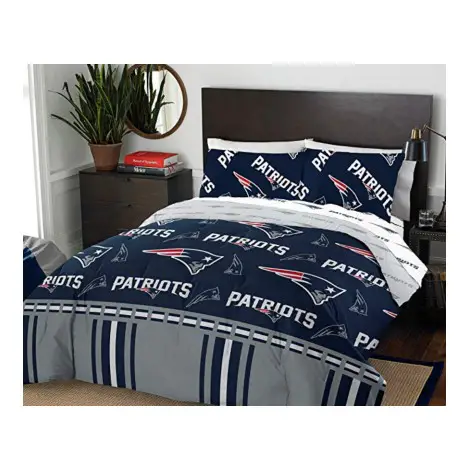 In number eight, we have some official NFL merchandise that is the perfect pick for any football loving teenager in your family. This bed-in-a-bag set from the Northwest Company offers 5 pieces, so there is no hassle and additional cost of shopping for duvet inserts of sheets. Available in a variety of NFL teams, it easy for your sports fan to pick their favorite.
5 Pieces
This is another bed-in-a-bag set, so everything you need for your new sleep setup is included! We love these types of sets for the simplicity that they offer. Duvet inserts can be costly and are often dry clean only, which is another expense to worry about down the road. Picking out sheets that match your comforter can also be a hassle and adds more costs to redecorating your teenagers room.
The Northwest Company NFL set includes a comforter, flat sheet, fitted sheet, and two pillowcases. Bonus points because everything is machine washable as well!
Great For Sports Fans
For any teenager who is obsessed with the NFL, this Northwest Company set will be a dream come true! It is officially licensed merchandise and available in a ton of different teams.
The added bonus is your teenager may actually want to make their bed once they have such a cool bedspread to admire.
Cost and Value
Coming in at around the middle of the price range, the Northwest Company NFL set is a great deal for a number of reasons. The complete bed-in-a-bag set comes with everything you need for your new sleeping arrangement. There are no extra costs like sheets or duvets.
Another reason we love the Northwest Company NFL set is its machine washable, saving you time and money at the dry cleaners. Teens will love picking their favorite sports team to represent. Tons of reviewers also stated that this product made an ideal gift for any NFL obsessed teen on your list!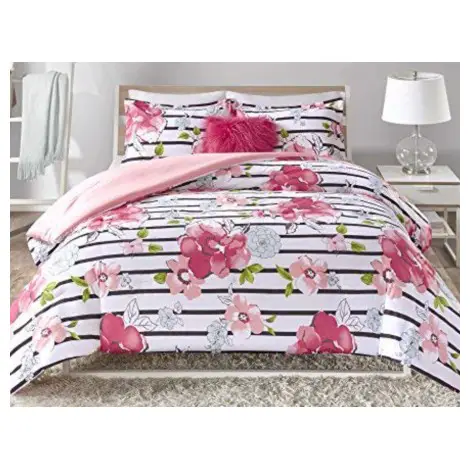 Coming in at the number 9 position we have this great floral design that is complimented with a black and white pinstripe. The Zoe 4-piece set from Comfort Spaces includes a comforter, two pillow shams and bonus faux-fur decorative pillow as well. The beautiful design of this set would work great as inspiration to create a whole new room decor or could work equally well as replacement bedding to give an existing space a new look and feel.
Comes With Faux Fur Decorative Pillow
One thing we love about the Zoe set is they have done some of the design work for you and included a decorative faux-fur accent pillow in with this set. Design experts agree that adding decorative details is a great way to make your space feel more welcoming and add your own personal touch.
Plus, accent pillows make your bedroom feel cozy and give a homey feel.
Vibrant Floral Pinstripe Design
We love the bright pattern that the Zoe set features. The black pinstripe on the white background is classic and refined, while the bright pink rose pattern adds some fun, feminine details. The color palette of pink, white and black is great for any teen girls room.
We give bonus points because this design could easily transition with your teen as they become a young adult. It would look equally great in a dorm room or first apartment as well.
Cost and Value
The Zoe set comes in towards the higher end of the price range. There are a number of factors that add value to this product. First, the comforter is reversible from the patterned side to an all-pink reverse. If you get tired of the rose-print you can simply flip your comforter over for a whole new look. The pillow shams are also reversible.
Another factor that adds a ton of value is the included hot pink faux-fur accent pillow. The addition of an accent pillow means your new bed set-up will be looking great the moment this product arrives in the mail. No need to worry about shopping for accessories to tie your new room altogether.
We give bonus points because this set is fully machine washable as well. Reviewers loved how soft the fabric was and how the bright floral print instantly brightened any room they put it in.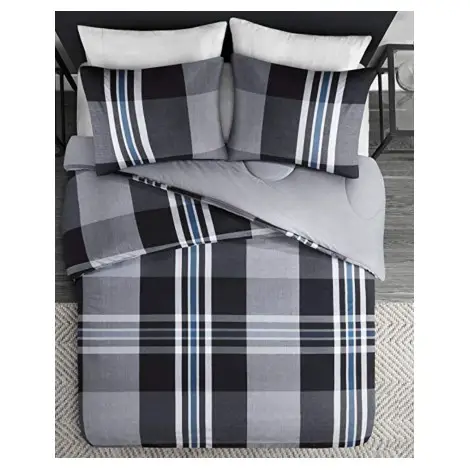 Finishing up our top ten list, we have a great set from the houseware retailer Ink + Ivy. With a smart and studious grey plaid design, this 100% cotton comforter set will make a smart addition to any teens boys room.
Transition to Adulthood
One thing we like about the Nathan set from Ink + Ivy is that it can easily transition from the teen years into adulthood. The grey plaid design will look equally as smart in a dorm room or first apartment as it will in your teens bedroom at home. Or, if your teen wants to switch things up with a fresh look when they leave home, you can move the Nathan set into your spare room. The classic plaid pattern and neutral color palette will never go out of style either.
Natural Fabric
Another factor we love about the Nathan set is that it is 100% cotton. For people who prefer natural fabrics for sleeping, cotton is the number one choice. It breaths well and absorbs sweat and moisture, keeping it away from your skin to prevent rashes and irritation.
Cost and Value
The Nathan set comes in around the top of the price range. It is made from 100% cotton which is more costly than synthetic fabrics. Adding more value is the timeless, classic, plaid print that can easily be used in a different bedroom of your house if your teen decides to opt for a new look later down the road. There are two matching pillow cases included as well, and the whole set is machine washable. One reviewer stated that she purchased the Nathan set for her son for Christmas and he said it was the most comfortable bedding set he ever had. There are loads more positive reviews from satisfied customers who raved about everything from the luxurious feel of the fabric to the high quality that stood up to repeated washing with ease.

Subscribe to our Newsletter