Best Crib Bedding Sets Reviewed & Rated for Quality
In a Hurry? Editors choice: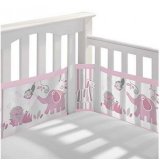 Test Winner: BreathableBaby - Safari Fun Girl

Providing your baby with a safe and comfortable place to sleep takes more than buying a good crib. You also need to buy good
bedding
that issafe and comfortable for the baby. Even though these are not as hard as getting the right bed, it also requires a keen eye and time. Like every other baby product, the market is flooded with different options that you have to sift through.
There are numerous features and factors you have to consider to make sure your baby gets the right amount of sleep and the bedding is safe for them. Because you have your hands full with the little champ, we went ahead and tested and tried different products on the market and compared the experiences of thousands of previous customers and picked the best-rated options just for you.
Standout Picks
Criteria Used for Evaluation
Materials
While in most cases carefully looking at the materials determines the quality of the product you're buying. When it comes to baby products, there is a lot more at stake so you need to be even more careful.
With babies, in addition to the durability, you also want materials that don't become brittle after washing, the material should be soft comfortable and hypoallergenic. The best ones are cotton and polyester. If possible, you should go for 100% cotton products.
Durability
It takes time to find a good baby bedding set and because they will be spending an awful lot of time in the bed, it's imperative that the set is durable and will stand the test of time.
Baby sheets and blankets will likely get washed more frequently. If they are not made to last, the threads will start to run and you might find yourself looking for replacements sooner than later.
Comfort
The baby's skin is sensitive and the slightest discomfort can make life hard for you and your baby. You need to find sets that don't compromise on the comfort of your little angel.
Not being comfortable will not only irritate the baby. It will also keep them from getting enough rest making them restless and fussy. That means you don't get to rest and it can affect the baby's growth. Comfort for your baby must be a priority.
Ease of Use
Even for experienced mothers, a baby is always a handful. There's a lot you need to do to keep them and their environment safe. With that said, you need a set that will cut you some slack and make it easier for you to bring up the little one.
The ideal crib bedding should be machine washable at least. The sheets should be fitted so you don't have to make the bed every time the baby takes a nap and stains should be easy to remove so you don't have to spend hours soaking and scrubbing the sheets.
Fit
You want the set especially the pieces that will be used on the bed to fit right. You don't want them too big because they can pose a suffocation risk if the baby gets tangled in them.
Go for sets that have fitted sheets and the blanket is slightly bigger so you can tuck it on the sides to prevent the baby from rolling around in it.
10 Best Crib Bedding Sets
1

. BreathableBaby - Safari Fun Girl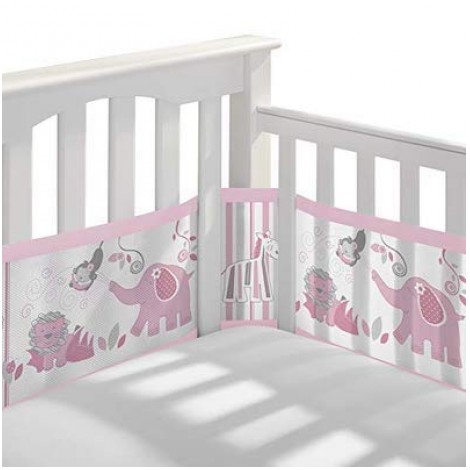 This bedding makes the perfect addition to the bed of your little girl. It's built to be functional and safe with plenty of features that will improve comfort and prolong sleeping times. It's perfect if you have one of those four-sided slatted or solid-back style beds.
Even though made from artificial fibers to improve breathability, it doesn't have a chemical that would harm the babies and does not have flame retardants or formaldehyde. It guarantees a night full of sweet dreams and deep rest for your little angel to grow big and strong!
Machine Washable
With a baby, there's a lot you have to do and the last thing you want is to have liners that are difficult to wash and take time. This particular one is machine washable which saves you time and ensures you always have a safe and clean liner for your child when they sleep.
Completely Safe
You don't have to worry about your child sticking their feet between the spaces in the bed or a restricted air flow which is quite common with some padded liners. The BreathableBaby Classic Breathable Mesh Liner is designed to provide the baby with the comfort and safety they need and to reduce your level of worry and alertness.
Cost and Value
For a budget-friendly price, you will get a great liner for your child. It's safe, properly designed and made from quality materials that will ensure longevity and functionality for the period that you will use the liner.

2

. Bacati - Elephants Blue/Grey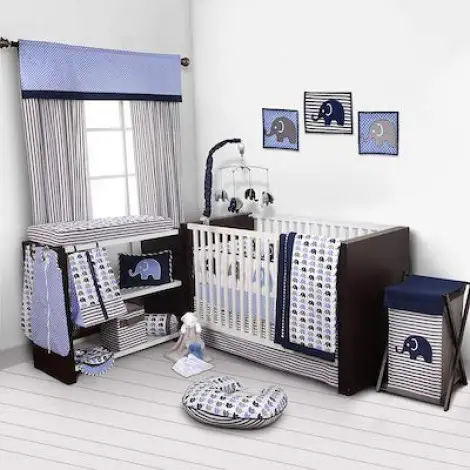 Baby shopping can be a tussle. If you can find multiple products bundled, it saves you time and money. This is what this bedding set is about. This one of a kind bedding set will bring your nursery to life and add plenty of functionality to the room.
It includes a comforter and fitted sheets and skirt, diaper stacker, nursery wall décor, and you also get a mobile musical pole to keep the little one entertained. Simply put, this bedding set has everything you would need to keep your little one comfortable and bring their nursery to life.
Materials
When it comes to your little one, the materials can be a make or break. You need good quality materials that are easy to clean and safe for your baby's skin. The fabrics of this bedding set are made from 100% cotton the comforter and bumper pad are filled with 100% polyester providing a safe and comfortable environment.
Machine Washable
You must be wondering how you will handle washing all the pieces. Well, you don't have to worry much about that. They are machine washable and come with one additional benefit. With every wash, the material becomes softer making it more comfortable and soothing to the baby's skin. You save time and guarantee your child's comfort.
Cost and Value
With so many pieces in one bundle, you should expect the price to be on the higher side. But, compared to buying each of the pieces individually, you will actually be saving yourself a fortune. In addition to the savings, you get value for money because the bedding set is not only about quantity but also about quality.

3

. Disney - Winnie The Pooh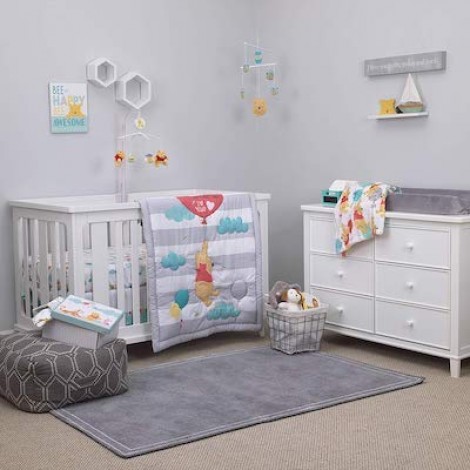 This cute 4-piece bedding set includes a comforter, sheet, keepsake box with a lid and a dust ruffle. It comes with cool colors and a finish inspired by the legendary Winnie the Pooh animation from Disney. It adds a blend of warmth and light colors to the nursery.
It's a great option to consider if you don't have a large nursery or don't have the budget to have a fully-fledged baby room. The set offers you with the bare minimums and must-haves that are enough to keep your baby warm and comfortable without ripping your bank account apart.
Polyester Microfiber
The essence of having baby products made from the best quality materials can't be overemphasized. It's important to make sure the comfort and safety of your child are not coming for low-quality materials. In this case, the bedding set is made from polyester microfibers which ensure a soft and soothing touch to the baby's skin all along.
Colors
When it comes to the nursery, you're rarely willing to try different colors other than what you have envisioned. It can be a tightrope to walk especially considering that baby products tend to come in a few colors. With this option, finding the right color for your nursery won't be tedious. You have numerous options to choose from which include aqua blue, light grey, white pops of red and a bit of yellow.
Cost and Value
For a 4-piece set, the price is quite reasonable and pocket-friendly. The quality of the pieces is great so you get value for your money and above all, you don't have to shop for each of the pieces separately which saves you time and money.

4

. Bedtime Originals - Friendly Forest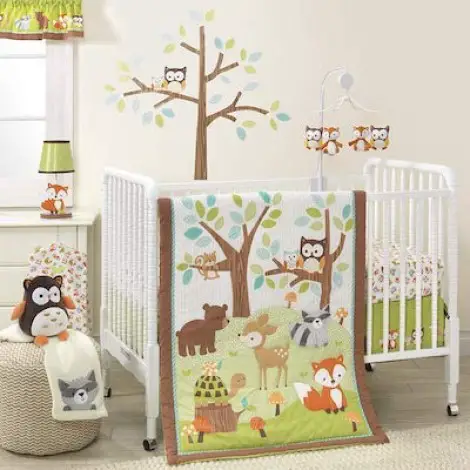 You don't always have to follow the blue and pink rule. If you want to try out a more stand out finish for your baby's bed, this set will do it for you. It comes in a variety of bold and bright colors that will light up the room and make it feel fuzzy and warm for the little one.
The set doesn't have an awful lot of pieces but, it has the most important ones which include a quilt, fitted sheet, and a dust ruffle. The colorful characters and forest theme finish of the set is a great addition to any nursery but will only work if you're willing to step out of your comfort zone.
Machine Washable
All the pieces are machine washable. However, it's imperative that you follow the laid out instructions carefully. The pieces should be washed with cold water and with other clothes of like colors to avoid damage to the fabric and finish.
Easy to Care Beddings
You want to save as much time as possible when washing and cleaning the bedding set. The beddings, in this case, are made from an easy to care for a blend of polyester and cotton that makes the beddings easy to clean and even easier to get rid of stains. You save time and provide a clean and healthy environment for your baby.
Cost and Value
The price is a slight turn off considering you get fewer pieces at a higher price. But, that's because most of the focus is on providing you quality if you're looking for a great bedding set that leaves up to the hype, this one lives up to the hype.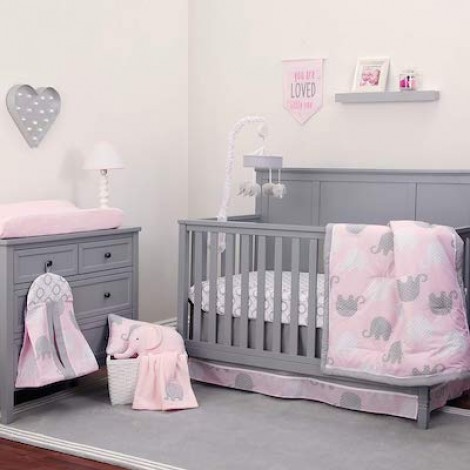 The NoJo crib set is designed for parents who are looking for functionality over style and appeal. While the finish is quite conventional, the same can't be said for the functionality. The set includes 2 sheets, dust ruffle, printed pillow, coral fleece blanket, changing pad cover and a diaper stacker. It's pretty much everything you would need to have a functional nursery and keep your child cozy and comfortable.
The fabrics are good quality and emphasize of baby comfort and soothing the baby's skin. The set is designed to be used on both traditional and convertible styles so you don't have to worry too much about the dimensions and fit.
Materials
Each of the pieces is made from materials that best suit them to maximize functionality and make maintenance easier. The sheets are 100% cotton while the blanket and changing pad cover is 100% polyester.
Variety
The set is quite diverse. It features everything you would need for your baby's bed and then some. It's a great way of cutting on your shopping time while getting value for your money without compromising the baby's comfort and experience.
Cost and Value
Given the materials and quality used to make each of the pieces, it's surprising that the price of this set is under $100. You get variety and quality pieces at a reasonable and pocket-friendly price which is quite commendable.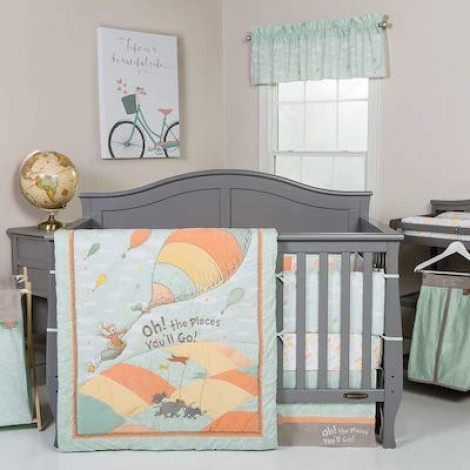 Throw in a bit of fun and color in your baby's nap time with this 5-piece set. It has a dashing collection of colors and designs which include elephants, hot air balloons, flag, and dot prints. It's the perfect fit for the modern parent who doesn't believe in having solid colors and wants a warm and fuzzy touch to their baby's bed.
The set includes a quilt, skirt, diaper stacker, changing pad cover and a fitted sheet which is safer for the baby and saves you from having to make the bed every morning. If you're looking to add some fun using quality and functional pieces, this set will get the job done to your expectations.
Reversible Quilt
The quilt is made from 100% cotton and in addition to the stand out finish and design which includes clouds and hot air balloons, it's also reversible which means you get a few more uses before you need to head to the washer.
Quality
A lot of thought and work has gone into this set. You can easily tell from the minute you feel each of the pieces between your fingers. The extent of the quality of the set is not only to keep the child comfortable but to last as well. Each of the pieces is made from 100% cotton including the diaper stacker.
Cost and Value
Be prepared to dig deep into your pockets to add this dazzling set to your child's nursery. Even though the price tag might be a turn off to buyers looking for a more affordable option, the set is worth every cent you will spend on it. You get quality and functionality not to mention you bring a bit of the sunshine indoors.

7

. Wendy Bellisimo - Elephant in Grey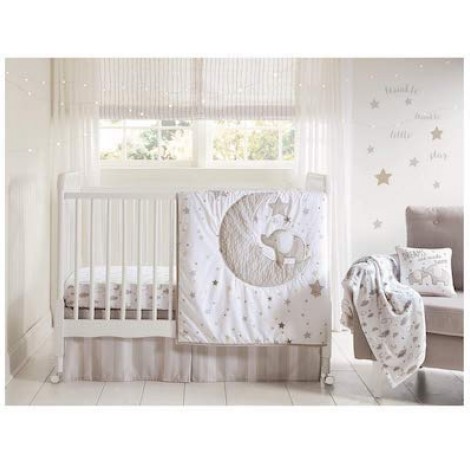 Wendy Bellisimo is the perfect brand for you when you want to bring a touch of class and elegance to your baby's nursery. For parents who will settle for nothing short of perfection, this is the perfect set for them.
Each of the pieces has been carefully designed and have a unique and elegant finish that will bring in the coziness and comfort your baby deserves. With this set, you get a soft, reversible quilt, fitted sheet, slipcovered chair pillow, and an extra-long skirt. That's just about everything you need to keep your baby's nursery functional.
Celebrity Designer
Celebrities are known to love the finest things in life. With Wendy Bellisimo who is a celebrity designer, you can give your baby a chance to experience the exploits that the rich and wealthy prefer for their children. You're also guaranteed that the quality is top-notch and you get value for your money.
Additional Pieces
If you would like to add more Wendy Bellisimo pieces to the nursery, there are numerous standalone pieces that you can buy. They include a contoured diaper changing pad,rail, mobile among others.
Cost and Value
The price is a little high on this set. It's not exactly a cheap option but, if you're looking for value, you will not go wrong. The pieces are extremely durable and will easily see you through baby number two and even three.

8

. Sweet Jojo Designs - Patch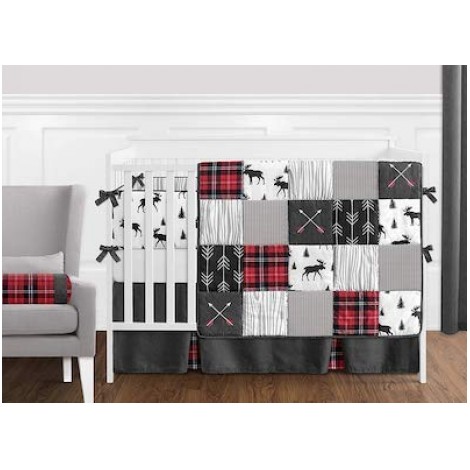 Step out of your comfort zone and into the world of simplicity and elegance that this set creates. The set is unlike anything you would find in a nursery. The finish and designs are unique and will definitely get the nursery looking different but the functionality and the comfort your baby will enjoy largely remains the same.
'With this 9-piece set, you get a blanket, a bumper, skirt, fitted sheet, pocket valances, a diaper stacker, a toy bag and a pillow – everything your baby needs to make their first few months in the world as comfortable and friendly as possible. If the 9-piecer doesn't work for you, Sweet Jojo also has an 11 piece set that will definitely get you the missing pieces to your nursery.
Unique Finish
You don't always have to go for the bright solid colors scattered with Disney characters or animals to make your child's bed stand out. This one of a kind set offers an alternative option you should consider that will get the bed looking fun, a little complex and a whole lot elegant. The striking prints which include moose print, wood grain print and an arrow print add a dash of modernity and a sense of comfort to the baby's bed.
Diversity
With nine pieces, this set offers everything you need for your baby's new bed. You have everything from the bumper to the pillow. It saves you the trouble of having to get each of the pieces needed separately and at the same time saves you some money.
Cost and Value
This set from Sweet Jojo is one of the more costly options on this review list. But, that's with good reason. You get more pieces and each of them is crafted for quality and durability without compromising the baby's comfort. So, while the price might be a concern, the set is definitely worth it.

9

. GEENY Pink Grey Chevron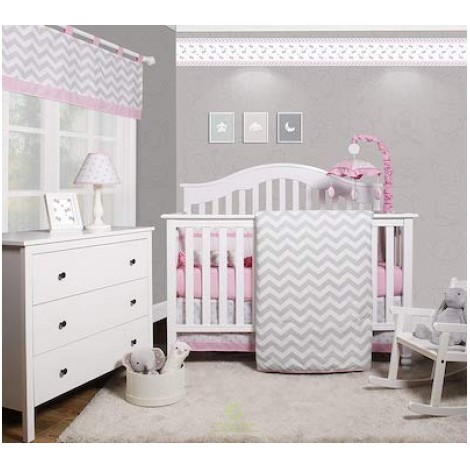 Spruce up your baby girl's nursery with this set that is specially designed with girls in mind. It has a unique collection of colors that offer a great contrast to the nursery.
Each of the pieces is made from a mixture of polyester and cotton to make them comfortable and easy to clean. The set which includes a quilt, bumper, skirt, and fitted sheet has all the essential items you need to set up your baby's first bed.
Machine Washable
All the pieces of the set are machine washable. When you have a new-born, you know how important it is to have materials that you can simply shove into the machine. It saves you time and energy that you can use to better focus on the baby.
Materials
Cotton is the best material for children. Largely because it's a natural fiber and it has hypoallergenic properties. But, it also tends to stain easily and is hard to clean. By adding polyester, the great material becomes even better. Your child can enjoy the safety of cotton with the comfort of easy cleaning of polyester. That's why this set is made from a blend of cotton and polyester.
Cost and Value
It's perfect when looking for a set that blends quality and affordability. The cost is quite reasonable and pocket-friendly. You get plenty of pieces to get your baby's room going and you don't have to pay out of your nose for the pieces.

10

. Sweet Jojo Designs - Feather Baby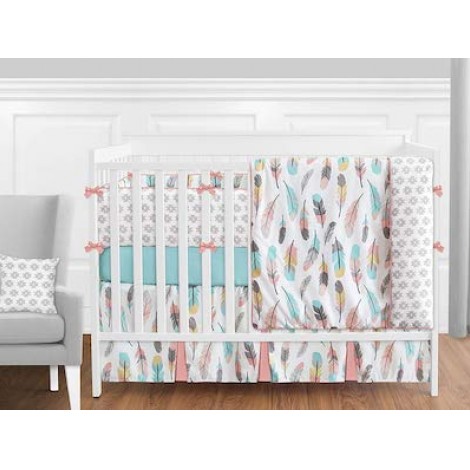 To close the review list is another set designed for baby girls. It blends the conventional style of having lots of pink with a touch of modernity with prints and other fun colors. It's the perfect way to bring light and excitement in your baby's sleeping area.
With the 9-piece set, you get various pieces that include blanket, bumper, skirt, fitted sheet, and valances just to mention a few. If you find the 9-piece too much, there's a 4-piece set and an 11 piece for parents that are looking for more.
Trendy Design
There's no reason why your child should not enjoy the exploits that come with great design and creativity. This floral and tribal print set offers exactly that. It will transform your baby's room into their own little jungle.
Quality
With your little one, you can never compromise on quality. You have to make sure you provide them with the best you can afford. Sweet Jojo believes in the same approach and ensures each of the pieces in the set is made to the highest standards.
Cost and Value
The cost of this set is on the higher side. But, the value you get is even higher. You get a wide range of pieces and each of them is made to the highest standards. That guarantees that you not only have a safe environment for your baby to sleep but the pieces also last for a long time.

Subscribe to our Newsletter