Best Mirrors Reviewed and Rated for Aesthetics
In a Hurry? Editors choice: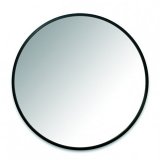 Test Winner: Umbra Hub

Mirrors have been such a staple part of our lives that we rely on them heavily when we are
getting ready in the morning or night
. If we didn't have
our reflection staring back at us
while we get groomed, who knows what we'd look like (literally). Some homes and apartments come already furnished with a standard bathroom mirror that we use when we're grooming. These are often flat-designed and bland, and we often aren't able to view our whole body. You can find all different styles of mirrors from full length to circular, paneled to high-technology. There's one that can fit your style and needs. Here's our top ten list to help you find a mirror that's right for you and your home.
Standout Picks
Criteria Used for Evaluation
Style
Mirrors can be used in just about any room in your home. Some people even have mirrors in their garage so they can determine how far they need to drive into before they hit the wall. A mirror can benefit any room, not just in function but also for style. You want to make sure that the type of mirror is appropriate for the place you're choosing it for. Mirrors generally fall into three categories.
Floor mirrors are usually free-standing, dramatic mirrors that are larger and meant to be used to view the whole body. These come in many different styles now, and some even have multiple functions such as storage spaces or closets. If you are in a smaller-sized apartment complex with minimal storage, this type of mirror may be best because you get the best of both worlds. The mirror is a full-length mirror with extra discreet, storage space. These can often be propped up against the wall for a contemporary, chic look (not to mention this is the easiest to set up). Floor mirrors come in different styles and finishes. These are generally best used in the bedroom, guest rooms, or hallways so guests and members of the home can have an area to view their full body.
Versatility
You probably already have wall mirrors mounted in your bathroom or bedrooms- these are the most common of mirrors because they come in an endless variety of styles and sizes. Floor-length wall mirrors are great because they can provide a full-length view while laying flat against the wall, freeing up space. There are some wall mirrors that we listed that can be rearranged and stuck onto the wall in sticker format, or some that can be mounted to the wall, adding dramatic dimensions and style. As long as you can hang something onto your wall, these type of mirrors are great for any room and can not only be practical but also provide decoration and serve as focal points for the room.
Dressing or vanity mirrors are also commonly used, mostly by women. Vanity mirrors are often equipped with light bulbs or LED lights so that your face is illuminated and it makes it easier to apply makeup or groom yourself in bright lighting. These are usually portable and compact, so they're easy to carry with you from room to room or able to be stored away easily. A lot of these type of models usually come with three panels or double-sided, to be able to view in multiple angles or under different magnifications. These are also comfortable to use because you can be sitting down while using the mirror, and are often paired with dressing tables and vanity desks.
You can probably find a mirror in just about any shape imaginable if you look hard enough. The right shape and size can add personality, balance, and depth to rooms, and many interior designers are known to play up the shapes of mirrors of all sizes to add character and space to a room.
Rectangle or square mirrors are the most common- you often find your bathroom or closet already equipped with these standard mirrors. Their pointed edges can elongate and add structure depending on where they are placed. These offer an effortless solution to bringing order and balance.
Oval mirrors have a somewhat old-fashioned, vintage feel that can bring the right amount of sophistication to a bedroom or bathroom. These are often paired with ornate and elaborate frames, which can elevate the look and feel of a place.
Circular mirrors can add a unique look to a room, especially if they are more abundant in diameter. These can serve as focal points and when used or placed correctly, can pleasingly draw attention and eyes. This help reflects artificial and natural light around the room, adding a modern, clean aesthetic.
Abstract mirrors can vary in all shapes and sizes but are often eclectic in style and geometric in shape. These can be broken up and arranged to build different forms and can be tailored to your style.
Size
You want to look for mirrors that already have frames around them- it would be challenging to get the exact measurements and tailored framing, especially if the mirror is abstract in size. Frames for mirrors usually come in a gilt style- these add a modern elegance to what can be a simple mirror and often come in metallic finishes like chrome, bronze, and silver. Wooden frames add a rustic, organic feel and can make a home look cozy and earthy. Mirrored frames provide a contemporary, innovative feel that works well in urban homes. You can always go frameless as well, which maximizes on space and provides a minimalistic look.
Effectiveness
Mirrors can be used in so many different ways to brighten up a room. Mirrors are a great tool used by many designers to add space, light, and height to areas that may be lacking. Of course, the primary function of a mirror is to check our reflection and check our appearance. From a design standpoint, mirrors have often been used to increase size and space. A full-length mirror for shorter heights can add length and create a taller illusion, where a full mirror can provide width in more narrower, shorter spaces.
For dark areas or rooms that lack a lot of light, mirrors can be a great way to get the light to reflect and bounce around to different corners, maximizing the use of light. These are often hung on the opposite sides of light sources, such as windows, to get the reflecting light to bounce off. Depth or dimension can be achieved through dramatic, statement mirrors that can serve as focal points in the room. These command attention and can draw the eyes to different places throughout the room and are often placed near objects you want to showcase in the room, such as bookshelves or frames.
Ease of Use
When it comes to how easy it is to use a mirror, we don't mean standing in front of one and seeing your reflection. That would be a little ridiculous because you don't have to make an effort at all. No. We are talking about when it comes to placing the mirror in your home. Whether it's a floor mirror that leans against a wall or one that you need to mount, all of these mirrors on this list are relatively simple to put into your home.
10 Best Mirrors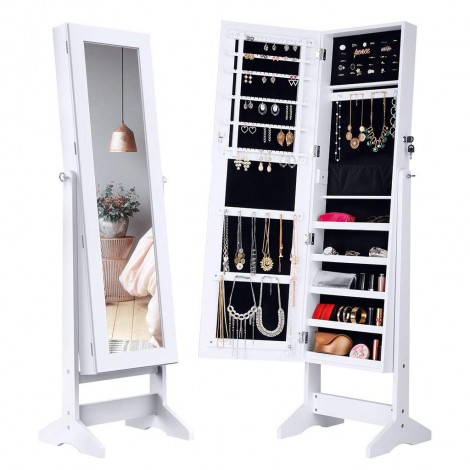 If you have more jewelry and accessories than you know what to do with not enough storage space, this is the perfect product for you. A free-standing, full-length fashion mirror that can open to store your valuable jewelry, this mirror unites form and function.
Dual Purpose
Not only is this a full length 48" mirror, but this also opens up to serve as a jewelry organizer. This stores one pouch and 84 earring slots, 36 earring holes, 11 compartments, and 18 necklace and bracelet hooks. This keeps your jewelry organized in the best way, so you're not wasting time searching and detangling your goods.
Angle Tilting Positions
This mirror comes with four knobs where you can adjust the angles in the mirror for your preferred view. You can have it facing you straight on or at a slight upward angle so you can get the full-length view.
Cost and Value
This is a heavy-duty cabinet/mirror hybrid, so it comes at a higher price point than if you were to purchase a regular full-length mirror. It is still considered to be a very reasonable price point given that you're getting multiple functions out of this.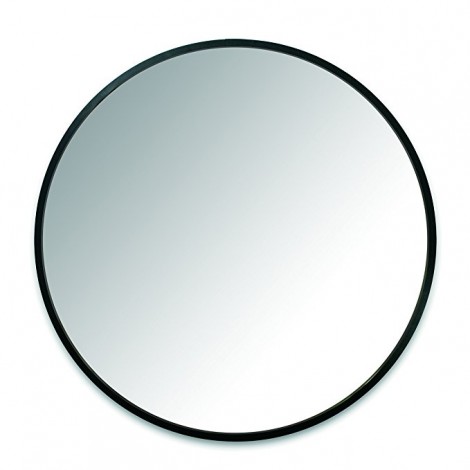 The Umbra Hub Wall Mirror is a large, heavy-duty wall mirror with modern rubber framing, giving this a contemporary feel to any room. Circular wall designs sport a specific modern aesthetic, and this wall mirror can add sophistication and depth to your space, without making the room feel crowded.
Rubber Frame
Simply adding a rubber frame around this large mirror gives it an elevated look as opposed to if it didn't have a frame. This also serves as a protective bumper or shield so that your walls and mirror stay free from scratches or damage.
Adds Dimension
The large circumference of this mirror gives depth and dimension to any room, making this perfect for smaller spaces that want to appear larger. The large dimension also reflects light, which helps brighten and liven any room.
Cost and Value
The Hub mirror is a heavy-duty durable product coming at a higher than average price point. The protective rubber frame ensures the longevity of this mirror, making this different than your average wall mirror.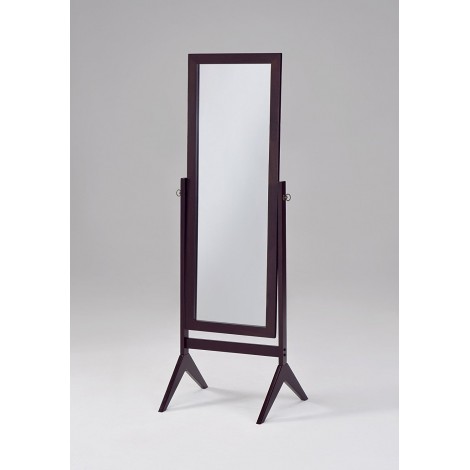 If you're looking for a no-frills full-length mirror that is portable and also has an elegant design, this floor mirror will be a perfect addition to your bedroom. Customers highly recommend this product for its easy installation and exquisite wood finish.
Adjustable Tilt Frame
This mirror is great for those who have different heights in the home and want to be able to get a more accurate, full-length look of themselves with ease. The tilt can be moved with ease for anyone's height preference.
Great Quality
This floor mirror has a wood, espresso finish that gives it an elevated, expensive look without breaking the bank. With high-quality, durable glass, this mirror shows you exactly how you are.
Cost and Value
If you're looking for modern, elegant pieces of furniture that you can add to your bedroom while on a budget, this floor-length mirror is a very budget-friendly piece that can heighten and tie together your whole space.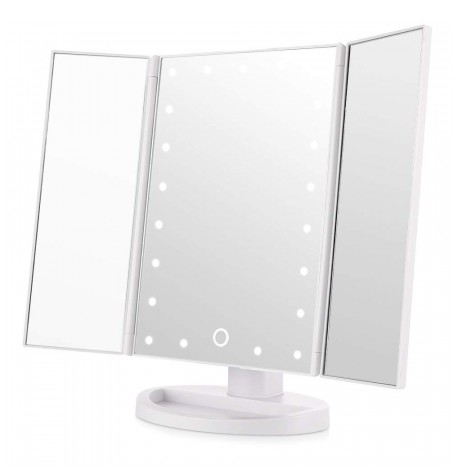 This vanity tri-fold should be a staple part of a makeup lover's getting ready routine every morning. With three lighted panels, tri-fold design, and free-standing tabletop ability, this mirror is the best tool in getting each detail taken care of correctly.
Lighted Makeup Mirror
The three panels provide a panoramic viewing of your face so you can see your face from all angles and get your makeup applied with accuracy. This also has 21 built-in LED lights that allow for optimal viewing and precise application.
Tri Fold Portable Design
This convenient design can be opened and closed and stored away when not in use, saving space and preventing it from scratches or dust. The base can also be used to store small miscellaneous items.
Cost and Value
This is powered by 4 AAA batteries (not included) or is USB chargeable. Customers say that the LED lights work well, and this is the perfect companion in getting ready, also coming at a very affordable price point.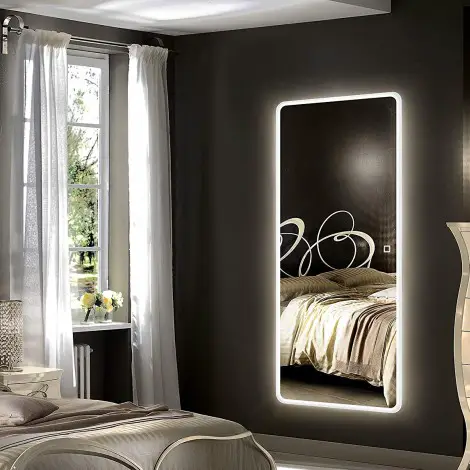 If you want the benefits of a makeup mirror with LED lightbulbs in a full-length mirror to view your entire body, the Hans & Alice boasts a large size plus bright, energy-saving lighting that is guaranteed to give you all the favorable light you need to start or end your day right.
Highly Durable Material
This mirror is highly durable with 5 mm of a pure silver protective coating, which adapts to the International Environmental Standard. This is a 100% safety guaranteed mirror, with a shatter and explosive proof glass membrane and coating.
Touch Button Lighting
The energy-saving LED lighting is guaranteed to last for up to 50,000 hours, with a sleek and contemporary touch button embedded within the mirror that makes this mirror a modern, stylish addition to any room.
Cost and Value
This is a high-technology, heavy-duty full-length mirror that comes with a higher price point. Customers say they love the wide width and full length, giving them a full, lit view of themselves and are very satisfied with this product.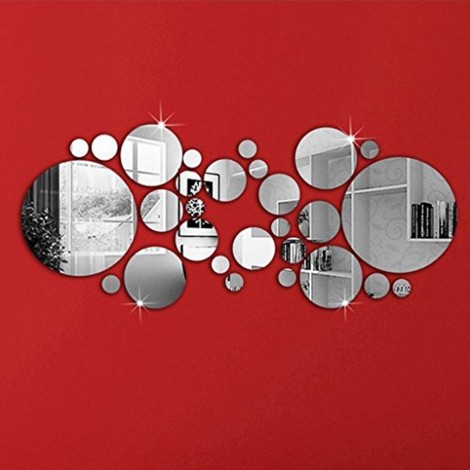 If you're a creative, home DIY-er, then this mirror wall sticker set would be perfect for expressing your creativity the way you want. Coming with thirty differently sized, circular wall stickers, these are a great, easy way to add decoration to your home.
Easy Installation
These wall mirror stickers are extremely easy to install- no screwdrivers or nails necessary. Remove the self-adhesive tape and paste on the desired location. The noncorrosive adhesive also ensures that it will be easy to remove and not cause damage to your wall.
Versatile Application
You can use these stickers in any design, shape, or form you want! All you need is a flat surface, and you can rearrange the stickers to any design you imagine. These don't have to be limited to the bedroom or bathroom. You can also use them on freezers, cabinets, offices. You can even split them up and use them around different rooms around the house!
Cost and Value
These come at a very affordable price point and are a great way to add unique decoration to your home in a cost-friendly way. Given that these are stickers, they are very lightweight and not meant to be used as heavy-duty mirrors.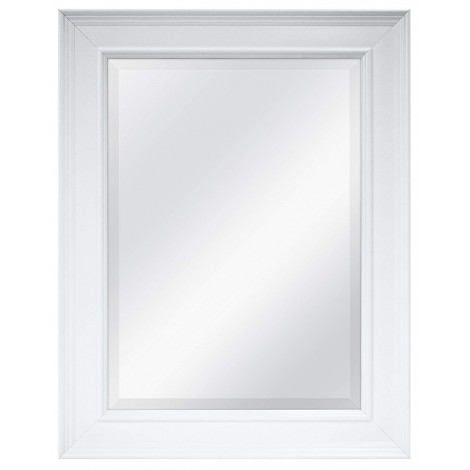 The MCS Wall mirror is a timeless, elegant mirror that would hang correctly in bathrooms or bedrooms and brings instant sophistication and class. With a structured ridge frame, this mirror brings clean lines and depth to your space, all while serving as a functional tool when getting ready.
Beveled Frame
This mirror is already embedded within a structured, beveled frame that is 1 inch wide. This eliminates the need for an extra frame, and you also get a decorative piece to add to your room.
Variety of Colors
This wall mirror comes in black, bronze, pewter, and white- you can find one to add perfectly to your home. You can even mix and match to add different dimensions.
Cost and Value
The cost of this mirror varies based on the color or style you choose to get and is also made from highly durable polystyrene material- compared to expensive designer home goods, this wall mirror comes at a great price point.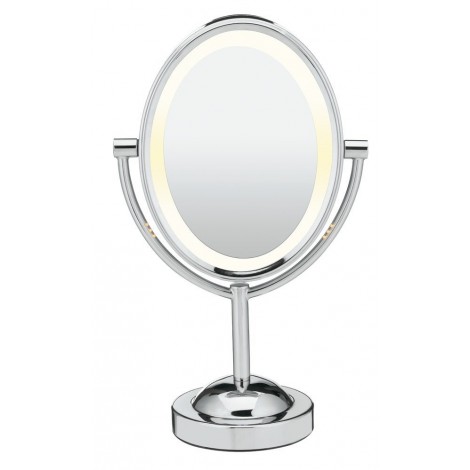 This is an exquisite, portable, double-sided makeup mirror that can make anyone feel glamorous while getting ready. With soft, incandescent lighting and a 360-degree rotating capability, this mirror is the perfect tool to see yourself in the best light ever.
Extra Bright Lighting
This is double-sided and has extra bright, soft lighting that shows yourself at actual size and at seven times magnification. The lighting is perfect to see yourself in fine detail. Some users say the bulb has even lasted up to 5 years without replacement.
Double Sided Mirror
The second side to this makeup mirror magnifies up to seven times the actual size, making this the perfect tool to help to groom efficient and apply makeup with precision.
Cost and Value
This makeup mirror comes in three different colors- oiled bronze finish, satin nickel finish, and polished chrome finish- and prices vary according to the style. Given that some customers say they have gone up to 5 years without replacing the lightbulb, this product is well worth the price!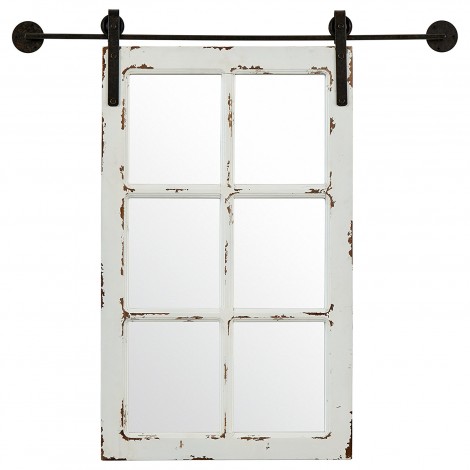 This Stone & Beam is a unique, one of a kind mirror that serves as a statement piece that can dress up any bedroom or living room. With a vintage aesthetic and fun, side-to-side movement ability, you can add a unique personality to your space.
Industrial Look
With a black iron rod and white, distressed framing, this window mirror has a vintage, rustic aesthetic that many creatives or artists may find themselves attracted to. It will look great in hallways and living rooms.
Sturdy Material
This is a heavier mirror/decorative piece and is meant to be hung. The black iron rod ensures that it will be able to be hung for long periods with no distress, while the fir wood gives this a rustic authenticity.
Cost and Value
This is meant to be a standalone/decorative art mirror and is comparable to the prices of certain wall hanging arts and mirrors. This mirror gives a unique feel to the home and is a great deal for such a statement piece- when is the last time you've seen sliding mirrors?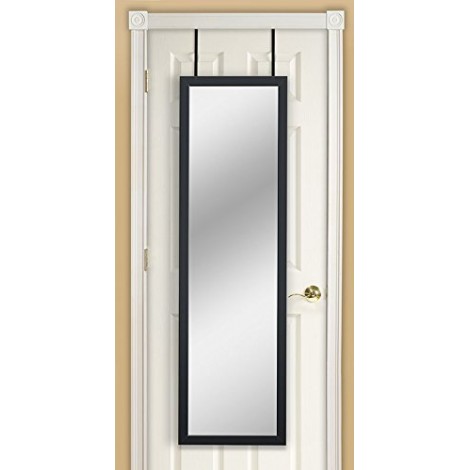 The Mirrotek Over the Door Mirror is perfectly designed to hang over your door so you can get a full-length view of yourself before you head out the door. With its stylish, contemporary design and a variety of different colors and options, this mirror is guaranteed to mesh perfectly with your current home decor.
Easy to Install
As long as you have a bedroom door, this mirror is guaranteed to hang easily over the top and lay flat against your door. It is already assembled at purchase, so all you would need to do is customize it to your preference.
Full Length Mirror
This full-length mirror allows you to view the entirety of your body. The attached hooks can be shortened or lengthened based on height preference, so it is versatile enough to be used anywhere.
Cost and Value
The Mirrotek is designed to last a lifetime, made from a highly durable particle frame board, and is attached with strong metal brackets that will withhold movement and wear and tear. This sleek and modern mirror comes at a great price point, considering that it will be the only over the door mirror you will need.

Subscribe to our Newsletter