Best Comforters Reviewed & Rated for Quality
In a Hurry? Editors choice: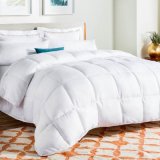 Test Winner: LINENSPA

When we started thinking about making a list of our best comforters, we first had to think about what exactly is a comforter. In most cases, a comforter is a
big bag
filled with the kind of stuff that is going to
keep you warm
on the coldest winter nights. It's more than a blanket because in most cases it's quilted and filled with down or synthetic fabrics that hold warmth. That's why you should have one and that's why they're much better than blankets which don't have down filling. Some comforters are knitted which keeps the stuffing in place (we're big fans of this by the way). Now that you know the difference read on to find the one that will be best for you.
Standout Picks
Criteria Used for Evaluation
Materials
Difference between Down and the Down Alternative
Both of these options typically come in a baffle box design, which is basically the way the material is stitched together giving it lift and room for the down to expand and reach its maximum height and fullness to provide evenly distributed warmth. The actual "down" comes from ducks or geese, and there really is no difference between the two. The color of the down will not make a difference either. The down does provide better insulation than other alternatives and it is not as heavy as the other options. However, the down alternative materials are typically less expensive, hypoallergenic, and easier to clean. Consider your personal needs first.
Capacity
Fill Power, Fill Weight
These two things will determine the level of warmth you get from your comforter. The fill power is the measurement of the "loft" or fluff of the down. This is determined by the amount of space each ounce of down consumes. The more space it takes, the higher the fill power number, making the higher number a more fluffy and warm comforter. The fill weight is exactly that, just how much each ounce of down weighs. It does not take a lot of down to work properly, so a small flat looking comforter can actually be just as warm, or more warm, than a big and fluffy comforter with a higher fill weight. Talking the numbers, you would look for a comforter with a 550+ fill power and a fill weight of 60 or less.
Effectiveness
This is a vital piece of information here because if this comforter doesn't do its job well then you're going to be cold, and so what's the point. So, we're looking for a combination of materials, and their ability to hold onto body heat and keep out the cold so we can make sure that they're going to work on those three dog nights that come in January and February.
Size
We'll look for comforters that have a lot of size options so you can make sure that the one you're buying is going to fit all kinds of beds. You don't want your comforter dragging the floor and you definitely don't want it too short so every night turns into a blanket tugging party.
Texture
So sure it'll keep you warm but how does it 'feel.' Does it feel like you're covered in the softest down of a million baby swans (collected humanely of course)? If so then that's the comforter you want. We'll look for outer coverings that are made of materials like high point cotton, or soft slidey synthetics and we're focusing on comfort here as well as functionality. So you can be as finicky and picky as you want, and we've got you covered, literally!
10 Best Comforters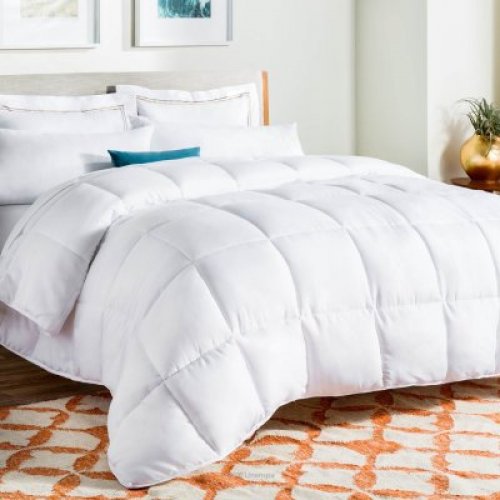 As we all continue to learn, there is much more than the mattress that provides the comfort of your bed. Your sheets, pillows and shams, and even your headboard can have an effect on your overall comfort. LINENSPA prides itself on providing all of your bedding needs at incredibly low prices. This bed clothing is ultra soft and is filled with a hypoallergenic down alternative which means it is washable and safe to throw in the dryer! It has a sewn corner and side loops which gives you more contact points with your duvet cover if you choose to use one.
Hypoallergenic Down Alternative
If you're concerned about the down in your bedding, the down alternative is an incredible option! It is soft and comfortable and will be a better option for you if you have any allergies. There are several different types of alternative fills and most of them are less expensive and easier to clean than the real down bed clothing. They tend to lay flatter and stay more evenly distributed over time, making them last longer as well. This really can be a win-win even if you're a die-hard fan of duck or goose down. Technology has made the alternative feel very natural.
Reversible Design
This bed clothing is reversible and has a wide variety of colors on the flip-side. You will be able to choose from more than 8 different color options which will give you the added option of having a different look and feel to your bedroom whenever you need a little change of pace. It is always nice to be able to make small, inexpensive changes to keep the spice in life!
Cost and Value
As aforementioned, LINENSPA is a company that prides itself on providing quality bedding for an incredibly low price. Customers rave about this bed clothing and with the down alternative, corner duvet loops, reversible design, and the box-stitched duvet cover, you are getting a really great product that is well worth its cost. It will keep you warm through the entire year and will be soft and comfortable for many years to come.

2

. AmazonBasics Reversible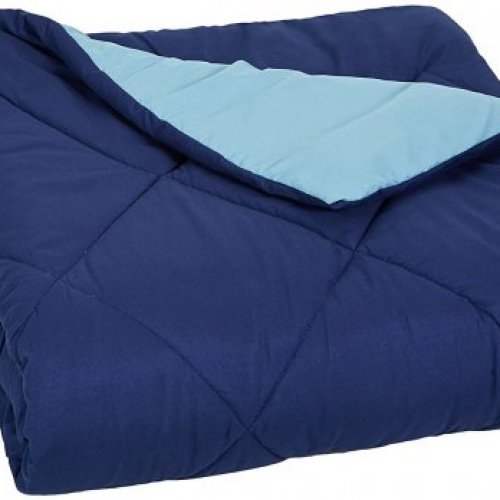 This beautiful and reversible comforter is incredibly cozy! It is made of polyester microfiber and also filled with polyester. There are a dozen different colors to choose from and can be tossed on your bed either direction giving you the freedom to switch it up at your liking. The diamond-shaped stitching will help keep the filling intact and reduce any mess on the top of the comforter. It is machine washable, please read washing instructions.
Variety of Reversible Colors and Sizes
You can purchase this bedspread in a variety of sizes in order to use it in a child's room on a smaller bed, or all the way up to a king size bed with a comfortable fit. Comforters are measured to fit mostly on top of your mattress, so if you want it to fall off the edge you will need to order a larger size than your mattress. Another fun aspect is that you can order it in a variety of colors, all of which are reversible with yet another color. I love the freedom of being bold in burgundy one day and pretty in purple another; all with one piece of bedding.
Diamond Shaped Stitching
If you have ever owned a down filled anything, you will know that on occasion those feathers are going to wiggle their way out. Even with a down alternative, you will experience many of those same "downfalls'. However, this unique diamond shaped stitching all across the comforter will help keep all the filler particles in place and reduce the chances of losing small pieces one at a time. It is a unique and efficient system and will ensure longevity in your comforter.
Cost and Value
The cost of this exceptional comforter will surprise you! For all of the extras you get and for as long as this comforter will last, you would seriously expect to pay ten times as much. It is a great price for a remarkable product. Great reviews and great customer service. I love the color options and the reversible throw. I love that the diamond stitching will help keep it all together and evenly distribute the comfort of warmth. I highly recommend this comforter.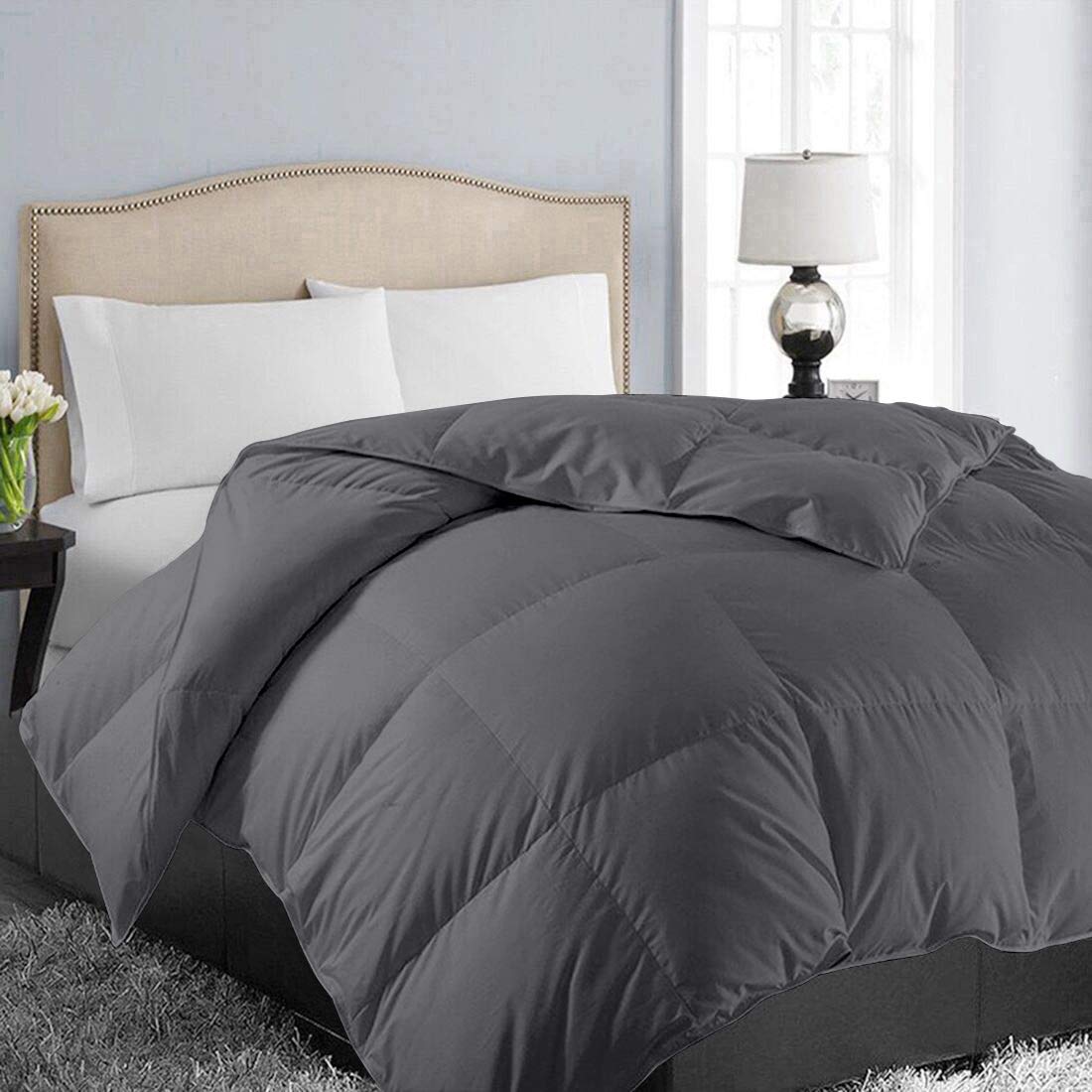 This synthetic down comforter is a great option for anyone who can't deal with down or doesn't want feathers on their floor from time to time. This comforter is thick, it's incredibly warm and it comes in all kinds of sizes. The perfect comforter for a cold night.
Synthetic Down
Let's face it, when down goes bad, it goes really bad. So, if you have even slight allergies or if you just don't want feathers all over the house then you want to go with polyfill which is the down that makes this comforter work. It's warm and fluffy and it works.
Box Stitching
We're fans of box stitching because it keeps your down comforter from clumping at the top or bottom of your comforter. And it also makes it much easier to clean and to store. And this comforter has nice box stitching in a cool sideways pattern that not only works well but looks great.
Cost and Value
We love the price on this comforter. It's a well-priced nice comforter that's going to keep you warm on the coldest nights.

4

. Beckham Hotel Collection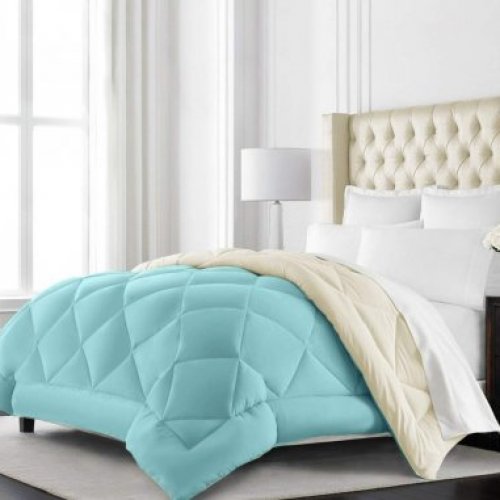 This soft and luxurious bed clothing is a beautiful addition to your bedroom. It is designed as an all-season throw, so you can have the convenience of using it year round. It is hypoallergenic and filled with synthetic goose feathers. It is ultra plush, and the diamond baffle pattern ensures longevity. It comes in a variety of colors and is also reversible so you can choose which side of beauty you desire. It is easy to clean and holds its shape for years. This is a great bedspread!
Variety of Color Options
With reversible colors in 9, so 18 total, different color options, you are sure to find something that suits you perfectly! All bed clothing color options are diamond baffle stitched, ultra plush, have precise stitching, and will add a touch of class to your bedroom decor. When you design your bedroom you have a dream of what you want it to look like and the way this comforter lays on the bed, crisp and sharp, you will not be disappointed! It is beautiful to behold.
Satisfaction Guarantee
Whenever you purchase a product like bed clothing, online or otherwise, it is always nice to buy with the confidence of a satisfaction guarantee. The company provides a "no questions asked" return policy within the first 30 days of use. If you are unsatisfied for any reason you can return it for an exchange or a full refund. Knowing that you have the 100% satisfaction guarantee seals the deal for me!
Cost and Value
This beautiful, stand-alone comforter is perfect for all of your bedding needs! You can use it alone or as a duvet insert, it is reversible and has many color options. It has expert craftsmanship and design and is easy to clean. Just toss it in the gentle cycle of your washer in cold water then choose to sun dry or tumble dry low. The diamond baffle box pattern will retain its shape and elegance for incredible longevity.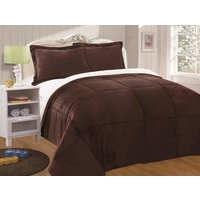 Ah, this luxurious and wonderfully soft comforter is perfect for snuggling up during the cold winter months. It is a high-quality minky feel and so durable that it will keep you cozy and warm for many winters to come. It is available in several different rich, deep colors that will be sure to please. It has the classic baffle box stitching to avoid any shifting and will give you nice even heat distribution no matter where you use it. Machine washable and comes with two matching shams. Pick your color and make your bed. You'll love it!
Baffle Box Stitching Design
The baffle boxes in this bed clothing are 3D chambers that trap the air and ensure insulation and even heat distribution. The chambers deter clumping because the sidewalls won't allow it. You'll be very impressed with the amount of comfort, style, and durability of this beautiful and cuddly soft micro mink bed clothing.
Variety of Reversible Color Options
The coloring on this bed clothing is so deep and rich you'll feel like you can snuggle deep inside. It comes in velvety black, navy, green, teal, chocolate, and purple. All so rich and royal they'll take your breath away. And remember, it comes in a set that includes two matching pillow shams, so the color will just embrace you as soon as you enter the room.
Cost and Value
The cost of this cozy comforter plus the two matching shams will please both your personal preference and your wallet. It is a considerable value and will last for years to come. The baffle box keeps the filling from shifting and it is easily machine washable, tumble dry low. You will enjoy the comfort for many years to come.

6

. Egyptian Bedding Goose Down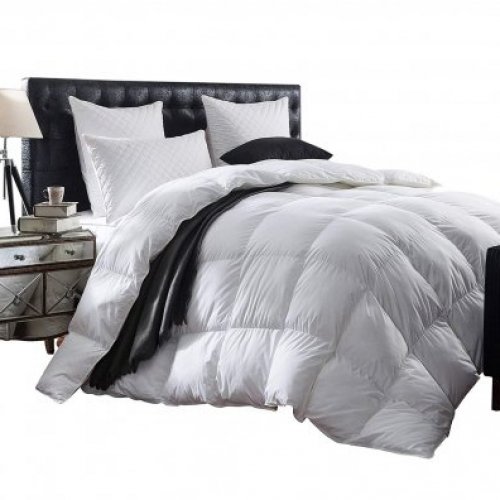 This bed clothing is a beauty all in and of itself. It is a luxury goose down that is hypoallergenic and allergy free. Throwing a new twist, however, is that it has a pure Egyptian cotton cover which provides just the right amount of warmth for your comfort and enjoyment through all the seasons. It has an astonishing fill power of 750+ with a 50-ounce fill weight and is guaranteed 100% pure goose down. But don't think it stops there! As it states in its name, it is also an amazing 1200 thread count cover with a superior baffle box design. It is all you could possibly want in a down comforter, and probably even more.
Baffle Box with Superior Design
The baffle box is designed to keep the down where it needs to be, in specific chambers which allows it to expand. When the down can expand to its maximum loft heat is distributed more evenly and any cold spots are eliminated. The 1200 thread count Egyptian cover also helps hold the baffle boxes in their spot, so there will be little shifting. It comes with corner loops to hold the cover in place and the double needle stitching will help prevent down leaking.
Amazing Fill Weight and Fill Power
Fill power in a bed clothing is the measurement of how much space a single ounce of down requires. The more space it takes, the higher the fill power. The higher the fill power, the lighter and fluffier your comforter will be. This bed clothing boasts an incredible 750+, which is well above standard (550) and the baffle box design allows the down to reach its maximum loft. Very impressive. The fill weight is the number of ounces your bed clothing weighs. The more down that is put in, the more warmth your bed clothing will provide. When you combine the two of these things you get a warmth level that is unsurpassed by other brands.
Cost and Value
When looking for that elusive and perfect bed clothing for you, it is important to remember you get what you pay for. Very often you can find a lovely, inexpensive knock-off, and if that's what you want that's great! But if you are truly looking for a high-quality bed clothing in every aspect of the details you need to be willing to pay a little higher price, and with this bed clothing, you have found it. It comes in a variety of sizes to fit most beds and will give you the luxury and warmth you have always wanted with the elegance and grace that will last for years to come.

7

. Egyptian Bedding Siberian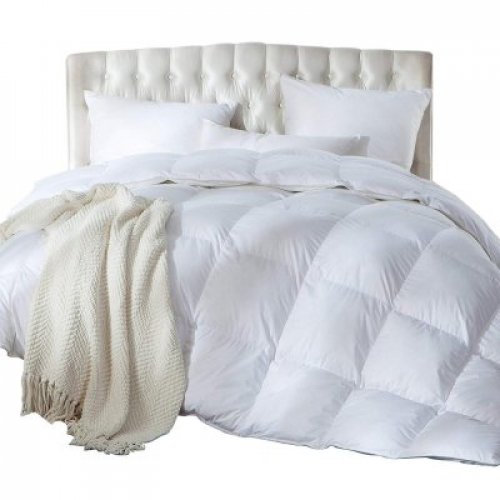 This is another quality product designed by Egyptian Bedding. This luxurious bed clothing boasts 100% white Siberian goose down as well as their 100% Egyptian cotton cover that, when combined with the double needle stitching, provides lasting protection against down leakage. It also has a premium baffle box design ensuring maximum loft and fluff of the down which will give you the even distribution of heat that you desire. It has an incredible fill power as well as weight and is hypoallergenic, allergy free!
Baffle Box Design
When you become serious about purchasing your perfect down-filled bed clothing, you are going to become very familiar with the terms "baffle box," "fill weight," and "fill power." All of these things together determine how warm and how stable your bed will be. You want the baffle box to be double needle stitched in order to reduce down leakage, and you want to look for a higher fill power as well as a lower fill weight. This particular piece has a fill power of 750+ and fill weight of 60 ounces. The baffle box will hold the down in place and help it keep its shape and reach its loft.
Corner Duvet Loops
In order to keep it clean and intact, you can choose to slide it inside a duvet cover. It comes with corner loops that connect to the duvet cover and keep it from shifting inside the cover. Not only does this keep the entire bed clothing in place, but it also helps protect the baffle boxes inside the comforter and keep all of them in place as well. Not all down bed clothing comes with the duvet corner loops, so put this on your checklist because it is entirely helpful!
Cost and Value
You can buy this Siberian white goose down bed clothing in Full, Queen and King sizes, including the hard to find 90 x 90 inches which make it a really great find! It is hypoallergenic and allergy free which makes free breathing and easy sleeping a breeze. It comes packaged in a beautiful zippered enclosure and is worth every penny you'll pay.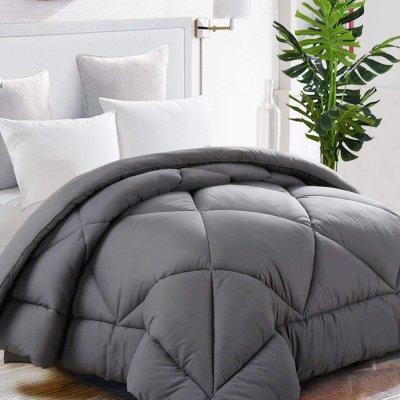 We love this comforter because it's rated to the lowest temperatures you can imagine (-32 degrees Celsius to be exact) and it just looks fluffy and comfortable. We like the stitching and we like almost everything else about this giant warm comforter.
Machine Washable
This is a big deal because anyone who made the mistake of washing their down comforter knows that sometimes they're just not the same after time in a washer. No worries with this comforter that you can just toss in the old washer and it'll come out good as new and ready to keep you warm for another season.
Satisfaction Guarantee
This is a nice function that allows you to play around with the comforter for a while and if you don't like it you can return it in the first 30 days after you buy, and Tekamon will deal with you directly to help you solve the problem. We tend to be wary of guarantees but like this 30-day satisfaction guarantee.
Cost and Value
Another nicely priced comforter. For what you get this one will not only fit your bed but fit your budget with no problems at all.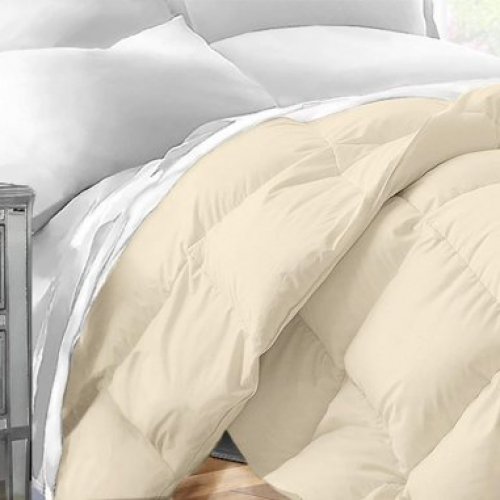 This goose down alternative bed clothing is easy to care for and hypoallergenic. The bed clothing is designed with precise stitching and extra durable hems to keep all the insulation from shifting and provide a barrier from dust mites, mold, and mildew. It can be washed in cold water on a gentle cycle then laid out in the sun to dry, or tossed in the dryer on low tumble. Most reviews give this top-notch marks on its longevity and durability.
All Season Comforter
One really great reason to invest in a down alternative bed clothing is that they are ultra plush and offer year-round comfort. There is no need to switch out to a heavier blanket for those cold winter months because a good down, or down alternative, bed clothing will provide plenty of warmth during the winter and still be comfortably cozy during the warmer seasons. This will make it more economical and convenient since you don't have to switch it out, store it, or purchase others to store during the off seasons.
Satisfaction Guarantee
So many of the bed clothing on this list, much to my approval, offer a 30-day satisfaction guarantee. Regardless of the providing company, they seem to know that your love for the bed clothing on your bed is so important! This one as well offers a 30-day no questions asked return or exchange policy. They boast that they want you to be 100% satisfied and that is a great boost of confidence for me when purchasing any product.
Cost and Value
The expert craftsmanship and design of this item are at an exceptional value. The price you'll pay compared to the product you'll receive is definitely worth the money. You will be pleased with the longevity and durability, as well as how easy and quickly it will wash and dry. The no-questions-asked satisfaction guarantee seals the deal and makes this down alternative comforter one of the best purchases you'll make.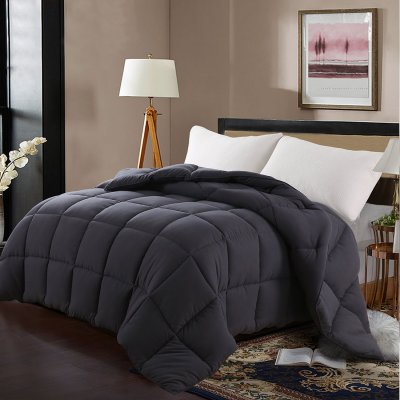 Finally, we have the Edilly Down comforter which we like because it has a super warm microfiber fill material on the inside and a soft comfortable outer layer that will not only keep you warm but also keep you comfortable.
Machine Washable
Like we said we feel for anyone who made the mistake of washing their down comforter in their washer when it's not supposed to be there. But no worries here. With this comforter that you can just toss in the old washer and it'll come out good as new and ready to keep you warm for another season.
Microfiber Fill
If down isn't your thing but you still want to keep warm then this is the comforter for you. We like this microfiber fill material as we promise even on the coldest nights you're going to stay warm.
Cost and Value
A bit more expensive than our other offerings but this is one nice comforter and if you want to pay the extra dollars you're going to get exactly the comforter you want.

Subscribe to our Newsletter