Best Tapestries Reviewed & Rated for Quality
In a Hurry? Editors choice: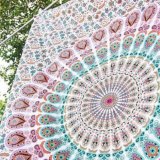 Test Winner: Bless International

Tapestries aren't just for hippies anymore! There is such a wide variety of prints and styles on the market these days, there is something for everyone. And with so many different ways to use tapestries, it is a great inexpensive item to invest in that will come in handy time and time again. Hanging tapestries on the wall is a quick and easy way to transform a space, but there a ton of other ways they can be used as well. Draped over a sofa or armchair, a tapestry can revamp an old, tired piece of furniture. Hang tapestries in doorways to create privacy and division between rooms. Pack them as a lightweight alternative to a
blanket
for picnics, outdoor concerts, music festivals or
beach days
. Here is our top ten picks for the best tapestries available today!
Standout Picks
Criteria Used for Evaluation
Style
Whether you are purchasing a tapestry for decorating or one of the other many versatile uses, the style will be the most important factor influencing your selection. For this reason, we have spent hours researching the best tapestries on the market to appeal to a wide range of styles. Tapestries may get an unfair reputation of being for burnt out hippies and barefoot bohemian chicks. But this couldn't be farther from the truth. Whether you like bright colors, vivid patterns, or subtle hues with relaxing prints there is a tapestry out there for you.
Color
The color of your tapestry is another choice that is very subjective to your personal tastes and how you plan to use your product. If selecting a tapestry to be a focal point or feature wall in your room, you may want to select bright colors or a vivid design. Many tapestries can be used as a cheap alternative to artwork or prints, and in this case you would want to select the correct color for the area you want to showcase the piece. If you are buying a tapestry to have handy for all the many versatile uses we have listed, then feel free to pick one with as many colors are you like. If you plan to use your product as a picnic blanket, beach throw or music festival sarong then you can be as bold and creative as you like.
Materials
Cotton tapestries will be more prone to wrinkling, especially if creased or folded for a long time. The plus side of cotton is that it will not irritate sensitive skin and won't have the unpleasant, plasticky odors that synthetic fabrics can be known for. While polyester is better for wrinkle resistsance, it is not as breathable as the natural fibers of cotton. Tapestries made from synthetic fabrics would be less suited for bedding or blankets.
Size
Tapestries come in a wide range of sizes, which makes finding the perfect one for your intentions a breeze. The largest sizes are suited for making feature walls or draping over furniture. Medium size tapestries can be used for a wide variety of tasks from wall hangings to shower curtains, window treatments, bedding, table clothes, and dorm room decor. These items are also great as altenative to blankets for beach days, picnics or outdoor music festivals and concerts. They are lighter in weight, so it easier to carry them around in your backpack or fanny versus a traditional blanket made out of wool or heavy textiles. Smaller tapestries are great to use as affordable pieces of art. They can be hung directly on the wall, or stretched over wooden frames. The cost of a tapestry is drastically less than artwork or prints, so these are a great choice for people decorating on a budget. Round tapestries are great for use a tableclothes or as a wearable beach throw.
10 Best Tapestries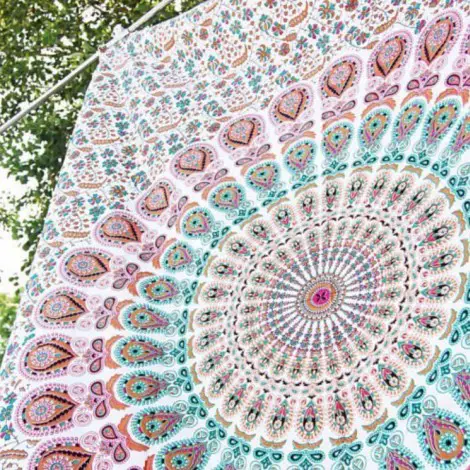 The number one tapestry on our list was the Bless International Mandala Wall Hanging. There are a number of reasons this item made the top spot. Reviewers had nothing but great things to say about this product, from the quality of the fabric to the colors being true as shown. There are a variety of colors to pick from, all of which are vibrant and bright and this item also comes in different dimensions, so you can pick the size best suited to your needs.
Mandala Design
We love the mandala design that is the focal point of the Bless International tapestry. Mandalas are ancient art that have been around for over 2,000 years. The circular design represents interconnection in life and how our emotional, mental and spiritual state of mind are all constantly intertwined. The center of the mandala represents the start or the beginning. From here, all the lines and points are somehow connected to one another, much like our journey in life. Mandalas can be used to bring a sense of peace and relaxation and are also helpful tools in deepening your meditation practice.
Comes In Different Colors
Reviewers loved that this tapestry is printed on 100% cotton fabric. Cotton is a natural material that is great for sensitive skin and breathability. Another bonus of cotton is it won't have any unpleasant odors that polyester or synthetic fabrics are known for. There are a number of different color combinations to choose from, we especially like the rich and dramatic palettes that will easily spice up any room of your house. A ton of reviewers also raved about how vibrant and how true to the pictures the colors of their tapestry were.
Cost and Value
The price of this tapestry is super reasonable, especially considering all the versatility. There are a number of different dimensions offered, so you can easily select the right size for your needs. Choose a larger size to use as a hanging tapestry and make a feature wall in your room. Smaller sizes are ideal for draping over a sofa or armchair to give a tired, worn piece of furniture a fancy new look. We give extra points for the 100% cotton fabric of this piece, which will be comfortable against your skin if you decide to use your tapestry as a bed sheet or blanket, and also for the vibrant and rich colors which are all close to what was pictured. Another factor we really liked was that this tapestry also comes in 'roundies', and these have a white fringe around the perimeter.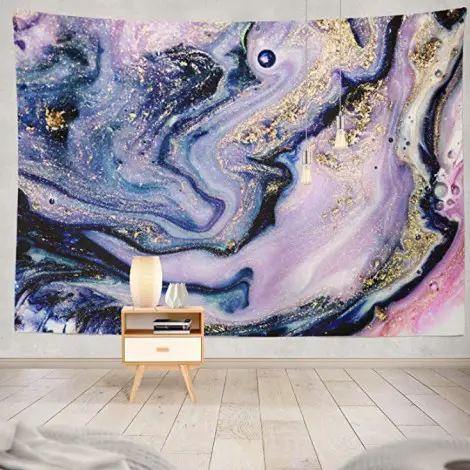 The next tapestry on our list has a super modern, abstract feel. We love the bright color scheme that features pinks,purples and black, accented with gold sparkles. The pattern has a sort of mystical, galaxy feel to it that will easily become the focal point of any room you use it in. This tapestry is the perfect pick if you are trying to create a feature wall or looking for a starting point to base the color scheme for the rest of your room off of.
Glitter Accents
The colors in this piece are anything but bland and boring. The light pink and lavender tones contrast sharply against the black and white swirls. All of this is accented by golden glitter which adds to the milky way, galaxy feel. The swirls could also be compared to a marble pattern.
Looks Like Art
Many reviewers stated that this tapestry looked more like a large piece of art when hung on their walls. This is the perfect piece to create drama and interest in a room without breaking the bank. A tapestry is much more affordable than art or even prints would be. This tapestry would look striking in any white or neutral palette room. Use this to create a vibrant and bright accent wall in an otherwise plain and boring room.
Cost and Value
This tapestry is great value for the price. If is a cost effective way to introduce color to your space without breaking the bank purchasing expensive art or prints. One reviewer state that this tapestry looked more like expensive canvas art than a wall hanging. We give extra bonus points for the color scheme and glitter accents, which give a mysterious galaxy feel to the item. There are a number of sizes to select from, so you can get a tapestry most suited to where you desire to hang or use it.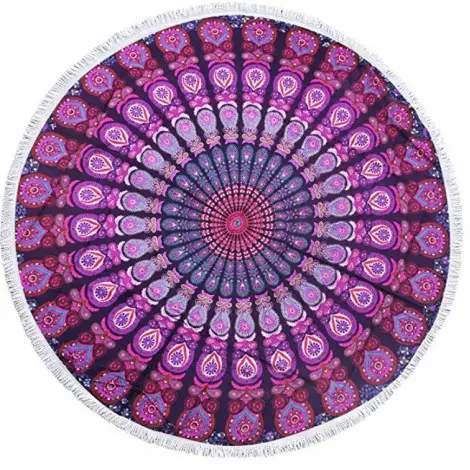 Rounding out the top three picks on our list of best tapestries is this round tassel option from Globus Choice. This tapestry also features a mandala design, which is great if you are trying to add some relaxing elements to your space. Mandalas are wonderful tools to use for meditation and healing. The round shape of this item makes it perfect for use as more than just a wall hanging! Consider taking this tapestry along with you to the beach as a lightweight substitute for a towel. It would also work great in lieu of a blanket for picnics or park afternoons.
Round Shape
The round shape of this tapestry is versatile and has many different ways you can use it versus a traditional square or rectangle tapestry. These tapestries of course will look great when used as wall hangings to decorate a space. There are many other ways you could use this round tapestry in your home as well. It would be perfect for use as a tablecloth on a round table. You could also use this tapestry to disguise a worn, stained or old ottoman or foot rest simply by draping it overtop.
Tassel Details
One detail of this tapestry that we really like is the fringe that goes along the perimeter. This will look great no matter where you choose to use your new tapestry. Some innovative reviewers have taken two round tapestries, sewn them together and stuffed them to make inexpensive floor poufs! This is a great way to add some bohemian seating to your home and impress your friends with your DIY skills.
Cost and Value
These tapestries are a very reasonable price point that is accessible for even people on a budget. We really like that on top of the great price, there are so many ways to use and style this product. You can take your tapestry with you to the beach or pool as a lightweight alternative to a towel. A round tapestry is also the perfect choice for a music festival or outdoor concert. Use your tapestry in the day as a blanket to protect you from the itchy grass, and wrap yourself up at night to offer warmth and protection when temperatures get cooler. The round shape of this tapestry is also ideal for use a tablecloth on circular tables! There are so many ways to use this item it offers a lot of value for the price. Bonus points for the mandala design which has healing and relaxing effects.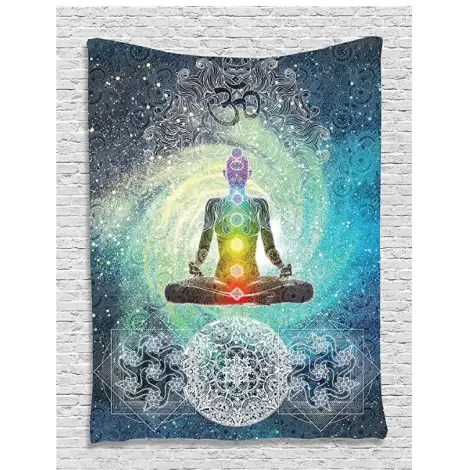 The next tapestry that made our list features a groovy, psychedelic chakra art design. This full size tapestry would look great when hung in a room as a headboard or feature wall. It could also be brought along to festivals to hang from the side of easy-up shelters, to provide even more protection from the sun. However your choose to hang or use this product, the vivid and bright design will brighten your day every time you see it.
Vivid Colors
The colors in this tapestry are vivid and intense. The background is a mystical combination of blues and greens that are dotted with white speckles for a starry effect. The meditating yogi figure in the center of the design is illuminated with the seven colors of the chakra system. This gives the tapestry a vibrant, rainbow effect. There are so many colors in this piece but it is well balanced and the hues all blend well together so it does not come off as garish or gauche. You could easily use this piece as a feature wall or hang it on a frame to make a large piece of art.
Chakra Design
There is a lot going on with this tapestry in terms of the design! Along the bottom there are mandala designs, which are symbolic of our journey through life and how every event is interconnected. In the middle of the tapestry is the meditating yogi that is illuminated by the seven chakras. Chakra is a sanskrit word which means 'wheel' . They are the energy centers of our body, and each of the seven has a specific purpose in your health and wellbeing. If your chakras are blocked, you can suffer from a myriad of physical, emotional and mental health problems! This item is not only great for adding color and design to your room, but as a spiritual healing tool as well. At the top of this tapestry is the 'omkara' symbol. This has a very deep, spiritual meaning as well and represents the four stages of human awareness.
Cost and Value
This tapestry is a little higher in price than some of the other options we have listed, however it is still well affordable for most budgets. One thing we love about this tapestry is the super intricate, spiritual design. Keeping your chakras properly balanced and aligned has all sorts of health and psychological benefits including better sleep, increased motivation and self worth, and increased ability to express emotions and feelings. What better way to remind yourself to keep your chakras in line than hanging this zen meditation tapestry.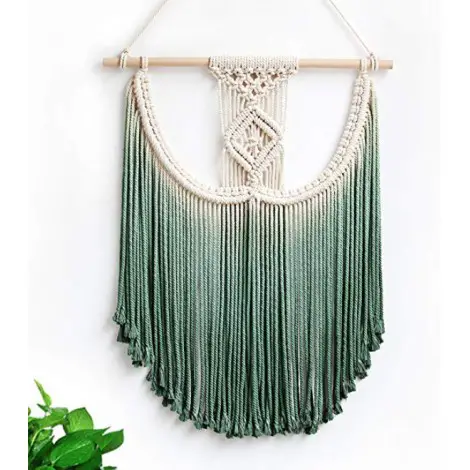 The next tapestry to make the cut is a macrame style wall hanging. Macrame is a textile style that is produced using a series of knots, versus weaving or knitting which is generally seen in other forms of textile production. This style was originally seen in the 13th century by arab weavers who knotted the remaining threads around the edges of bath towels, shawls and veils to create a decorative fringe. This hanging macrame tapestry is the perfect budget-friendly way to add a decorative element to your home.
Boho-Chic
While macrame was first made popular in the 13th century, it didn't remain in demand. It wasn't until the 1970's that we saw a heavy revival in the popularity of this knotted textile. The surge of macrame items during this time period can be connected to the bohemian feel that these pieces offer when used today. A macrame tapestry is an easy way to add a touch of the 1970's to your space.
Smaller Size Piece
This piece is a great choice for someone who wants a more subtle option. The colors are all subdued and will easily blend into your existing interior design. This tapestry is smaller than a full size piece, so it will be less of a focal point and more of an accent piece. This is also a great option for smaller rooms such a powder room or office, where a full size tapestry could be overwhelming or too busy.
Cost and Value
This piece is quite reasonably priced. It will look great in a number of rooms and placements. We suggest using this as an accent over your bed or couch. It could also be used in smaller rooms as a piece of art. There is a ton of value and different ways this macrame hanging tapestry can look great in your home.
We give bonus points for what a great gift this would make for any bohemian or free spirited individuals on your list.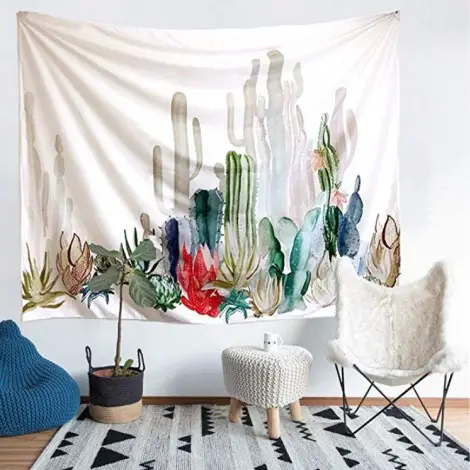 The next tapestry to make our top ten list is this cute cactus print design that is made by Arfbear. We know that not everyone who is in the market for a wall hanging wants something connected with spirituality. The cactus design of this piece is relaxing and tranquil and won't be overwhelming.
Cactus Print
This tapestry features a subtle cactus print on a beige background. The colors are soft, pastel tones which won't distract from other items in your room. The print itself is whimsical and fun and can be appreciated by many different types of people. Many reviewers stated that the creases in the product from shipping were easily solved by a light ironing or hanging the tapestry in the bathroom during a hot shower.
Many Uses
There are so many ways to use a tapestry beside as a wall hanging they really are a great item to invest in. These versatile design pieces can also be used as bedsheets, blankets, furniture covers, beach spreads, shower curtains, or window treatments! Try hanging a tap from the ceiling for a veiled, canopy effect. Or, stretch your favorite tapestry across a wooden frame for inexpensive wall art. The cactus print of this piece would look great as a backdrop for your collection of succulent plants, whether hung on the wall or used as a table cover.
Cost and Value
With so many ways to utilize this tapestry, you will certainly get your money's worth out of it. The price is extremely reasonable and won't break the bank. One reason we love this product is that it is machine washable. This is great if you plan to use your tapestry as a blanket for picnics or beach days. You will never need to worry about ruining your product with stains as a quick run through the washer will have it looking good as new. We give bonus points for the subtle color palette and print of this tapestry which will appeal to more conservative or classic design tastes.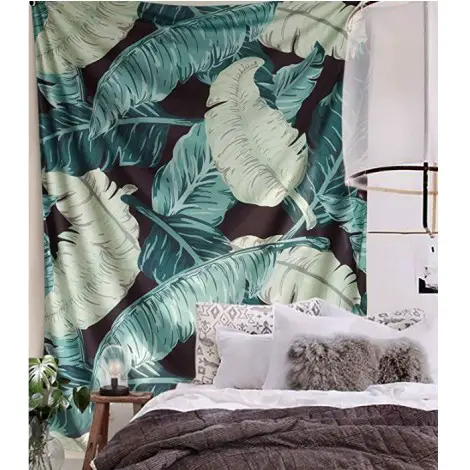 We all remember J-Lo's daring dress from the 2000 Grammys right? The silk chiffon number made by Versace that featured the plunging neckline and exotic banana leaf print? It made headlines around the world and people have yet to stop talking about it almost 20 years later. Maybe you aren't feeling as gutsy as Jennifer when it comes to baring your entire midriff and decolletage, but you can still channel her vibes in your home decor with this banana leaf tapestry.
Bold Print
The tapestry has a bold, banana leaf print. The leaves are gone in tones of green and yellow and the background is a dark green color. The print gives this tapestry a tropical feel. We think this would look great as an alternative to a bulky towel for beach days. It is large enough to use a bed sheet or a blanket as well. The print is bold enough to be used as art work if you were too hang it on canvas frames. The all over print of this tapestry would also make it good for use as a feature wall.
Large Size
This tapestry comes in one size, 60" by 80". This is on the larger side and will offer you a ton of versatility and different ways to use the product. A larger size tapestry is great if you are trying to create a feature wall, as the larger size will cover more surface area. Some other ways you could use this tapestry include using it as a headboard or as a cover for furniture. The bold, bright print would look great as a shower curtain or a window treatment as well.
Cost and Value
The price of this product is very reasonable considering how versatile it is. A piece of art in a comparable size would be a much higher price, which makes this tapestry perfect for decorating on a budget. Wall hanging isn't the only way you could use this product either. It would be great if used as a shower curtain or hung in a doorway to create more privacy. Another factor that adds value to this item is that it can be washed at home on the cold cycle in your washing machine.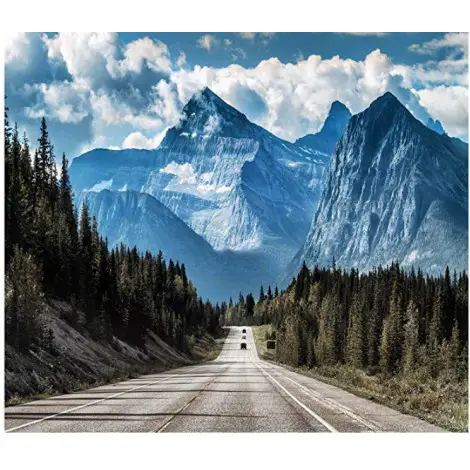 Next on our list we have this digital print tapestry that features a mountain scene with an endless stretch of highway. This product will appeal to people who aren't interested in decorating their home with mandalas and symbols of spirituality. This print is bright and will look great in a minimalist and modern home
Nature Scene
The mountain backdrop on this tapestry is stunning but that is not the only thing we like. The nature scene also features as dreamy, cloud filled sky and majestic evergreen trees lining the road. The scene on this tapestry is reminiscent of the hit song 'life is a highway'.
Digital Print
We really like that this product has a digital print that is similar to a photograph. This type of tapestry will appeal to people who like more practical decorating items. This is also a budget friendly way to decorate than purchasing real prints, which can be costly.
Cost and Value
Reviewers raved about the high quality and excellent resolution of this product. This tapestry would be an excellent addition to a dorm room or home office. Adding more value to this item is the fact that it is machine washable, so you never need to worry about dry cleaners. The price of this item is much more affordable than buying prints of photographs, so this is a great way to decorate on a budget. The serene nature scene will appeal to outdoorsy people and nature lovers alike.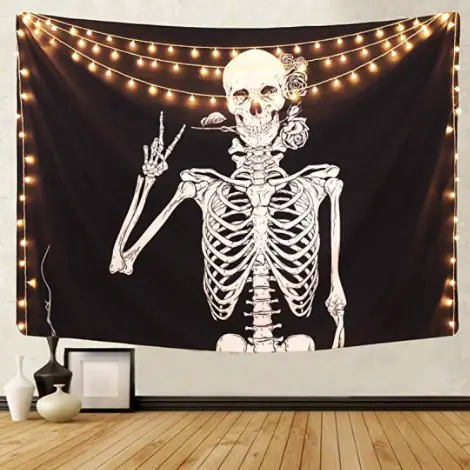 The next pick on our list is for the Rock & Roll fans out there. Decorating with tapestries isn't just for hippies and bohemian chicks with this gothic skull and crossbones design.
Rock n' Roll Design
The design of this product is pretty simple. It is an all black background with a white design that is a skull and crossbones. The design on this tapestry will appeal to more gothic or punk tastes. We think this tapestry would also be fun in a playroom for boys who like pirates or in the garage or basement where the teenagers hang out.
Four Sizes
There are four different sizes to select from with this skull & crossbones tapestry. The smaller sizes are great for hanging instead of a poster or artwork and the bigger sizes are perfect for use as a feature wall in your room. One reviewer said she used this rock and roll tapestry as a halloween table cloth!
Cost and Value
The price of this product is very affordable. It is a wallet-friendly way to add some rock and roll flair. We love the suggestion from one reviewer about using this tapestry as a halloween table cloth as well. Adding more value is the fact that this product can be machine washed.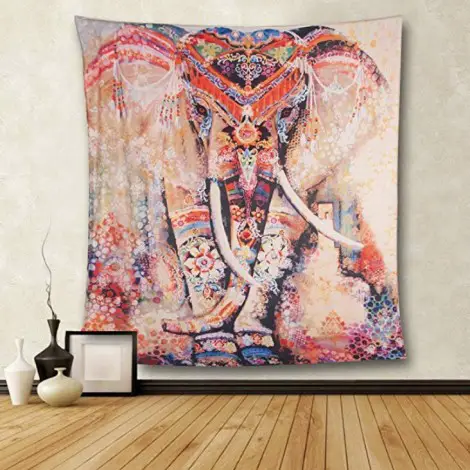 The final tapestry to make our list is this elephant print from Chicvita. The warm and rosy color palette of this product will make any space feel warm and inviting. Animal lovers will be delighted with this whimsical elephant print as well.
Elephant Print
Elephants have a deep cultural significance in Africa. They are viewed as symbols of power and strength. Africans also celebrate the elephant for its size,, stamina, loyalty and co-operative spirit. If you are an elephant lover, this is the perfect tapestry for you.
Warm Color Palette
There are lovely soothing tones of amber, sienna, lavender, terracotta and sandstone in this tapestry. The print is vivid, without being overwhelming or bright. Warm tones are used to make spaces feel inviting and cosy. They evoke feelings of emotion and can held make you room feel more intimate.
Cost and Value
There are three sizes available for this tapestry - twin, standard and queen in the same dimensions as bedsheets. You could easily use this product as a fitted sheet or a light blanket in the warmer months. Since this tapestry is also lightweight, it makes a great alternative to a blanket or towel for the beach or picnics. You could also use this item as a table cloth or a hanging piece of art, there is so much versatility that really makes this product worth the price.

Subscribe to our Newsletter