Best Storage Ottomans Reviewed & Rated for Quality
In a Hurry? Editors choice: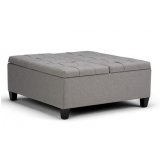 Test Winner: Simpli Home Harrison

Ottomans are a great addition to any room. They are a wonderful, multi-functioning piece of
furniture
that doesn't seem to get enough recognition for all the things they do. An ottoman can be used to put your feet up on, like a footrest. Or it could be used as a coffee or serving table for tea and snacks. If you add in the additional bonus of having
hidden storage
inside your ottoman, then you've really got a hardworking piece of functional furniture! A new storage ottoman is a practical and relatively inexpensive way to add a touch of color or a new element to your existing room. With so many fun options on the market these days, we've rounded out this list with our top ten picks!
Standout Picks
Criteria Used for Evaluation
Capacity
Capacity was the top criteria we used in our selection of the best storage ottomans. Having convenient, functional storage areas in your home will help you keep things organized and clutter to a minimum. This, in turn, will reduce your levels of stress and anxiety and improve feelings of self-esteem and efficacy. The more capacity you have to store things, the less clutter will be visible in your home. Storage ottomans are the perfect storage solution for items that you want to keep close at hand but don't want on display. For instance, knitting or crocheting supplies can be easily stowed in a smaller ottoman that stays beside the designated knitting chair. This keeps your room looking tidying but your items are also always easily available whenever you need them. The same can be said for keeping extra linens or bedding in a larger storage ottoman at the foot of a bed. They will be easily accessible whenever you go to wash and change the sheets, but also kept hidden so as not to clutter a room.
Ease of Use
Having easily accesible storage is crucial for every home. You will be more likely to put things away if the storage area is simple and hassle free. Many of the ottomans on our list have hinged lids. This is great because even small children can operate lightweight lids. Look for items that stay up on their own so small fingers cannot be slammed accidentally. We also included some ottomans with split lift lids that can be accessed from two sides. This is a great feature that we love. You will not need to remove all the items that may be on top of your ottoman before you can access items inside. This will simplify your life and make staying organized a breeze.
Materials
The materials you choose will be based on personal preference and the existing decor of your home. A dark leather ottoman may not fit into a bright and airy room as well as a lighter, linen option would. Consider when selecting the material of your ottoman whether you want it to stand out or blend in. Neutral tone fabrics will work well with most existing decor. If your aim is to add an accent piece, consider opting for an ottoman made in leather, corduroy or velvet textile instead. The material of the item will also influence how easy it is to clean. Fabric textiles will be more prone to stains, especially if they are light colored. Leather or faux leather can easily be wiped down with a damp and will resist minor stains as well. This is great for high traffic areas of homes with kids.
Style
The style of the furniture and accessories in your home is as subjective and personal as the clothing you wear. The style of ottoman you select will vary based on your personal tastes, budget and what you plan to store. There are ottomans to match every style from refined and elegant to rich and luxurious or timeless and simple. Ottomans with hinged lids offer easier access to your items and are good for families with children. Smaller products may come with lift-off lids, but the size allows them to be easily moved and fit into even tight spaces.
Size
The size of your new ottoman will depend on where you plan to put it in your home. Some of the items we have featured are not only able to be utilized for storage, but also collapse when not in use. This is great for seasonal storage such as Christmas or holiday decorations. Smaller products can double as footrests or stools while larger ottomans will work as benches and coffee tables.
10 Best Storage Ottomans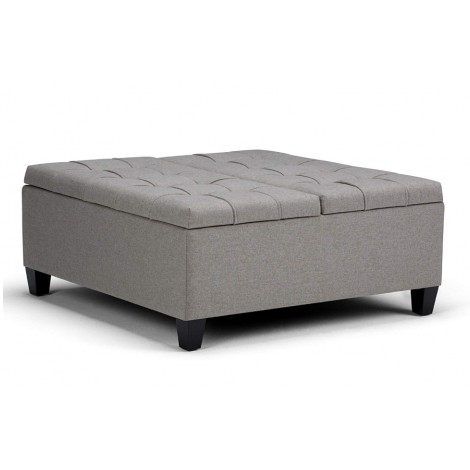 This ottoman from Simpli Home is a clear winner for more than one reason. There is a ton of storage for a variety of household items. The split lift top has a safety hinge to prevent any fingers of children or adults alike getting slammed in the top. The classic and timeless design will look great in any room, and can easily double as a coffee table due to its ample size.
Split Lift Top
The top of the ottoman opens up in a unique split design, with each half opening in a separate way. There is a ton of storage space underneath for all sorts of things like blankets, spare pillows or children's toys. We love that the lid has a safety hinge. So you never have to worry about anyone's fingers being slammed! Reviewers raved about how high-quality this item felt, and many people loved that the only assembly required is screwing on four legs to the bottom, which takes minutes.
Tufted Design
The tufted top of this storage ottoman will look smart in any home. Button tufts are a classic, timeless look that can easily blend into many different styles of decor. The Harrison from Simpli Home also comes in a number of color and fabric choices, making it possible to get a product that really suits the room you want to place it in.
Cost and Value
Reviewers couldn't say enough great things about this Harrison ottoman from Simpli Home. One family stated this is perfect for rooms where children like to play unsupervised. The all-upholstered, soft edges mean head-ons nothing you could bump a head on during some rough housing, The classic look will fit into your home seamlessly, and tons of reviewers raved about how this item felt sturdy, durable and well made.. We give bonus points for the extra large storage space, and the slam-proof lid that will keep everyone's fingers safe!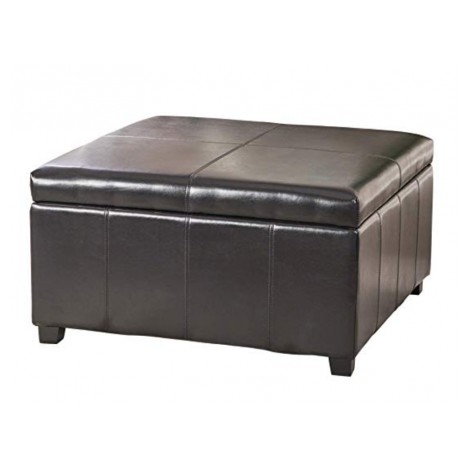 Coming in second on our list is this superb storage ottoman that is made by Great Deal Furniture. We love the price tag but that is not all that caught our eye with this piece! Rich, dark mahogany leather looks elegant and regal. The streamlined design won't distract from the current decor or any statement pieces you may already have!
Large Storage Space
Having a home means also having all the things that come with it. And that also means finding somewhere to store all your items. Many older homes have less closet space than some modern builds, and tiny condo living is just short on any space all together. No matter your living situation, a little extra storage room never hurt anyone! We love that this Berkeley ottoman has an extra large storage space. You would be able to stash a ton of stuff in there. The storage space in this ottoman is so large in fact, a small child could easily utilize it as an excellent hiding space for a game of hide and go seek.
Leather
We like the timeless, leather design of this Berkeley ottoman. Leather is a preferred fabric for furniture for a number of reasons. It is durable and long lasting, as well as easy to keep clean. Great for high traffic items, leather won't stain or mark like many fabrics will. It will also resist liquid spills, and is easy to wipe with a slightly damp cloth if you do get something on it. Another reason leather is prefered to fabric would be its increased resistance to ripping and tearing.
Cost and Value
This ottoman is a great investment piece to add extra seating, tons of storage and a great place to rest things down. It would be safe to call the Berkeley a triple threat, seeing as how it can accomplish all three of those tasks at once. The padded top is comfortable for guest seating, which makes the Berkeley a great piece to have if you do a lot of entertaining. The price is extremely fair and a lot of reviewers commented on how well made this piece is. Adding more value to the product is the solid wood frame, which is long lasting and hardy.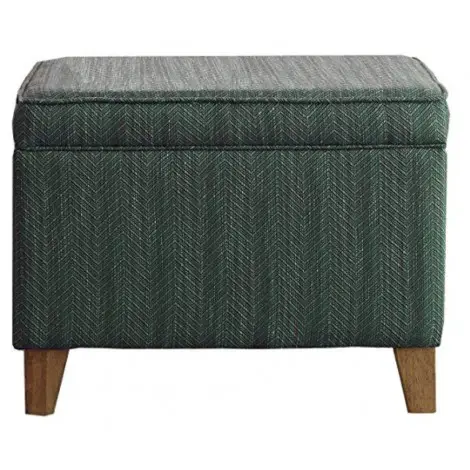 Rounding out the top three picks, we have this petite rectangle piece that is made by HomePop. HomePops Furniture is designed with a playful style best suited for a happy home. They have a complete line of colorful and quirky accessories and chairs. This quaint, charming ottoman is a great example of the kind of piece you can expect from this company! Fun but not stuffy and child-like but not immature, all the items from HomePop are just whimsical enough to bring a smile to your face but not so over the top they look out of place in an adults home!
Small Size
We love the compact size of this ottoman! It can easily be paired with a chair to use a foot rest. Or add this ottoman to a room on its own. The classic and understated design will look great in any room, and won't distract from any current decor. We really like the tweed-esque fabric that this piece comes in, giving it a fun, retro vibe. Bonus points for the driftwood finished legs, which also lend themselves to the 60's & 70's retro vibe.
Hinged Lid
We love that this ottoman has a hinged lid, so you never need to worry about misplacing it. The hinges will also make moving the ottoman easier, as the lid will stay secure and you won't need to worry about it falling off. Hinges make it easy to access all the things you have stored in the storage space below. With a maximum capacity of 250 pounds, this little ottoman is certainly sturdy enough to support even your largest house guests in a pinch.
Cost and Value
The only thing cuter than this pieces retro, good looks is its totally awesome price tag. We love the size of this ottoman, it is perfect to pair with your favorite chair as a footrest or tuck in beside a couch to use a lower down side table. You could even use this great ottoman as seating if you were really in a bind, as its strong and sturdy construction can support up to 250 pounds. All these great features and we haven't even mentioned the generous storage space as well?! You certainly can't go wrong if you choose to add this item to your home.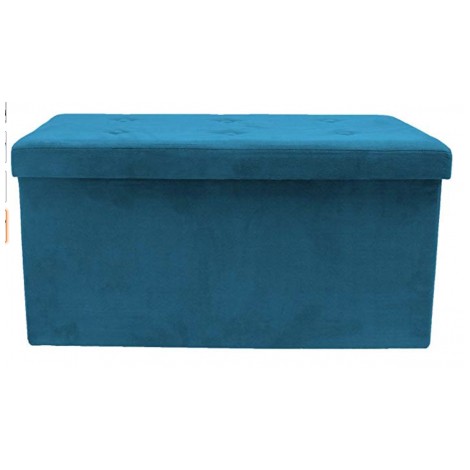 The Sorbus ottoman is stylish yet affordable. It will look good in any room of your house and there is a range of colors to select from. If you are looking for a way to declutter without breaking the bank check out this storage ottoman from Sorbus.
Budget Friendly
We love the price of this product. It is affordable enough to buy more than one and place them in multiple rooms. There is a ton of storage space as well. This is perfect for keeping your home tidy and reducing clutter. Use the Sorbus ottoman in the living room to store spare blankets or pillows. It would also be ideal in a childrens room to stow toys and games, as the bench design with a cushioned top makes it perfect for seating as well.
Foldable
The Sorbus ottoman can fold flat when not being used for storage. This works great for condos or small spaces. You could use the ottoman to store seasonal items such as blankets or Christmas decorations. When the items are use, the product could easily be placed under a bed or in a closet, maximizing the space you have for holiday entertaining. This product is also super lightweight, so you will never struggle to rearrange it or move it from room to room.
Cost and Value
The Sorbus Ottoman is perfect for anyone who needs to get decluttered and organized on a budget. The price is equally appealing as all the storage space you will be gaining. This ottoman would look great at the foot of a bed, and is the perfect solution to keep extra bedding in a spare or master bedroom. The tufted details on the top of the Sorbus ottoman look luxurious and go well with the faux suede material. We give bonus points for all the fun colors- from neutral to jewel tones, there is something to match every decor.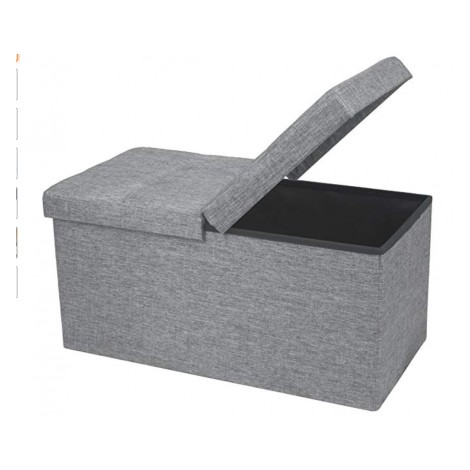 Psychology experts say that decluttering your home can have a positive impact on relieving tension in family and spousal relationships. It can also improve energy levels and help with self esteem and self efficacy. Looking for a simple way to reap all these benefits? Check out the Otto & Ben 30" ottoman to have your home looking spic and span in no time.
Linen Fabric
The Otto & Ben Ottoman is upholstered in linen fabric. The top is upholstered, which makes the product ideal for use as additional seating. Place the Otto & Ben in the front hall to store winter hats and gloves, and it can do double duty as a bench to lace up your boots on as well. The lid lifts from either side - giving you easy access to all your items without having to rummage around.
Won't Break the Bank
We love that this product is super affordable. It would work well in a dorm room which are notoriously short on space- as it can be used for storage as well as seating. There are three neutral colors to pick from and the linen fabric will easily blend into your existing design scheme.
Cost and Value
This otto from Otto & Ben is packed with value at a budget-friendly price. It is the perfect option for additional storage in any room of your house. The collapsible design is super lightweight as well. You can easily move this product from room to room, or fold it flat and store it away when not needed for storage. Bonus points for the Smart Lift lid which opens from the left or right so you can always access your items with ease. It is also worth mentioning that this sturdy ottoman can support up to 250 pounds, so it can also double as a bench or seating area.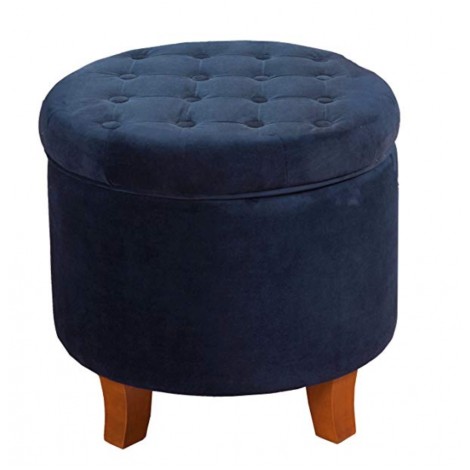 This HomePop ottoman is as cute as it is functional! The lift off lid offers storage for smaller items and the vintage, tufted velvet design will look rich and dramatic in any room you place it in. Whether your home is already decorated in a 1930's theme or you are looking for a piece to add a touch of opulence, the HomePop Velvet Button Round Ottoman is a great option to check out.
Round Design
This ottoman is one of the smaller selections on our list. It is perfect for any room because the size means it won't get away. There are two wooden legs and a lift off lid that offers considerable storage space for the size. Use this product in a bedroom or dressing room to store scarves, belts or purses. It would also work great in a den or sitting room as a footstool or to store books and magazines.
Rich Color Palette
Design experts say velvet accessories are a great way to add a touch of glamour and sophistication to any room. The button-tufted top has a luxe Gatsby-esque feel to it that can easily become a statement piece. There are a number of colors to select from neutral to dramatic. We love the rich jewel toned emerald, sapphire and ruby options.
Cost and Value
The HomePop Velvet Tufted ottoman is a great option for adding accent color and texture to a room. The price is extremely fair for the sturdy construction of the item tha has real wood legs and velvet upholstery. This is a great option for storing smaller items like books, magazines or accessories. It is small enough to fit even the tightest spaces and does double duty as a footrest or stool as well.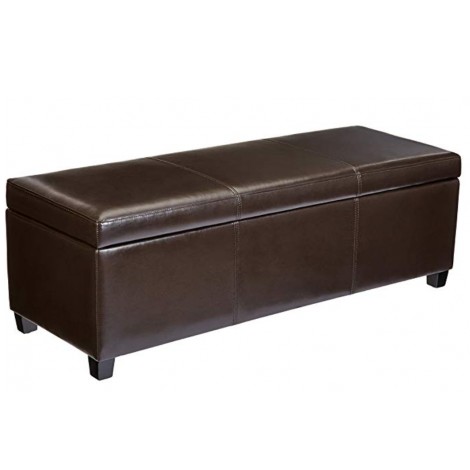 One of the ways to maximize storage in small areas looking for ways to use the space creatively. Items that do double duty as furniture are a great option to consider when decorating rooms that are tight on space. This Madison storage ottoman bench can be used as seating, a coffee table, and has a ton of room for storage as well!
Stitching Details
The Madison Ottoman is upholstered in faux leather. There are two wooden legs, which raise the ottoman off the ground and also give it a sturdy look and feel. Keeping items off the floor is another design experts suggest you can make rooms feel less cluttered. There are white stitching details on the Madison ottoman which lend a sophisticated look. This would look great in a study, office or den and can be used to store a ton of items.
Hydraulic Hinge Lid
The Madison ottoman has a hydraulic hinge lid. This is great for families with children, because the lid will never slam shut on small fingers. It is also convenient for when you need to access your items inside. The lid will stay up easily, allowing you both hands free to rummage around.
Cost and Value
The Madison storage ottoman is extra wide, offering a ton of storage space. You can use this to store almost anything from clothing to blankets to towels to toys and games. We give a ton of points for the stitching details and the faux leather upholstery. There are 4 block legs that lift the ottoman off the ground. Another factor that adds value is the safety hinge lid. The lid will stay up while you need to access items inside, perfect for families with children, you will never need to worry about fingers being slammed inside.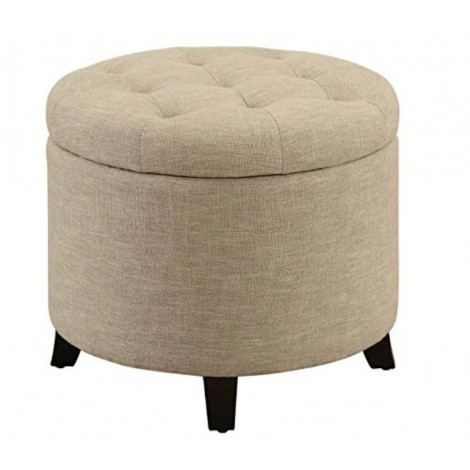 Here is another round ottoman that made our list. Perfect for adding some functional storage to any room of your house. This item is great for concealing items that you want to keep close at hand such as gaming accessories, knitting or crocheting materials, and crosswords or word search books. Organization experts agree that decluttering your home is proven to lower levels of stress and anxiety which is something everyone can appreciate.
Variety of Textiles
The Convenience Concepts Round Ottoman comes in a variety of upholstery options. We love that they not only offer different colors, but also different textiles as well. Design is not only about having a good color scheme, but also complementing textures as well. Designers suggest adding accent items in textures such as corduroy, leather or velvet to spice up a room.
Removable Lid
The lift off lid of the Convenience Concepts ottoman allows you easy access to anything you want to keep out of sight. The small, round size can easily be used as a footrest and stool. There are three legs which keep the ottoman off the ground and also give it a sturdy look and feel.
Cost and Value
This ottoman is affordable, functional and stylish. There is a vent in the bottom of the piece which we love, because it allows airflow to prevent items from becoming stale. This ottoman is a super affordable way to add a creative accent piece to your home. Bonus points for the generous storage space offered and the variety of textiles to choose from.



We talked earlier about the benefits of adding texture to your home. The same theory applies to mixing patterns as well. Are you in need of a piece to add some pizzazz to a boring room in your home? Looking for a storage option that will blend nicely into your existing contemporary or casual decor? Check out this chevron upholstered storage ottoman made by Dorel Living.
Chevron Fabric
Chevron is a traditional, contemporary pattern that consists of lines laid out in a zigzag pattern. This ottoman made by Dorel Living is upholstered in a chevron fabric that is printed in white and light grey. The pattern is striking yet the subdued color palette allow this piece to easily blend into existing decor. We love the Dorel Living ottoman for any room of the home.
Lid Stays Open
The Dorel Living ottoman comes with hinged lid that will stay open allowing you two hands free to access anything inside. We love lids that stay open for homes with small children especially who are prone to getting fingers caught. The extra wide storage space is large enough for a wide variety of items This ottoman would look great at the foot of a bed to store linens and pillows, and can double as a bench and seating area as well.
Cost and Value
The Dorel Living ottoman is well priced, functional and trendy. There is a ton of storage space which we love. One reviewer stated she loved how the lid was light enough for her two-year old to access all her toys, it stayed open, and didn't come crashing down on her head. Adding patterns is an easy, budget-friendly way to change the look and feel of any room in your house. It is also worth mentioning there are other matching chevron items in the Dorel Living collection such as headboards and accessories if you are going for a matching vibe.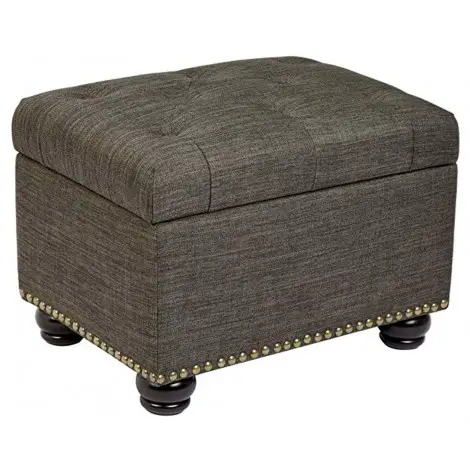 Rounding out the top ten items on the list is this functional and stylish storage ottoman made by First Hill. This is a midsized piece that will look great in a variety of rooms and is perfect for stashing items that you want to keep nearby but out of sight. This is set at a great price point for anyone who needs functional storage that looks great.
Design Details
The Callah Ottoman comes in two linen fabrics- grey or cream. We like the subtle button tufting details on the top as well the silver rivets that are along the bottom. The details on this piece give it a luxe, expensive look that will look great in your home. Bonus points for the dark, wood legs which are also detailed as well.
Convenient Size
The Callah ottoman is a great piece that is super functional. The size allows it to be used as a bench, coffee table, footrest, side table or simply for storage. The traditional styling of this ottoman will easily blend into your existing decor and the storage space is large enough to conceal a number of items.
Cost and Value
The Callah ottoman offers a ton of value for the price. The hinged lid is easy to lift up and there is ample storage room for blankets, toys, books, or gaming supplies. Use this ottoman as a bench or stool as well thanks to the overstuffed top. Adding even more value are the details in the silver rivets and wooden legs on the Callah ottoman.

Subscribe to our Newsletter