Best Tactical Jackets Reviewed & Rated for Quality
In a Hurry? Editors choice: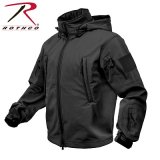 Test Winner: Rothco​ ​Special​ ​Ops

Although tactical
jackets
were originally designed for military use, they have become a very popular option among hunters and other outdoor enthusiasts. They are both, practical and functional, while some are even stylish enough for everyday use. This type of apparel is designed to keep
active people warm
and comfortable while allowing for full mobility. This review will look at several
jackets
which are full of great features and should provide a good starting point for the individual purchase that is the true 'you'. There is also a pros and cons section so the balance will enable a more constructive decision for purchase.
Standout Picks
Criteria Used for Evaluation
Materials
Obviously, the types of fabric used for the jacket is going to have quite a large impact on its versatility and durability. While some are made from synthetic materials, the better choice for high-quality tactical clothing is going to be a natural fiber such as hemp or cotton. Not only are these fabrics strong and wear-resistant, but they also have highly coveted properties that make them water-resistant, breathable, and comfortable. The major downside to these fabrics is the price, as it can take more effort to harvest and produce them as opposed to the synthetic ones.
As an alternative to natural fiber that tends to be heavier, synthetic materials such as nylon or polyester can be a very good choice for the outer shell. This is because these fabrics are very cheap and easy to produce, and are renowned for their high levels of strength and wear resistance. They also tend to be very breathable, ideal for keeping the body warm and dry during heavy use. Fibers are also very lightweight and don't restrict the movements of the wearer. One negative is that they don't tend to be quite as warm and comfortable.
More recently, manufacturers are choosing to incorporate a blend of synthetic and natural fabrics in order to combine the best of both worlds. These hybrid materials contain the comfort and strength of cotton and the stretch and weather resistance of polyester.
Fit
You need to feel comfortable when outdoors, especially if you will be doing a lot of moving around. A jacket that doesn't fit properly is not only uncomfortable, but it also doesn't protect you from the elements as it should. When trying on a jacket, make sure to move your arms around and see how it feels. If you don't have the opportunity to try it on before purchasing, you should definitely check out what reviewers said about the item. Is it too small or too big? We rated jackets based on how accurate the sizing chart is, what reviewers said about the way it fits. Also, some brands just did a better job of designing a comfortable jacket!
Features
The type and amount of features found in tactical jackets can vary greatly in both scope and cost. The addition of pockets and loop, for instance, adds a great deal of value and usefulness to the garment, but won't do much to increase the costs to the consumer. Even those jackets that can hold dozens of items aren't going to really be all that pricey.
On the flip side, added features that work to improve the durability of the clothing, such as gussets for reinforcement or zippered air vents, are considered to be more than purely aesthetic upgrades, and in that case will increase the price, sometimes considerably. There are also some great features with the newer models that really make them comfortable and practical. You just have to decide if you want to pay the extra money for them. Some features you should look for include:
Moisture wicking: The process of fabric absorbs perspiration from the skin, and releases on the exterior of the garment to keep the wearer dry. Most natural fibers tend to be better at wicking away sweat than synthetics due to their being more breathable.
Breathable: Allowing air to flow freely between the cloth and the skin. Natural fibers have inherent properties of this, making them ideal choices for daily use clothing.
Venting: Panels of fabric on clothing that allows air to flow through easily. This is either done through the venting being made of a porous mesh material, or by including zippered openings on the clothing. On jackets, vents can be found under the arms, or up the front or back of the torso.
Drawstring enclosure: Usually found on waterproof clothing, enclosures are located at openings like the cuffs of the sleeves or the waist. These drawstrings are often elastic to improve the fit and are designed to keep water from getting into the clothing.
Thermal: Energy held within a garment that is prevented from being released in order to keep the wearer warm, usually by means of a system of layers.
Drag strap: A strap that is attached to the jacket by the drag handle. It is used to provide hands-free recovery of an injured or incapacitated person. These straps are made from highly reinforced materials and have a high tensile strength to accommodate larger amounts of weight.
MOLLE: Modular Lightweight Load-carrying Equipment. Cinch straps are used by military personnel to effectively transport a large amount of equipment. This has become the standard for tactical gear. It uses rows of nylon stitched onto the jacket allowing for the attachment of different types of compatible accessories.
Value
When it comes to tactical jackets or any high-quality outdoor gear for that matter, the price is going to be an important consideration during purchase. Many of the lighter-duty models are going to have less required of them, and will, therefore, be cheaper, while still providing suitable value for the desired purpose.
The more extreme conditions are going to require a very high performing, reliable piece of clothing, and therefore as a consumer, you should think twice before settling for a bargain-priced item. The biggest factors that determine the price of tactical gear are the fabrics used and the features included. For fabrics, the more expensive jackets are going to be made from either one hundred percent natural fibers such as hemp, or a blend of natural and synthetics. This is largely because of the increased efforts required to harvest and extract them, as well as the labor needed to dye and then weave them into cloth.
Style
Although we put this criterion last, it is still an important factor that everybody looks at. Let's face it, everyone likes to look good, even if we are hiking through the wilderness. These types of jackets can be very expensive, so if they have a style that can be worn during your everyday activities, that is a big plus. You also have to take into consideration how you will be using your new tactical jacket. If it's specifically for hunting, then you may want to choose a style that goes with your hunting gear. If you want it for winter sports, then you may need a style that is more versatile.
BEST TACTICAL JACKETS REVIEWED & RATED FOR QUALITY
1

. Rothco​ ​Special​ ​Ops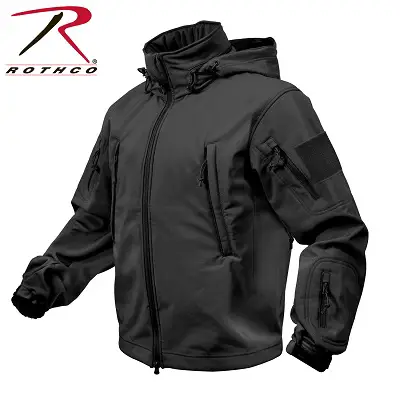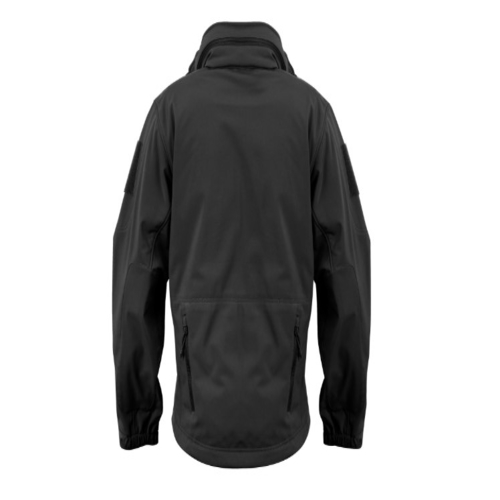 The​ ​Rothco​ ​Special​ ​Ops​ ​is​ ​manufactured​ ​with​ ​three​ ​layers​ ​and​ ​is​ ​windproof.​ ​It also​ ​boasts​ ​moisture​ ​deflection,​ ​it​ ​maintains​ ​body​ ​heat​ ​and​ ​is​ ​extremely​ ​suitable​ ​for​ ​both sporting​ ​and​ ​everyday​ ​activities.​ ​It​ ​is​ ​adaptive​ ​according​ ​to​ ​temperature​ ​and​ ​is​ ​convenient​ ​for use​ ​in​ ​most​ ​temperatures.
Polyester ​Shell
This​ ​jacket​ ​has​ ​the​ ​advantage​ ​of​ ​being​ ​made​ ​with​ ​a​ ​breathable​ ​layer​ ​and​ ​a​ ​waterproof​ ​polyester shell.​ ​This​ ​is​ ​a​ ​highly​ ​advantageous​ ​combination​ ​and​ ​gives​ ​it​ ​great​ ​versatility.
Multi-Use
Another​ ​notable​ ​point​ ​of​ ​this​ ​jacket​ ​is​ ​the​ ​appeal​ ​of​ ​its​ ​sporting​ ​casual​ ​appearance,​ ​it​ ​gives​ ​it​ ​an edge​ ​by​ ​being​ ​suitable​ ​for​ ​almost​ ​any​ ​occasion.
Cost​ ​and​ ​Value
The​ ​cost​ ​and​ ​value​ ​of​ ​this​ ​jacket​ ​place​ ​it​ ​in​ ​the​ ​high​ ​end​ ​of​ ​the​ ​market,​ ​however,​ ​taking​ ​into consideration​ ​the​ ​manufacture​ ​and​ ​quality​ ​of​ ​it,​ ​makes​ ​it​ ​excellent​ ​and​ ​justified​ ​value.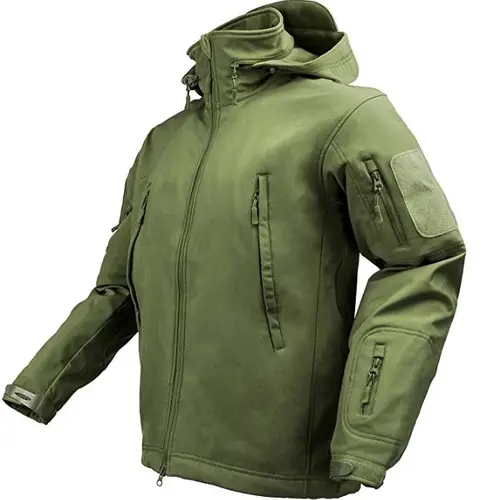 Maelstrom implies fierce turmoil, and that is exactly the kind of conditions that this jacket thrives in. On the surface, it appears unassuming enough, but take a close look, and you'll notice that it wasn't made to be just another jacket. Its three-layer construction ensures that you stay warm, dry, and comfortable for your entire outing. It also helps that it looks so sharp.
Weather Proof
This coat is designed to protect the wearer from a wide range of elements and climate types. Not only will you be warm and dry, but you'll also be given a decent amount of peace of mind knowing that this jacket has your back.
Plenty of Pockets
Having a lot of pockets to hold almost anything you could need during your outing is a very useful feature. It reduces the need to bring along a carrying case or bag of some kind, leaving you to only have to worry about yourself.
Cost and Value
Isn't this jacket a bit on the pricey side? No, really it isn`t. In fact, in very well could be the most affordable jacket on this list, both in terms of price as well as the value that you get for what you pay.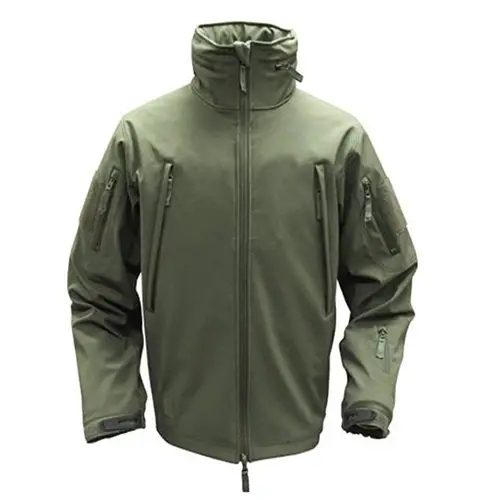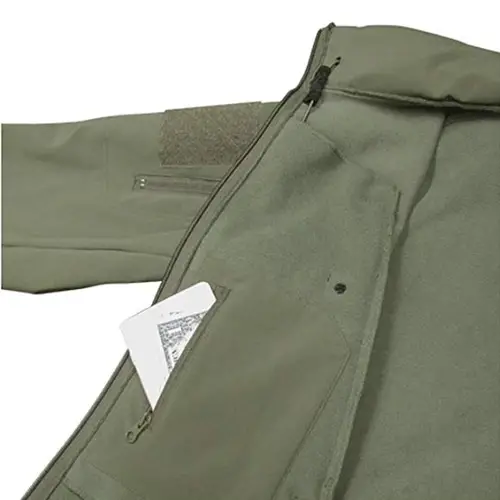 The Summit from Condor ​boasts​ ​being​ ​waterproof,​ ​breathable​ ​and​ ​lightweight.​ ​It​ ​has​ ​a​ ​triple layer​ ​combination​ ​and​ ​is​ ​made​ ​from​ ​100%​ ​polyester.​ ​It​ ​has​ ​a​ ​lined stand-up collar​ ​and​ ​two shoulder​ ​pockets.​ ​It​ ​benefits​ ​from​ ​two​ ​internal​ ​pockets​ ​for​ ​secure​ ​concealment,​ ​and​ ​an​ ​extra​ ​two pockets​ ​adorn​ ​the​ ​chest.
Drawstring Waistband
This​ ​jacket​ ​has​ ​the​ ​advantage​ ​of​ ​having​ ​a​ ​drawstring​ ​waistband​ ​and​ ​hood,​ ​this​ ​is​ ​practical because​ ​not​ ​only​ ​does​ ​it​ ​help​ ​to​ ​protect​ ​from​ ​the​ ​elements,​ ​it​ ​also​ ​maintains​ ​comfort.
Reinforced​ ​Forearm
Also​ ​of​ ​great​ ​advantage​ ​in​ ​the​ ​design​ ​is​ ​that​ ​it​ ​incorporates​ ​reinforced​ ​forearms​ ​for high-level use​ ​and​ ​comfort,​ ​and​ ​it​ ​boasts​ ​adjustable​ ​wrist​ ​cuffs.
Cost​ ​and​ ​Value
This​ ​is​ ​excellent​ ​value​ ​for​ ​the​ ​cost​ ​and​ ​this​ ​is​ ​reflected​ ​in​ ​the​ ​high​ ​quality​ ​of​ ​the​ ​manufacturing​ ​of the​ ​layers ​ ​and​ ​is​ ​an excellent​ ​value​ ​with​ ​the​ ​added​ ​features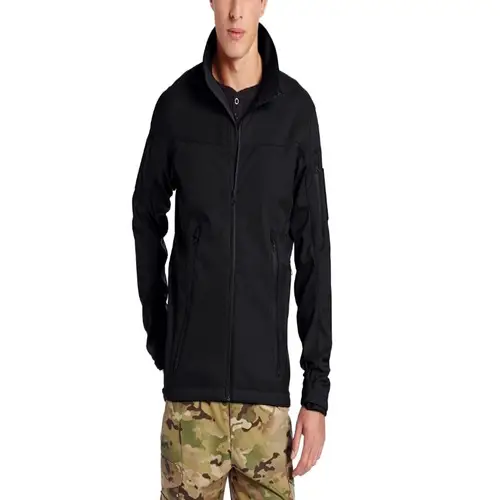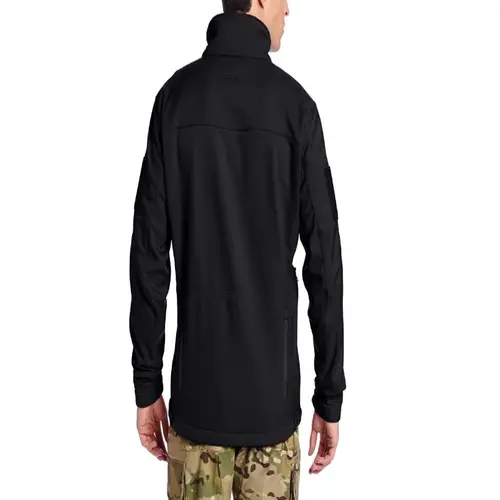 When it comes to finding a jacket that gets the job done seamlessly, yet is aesthetically pleasing, Tru-Spec went above and beyond with the Tru-Spec Men's 24-7. Created out of 100% polyester, paired with a soft outer shell, the jacket is built to last and keep you dry for an extended period.
Water-resistant Finish
Featuring a lightweight fabric paired with a water-resistant finish the jacket is built for a multitude of weather conditions. Furthermore, it is paired with waterproof hidden zipper closure to keep every inch of the jacket dry.
Wind-resistant
Just like the jacket is water-resistant it is also prepared to withstand heavy winds, by having a wind-resistant element. This element alone will help add some security to the outside of your jacket enabling you to be able to wear it regardless of how it is outside. Furthermore, it's been cut in a loser format so that the jacket allows you to wear a ballistic vest underneath if needed or a heavier sweater. The option is yours, but the feature is extremely nice to have.
Cost and Value
The cost and value of this product can be placed in the mid-range, as it isn't as pricey as some other ones but the features are justified by the cost. You are getting a wind-resistant and water-resistant jacket that is cut a little more open, allowing you to layer underneath. It's a winning product.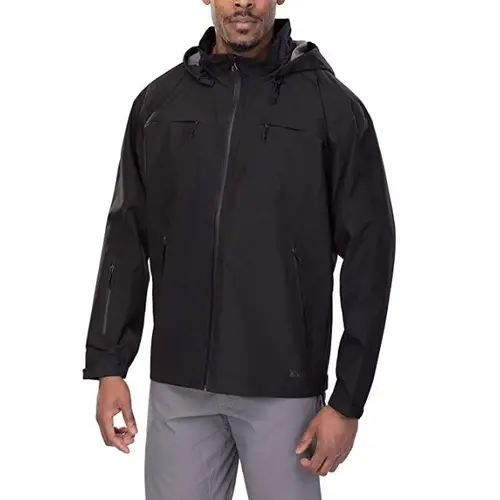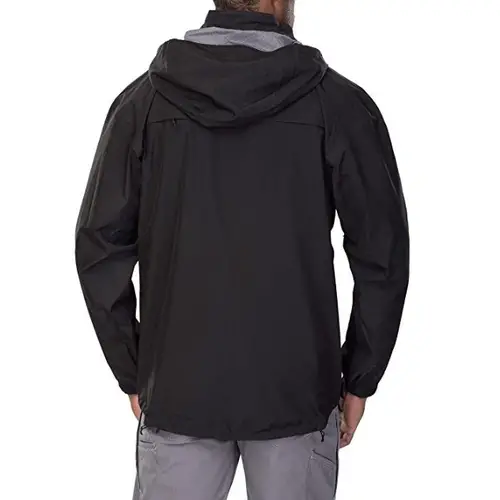 Just as the name of the brand states the Vertx Men's Integrity was built on integrity and durability. Featuring 50% denser synthetic material paired with Cocona makes this jacket sturdy, durable and easy to wear all at once. Its the perfect compromise between an everyday jacket and a jacket built to work with you in heavy weather as well as events.
Snap-on Hood
What many fail to have is a built-in hood. Having a jacket with a hood is not only convenient but its one of the best accessories to have especially when you want a jacket that gets the job done and can be used in multiple different scenarios The Vertx Men's Integrity jacket offers a snap-on hood that is paired with a built-in visor and adjustable drawstrings. Having this durable hood allows you to wear this jacket during all four seasons.
Sealed seamed Zippers
To give you that security you want and need during unpleasant weather conditions, this jacket comes with sealed seamed zippers that add an additional layer of protection against strong winds and heavy weather conditions. Having sealed zippers helps keep you warmer for a longer period as less wind and air will enter the jacket. It's also a great form of keeping you drier along the way.
Cost and Value
When it comes to the cost and value of this product, it is on the pricier side. You are getting a quality product with excellent features; therefore, the price is justified. Additionally, the jacket comes with multiple pockets that have zippers so you always have a place to store your belongings.

6

. 5.11​ ​Tactical​ ​48038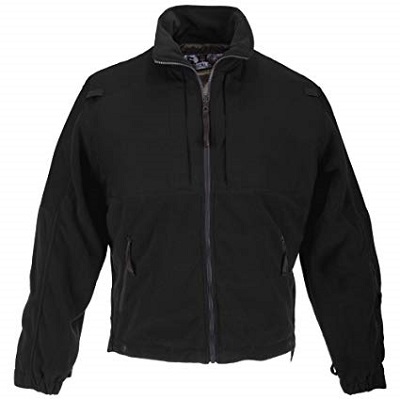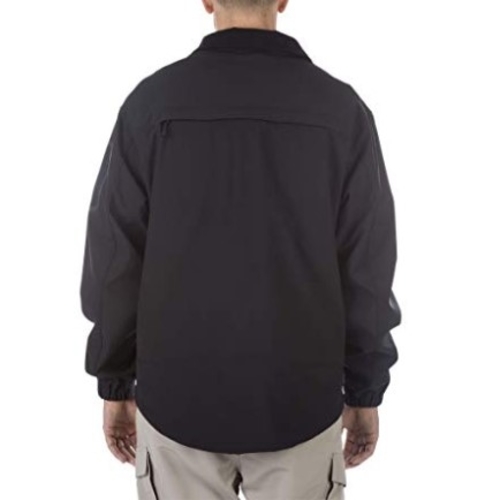 This ​jacket​ ​is​ ​stylish​ ​and​ ​has​ ​an​ ​abrasion-resistant​ ​collar,​ ​shoulder, and​ ​elbows.​ ​It​ ​protects against​ ​the​ ​wind​ ​and​ ​is​ ​an​ ​ideal​ ​liner​ ​garment​ ​for​ ​casual​ ​attire.​ ​There​ ​are​ ​hidden​ ​chest​ ​pockets that​ ​provide​ ​quick,​ ​easy​ ​access​ ​when​ ​required.​ ​It​ ​boasts​ ​fleece-lined​ ​hand​ ​pockets​ ​and​ ​is manufactured​ ​using high-quality YKK​ ​zippers.
Back up ​Belt
An​ ​advantageous​ ​feature​ ​of​ ​this​ ​jacket​ ​is​ ​the backup belt​ ​system,​ ​this​ ​is​ ​a​ ​must​ ​for​ ​providing extra​ ​discreet​ ​security​ ​for​ ​added​ ​peace​ ​of​ ​mind.
No​ ​Compromise
This​ ​jacket​ ​is​ ​from​ ​a​ ​known​ ​and​ ​trusted the brand​ ​and​ ​is​ ​used​ ​by​ authoritarians,​ ​this​ ​stylish​ ​jacket​ ​has​ ​ultimate​ ​practicality​ ​and​ ​offers​ ​a​ ​no-compromise​ ​quality.
Cost​ ​and​ ​Value
This​ ​is​ ​a high-end product​ ​and​ ​the​ ​buyers​ ​genuinely​ ​get ​what​ ​they​ ​pay​for. The​ ​quality​ ​of​ ​the material​ ​and​ ​the​ ​way​ ​it​ ​is​ ​manufactured, ensure excellent​ ​value​ ​for​ ​money.

7

. Rothco Concealed Carry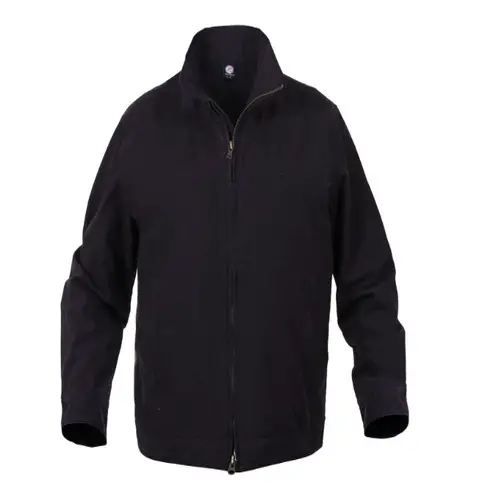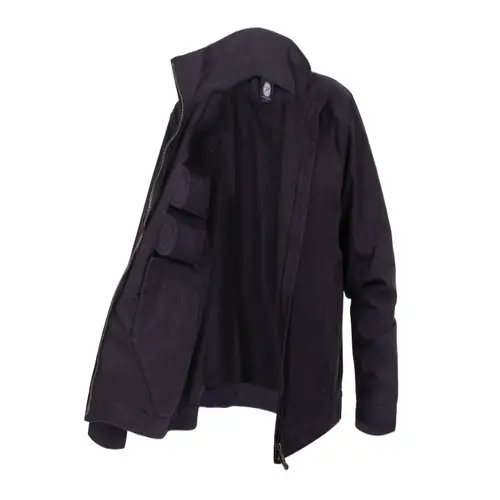 This is a jacket that is going to be marketed to a fairly specific demographic, but by no means does that make it inaccessible to the average outdoorsman. It's meant to be used by servicemen and law enforcement, so anybody that buys this coat is going to get high-quality, no-nonsense construction and performance that will take care of them every time they put it on.
Concealed or Open Carry
As an added feature that most others are lacking, the ability to carry your firearm either concealed or in the open adds incredible versatility both for work or play. Just make sure you're aware of your region's firearm carrying regulations.
Stay Warm and Dry
This jacket was built with three layers, each of which performs their own function in order to keep the warmth in, and the cold and moisture on the outside where they belong. On the off chance that you do begin to break a sweat, that moisture will be quickly wicked away, so you're good to go.
Cost and Value
Rothco is becoming a more widely known and trusted brand every day, making any of its products mainstays on best-of lists. That being said, you can expect to pay more, but you get your money's worth in every aspect.

8

. FREE SOLDIER Waterproof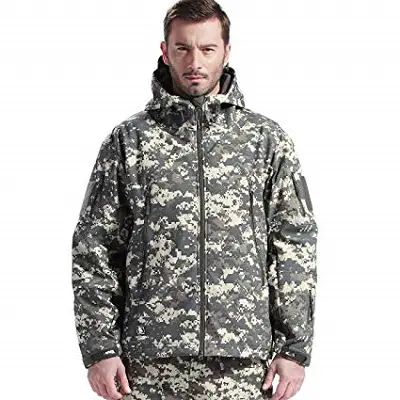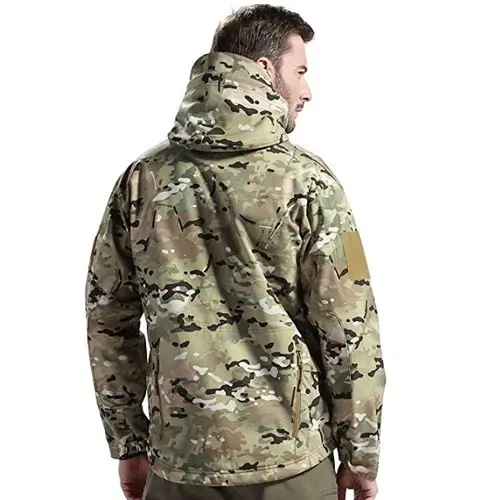 This hooded​ ​jacket​ ​comes​ ​upgraded​ ​and​ ​it​ ​is​ ​ideal​ ​for​ ​any​ ​outdoor​ ​activity.​ ​It​ ​protects​ ​from​ ​the wind,​ ​rain​ ​, and​ ​cold​ ​and​ ​it​ ​benefits​ ​from​ ​a​ ​softshell,​ ​which​ ​is​ ​snug,​ ​warm​ ​and​ ​fleece-lined.​ ​It​ ​is lightweight​ ​and​ ​has​ ​an​ ​ergonomic​ ​design​ ​for​ ​comfort.​ ​It​ ​has​​ ​large​ ​zipped​ ​pockets​ ​for​ ​bigger storage​ ​and​ ​also​ ​offers​ ​a​ ​DIY​ ​velcro​ ​patch​ ​so​ ​it​ ​can​ ​be​ ​personalized.
Hat Trim
A​ ​note-able​ ​design​ ​this​ ​jacket​ ​has is​ ​the​ ​brim of the​ ​hat​ ​which​ ​stops​ ​wind​ ​and​ ​rain​ ​penetration and​ ​directs​ ​it​ ​off​ ​the​ ​face,​ ​it​ ​has​ ​a​ ​drawstring​ ​for​ ​personalized​ ​sizing​ ​comfort.
Underarm​ ​Ventilation
Another​ ​feature​ ​with​ ​the​ ​Free​ ​Soldier​ ​is​ ​the​ ​underarm​ ​ventilation​ ​which​ ​is​ ​very​ ​convenient​ ​when maximum​ ​exercise​ ​is​ ​undertaken,​ ​giving​ ​the​ ​wearer​ ​more​ ​comfort at different​ ​temperatures.
Cost​ ​and​ ​Value
The​ ​cost​ ​and​ ​value​ ​of​ ​this​ ​jacket​ ​reflect​ ​the​ ​quality​ ​and​ ​multi-purpose potential,​ ​the​ ​overall benefits​ ​offered​ ​for​ ​outdoor​ ​activities are well​ ​balanced​ ​and​ ​worthwhile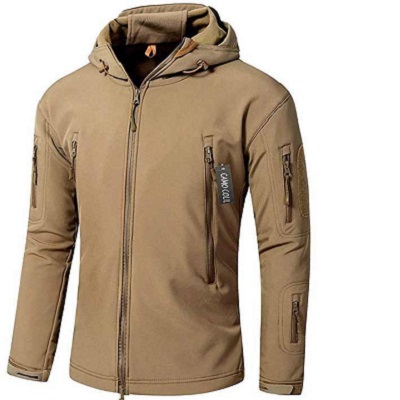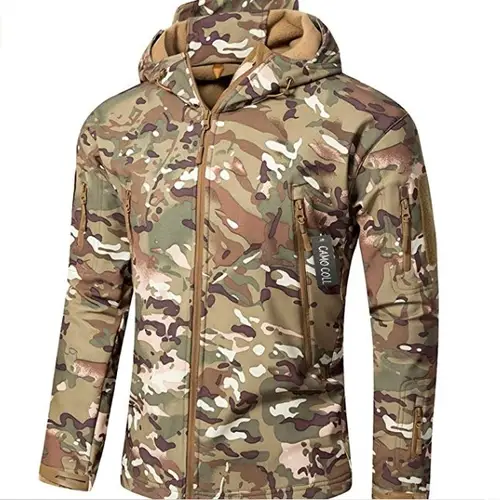 Clothes are expensive, so any time you can find a piece of clothing that can be used just as easily for work as they can for play, it immediately becomes a great value. Aesthetically, this coat can be worn while out with friends, though it is meant for tactical use, and performs that duty admirably. If you need something strong yet fashionable, look no further.
Great for Multiple Seasons
This jacket isn't overly large or bulky, making it suitable for warmer weather only. Or do you'd think. It's been lined and insulated enough to keep you warm on those colder outings too.
Sealed for Your Protection
Being waterproof is pretty much useless if you have several large openings to let the water in. That's why having elastic closures that let you cinch up any openings that would otherwise let water get to you is a great addition.
Cost and Value
While this jacket isn't as durable and tough as some of the other offerings out there, but it is still a very good coat. It's ideal for those less intense moments, and as such, it is a very affordable entry-level product.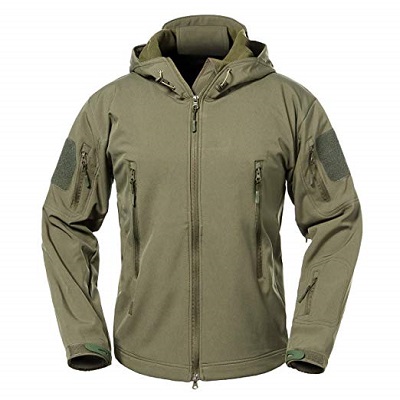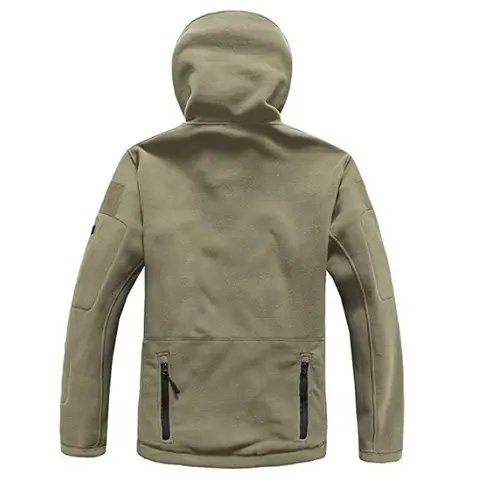 This ​Refire​ ​Gear​ ​jacket​ ​is​ ​manufactured​ ​with​ ​a​ ​soft​ ​inner​ ​fleece​ ​which​ ​makes​ ​it​ ​especially suitable​ ​for​ ​outdoor​ ​activities.​ ​It​ ​boasts​ ​seven​ ​pockets​ ​for​ ​added​ ​versatility,​ ​varying​ ​in​ ​sizes between​ ​one​ ​and​ ​two​ ​inches,​ ​and​ ​three​ ​of​ ​these​ ​pockets​ ​are​ ​located​ ​in​ ​the​ ​sleeves​ ​for​ ​quick access​ ​and​ ​added​ ​security.
Durable ​Zipper
An​ ​advantage​ ​with​ ​this​ ​jacket​ ​is​ ​the​ ​double​ ​zipper​ ​for​ ​extra​ ​wind/waterproofing,​ ​and​ ​it​ ​benefits from​ ​the velcro​ ​on​ ​both​ ​arms​ ​for personalization -​ ​and​ ​a​ ​practical​ ​thumb-hole.
Style
This​ ​jacket​ ​speaks​ ​style​ ​for​ ​any​ ​activity​ ​and​ ​will​ ​not​ ​stand​ ​out​ ​as​ ​a​ ​concealment​ ​garment.​ ​The style​ ​and​ ​robustness​ ​of​ ​this​ ​jacket are highly​ ​recommended.
Cost​ ​and​ ​Value
The​ ​cost​ ​and​ ​value​ ​of​ ​this​ ​product are matched​ ​and​ ​qualified​ ​by​ ​the​ ​high​ ​quality​ ​of​ ​the​ ​materials and​ ​manufacture,​ ​the​ ​added​ ​features​ ​of​ ​warm​ ​fleece​ ​and​ ​versatile​ ​pockets​ ​enhance​ ​its​ ​value.

Subscribe to our Newsletter