Best Running Jackets Reviewed & Rated for Quality
In a
Hurry? Editors choice: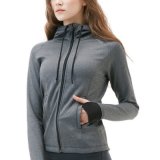 Test Winner: Tesla Performance

As the temperatures outside plummet, it gets harder and harder to stick to your workout regiment. I myself have been guilty of waking up early with the noble intention of running a few miles before work only to be met with frigid winds upon opening my front door. It takes a little more pre-planning when going outside to workout when it's cold. You have to know how to dress. An absolute essential is a good running jacket.

Having the right apparel makes all the difference when dealing with cold weather in general. A good running jacket will make it that much easier to stick to your regiment, your new year's resolutions, and goal to become a healthier fitter you. Fortunately, we have compiled a comprehensive buying guide. This will educate you on some important features of running jackets and make it easier to choose the right jacket for your needs.
Standout Picks
Criteria Used for Evaluation
Materials
We wear jackets of all kinds to keep us warm in cooler or cold weather. A jacket that is unable to keep up warm in such circumstances is not performing its intended function and therefore has little value. When you are picking out a jacket for running, you will need to consider what temperature range you plan on running in and then pick out a jacket that is suitable for that purpose. Since most running jackets tend to be thin and lightweight, you will need to consider the materials they are made from and the properties of those materials. In particular, you will want to make sure that the jacket's materials are insulating so that you can stay comfortable while you are running.
Fleece is a synthetic material that is designed to mimic the characteristics of wool. Since fleece fibers act like natural wool, the material ends up becoming a great insulator of body heat. However, since fleece only weighs a fraction of wool, it becomes an excellent material to use on its own as a running jacket or as a blend of other fabrics.
Most running jackets are made from synthetic materials. This is because synthetic materials are polymer-based and therefore do not retain water. This is why you will see water bead off of your clothing in a light rain rather than having the water soak into your clothing. Natural fibers tend to absorb water while synthetic fibers repel it.
Fit
In addition, to see what materials the jacket is made from, you will also want to make sure that it can cover all of the important areas of your body. One area that you may want to cover while you are running in cool or cold weather is your neck. Some running jackets have a flip-up collar which you can use to cover your neck and provide a thermal barrier around this area.
You will also want to check out the sleeves and the arm cuffs when you are picking out a running jacket. You should expect that the sleeves are long enough to cover your arms completely. The cuffs should be snug enough to keep cold air out of the jacket and trap the warm air inside of your coat. It may be helpful to look for a running jacket that has thumbholes built into the sleeves. Thumbholes help the sleeves of the jacket stay in place so that they do not creep up your arm during your run.
Whenever you are picking out running clothing, you should make sure that it fits you snuggly. The reason is that clothing that fits tight is closer to your skin and can pull away moisture faster. The faster your running jacket can remove moisture from your inner layers of clothing such as your t-shirt, the faster moisture can evaporate from your body.
Breathability
It is important that all of your athletic clothing, as well as your running jacket, is breathable and moisture wicking. Your clothing should work with your body to remove moisture by first absorbing it away from your skin and then allowing it to evaporate. In this way, your body temperature stays regular while you are running and you will end up feeling better.
Not only does moisture wicking keep your body temperature regulated, but it also helps you smell better. Sweat has a natural odor on its own, but heat and sweat also create an ideal breeding ground for bacteria. As your clothing pulls moisture from your body, bacteria are supplied with water.
Durability
You will want to look for running jackets that are long-lasting and durable. The longer your jacket can hold up to the elements, the better value you will have received from the jacket. There are a few different inspections you can make while you are deciding to purchase a jacket for running.
When you are judging the quality of a running jacket, you should take the time to examine all of the stitching used to put the jacket together. In other words, you should make sure that the stitching on the arms, arm cuffs, pockets, zippers, or any other area that is stitched has high quality and durable stitching.
After you have checked the jacket's stitching, you should move onto how the jacket fits. A good running jacket should have a snug fit. It should not be too tight or too loose since a jacket that is too tight will be hard to run in while a jacket that is too loose will feel bulky. If the jacket fits ok when it is new, you should check and see what kind of materials it is made from. Jackets that are made from synthetic fibers such as polyester or fleece are unlikely to shrink in the wash so these materials should maintain their fit well.
If your jacket has any buttons, velcro, or zippers, you will want to inspect these parts to make sure they will continue to perform. Any zippers should open and close freely without jamming or getting stuck. You should also make sure that zippers are tight so that they do not get loose while you are running or jogging. You don't want to experience having to stop in order to fasten your zipper or have an important item fall out of your pocket during your run.
Features
Many running jackets are sold with reflective bands that reflect light back into the eyes of the drivers. If you are looking for a running jacket, you should definitely consider looking for a jacket that is reflective. The reflective features found on many running jackets can go a long way in avoiding an accident with traffic.
In addition to reflective bands, you should always look for running jackets that have bright colors. Bright colors tend to stand out are much more noticeable to drivers than dark colors. You should try and look for colors such as bright red, yellow, or green.
By the same token, you should also look for jackets that are wind breaking. Wind breaking jackets are jackets that do not allow cold air from wind to penetrate through the jacket. This is advantageous because you want the jacket to be able to keep you warm and maintain your body temperature so that you do not get hurt while you are running.
10 Best Running Jackets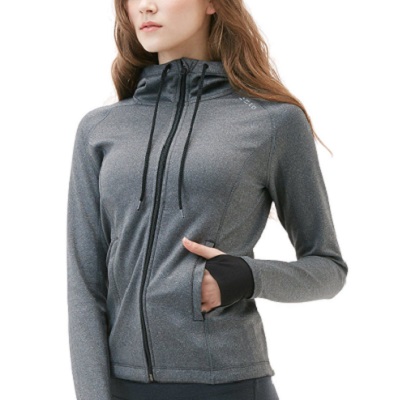 From Tesla, a company committed to manufacturing high-quality training apparel is the full zip training hoodie jacket. While the zipper is on the "women's" side (which I honestly did not know was a thing) the jacket is well designed and will be a great fit for anybody. From the flat stitching to the expandable material that its made out of, this hoodie offers a great balance of form and function.
Performance
Tesla Performance has a wide variety of compression apparel that is designed specifically for training. This hoodie is made from compression like material that moves with you. Thumbholes on the cuffs ensure that the sleeves stay in place and keep cold air out.
Take Your Music With You
One of the unique features offered by this Tesla Hoodie is a zippered pocket with an earphone outlet. This keeps the cord from bouncing around while you run. It also secures your phone.
Cost and Value
The Tesla Performance Zippered hoodie offers unique features and is made from quality materials. Many of these attributes are only seen in jackets at the more costly side of the price spectrum. However, this hoodie sits at a mid-range price and gives you a lot of bang for the buck.

2

. The North Face Apex Bionic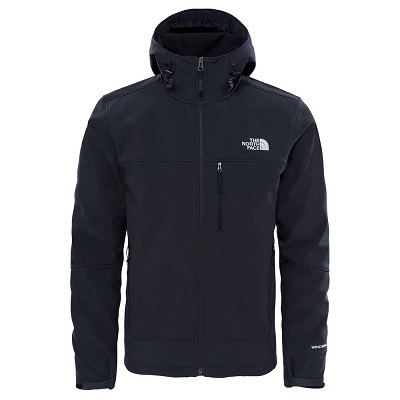 Since the company's beginning in the mid-1960s North Face has also sought to create the best products available on the market. The name North Face comes from the belief by mountain climbers that the north side of the mountain is typically the hardest to traverse. North Face has always been a higher end company that produces products and equipment that stands up to challenges.
Solid Construction
When it comes to the construction of their jackets, North Face does not mess around. Anyone who has worn a North Face jacket before can testify to their durability that can be felt as soon as you put it on.
Versatile
While some running jackets seem to only be good for certain situations, the North Face Apex can stand up to almost any obstacle that you'll encounter while running. The outter layer is made from a stretchy, wind resistant elastane. It is then finished off with a coating of water resistant material. The inner layer is a warm and comfortable fleece.
Cost and Value
The Apex Bionic Soft Shell jacket is one of the more expensive items on the list for running jackets. Which is to be expected with anything from North Face. High-end construction and materials typically yield high-end prices. However, the company offers a lifetime warranty so if you don't absolutely love your North Face products you can send them back.

3

. Adidas Essential Tricot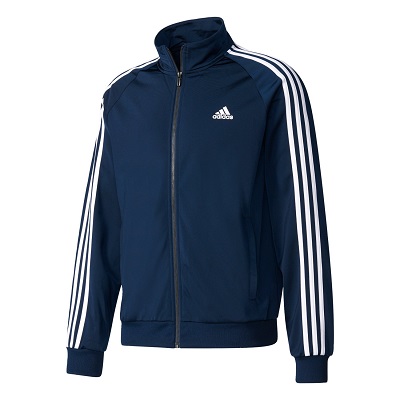 This brand has made a name for itself in clothing for athletic and active lifestyles. adidas was forged out of competition in the 1940s when two brothers, Adi and Rudolf Dassler, split their holdings in a shoe manufacturer. Rudolf created what is now PUMA and Adi created Adidas. adidas (spelled intentionally in all lowercase) was derived from Adis first and last name. It is not an acronym for anything as commonly believed.
The Classics
The Adidas Tricot Jacket is a nod to tradition. The style is reminiscent of athletic wear from the '70s and '80s. This shows that some characteristics never go out of style. The Tricot is available in several colors.
Climalite
One of the things that have kept Adidas going over the years is the development of new and different products and materials. Adidas invented the shower shoer and now they have Climalite. This synthetic cotton blended material is comfortable and functional. Synthetic materials help with moisture management and the cotton makes soft and pleasant to wear.
Cost and Value
adidas is a brand that is well known to consumers and endorsed by elite athletes. Other brands that have Adidas' notoriety will sometimes cash in on it and charge you for the brand rather than the product itself. This is not the case with Adidas. They make quality products that usually are fair prices. The Tricot Jacket is no different. This running jacket is well worth the number on the price tag.

4

. Under Armour Storm Softershell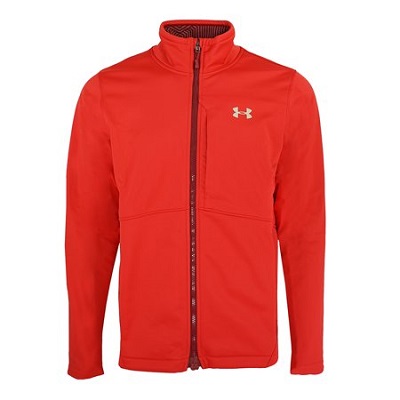 The last product on the list of best running jackets comes from Under Armour. As with the product previously posted, the Infrared Softershell comes from UA's ColdGear line. While it might not be as warm as the Werewolf at the number 6 spot it is treated with water repellent which makes it a great spring or fall jacket.
Moves With You
The Softshell Jacket has a four-way stretch design that moves when you do. This allows for greater range of motion during your workout routines.
Three Layers of Protection
The outer layer of this jacket is wind resistant but it is made from a material that doesn't crinkle or make noise. The inner layer is a thermally conducting material that helps trap heat.
Cost and Value
For what this jacket has to offer the price is kind of crazy. It is one of the most expensive items listed. We've come to kind of expect high prices from UA but for what they're asking for this jacket one would expect it to be more versatile and better suited for colder temperatures.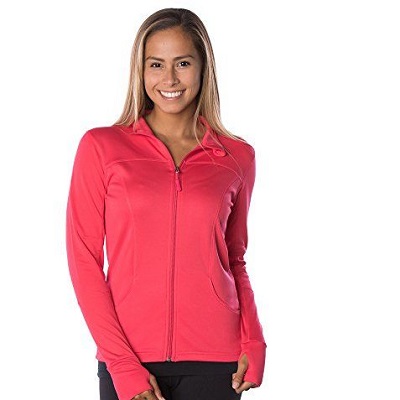 Here is a great fleece jacket that is perfect for active wear or just lounging around the house. It is made from a poly fleece material that will help you feel warm. The jacket has a slimming fit which allows you to pair it with leggings, shorts, or other bottoms while allowing you to look and feel your best. It has a high-quality construction that will make it last.
Poly Fleece
The 100 percent poly fleece material allows this jacket to feel soft and comfortable while keeping you warm and dry. This makes this jacket into a great choice for running because the jacket is lightweight, warm, and will help wick away moisture.
Slim Fit
It is designed to have a slimming fit. The slimming fit will not only help you look your best while running, but it also helps the jacket stay more breathable since it will hug your body and act like a second skin.
Cost and Value
You can save some money when you purchase this jacket because it has a price that is lower than the average for running jackets. The lower price comes from the fact that the jacket is thinner so it is useful for cool but not cold weather.

6

. Outdoor Research Deviator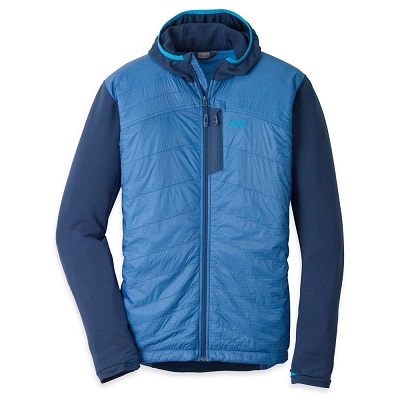 Making yet another appearance on the list for top ten running jackets is Outdoor Research. This time with a slim fit hoodie that is insulated at the torso. This is a very interesting design because it helps to trap and insulate heat generated in your core. Adding to the comfort and functionality is the thumb holes at the hoddies cuffs.
Warm and Breathable
The torso section is stuffed with a combination of 70% treated down and 30 percent PrimaLoft insulation. This combination helps you trap heat generated by your body to keep you warm despite the slim appearance.
Fit for Variable Weather
Not only is the Deviator Hoodie warm for its compact size but it is also water resistant. The wicking and moisture management of the materials used during construction means it will also dry fast if it gets wet.
Cost and Value
Buying this jacket could be seen as an investment. If you are looking a buying a jacket that you can abuse on a regular basis during intense outside workouts, you might want to look for a cheaper option. After spending what this jacket costs I know I'd have a small heart attack if I got mud or spilled something on it. However, it is made with pretty high-quality material and has a great design that makes it an exceptional part of your athletic wear.

7

. Champion Performax Quarter-Zip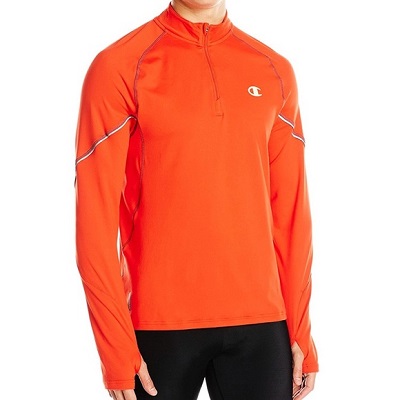 Earning the title of the best value on this list of running jackets is the Champion Performax Quarter-Zip Pullover. Champion is a company that proves you can obtain quality athletic gear without busting your budget. This Performax pullover features thumb holes on the cuffs for improved fit and also an extended shirttail design.
Keep Sleeves in Place
A common design flaw in a lot of running jackets is the loose cuffs. This allows the sleeve to move and cold air to enter the jacket itself. Some running jackets have synching or elastic cuffs to prevent this. Champion takes it a step further and provides thumb holes. These holes keep the sleeve in place and allow for greater movement and performance.
Performax Zipper
There are few things more annoying than a heavy zipper on a jacket that is meant to be worn during intense physical activity. While you may be able to use the constant clanging sound as a pacesetter, the level of frustration you'll feel when that sucker flips up and hits your lip or tooth in unrivaled. Performax zippers are lightweight and made for movement.
Cost and Value
Champion is known to be a budget-friendly brand. Some of the products can be a bit hit and miss. However, there are some Champion items that have features that can be seen on more expensive running jackets. In this case, the Performax Quarter Zip Pullover is a total hit. Made of polyester and spandex, the Performax pullover feels and functions like many other higher ended running jackets.

8

. Outdoor Research Helium II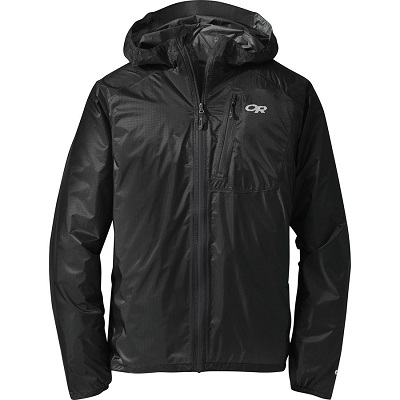 Outdoor Research has put the work in to find out what nature enthusiasts are looking for in active wear. The Helium II jacket is a testament to this. While it's by no means the warmest jacket on this list, it is advertised as rain and windproof. It is also extremely compact and lightweight (hence the name Helium).
Big Things in Little Packages
If your doing a long distance trail run you want to bring the bare essentials with you. If you bring to many things you begin to be weighed down. The Helium II jacket can be folded down to the size of a granola bar. This means that you can easily fit in a backpack or even in a pocket.
Pertex Shield
Pertex is a fabrics company that has developed many of the materials that outdoor apparel companies use in their products. Outdoor research is just one brand that uses the Pertex shield system. This shield system features hydophobic material that is also wind resistant and breathable at the same time.
Cost and Value
I won't lie. The cost of this jacket may scare some potential buyers away. Especially since it is not particularly warm. However, it really depends on what you're looking for. In terms of wind resistance and compact folding capabilities, the Helium II is one of the best jackets available.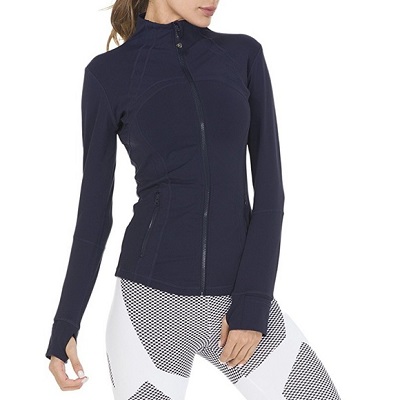 When you are looking for a running jacket that keeps you warm and dry at the same time, then you should take a look at this running jacket. The jacket is made out of fully synthetic fibers which resist bacteria and provide moisture wicking. It has other must-have features for any serious runner such as thumbholes, fold over cuffs, and built-in ventilation. You can run in comfort and style while wearing this jacket.
Polyamide and Elastane Blend
This running jacket is made from a blend of 88 percent polyamide and 12 percent elastane material. These materials provide you with lots of moisture wicking capabilities and they resist bacteria which allows you to stay dry and continue to smell fresh.
Thumbholes
The jacket's sleeves have built-in thumbholes which keep your sleeves from sliding up on your arms while you are running. You can also keep your wrists warm since the arms will cover your wrists and will stay where you need them too.
Cost and Value
You will see this jacket sold at a price that is around average for running jackets. This makes it into a great value because the jacket has all of the features you would expect to find at an affordable price.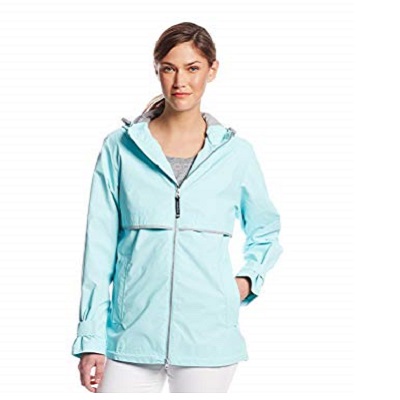 If you plan on running after dark or in low light conditions such as the rain, then you will want to consider purchasing a jacket that increased your visibility. This jacket comes in bright colors and has reflective bands so that the drivers of cars and trucks can see you while you are running. The jacket will help you stay dry when running in the rain.
Reflective Stripes
The jacket comes with reflective stripes on the front and back of the jacket. These strips reflect light back towards drivers and help you stay visible to traffic when you are running in dark or low light conditions.
Vents
The underarms of the jacket have ventilation so that you do not get too hot and sweaty while you are wearing this jacket. The vents provide a breathing spot that allows air to enter into the jacket and also escape.
Cost and Value
You will see this jacket sold at a price that is higher than average for running jackets. The extra price comes from the fact that the jacket keeps you visible to traffic while you are running.

Subscribe to our Newsletter