Best Surf Watches Reviewed & Rated for Quality
In a Hurry? Editors choice: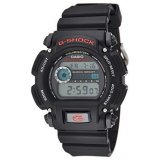 Test Winner: Casio Sport Watch

Since surfing is a sport, we're willing to bet that anyone who's surfing wants to improve their technique, form, and surf skills. Catching those gnarly waves might be the best way to achieve that improvement, but there are a few other things that can help. Gadgets like surf watches are a great way to track your practice and stats, and still ensure that your feet hit the sand in time for dinner.

Whether you're a casual surfer or a water-shredding pro, these surf watches are going to help ensure that your practice is the most effective (and time-efficient) that it can be!
Standout Picks
Criteria Used for Evaluation
Water Resistance
Believe it or not, the most important quality and criteria for a surf watch is that it is waterproof. Extremely shocking, right? There are plenty of fantastic watches out there in the marketplace that just can't withstand submergence in water, making them useless for surfers, because no matter how great you think you are at surfing, you will be fully submerged in the ocean at some point during your trip off the beach.
In the rating system, we took into account the depth of resistance the surf watches had. Most (actually all) surf watches are designed purely for the resistance of water that is part of the sport of surfing. So you will only find a water proofing from around 50 meters below to around a maximum depth of 2-300 meters deep.
It's important to note that surf watches are not dive watches. They are made very differently, and there is not a whole lot of crossover when it comes to capabilities, but most importantly, the depth of resistance. Surf watches are designed specifically to resist that amount of water near the surface, assuming that riders and athletes aren't going to sink to the bottom of the ocean, or drop their watch. Surfing, as a sport, usually takes place not too far from the beach and the maximum depth that surfers paddle out too is usually less than 100m deep.
To earn a higher score on our guide, the watch just needs to be higher in water depth resistance. Most (or all) of our options are great picks for the surfer in your life. Ensure, that while you're vetting options there is, at the very least, some water resistance. Obviously, picking up a watch with higher resistance might save you in the long run, but you truly only need 100m resistance or so.
Style
We're not going to lie to you, the amount of important in the style of one's accessories only seems to grow with time. However, thanks to some retro fashions returning, there is ever more options for fashionable choices available.
In an unsurprising twist, the watch industry is one of those markets that relies heavily on fashion trends, and design stylings to move products, so it was a must for us to judge these surf watches based on a general sense of style they bring to the table.
Now, this criteria can be a little hard for us as guide writers to judge on, because general fashion sense is subjective. So we ensured we looked at it from a vague perspective and removed personal biases. Instead, we ranked the scored of style based on popular fashion trends of today, and we stacked them up against all of the common design decisions made by accessory manufacturers.
Though we don't believe that a fabulous product should be overlooked because it might not look as great as other options, we can't remove the fact that consumers in all sorts of markets will judge products based solely on their aesthetic appeal. It's up to you how much weight you put into the style of your surf watch, but we suggest that if it does play a role, it takes a back seat to water resistance, and comfort.
Comfort
Wrist watches aren't something one would normally critique for comfort. It's just not something folks are want to consider before purchasing. So many other factors go into a fitting watch, comfort is assumed to be a minimum impact, at the very most.
But, when it comes to sport watches, especially sports where something uncomfortable can make such a large impact on your performance, the comfort of your choice is key. Water has a tendency to get between what you're wearing, and your skin, and this can cause all sorts of discomfort. The last thing you need is for your watch to be adding to that discomfort.
Most of the products on our list (and a large majority of the products in this market) use things like Resin, or Polyurethane as a base for the watch strap. Some watch manufacturers use nylon for their straps, as nylon tends to get soft, and non-abrasive when it gets wet.
Really, there aren't many wrong choices to make when it comes to the material used to make the watch band. Except metal. Don't ever buy a surf watch that is made out of metal. The point of the watch is to help you keep track of the time, not weigh you down while you're trying to balance on a large board, skirting across the surface of a volatile body of water.
Though it's something to be judged against, there isn't a whole lot of a room for failure in the comfort department, which makes it an almost guarantee that if you are to purchase a watch made for surfing, it will be, at the very least, decently comfortable.
Value
Accessories, and watched in particular, are much like many other consumer products, in the sense that the more money one spends, the more intricate quality you're going to get in your item.
Most of the technology that goes into waterproof watches lives in the waterproofing itself. There's a lot of design and manufacturing that goes into the development of waterproof timepieces, and this quality of build can change the price of the product quite a bit on one end or another.
In actuality, the value of your potential surf watch really comes in the form of the sum to the equation that sees all of the previously mentioned criteria stacked up against each other. Comparing the comfort, against the waterproofing depth, and in conjunction with the style (subjective, we know), should get you a pretty decently understand of what these products are worth.
The price range at this part of the market -- we stayed near the bottom end because this, like many other types of watch markets, can get a little crazy if you go too high -- isn't super different, and the higher-priced options on our list do their best to obviously display the perks and additions that make them worth the extra bucks.
While it's important to judge products versus your budget, one can quickly find themselves in the "this doesn't actually keep water out" mood, if you go too low on the price chart. Be keen to spend a bit of money to ensure you're getting a good enough product, but there's not a whole lot of need or opportunity to get too crazy with it.
10 Best Surf Watches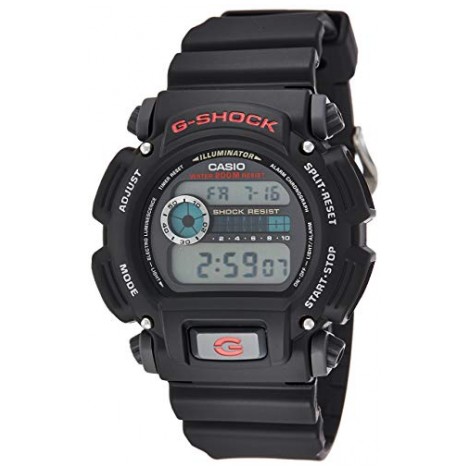 Versatility is a virtue, which is why we're starting our list off with the Casio Sport Watch. Not only is there more than enough on the technical attributes side to satisfy any sporty-yet-nerdy surfer, but there's also a variety of physical features that makes it very appealing to all active individuals. Plus, Casio as a brand has a history of great quality and good care.
The Shell
Durability should be a top consideration when dealing with a sport watch. Many of the surf watches on our list will mention that they're waterproof, while not saying much else about the impact resistance. Casio knows that we're not just dealing with water when we're surfing. There's a board, rocks, and a variety of other things that could scratch or ruin an otherwise nice watch face. The resin product that's been crafted into the shell of this watch makes it as durable as it is light. It won't shatter, it likely won't scratch, and it's also just as waterproof as the next one.
The Schedule
It's so easy to lose track of time when you're out riding the waves, which is why many of us are likely going to be looking at these watches in the first place. Trust us when we say that there's no use in even buying a watch if you're going to be too wrapped up in your surfing to look at it! That's why this feature is so nice. This watch can automatically keep you on schedule by alerting you with its hourly timer. No more late-for-dinner nights again!
Cost and Value
For all the benefits that this watch has, we're surprised that it's not more expensive. Snagging the top spot means that this watch not only has a great amount of technical features, but it's also incredibly durable. Waterproof, resin-coated, and featuring both digital and analog displays, this is a watch that won't disappoint.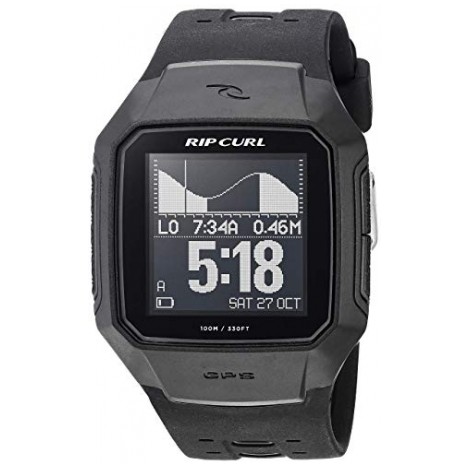 Stealing the second slot is this Rip Curl Men's "searchGPS" sport watch, which is the first one to kick us off on a true surf watch wave. With all the durable and waterproof elements of our first watch, the biggest difference is that this one is a little less all-around versatile. Yes, it works as a regular watch. But its true strength lies in its power on the board. No more wondering where and when you are in time and space; this watch will track it all for you!
GPS
Those of us who are directionally challenged will appreciate this feature on the Rip Curl watch. Marketed as more of a general activity watch, the GPS is useful no matter how many different vacation sports you have planned. Surfing benefits greatly from having a GPS attachment though, as it helps you to know exactly where you are if worse came to worst.
Session logs
It's not just Star Trek that gets captain's logs. Now you can make them too! Or, rather, the watch can do them for you. Many serious surfers will want to know what their sessions were like from an objective standpoint. Like any sport, this is something that you'll want to improve over time. Thanks to the app that this watch syncs with, you're able to go back and check your "log book" to get details about your surf session.
Cost and Value
One of the higher end options on our list, this watch is a must for serious surfers. We wouldn't be surprised if our fellow casual wave-riders balked at this price, though we definitely see why the cost might be this high. With great reviews and a high star rating, we believe that this watch is definitely valued equally with its cost. Durable, easy to use, and utilizing a lot of different technologies, you won't be disappointed with this watch.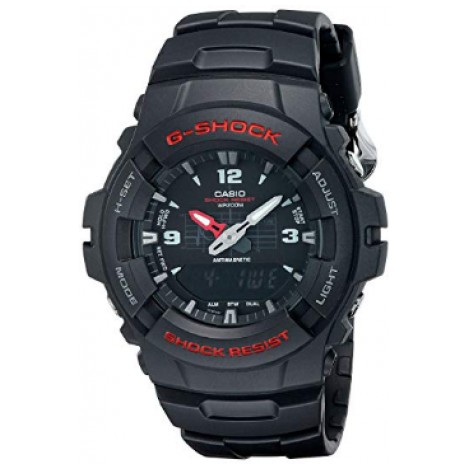 Casio does it again with this fantastic watch. Suitable for many sports in general as well as specific surfing endeavors, Casio crafted this men's watch with the great outdoors in mind. Both analog and digital interfaces means anyone can embrace this watch, and use it without stress. There's a bunch of other features that also make it worth the cost!
Dive Ready
Many of the watches on our list actually can't handle a whole lot of depth. Surf watches and sport watches often have some crossover simply because surfing doesn't involve deep water pressure; at least, not if you're doing it right. This is more of a diving watch though, as it can withstand depths up to two hundred meters (six hundred and sixty feet). This makes it the best one to wear on your next trip to Hawaii, or wherever you want to surf, sand, and dive all in one day!
In Control
The reviews are in, and they're predominantly happy. Casio does a great job designing watches for both day to day wear as well as heavy sport and recreational usage. This watch in particular is reviewed as having easy to use controls. This is great news for when you're hanging out underwater. By ensuring that the controls are straightforward anyone is able to utilize all the great features on this durable, waterproof watch.
Cost and Value
Casio is known for being a good quality designer/manufacturer, which is why we've put multiple products of theirs on this list. We're happy to report that this is another watch that fully lives up to the Casio reputation, and has a value that almost exceeds its cost. Durable, versatile, and incredibly attractive, this is a watch that we'd be proud to wear. And it's on the lower end of our budget too!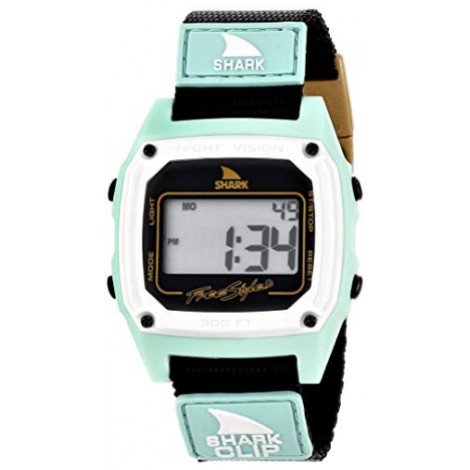 Is that a shark in the water, or are we just getting excited about our new watch? Definitely the later, as there's tons to get excited about over this Freestyle USA Shark Clip Watch. Water resistant and very durable (like pretty much all of the other watches), this is a watch that looks as cool as it is high quality. Those that are tired of the black and red options will find joy in this baby blue watch.
The Color
We love a good color option, which is why we just had to include this watch on our list. With many of the same features as other watches we've looked at, the soft blue color makes it more friendly and less industrial looking. The blue doesn't detract from the functionality either, as all the buttons are actually really easy to see. It's got a similar backlighting for its display as well, which is easy to find on a watch band that already can be seen in the dark.
Silicone
Unlike some of the other watches, this Freestyle watch has taken a different approach to manufacturing. Many of the watches we've looked at list resin as a product used to create bands, watch faces, and cases or shells for the watches. This watch uses silicone, making it possible to have soft colors and comfortable straps. More flexible and forgiving that some of the other watches, silicone is just as durable as its counterparts. You'll find that it feels as if it was made for your wrist, thanks to its ease of movement. Perfect for when you're out on the board!
Cost and Value
While it might not have some of the clout that other watches on our list have, we believe that this watch is worth far more than what it's priced at right now. Competitively priced against some of the Casio watches, the silicone and scratch-resistant coating means the watch is high quality, but not over priced. We love this Freestyle watch, and the reviews are pretty much glowing about it too.

5

. Timex Expedition Grid Shock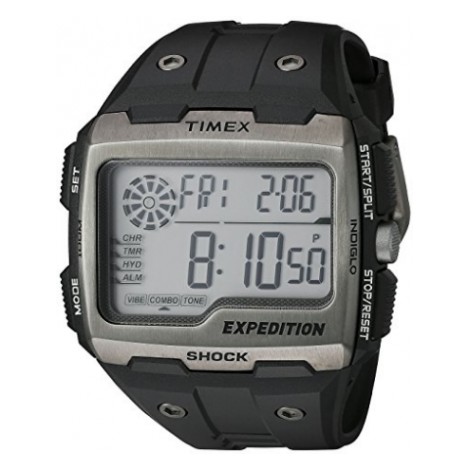 Good old Timex! The standard company that made many young adventurers' first watches are still alive and ticking. They seem to have grown up with us, though, as they've created this Expedition Grid Shock Watch. More in depth and hardcore than some of the other watches we've seen, this is a good option for any grown up adventurer who wants peace of mind out in the wild.
Chronograph Crew
Anyone can now track their progress and growth thanks to this feature! Timex is all about the great outdoors, and understands that many of their buyers aren't afraid of a little competition. Built for the more extravagant endeavors, the chronograph capabilities of this watch basically means you're able to track how you're doing as you do it. No more guessing how long that first mile took you after running all day; now your watch will be able to do the hard work for you.
10 Years
A small footnote in the product description is actually one of our most shocking realizations. Many watches run the risk of dying shortly after batteries have been put in. If you're out on some rough waves, you don't want to end up with a dead battery all of a sudden. Timex ensures that their batteries have a 10 year life, as listed in the product description. It's a huge benefit, and one that makes Timex the most reliable brand out there.
Cost and Value
With steel plating, water resistance, chronograph capabilities, a vibration alarm, and a variety of other display and watch functions, it might come as a surprise that this watch won't cost an arm (or a leg). You can keep both wrists and still afford this watch, as it's actually on the lower end of our price spectrum. The value is huge, and Timex is a brand that can certainly be trusted.

6

. Casio G-Shock GA201-1A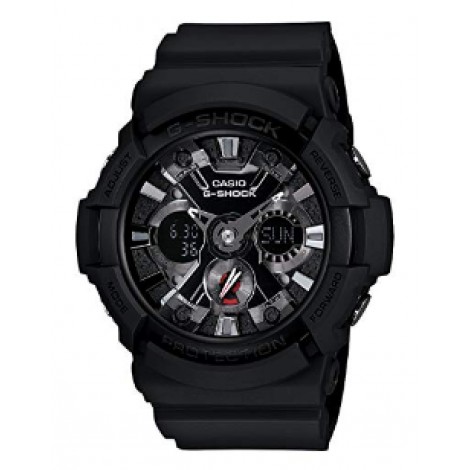 G-Shock is in the house, which means it's time for us to go ride that surf. This is a watch that can actually count as a stylish accessory as well as a durable, ready-to-ride adventure watch. The construction of the case and the band are similar to many high priced watches, and the face gives off almost Rolex vibes. Maybe it's just our wishful thinking, but we feel that this is a watch that can give someone a cool factor as well as a bunch of surf-oriented safety features.
Speed Indicator
Ever wondered just how fast you get out there on those waves? Wonder no more with the speed indicator. This watch is able to tell us just how fast we're going, along with a variety of other technical pieces of information. This could be interesting for those surfers looking to track all aspects of their wave-riding
It just looks great
We could go on and on about the other technical features of this watch. It's got a timer, an alarm, the option to snooze, world time capacities... basically anything anyone can think of. The one thing that sets it apart from some of these other watches, though? It looks cooler than everything else. A clean color scheme and a fancy construction make this a watch that looks as good as it works.
Cost and Value
While it's closer to the higher end of our budget, this watch is one that we're actually considering listing as having its value worth the cost. This watch is a good option for those that don't surf or adventure very often, and want something they can get away with wearing at the office. Is it the best surf watch out there, technical specs-wise? Nope. But it's a great choice for anyone who might resent switching watches.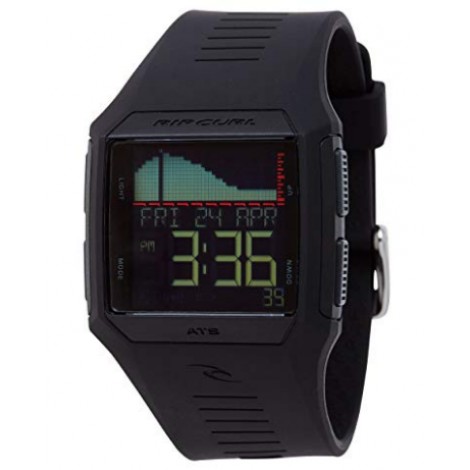 One size fits all is a bold statement, but we're willing to give this watch the benefit of the doubt. Rip Curl is a high quality manufacturer, and we trust their willingness to give their customers the best. Not only is it nice to have a standard-sized watch, but there's a slew of other features that make it much deserving of a spot on our Surf Watch list.
Tide Display
Wouldn't it be nice to know about the inner workings of the tides? Wouldn't it be even better if you didn't have to sit at a computer to achieve that? This watch knows that the serious surfers want as many details as possible in order to streamline their practice and surfing positions. The tide display can be done as either a graph view or a detailed view, making it accessible no matter how you're used to reading it. Not to mention how the "tide function" feature gives you access to "Electronically Stored Tide Charts For 500 Preset Locations Worldwide," to quote from their product description.
Easy Sailing
Or, rather, easy programmability that will give you easy sailing! The menu interface makes it reportedly very easy to configure and set up, which ultimately sets you up for a decent amount of success when out there on the waves. The watch is straightforward, easy to read and very user-friendly. All in all, it's great design.
Cost and Value
Keeping the costs down when investing in a hobby can be a good thing. Sometimes, however, you miss out on cool functions and features. This watch has several neat aspects to it that make the higher price still worth it value-wise. We're big fans of the durability and the easy feature usage of this watch, which means we're very willing to spend the chunk of change they're asking for. It's not budget-friendly, but it is a good watch.

8

. Neff NF0226BLCK Flava XL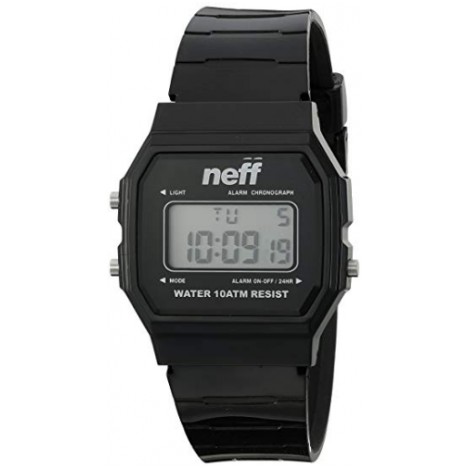 This is a unique watch that we're very excited to "dive" into (get it?). Unlike some of the other watches on this list, the Neff unisex watch has a look that really, truly is all its own. With a thick, black casing and strap, the face on this watch looks small compared to all the open space around it. Not to mention how it also comes in a cool speckled color. Maybe not the most practical feature, but definitely good looking.
Comes With Instructions
Honestly, we're surprised we have to write this one. So many of the watch reviews we've looked at so far have listed "missing instructions" or "did not include manual" as their main complaint. It's shocking to us that a tool that has so many functions on it wouldn't come with a book to explain what they all are. Rest assured, this is a watch that does indeed have a little booklet to divulge all of its working secrets.
Quick shipping
A unique feature (unique seems to be a theme with this watch), but one that seemed to be worth mentioning due to all the questions about it. Yes, shipping can take a while depending on where you are in the world. This watch, however, seems to have a pretty consistently fast shipping time, as mentioned by some product purchasers. This can sometimes be the make or break feature, depending on your levels of patience, which is why we thought to include it.
Cost and Value
Sometimes you don't want a watch that's just built for function. That's okay! This watch will work when you're on a surfboard, even though it might not be built to enhance your surfing experience. The cool look and durability means that it's just as good as some of the other budget watches on our list. And with a price this low, it's no surprise that we think people will want it.

9

. Nixon A489-1323-00 Baja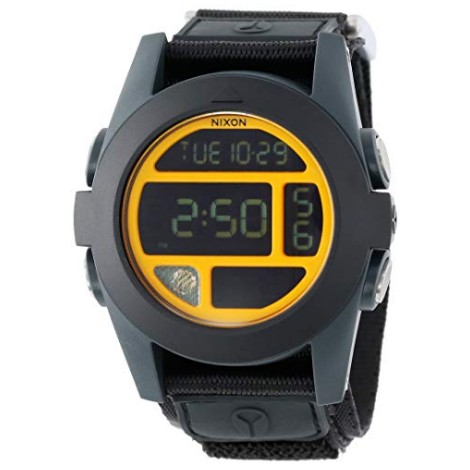 We're rapidly approaching the end of our list, which is why we've had to squeeze in as much as possible. It's kind of similar to what this Nixon Men's Baja Digital Display watch is doing too. They've packed in so many different features it's hard to know where to start. Let's go through it one thing at a time.
It's a flashlight
Seriously. If you thought that some of these other watches had cool hidden features, you haven't seen anything yet. This is a watch that's also part flashlight. It's as if the entire outdoor safety section of MEC had a baby. The flashlight is particularly helpful if you tend to surf until the sun starts to go down. The last thing anyone wants is to be walking back through the low water in pitch black. Now you can use your flashlight to steer clear of jellyfish and sharp shells!
Thermometer (and other features)
Outside of the usual watch features, this Nixon has two other ones that we want to look at. Not only does it have a compass to tell you where North is, it also has a thermometer. We think that that's just the coolest thing, especially when it comes to surfing. A thermometer can help keep you in the loop when the water starts getting a little too cold for casual surfing and crashing. The compass feature speaks for itself.
Cost and Value
Just squeaking into what we'd call our high range of pricing, this is a watch that doesn't have much negative about it. The features are all strong and capable of withstanding up to one hundred meters (three hundred and thirty feet) of water. It's an all-around solid watch, with some unique features like a flashlight, thermometer, and a compass. Is it worth the price? For some, yes. Others might want something a little less high tech, putting them into a lower budget bracket.

10

. Freestyle 102245 Shark Fast Strap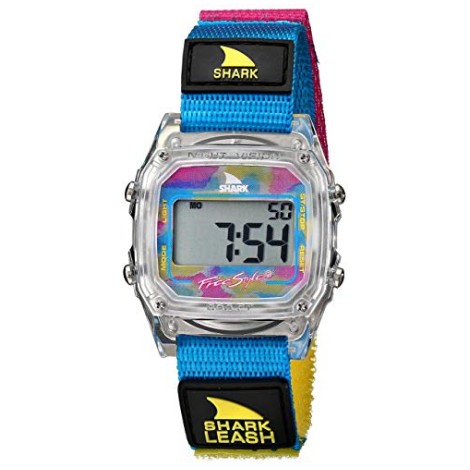 The final option on our list is another Freestyle watch. This retro styled watch might be on our list just because it's super fun. Is that such a bad thing, though? Part of surfing is just looking really cool. Riding waves with the wind and salt spray in our hair… It's the stuff casual fashion photoshoots are made of. This watch will take you back to childhood and will keep the color popping in your outfit, no matter how thick your wetsuit happens to be.
Built by surfers
Okay, this isn't quite accurate. It's been designed by surfers, but the manufacturing and building now happens in a more factory-like setting. The Freestyle brand mentions in their product description that the company was founded by two surfers. Whether they're still riding the waves or not is irrelevant; what's great about this fact is that they know exactly what a surfing king or queen needs in order to feel safe and successful out there on the waves.
Super Cool
Timers and alarms and chronograph capabilities aside, this is a watch that just looks cool. The tie dye strap gives us major beach day vibes, and is sure to match any and all swimming trunks or bikinis that happen to hit the waves. Plus, there's a host of other colors and designs to pick from if the rainbow is a bit too much for you.
Cost and Value
Priced similarly to our other Freestyle watch, the fact that there's nothing unique except for the style of this watch makes it reasonably priced. It has all the same features as other watches, but doesn't necessarily build off of anything. It's a good, solid watch for the price, and we're sure any surfer would be happy to wear it.

Subscribe to our Newsletter