Top 10 Fishing Knives Reviewed & Rated
last updated:
Mar 05, 2021
Ever since Ernest Hemingway immortalized the battle between fisherman and his prey, people have understood the elemental value of putting yourself against a single denizen of the sea armed only with a pole, fishing line, a hook and a net. Not to get too poetic but there are few things more satisfying than successfully reeling in a fish and getting it to shore. And while we don't care whether you keep your catch or throw it back, we will only say that if you decide to keep it, that's when the hard work starts. We learned how to gut, scale and filet a fish when we were knee-high to a grasshopper but you might not have that kind of fishing legacy so we've put together a list of the best fishing knives to make it just a bit easier for you.
In a Hurry? The test winner after 11 hrs of research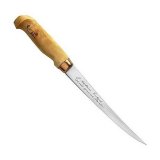 Rapala Fish-n-Fillet Superflex
Why is it better?
Number of sizes available for different tasks
Attractive knife and sheath package
Non-stick coating for ease of cutting fish
In a
Hurry? Editors choice: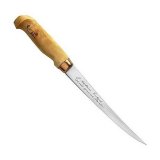 Test Winner: Rapala Fish-n-Fillet Superflex

19
Researched Sources
32
Reviews Considered
11
Hours Researching
45
Products Evaluated
Model
Features
Value
Durability
By Default
10 Best Fishing Knives
1

. Rapala Fish-n-Fillet Superflex
Number of sizes available for different tasks
Attractive knife and sheath package
Non-stick coating for ease of cutting fish
Superflex blade isn't as well suited to cutting through heavy bones
The wooden handle can degrade with sustained use in/around water
Rapala is well-regarded by anglers, not only for the top quality lures but fishing accessories as well. The Superflex best fish knife by Rapala is a great low-cost, attractive knife that comes with a sheath. With three sizes to choose from, it's likely that there's one to suit your needs.
Superflex, PFTE coated blade
The blade of this Rapala is extremely flexible allowing the user to hug the frame of fish no matter how fiddly. This, of course, has limitations when it comes to cutting through the heavy bone (as are found in the bass if eating them is your thing) but again, this blade is designed to slip over them for a boneless fillet. The PFTE coating ensures that minimal effort is required to slip the blade through fish flesh which can be sticky resulting in clean, well-shaped fillets for the pan.
Sizes
This is not always a one size fits all venture. Which is why Rapala offers this model with three different blade lengths. Making it a perfect gift for those who are just starting out.
Cost and Value
The Rapala Superflex is great value for money, and Rapala knives are well-regarded by many fishermen. For an attractive, useful and in the opinion of many the best fishing knife and sheath this is a bargain.
2

. Victorinox Fibrox Flexible Blade – 6"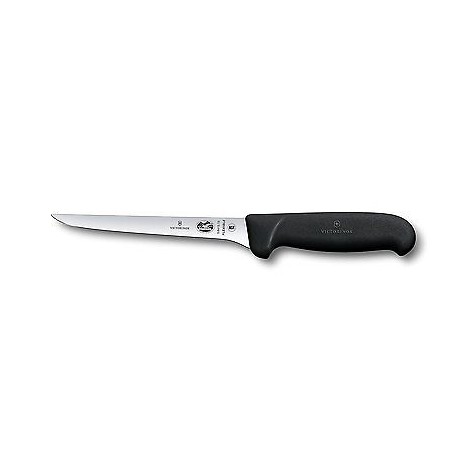 Excellent quality product
6" straight blade extremely versatile
Comes with a Fibrox Pro handle
Victorinox makes some of the best knives available – full stop. They don't come with any gimmicks, just top quality steel that'll most likely last as long as you're capable of catching a fish.
Simple 6"
The 6" Fibrox version is a handy size for small and medium-sized fish and is well suited for fresh or saltwater use.
Handle
The design of the handle is one that prevents slippage while attempting to clean those intricate fish. It as addition grip added for those times when the slime seems to take over.
Cost and Value
This knife is very affordable and for the price, you receive a top-quality knife from Victorinox – a leading knife manufacturer.
3

. Zwilling J.A. Henckels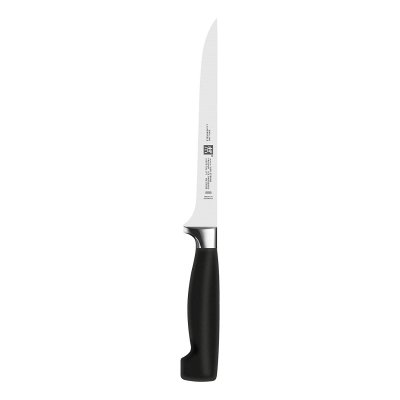 Sigmaforge Steel
Ice Hardened
Polypropylene Handle
No Stain Steel
This elegant little sticker will do all the hard work for you. It's got special no-stain steel construction because fish and saltwater are notoriously hard on knives. We also love that this Sigmaforge knife is forged from a single piece of steel and that makes it tough and resilient like the best ninja blades. Plus the laser forged edges to ensure it'll keep its edge for some time.
Sigmaforge steel
What this basically means for you is that this blade is forged from one single piece of steel and that means a lot of things but mainly it'll keep its edge for a lot longer and it'll stand up to a beating and still do its job like a champ. The laser forged edges help a lot as well.
Ice Hardened Blade
Ice hardening is exactly what it says a steel blade is tempered in sub-zero temperatures to bring out the hardness of the steel. Again with the Amazing Zwilling craftsmanship but ice-hardening the blade simply means that it will stay sharper and hold an edge longer than a lot of other blades of its type.
Cost and Value
Zwilling simple does knives better than most companies in the world so you pay a bit more for their name than you would with other similar blades, but the combination of sigma forges steel and ice-hardened blades, and last cutting just put these knives a step above others of the same type. So in our book paying a bit more is worth every penny.
4

. Victorinox Fibrox Flexible Blade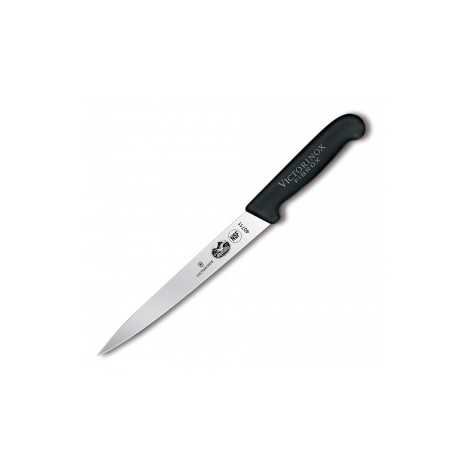 Deeper blade for exerting more power
Victorinox product
This knife is incredibly powerful and strong
Long, broad blade makes it difficult to fillet small fish
The 8" knife from Victorinox is for heavy-duty work and larger fish. It's a great choice for salmon and large saltwater species.
Increasing Size and Strength
The 8" flexible blade ensures that this knife will work great on fish with more depth of the blade to exert extra power when cutting through bones and a longer blade for wider filleting jobs.
Comfort
Designed to feel like the "Cadillac" of fishing knives, the handle design will reduce the fatigue while filleting fish. Being that the blade retains its edge, this also adds to the comfort as cutting with a sharp knife is much easier than a dull one.
Cost and Value
The Fibrox 8" fillet knife is another great value product from Victorinox. For larger fish, this knife is a great value for money.
5

. Morakniv Fishing Comfort Fillet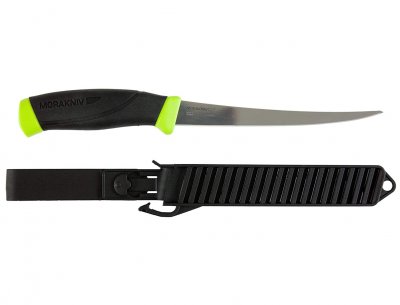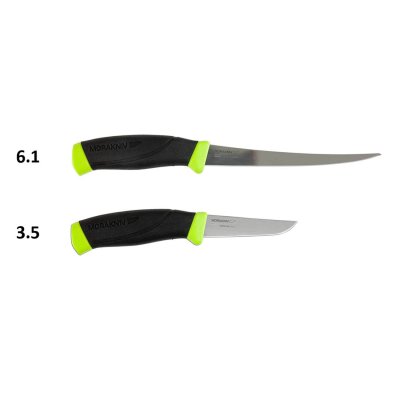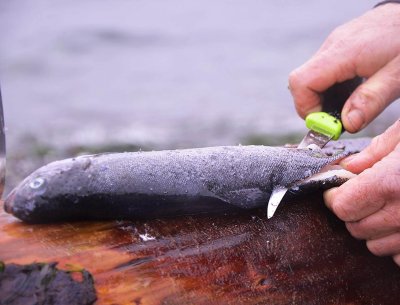 Sandvik Steel
High Friction Handle
Thin Blade
Another elegant little knife that is going to get the job done on any fish land quickly and easily with little or no muss or fuss. This 6-inch long knife is big enough to handle all kinds of fish no matter the size and its high friction blade will keep it safe in your hands. The blade is also stainless steel, which ensures that it'll take a beating.
Sandvik 12C27 stainless steel
This stainless steel blade is world-renowned for its ability to keep its blade and to keep its sharpness over a long period of time and maintain it's edge without sharpening for much longer than other knives of it's kind. Despite its thin size, this is one tough blade.
High Friction Handle
No matter how the slimy mess you're dealing with this blade will stay firmly in your hand. That's because it's made of a high friction patterned handle that's really made to stick in your hand. It's one of the small things that make this such a great knife.
Cost and Value
This is a really well-priced knife. Of course, you're going to pay a bit more than you're used to in order to get a knife that's going to perform in the way you need, but when all is said and done it's a great value.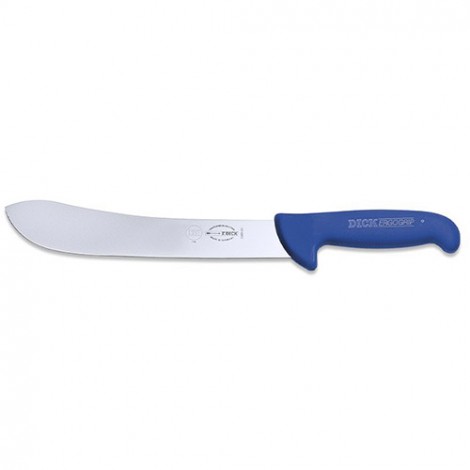 Made in Germany by F Dick
Shallow blade design cuts through flesh with less resistance
Comfortable handle
Less suitable for small fish
F Dick is the other big name in butchers' knives, and the 8" fillet knife is a good choice for large fish.
Plenty of Cutting Surface
The 8" F Dick is a long knife to start with and by incorporating a curved blade design, the extra cutting surface is provided. The broad point at the tip of the knife gives a more forgiving stroke than s similarly curved, sharply pointed one making this knife easy to use.
Sizes
This is available in several different size selections. Some will tell you that a shorter blade works better for some cuts of meat or for panfish which are typically smaller in size. Longer blades work well for larger species of fish or perhaps for processing the meat from your last hunt.
Cost and Value
F Dick knives are of similar cost as other brands like Victorinox and offer the same level of quality manufacture. They are well worth the price.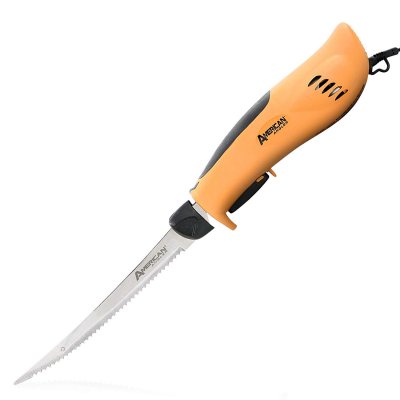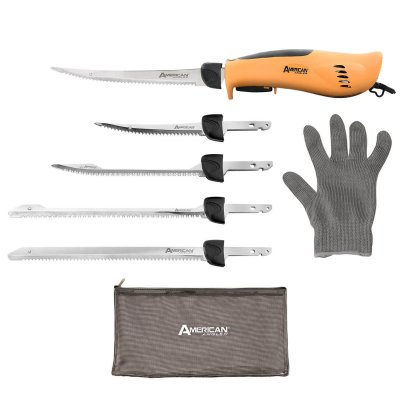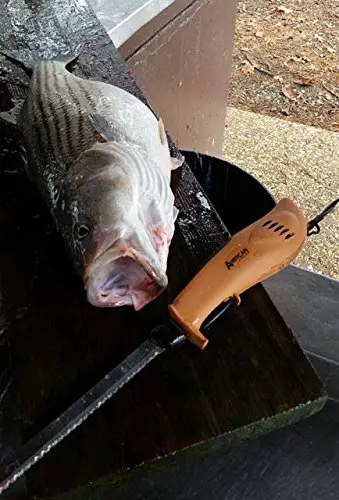 Cuts Through Bone
2-year Limited Warranty
8 Inch Blade
Serrated
Hard to Get Blades in Handle
We love this knife not only because it stands on its own, but because the electric element allows you to fillet and scale and gut with ease you didn't think you could ever get with a filet knife. Don't get it wet, but if you take care of this knife it'll be a great help for you as you prep your fish for the dinner table.
Plenty of Power
The great thing about this knife is that while it's well made enough to delicately filet your fish it's also strong enough to cut through bone so no need to worry about not having enough power to get your fish ready.
Works for Hours
Another great thing about this knife is that you can use it for hours and it'll never get too hot and even better it won't run out of batteries when you need it most.
Cost and Value
You're paying for the electric element of this knife, but if you're looking for a way to make your filleting really, really easy then this is the knife for you.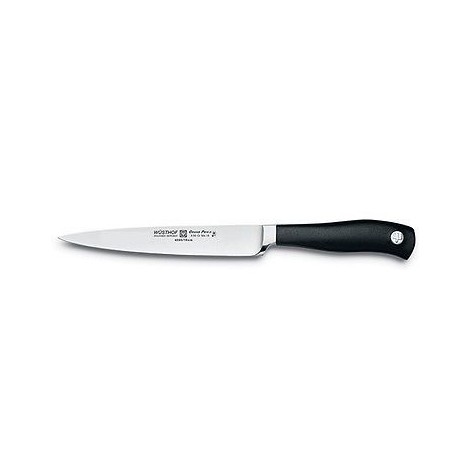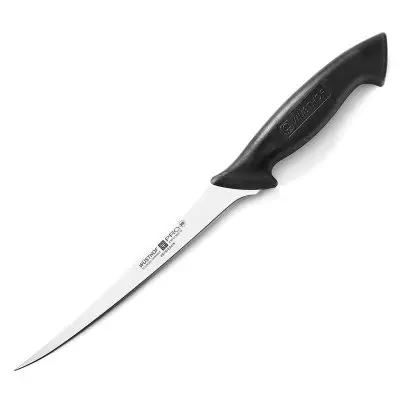 Proven filleting blade shape
9" blade length for large fish
Made in Germany
Unsuitable for small fish
Wusthof knives are another quality product from a German manufacturer. They are known for the quality of their knives.
Big Knife for Big Fish
With a 9" blade, the Wusthof is designed for large fish. It'll cut great fillets off salmon, but don't try to work on a panfish unless you like to struggle.
Features and Specifications
Stainless steel keeps your blade in top working order while also allowing it to look like new. As this blade is also resistant to staining, never be embarrassed over a dingy looking blade again. A handle designed to be ergonomic, your hand will thank you later.
Cost and Value
The Wusthof is on par with other quality knives on this list and makes another affordable option.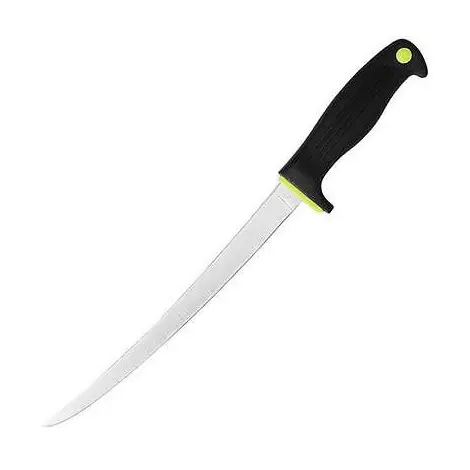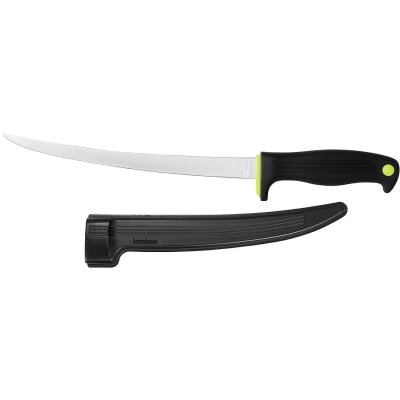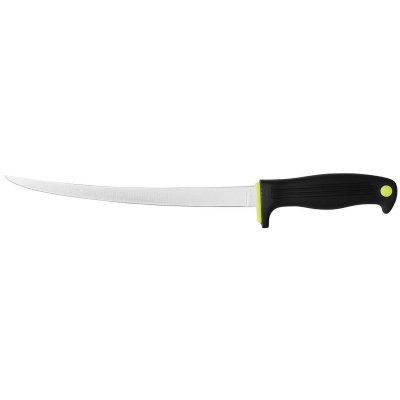 Comes with positive gripping sheath
Economical
Comes in two different sizes for consumers to pick from
The 7 and 9" options available in the Kershaw fillet knife give the choice of a blade more suited to small/medium fish or medium/large fish. This knife is a good, inexpensive option that comes with a sheath.
Comes with Sheath
Having a sheath to protect the knife and people around it when it's not in use is a good idea – and the Kershaw is one of few knives on this list that comes with one. The sheath is snug fitting and the knife positively 'clicks' into place – ensuring it doesn't accidentally fall out.
Blade Length
Here is an option that has been made available in two different blade lengths. Making it the perfect selection for all your cutting needs. Use the longer blade for larger fish and the shorter one for those times when only the smaller fish seem to be biting.
Cost and Value
It's an inexpensive knife and good value as it comes with a sheath.


Very durable steel resistant to damage
Yellow handle easy to see
One of the higher quality knives on this list today
Steel hardness can make it difficult to sharpen
Swibo by Wenger is another well-regarded butchering knife produced in Switzerland. The blade is almost 8" in length and it in the class of mid to large-sized.
Hard Steel
Swibo knives hold their edge well due to the hardness of the steel used in their manufacture. The steel is also highly resistant to corrosion – which is another good thing for saltwater use. Being so hard, however, means that it'll take a bit more work to put an edge on these knives.
Brand
For some this brand may seem unfamiliar. But rest assured they know what they are doing. Swibo has been creating knives for the kitchen for well over 100 years. I would say that qualifies this brand as experienced in the knife making field.
Cost and Value
Swibo is one of the more expensive knives on this list. It's a good quality knife.
Criteria Used for Evaluation

Model
It's important to choose the right size of the knife to sit the majority of work it'll be used for, blade length was an important consideration. Several of the models included in the list are available in various blade lengths which makes it easier to pick a knife you like then choose the length. Others are similar knives with different models of different lengths.
The inclusion of a sheath says nothing about the quality of the knife and it's unfortunate that the best knives don't come with a sheath included. The few fishing knives that did contain quality steel and that included a sheath were obvious candidates for inclusion on this list. The Rapala Superflex ticks a lot of boxes here as it's affordable, attractive, made from relatively good steel and comes with a snug-fitting leather sheath. This makes it one of the best options for the fisherman after a one-stop-and-go option.

Features
Continued exposure to water, salt, sun, and blood wreak havoc on handle materials. Wooden knife handles fare the worst in these conditions, and for simple reliability and longevity, plastic handles are to be favored in most cases for fishing knives.
A couple of wooden-handled knives were included in this list because – let's face it – wooden-handled knives look good! They also fit well in the hand and are comfortable to use. With a little extra attention, a wooden handle can last for a long time, even in the testing conditions of a fisherman's pack.

Value
The good thing about fishing knives is that you can get the best quality available for an affordable price. Butchers' and chefs' knives as tools are made to be economical and this is a great bonus to the recreational angler. None of the knives on this list is going to hurt the hip pocket.
The Rapala knives on this list are fantastic value considering how fit for purpose they are. If you're in the market for an inexpensive knife these are the way to go.

Durability
While most fishing knives are durable, many factors are involved when it comes to determining how durable one it. The greatest of these factors is the user, themselves. A knife not properly cared for will dull, rust, break and more; therefore, ensuring the blade is cleaned and dried after each use will significantly increase the life of your knife.
Another major factor is the steel. Softer steel does not always maintain the edge necessary despite proper care. On the other hand, harder steel may not flex the way one should because it is too brittle.
Expert Interviews & Opinions
Most Important Criteria
(According to our experts opinion)
Experts Opinion
Editors Opinion
Users Opinion
By Default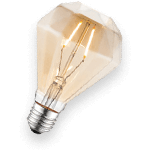 Consider the Steel Type
As was stated in the introduction to this review, stainless steel is really the only way to go for fishing knives. There isn't much need to get bogged down in specific steel grading. As long as you buy quality from the start – you'll never have an issue with corrosion. Flexible blades are very important for fish filleting knives as they allow pressure to be applied to slicing while the knife forms to the bones of the fish ensuring a clean cut and minimal wastage.
Know the blade shape
Generally speaking, any straight-bladed knife design works best for fish filleting. This allows for easy skinning of fish fillets in particular. Curved 'boning' style blades end up with a lot more surface area in contact with flesh and skin during this process and are more difficult to finish the job with.
The blade length is important
The length of the blade effectively limits the size of fish a knife is capable of working on easily. Panfish and even small walleye are well suited to a dinky 4" blade for ultimate accuracy and fine work without an extra blade to deal with and keep sharp. Knives in the 5 to 7" range are good all-rounders that'll perform well on smallish to largish fish. Long knives of 8" or more are best suited to large fish – like salmon or tuna – where long cuts are called for. It's much easier to get a clean fillet with a knife that is longer (but not too much) than the fish's depth of body.
Know the storage you want
It's best to keep a knife sheathed when not in use – to look after the knife and to protect the user and others around. Unfortunately, most butcher knives don't come with a sheath and one will have to be sourced separately. Two options in this list, the Rapala, and the Kershaw do come with an included sheath. Both are inexpensive knives so it may be a good option for that reason.
Other Factors to Consider

Flexibility
An important consideration when choosing a fishing knife is the amount of flex it possesses. When it comes to optimum slicing and cutting, flex can be vital to making the job of filleting much simpler.
The flex in most cases is contingent on the thickness of the blade. The thinner the blade, the more flex it will have, and vice versa. There should be more flex in a shorter blade, as sharper cuts and tighter angles are required when working on smaller fish. When working with longer blades, there should be a certain degree of flex to them. However, maintaining the flex in the shorter blades are more important.
Blades that are four and 6-inch fish knife blades should be considered flexible and quite thin. When applying pressure while the tip is pressed straight down, the blade should turn or "bend" about an inch, perhaps more. As the lengths of the knife increases, the entire blade should maintain flex. But, the thickness is added when the length of the blade is increased, as they must exude greater strength capabilities.

Advanced Features
For those of you that clean fish regularly, another option you might consider is an electric fillet knife. This type of tool effortlessly works through all sorts of fish, saving effort, time, as well as patience. An electric fillet knife can take some getting used to, but once you catch on, there are great benefits.
Most models of electric knives include a rechargeable battery pack, 110V wall plugs, 12V light plugs (excellent for those times when the only source of power is your vehicle), as well as 12V battery post clips. Add a travel case and you are good to go.
Frequently Asked Questions
q:

How durable are fishing knives?

a:

It sometimes seems a bit odd that such a light gauge blade can be that durable but rest assured – they are. The flexibility built into the blades of fishing knives ensures that they can withstand considerable forces placed upon them. Remember to keep this within reason though. It's easy to feel the limit of a blade – it'll bend easily to a point before extra pressure causes little change in the bend. The point where this begins is the maximum safe bend inherent within the blade. Don't over-bend any knife because a flying shard of the blade can cause all kinds of accidents.
q:

Are they easy to sharpen?

a:

Most are. Particularly those from high-quality manufacturers like Victorinox and F Dick who use steel designed to be the best trade-off between hardness and ease of honing. Flexible bladed knives come with their own intricacies of sharpening. The very flexibility of the blade can cause problems when sharpening them on a whetstone, with the blade bending and causing uneven grind. The easiest way (and the correct way to use a stone) is to apply minimum pressure on the stone while grinding the blade.

You don't want to wear the blade out unnecessarily! Even, firm pressure is all that's required to take the shoulder off a blade and re-hone the edge. Due to the thinness of fishing knife blades, a little work goes a long way and you'll be back to shaving sharp in no time.
q:

What is the best length?

a:

The length of the blade depends on what it's going to be used for. Short blades are best for fine work and small fish, while longer blades work are most effective on large fish and where slicing is more prevalent than tricky boning.

As a rough guide – the 'correct' length blade should be just a little longer than the depth of the fish's body (from back to belly) at its widest point. This ensures that the blade can be passed entirely through the fish during filleting and entirely through the fillet during skinning to give a single, clean-cut and solid fillet with minimal wastage. Long knives are also great for slicing steaks/cutlets from large fish, and a short blade would need many slices to do the job.
q:

What are the differences between a manual fishing knife and an electric?

a:

The many differences between an electric and manual knife. When compared to the manual, an electric one weighs more and works quicker. Electric is also more expensive than the manual.
q:

Are a boning knife and filleting knife the same thing?

a:

No, these knives are not the same. The fillet knives are the best when it comes to filleting fish as the blade has a thinner construction. A boning knife has a thin blade, but not as thin as the one on the fillet knife. Boning knives are also not as flexible as a fillet knife.
Subscribe to our Newsletter