Best String Lights Reviewed & Rated for Quality
In a Hurry? Editors choice: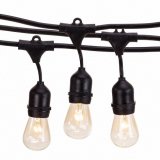 Test Winner: Deneve

There are a number of ways to make your
home
brighter. You can utilize natural light, add some bright
decorations
, or hang up a
mirror
to reflect some extra light back into the room. However, if you have a smaller room that feels as if it needs a little "something" extra or feels a bit dark you might want to consider adding literal
light fixtures
. Having inviting light fixtures in a room, allows the space to feel unique, a whole lot more spacious and even welcoming. And if you are willing to use a string light, you should know that they come in all different colors, designs, brightness, materials, shapes, and sizes. There are plenty of string lights all across the market, but in order to help you, we've prepared a list with the best ones included.
Standout Picks
Criteria Used for Evaluation
Style
Style
Of course, the whole point of choosing to decorate with string lights is to look good. Maybe you want to add some flare to a particular region of your home or property. Maybe you want to impress your neighbors with awesome holiday decorations. Maybe you literally need the light and thought string lights looked better than a lamp, chandelier, fixture, or anything else. Whatever the case, string lights are supposed to provide a certain amount of decoration. The aspect of your string lights that will have the biggest impact on aesthetic value is going to be the bulb shape that you choose. Globe and Edison bulbs will give you a more classically beautiful look. The candle-like C bulb is the traditional Christmas lights. You can probably find more unique and funky shapes to suit your decorative needs. You will also need to consider spacing. Spacing will depend largely on the purpose of your string lights. If each bulb is too close together, it may look cramped, and your string lights will not always be able to serve the purpose of a good decoration, especially for a small space, unless you have a specific look in mind that requires closely spaced lights on a string. If each light is too far apart on the string, it may not provide enough light. The brightness of the lights will also affect spacing. LED lights, for example, do not always need to be too close together because they are bright and can cover a lot of ground.
Effectiveness
Effectiveness
Spacing and aesthetic is not the only thing that matters when it comes to brightness. Brightness also affects how much light your bulbs will provide. LED lights are going to pretty bright. Clear bulbs will also provide a lot of light, and you may also like the look of the interior filament that is visible if you choose clear finishes, especially if you get an Edison bulb. If you are going for a more subtle look, then you might want to consider satin or pearl finishes, which often diffuse the light a little bit.
Materials
Materias & Constructionl
The two main choices for the material of your bulbs is going to be glass and acrylic. While glass bulbs are definitely cheaper, acrylic bulbs tend to last longer. All the best glass bulbs will be made out relatively strong and reliable glass. Therefore, as long as you are willing to be careful with you string lights in order to treat them well, glass bulbs can last just as long as acrylic bulbs for a much lower price, especially if you want to keep your string lights indoors. Additionally, the appearance of the glass bulbs are very iconic, so you might be drawn to the traditional look of glass bulbs. However, acrylic bulbs come with a particular advantage when you choose to get colored lights. The color on glass lights in simply painted onto the glass and the paint is going to chip over time. The color of acrylic lights is infused into the material, so your colors will remain bright and vivid for a very long time. If you want the modern, bright, and colorful look, then you should stick with acrylic bulbs. Some bulbs are also made out of plastic. These might be cheap, but they will very rarely give you the elegant aesthetic that you probably want your string lights to provide.
Length
If the string lights are not long enough, then they will look very awkward covering only part of the area that you wanted them to cover. As a result, you might have to buy a second set of the same type of string lights in order to fix the problem, which might be a waste of your money if you had the choice to just order one set of slightly longer string lights. Additionally, depending on how well you decorate or on how well you hide the fact that one set of string lights was not enough, it can actually look a little bit awkward to use two sets of string lights. Therefore, you need to make sure that you take measurements and buy string lights that are several feet longer than the measurements you took. After all, string lights that are too long are definitely better than string lights that are too short. Additionally, you probably will not pull the string completely taut because most people want them to hang or drape loosely in natural looking arcs. If you are not pulling your lights taut, then you definitely need an extra two to six feet of wire in order make sure they fit.
Wire
As you probably know, the string that the lights are attached to is not actually a string. It is usually the wire that conducts the electricity to make the lights work. The best wires will have to be insulated well in order to support a lot of usage and wattage. They will also protect your lights from damage, especially if you are hanging them outside. However, these well-insulated wires may be more expensive. Therefore, if you know that you will only be getting minimal use out of your lights in an area where your lights will not be particularly exposed to the elements, then you do not need to invest in the best quality wires. Instead, wires designed for moderate to normal light usage should do the trick for you. For example, if you just want fairy lights to hang in a bedroom, then you do not need the thickest and most durable wire. The color of the wire may also make a difference. You do not want a wire color that ruins the aesthetic of the lights. If the lights are turned on, the color will likely be difficult to notice, but the lights are not always on. Additionally, if the lights are turned on when there is another strong light source available, the color of the wire still might be noticeable. Black or white wiring is always pretty safe. Dark green is also pretty popular. Many fairy lights come with a gold or copper wire, so make sure you are okay with that type of coloring.
Adjustability
Adjustability
You may be interested in string lights where you can change the color or the brightness, depending on the occasion. Plenty of the best string lights will not have this feature, but it is a clear advantage if they do. If you think you want your string lights to serve multiple purposes and multiple times of day, then adjustability might be a priority for you.
Safety Hazards
Safety & Safety Hazards
All the best string lights are relatively safe. They should not short circuit on you and start a serious fire. However, some can burn you. If you are worried about burns, then you can choose an LED option. LED lights will be cool to the touch, even when they are turned on. Therefore, you can hang them pretty low down, and you will never have to worry about someone brushing up against the lights and being burned as a result. Another safety feature that should keep in mind is durability. If glass bulbs are breaking on you, then you do not want glass shards cutting your skin. Therefore, if you like glass, make sure to choose a reliable type of glass.
Top 10 Picks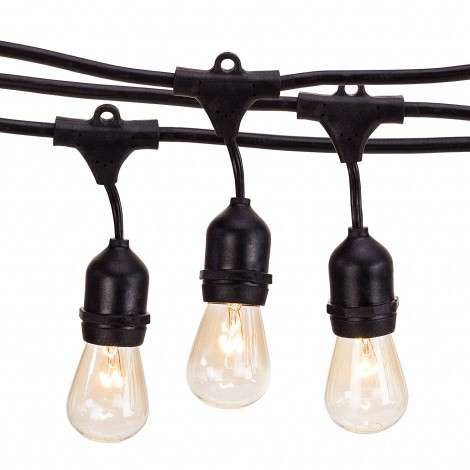 These string lights are primarily designed for outdoor use. The bulbs are G40 globe lights, and there are 25 of them on a 25-foot string that is each one foot apart.
End To End Connections
If you have to cover a large region with lights, then the ends of the cords are connectable. You can connect a maximum of three strands of these string lights together.
Globe Lights
The bulbs have the large round shape of a globe. They are also clear, which means you can see the filament inside, giving these string lights a nice vintage quality.
Cost and Value
This option is one of the most affordable on our list. It is reasonably priced for 25 feet of beautiful globe lights.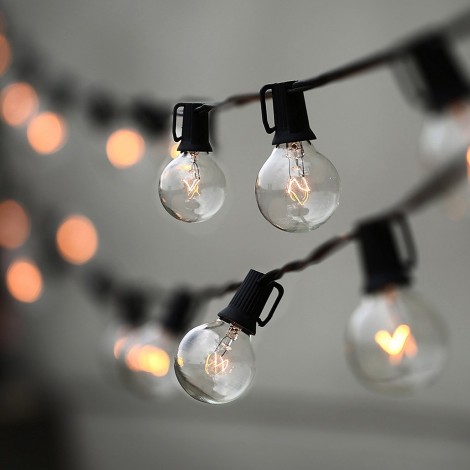 Lampat String Lights have 25 feet of string and 25 clear G40 globe lights that are each one foot apart. They are designed both for indoor and for outdoor use.
Globe Lights
The traditional globe shaped bulbs of these strings lights are nice and round. They are also G40, which means they are relatively big. Since they are clear, you can see the filament inside.
End To End Connection
If you need to cover a lot of area, these string lights come with open connections on the end, so they are designed so that you can connect other string lights on each end.
Cost and Value
You can get these string lights for a reasonable price for 25 feet of string lights with light bulbs only one foot apart from each other.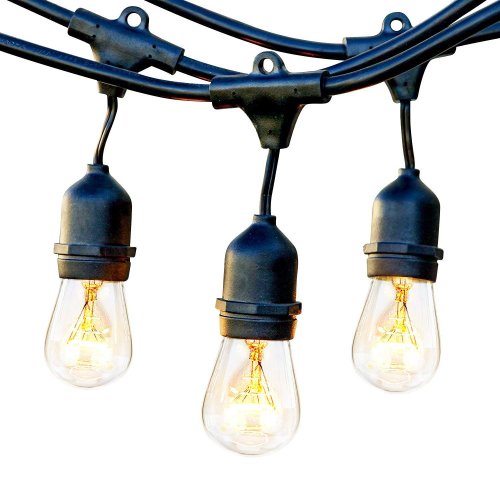 The Brightech Ambience is outdoor string lights with Edison bulbs. The string is 48 feet long, and each bulb is spaced three feet apart, meaning there are fifteen bulbs on the string.
Edison Bulbs
Edison bulbs are similar to the traditional round globe-shaped lights, but they are slightly more elongated. The vintage quality of these bulbs is definitely a nice touch to your outdoor hanging space.
Dimmer
These string lights come with a dimmer, so you can control exactly how bright you want them to be. With this dimmer, you can set the perfect mood in your outdoor space.
Cost and Value
For 48 feet of string, you will pay a reasonable price, especially for a long and strong set of outdoor string lights. If you do not want the full 48 feet, you can pay less for 24 feet, still offering a great value for consumers.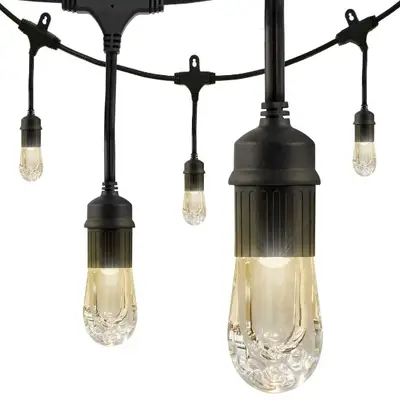 Featuring 48 feet of classic LED café inspired with 24 impact resistant light bulbs these string lights were created to last a lifetime while providing bright, ambient lighting anywhere in your home even outdoors. Enbrighten made sure they provided a classic feel to their string lights while having the durability and versatility of traditional light fixtures. Furthermore, these string lights are waterproof, perfect for all-year-round fun.
Shatterproof
Whether you want to incorporate new string lights on the inside of your home to create whimsical touch or you want to display them as part of your porch, you will want to have something sturdy and shatterproof. Constructed out of impact resistant acrylic Edison-style bulb these string lights will not break, shatter, come apart even if you were to accidentally drop them or even stepped on. They will even stay on a heavy gust of wind will come through.
Easy Install
Nobody wants to fuss with tangled wires, breaking light bulbs and/or a difficult to install directions. These make installation easy, quick, and effective. Once you have them installed you are good to go until you decide to place them somewhere else. Furthermore, the power cord plugs are standard; therefore, they fit all if not most outlets.
Cost and Value
These string lights are one of the pricier ones on our guide. However, we believe they are also one of the very best. They are shatterproof, comes with a lifetime warranty, can be used indoors and outdoors and they are easy to install, what more do you need? The truth is finding string lights that bring everything you need with them has never been easier.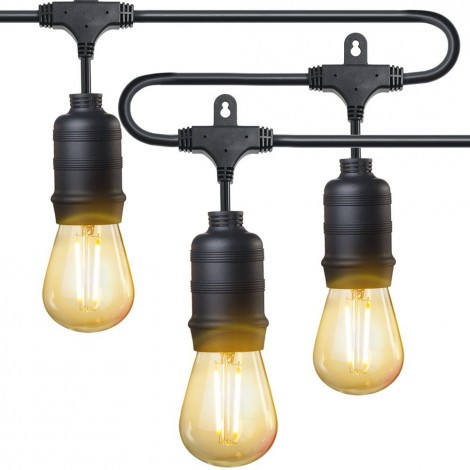 These LED string lights are on 33 feet of copper wiring and are primarily designed for outdoor use. Each light is relatively close together, so it can get pretty bright.
LED
There are many advantages to LED lights. They last a very long time, and they are not going to get hot to the touch, so you can leave these lights for hours without any safety or energy concerns.
Copper Wire
The copper wiring attached to these lights is going to be thin and flexible, which means that it makes for easy storage. It also makes it easy to bend in a decorative fashion.
Cost and Value
For one low price, you can get the full 33 feet, which is definitely a bargain, especially for long-lasting LED lights.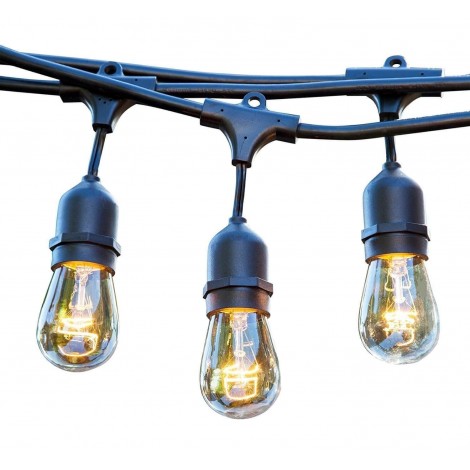 These string lights are designed primarily for outdoor use. The string is 48 feet long, and it contains fifteen clear Edison bulbs that are three feet apart from each other.
Dimmer Compatible
These lights are compatible with a dimmer, which is going to allow you to control the mood of your outdoor area. It can definitely get very bright if you want it to, but it is easy to remove that brightness.
Edison Bulbs
The long elongated Edison bulbs on these strings lights are commercial grade quality. They look great, and they are going to provide you with the perfect amount of light for a long time.
Cost and Value
This price might be somewhat high, but it does come ready made and, if you buy it in sets of three or six, then the price you are paying for each packet will go down.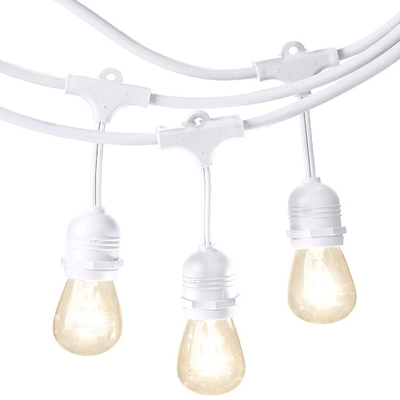 Amazon Basics took creating beautiful string lights to the next level with these. Featuring 48 feet of patio string lights, with 15 clear G60 globe bulbs. Each bulb is separated by about 3 feet apart, and the G60 globe bulbs offer a warmer glow for a cozy feel.
End-to-end connectable design
When you purchase string lights the very first thing you want to take notice is of how the lights connect. You want to have an end-to-end connectable design. Doing so will make finding the perfect spot to have your lights a whole lot easier. Additionally, you have the option of connecting your lights in an area that your power source is a bit further away.
Replaceable bulbs
How many times have we all placed string lights around the home, only to notice that a few bulbs have stopped working? This brand has thought of it all, offering customers 1 replacement bulb with every purchase. Furthermore, the brand presents a one-year limited warranty, just in case something were to go wrong.
Cost and Value
These string lights are a bit on the expensive side; however, when you take into consideration that you are getting 48 feet of string lights perfectly spaced by 3 feet, you will notice that you are getting a bargain. Plus, let's not forget these lights are quite chic and appealing.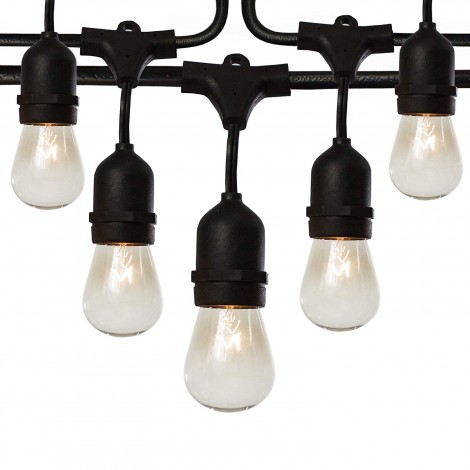 These outdoor string lights come on a string that is a full 48 feet long, and it includes 24 lights on the string, which are each only two feet apart.
Edison Bulbs
The elongated S14 Edison bulbs are made from commercial grade material, which means that they are going to last for a very long time and can withstand various weather conditions.
13 Foot Extension Cord
This long extension cord will allow you to hand you string lights up pretty high. Additionally, it matches the wire perfectly, which is definitely convenient for avoiding awkwardly colored cords.
Cost and Value
These are some of the pricier lights on our top ten list. It might seem expensive, but it is reasonable for a long string with more lights than usual.

9

. Outdoor Lighting Store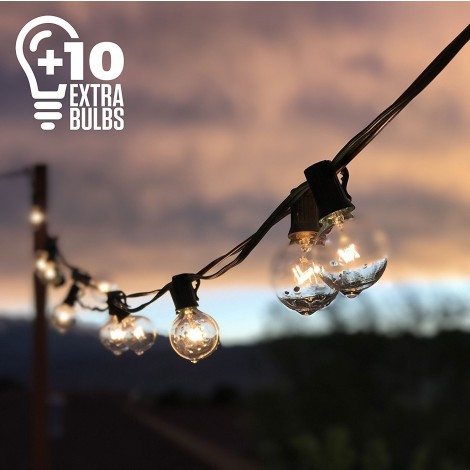 This string is going to be a full 50 feet long, and each of the bulbs is going to one foot apart. The light bulbs have the G40 round globe shape, and it comes with ten extra bulbs.
Connectable
One end of these string lights can be plugged into a second cord. Therefore, if feet 50 was not enough for the large area that you need to cover, you can get up 100 feet.
Zip Ties
To help you with installation, the Outdoor Light Storing Black String Lights come with 100 black zip ties. The zip ties will help you hang up these lights however you want to.
Cost and Value
These are definitely not the cheapest option, but they do cover much more space than many of the other products, so if you're looking to light up a larger space, this might be the product for you.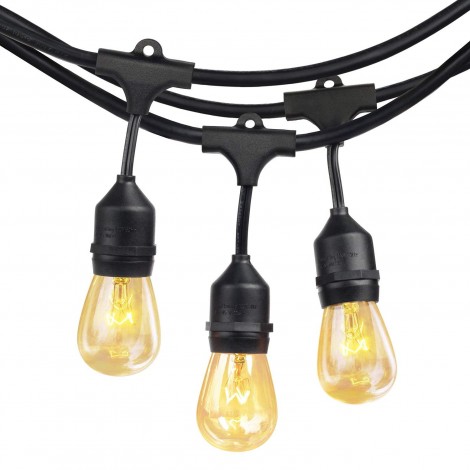 The Shine Hai String Lights come with 24 Edison bulbs attached to 48 feet of string, so they are each two feet apart. It is primarily designed for outdoor use.
Dimmer Compatible
If you ever decide that you want to adjust the brightness, these string lights have a dimmable capacity, which allows you to control the mood and atmosphere of your outdoor space.
Edison Bulbs
These S14 Edison bulbs are glass, so you can see the metal filament inside. They emit a warm white light, which is a great color for parties and other outdoor occasions.
Cost and Value
While it is not the cheapest option available, you will definitely be able to get a lot of use out of it because it is made from commercial-grade durable material.

Subscribe to our Newsletter