Best Salt Lamps Reviewed & Rated for Quality
In a Hurry? Editors choice: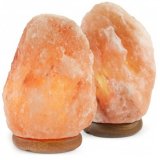 Test Winner: Crystal Allies Set

We think salt lamps are cool looking. We think the warm glow of a bulb inside pink salt from solidified sea salt is
calming and comforting
. We think that in some cases they can (like the Big Lebowski's carpet) really set off a room. So if you agree and think that a salt lamp would look good in your house then you should go out and buy one. But there are a lot of folks out there who think that salt lamps provide a myriad of health benefits, from
helping you sleep
to fixing allergies, to improving your mood. To that, we say: Wouldn't it be nice? Well, unfortunately, there's not a scintilla of evidence to suggest any of these health benefits actually flow from having a salt lamp in your home. Sorry. So if you like one get one, but don't expect too much.
Standout Picks
Criteria Used for Evaluation
Product Purity
The quality of manufacturing is very important when buying a specialty item like this. These lamps travel halfway across the world to help bring you peace and calm. The last thing they should cause is stress due to faulty manufacturing!
We judged both the salt quality and the base quality to make sure they were up to the highest standards. Electrical wiring, dimmer switches, and packaging were also discussed, as all of them have an impact on the quality of your lamp.
Looking at reviews as well as manufacturing specifications gave us the ability to compare these products thoroughly and mention any downsides the builds might have. Every aspect of your salt lamp is important, especially if you're using it for health purposes rather than aesthetic.
All of these lamps are a very high standard of manufacturing; nearly all of them are certified salt from Pakistan, hand-carved with care and packaged just for you.
Versatility
Due to the innately unique nature of these products, judging by variety is easier said than done. Not only do you have to take into consideration the fact that no two are going to be the same, but the color, shape, and mineral deposits can differ greatly from lamp to lamp.
We believe that consistency is key. We looked for brands that didn't have reports of drastic differences in their products. While some variation is expected due to the nature of the product, these brands showed the most consistency in their products.
We also aimed to include a variety on this list, so everyone can find one that suits their lifestyle.
Style
You take a risk when introducing natural decorations into your home. Sleek and contemporary homes often result in salt lamps (and other nature-based decors, like flowers and raw wood) looking out of place. The elegance is just as important as the quality of them. Those who are looking for elegant options should be able to find them.
Due to the repetitive nature of salt lamps (spoiler alert: they all look like salt) having some flare is also key. Those who have a more eclectic style might not be worried about their lamp fitting into the room's style. However, they need to be able to fit into your life! Yours should improve your living situation, not act as an eyesore. Having one with some style and flare is the secret to integrating it into any home.
Embrace the salt lamp by finding one that fits your personal lifestyle. We judged the lamps based on both elegance as well as versatility, and have found everything from sleek and stylish to rustic and raw.
Flare and elegance when shopping for salt lamps will elevate them from hippy fare to chic and flare; perfect for your day to day life.
Value
You want the benefits of a salt lamp, but you don't want to fly to the Himalayas. We get it. If you're someone who believes in the health benefits and overall quality of life improvements, you want to rest assured that you're getting what you pay for.
Paying too much or too little are tragedies in each of their own ways. Pay too much and you're feeding a hungry company that likely has an unjust markup on their product. Pay too little and you run the risk of having an inferior product. The quality of salt is ultimately what matters when shopping, which means there can be a disparity of prices.
Only you can decide what you're willing to pay for. You can absolutely find products that cost quite a large amount of money; you can also find options that are cheaply priced and don't actually work. These are the most popular, most average-priced ones. While some of them are on the more expensive side, we believe that the price is worth it.
Top 10 Salt Lamps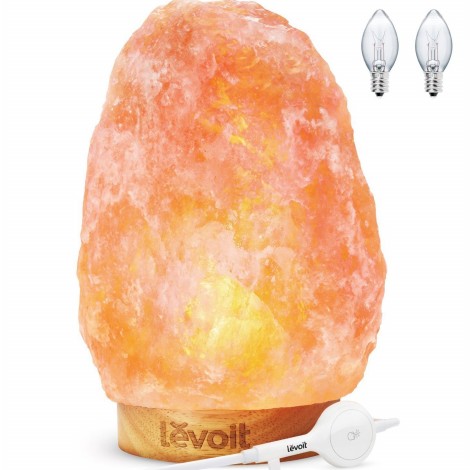 This Salt Lamp has made the top of our list. With 83% of the reviews giving it a 5-star rating, you know that this rock is the best one you'll ever own. Yes, even better than your engagement ring! LEVOIT is a well-known and well-respected brand, which is only ever going to bring you the highest quality salt. This lamp is hand-crafted from Himalayan Rock Salt in Pakistan, making it your new favorite bedroom accessory. Everyone needs some softness in their lives, which is exactly what you'll get from this lamp.
The Look
Whether you believe in the health benefits or not this type of product is always a great addition to the home. They emit a soft light, making it easier for you to calm down after a long day's work. The pink hue is visually flattering as well. Even surprise bedroom visitors will see you at your best when this is turned on. During the day this looks more like a large crystal than a hunk of salt; this means that you're not only getting a lamp, you're getting a conversation piece.
Dimmer Switch Capacity
There's nothing more annoying than having only two choices for lights. Off and on switches have a glaring flaw; namely, you can't temper the lighting state to your mood or needs. It's either all at once or nothing at all. The power is put into your hands with this lamp, as it comes with a dimmer switch. Now you can choose exactly the right lighting state for your mood.
Cost and Value
Salt Lamps are often priced according to weight. The more salt you want, the more expensive it'll be. With such a high-quality salt being used in this lamp you'd assume that it would cost you at least as much as a plane ticket to the Himalayas, right? Wrong. A 5 to 7 lb version of this Salt Lamp is going to cost you approximately $20. You can't get a better deal for this kind of hand-crafted, artisan salt.

2

. Crystal Decor Himalayan Salt Lamp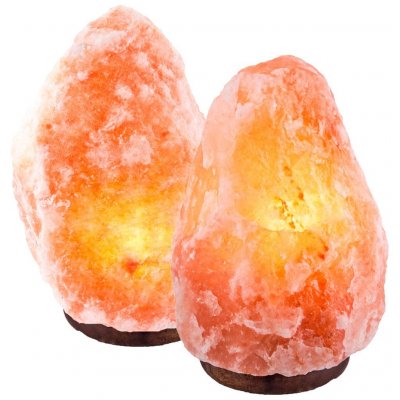 Elegant and graceful with a warm central glow that moves towards sun-like yellow, these lamps by Crystal Décor stun with their simple beauty. They come with lamps included and each lamp is hand-carved to give it a unique look, The base is sturdy and the lamps themselves don't take up too much room so you won't have to worry about them taking up all the space on your nightstand or desk.
Hand Carved
This is a bigger deal than it sounds because all too often these lamps tend to lack any kind of distinctive touch. But these are hand carved which ensures that each one looks distinct and unique in addition to providing that soft calming, pink glow.
Lamps Included
This doesn't seem like such a big deal either except that these days, lamps, especially if you're shopping for LED's can be an expensive prospect. But these lamps come with lamps included and that can save you some time and some money as we know all you want to do is get them set up and lighting up your favorite space.
Cost and Value
These lamps are priced about how you'd expect when you look at the competition but considering that they come with lamps and a satisfaction guarantee make them a nice little value as far as we're concerned.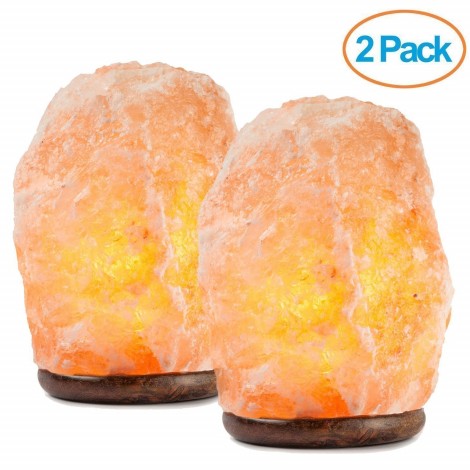 This beautiful lamp will be sure to give you sweet dreams no matter which side of the bed you're on! HemingWeigh has made all our symmetry dreams come true by selling this 2-pack salt lamp pair. Now you can cover your whole room in that gorgeous, salty glow.
Light and Movable
A warning we keep seeing on some of the other reviews is that they can be quite heavy. For those of us who aren't blessed with upper body strength, we need a salt lamp that guarantees we'll be able to lift it. The 6 to 7 lb weight makes these lamps easily accessible, and able to be carried by any surface.
Customer Service
One reviewer said that they had ordered these lamps and received one that didn't have a working switch. While we like to think all companies have a penchant for strong customer service, that's not necessarily true. HemingWeigh didn't hesitate to replace the switch that didn't work, without bothering the customer about the warranty or paying replacement fees.
Cost and Value
At $20 for two lamps, you can't find a better deal. These lamps will retain the perfect symmetry in your bedroom or living room, without requiring you to spend a huge amount of money. They brighten up any space, and the wooden base elevates it from kitsch to classy. You're definitely getting more than you're paying for with this set.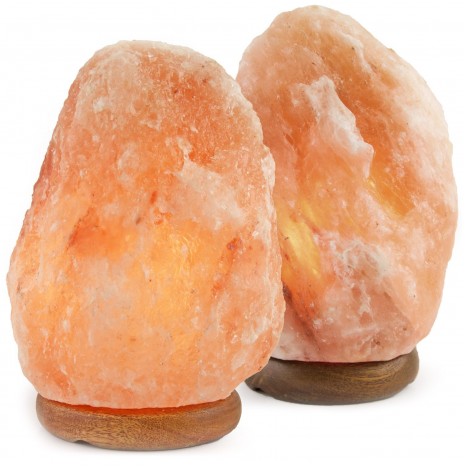 The brand's name is accurate for this product. Your ally in the battle against stress has been found in the form of these Natural Himalayan Salt Lamps. Beautifully carved, these Salt Lamps feature nooks and crannies that are typically buffed out. By retaining the natural grooves in the salt lamp, you're getting a visually interesting piece as well as anecdotally reported health benefits. This is an all-natural approach to relaxation, and you're getting double the benefits with this 2 pack.
Uniquely Textured
No one wants a run-of-the-mill salt lamp. When you're purchasing a salt lamp, you're looking for a product that will act as an accent to your decor. It's more of an art piece than a lamp, which is exactly what you'll get with the Crystal Allies brand.
All Natural Product
Having a Salt Lamp that's going to benefit you is important to many shoppers. While some are in it solely for the salt-glow, others truly believe in the health benefits. Regardless of which side of the camp you fall on, you should be getting a product that's all-natural and healthy for your home. These Salt Lamps are naturally sourced, from the top the salt all the way down to the wooden base.
Cost and Value
This one is on par in terms of value with our other listed 2-pack. However, there have been some reviews that mention the quality of shipping results in a less-than-ideal Salt Lamp condition. These reviews are few and far between, though. The quality of these lamps are beautiful, natural, and are a great price for what you get.

5

. The Body Source Himalayan Salt Lamp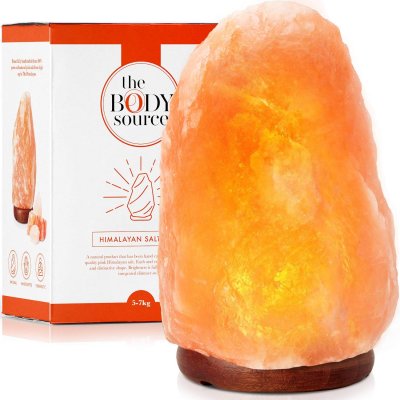 We really like this salt lamp for a few reasons, we like the well-built wooden base. We like unique color and distinctive hand-carved shapes, and we like that it's carved from Himalayan salt from Pakistan. But we really like the fact that this comes with a dimmer switch that allows you to change the brightness of the lamp from a sun-like shine to an ember glow that will allow just enough light to let you drift off to sleep easily.
Adjustable Brightness
The Rheostat selection lets you adjust the brightness of your salt lamp, which isn't something we see in these products generally. The great thing about this is that it will allow this bright lamp to easily become a night light to provide a soothing glow in your room as night falls.
Distinctive Shape
These salt lamps are mined from old salt seas at the feet of the Himalayan mountains in Pakistan. The rocks themselves are hand carves which means that no two of them are alike which gives them a distinctive air of authenticity. We like the attention to detail that comes with these lamps.
Cost and Value
These are a bit higher priced than some of the others on our list., We suspect that has more to do with the Body Source brand than any inherent value in the lamp. But the good thing about a brand name is you know who you're dealing with if you run into any problems, so spending a bit more might be worth it.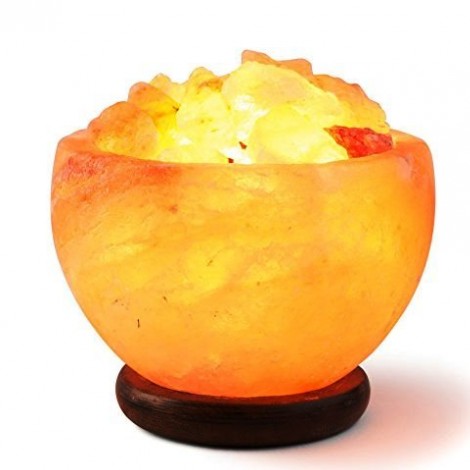 We've talked a lot about the traditional salt lamp styles. Nearly every lamp we've looked at has been incredibly traditional: wooden base, a chunk of salt, soft pink glow. It's time to shake things up. Add a little spice to your life with this bowl-shaped Salt Lamp. Not only do you get all the benefits of a traditional Salt Lamp, but you have a style that easily fits into a more modern lifestyle. The sleek and stylish bowl is a welcome addition to even the most contemporary-styled room while adding the touch of warmth every home needs.
Smooth Bowl Shape
This is an upscale design for those who are more fashion conscious. While the old version of Salt Lamps will never go out of style, this one is elevating it into the 21st century. Say goodbye to clunky side table lamps and unimpressive table centerpieces. We love this sleek, rounded shape. It instantly elevates the Salt Lamp from hippy-pad-fashion to natural-goddess.
Bulb Cage
One of the most common complaints we've seen about Salt Lamps is the fact that the bulbs get broken during the shipping process. That won't be the case with this lamp, as the bulb comes in a protective cage. No matter what happens to this lamp the bulb is going to be totally fine; that protection is a unique quality that really gives you some peace of mind.
Cost and Value
This one is either a great value for its cost or not as good as the others we've looked at. If you care about style, you absolutely need to get this Salt Lamp. The bowl fashion is automatically sleeker and more stylish than the chunks you normally find. Unfortunately, you don't get as much salt for the price you're paying. There's only one size option as well, though the seventeen dollars isn't an outrageous price for its size.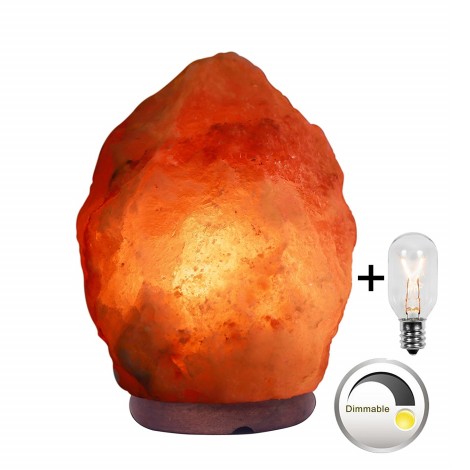 We've seen the sleek, we've seen the symmetrical, now take a look at the sultry. Salt Lamps can add a sensual, rich glow no matter where they are, but this lamp takes the cake. The dark red color means you're going to get a rich, robust light being shone from this Salt Lamp. Even the wooden base is darker than some of its counterparts, making this whole lamp feel like a luxury.
No Visible Branding
It's hard to escape branding in this day and age. Almost everything around us has a brand on it. This means the influence of branding is present in our day-to-day lives whether we know it consciously or not. This Salt Lamp has gotten rid of the visible branding on their base, making it a natural fit for any advertisement-free home. Unlike some of the other brands, Voltas hasn't imprinted their name on the base. This means you don't need to worry about angling it to hide the brand or worrying about it looking manufactured.
Power Cord
There's nothing worse than buying a lamp that has too short or too long a cord. Voltas has managed to avoid this problem by creating the perfect mid-sized cord. 6 feet offers enough of a range to get you from the bedside table to the wall plug, or from the living room bookshelf to behind the couch. You won't have a whole spool of extra cord either, which is great for homes that have someone who's mobility challenged (or just prone to tripping).
Cost and Value
Reviews love this lamp, and for good reason. While it's on the smaller side, it packs a punch in any room it's in. The high-quality cord and dimmer make it so you know you're getting your money's worth, even if the salt itself is on the smaller side. While we think there are two sizes, the listing isn't clear. We can only assume that both the prices are fair and that this lamp is on par with other Salt Lamp prices.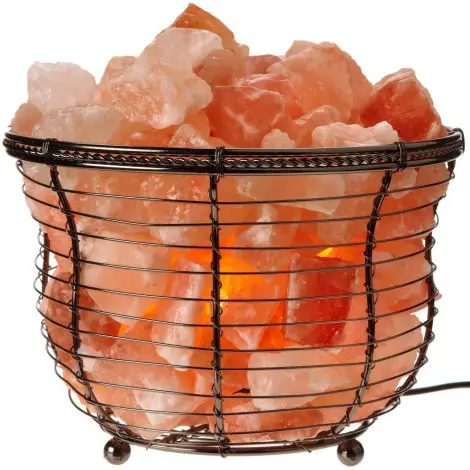 If you'd rather have a rustic rock lamp, look no further than this wire-basket dream. Not only do you get a great amount of salt for the price, but the style is unique to anything else we've seen. Many salt lamps opt for a wooden base as it's the traditional style. This Salt Lamp flips tradition on its head and goes for a metal base instead. The wire is delicate, making this a beautiful centerpiece for any family meal. It adds a homey glow, and would also look excellent tucked into a fireplace.
Hands-On
If you're someone who likes to get down and dirty with your home decor (but don't want to go harvest your own salt) this is the perfect lamp for you. Several reviews state that you get to be the artist who arranges your own salt when you order this lamp. The chunks are manageable, and the wire basket allows for a fun peek-a-boo look when stacking your salt.
Softer Glow
Not everyone wants a heavy, bright glow to come from their salt lamp. While some people love the way that the lamps can light up a dark bedroom, others don't want the light to make much of an impact. We wanted to add a softer option to the list for those that don't want a bright light. While many lamps come with dimmers (including this one) sometimes it's just easier to have a lower-light default.
Cost and Value
With a variety of sellers, this brand of Salt Lamp is averagely priced for what it is. The basket might increase the cost, but it's hardly a concern when you get the privilege of crafting your salt lamp yourself. We think it's on average a fairly priced product, and most reviewers were happy with the value.



Even kids love salt lamps, which is why included this option. Sometimes you just need a little bit of light to guide your way in the dark. Even if you're not a child anymore, you're sure to love this little plug-in lamp. This small salt lamp will give you the same sort of glow that other lamps give, without having to worry about a huge chunk of salt taking up your precious bedside table space. The handcrafted salt portion means you're going to have a more even glow that some of the irregular salt lamps that are out there, without compromising any of the benefits.
Adjustable Prongs
Many night lights these days still don't have adjustable prongs. In a world where there's a mix of wall sockets, floor sockets, built-in table sockets, as well as power bars, you need to be able to adapt depending on where you are. This Salt Lamp boasts a rotatable set of prongs, which means it can plug into any and all sockets your North American house has.
It's Still Salt!
Some people are skeptical of this because it doesn't look like other salt lamps. Most salt lamps are harvested, set, and shipped. This means that they typically have a rough and craggy look to them, full of nooks and crannies. This salt lamp is smooth and cylindrical, which makes some people suspicious. Rest assured: this is absolutely natural salt. The crystals come from the Himalayan mountains and glow in exactly the same way that full-on lamp would.
Cost and Value
Legitimate salt lamps can be expensive, and often there's a vast disparity of prices for the same amount of salt. While you certainly pay for quality, not all the cheap ones are bad. This little night light is an illuminating take on a salt lamp. The product is all-natural and guaranteed to be salty, without putting a dent in your bank account. This is a great starter salt lamp, as it'll let you get a feel for the glow and style of a salt lamp.

10

. Levoit Ezra Himalayan Salt Lamp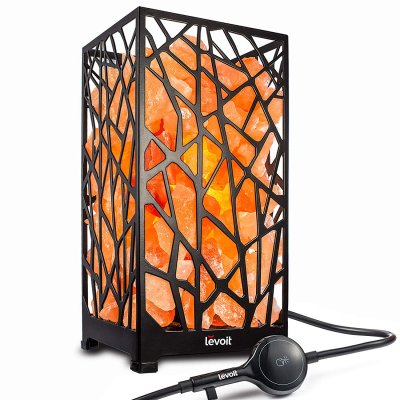 The Levoit name is a bit synonymous when it comes to salt lamps and we can't find any reason to argue when your lamp comes in an amazing and surprising design like the Ezra. These caged rocks glow like there's a fire burning inside. We're big fans of Levoit.
More Than Just A Lamp
This becomes more than just light it becomes a standout piece of art that can be something of a conversation piece.
Dimmer Switch
This Levoit lamp also comes with a dimmer switch and we're big fans of this particular little chatchki. It allows easy adjustment of your lamp's glow to match the mood or when it's time to go to bed.
Cost and Value
This baby comes in at about midrange but we just like Levoit so this one gets high marks for quality and for the nice name brand.

Subscribe to our Newsletter