Best Duck Decoys Reviewed and Tested
For an added bit of strategy, duck decoys are necessary for hunters. The market has become so popular that big names related to outdoor products and accessories have created their own series. A lot of the fascination with decoys are not just their effectiveness, but also overall durability. With less throwaway models entering the market, some companies have started to stand out more than others. There are many different kinds of decoys which can be used for hunting, and alternatively for personal design. When done right, they will signal to ducks that an area is safe to swim or feed.
Featured Recommendations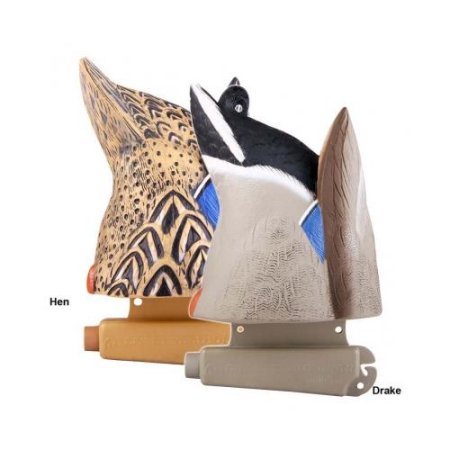 Greenhead Gear Pro-Grade Mallards

Our rating
Realistic Body Postures
Price:

See Here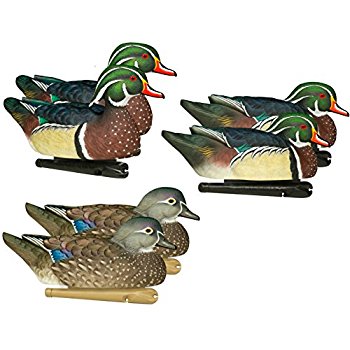 AvianX

Our rating
Non Chip Paint
Price:

See Here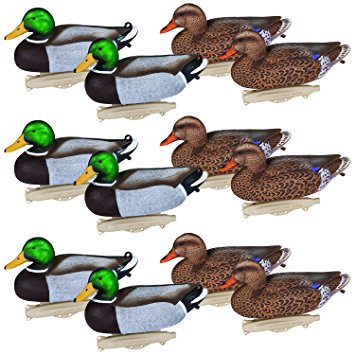 Flambeau

Our rating
UVision Paint Technology
Price:

See Here

Best Brands
AvianX and Greenhead are the big names in the industry, although some would argue that customer favorites like Cabela deserve a seat at the table. Nearly every outdoor brand makes duck decoys, so their exclusion from the top brands is not a slight on their quality- the market just so happens to be competitive. AvianX is a name that will be seen a lot thanks to their strict concentration on decoys, and nothing else. They have created Turkey, Goose and Duck decoys that can be seen worldwide, even in mainstream brick and mortar stores. With good social media presence, customers can see the company's products in action before the purchase.
Maintenance and Cleaning Tips
Decoys are as effective as their looks, so letting the looks fade will be money down the drain. Before each hunting season, your decoys should be cleaned so that they maintain a pristine look. Chipped paint, mud and breaks in the design will warn ducks that something isn't right. Some of the small repairs you can do to help prolong the life of your decoys will require only a small amount of time. Fixing leaks, repainting and even refreshing lines and weights are among the needed maintenance before each season. It's also a fun project to do with the family if someone among your group loves to craft.
10 Best Duck Decoys
Greenhead Gear Pro-Grade Mallards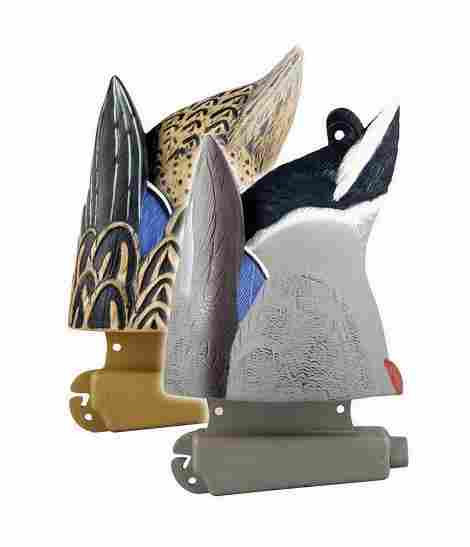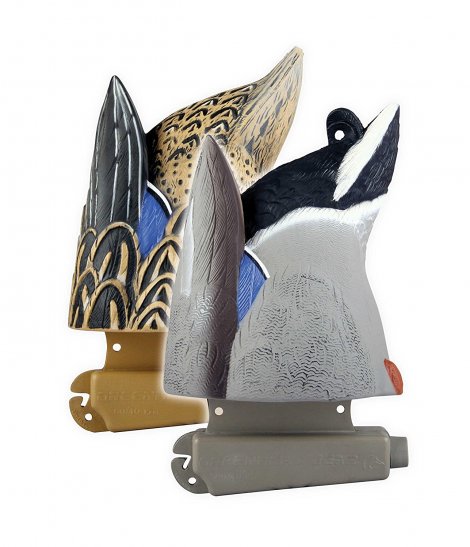 These butt-up feeders follows the same quality as the rest of the Greenhead lineup. Staying consistent was the goal, and they achieved it with great success.


Expand to see more
Works Well With The Rest Of The Lineup

If you own other products from the Greenhead line, then this pair will fit in perfectly. They used the same materials and paint so that you can group decoys together.

Features and Specifications

2x Butt-up (1 drake/1 hen)
Realistic body postures

Price/Value

Like others in the same lineup, this set is low priced. Buyers will find that it has a lot of value if they own other decoys from the same company.

Decision Time

Sometimes decoys don't play well together, so it's nice to have a bunch that were meant for large setups. Fans of Avery Outdoor products won't be disappointed with the outcome.
Good size for both
Top Greenhead quality
Little to no movement even with good wind
AvianX Top Flight Brown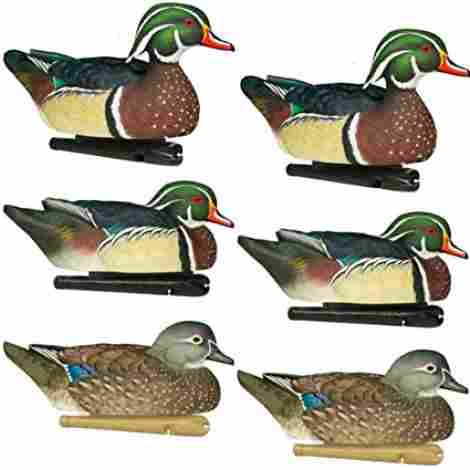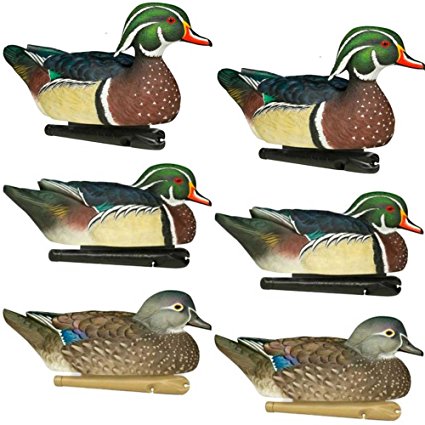 Near the top of the list is another AvianX model, this time from more of a traditional setup. A lot of time and effort was put into making this the go-to decoy setup and it shows with the variety in the pack.


Expand to see more
Classic Wood Construction

Using wood as the base for the materials works well with this decoy set, and it is all thinks to their forward thinking. It has all the floating benefits of wood decoys without any of the durability defects that affect the paint.

Features and Specifications

Non-chip paint
Front weighted keel

Price/Value

There is nothing to see here since this set is available at an average price. For their value customers will gravitate towards them based on the effectiveness of the wood material.

Decision Time

Even against stiff competition this decoy set took the #1 spot with ease. Wood is still the best material to use in the industry, but only when it's done right.

Lifelike pack of 6 wood ducks
Rubberized molding material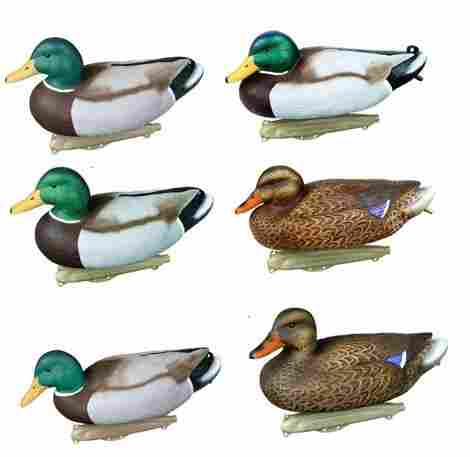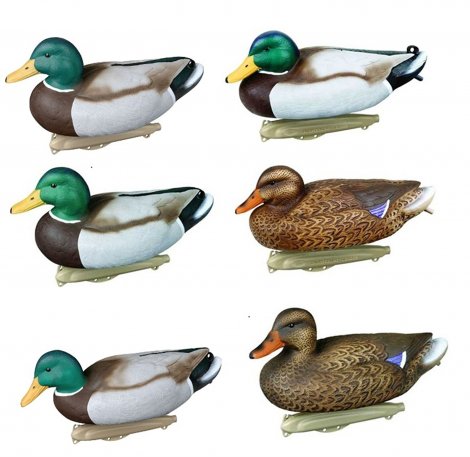 Described as beautiful by hordes of satisfied customers, the Flambeau Premium Mallard Duck Decoy is a must have for hunting. It is also one of the few decoys that customers purchase for non-hunting situations.
Expand to see more
Best looking On The List

It's not just about realism, and is more about the balance of authenticity and great design. They look great from all angles, fooling both animals and humans in the distance.

Features and Specifications

UVision paint Technology
6 in the pack

Price/Value

Surprisingly, this is around the low to average price if you factor in there is six in the pack. This is one of the better values available in the entire industry.

Decision Time

There is a lot more to this decoy set than good looks, so consider the price the icing on the cake. Buyers will get a lot for their money if they choose to go with Flambeau.
Weighted keel
16.5 inches long
AvianX Top Flight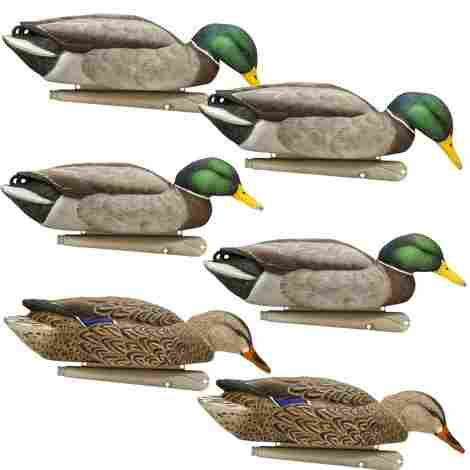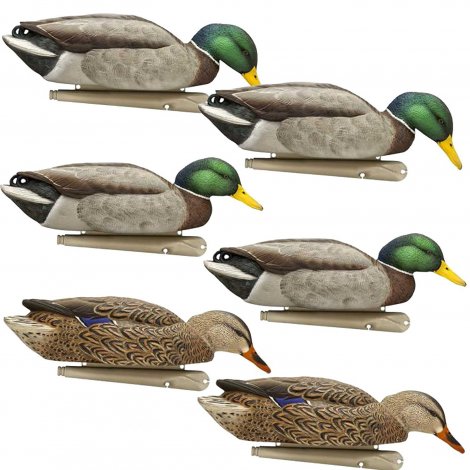 Breaking into the top three is this pack from AvianX, sporting a lot of modern features for a decoy. The quality level is a step up from the other choices on the list without being too expensive.
Expand to see more
Non-Chip Paint

A good design is worthless if it can't last a daily trip in the water where it comes into contact with a lot of materials. The paint on these decoys hold up well even in situations where they are used a often. Features and Specifications

Rubberized molding
Front weighted keel design

Price/Value

The price is average, giving you six total decoys in a pack to use for hunting. There is value in the ultra-realistic look that comes in a non-chip finish.

Decision Time

A lot of people swear by these specific decoys, with comparisons to the best in the industry. If design doesn't win you over, then the great customer service of AvianX should.
Realistic looking feeding mallards
Easily accessible swim clip
Inconsistent keel design across the 6 in the pack
Final Approach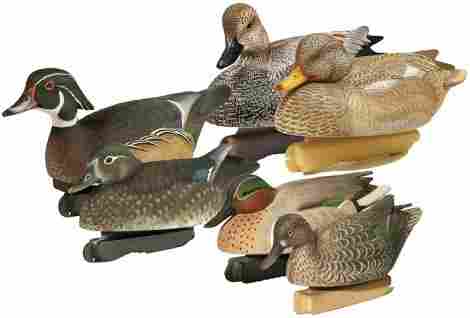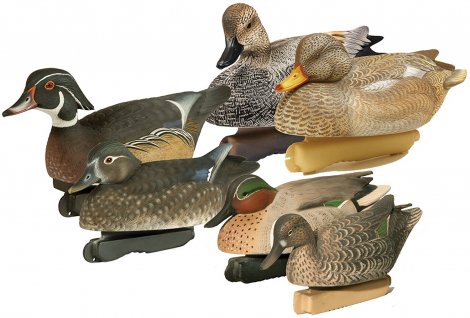 Final Approach is a brand that makes a lot of great decisions with their flagship products. This latest combo pack is another one of their big winners, and it almost cracked the top three.
Expand to see more
Good Custom Design

There is no point to using a decoy if it doesn't look like the prey it was made to imitate. Using visible paint schemes that's easy to see in all types of light, this design stands out as one of the best on the list.

Features and Specifications

Pack of 6
Weighted keel

Price/Value

Like most of the products on the list, this six pack of decoys is available at an average price. This shouldn't be a shocker to most users, and only enhances the value.

Decision Time

There is no doubt that this is a great purchase when you want realistic looking decoys. For a low price buyers get a top five decoy that has already been appreciated by customers worldwide.
Anatomically perfect bodies
2 Gadwalls, 2 Wood Ducks and 2 Teal
Hole for the decoy line is a little small
Dakota Decoy X-treme


This is the first big ticket item on the list when you look at the price. It's also one of the most full featured when you need to make use of a larger area.


Expand to see more
Twelve In A Pack

You can't get much better than having twelve decoys in a single pack to lure prey to an area. Perfectly simulating a large group of ducks, this set gives hunters a much better chance to get a shot off.

Features and Specifications

High quality polyethylene
Oversized

Price/Value

Even at a high price, this expensive set is still one of the better choices out of all the other decoys. They're lifelike, high quality and will last you years without needing a replacement.

Decision Time

Dakota is a recognizable name that makes a lot of decoy lists for their commitment to excellence. Their mallard decoys are still one of the best available and easily makes the top five on this list.
12 in a pack
6 different head styles
Greenhead Gear Green-Winged Teal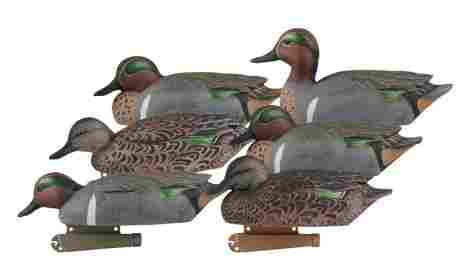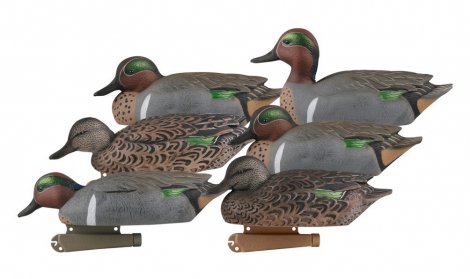 A lot of the duck decoys in the industry look similar to one another, with only a few key differences separating the best of the best. That is why this pack is considered a favorite of customers, since it goes above and beyond to be different.


Expand to see more
Unique

Both the body styles and head positions of these decoys are different than the normal set. If you have had problems getting ducks to recognize your other models, this may be the difference you need.

Features and Specifications

60/40 dura-keel
Green-Winged teal paint scheme

Price/Value

Hanging out around an average price, buyers will get a good deal with this purchase. Getting six decoys for such a low price is all the value you need.

Decision Time

Being different is a pro when all your other decoys are not performing to expectations. This pack was made for hunters that wanted to switch up the routine for a bargain price.
6 in a pack
Highly durable
A bit smaller than the usual decoys
Greenhead Gear Oversize Butt-Up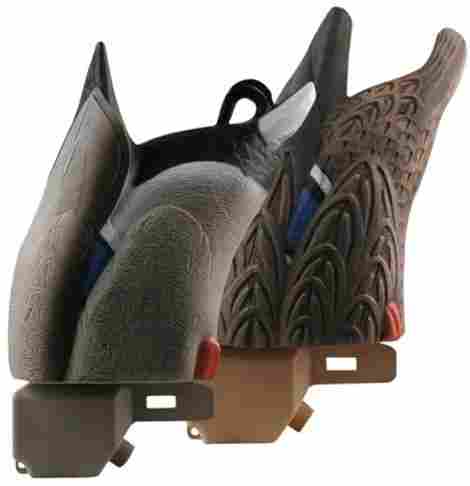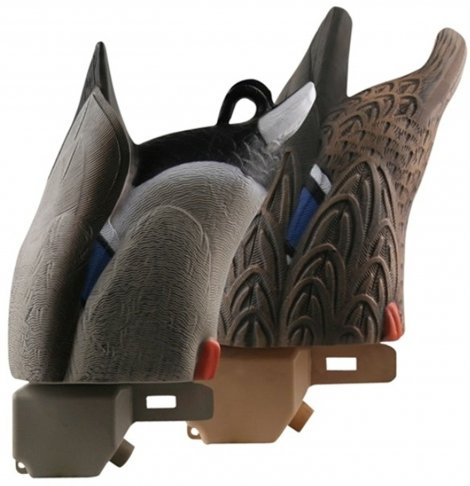 Avery Outdoors makes the list consecutively, this time with their over-size duck decoy. Made in the USA, this decoy pair is the go to for hunters that need quality in their materials.

Expand to see more

When You Need A Bigger Size

Sometimes the default size doesn't cut it with decoys, and they look like toys instead of actual ducks. That is remedied with bigger size of this decoy, which was made for larger bodies of water.

Features and Specifications

One butt-up drake and one butt-up hen
12x7 inches

Price/Value

Just like the other products in the Greenhead lineup, this is low priced. Their value comes from being one of the bigger decoys available on the market.

Decision Time

Bigger isn't always better, but in this case it really helps the product stand out. This is one of the better decoys on the market that uses its extra size to full advantage.
Weighted keels
Durable paint schemes
May be too big for some setups
Greenhead Gear Pro-Grade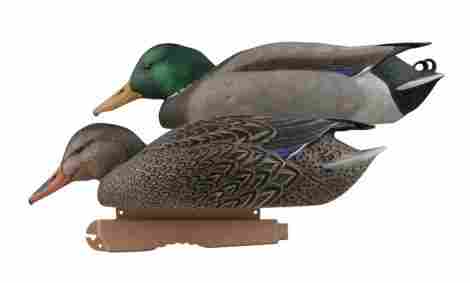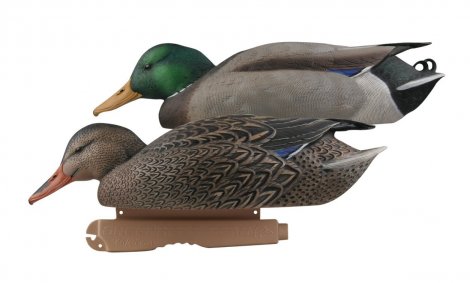 Avery Outdoors makes its first appearance on the list and doesn't disappoint with their surface pair. These two ducks will fool even the most intelligent bird if you set them up right.


Expand to see more
Good Balance

Using a 60/40 keel, the pair floats as naturally as possible when you set them on water. It is an appropriate balance for the size and width of these models.

Features and Specifications

One Drake and one Hen
Lifelike Dura-keel

Price/Value

The price is low, but buyers should be aware that they're only getting two decoys in the package. It's still a good value when you compare the price to competitors and their higher priced 6 decoy packages.

Decision Time

With the right amount of keel and a great water presence, these decoys are a perfect fit. They're priced just right for all of the features offered.
Incredible balance
Low price
Only two decoys comes with the purchase
AvianX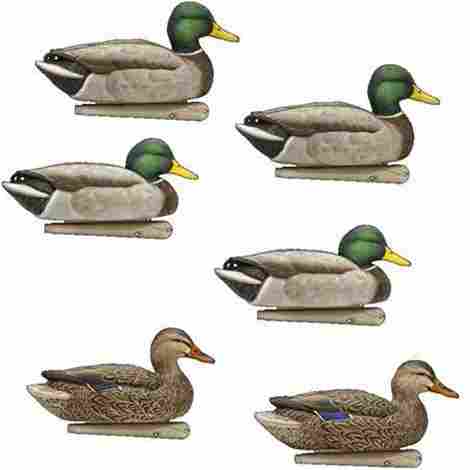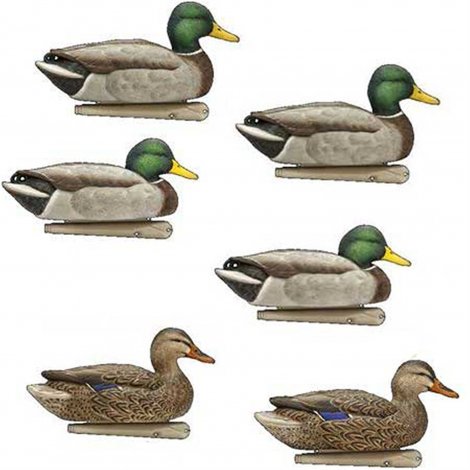 This hard to find duck decoy is great for hunters that are familiar with the AvianX brand. The quality is consistent with what the brand is known for best.

Expand to see more
Complete Open Water Design

A hard decoy to pull off is the open water design, where you'll find that ducks are a lot more perceptive- even at long distances. AvianX pulls this off beautifully without making the completed model look like a cheap knockoff.

Features and Specifications

Imitates mallards (6 pack)
Non-chip paint

Price/Value

These are available at an average price, so should be just perfect for any customer. The good quality makes them valuable for years of use.

Decision Time

You'll have a hard time distinguishing the quality between this decoy and one of the top three items. It's really that good and well worth the purchase.
Realistic enough to fool ducks
Rubberized molding helps with quality
Keel is a pain to attach clip to
Criteria For Evaluation
Duck decoys are simple in their usage, so the criteria for evaluation was broken down into four sections; price, design, keel and durability. These four criteria helped to rank the top ten in the fairest way possible, even if it left out a lot of the big brand decoys.
Price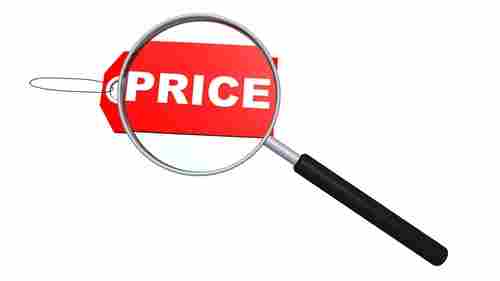 Price was first and was a criterion that wiped out a lot of promising choices on the list. Duck decoys don't get better with the price since they use similar materials and features. This led to a lot of overlap from the expensive choices when compared to the lower priced ones. Keeping only the most exceptional of the bunch, we got rid of most of the high priced decoys and was left with more manageable prices across the board.
Design
Design was a strength that drove AvianX to dominate the list due to their lifelike paint jobs. We noticed plenty of upside to the products that used high definition paint or a lifelike variant. Products were also given points for using anti-chip features with their paint and meeting expectations for matching the look of the duck they were portraying. Decoys that looked fake were left off the list, and decoys, where the paint faded quickly, were not even included- that's a waste of money. In the end, we still got a lot of variety of materials used, where even wood was considered high tier.
Keel and Durability
The last two criteria we put time into was keel and durability. Both water and weighted keels were treated equally since they offer the same function but in a different way. So keel as a criterion was more about how the company implemented it into the product and whether the decoy looked natural while floating. Decoys with a great paint job that looked unnatural while floating were removed from the list, showing just how exclusive we were with the top ten. We did take the time to check how easy it was to fill water keels and added points where necessary.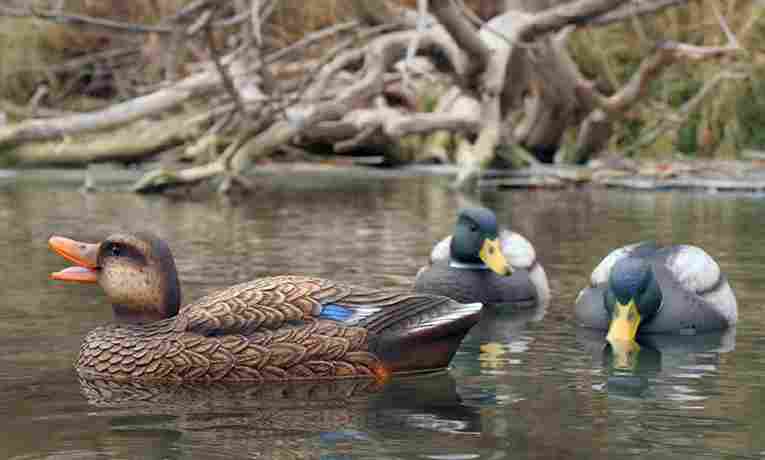 Durability covered all aspects of the materials, even any areas where clips needed to be attached. With good maintenance, decoys should last several seasons, even when they are heavily used. Based on customer reviews and materials used, we were able to get a much better idea of long-term durability. With this information, we cut down the list some more, and that is what led to a lot of brands being repeated on the list. The top ten was finalized and comprised of quality decoys that were built to last several seasons of use.
FAQs
Q: Why Aren't Bigger Brands Listed In A Lot Of Rankings?
A: Quality duck decoys is a crowded marketplace, meaning that a lot of great products are left off of most top ten lists. Some of these lists are personal, while others depend on factors such as the age of the current flagship series. All of the competition is healthy for customers but also a little bit jarring if this is their first time getting a decoy. One thing that a lot of lists have in common is the inclusion of appropriately priced decoys at a ratio fair to the consumer. There is no reason to get an expensive decoy set unless it offers something truly special, so you'll often see high priced sets left off of list even if they are top quality.
Q: How Long Do Decoys Last?
A: This is entirely up to the user and how well they maintain the decoys. For instance, a wood decoy can be the most deceptively realistic product on the market. It comes at a price of higher upkeep, something that even anti-chip paint can't fight. Remember that the majority of the purchases will use decoys in a water setting, exposing them to a lot of natural elements. Even if it isn't made of wood, normal upkeep will be necessary to keep the paint from chipping. That is the first thing to go, and the main thing that could render a decoy useless.
Q: Can You Mix And Match Sets From Different Brands?
A: Yes! There is a slight confusion with how this works since it goes by type. The effectiveness of mixing decoys from different brands will only work if you factor in the type of ducks you're trying to attract. So it may not be favorable to mix different types of ducks, but it is entirely okay to mix the same type of duck decoy from different brands. By following that advance, you can use decoys in any position as long as they're the same type of duck you're trying to attract. Success may vary, so it's always a good idea to test the waters a bit.
Q: Why Does Keel Matter?
A: A keel determines how the decoy will float through the water. For many, this is a defining feature, since even the best looking decoy can be made from a distance if it looks like a robot while floating. There are two types of keels that are sold the most; water and weighted. The former is refillable and has different variations that let you adjust the weight to a certain degree. The latter keel is more expensive, heavier and great if you are concerned about keeping them upright. Even with water designs over the years improving, a weighted keel can bump into things and look more natural while doing it. Both keels maintain a lifelike quality when swimming, so it comes down to personal preference.
Q: Are Decoys Guaranteed To Work?
A: No, there is no guarantee that using a duck decoy will get you the results desired. Hunting is a game of chance, even when everything is planned down to the last minute. You can have the perfect game plan and still come up short where it counts. Think of duck decoys as a tactical advantage in your favor, but not a straight flush. In a game of chance, guarantees can't be made but every piece in your favor will help you win. When you're having a tough time using decoys, swapping them out with another set to see if it makes a difference.
Q: Can Duck Decoys Be Used On A Dry Setting?
A: Yes, but for obvious reasons, you want to use models with weighted keels. This ensures the wind or a slight bump doesn't knock it off balance. Using duck decoys on dry land is a common tactic and is a good way to mix up hunting positions if you are near a busy body of water. The positioning of the decoy is still important, and it is less reliant on movement. Decoys with good paint jobs will be the most effective when using on dry land.
Q: What Are Other Uses For Decoys?
A: Other than hunting, customers use decoys to decorate their house and surrounding areas. Many even use them to attract ducks to a location for aesthetic purposes. When combined with a bird feeder and other decorations, it can make for an absolutely beautiful environment. Some ducks will even return to the same body of water the next season if they become familiar with the location, this time with a bigger family. Another use for decoys that is catching on is toys for pets, although this isn't common. But there are a lot of videos still being made showing pets playing with duck decoys and having a blast.
Q: Can Duck Decoys Be Used With Other Products?
A: Yes, and the one that comes to mind the most is the duck call. Many brands that sell decoys also have their own duck call products that pair well together. Whether digital or traditional, duck calls are an essential purchase to make when you buy a duck decoy. Use the call to get their attention to the area while the decoys will make them comfortable enough to land and stay for a while. It is the perfect combo when done right and will help your chances of landing a couple of shots.
Q: Is there any special tech that I should look for in a duck decoy?
A: Believe it or not yes there is. Flambeau has just begun incorporating UV paint into their decoys. Here's why: It turns out that ducks can see in a spectrum that humans can't. They can see into the ultraviolet range thanks to an extra set of cones in their eyes. The second cool fact is that duck plumage actually fluoresces under ultraviolet light. It's something we don't pick up on but another duck is going to see clear as day. So the new generation of Flambeau decoys is incorporating flyorescent paint into their decoys. It makes the decoys that much more life like and therefore more appealing to other ducks in the area. We thought that was pretty cool. There are also decoys that come with batteries that will shoot water into the air, or their legs will kick. It's all part of mimicking the movements of a real duck so don't be afraid to try some new things out. Technology is infiltrating everything we do, and we're actually kind of excited to see what else is coming in the world of decoys.
Conversely, if we know that ducks can see in ultraviolet that also means that if you're wearing anything that blazes in UV, like say, anything white, reconsider. Also consider foregoing strong detergents when you're washing your camo. or maybe wash with detergent then rinse them again with water. This will keep you from blazing like a light bulb in a ducks unique vision.
Q: How should I deploy my decoys?
A: Well no matter what we tell you there will be a lot of trial and error involved until you get to the point where you find a deployment that works well for you. But there are a few general pointers that we can send your way. First: as much as possible you want to try and have the wind at your back. Depending on the size of the lake where you're doing your hunting this may or may not be possible and it's not a deal breaker but something to keep in mind, if you have the option, put the wind at your back. Another thing to think about, make sure you place your decoys in an area that gives the ducks room to land and to roam. You don't want to set up shop in a cove. Instead give your ducks room to land and move around. But the single most important thing to remember is that ducks will always land into the wind, hence having the wind at your back so the ducks will be landing towards you and your blind.
How To Make The Best Decision
With duck decoys, looks are the highest priority when making a purchase. If ducks don't think your models are real, then they won't land in the area. Looks can be judged by shape, size, paint and even the way they float. The second most important thing is the type of decoy you want to use. This can be decided by looking at the various position types or duck types that brands sell. And the last thing you should factor in is the number of decoys in the pack and their compatibility with other decoys. There is strength in numbers, so having the option to mix and match other sets is always beneficial.