Best Snowboard Bags Reviewed & Rated for Quality
In a Hurry? Editors choice: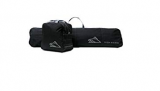 Test Winner: High Sierra

Snowboarding: the ultimate extreme winter wonderland spot. There is something majestic yet whimsical about witnessing a snowboarding fanatic sliding down winters most coveted blanket of snow, at a rapid speed only to do a few daring flips that seem as if they are flying in the air. However, every snowboard enthusiast knows in order to snowboard properly you need to have a good snowboard not only that, but you want to have an even better bag that helps you carry your board and protect it from the natural elements.
Standout Picks
Criteria Used for Evaluation
Durability
Criteria Used in Choosing the Best Snowboard Bags
After going through this list, finding a good snowboard bag should be no problem for you. You should have a good grasp on what makes a good snowboard bag; durability, ease of carrying, special features that add to the experience, and other such things that you should have been able to glean for yourself from the list. If you're still not sure, however, please move on to the criteria portion of this list so you can better understand what you should look for in a snowboard bag.
When you care about your snowboard, you need to care about the bag you're carrying that snowboard in. Because that bag will be all that keeps that board in one piece during a long flight when you have to put its fate in the hands of airline security. Snowboard bags are stylish, functional, make great means of transporting gear that would otherwise be very hard to deal with, and are generally a staple of snowboarding as a sport. Hopefully, this list has helped you better understand that, as well as better understand what you specifically want out of your snowboard bag. If you see one of these entries that fulfills what you're looking for in such a bag, try it out. You might just be satisfied with the results.
A snowboard bag is a deceptively complicated thing, so a lot has to go into making it work properly. Certain factors are more optional than others, but others are absolutely vital and must not only be included but be properly functional. What are these criteria? They are as follows:
Ease of carrying
It wouldn't be much of a bag, after all, if it wasn't at least somewhat easy to carry around. This is the most critical part of any snowboard bag, the ease of which you're able to carry it around. Snowboards are big, heavy, cumbersome pieces of hardware, that snowboard bags are intended to make easier to handle. So it would be a bit of a failure on the part of such a bag if they made the experience harder rather than easier. This is why the durability of the straps are so important and cost an otherwise high-quality entry on this list a higher spot.
Another important factor is the variety in which you carry these bags. After all, no everyone has the upper arm strength to carry a bag by the handles, so to get around that, they may add on a shoulder strap. But if the person can't carry that much of a load on their back, or is already carrying something on their back that would make that impossible, maybe add in wheels. There are myriad different ways in which you can make your snowboard bag easier to carry, so choose one with as many options as possible.
Carry capacity
Any professional snowboarder worth their salt doesn't just carry a single snowboard bag. Especially if you're participating in an actual competition, you need to have at least two snowboards on you at all times. This is why most snowboard bags try to advertise how many snowboards you can carry at once inside them. Try to look for a snowboard bag that can hold at least two snowboards at once. You also need to make sure it can hold other accessories such as snow boots, goggles, and snowboard wax. This is especially important if you don't have any other bags, or any room in the other bags you have, for those items.
Durability and padding
You're going to be taking these snowboard bags to a lot of different places, including through airline transit, on trains, and up mountains. It's best, therefore, that you find a snowboard bag that can survive the trip. Not only does the material that makes up the bag itself need to be durable, but it also needs to be properly padded in case of any kind of impact. The material used most often is some kind of weave of polyester, which is flexible but strong, especially in higher weaves like 600D. And the padding isn't just there for impact absorption, though that is a big part of it. Instead, it's there to help keep out the water that comes from melted snow from getting into the bag. This helps insulate the bag from the cold and wet of the snow outside. It also helps when the polyester is made resistant or even repellent to water, adding further to that effect.
Storage layout
Not only does the bag need to be able to handle a lot of storage, but those items also need to be stored well once they're actually in there. For instance, the bindings should never be under heavier pieces such as the snowboards themselves. One strategy that surprisingly few snowboard bags employ is top loading, where every item is stored and retrieved from the top, without having to turn the bag around every direction to get to each pocket. This is likely because this is an easy layout to get wrong, and can easily result in something getting broken if you don't organize correctly. So most bags stick to relegating every item into its own compartment and pocket, which works out just fine for it. Especially when the interior has protective elements to it as well, this can be a good way to keep all the items inside from colliding with and potentially damaging each other.
Design
How is the bag in question shaped? How does that shape complement the storage layout? Is the design dictated by the layout or the layout by the bag design? These are questions that should run through your head when looking through snowboard bags. Design decides a lot of things, not the least of which is how well the weight of the items you store are distributed by the bag. This is key because otherwise the bag just becomes a sling that still feels like carrying your boards, binders, boots, etc. all at once, except now they're all concentrated into a tiny space that makes them heavier. A good design evenly distributes the weight once the items are in the bag, making them easier to carry with you. It's impossible to negate the weight altogether, but the best snowboard bags find ways to circumvent it instead.
Cost
How much a snowboard bag costs you depends on a few key factors. One, it depends on what kind of retailer you're visiting in the first place. There are plenty of shops out there that exclusively sell snowboards and snowboard bags (you'll usually find these at the foot of a popular snowboarding location) which will charge rather high prices because, well, it's all they sell so they need to make back that money somehow. On the other end of the spectrum, you have more general retailers who also happen to sell snowboard bags. You'll find less variety and mainly no niche material, but it will definitely be more affordable.
Two, it depends on the brand the snowboard bag is made under. Different companies have different standards for how much should be paid for their stuff. Some sell a lot of different products, such as Demon United, which has its fingers in every snowsport pie in some form or fashion and thus doesn't need to charge as much for their snowboard bags because they have other products to fall back on.
Finally, it depends on what the snowboard bag comes within the first place. If it's a simple, straightforward bag, you won't end up paying that much. However, if it comes with a lot of bells, whistles added features, and in a bundle with other products, then expect that price to shoot up like a rocket.
Top 10 Picks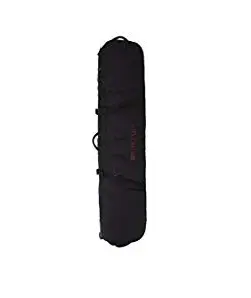 One of the more famous names in making Snowboarding equipment is Burton, who have made hundreds of bags and other such gear for years. Their brand is trusted by many a pro athlete, and the Wheelie Board Case Snowboard Bag is no exception.
Complete protection
While most snowboard bags worth the price tag they come with do pad their bags for added protection, the Wheelie takes it a step further by making sure every inch of the bag is padded. That way, every angle on every side of the board is protected.
Internal Webbing Straps
That's all well and good, of course, but there's another part of the protection that some companies forget: internal protection. How do you stop the board from jiggling around while you carry it? Especially if you have to trust it with, say, airport security when you get on a plane. In this case, the board is kept in place by an internal system of webbing straps that hold the entire board locked in place.
Cost and value
One thing you have to take into account the cost of any sports-related item, including snowboard bags, is that different sizes mean different prices. Fortunately, for what's being offered, you'll often find this bag is provided for a very reasonable sum.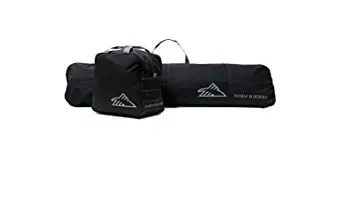 But maybe just a snowboard bag isn't quite good enough for you. For that, we have the High Sierra Snowboard Sleeve and Boot Bag Combo. As the name suggests, this package includes a snowboard sleeve as well as a bag for snow boots. But what do these bags actually have to their names besides the package deal? As it turns out, quite a bit.
Durable
You may end up asking a lot from your snowboard bag, so you need to make sure that it can measure up to the challenge. Fortunately, you'll find the Sierra more than worthy, as its body is constructed from a strong polyester weave that makes it tough and almost impossible to tear.
Multi-storage
Storing your snowboard and your snow boots in the same part of the bag may lead to some problems, so the Sierra made sure to relegate the two into separate compartments so that neither had a chance to damage each other.
Cost and value
Shockingly, such a high-quality bag doesn't actually cost that much in the grand scheme of things. Not to say it's inexpensive, but when you consider how pricey these bags can get sometimes, then the prices you'll generally find for this bag will seem like a godsend.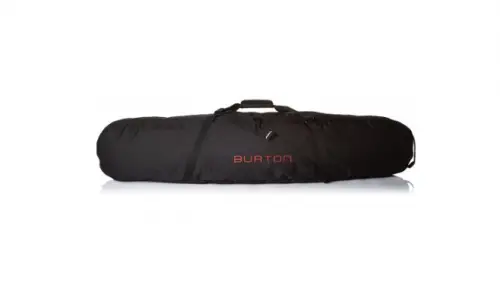 Here is a good, simple, straightforward board bag, once again from our friends over at Burton. But while it may be simple and straightforward, do not discount its effectiveness. It doesn't need anything too fancy, it just gets the job done right at an affordable price.
Removable Shoulder Strap
Shoulder straps are great when they're needed, but if you don't need it in your current circumstance, then it can end up getting in the way. This is why the Space Sack's shoulder strap can be removed with a simple press of the clip.
Multiple board capacity
Every serious snowboarder needs a backup board, because you never know what's going to happen along the way to your destination. It always pays to have a spare. Thankfully this bag comes equipped with the capacity to house multiple boards at one time. And since both boards are kept in separate areas from each other, this lessens the chances of the boards damaging each other.
Cost and value
This bag actually comes in multiple sizes, and thus has varying costs based on what size you choose. But generally speaking, the sizes are fairly prices for the services being given.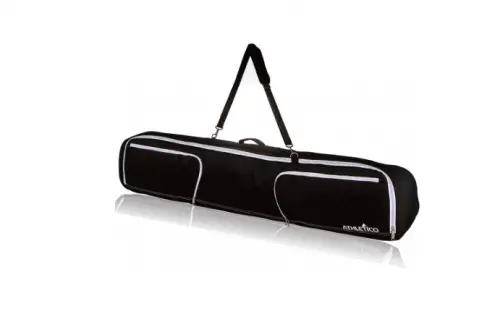 In our #4 spot, we have the Athletico Maverick Padded Snowboard Bag. The best word to describe this bag is "tough," plain and simple. What is it that makes it so tough? Well, there are a few things, as a matter of fact.
Rugged materials
This bag is made from 600D polyester, that's not only durable and built to last in even the most rugged conditions, but is also completely water resistant. On top of that, the inside of this bag is lined with an equally waterproof, but also very thermal material, that keeps your snowboard safe during those long transits.
Can hold almost all snowboards
Unlike our previous entry, this snowboard bag only comes in one size. But thankfully, that size is enough to accommodate pretty much any kind of snowboard that finds its way into it. So you never have to worry about your snowboard being too long for your bag to handle.
Cost and value
This bag sits neatly on the fence between being affordable and being expensive. It honestly depends on the retailer you're buying this from, so be sure to look at multiple offerings before settling on whom you want to buy this from.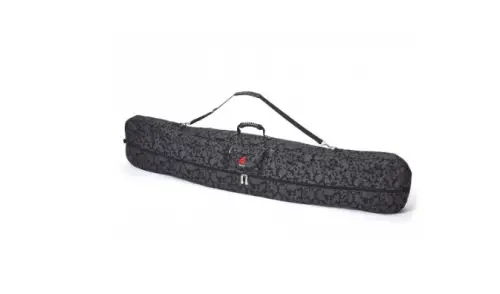 As our number 5, we have the Athalon Fitted Snowboard Bag. Athalon is equally as reputable as Demon United, and thus have the same kind of expectations heaped on them whenever they unveil any new piece of snow gear. Fortunately, the Fitted Snowboard Bag in this entry more than lives up to those expectations.
Strong and long lasting
This bag isn't just made of polyester, but heavy duty 600 denier polyester. This type of polyester is not only strong and long lasting, but it's also water repellent, meaning even if you leave it on the damp, snowy ground, but it's also remarkable self-drying.
Self-repairing Nylon Zippers
Repairing zippers can be expensive if you're getting someone else to do it, and annoyingly tedious if you're doing it yourself. Fortunately, the zippers of the Athalon don't need you to do either, as when they jam, they have countermeasures in place to help themselves repair on their own.
Cost and value
The main problem with this otherwise excellent bag is its cost. In most retailers, it's incredibly expensive, especially if you want it in larger sizes.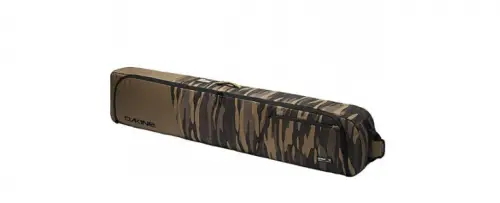 In the #6 spot, there's the Dakine Low Roller Snowboard Bag. As you can see from the picture, this is the kind of snowboard bag you use when you need something that will maintain a single, rigid shape. Less a bag and more of a box made of polyester. What benefits does this have?
Tough zippers
One major problem with these kinds of bags is continually worrying about the quality of the zippers. After all, if those give way, then the whole bag and its contents are compromised. Which is why this bag comes equipped with high-quality zippers that never jam or break.
Sturdy
That solid squared design of the bag isn't just for show. Its design is specifically tailored to redistribute any impact away from the snowboards inside. Unless a large, heavy object, moving at incredibly fast speed, hits this bag head on from the side, the bag is unlikely to let anything happen to the boards.
Cost and value
This bag can be a bit costly, but considering the care and quality craftsmanship that went into this board bag, it's safe to say it's worth the price.

7

. Thule Roundtrip Roller Bag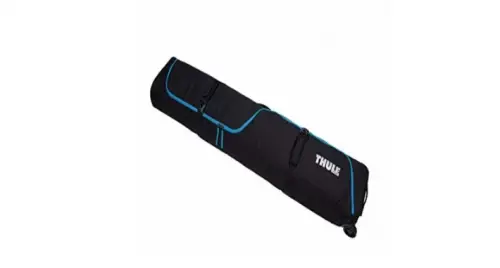 At number 7, we have the brand Thule bringing us their roundtrip roller bag. This snowboard carrying bag was designed with the active, traveling consumer in mind. Made for comfortable transportation this bag comes with smooth wheels that glide across any type of flooring and grab handles that are strategically placed on the top, end, and side of the bag for easy and comfortable carrying.
Fits multiple snowboards
Why have a snowboard carrying bag that can only hold one snowboard when you can have one that holds two and a pair of boots? This particular carrying bag can do just that! It comes with the ability to safely hold two skateboards of up to 165cm long plus a pair of boots. To protect your skateboard, and outerwear, the bag features padded organization pockets that cinch on top to keep all of your necessary items safe and sound for the entire duration of your trip.
Little to no sagging
In order to minimize the sagging that often occurs with skateboard carrying backs this one comes with structural reinforcements already built into it at the top and the bottom. Having these reinforcements already installed allows you to worry less about where your skateboard placement and more about how fun your skateboarding trip will be. The less worrying the best time you will have.
Cost and value
Due to the quality of the product, you're getting it only makes sense that it would be a bit on the higher end of the spectrum. However, even though it is a bit pricey, you are getting what you paid for and more. This bag offers high-quality materials, wheels that glide on every and any floor and a sturdy structure to hold all your belongings in place, a win-win product for frequent travels.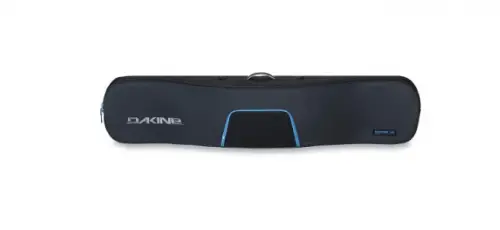 Kicking off our last 3, we have Dakine and their Freestyle Snowboard Bag. Dakine is one of the longest lasting and most trusted names in snow gear, including snowboard bags. As one can see with the Freestyle, they have a knack for visual simplicity, belying intense functionality.
Padded bottom
Since this is a snowboard bag, you're very likely to set this bag down in the snow. Now, your bag is guaranteed to get wet when you do this; there's no getting around it. So thankfully, this bag has a padded, tarp-lined underside that keeps the water from the snow from seeping into the bag itself. Now you can set the bag down with absolutely no worries.
Accessory pocket
We all need more space in our bags. There's always some extra, miscellaneous item that we need to put away very quickly on short notice. Thus, this bag comes with a variety of zippered accessory bags that you can use to put away any small item that needs to be put away right at that moment.
Cost and value
Even though this bag comes in several different sizes, you'll be surprised to find very little in terms of price range between them. The sizes are very close together in terms of price, and the rates themselves aren't all that much.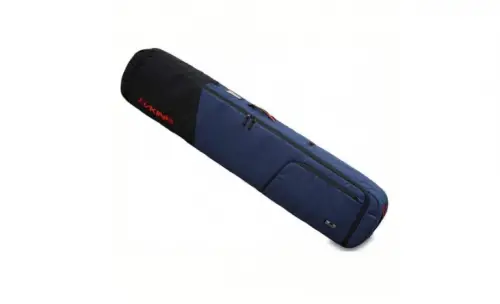 In the second to last spot on this list is the Dakine Unisex Tour Bag. This is the bag you go with when you have a lot of stuff you need to take with you, but at the same time, you need to travel light. How do these two opposing needs meet with this bag? It's quite simple really.
Top loaded
This bag makes it incredibly easy to access your board and other equipment, by making most of the equipment top loading. Now you can quickly load all of your equipment, including your snowboard, without having to turn the bag every which way.
Packs down well
One of the biggest pet peeves snowboard owners have is trying to find a good spot to even put the snowboard bag somewhere in the car where it won't jostle around too much but still be out of the way so you can ride comfortably. This bag packs down very nicely, meaning that it's one of the easiest on this list to travel with in the car.
Cost and value
You'll find the price of this snowboard bag rather reasonable, given what it can do for you. Regardless of the retailer, you'll rarely see this bag go higher than double digits, which is a great deal for such a high-quality bag.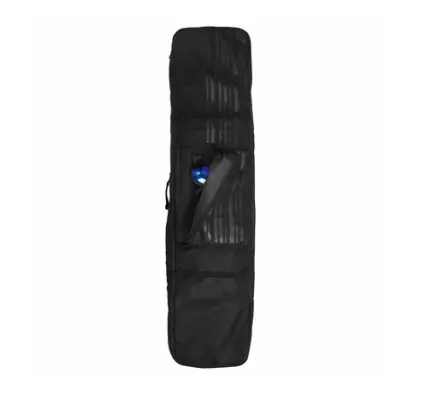 In our final entry, we have the Winterial snowboard carrying bag. This simple yet impressive back is here to conclude this guide. Featuring a durable structure this bag was created to help you carry multiple snowboards while holding its shape and being able to stand against all weather conditions. Created with the thrill seeker in mind, this bag allows you to feel secure throwing your necessary bits inside and carrying them securely wherever you may go.
Waterproof inside lining
If you will be getting wet or walking through snow you want to have a waterproof carrying bag. Doing so will ensure your necessary items remain dry throughout your traveling. The waterproof internal lining was created to keep snow that is already on your board from escaping, and landing on your or your car. Additionally, the outer layer is made out of durable polyester to keep your board as scratch-free as possible.
Spacious
Not only will the interior lining keep your board dry, but it is also spacious. You have the ability to carry more than one snowboard at a time, allowing you to carry any snowboard that is up to 157 centimeters. Additionally, it comes with a front pouch that allows you to store all your tools or other necessary bits that you want to carry.
Cost and value
The cost for this bag is extremely affordable, which does come as a surprise since it offers everything you would want from a travel-friendly snowboard bag. It even comes with conveniently placed wheels to ensure you get the most out of your bag in a comfortable manner.

Subscribe to our Newsletter