Best Snowboard Waxes Reviewed & Rated for Quality
In a Hurry? Editors choice: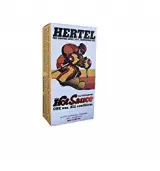 Test Winner: Hertel

If you're not a regular snowboarder or if you have yet to indulge in the extreme sport, you might not be aware that in order for you snowboard to work to its utmost potential it needs to be waxed. Yes, you read that correctly, you will need to apply wax to your snowboard in order to prep it for the snowy mountains you are about to embark on. It drastically reduces the friction between you and the snow underneath, which results in not only a smoother ride but a faster one as well. And this list is going to countdown the top 10 best, here today. The following ten provide either the best speed, the smoothest ride, or are just the easiest to work with.
Standout Picks
Criteria Used for Evaluation
Effectiveness
Criteria Used in Choosing the Best Snowboard Waxes
Like with every product of its type, the question always becomes from the outside observer: why get so technical about snowboard wax? Why make every snowboard wax do one thing over the other when this can be vital to the performance of a board? And especially within the company's own brand, why further skew the wax types into further and further niches? It's easy to pick the cynical option and say "capitalism" because, well, that is kind of the answer. But the core of it is that this formula is still evolving, so there will always be different types based on experimentation alone. Every snowboarder does need snowboard wax, it's true. It not only improves performance, but it also reduces the friction between the board and the snow. This can reduce damage in the long run, especially when you snowboard professionally. However, not everyone needs the same snowboard wax for the same reasons. Snowboard wax is primarily meant to adjust for the weather, and the weather is a tricky mistress. There aren't any real "one wax fits all" snowboard wax or every brand would implement it every time. These ten snowboard waxes are the best of the best, portraying the experimentation and functionality of this type of wax while balancing price and practicality on top of that. So if any of these waxes seem like what you need, then give them a try and hit the powder.
But this can't be a ranked list from first to the last place without some kind of criteria as to what gets on the list and how far those merits carry them up the brackets. What are these criteria? Well, here they are, listed in no particular order.
Ease of application
This refers to two things, actually. The first is, of course, how easy it is to actually apply the wax in the first place. Because wax can't be worth much if you can't even figure out how to get the stupid stuff on your board in the first place. Typically speaking, the application comes in one of two forms. Either you rub the wax on the board as it is, usually right before using it so you can get the full time of usage. And then there's the more pre-planned approach, where you have to apply it via a dedicated waxing iron that you use to heat up the wax on top of the board and then coat the board in the wax until it covers the entire underside. This is the kind of snowboard wax you'll generally find to be scented, because when ironing it, that scent is going to be right up in your face immediately, and then you have to carry the board to your destination, with the smell still wafting off of it. How easy it is to do either or both of these tasks (some wax is stuck at one application method while others let you choose) goes into a lot of deciding how far the wax on this list goes.
Ease of removal
And then there's the other side of the spectrum. Because it's one thing to get this wax on your board, any pro snowboarder will tell you that's the easy part. The hard part is actually getting the stuff off of your snowboard. This is especially true for waxes that harden after drying, because once they do, getting it off requires a lot of scraping. This, of course, is why a lot of snowboard wax kits come packaged with specialized scrapers, meant to take off the wax after it's been applied and let dry. It's also recommended you wait until after the wax has entirely run its course before you remove it, as this will allow the wax to not only dry but flake off of the board. This makes it much easier to get off.
Speed and performance increase
This is why we're here, after all. Snowboarders wouldn't go to all of this trouble if they weren't getting something out of this wax besides a small decrease in friction heat. Snowboard wax does more than that, much more. This wax is specially designed to increase your performance and speed through the decrease in friction between board and snow. And how well it manages this is what decides how far each of these waxes gets on the list.
Another factor similar to this is how long the effects last. It's all well and good for a snowboard wax to increase your speed and performance, but if it doesn't do so for very long, then what is the point? This isn't too big of a deal, though, since even if the effects don't last long if those effects are so tremendous, they make up the difference and then some, then you can call it even. However, the length of time is still important, because the longer your wax works on your board, the less amount of times you must keep scraping off and reapplying the wax over and over again.
Climate versatility
At the end of the day, snowboard waxes are meant to compensate for drastic changes in the cold climate of a snowy hill or mountain that you're snowboarding on. In extreme temperatures like this, how cold it is can change on a dime. Because of this, many different types of waxes have been developed for different levels of cold, from early 20's to below freezing temperatures. And some waxes are built to withstand all types of cold temperatures, which make them exceptionally versatile, though never without some kind of asterisk to that title. So your options are to either find the right wax type that can stand all temperatures and stick with it, or figure out the weather predictions for the area you're snowboarding in and choosing from your collection of waxes accordingly.
Cost
Typically speaking, single packs of snowboard wax don't cost all that much. Not to say they're chump change, but they rarely cost anything of real note. Now with that said, they cost just enough that, if you start buying up more and more packs at once, that will change very quickly. And on top of that, then you have kits. These come in two different forms on their own. On the one hand, you have wax kits, which are just kits of different types of waxes all owned by the same company. These don't cost all that much. At least not when compared to their big brothers, the tuning kits. These are kits of not only wax types but also pretty much everything you need to not only wax your snowboard but maintain it as well. These are obscenely useful, and just as expensive, ranking in the triple-digit price tags on a good day.
Top 10 Picks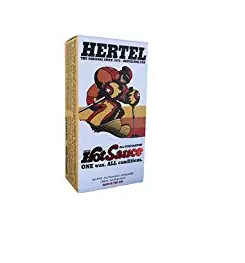 Kicking off this list, we have Hertel's Super Hotsauce Rub on Wax. There are many different kinds of snowboard wax, each varying based on what kinds of conditions, whether they be terrain or climate, they can be used in. Then you have certain exceptions like this wax.
All temperature usage
The main point in this wax's favor is, of course, the fact that it can be used in any kind of temperature you need it in. At least when it comes to snowy conditions, but then, you're pretty much guaranteed to be using your snowboard in snowy conditions, so it all works out like that.
Good for novices
Generally speaking, novice snowboarders work better with smaller bars of wax than bigger ones, so thankfully this wax can be broken down from one big bar into 5 smaller bars if you have to. It helps conserve the wax for longer, and it helps novice snowboarders be more precise with application.
Cost and value
Snowboard wax is rarely, if ever, cheap, at least by the standard definition of the term. But Hertel's wax is often on the more affordable side of the spectrum, and the hot sauce wax is no exception to this.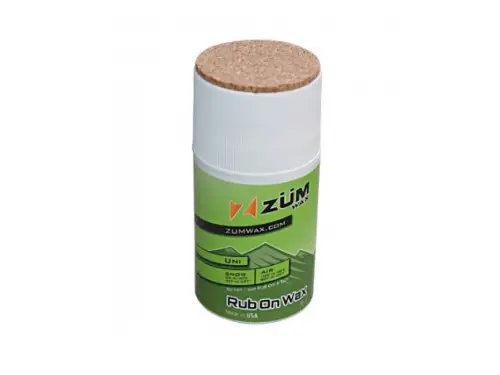 If there's one thing people generally want from their snowboard wax it's convenience, and it's hard to get more convenient than ZumWax Rub on Wax. Looking more like a bar of deodorant than a container of snowboard wax, this wax will get you on the snow fast and convenient.
Quick application
One may call the shape of this container false advertising since, no, you can't just apply it like a bar of deodorant, snowboard wax just doesn't work that way. However, that doesn't mean application isn't faster than its contemporaries. In fact, it's significantly faster than a lot of leading brands.
Short but sweet
The main drawback of this wax is that it doesn't last very long. However, the performance it gives you in the meantime more than makes up for it. It may be just about half a day before the wax has run its course, but that is one fun, thrilling half day.
Cost and value
The best thing in this wax's favor is the price, which is really affordable compared to other waxes on the market.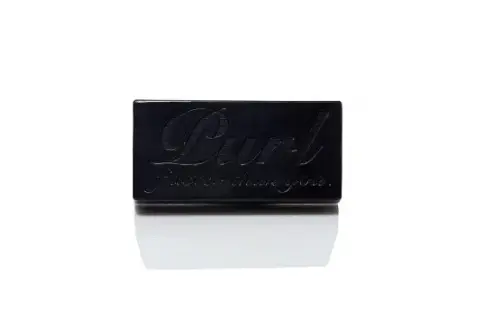 Rounding out our top 3 section is the Purl Ski/Snowboard Wax. The one pound block of wax may end up being mistaken for hand soap (making it the perfect April fool's morning prank), but there is no mistaking the quality held in this little bar.
Bulk
Now depending on your preferences for snowboard wax, this can either be a really good thing or a really bad thing. Lots of people like bulky wax blocks and this wax does embody all of the benefits of that design. For one, it will last you significantly longer than other snowboard waxes. There's more wax to work with, and reapplication won't bring you down in supply for a few seasons. This is a big bonus for many pro snowboarders.
Included buffing pad
For rookies who may not fully realize the importance of a buffing pad when it comes to applying snowboard wax, this is a godsend. Buffing pads make applying snowboard wax easier in pretty much every way. So, this wax is a good starting point to help a fellow rookie realize its importance.
Cost and value
This wax generally tends to lean on the expensive side sometimes, but with most retailers, you'll find the price perfectly agreeable, if a bit in that grey area between costly and affordable.

4

. Hertel All Temperature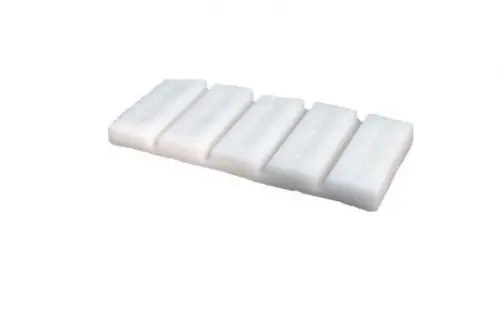 Coming in at #4, we have our buddies from Hertel again with Hertel Wax All Temperature Fast Ski Wax. This is definitely the snowboard wax, as you can see from the picture, that you choose when you need to stock up for the season. But that's not all that this specific wax has going for it.
Five bars
If you're a beginner, it's highly recommended that you start off with 5 smaller bars instead of one big bar. Big bars will last you longer, but they're bulky and difficult to control unless you really know what you're doing. Meanwhile, a smaller bar is better when you're still learning control, and there's less a risk of you overdoing it.
Versatile application
When it comes to snowboard wax, you need to usually choose between application methods when choosing your wax. But in this case, you don't have to, as this snowboard wax lets you either apply it by rubbing it on last minute or if you're short on time, you can still rub it on manually.
Cost and value
While not the cheapest entry on this list, this wax is still far more affordable than the leading brand of snowboard waxes.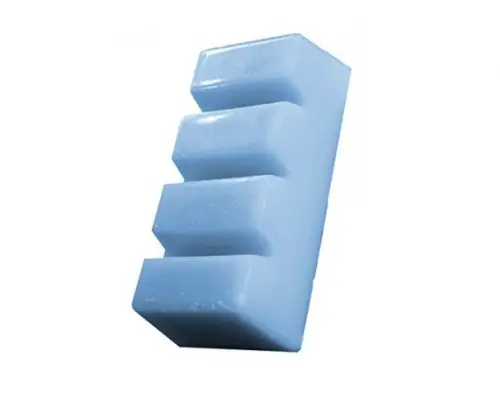 In our #5 spot, we have snowboarding's old friend Demon, throwing their own hat into the ring with their own brand of snowboard wax. This Demon Hyper X snowboard wax is a big 1-pound block of wax, that's ideal for the pro snowboarder who plans to get an entire season's worth of use out of their board and wax.
Scented
You wouldn't think this would be all that important, but to anyone who's used snowboard wax before, the prospect of being able to get away from the, frankly, horrid waxy stench of snowboard wax is a prospect worth spending money on.
All snow temperatures
One of the biggest pet peeves of a snowboarder is the tedium of having to reapply different snowboard wax every time the weather changes. However, Hyper X wax doesn't have that problem, being able to be used in any cold climate and temperature.
Cost and value
The Hyper X wax sits at a very modest, typical price for snowboard wax, so if you're not looking for anything too cheap or too expensive, this wax should do you nicely.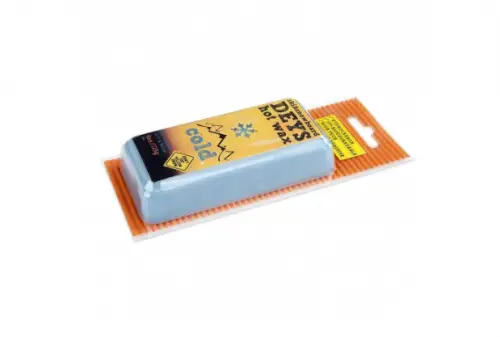 In spot #6, there's the crudely named Don't Eat Yellow Snow (DEYS) with their own brand of snowboard and ski wax. Despite the vulgar brand, this snowboard wax is still a very good bar of wax, for both pros and rookies alike. Why is this? Why, it's quite simple, really.
4 oz block
It's nice to know that you don't always have to choose between either a large, bulky block that will last you a long time or a small, easier to manage block, that might last you a season if you're frugal. This wax instead offers a compromise in the form of a 4 oz bar that won't be used up in a single season but is still small enough for a rookie to wield it properly.
Premium Blend
This wax is made with special, high-quality materials that, when blended together in the very careful way that this wax is, guarantees a speedy performance and steady control on the slopes.
Cost and value
This is easily one of the cheapest entries on this list, which is the best part about this wax. It offers high-quality performance, at a more than reasonable price.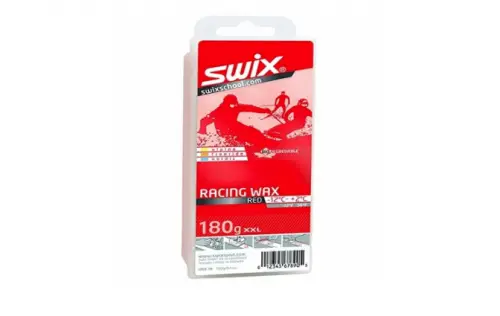 In our seventh spot, we have Swix Bio-Degradable Ski/snowboard Average Temperature Wax. Swix has been on the snowboard sports scene for a while now, and they have put out exceptional products time and time again, but this one right here is one of the very best. If you are seeking a wax bar that is easy to apply and good for the environment this one is for you.
You can see exactly where you're applying it
One of the many complaints many snowboard wax users have is; I don't remember where I last placed the wax! Swix thought of a solution for this by making a wax that is not only red in color but will appear red when it is applied so you can see exactly where the product is going. Once you iron the wax it will be completely clear, this allows you to know exactly where you place the product and make application a whole lot easier.
User Friendly
This wax is extremely user-friendly, simply rub it on, iron it to melt it directly onto the board for a seamless application and you are ready to seek the thrill of a lifetime. Additionally, as previously stated it is biodegradable so its excellent for the environment, a win-win for all.
Cost and value
This wax happens to be one of the most affordable ones on our list. The cost is exceptionally for the quality of product you are receiving. However, the bar does wear out quickly, so you might want to invest in a few bars to have them on hand.

8

. Demon United Complete Tune Kit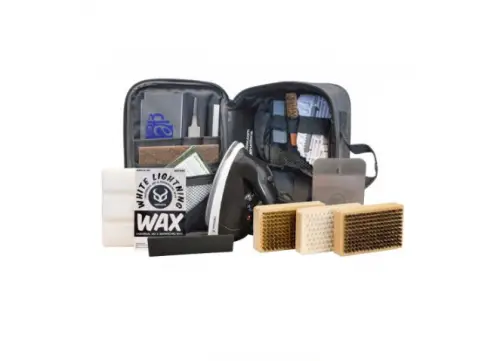 Kicking off our final 3, there's the Demon United Complete Tune Kit. Unlike other entries on this list, this is our first exposure to the tuning kit, essentially a grab bag of everything you need to properly and professionally wax your snowboard before a big slope. And where else would the best of these come from than our old pals at Demon United?
Comes with everything you need
Virtually everything you could ever need when it comes to waxing your snowboard is included in this kit. From your own personal iron to an edge tuner, a flat file, and of course plenty of wax to get you started on all of it.
Included p-tex
What is p-tex? To make a long story short, it's used to fix and fill any holes or gashes that may have formed in the base of your board. Which is something that every tune kit should include, and something that every snowboarder should have on them.
Cost and value
The obvious drawback to this kit is the price. This is a lot of hardware, most of which would be expensive on their own, but put together, and they make a kit that, while worth every penny, will still cost you quite the pretty penny.

9

. Demon United All-Season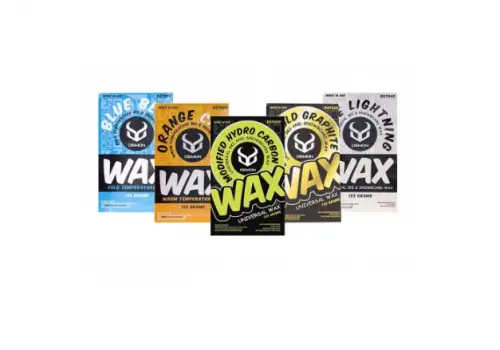 Sometimes you don't need a bunch of wax equipment, but rather you just need a bunch of different kinds of wax. Not to worry, as our friends from Demon United once again have you covered, with the All Season Ski and Snowboard Wax Kit. This kit is about as straightforward as it gets, but don't let that lead you to believe it's without its benefits.
Every wax you could ever need
You're likely wondering what the real difference is between one type of wax and another. The answer to that question deserves its own portion to itself which we'll get into later, but suffice to say there wouldn't be multiple types of wax if they didn't each serve a purpose. This kit has every wax imaginable, from warm and cold wax to white lightning universal temp wax, to even modified hydrocarbon universal wax.
Scented
Not only do you get a wide variety of different waxes for your snowboards, but you also get a wide variety of scents to go with them. Each wax contains its own specialized scent that gives it that unique edge to make it feel different. So, if one scent covers up the waxy smell with a somehow worse smell, don't worry, as you have at least five other smells to choose from.
Cost and value
Now, this price is significantly better than the tuning kit. Likely because this only includes wax instead of wax as well as a bunch of other, already expensive equipment. While not the cheapest thing in the world, you definitely won't be breaking the bank by going for this wax.

10

. RaceWax Complete Wax Tuning Kit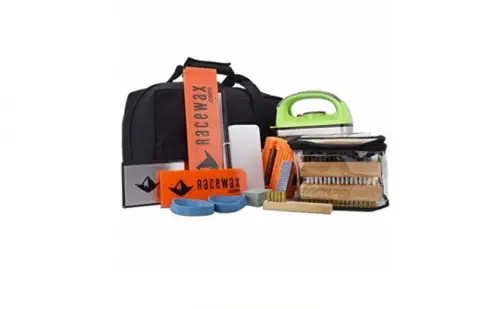 For our final entry, we showcase another tuning kit, this one is by RaceWax a very well-known brand in the snowboard region. Like the previously mentioned tuning kit, this one offers everything you need to fine-tune multiple snowboards and have them in tip-top shape for all of your snowboarding adventures. Created specifically for families that enjoy snowboarding together, and have numerous boards to take care of this kit comes with 20 different angles total to ensure you not only have everything you need but you can wax more than one board at a time.
Zipper Organization
One thing is to have all your tools in one place and being able to use them whenever needed, but another is having all your tools with you in an organized bag. This toolkit offers exceptional organizing abilities, it comes with multiple zippers, and pouches that were designed to hold everything you need in one place. Additionally, there's added space for other tools you might want to take with you as well.
Versatile
If you have a snowboard that needs fine-tuning multiple times, this is the kit of you, it's practically a shop right in the palm of your hands. You have everything you need with you by simply owning this kit, plus you are able to handle more than one snowboard at a time.
Cost and value
Due to this kit already owning everything you need for your snowboard it is a bit more expensive than the other options on our guide. However, when you put into perspective how much products you are getting in the kit, you are getting a bang for your buck.

Subscribe to our Newsletter