Best Skimboards Reviewed & Rated for Quality
In a Hurry? Editors choice: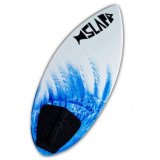 Test Winner: Slapfish

Skimboarding is rapidly growing in popularity and so is the need to buy the right equipment to participate in this phenomenal sport. Other than finding a great spot, you need a great skimboard that will leave up to the challenge while reducing the amount of friction between the board, the sand, and the water. Choosing the right skimboard requires a proper understanding of the different materials used in making the boards and how they impact their performance. With the growing demand for skimboards, the variety has also increased making it more difficult for you to find a great board in a short time, and it can be particularly hard for a first-time buyer to spot a good skimboard.
Standout Picks
Criteria Used for Evaluation
Durability
The first thing that should come to mind when looking for a good skimboard is how well it handles the pressure and abuse that comes with the sport. Having a strong and durable skimboard will ensure you enjoy longer times at the beach without the board showing signs of wear and tear.
When considering durability of the board, it is also important to consider the different features of the board like whether it is has a gloss finish and what the core is made of. These features are great hints on how well your board will hold up to the rough waters.
Flexibility
A great board should be adaptable to your needs and style. It is important to consider factors like your experience level, weight, and technique before you go out and get the board.
If you carefully consider each of these factors, you can easily get a board that conforms to your style, enhances your technique and support your weight without breaking a sweat. If the board will be used by several people, you need to consider getting one that can hold a higher weight limit.
Speed
The gush of wind against your face and the water rushing under your feet and between your toes are some of the experiences that make Skimboarding fun. For the best experience, you need speed. Lots of it. To skimboard properly, you need to move faster than the water in order skim over the surface.
The speed of your board is dictated by a variety of factors which include the weight of the board, your weight, the materials the board is made from and boards bottom surface. When making the purchase, you need to consider all these factor to help you maximize your speed.
Materials
Skimboards are made from different materials. Each material offers a different experience, benefits and also has its downsides. The best materials for a skimboard is usually fiberglass. It is lightweight yet strong. However, boards made from these materials are more expensive.
A great alternative is a wood. Even though boards made from wood are leaner and heavier, they are cheaper and can be durable with proper care. Some of the materials you should look into include the materials used for the finishing and if there is a traction pad on the board.
10 Best Skimboards Reviewed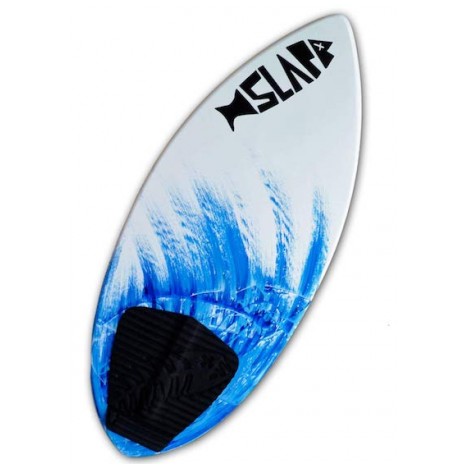 Whether you're looking for something stylish or a high end performance skimboard, the Slapfish Skimboard fits the bill perfectly. It has a 48-inch length with a 2-inch nose rocker and weighs a paltry 4 pounds. Despite its incredibly lightweight nature, the board can support riders of up to 200 pounds. The board is made from carbon fiber and is complete with a traction pad. The deck is polished and its ultra-glide bottom offers the perfect experience for fast and long rides. To ensure the board is able to last and survive the demands of riding waves at the shore, it is handcrafted and the nose and tail are carbon-reinforced. The core of the board is made from poly PVC and there is no risk of delamination. It is the perfect toy for every skimboarder who wants to have some fun whether on the sand or riding the waves.
Poly PVC core
The core of the board is quite interesting. It balances the scales of durability and weight perfectly to offer you great value for money and provide you with an excellent experience. Unlike most boards, the core of the Slapfish Skimboard is not made from EPS which has a tendency to delaminate. It is made from Poly PVC. This offers great strength and it is lightweight.
Traction Pad
Considering the board will be used in water, having a traction pad is a must have. This board is fitted with a closed cell traction pad with a fully sealed EVA grip that is fastened using 3M waterproof adhesive. It gives you complete control of the board at all times whether on land or in the water.
Cost and Value
For a great price, you get a great board. The blend of quality features and materials makes this board a must have. The price has been carefully thought out ensuring you get an excellent experience without spending too much on the board.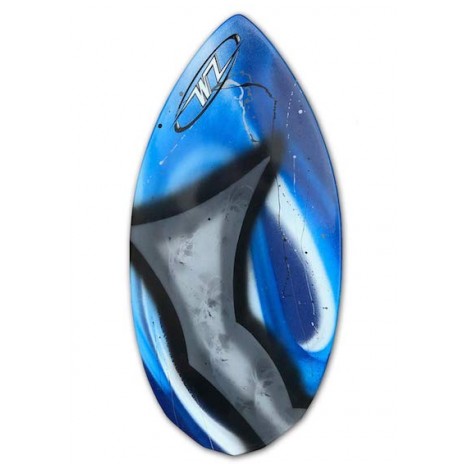 The Wave Zone Skimboard is built with beginners in mind. It is designed to offer a more forgiving experience for the numerous mistakes you will make and its shape allows the board to stay straight both on sand and water. There are plenty of features worked into the board to provide an excellent experience. Handcrafted and made in the use, the board is made from fiberglass and has a gel coat reduce friction. To improve buoyancy, the board has a foam core. It is capable of carrying riders of up to 110 pounds and is 38.5 inches long. If you're looking for a great board for a beginner, this has to be one of the best options that the market has to offer.
Design
Appealing to as many users as possible is something manufacturers are fond of. With this board, it is impressive that they only try to appeal to beginners and focus the quality, design and shape of the board for exactly that.
Handcrafted
Even though with handcrafted boards no two boards are ever the same, you are always assured that proper attention has been given to the boards and that it only leaves the factory after it has passed a series of rigorous tests among them being the hawk-eyed inspectors with a soft touch who feel the board for imperfections.
Cost and Value
For a beginner board, you will have to dig deep into your pockets for this one. However, the price is well deserved. In turn, you will get a quality board that will help you enjoy longer, faster and safer rides as you learn the ropes.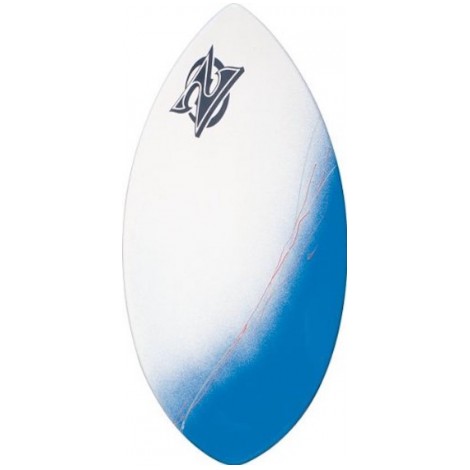 The Zap Lazer Skimboard is a little different from some of the other options we will review. First, it is built for kids who are just starting to learn about skimboarding. As such, must of the focus in the designing and manufacturing of the board is focused around optimizing the board for sand sliding. With that said, there is a lot of thought that has gone into making the board. It is made from lightweight, high quality materials that guarantee durability and improve performance. The shape, rocker and the rail are all designed to provide an effortless ride for the youngsters. The board is 40 inches long and ideal for riders that are between 4'2 and 5'0 feet in height with a weight capacity of 95 pounds.
Customized Painting and Finishing
Kids love standing out and Zap Lazer understands that. That is why all their skimboards have a custom paint finish to them ensuring that you stand out. The design and colors used on the boards are different in each board making it easier for your child to choose something they will love.
Quality Construction
The board is made from an E-glass wrap that features layers of high-density woven E-Glass composite. This provides a strong yet light board. The composite is made from polyester and the finished in TuffCoat Gloss to ensure a smooth finish that offers an easy and swift skim over the sand.
Cost and Value
Even though the price is carefully thought out and easily translates to the product that you will be getting, for a little more, you can easily get a board that can also perform in riding waves once your little one is confident enough to go into the water.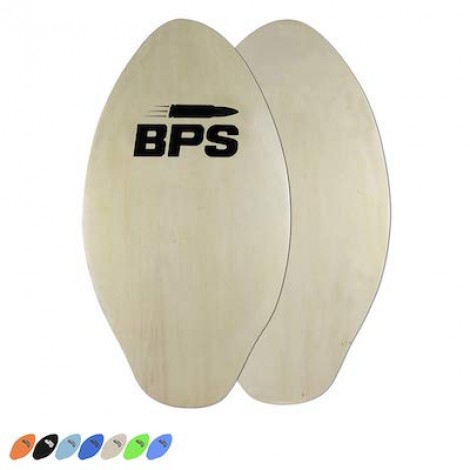 If your budget is tight but you would still like a quality skimboard, plywood boards are a considerable choice. They have their downsides but BPS 'Gator' has found a way of limiting these downsides while providing you with an excellent experience for an entry level board. The Gator skimboard is made from durable plywood with an epoxy coating to keep the wood from getting wet and getting damaged. It has a generous nose rocker and is complete with an EVA foam grip so you don't have to wax your board for traction. With this board, you have the option of choosing the size of the board you want depending on the weight of the rider. The boards come in different sizes which include 30 inches, 35 inches, and 40 inches all built to serve different types of riders. In addition to the incredible performance of the board, you also get a 12-month warranty with each board to guarantee quality and protect your investment.
EVA Foam Grip
For most riders, maintaining control of their boards requires a substantial amount of traction. This is usually achieved by waxing the board which is not only tedious but also requires some level of skill. The Gator Skimboard saves you from all these troubles by having an EVA foam grip which works even better when it's wet. If you prefer to customize the grip, there are raw wood variations that allow you to apply wax.
Additional features
Since this is an entry-level skimboard, most of its buyers might not know much about Skimboarding other than how fun it is. To solve this, the company offers an installation guide that offers easy to follow instructions on how to get on the board and even do some basic tricks. These resources can save you time and money and guarantee that your introduction to Skimboarding is easier.
Cost and Value
This skimboard is quite affordable. It is great for users that don't want to spend too much but still want a good quality option that is reliable, hardy and offers enough speed. Even though it pales compared to its fiberglass cousins, it is reliable and a good option for beginners.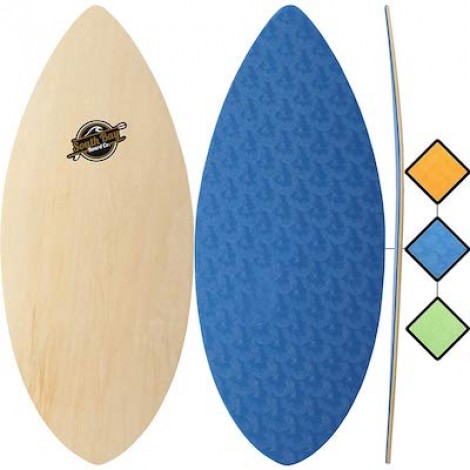 This 41-inch long skimboard is built for kids at all skill levels. It has a plywood core with an Epoxy coating and a custom fingerprint textured foam deck so you don't have to keep on waxing the board. The board can hold up to 160 pounds and can be used by kids at different stages of skimming experience. For less experienced kids, the board has a nose rocker that helps to keep the nose out of the water preventing a dive. The center and tail section have a flat rocker to increase speed and the design of the board has been rigorously tested to make sure it lives up to the challenges of skimboarding.
Customized deck
Even though the deck might not be customized to your specifications, it is still a pretty neat addition that not only makes your board look great but, it saves you the trouble of waxing and gives the deck a nice and comfortable feeling under your feet. Needless to mention, it also gives you better control of the board.
Affordable price
It's not easy to find a budget friendly product that doesn't look like it. The SBBC Skimboard is one of the few whose initial look does not match the price. It is affordable yet made from quality materials and has a good design and appeal to it.
Cost and Value
This is yet another budget friendly option that is definitely worth considering. The price is practical and offers you value for money. The fact that the board comes with a 90-day return policy makes it much easier for you to part with your money.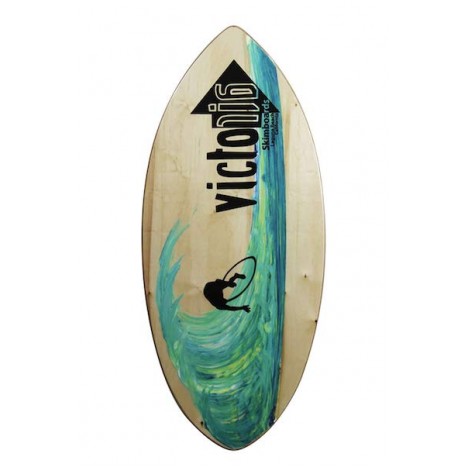 The Victoria Woody Skimboard is another great entry level board that is worth considering. It is simple, straightforward and downright functional. One of the features that have always stood out with the woody has been the hand laid art which has always made sure that each board is unique and packs plenty of personality. The board is roughly 42 inches long and can support weights of up to 200 pounds. It is quite diverse and can support different types of users. It is perfect for beginners and it has a core that is made from Russian birch to guarantee toughness. The board is built for riding the shoreline and for the flat land. Whether you're looking to learn some new basic moves or starting out, it is a great board to have.
Russian Birch Core
The core of the Victoria Woody Skimboard has a core made out of Russian Birch. It makes a basis for a strong core that will not only last longer but will take the heat that comes with Skimboarding.
Hand Laid Art
It is not a common occurrence for the finishing of a skimboard to be a featured aspect. However, the hand laid art on the Victoria Woody Skimboard is quite the sight to behold and it feel very authentic. It adds a lot of personality to the board and gives it more of a custom feel.
Cost and Value
Compared to other wooden skimboards that we have already reviewed, this one will cost you a pretty penny and without any additional features to offer. However, the Woody has been in production for over three decades and has been able to hold its own. As such, you will be getting a great board that is tried and proven.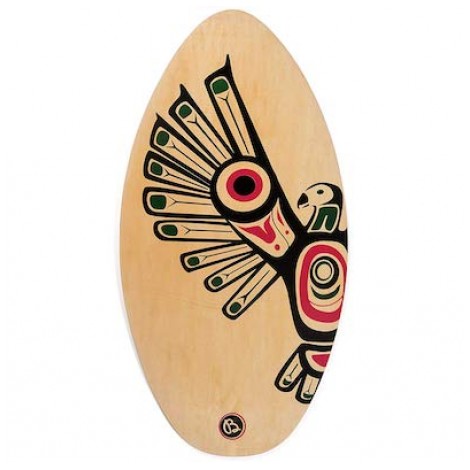 If you're not sure if Skimboarding is for you and you want a great board that will not cost you too much just in case you decide to go in another direction, this is the board for you. Even though it is designed for beginners and comes at a budget-friendly price, it is filled with interesting features that make it much more exciting for you to use. The board is made from plywood and coated with epoxy to protect the wood from water. The board and the high gloss coating is covered by a warranty. Unlike most boards, this one can also be used by veterans to learn new moves and perfect old ones. To keep the board from nose-diving, it has a slight rocker. You also get to choose from a variety of finishes which include eagle, Manta, Wave, Tatau and the Clubs.
Different Designs
Finding a board that matches your personality or style can be difficult. The Lucky Bums Wood Skimboard has tried to solve this by offering different finishes for their boards. It is the first board on our review list that allows you to choose the finish you would like on your board.
Design and Build
The design of the board is quite interesting. It is suitable for both beginners and advanced users. The high gloss epoxy coating ensures that the wood underneath is safe from the water and can last for a long time giving you maximum value for your money.
Cost and Value
The board is quite affordable. It gives you a great balance between price, features and quality. Complete with a warranty that covers the workmanship, you're assured of a great board.



With wooden boards, there is always the concern of having to wax the deck to improve the overall quality of the board. The Fedmax Wood Skimboard breaks away from this tendency by offering an IXPE foam traction. Not only is this type of foam better than EVA and lasts longer than an EVA foam.
The board is made from Poplar wood which is known for its high resilience and lightweight nature. This results in a maneuverable board that is stable and easy to steer. The board has been optimized for beginners who are trying to master their moves and offers a 90-day guarantee just to make sure you like it.
IXPE Foam Traction
With wooden board, there are three different types of traction that you can consider. You can either wax the board or buy one with an EVA or IXPE foam traction. Of the three, the IXPE foam traction is preferred because of its texture and the full seal it creates around the edges allowing it to be helpful over a longer period of time.
Poplar Wood cCnstruction
With wooden boards, the biggest challenge is usually how to keep the board lightweight without compromising on the strength of the core. With the use of poplar wood for the construction, Fedmax has cut substantial weight from the board without compromising its strength.
Cost and Value
Despite the high-quality features highlighted, this is one of the most affordable boards on this review list. It offers great value for money and guarantees an excellent experience.

9

. Sunspecs Rubber Top Wooden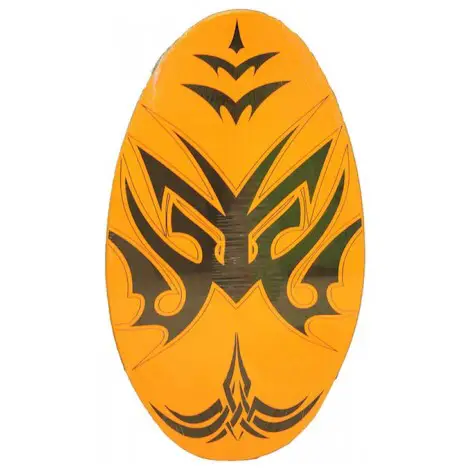 Wooden skimboards are the kings of budget-friendly skimboards. Even though they are heavier than their fiberglass options, they still retain a good amount of performance and are quite durable especially with some good care. The Sunspecs Rubber Top Wooden Skimboard makes thing a little more interesting with its solid board construction and rubber top that provides tractions so you don't have to constantly wax the board. You can choose your preferred color and size of the board and it's available in 30, 36, and 41 inches for riders weighing 120 to over 220 pounds. If you're looking for a great skimboard that has a great feeling and can come in your favorite color, this is a great option for you to consider.
Rubber Top Deck
With skim boarding and especially for wooden skimboards, traction can be a big problem especially once the board gets wet. While you want the underside of the board to have the least possible friction, you want to have enough control on the deck. The Sunspecs Skimboard remedies this by having a rubber later on the deck that provides plenty of traction even when the board is wet.
Customizable
There is a wide range of colors and sizes that you can choose from. Even though the selection is limited, you still get a chance to choose a color and finish of your preference and the boards come in different sizes depending on your weight.
Cost and Value
For a great looking board with great features, it is quite affordable. It makes it even more interesting considering you don't have to spend time rubbing in the wax. It is a great entry level board for the price and perfect for riding the waves.

10

. Fedmax High Gloss Coat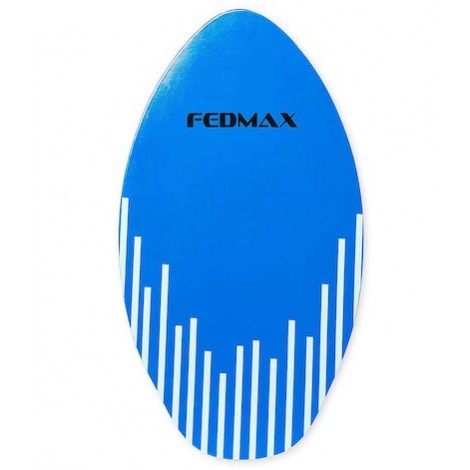 Like other Fedmax wood skimboards, this particular one is also made from Poplar wood. It is incredibly lightweight and highly durable. It is finished with a high gloss coat that keeps the wood safe from the water and improves the performance of the board. While the board can also be used by intermediate users, it is designed with beginners in mind and is a great tool to improve your tricks and work on new ones. It comes with a 90-day guarantee and with its low maintenance nature, you will have more time skimming and less time to look after your board.
High Gloss Coat
A high gloss coat in wooden skimboards is an absolute value. It serves as a barrier between the water and the wood prolonging the life of the skimboard. It also helps to reduce friction ensuring the board can go longer distances and at higher speeds. With this addition, you will have an improved experience with your board.
90-day Guarantee
It is always nice to know that if things don't work out, you can always get a replacement or your money back. With the 90-day guarantee, you can try out the skimboard for 90 days. If you don't like or it doesn't live up to the expectations you can take it back.
Cost and Value
Fedmax has built a reputation building affordable and high-quality skimboards and this is no different. The price is realistic and the features are top notch. You get complete value for the price not to mention a 90-day guarantee on the product.

Subscribe to our Newsletter