Best Scope Covers Reviewed & Rated for Quality
In a
Hurry? Editors choice: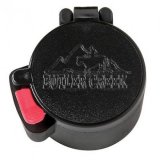 Test Winner: Butler Creek

The
scope
of a rifle, also known as a telescopic sight, is what allows you to locate, zoom in, and steadily capture your target in your sights. Like the lenses of a
binocular
, telescope, or even eyeglasses, the scope needs to be protected, whether from water damage or from being scratched or broken. Glass, even when strongly reinforced, is still delicate and easily scratched, damaged, broken, or fogged up by water and humidity, thereby blocking any visibility.
A simple solution to this problem is procuring a scope cover or cap. They are inexpensive, durable and easy ways to protect your scope from the elements and accidental damage. 10 of the most popular scope covers on the market are compared in this article for your consideration. Undoubtedly, you will find a scope cover that meets your needs and keeps your scope in pristine condition.
Standout Picks
Criteria Used for Evaluation
Water Resistance
One of the most useful aspects of scope covers is that they protect the scope, or telescopic lens, from water infiltration. Water itself can cause damage to the scope, and the mere entry of moisture can cause the lens to fog up and prevent visibility.
A high-quality scope cover forms a seal that prevents water and moisture from affecting the lens and getting fogged up. The purpose of a cover is to allow you to see, regardless of the current weather conditions. Hunting trips in the wind, rain and ice are possible with well-made scope covers.
Effectiveness
How well a scope cover works determines if it's worth buying. If it fails to protect your scope from damage when in use or during transport, it's of no use to you. A high-quality cover protects the scope at all times, whether you're transporting it during a camping expedition or walking through the field.
A scope cover is as important as a sheath is to a knife or a sword. It doesn't just protect the scope itself; it helps to protect and preserve the integrity of whatever the scope is attached to, whether it's a rifle, binoculars or a tactical flashlight. As a responsible weapons (or tactical gear) owner, you want to take the best care of your belongings as you possible can. For anything with a scope, a quality cover is well worth it.
Protection
No matter how durable a tactical rifle is, and carefully manufactured, nothing is unbreakable. A scope, no matter how reinforced, is made of glass. Even thick glass can shatter or become scratched. Scopes can also become permanently damaged if infiltrated by enough moisture.
How well a scope cover protects the scope itself also determines its usefulness. You don't want a cover that's going to provide partial, inadequate protection. You want something strong, trustworthy and tough, that can take a beating. In the event you accidentally drop your rifle, if your scope is properly protected, it should not shatter.
Weather Resistance
Like water resistance, weather resistance is a key consideration when choosing among the many scope covers on the market. There are many covers that are marketed as "water resistant." What does that mean exactly? That they are not entirely waterproof.
A cover that cannot protect your scope from a little rain certainly cannot stand up to a formidable winter storm, ice, sleet, hail or otherwise. You want an all-weather scope cover so that you don't need to double-check the forecast before you leave on your next hunting trip. Why get a semi-waterproof cover when you can buy one that's ready for anything?
Adjustability
Each scope cover comes with a corresponding sizing chart. However, there are a lot of customer complaints, virtually across the board, about discrepancies between the sizing listed by the chart and the actual size cover needed to correctly fit a scope.
To combat this, many covers are flexible and have adjustable features. Therefore, if a cover is ostensibly too big or too small, it can be tightened or loosened accordingly. This allows for a secure, snug fit, and eliminates the need to return/exchange the scope cover purchased.
Top 10 Scope Covers
The Butler Creek is extremely easy to open with a flick of your thumb. Ease of use cannot be understated when selecting a scope cover. The cover needs to not only work well, but be second nature to you as the shooter (or operator of the tactical binoculars, or flashlight and so forth). The point is, you should not have to stop and think about how the scope cover works - it should be something that is intrinsically known to you. So, if the Butler Creek can be operated in almost an automatic, immediate way, it is operating as it should.
The cover includes a partial O-ring that keeps the cover anchored and prevents dust and moisture from getting in. Additionally, the cover includes a waterproof friction mount, keeping the cover completely secure. When you're ready to aim, the lens cover is spring-loaded and flips open immediately. You will spend no time fumbling with the cover to open it, and when you do, you will find a pristine, crystal clear scope, free of dust and dirt, allowing you to see your target with perfect clarity.
Push Button
The cover can be released instantly with the flick of a push button. As previously mentioned, you should not have to put a lot of thought into how to open the scope cover. Rather, you should be able to focus your attention on your target. By simply touching the push button with your thumb, the spring-loaded cover pops open. You will have immediate access to your scope and will be able to focus in on your target within seconds. No more fumbling to remove the cover; Butler Creek has you ready to aim almost instantaneously and effortlessly.
O-Ring
The partial O-ring offers superior protection. A watertight seal protects the scope from any water damage or from becoming fogged up, thereby reducing visibility. Additionally, the seal prevents any dust or dirt from damaging the scope. The scope is fully protected thanks to the powerful seal, allowing you to have an unparalleled view of your surroundings, including your target.
Value
The Butler Creek is very inexpensive compared to similar models and presents an excellent value; it's first on the list for a reason. The cover has earned high marks from customers, experts and critics alike for its superior performance. It's a truly impressive product available at a very fair price.

2

. Vortex Optics Flip Cap
The Vortex optic covers are versatile and reliable. Not only do they fit on rifle scopes, they can also be used to protect tactical flashlights as well as binoculars. The covers are affordable, durable and easy to use. The covers are spring-loaded and easily lock back into position. Most importantly, they offer superior lens protection, whether it's for your rifle scope, your tactical flashlight, your binoculars, or otherwise; the covers work exceptionally well. Marketed at such an affordable price, it makes sense to buy Vortex covers for all of your tactical gear with scopes; it's an inexpensive way to keep everything in pristine condition.
Easy Installation
The Vortex covers are very easy to fit, whether it's protecting a scope or a pair of binocular lenses. The covers can be adjusted using a layer of vinyl that forms a secure seal. They are easy to install, easy to use and easy to maintain. In the event there are any issues with the covers, Vortex offers a lifetime guarantee, having the confidence to stand behind the products they manufacture.
Superior Protection
The cover is strong and reinforced with a layer of vinyl that not only acts as a securing mechanism but also protects the lens. The Vortex protects your scope from damage without disappointment. Whether it's inclement weather, exposure to dust and dirt, or the damage that might be sustained by accidentally dropping the rifle (or binoculars, etc.), the glass will not shatter.
Value
The Vortex is an excellent value - affordably priced, high quality and the recipient of hundreds of happy reviews. The Vortex is proof that you don't need to spend a lot of money to get a well-built, durable, reliable product. It might take some digging, but high-value, inexpensive items are out there, including this exceptional scope cover.
The Mossy Oak cover is simple to put on and take off of a rifle. It's not quite as advanced as some of the other covers reviewed here, but it does offer an inexpensive solution to the problem of scope protection. Its purpose is to protect the scopes of rifles that are in transit as opposed to being actively used, like a sheath. It fits a wide variety of larger weapons and the price is fair. If you are backpacking, camping or embarking on a long wilderness trek, you will be able to safely transport your rifle and tactical gear with you knowing that no damage is being done to the scope and that you yourself are protected.
Stretch Material
The Mossy Oak is made with material that stretches and gives, allowing it to fit scopes of a wide variety of sizes. Sizing does not need to be exact to get the cover to fit, which takes a few headaches out of the equation. The cover is available in small, medium and large, and the manufacturer provides a linked sizing chart so that you can find the appropriate size that best fits your scope. However, to reiterate, each size is forgiving, adjustable and expandable, making sizing easy. Do not be alarmed by the effort it may take to stretch the material to fit your rifle; it is incredibly strong and highly unlikely to tear, even under extreme stress.
Safer Transport
This particular cover is not designed for active hunting or target practice. As previously stated, it is a sheath that needs to be carefully slid into and out of position around the scope, and the process is not instantaneous. Rather, when traveling, camping or transporting the scope, the sheath is ideal. In a situation where the scope does not need to be removed immediately, it works perfectly. During transport, both you and your scope will be properly protected.
Value
Like the aforementioned models, the Mossy Oak is another good value. Its purpose is different; it's intended for safe transport as opposed to immediate target shooting readiness. With that being said, that does not detract from its inherent value. As a protective sheath, the Mossy Oak works well, and it's affordably priced. As long as you understand what it is that you are purchasing (a sheath and not a flip-up cover), you will be pleased with the Mossy Oak.
4

. Leupold Alumina Flip-Up
The Leupold Alumina is a high-end, superior performance rifle scope cover that has much more to offer than simply protecting the scope. The covers are designed to fit the most advanced Rifleman, Mark AR, and VX-R objective lenses and scopes, among others. The Leupolds stay in place using advanced technology, as outlined below and feature triple O-ring seals which provide unprecedented, unparalleled protection.
Neodymium Magnets
What holds the Leupolds in place? Neodymium magnets, which are, quite literally, some of the strongest magnets in the world. Made of rare-earth allows, neodymium magnets are incredibly strong, reliable, and, in terms of materials, second to absolutely none. The magnets hold the covers in place without doing any damage whatsoever. Keeping the covers held properly in place is virtually no longer a concern thanks to the addition of these wonder-magnets.
Triple O-Ring
Several of the covers reviewed here have a single or partial O-ring to act as a seal. The Leupold, however, features a triple O-ring, offering almost unheard of strength in terms of sealant and protection. It is virtually impossible for dust and dirt to penetrate these three extra layers of protection, acting as airtight seals, allowing nothing to damage or degrade the quality or condition of your lenses or scope.
Additionally, the triple O-ring provides protection from the elements. Should you choose to venture out in inclement weather, rest assured that the triple O-ring's amazing sealant will keep your scope safe from harm.
Value
While the Leupold is considerably more expensive than the majority of scope covers reviewed here, it is truly in a class of its own. Its designers, engineers, and manufacturer spared no expense making an absolutely superb cover. From the neodymium magnets that hold the case in place to the triple O-ring security, the Leupold is second to none. Is it worth the extra cost? All things considered, yes, absolutely. Expensive as it is, the Leupold is a fantastic value that will not disappoint even the most discriminating buyers.
5

. Monstrum Tactical Flip-Up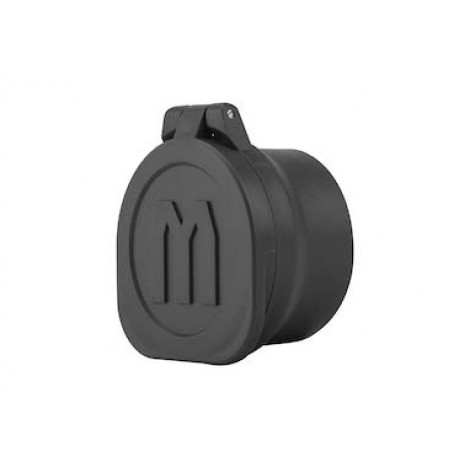 Monstrum lens covers are sturdy, strong, and do their job well. At a very fair price, they simply do not disappoint. Reinforced with rubber sleeves, they offer superior protection and stay in place. The covers can be customized and modified as needed, and are easy to work with. More importantly, they can be used with confidence - they fit so well that there is no risk of them coming off while in use. For a very fair price, Monstrum has delivered an excellent lens cover that does its job extremely well, and will not disappoint.
Rubber Sleeves
The Magnum's rubber sleeves have a two-fold purpose. First, the sleeves help to protect the scope and its delicate components. Secondly, the sleeves are kept securely in place by their rubber fittings. They stay securely in place, allowing you to operate your rifle without the risk of the cover accidentally coming off. Even better yet, the sleeves are customizable, allowing you to modify them to fit your rifle perfectly.
Flick of a Switch
The covers can literally be opened with the flick of a switch. The covers are spring-loaded and can be operated using the thumb or fingers. This incredible ease of use is an important asset while hunting and time is of the essence when focusing in on a target. Not having to fumble with any sort of complex mechanisms makes the Magnum an excellent choice.
Value
The Magnum is yet another in a series of high-value items sold at affordable prices. The Magnum is one of the least expensive models reviewed here, but that does not make it any worthy of a contender. The Magnum is well built, enthusiastically and positively reviewed, and comes with a lifetime manufacturer's warranty.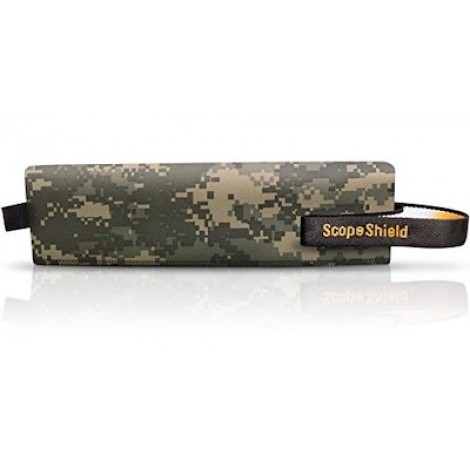 A ScopeShield is an intelligent choice for the owner of any tactical device with a scope, be it a rifle, binoculars or even a flashlight. ScopeShield is one of the oldest and most respected scope covers. It is guaranteed to protect and keep your scope clean whether in storage or during transport. It can also be used while actively hunting, as it is easy to pull off in an instant while still staying attached to your weapon. Additionally, while neoprene is a thin material, it is a strong, powerful cushion that protects the scope from damage without weighing it down or becoming cumbersome.
Neoprene
The case is made with neoprene, which cushions and protects the scope. This is critically important when transporting or storing the weapon. Neoprene acts as a barrier, cushion, and protective shield, protecting the scope and its component parts from sustaining any accidental damage. Despite acting as a powerful cushion, the neoprene shield can be removed silently and quickly, so as to not hinder your ability to successfully hit your target.
Extremely Lightweight
The ScopeShield weighs in at a mere 2.2 ounces. However, don't let its light weightiness fool you - it's small but mighty (and by mighty, think ultra-powerful). Thanks to modern ingenuity, cushioning material does not need to be physically heavy to work. Neoprene is unique; it is compact and lightweight yet functions as a virtual shield for your scope. It will not slow you down, and it will not make hunting, transport or storage difficult.
Value
The ScopeShield has earned an excellent customer rating of 4.5 out of 5 stars based on 121 enthusiastic reviews. Its performance is undoubtedly excellent, along with its reliability, durability, and ease of use. It's price? Extremely affordable. All in all, the ScopeShield is an absolute steal, and anyone who owns a tactical device with a scope should take advantage of it.

7

. Butler Creek 21920 Multiflex
The 21920 is very user-friendly with a flip-open switch. It also features a small O-ring that acts as a protective seal and an anchor, keeping the cover in place and keeping dust, dirt, water, and other contaminants from reaching the lens. The cover is kept securely in place until you are ready to flip it open and take aim, viewing your target through a crystal-clear lens. The 21920 offers superb performance at an extremely fair price, making it a smart buy.
Flip Switch
Forget the days of twisting off the lens cover, fumbling to remove it and dropping it on the ground, thereby losing your shot. With the flip of a switch, the cover pops open, allowing you to focus in on your target almost instantaneously. And forget about struggling to get the cover back in place; closing it is just as effortless as opening it.
O-Ring Seal
The O-ring seal offers superb protection from water infiltration or damage from dust and debris. The secure seal operates in the manner of a vacuum seal, protecting the lens while forming a strong, protective barrier that keeps unwanted elements out. This makes it almost completely unnecessary to clean the scope, with the exception of the rare, occasional, gentle wipe-down using a scratch-proof cloth.
Value
The 21920 is priced to sell and manufactured to keep. While it's budget-friendly, you'd expect a scope cover of such high quality to retail at two or three times the price. Regardless, Butler Creek chooses to keep its products in a price range that's affordable for just about everyone. So, what kind of value does this represent? A fantastic one.

8

. ScopeGuard Alaska Neoprene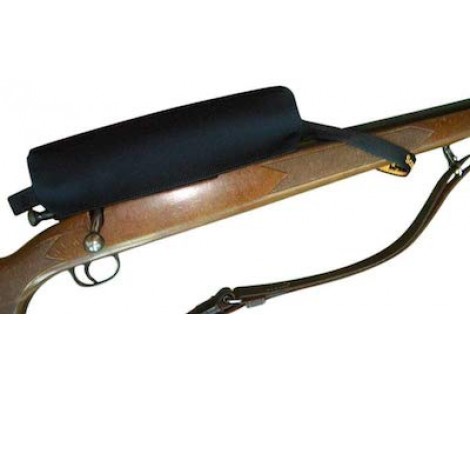 The ScopeGuard Alaska is a simple, effective way to keep your hunting scope clear, clean and dry while you're out in the field, enjoying some target practice, or transporting your weapon. What stands out about the Alaska's is the way they are manufactured. The company, based out of Oregon, employs U.S. Army Veterans. The Veterans put special care and precise work into the manufacturing of the Alaskas; a purchase you can feel good about. On top of that, the quality is excellent and the performance is even more impressive.
Slingshot Release
The Alaska features what is known as a "slingshot" release. The covers are securely kept by the keeper loop. This greatly decreases the odds of losing a cover in the field. You will be able to immediately reattach the cover when you are ready. When it's time to release the cover again, the slingshot release allows the cover to immediately open. No time will be wasted on the field attaching or opening a lesser cover. The Alaska is exceptional.
Made by U.S. Army Vets
The Alaska are made here in the U.S. by Army Veterans in Oregon who take painstaking pride and care in their work. By purchasing an Alaska, you are not only getting an exceptional scope cover with an excellent reputation, but you are also supporting our Veterans, who use materials completely sourced within the US during the manufacturing process. It's a purchase you can feel good about, and its performance will exceed your expectations. By buying an Alaska, you are not only supporting our Veterans, you are also making an intelligent, practical purchase and buying a scope cover that will exceed your expectations.
Value
The Alaska are fairly priced and are a truly exceptional value. Any opportunity to support our Veterans should be given special consideration. Regardless of the special way the Alaska are painstakingly manufactured, they are well-built, composed of top-quality materials, and have a reputation for superior performance. So, all in all, what kind of value do the Alaska represent? Amazing, pure and simple.

9

. Allen Reversible Neoprene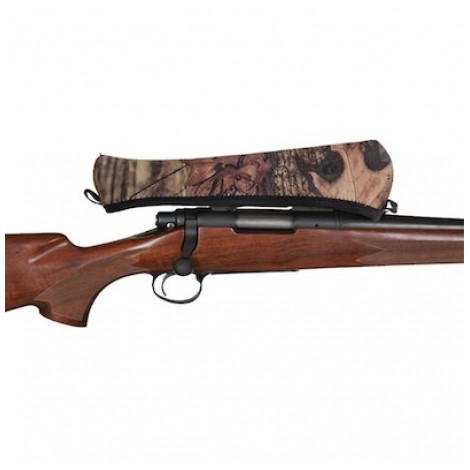 The Allen Neoprene is a basic, high-quality scope cover that is ideal for traveling and transport. It provides a snug, secure fit. Neoprene, as previously mentioned, is a thin material that provides superior cushioning and protection, as well as being water-resistant. The cover is reversible (black/camo) and fits an array or weapons. It's a durable, easy to use, reliable cover that keeps your scope in the kind of condition you demand.
Reversible
One nice perk about the Allen is that the fabric is reversible to reflect your personal style or the purpose of your trip. If you are out in the woods, camo would certainly work to your advantage in terms of blending in with the natural environment. If you are traveling, the black fabric is more discreet and perhaps a bit less casual. Either way, with the Allen, you have options.
Snug Fit
Allen can be somewhat difficult to fit into place. The fit is exceptionally tight and it can take a significant amount of effort to correctly position it. That being said, once the Allen is properly situated as it should be, the snug fit is incomparable. It won't fall off and it is exceptionally durable.
Value
The Allen is an average value item at a mid-range price. It's not an exceptional cover, not is it inadequate. For the price being asked, it's a fair transaction. That said, when compared to some of the other models reviewed here, you might get more bang for your buck elsewhere.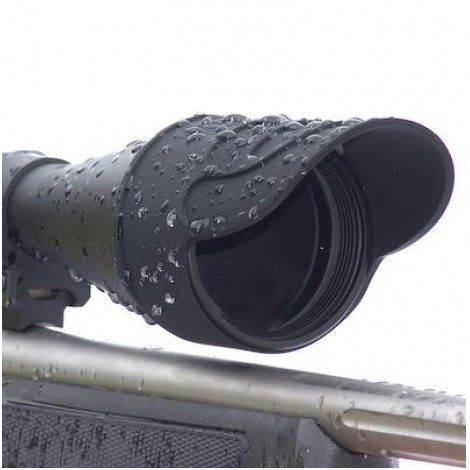 The Down Under scope is, to put it bluntly, ready to go. It's easy to open, reattach and aim. It's ideal for hunting under any circumstances, including in the cold and the rain. The scope cover itself is designed by experienced hunters who know and understand the importance of a properly functioning scope cover. It also comes with a lifetime warranty, allowing you to purchase the scope cover with the utmost confidence.
Instant Readiness
The scope cover can be instantly opened by squeezing the silicone base. There is no neoprene, there are no O-rings, and there are no switch mechanisms to be employed. Additionally, the cover can be instantly closed with the same ease. Instant, immediate readiness for as-it-happens action.
All Weather
The Down Under is suitable for all weather conditions. Whether it's pouring rain, snowing, sleeting, or the sun is blazing down on you, the Down Under has been treated and tested in all weather conditions. It stands up to even the toughest, most extreme environments. So, on your next camping trip, no matter where the destination is, you will be ready.
Value
The Down Under is the most affordably priced model reviewed here, with the lowest pricetag of all. Though it doesn't have some of the extra features and trimmings of some of the aforementioned models, it's earned 4.5 out of 5 stars, making it an excellent choice. With the incredibly low price, excellent reviews, and all around cool look with the ready-to-go design for a regular Johnny on the Spot, is the Down Under a good value? Absolutely, positively, yes.

Subscribe to our Newsletter