Top 10 Hunting Slingshots for Small Game Hunters
In a Hurry? Editors choice: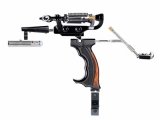 Test Winner: Rochan Slingshot Professional Outdoor Catapult

Don't be fooled by that classic string and twig that you carried around like a youngster. Slingshot technology has come a long way since Dennis the Menace. And if you're wondering about the efficacy of hunting with a slingshot, ask Goliath if a slung stone can be lethal. These weapons were created to kill and people have been using them for centuries to hunt and fight. And while they don't have the range or (necessarily) the accuracy of a bullet, today's slingshots are highly precise weapons. And just like everything else, composite metals and technology have turned what was a powerful weapon back in the day into an accurate. The best hunting slingshots on our list are a totally cool looking device that's relatively cheap and will allow you to hunt without firearms in a surprisingly efficient manner.
Standout Picks
Criteria Used for Evaluation
Use
Even though there are only really two different purposes for having a slingshot, they nevertheless need to be taken into account to pick the right one. There are a few significant differences between a hunting slingshot and a competition model, and the wrong choice can seriously affect your overall experience.
The most significant difference between the two styles of the slingshot is construction. Even though competition models still need to be able to hold up to all the rigors of continuous shooting, they won't be exposed to the elements and environment nearly as much as a hunting slingshot is going to be. The hunting slingshot is going to be constructed from much stronger materials, such as aircraft-grade aluminum alloy for the frame, and sturdy yet soft to the touch resins for the grip.
A hunting slingshot is generally going to feature fewer bells and whistles than a more casual weapon. While stabilizers and other additions would likely improve shooting, all the extra parts, and space they take up, make these features impractical. As far as add-ons go, most hunters are more than content with little more than a mounted laser sight, and maybe a magnetized arm strap for stability and extra ammo capacity.
Finally, and as sort of a side effect of the limited additions, a hunting slingshot is usually going to be a good bit lighter than other options. This is important because a hunter is going to be moving a lot while on a hunt, so the slingshot needs to be as portable as possible. Hunting slingshots can be several ounces lighter than competition version, and while this doesn't seem like it would make much of a difference, after packing it around for hours on end, you'll most likely notice it.
Accuracy
Velocity and accuracy are always going to be factored in choosing a slingshot, no matter what you need it for. As evident it is, the reason I've listed it as criteria is that every manufacturer goes about it in their way.
As you've noticed while going through the buying guide, there are some very unique, or even strange, slingshot designs on the market. Even the models that seem as simple and primitive as can be have been made that way intentionally to maximize the shot.
A few have stabilizers built into them to steady your shot. The thought process behind this is that the more process your form is, the more energy can be translated into the velocity of the shoot. On top of that, a steady arm almost certainly means a straighter, more accurate shot.
Most hunting slingshots opted to let you mount a laser sight on the bottom of your slingshot. While this doesn't guarantee that your shot will strike true every time, it does provide a guideline and gives you a good idea of the path your chance will follow.
As for the stripped-down models, think about it. With nothing to get in the way, the only thing you and your slingshot will need to focus on is getting the shot to where it needs to go as accurately as possible. A slingshot of this type does require a skilled shooter, but many find that the absence of any add-ons will improve their shot because it forces them to utilize all their experience and concentration.
Value
Of course, the price is going to be a factor; it always is. In this case, any precision-based sport, such as target shooting or hunting, is going to require a higher level of commitment and dedication than most other games. That means that in the end, it just isn't going to be for everyone. For those that are considering it but are on the fence about whether to take the plunge, that's where cost is going come into play.
Not everyone is going to go all-in with their hobbies, so they probably aren't willing to spend any more than necessary to get started. Luckily, there is a wide range of price points for slingshots, ensuring anybody can get into it, whether it be for hunting or target shooting.
What determines the price is going to be the add-ons and extras. The stripped-down slingshots that are pretty much just a frame, grip, forks, and bands are going to be very affordable, and if that's all you feel you need to shoot, then you're good to go. Once they get into the flow; however, many shooters do opt for a few features that can vastly improve their experience. This usually means adding a laser sight and can be mounted for relatively cheap.
Features
Grip:
This has two meanings when it comes to slingshots. First, it refers to the way a shooter holds their slingshot. The three main grips are hammer grip, pinch grip, and thumb supported grip. Each different style of grip is going to affect how you shoot and is determined by the type of shooter you are.
The second meaning for grip is the part of the frame of the slingshot that is held by the shooter. This is usually made of a strong, yet somewhat comfortable material, such as vulcanized rubber or a type of resin. Often, the grips are designed to be ergonomic, with finger grooves to prevent cramping and discomfort.
Fold up slingshot:
This is a style of slingshot that has a built-in arm strap that improves stability. By itself, this style can be pretty cumbersome, so in most modern versions the arm can fold up parallel with the body, making it much more compact and portable.
Speed
Power is everything when it comes to a slingshot. And like a bow, advances in technology have advanced way beyond a strong rubber band and simple muscle power. We're looking for ways that manufacturers have found to ensure your projectile arrives quickly, and on target and with enough power to provide a safe humane kill (if you're hunting) or a bullseye (if you're target shooting).
10 Best Hunting Slingshots
1

. Rochan Slingshot Professional Outdoor Catapult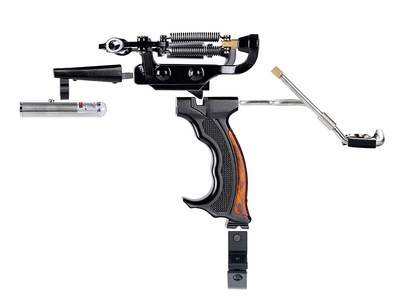 This six-part professional hunting slingshot from Rochan is a professional hunting tool that is ergonomically designed. The six parts of the slingshot are the handle, the bands, the infrared sights and sights bracket, the flashlight bracket, the butterfly spring, and the wrist bracket. This slingshot will help with shot accuracy and better aiming posture.
Comfortable handle
The handle on this Rochan hunting slingshot is made from stainless steel, aluminum alloy, and wood. With these three materials working together, the handle is solid, durable and comfortable to hold, making the device easier and more comfortable to use.
Precision shooting
This slingshot is also designed to help with more accurate shooting. It features a flashlight laser to help you hit targets more easily and accurately. The frame is also designed to keep your wrist supported and steady, which will also help with better aim and shot accuracy.
Cost And Value
Among others on this list, this is the priciest hunting slingshot we pulled together. It's priced the way that it is because of all of the features, versatile use and ammo capabilities and because it is well-made. Overall, this slingshot is designed for more advanced users, requires a little bit of strength and a learning curve to get down just right, and it helps with precision shooting.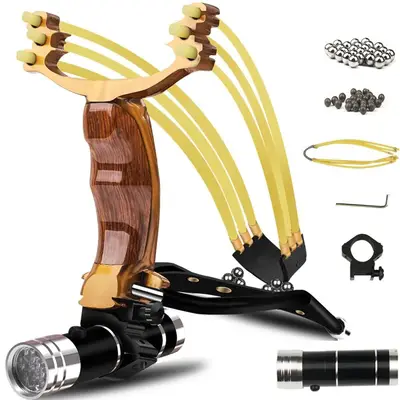 The COOY slingshot set is a professional hunting kit that comes with everything you will need to get started using a slingshot. This one is perfect for the beginner to moderate user. With this set, you will get the slingshot, replacement rubber bands, a screw key, steel ammo balls, hard clay ammo balls, and a flashlight attachment.
Ergonomic handle
Since using a slingshot requires a lot of force on the wrists, a comfortable and supportive grip, and the handle is important. This COOY has a stable ejection base, a steady handle and also has a wrist support frame so that you can use this slingshot pain-free. Overall, it is comfortable and easy to use.
Successful application
While this isn't a break-the-bank slingshot, it is still considered a professional hunting slingshot. That means that it is designed to help the user train their eyes and attention on the target, enhance precision shooting accuracy and get the user ready for competition if that's what they desire. But, at the end of the day, it's also fun to use.
Cost And Value
This COOY slingshot is a classic case of you get what you pay for. However, for the prices, this is still a pretty good slingshot. While affordable, it's not overly cheaply crafted. This slingshot will still give you some power, help you train your eye and attention at the target, boost your shot accuracy and overall will be fun to use.

3

. MoreFarther Superpower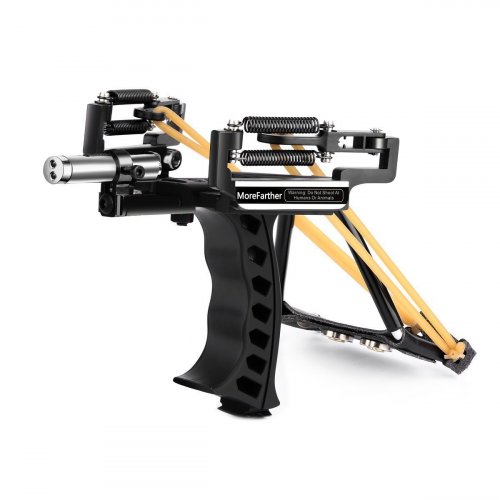 This is a strange looking slingshot. There is clearly a lot going on here, all of it designed to provide you with a smooth, accurate shot every time you pull the rubber back. It includes a laser sight for targeting and will let you fire arrows, making it incredibly versatile and also upping your game quite a bit at the same time.
On target
We are going to be seeing a few slingshots on here with the ability to house an optional laser sight, but this one comes with it equipped so you don't have to mess around with not having one.
User-friendly
For a product that just has so much going on, you'd expect there to be a steep learning curve. However, that just isn't true in this case, and you can be shooting just minutes after taking it out of the package.
Cost and Value
The MoreFarther Superpower Stainless Hunting Slingshot is a bit pricey, but you just get so much with it, that it's a great value just based on content alone. It helps that the slingshot is also very well made and extremely versatile too.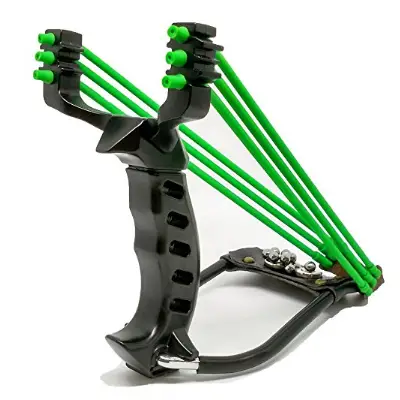 The MoreFarther Pro Adjustable is a serious hunting weapon. The weapon is touted for professional hunting too. Its got a beautiful design that carries well. You can tell this is a pro design that comes from a well thought out schematic.
Metal Body for Greater Accuracy
The metal body and wrist support frame will increase accuracy. These two features also allow you to launch with greater intensity. This will radically affect your distance and ability to kill at this long-range.
Built-in Magnet
This slingshot has some great ideas outside of the body, wrist, and tubular rubber. The magnet design allows you to have quick access to ammunition. This is unique to this model, and I haven't found anything similar elsewhere. It's a great idea!
Cost and Value
The MoreFarther also comes with some ammo and replacement parts which will allow you to enjoy this weapon long after purchase without looking to warranty or other places for repairs. This is a great hunting slingshot that should be enjoyed by anyone looking to take small game.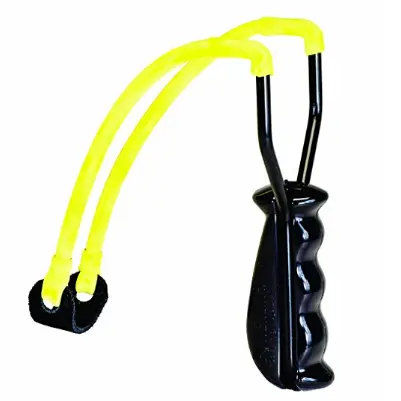 The Daisy powerline comes from the premier name in bb and pellet shooting. There is no name more synonymous with the bb gun than Daisy. This is a very simple plastic slingshot made of a wide fork design with a plastic handle and surgical tubing.
Larger Ammo
The Daisy lends itself to larger ammo and actually works well with paintballs as well as bbs. The slingshot reviewed well by others and though there were little issues that came up overall. This is a great deal and worth taking advantage of.
Great For Beginners
A cheap, easy to use slingshot that is a great way to get acquainted with these weapons. The price point makes it easy to experiment.
Cost and Value
The best sticking point with this Daisy model is the price. There is no better slingshot on the market for the price. I would challenge you to find a child's toy for the price of this slingshot. It comes in at under $10 dollars. It's a great value and maybe the best starter slingshot on the market.

6

. Easimgo Professional Slingshot Set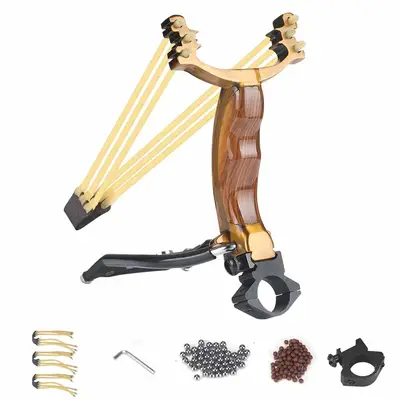 Take a step back to childhood for a second with the Easimgo slingshot set. Okay, but now amp yourself up a little bit because this is a professional hunting slingshot. That's right, this set is great for all users that want to relive fun childhood times but also take their shooting and hunting game to the next level with better precision all with one kit.
Precision shooting
This is considered a professional-grade slingshot, so it is powerful and can also be used for competition. It is designed to release high-velocity, accurate and powerful shots.
Multi-purpose slingshot
This slingshot from Easimgo is designed to allow you to train you shooting but also have fun. With this shooter, you can easily have a great time while also enhancing your shot and attention performance.
Cost And Value
This is another slingshot that is affordable and good quality for what you pay for. Not only will it help with training, but you can't really put a price on great childhood memories and nostalgia now can you?

7

. Sino Art High Velocity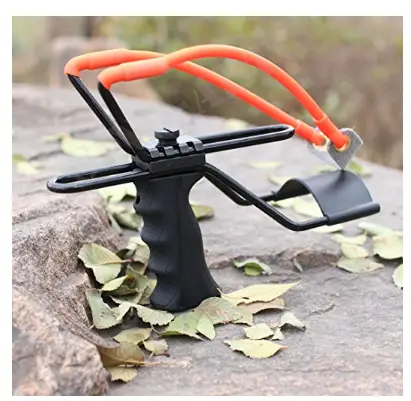 The Sino is a solid looking slingshot with its flat black design and adjustable arm brace. Its black matte finish and powerful bands give this weapon the look of something more than just a run of the mill slingshot.
Special Powerband
The selling point of this model is not the shot or the design of the handle or frame. The innovation is the new powerband made of high-quality rubber bands that make this one of the most powerful slingshots available.
Durable
It's been tested under adverse conditions to assure Sino can guarantee maximum durability. This is a piece of the puzzle that you should not bat your eyes at. When you are in the field, you must have a weapon that will not fail you. If it does your hunting trip is over!
Cost And Value
This slingshot sold well, and though it didn't have any reviews, it comes with a 100% money-back guarantee. I didn't see a lot of that in the many slingshots I reviewed. That tells me that Sino has incredible confidence in this weapon. This model will run you just over $20 and with the guarantee you have nothing to lose.

8

. The Scout Hunting Slingshot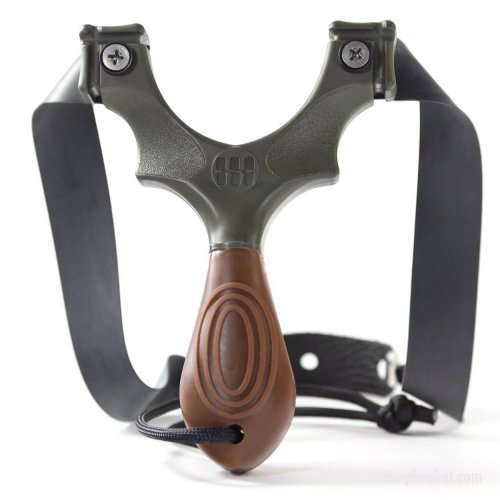 Here we have a more classic looking model without all the high tech features of some of the others. What it lacks in add-ons, however, it more than makes up for it in obviously sturdy construction and reliable performance. It was designed to be accurate and efficient, all while having a clean design. A good no-nonsense slingshot for the purists out there.
Suits your style
The Scout Hunting Slingshot is made to work the way you like to shoot. It will handle a hammer, pinch, and thumb assisted holding styles comfortably and with ease.
All the information you need
This may seem a bit unnecessary, but for a hobby that is as nuanced as this one, having a handy reference guide is invaluable. It helps you easily get the most out of your slingshot.
Cost and Value
In the case of this slingshot, you're not going to pay for fancy gadgets, because there aren't any. What you are paying for is reliability and performance, which this one has an abundance of.

9

. Wisdoman Stainless Steel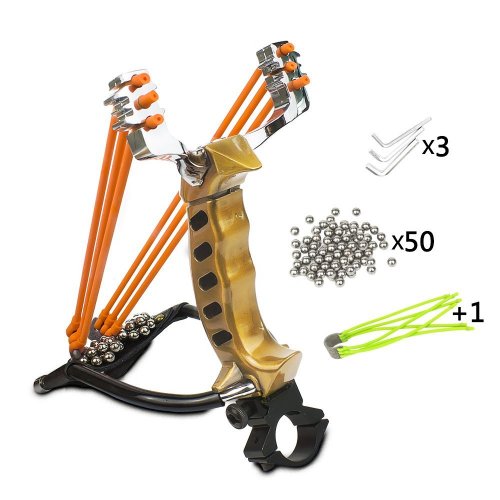 This offering looks quite a bit like another product on this list and handles about the same, which isn't to say that it's a bad choice. Rather than being just a cheap imitation, this one ups the game by offering the same features and reliability, while keeping the price very competitive. Similar to the other slingshot, this slingshot is the perfect choice for beginners.
Well built
This is a strong, sturdy slingshot that is going to hold up well for years to come. The stainless steel is durable, of course, which makes it equally great for target shooting or hunting.
Great for what you get
You`re not going to pay much for this at all, so right away it's ahead of the game. On top of that, you get everything you need to get started, which makes it a no-brainer for first-timers.
Cost and Value
Much like other slingshots of a similar design, the manufacturers manage to keep the cost low and the features and functionality high, appealing to hunters and target shooters everywhere.
10

. YuXing Professional Outdoor Hunting Slingshot Kit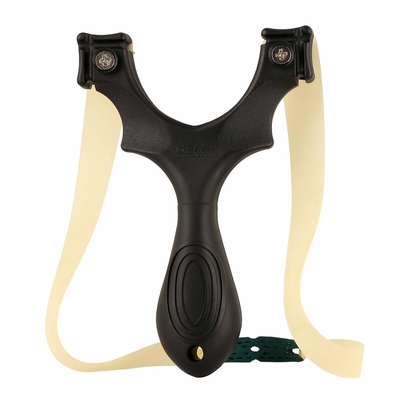 The YuXing is considered a professional slingshot, but it is probably the least powerful on our list. We will be honest, it's probably closer to a toy slingshot. Still, that doesn't mean that it is a lousy option. It is an excellent option for beginners and those looking to get back into practicing their shot. This is a slingshot that's a great starting point.
Easy to hold and use
This slingshot is really easy to hold and use for almost any user. It is closer to being a toy slingshot than anything else, but it is perfect for figuring out your form and shot in a way that is easier than trying to start off with a heavy-duty professional one.
Easy to assemble
This slingshot comes in a small kit of pieces to assemble the handle and the band. Fortunately, the assembly and installation of the band are easy, and you can do it in four quick steps.
Cost And Value
This is a very affordable option for people looking to just start out practicing with a slingshot. This isn't the most powerful on the list, but it is the least daunting and will do well for beginners.

Subscribe to our Newsletter