Best Hunting Slingshots Reviewed
Don't be fooled by that classic string and twig that you carried around as a youngster. Slingshot technology has come a long ways since Dennis the Menace. These powerful weapons were created to kill game and today you can get your hands on one that will do it better and more efficiently.
They say that whether you are facing a short term or long term survival situation you should focus your efforts of food procurement on small game. While this may not yield tons of meat it will be easier to achieve. A slingshot is a great lightweight tool to pack up and have when firearms are either not allowed or to heavy to bring.
Our Top 3 Picks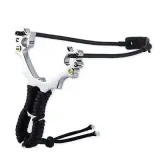 BONLEX Slingshot

Our rating
Metal
Price:

See Here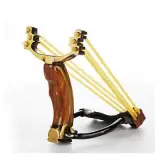 Yusylvia Slingshot

Our rating
Durable
Price:

See Here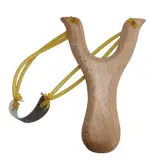 Toprade Slingshot

Our rating
Traditional design
Price:

See Here


It would seem like something as archaic as the slingshot would be from a time long forgotten. When you look at a slingshot next to a handgun you would think that this invention came from the stone age. The fact is it wasn't until the mid to late 1800s, when vulcanized rubber was invented, that this weapon even became a reality.
This weapon is utilized to shoot bbs and or single steel balls at prey from a distance. It can also be used to shoot arrows. The slingshot is very capable in the wild and is by far the most lightweight and easily carried projectile shooters in existence. Of course it lacks the power and accuracy of many others but it can still be effective from reasonable distances.
Fisherman have also put the slingshot to use through chumming with it. The would take bait and place it into the pouch of the slingshot. Then launch this chum, often chopped fish, into the area around their boat or pier. This would act like a calling card for fish to come and eat.
Today we don't see much from the old slingshot and that is one of the reasons we are going to take a look at some of the options on the market today. This may not turn out to be the weapon you take with you on opening day of firearms season but it could be the perfect options for a day trip with your child to hunt squirrel or rabbit.
A sentiment echoed by all outdoorsman is the fact that it's just good to get out! Whether we are talking about hunting, fishing or hiking getting out is what it's all about. This could be with the most efficient compound bow on the market or it could be with a slingshot that you have been messing around with,all the same. A day in the woods is a day in the woods.
This review will take a look at the possibilities of the modern day slingshot. We will look at some of the highlights and features of today's models while also examining what qualifies as a serious hunters slingshot and more of a toy.
7 Best Hunting Slingshots
1. BONLEX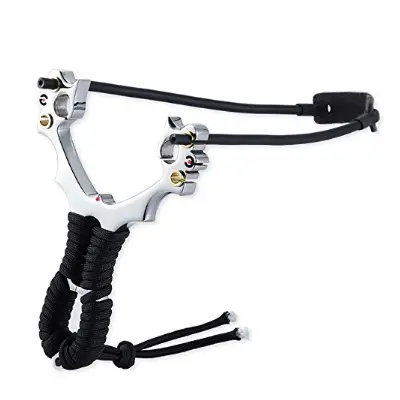 The Bonlex slingshot is an upgrade from the traditional wood design. This is a good looking shot with paracord wrapping the handle. There is something about a wood handle that feels right but a metal handle wrapped in paracord feels pretty good, too!


Expand to see more
The three points fiber sight will help out your accuracy with this weapon. It comes with two kinds of rubber bands as well. Its forged from 316 stainless steel. All edges are micro rounded and polished with genuine gold which increases the life of the rubber band.

This is a pricey slingshot that was reviewed with concerns about the length of the handle. It was mentioned that the handle was too short when it came to a maximum pull. This slingshot looks great but is over $45 and with a price like that you may expect more than this weapon can offer.
Metal handle
Included sight
Quality manufacturing
2. Yusylvia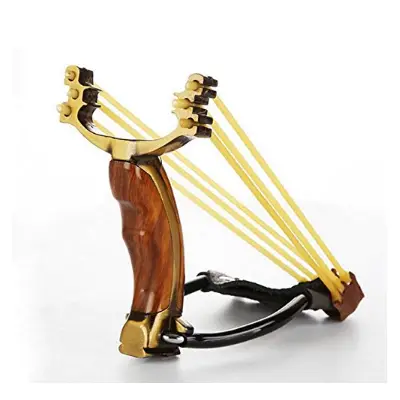 The Yusylvia is a powerful hunting slingshot designed for the hunt. It has a great design that is based off of the recurve framework. It features professional rubber bands made of high quality rubber. This will take the abuse you expect them to.


Expand to see more
This is another expensive model for those who are pros in the slingshot game. With a shot like this you won't need several options. In fact, this model reviewed well by its buyers but many mentioned some craftmanship issues.


Simple high quality slingshot
Durable
Highly recommended
3. Toprade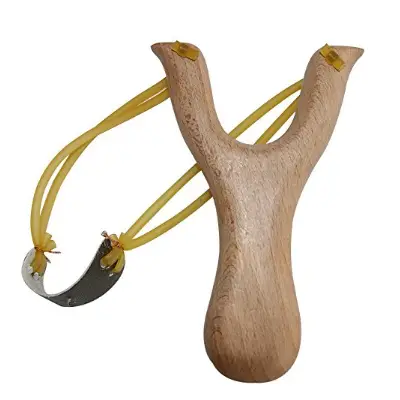 The appeal of the Toprade is very simple. Its old school. This is a slingshot in every sense of the word. This model offers a wooden handle. Its It's one of those classic feels that just can't escape. There is something foreign about a plastic so I shot handle. Chances are they shoot a lot better but just like handle g a traditional bow now the nostalgia is so appealing.


Expand to see more
That said the Toprade is made of high quality materials it shoots 1/4 inch or 3/8 inch shot.

For the ease of use this shot has a black high impact plastic finger groove and the solid and comfortable grip.

The Toprade is a basic wood handled slingshot and there is something beautiful in that. It's simple design and comes at a simple price. That's hard to argue.
Traditional design
Great value
Not a very comfortable design
4. MoreFarther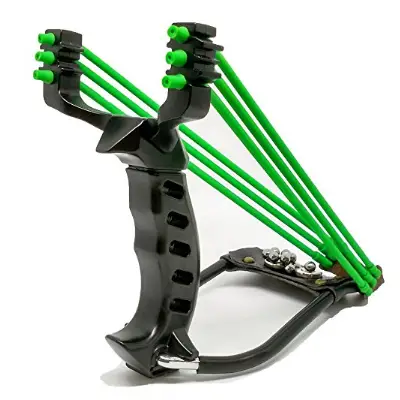 The MoreFarther Pro Adjustable is a serious hunting weapon. The weapon is touted as a professional hunting too. Its got a beautiful design that carries well. You can tell this is a pro design that comes from a well thought out schematic.


Expand to see more
The metal body and wrist support frame will increase accuracy. These two features also allow you to launch with greater intensity. This will radically affect your distance and ability to kill at this longer range.
This slingshot has some great ideas outside of body, wrist and tubular rubber. The magnet design allows you to have quick access to
ammunition
. This is unique to this model and I haven't found anything similar elsewhere. It's a great idea!
Another marvel of this modern slingshot is the flashlight and laser stents design which will make this weapon highly effective in low light or even night time hunts.
The MoreFarther also comes with some ammo and replacement parts which will allow you to enjoy this weapon long after purchase without looking to warranty or other places for repairs. This is a great hunting slingshot that should be enjoyed by anyone looking to take small game.
Professional grade materials
Wrist brace
Flashlight and laser
5. Daisy 988116-442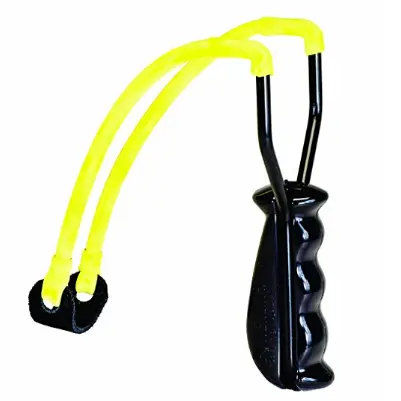 The Daisy powerline comes from the premier name in bb and pellet shooting. There is no name more synonymous with the bb gun than Daisy. This is a very simple plastic slingshot made of a wide fork design with plastic handle and surgical tubing.


Expand to see more
The best sticking point with this Daisy model is the price. There is no better slingshot on the market for the price. I would challenge you to find a childs toy for the price of this slingshot. It comes in at under $10 dollars. It's a great value and maybe the best starter slingshot on the market.

The Daisy lend itself to larger ammo and actually works well with paintballs as well as bbs. The slingshot reviewed well by others and though there were little issues that came up overall. This is a great deal and worth taking advantage of.
Great value
Top manufacturer
It's a cheap model that is not a long term solution
6. Beeman Laserhawk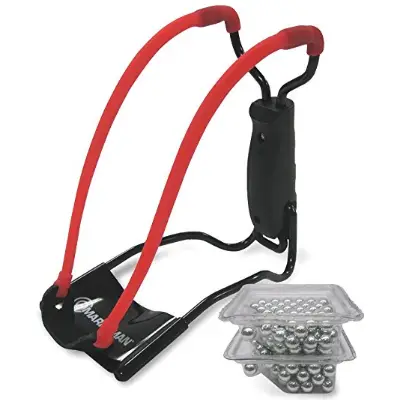 The desire to have a bracing slingshot for extended velocity is important in the realm of hunting. It's important that you have a killing velocity. With some models pulling the projectile back far enough to get the velocity needed can be taxing without the arm brace. The Beeman Laswerhak is a great value for those looking to try a slingshot that is more than just a handle to hold onto. Its slick, folding model with a powerful wrist brace.


Expand to see more
The yoke and arm support are made with tempered steel and also features a built in ammo pouch. A finger grooved plastic grip with tapered bands provides an easier way to shoot with a greater velocity.

This model comes with 200 pcs of 30 caliber steel shot. The slingshot can also shot 1/4 inch and 3/8 inch steel shot as well. The ammo pouch is magnetic which is such a cool little feature on these newer model slingshots. I really love this small detail that creates such great convenience.

There were very few reviews on this model by Beeman, barring one scathing review that claimed nothing on the slingshot worked, the model seems to live up to its great value. At under $20 dollars this is decent slingshot with a folding brace.
7. Sino Art High Velocity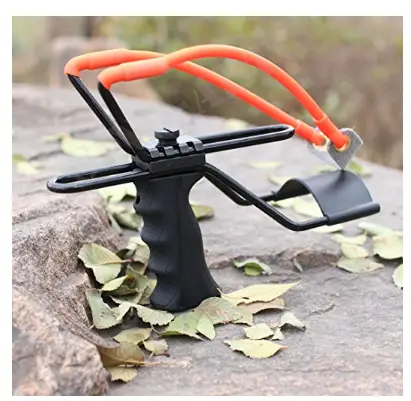 The Sino is a solid looking slingshot with its flat black design and adjustable arm brace. Its black matte finish and powerful bands give this weapon the look of something more than just a run of the mill slingshot.


Expand to see more
The selling point of this model is not the shot or the design of the handle or frame. The innovation is the new powerband made of high quality rubber bands that makes this one of the most powerful slingshots available.

Now that doesn't mean that it is not built with power in the frame. In fact, the sino comes with a fully adjustable steel frame. The steel frame with extra wide forks gives the power needed with every shot. The fame is incredibly simple to adjust and just needs one big steel screw to be loosened. The ergonomic, molded, nonslip handle make it easy and comfortable to hold throughout an excursion.

It's been tested under adverse conditions to assure Sino can guarantee maximum durability. This is a piece of the puzzle that you should not bat your eyes at. When you are in the field it's important that you have a weapon that will not fail you. If it does your hunting trip is over!

This slingshot sold well and though it didnt have any reviews it comes with a 100% money back guarantee. I didnt see a lot of that in the many slingshots I reviewed. That tells me that Sino has incredible confidence in this weapon. This model will run you just over $20 and with the guarantee you really have nothing to lose.
Adjustable
High Powered
Money Back Guarantee
Conclusion                           

The slingshot is one of those weapons that gets relegated to the toy box. It's effectiveness is legitimate and you need only look to England to the relevance of hunting with a weapon like this. There is a ton of fun to be had with one of the above mentioned slingshots. You need only spend a little time practicing the technique and suring up your shot.
When you are taking small game the number one goal, beyond the fun, should be how much of the meat can be salvaged. When people head out with a shotgun in pursuit of these small animals they will spend some time removing small shot from their squirrel or rabbit meat. To the contrary, with a slingshot you are shooting these game animals in the head. This leaves the meat in perfect condition.
You should look to sure up what your goals with this slingshot are. If you are looking to have a long term slingshot companion spend a little more money and tackle one of the top three slingshots. If you want to give this whole slingshot hunting thing a go without a ton of commitment than look for something like the Daisy or the Toprade or even the Beeman with its comfortable wrist brace.
In this list of weapons you find some great models that carry a heavy price tag for the various features that come along with these slingshots. The echoed notion in these reviews is that the arm brace equals more velocity. This should be a consideration when you are looking for that hunting slingshot. In fact the arm brace also speaks to a more comfortable shot. For anyone who has carried around a heavy gun or big bow in a small area, you know the importance of comfort.
Slingshot hunting can be an amazing time. Its cheap and easy. Not to mention a great option for kids!